I'm pretty excited about the upcoming solar eclipse. As a tech geek, I'm naturally interested in the astronomical significance of this. But I'm really fascinated by the travel aspects. It's incredibly rare for hundreds of thousands, if not millions, of people to want to be within a narrow strip of land spanning the country, all at the same time. Even better, this swath of dirt cuts across some of the most rural areas within the lower 48 states.
The last time an eclipse like this happened was 99 years ago when communications, travel, and pretty much everything else was just a bit different. So you might say that such an event is really unprecedented, making it really hard to predict exactly how it will all work out.
A few weeks ago I hosted a guest post by my good friend Dawn who we'll be joining in Wyoming to watch the eclipse. We're all set on lodging — actually camping — having reserved our site last November. But I have a few friends that are still looking for options so I've occasionally been browsing some of the key viewing areas. Despite media reports that everything is booked up, there are certainly still places available.
And some don't even require a king's ransom, at least if you have points.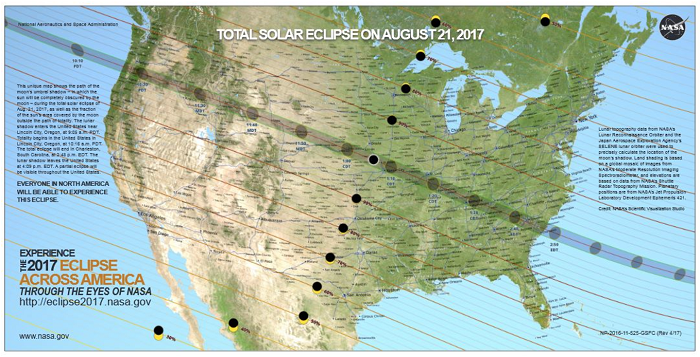 Today I took a look at Casper, Wyoming just up the road from where we'll be. I have probably run this search a dozen times over the past few months, and every time it shows all properties as being unavailable. So I was quite surprised to see that the Baymont Inn & Suites Casper East had one room available for August 20th, the key night right before the eclipse.


Baymont Casper East for August 20th, the night prior to the eclipse
But really, $1,500 for a room at a Baymont Inn & Suites?
Hey Wyndham, ANA called. They want the 0 back from their $700 business class Vancouver to Sydney fare!
Is this the best Wyndham Rewards redemption ever?
But fear not, for this is Wyndham where every award redemption costs a fixed amount. So no matter the property or the date, the room costs 15,000 points. Booking a nearly vacant hotel in Lansing in the winter? That'l be 15,000 points. Want the last room in a sold-out hotel on the prime night before the eclipse? 15,000 points please.
Our friends Greg and Nick over at Frequent Miler have certainly struck gold with Wynhdam Rewards points by booking entire European cottages for 15,000 points. But as best as I can tell, they still didn't quite clear the 10 cent per point threshold. So I'm declaring the Baymont Casper East for the Great American Eclipse of 2017 as the best use of Wyndham points I've ever seen.
Now before you rush out to book this, I have bad news.
By the time I finished writing this post, the room had been booked for the key night of the 20th. So that's no longer available. (I sure hope someone booked it on points.)
But if you need a room for the 19th or 21st, those are available for $800. Or again, 15,000 points. Still a heckuva deal even if you only get 5 cents per point.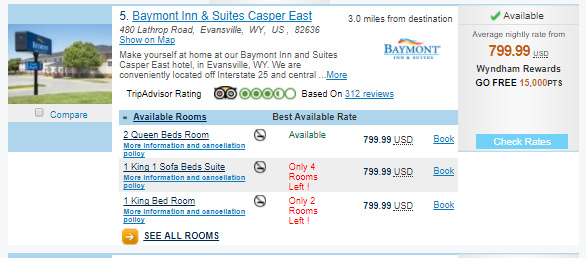 Baymont Casper East for August 21, the night after the eclipse
For those wondering, Wyndham doesn't seem to have any transfer partners. They'll let you buy up to 5,000 points per year, or someone can gift you up to 5,000 points, but apparently not both. So if you don't already have at least 10,000 points in your account, I'm not sure there's a way to book this.
Bottom line
Eclipse mania is sweeping the nation — specifically a 70-mile wide swath from Oregon to South Carolina. I'm fascinated by the prices that businesses and individuals are able to command.
But if you've got the right points currency — in this case Wyndham — there are definitely some interesting opportunities.
And if you're still looking for lodging, I would suggest keeping an eye out. I expect there to be a lot of fluidity over the next week, so just because a room isn't available now doesn't mean something won't open up.