Probably like many of you, I kind of did a double-take yesterday when I read that Ben had booked a ticket on Spirit. I quickly dashed off a message to him to make sure he was feeling okay, and that his OMAAT account hadn't been hacked. But he assured me that he had indeed booked the ticket and was excited at the opportunity.
Then I remembered that I hadn't yet shared my experience flying Spirit from Detroit to Boston earlier this summer. So to help him know what to expect — and perhaps some of you — here is my mini-review of the flight.
Maybe you'll learn from my mistakes….
Choosing to fly Spirit
Unlike Ben, I don't get terribly excited about flying new airlines. Having flown a million miles on United and having been a Premier 1K for about a decade, I'm quite happy to stick with the devil I know rather than the one I don't. But on this day and this route, Spirit was a fraction of the cost of United, flew non-stop, and had a decent departure time. Plus, I already had travel booked to re-qualify 1K for the year.
I paid $50 for my ticket, which is incredible. JetBlue was more than double that, as was Delta, both of which fly non-stop. United wanted even more, with a connection in Newark.
I figured even with having to pay to bring my bag, I'd come out ahead.
Booking my Spirit ticket
I've booked tickets on Spirit for my mother-in-law before (no joke) so I knew that there were about a dozen screens to get click through during the booking process. Spirit, of course, charges for everything and the kitchen sink.
In fact, they actually charge more for carry-ons then checked bags. I guess that discourages people from bringing big bags onboard, which theoretically speeds boarding.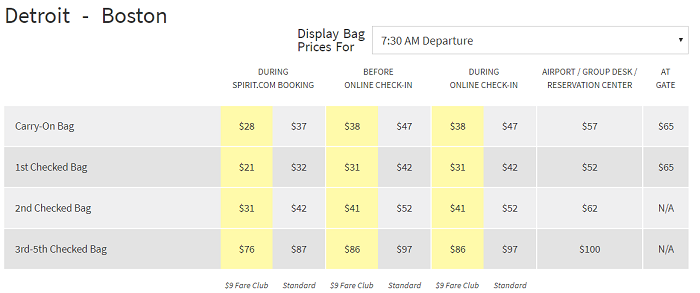 Possibly the most complicated table of bag fees you'll ever see
I knew I'd have my roller bag along for the trip, but decided not to pay for it when I booked the ticket, thinking there was a small chance I might throw the ticket away. That is, I decided I'd rather pay $10 more later rather than run the risk of losing the value of my ticket and the bag fee.
So I paid $42 during the check-in process, rather than $32 if I had paid for the bag during booking. That's right, checking a bag nearly doubled the cost of my trip.
Anyway, I also elected not to pay for a seat assignment, instead hoping I could try the same trick I used with my Frontier flight to get a good seat.
Checking-in for my Spirit flight
For my Frontier flight, I checked-in at the airport literally an hour before departure. But that's not a good idea with Spirit, since they charge you to print a boarding pass and they don't believe in mobile boarding passes.
So I checked-in before leaving for the airport, which was about 2.5 hours before departure. I was assigned a window seat in row 8, which seemed pretty darn good. I'm horrible about losing boarding passes, so I made sure to stuff it carefully into my pocket, lest I end up paying to print a new one.
Arriving at Detroit Metro Airport North Terminal
Spirit uses the North Terminal at Detroit Metro Airport, which I'm very familiar with since United — and just about everyone else not named, or in bed with, Delta — does as well. It's a very convenient terminal to fly out of since there aren't that many gates. In fact, flying out of the North Terminal sort of makes you forget that you are at a major airport.
Because of that, I rarely arrive more than an hour early when flying United, unless I'm aiming to grab a snack at the Lufthansa Senator lounge. But I figured since I was flying Spirit, I should allow some extra time, so I arrived at 6 AM for my 7:30 AM flight.
Waiting in line to check a bag
The first thing I noticed was a line. A massive line. It was overflowing the corral at the Spirit counter and winding halfway to the other end of the terminal.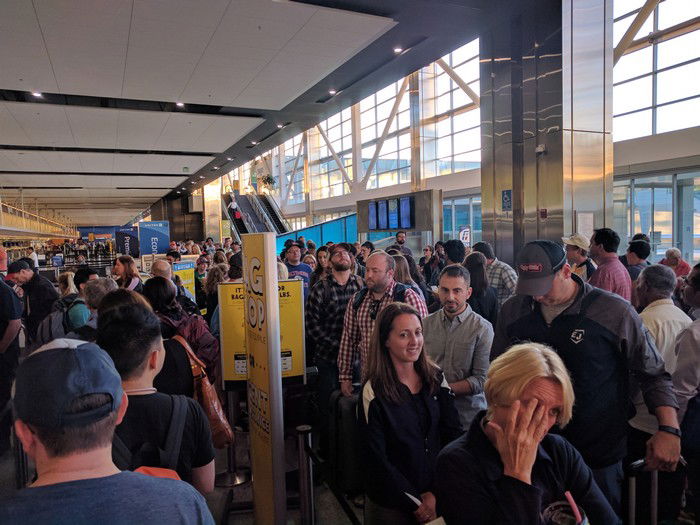 Spirit line at Detroit Metro
My heart sank as I realized that I had decided to save a few bucks by electing to check my bag instead of carrying it on. I actually had a thought that perhaps I could pay the difference and just take my roller to the gate. But I didn't know who to ask, and kind of doubted there was a means for dealing with such a request. So I started looking for the end of the line.
If you squint, you can see the Spirit counter way down at the end.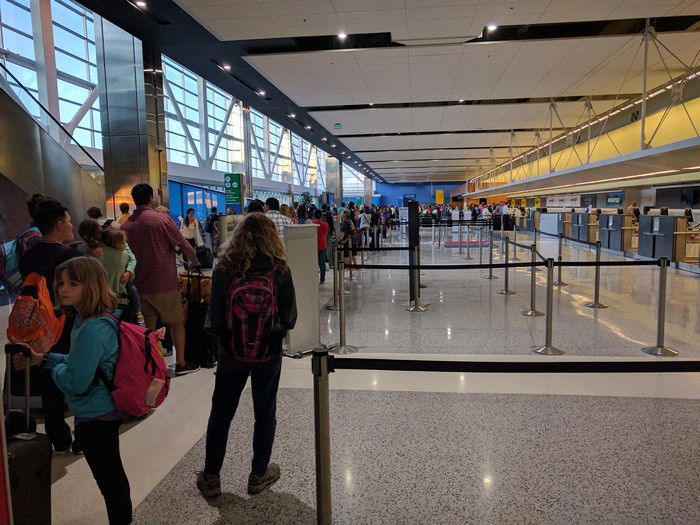 The Spirit counter is way down there
The good news was that the people waiting were mostly taking things in stride. And I felt a bit better when I discovered that the people around me were mostly on flights leaving before mine.
But the line barely budged. And it was completely blocking access to the United counter, as well as a few others.
At intervals, a United agent would walk around making sure that their customers weren't in the Spirit line by mistake. He'd ask if anyone was flying United, and more than a few people muttered, I wish! You sure don't hear that everyday!
I eventually made it up to the corrals.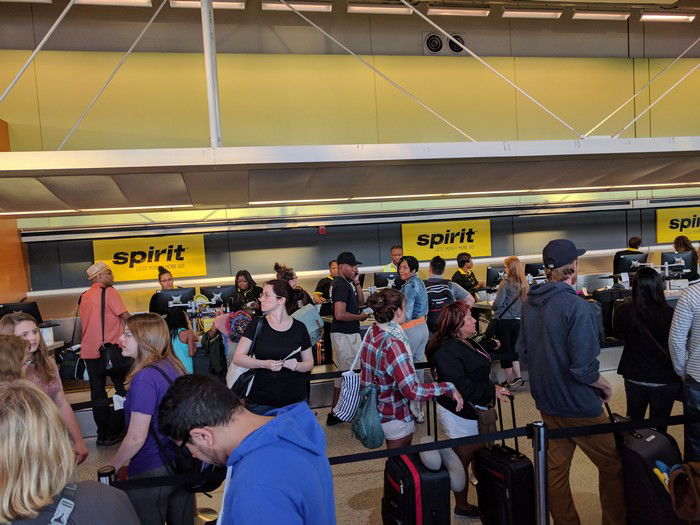 Finally in the Spirit corral
But by this point the Spirit agents were starting to make announcements for people on flights departing prior to mine to come forward. They called for Houston. And Denver. Meanwhile, those of us going to Boston just looked at each other — we had actually arrived sufficiently early, but now that didn't matter as they just took people in the order of their departure time.
Meanwhile, a second spur of the main Spirit line had formed going toward security at the near end of the terminal. Apparently an airport employee had told some people to wrap the line in that direction so as not to block the other airlines' counters. But of course, not everyone had listened, and why should they? So a minor skirmish nearly broke out as the two lines argued over which was the legitimate Spirit line.
I can't make this stuff up.
Fortunately, I was already in the corral, so it didn't affect me. Instead, I got out my phone hoping to record the next viral video of passengers behaving poorly. I guess they managed to sort it out, because fisticuffs did not ensue. In fact, I don't think the line much mattered anymore since the agents had just started helping people based on their departure time anyway.
I finally checked my bag at 7 AM, having waited in line for exactly an hour. I now had about 15 minutes to get through security and to the gate.
Arriving at the gate
Although I'm sure I had entered my Known Traveler Number on the reservation, my boarding pass didn't show TSA PreCheck. Crap.
It turns out that there are ways to use PreCheck even when the airline you're flying that day doesn't put your number on the boarding pass.
As luck would have it, the only PreCheck lane that morning was at the far end of the terminal, back where I had started waiting in line. Fortunately it was pretty empty, probably because the only people trying to get through security were Spirit passengers, and I doubt many of them have PreCheck.
I then headed to the gate, which was most of the way back in the direction I had just come from.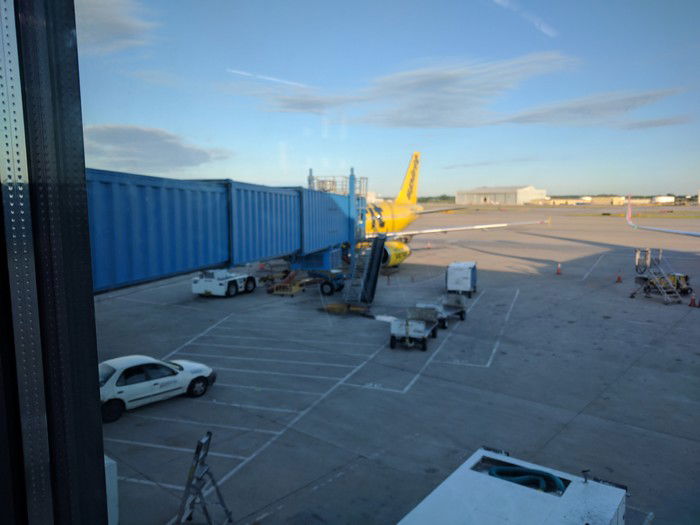 Spirit gate at Detroit Metro airport
By the time I arrived, there was no one at the gate other than the agent. Well, duh, that's because half of them were probably still trying to check their bag, or get through security.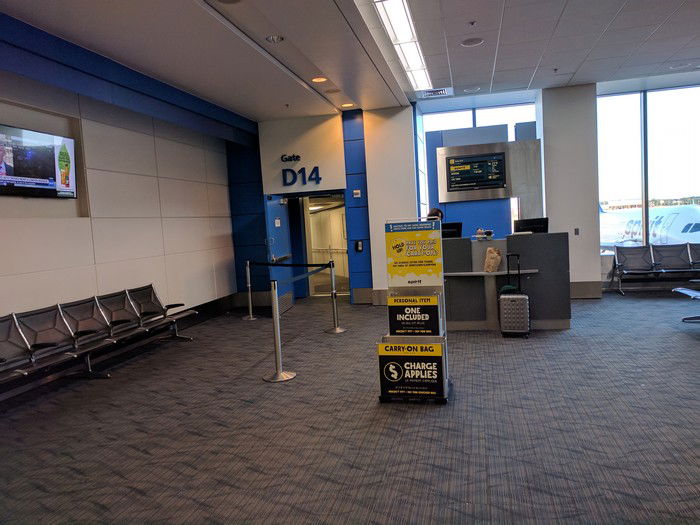 Spirit gate at Detroit Metro airport
I had a lightly filled backpack as my personal item, which would have fit easily in the sizer. But nobody questioned it.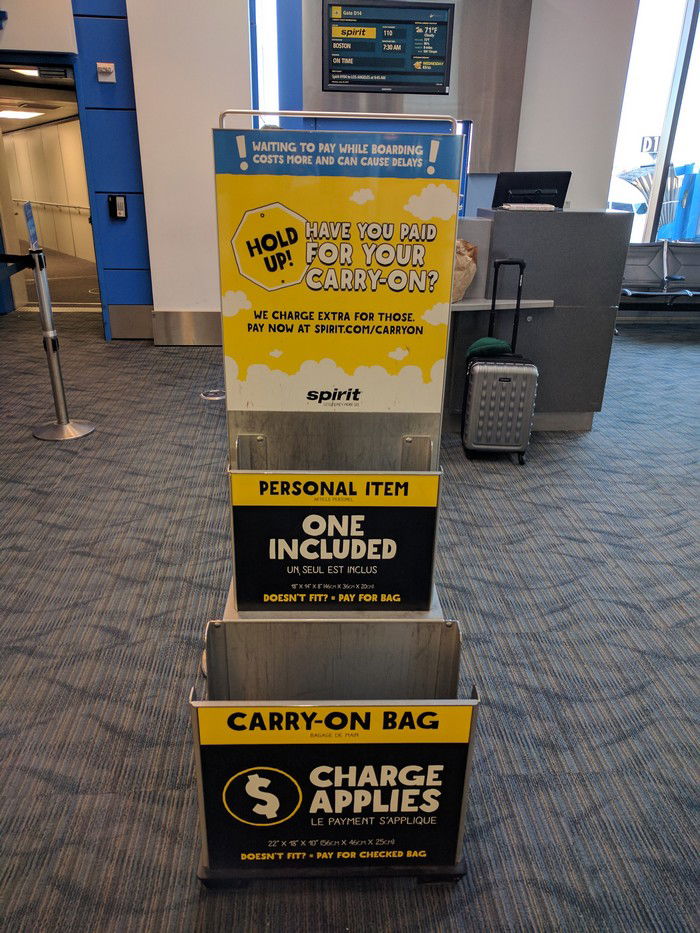 Spirit bag sizer
Boarding my Spirit flight
I headed down the jet bridge at around 7:15 AM.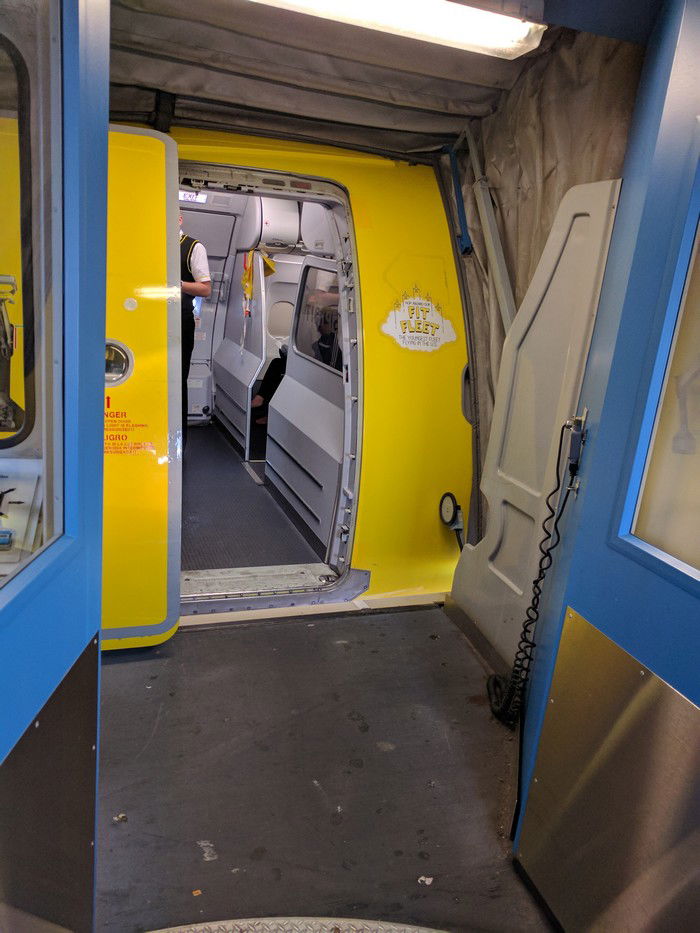 Spirit plane at Detroit Metro
I walked by the big front seats which looked pretty nice. But you'll have to wait for Ben to tell you about them.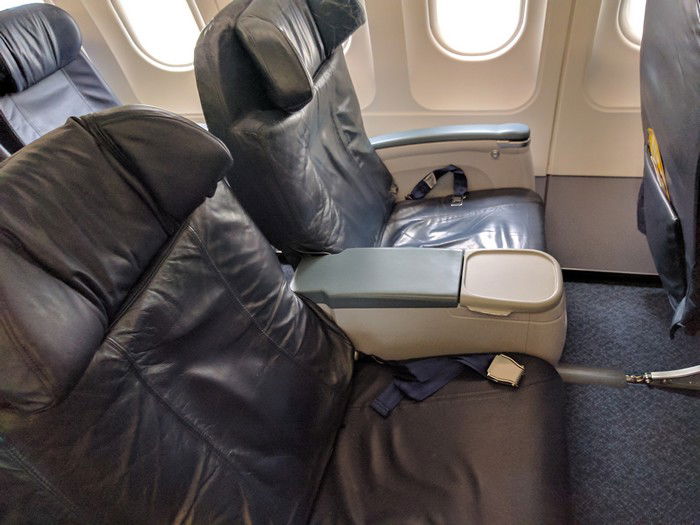 Spirit big front seat
I found my regular economy seat and settled in.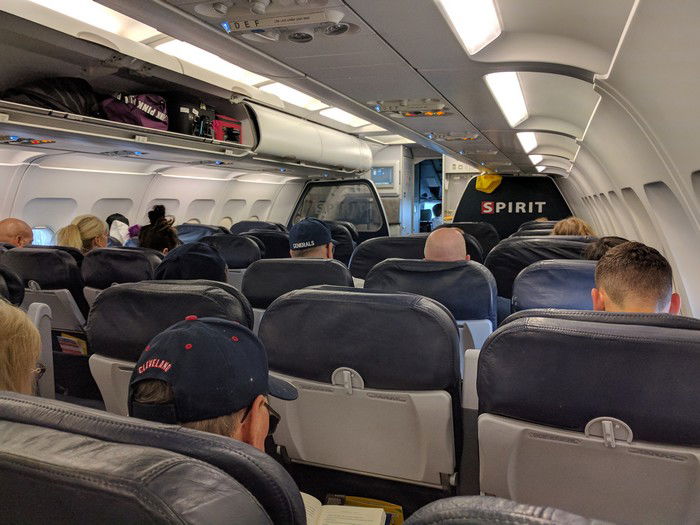 Spirit seating
For the moment, I had a row to myself.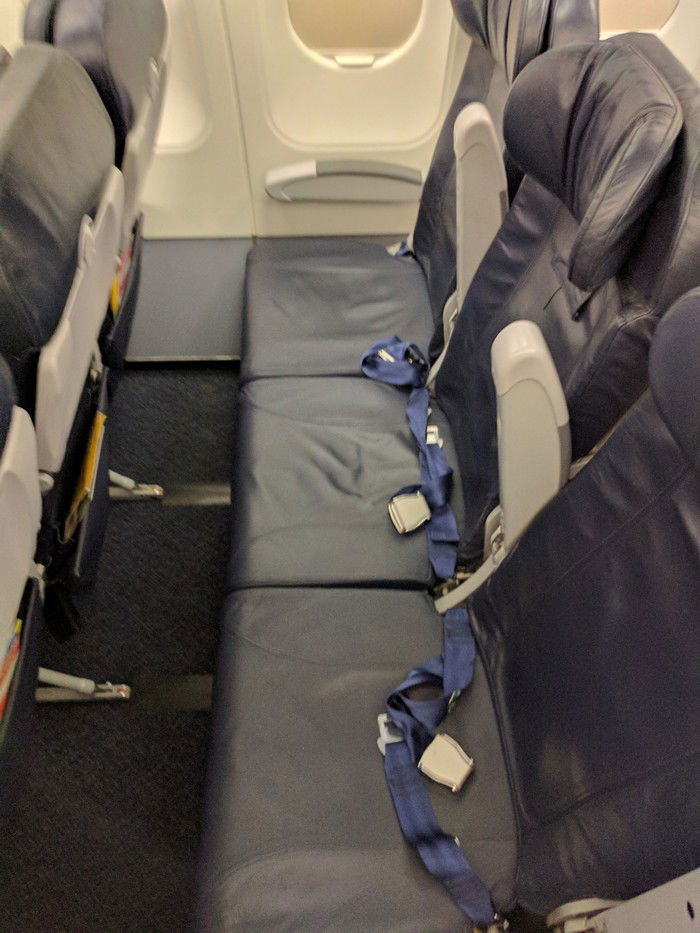 Spirit seating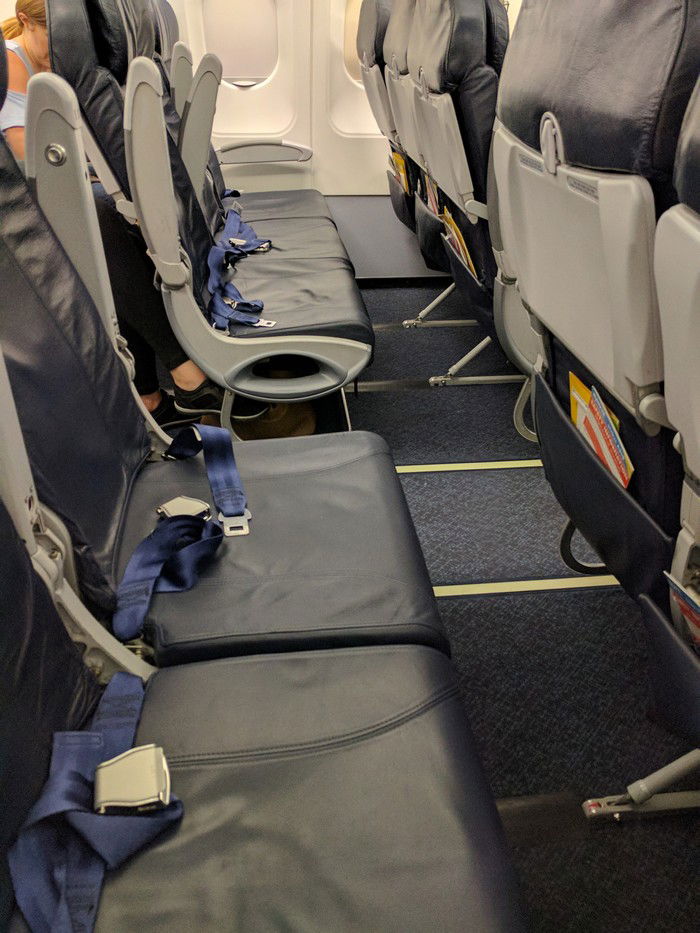 Spirit seating
At about 7:25AM, the nice couple who were in front of me in line — we had become quite good friends over the past hour — boarded. So apparently I could have gone through regular security and still made it.
The seat itself was nice enough and the pitch wasn't really too unreasonable. I'm 6 feet tall and found it snug, but livable.

Spirit seat
Even better, the seat actually reclined and there was a real tray table, features you won't find on a Frontier plane.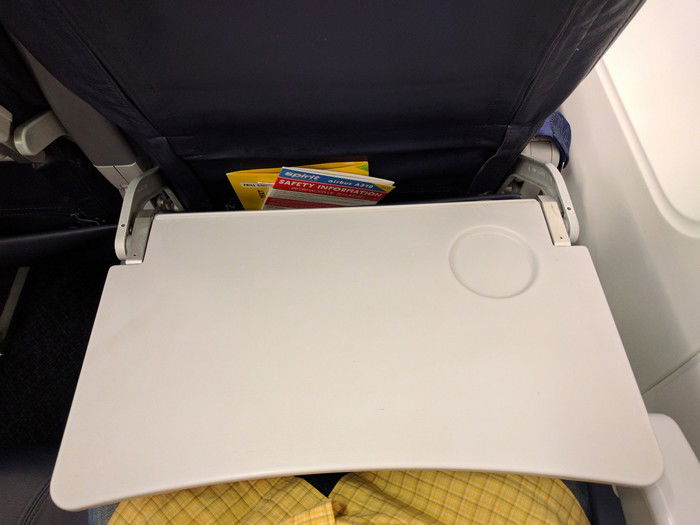 Spirit tray table
Flying to Boston
We ended up departing a few minutes late, but nothing too out of the ordinary. I'm not sure if that's because we were waiting for some passengers or not. The middle seat next to me stayed empty, so I'd say my late check-in strategy again worked pretty well.
Spirit charges for food and drink. I took some pictures of the menu just so Ben could salivate over the BuzzBalls.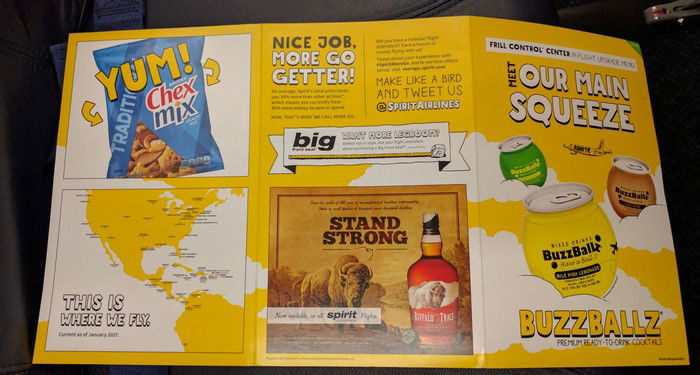 Spirit menu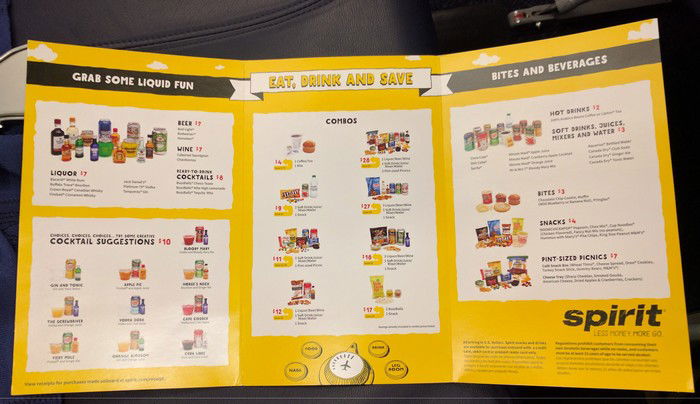 Spirit menu
The flight attendants were nice enough. In fact, the flight itself was actually pretty uneventful. Having woken up at 5 AM, I dozed for most of it.
We arrived in Boston pretty much on-time.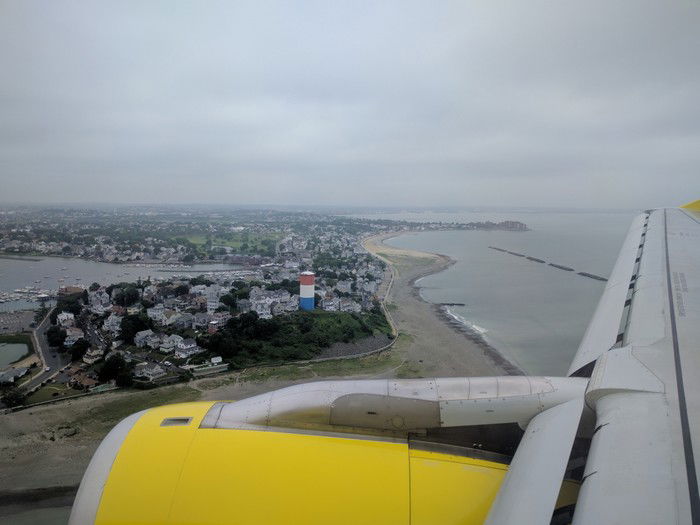 View from in front of the wing
Spirit has a couple gates in Boston, and frankly they are a cluster.
The line of people waiting to board our plane was in the way of the deplaning passengers, so it took some careful navigating to get through. And at first glance, it seems that Spirit is confined to their own little area, disconnected from everyone else. But in fact, if you turn left, there is a connector that will take you to American and United gates.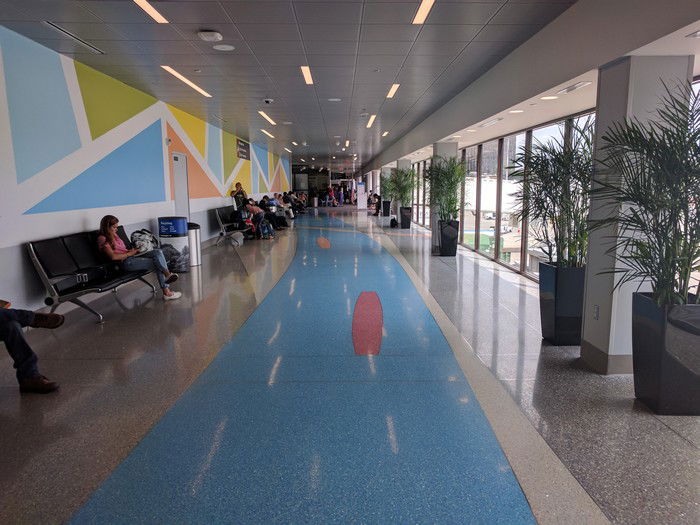 Connector in Boston
I headed to the American Admirals Club to re-hydrate.
Bottom Line
My Spirit experience was definitely interesting.
The check-in process was absolute chaos. I know I'm probably spoiled by elite status, but I just don't see how it should take an hour to check a bag. It seems like they could invest in some technology that would let people tag their own bags, or something.
If I was to do it over, I would have just paid the $10 premium to bring my roller on the plane, instead of checking it. Then I could have avoided the big line. That's probably my biggest tip when flying Spirit, at least when departing from one of their busy hubs.
The flight, on the other hand, was perfectly fine. In fact, once we were in the air, I sort of forgot that I was flying Spirit.
Will I fly them again? Perhaps, but only if they are significantly cheaper than United. Or anyone else.
Have you flown Spirit? How was it?