Last week I shared the story of my first ever flight on Spirit. The flight itself was fine, but the check-in process took over an hour and concluded with the agents disregarding the line and instead calling passengers up in the order their flight was departing.
As irritating as that was, it still wasn't my worst experience with a low cost carrier this year. Here's the story of my Denver to Philadelphia redeye-turned-early morning-departure on Frontier from late April.
Choosing to fly Frontier
As I explained in the review of my Spirit flight, I don't get terribly excited about flying random airlines. I'm a United Premier 1K and am generally pretty happy to stick with the devil I know. I'll even pay a little more just to stay in my comfort zone. But like anyone, there are limits to my loyalty.
So when United and the other legacies were all charging $350 for a one-way flight from Denver to Philadelphia back in April, I figured I could save some money with Frontier where tickets were only $100. Even after paying $30 for a checked bag, I was still going to come out way ahead. I had previously flown Frontier from Denver to Salt Lake City, Minneapolis, and Detroit (though that was prior to them morphing into a low cost carrier) without issue so I more or less knew what to expect.
I didn't really like the 1:20 AM departure on a Sunday morning, but for $200+ in savings, I figured I could skip a night of sleep. Moreover, since I would be arriving on Sunday morning and my meetings weren't until Monday, I figured I could put some of the savings toward an extra hotel night which would help with my Hyatt status anyway.
Checking in for my Frontier flight
I arrived at the airport at about 12:15 AM for my 1:20 AM flight. I had never seen the Denver airport so quiet. Denver just doesn't have that many redeye flights to begin with, and this one was particularly late, probably the last of the "night."
I checked in for my flight on the Frontier app as I walked in. This late checkin was the crux of my strategy for getting a really good seat for free. I was assigned seat "0," which I figured meant I was either piloting the plane, or didn't actually have a seat at all. I needed to check my bag anyway so I planned to ask about it at the counter.
Frontier used to be Denver's hometown airline, and they still have a huge presence. The check-in area is spacious with plenty of stations for agents to assist passengers.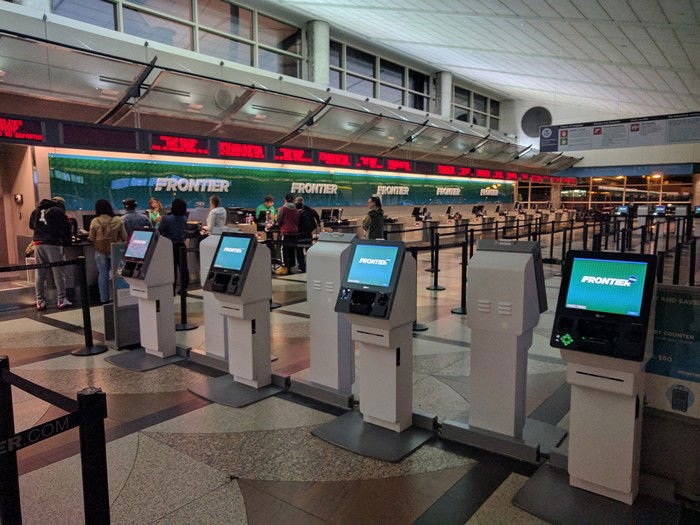 Frontier ticket counter
There were only two agents working the counter when I arrived, but that seemed sufficient given the late hour.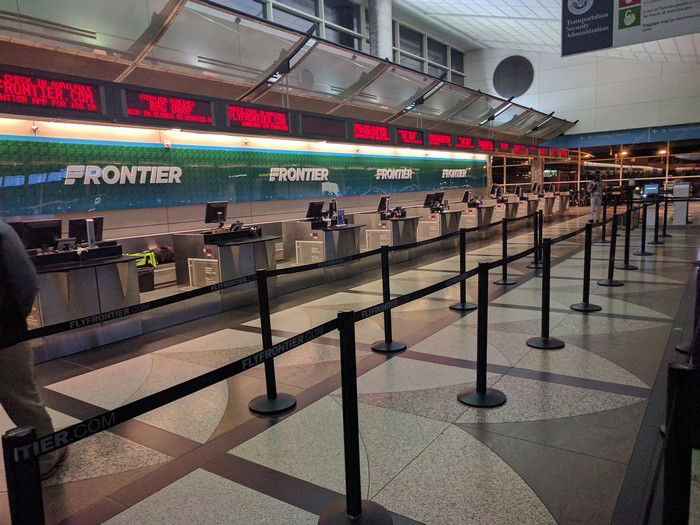 Frontier ticket counter
There were also a slew of kiosks scattered around for those just needing to print a boarding pass.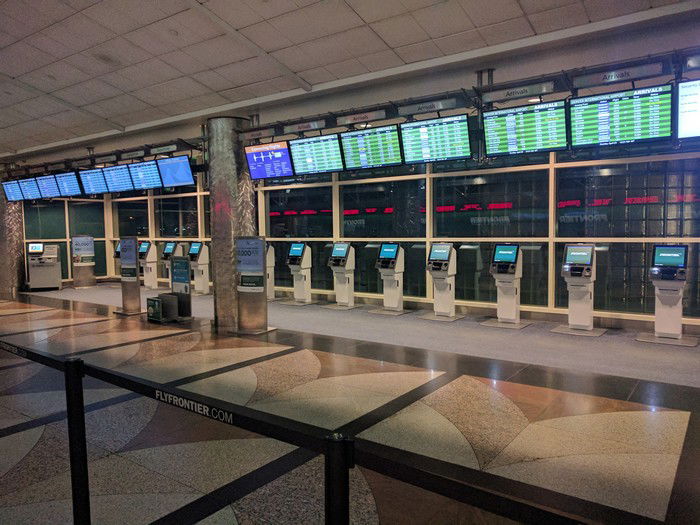 Frontier ticket counter
Located just to the left of Frontier, Spirit is tiny by comparison, at least in Denver.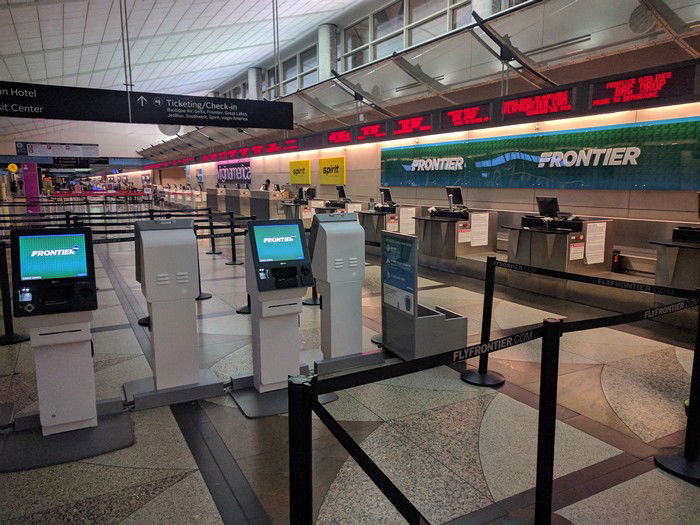 Frontier ticket counter
I stopped by a kiosk to reprint my boarding pass and take a final look at the seat map before checking my bag. They had a bag sizer there as well, but I was pretty sure my backpack would fit.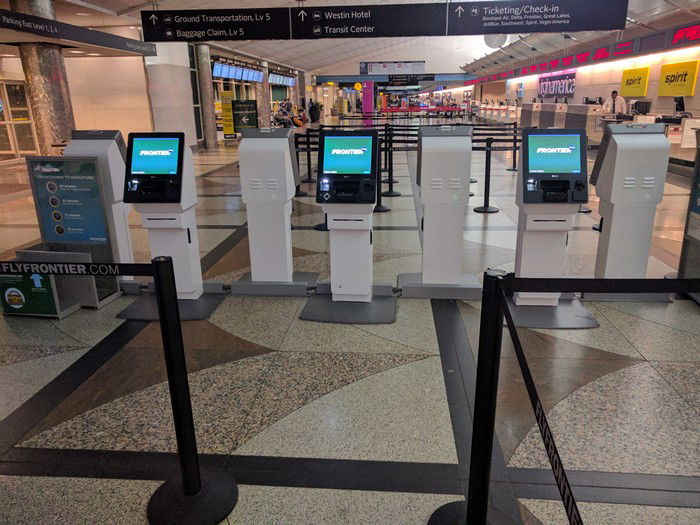 Frontier ticket counter
There were only a few people in front of me when I got in line.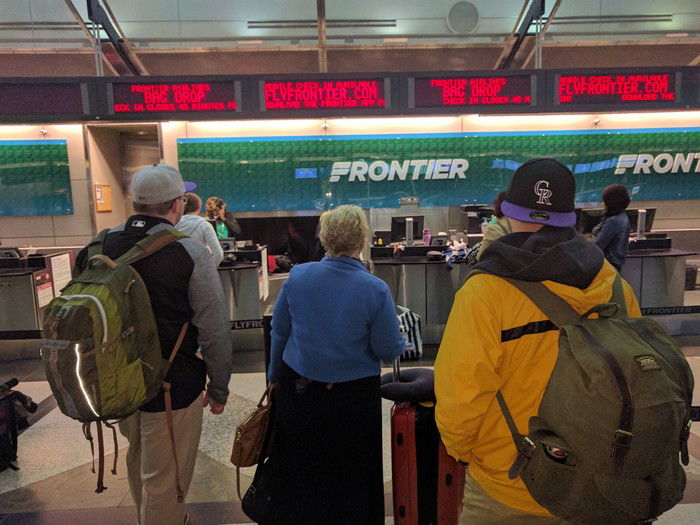 Frontier ticket counter
The agent greeted me and confirmed I was going to Philadelphia. He was very friendly, perhaps surprisingly so for that god-awful hour of the night. He soon began typing on his keyboard, and then asked if I could lift 35 pounds before presenting me with a boarding pass for an aisle exit row seat. Score.
I was curious if the flight was oversold, and he confirmed it was — by two. And that he had just given me the last seat. <gulp>
From there I headed to the security.
Late night security at Denver International Airport
One of the best things about flying Frontier out of Denver is that you can use bridge security and walk to the gate, thus skipping the train. It's also super convenient if you're going to the American Admirals club.
But bridge security wasn't open when I got there. In fact, of the three checkpoints, only the one at the opposite end of the terminal was available. So I made the long trek back through the deserted terminal.
I had never seen the Denver airport this quiet. I almost wished I brought my DSLR to take more pictures.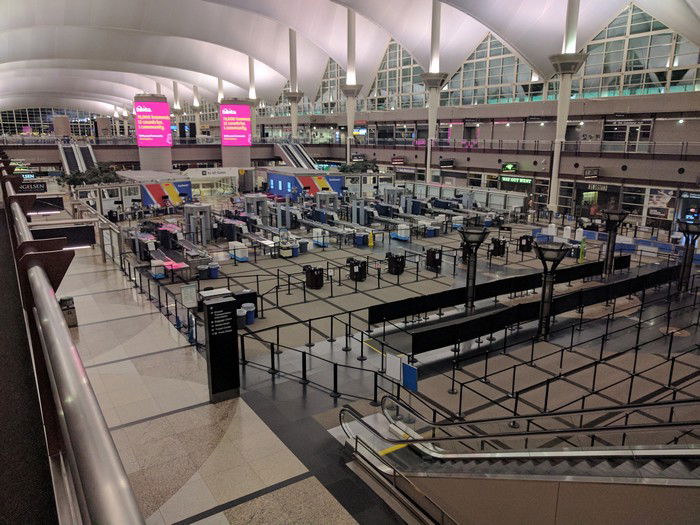 Denver International Airport
It was like the airport had gone to sleep for the night. And indeed, a few people were already sleeping in various nooks and crannies.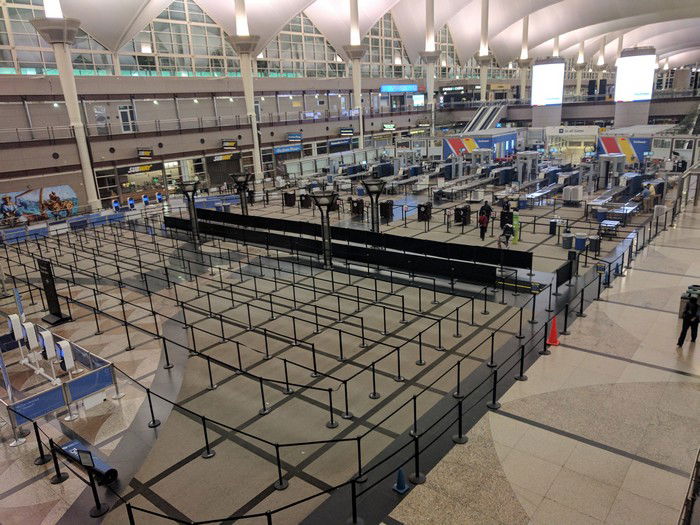 Denver International Airport
I think there were one or two fast food joints open, but that was about the only activity.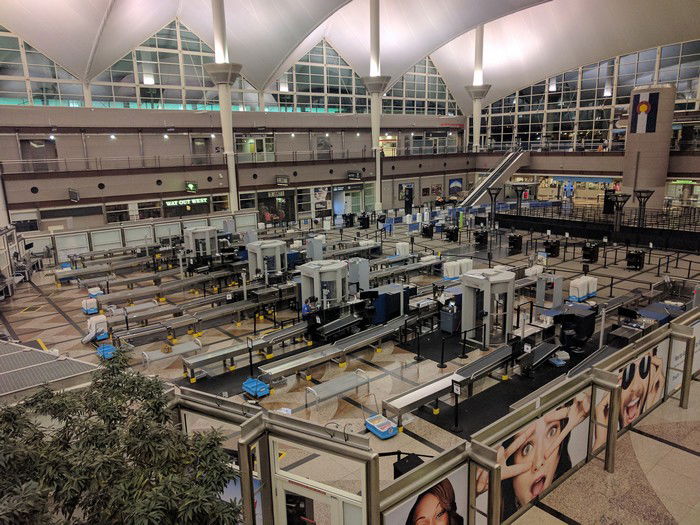 Denver International Airport
There was only one security lane open, and it was staffed by a single TSA agent. It wasn't a TSA Pre-check lane, but he assured me that they would give me Pre-check treatment when I got up to the metal detector. And indeed they did. Overall, it was a very pleasant screening experience. It's amazing how friendly the TSA can be when you catch them during low traffic times of the day.
I headed up to the Admirals Club, but by the time I arrived it was 12:40 AM and they had just closed 10 minutes prior. No midnight snack for me.
So I headed to the gate and had some good views of the Frontier gates along the way.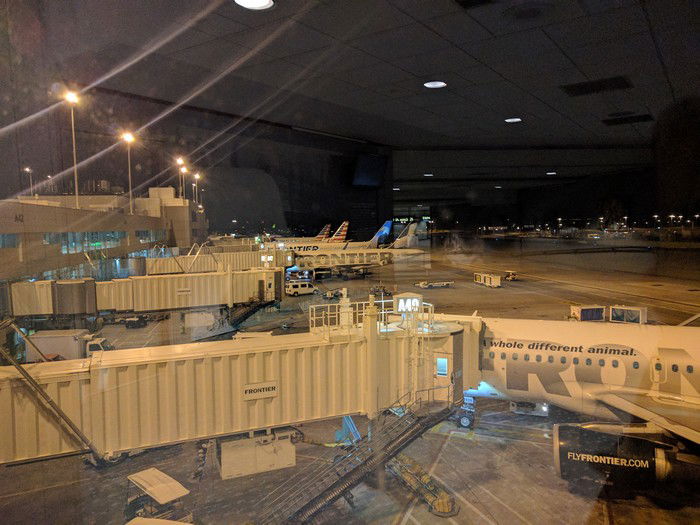 Denver International Airport
Boarding my Frontier flight
I arrived at the gate just as boarding was about to begin.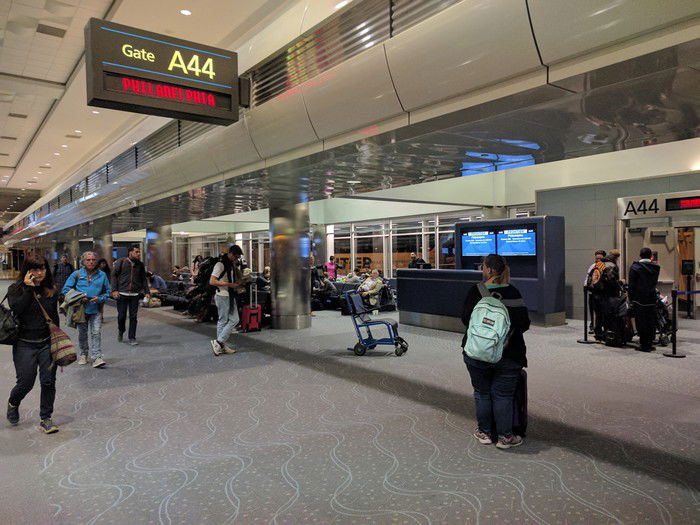 Frontier gate
I had been assigned to Group 2, possibly as a result of my exit row seat. I'm not sure about the qualifications for Group 1 boarding on Frontier, but there seemed to be a quite a large number of folks in that group. I'm always curious as to how the LCCs enforce their carry-on sizes, but for this flight I didn't see anyone being hassled.
The inside of the plane was very clean and shiny.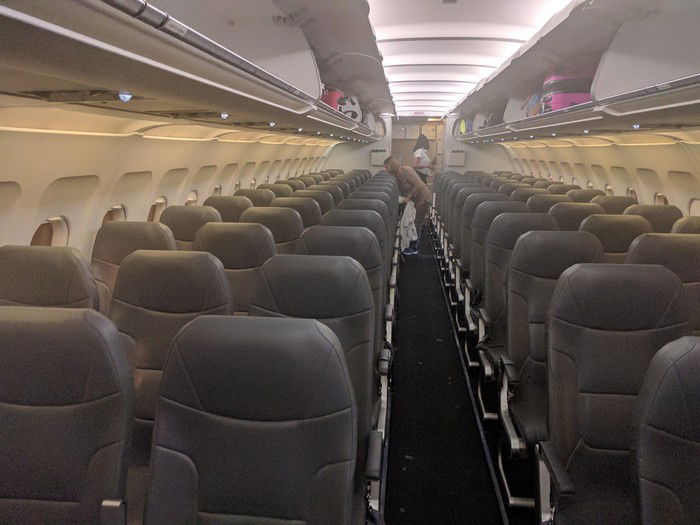 Frontier plane
But the seats didn't look very comfortable.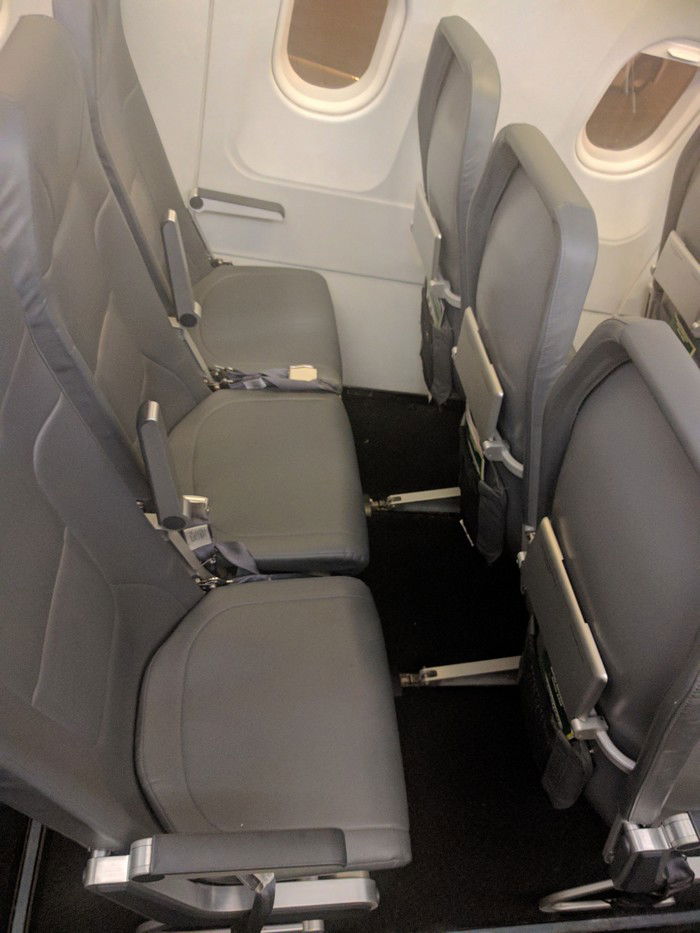 Frontier seats
They are a very slim line seat made out of molded plastic, so they don't have a lot of give. Nor do they recline.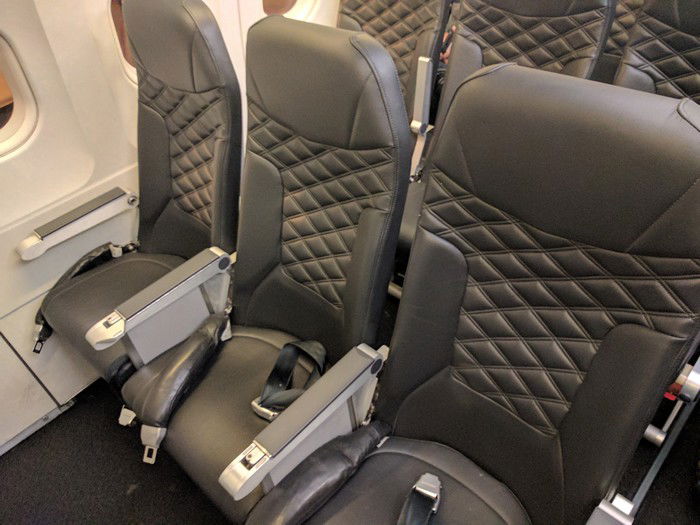 Frontier seats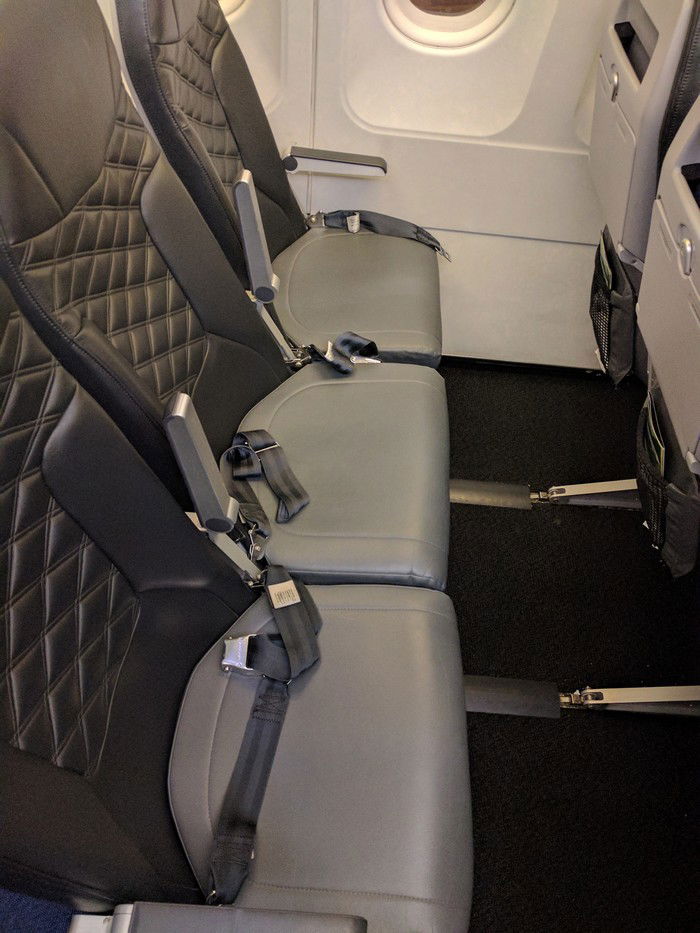 Frontier seats
But at least I was in the exit row, so I had plenty of leg room.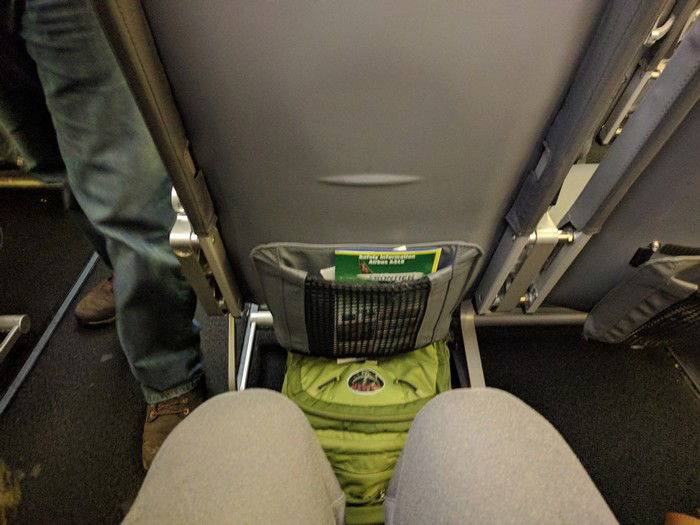 Frontier exit row seat
The tray table at my exit row seat folded out to make a mostly full-sized tray table.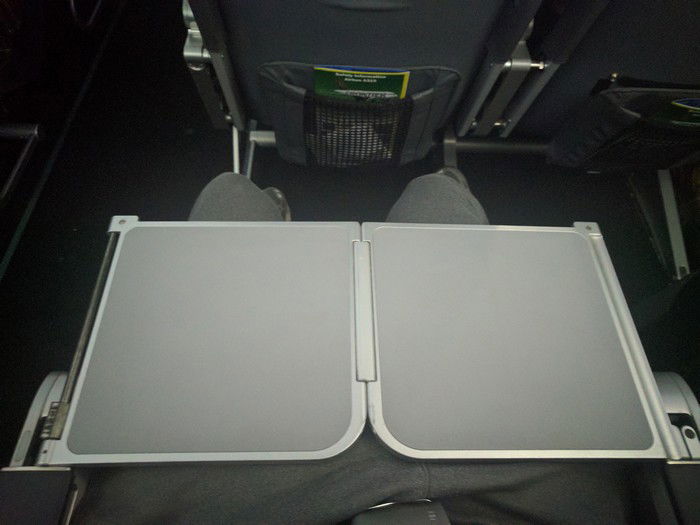 Frontier exit row tray table
But the other seats have what I would call a tray tablette — it's not useful for much more than a table or cup of water. On the other hand, if the seat pitch prevents you from opening a laptop anyway, perhaps a small tray table is a good thing since you don't feel as claustrophobic.
I'm always curious as to who books flights that depart at 1:20 AM. A mother with two young boys had the row diagonally back from me, which both caused me to miss my kids and be glad that they weren't along for this trip. Wrangling kids who are either asleep or wishing they were isn't a lot of fun.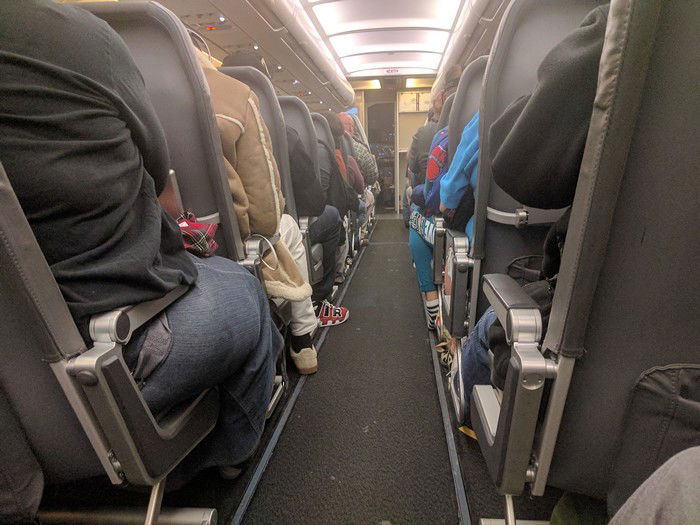 Frontier plane
At any rate, boarding on Frontier is amazingly efficient. They had the entire plane boarded by 1 AM, which was 20 minutes prior to departure. I guess charging more for carry-on bags really does make a difference. I was getting excited about an early arrival and the bed that was waiting for me at the Hyatt House in New Jersey.
But then things started to go south.
Delay, delay, delay
At 1:19 AM, one minute before our scheduled departure, the gate agent came on to say that we were going to be delayed because there was no pilot. And in the meantime, everyone would have to deplane.
He said they had put out a call for a pilot — perhaps on TaskRabbit? — and that they expected to have one such that we could push back at 2:30 AM. The gate agent suggested that we could leave our bags on the plane if we wanted, but that never seems like a good idea to me.
Overall, I was surprised at just how nonchalant people were about the delay given that it was the middle of the night. No one really said much of anything.
I found a nice place to stretch out back in the terminal. I wasn't that tired so figured I'd catch up on a few emails.
But then I got the notice on my phone that our departure was pushed back to 4:30 AM, which the gate agent soon confirmed. He also said that it was caused by the pilot calling in sick. And that they were still trying to get a pilot, though they weren't sure they'd actually be successful given that it was the middle of the night. This caused a few groans, but no revolt.
By now, most of the passengers had long since made themselves comfortable.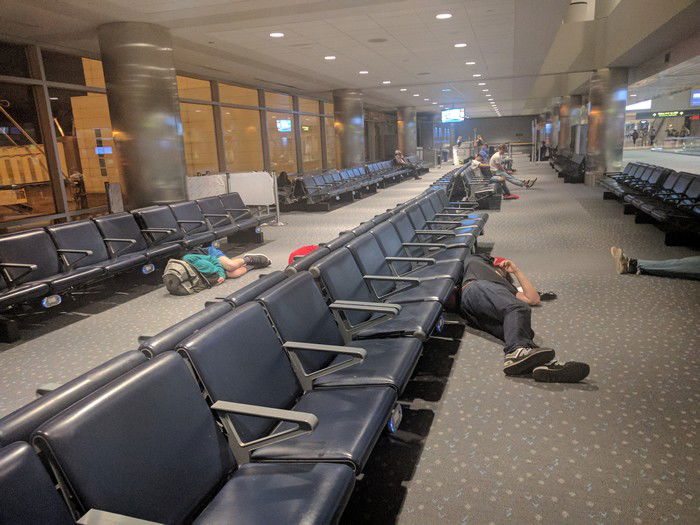 Denver International Airport
At least there was plenty of space to stretch out. And since it was a red-eye flight, I had my neck pillow with me.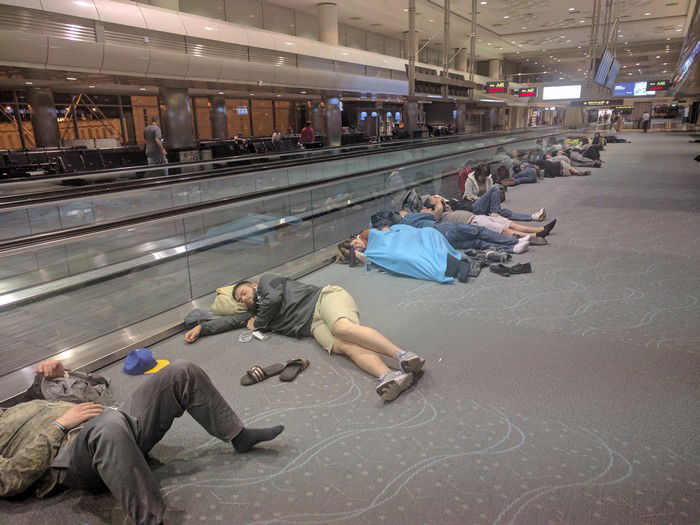 Denver International Airport
I doubted I would really sleep, but getting horizontal and closing my eyes was at least a start. Then around 4 AM the gate agent announced they had received confirmation that their prayers calls for a pilot had been answered, and we would now be departing at 6:30 AM.
The monitors soon updated to reflect this.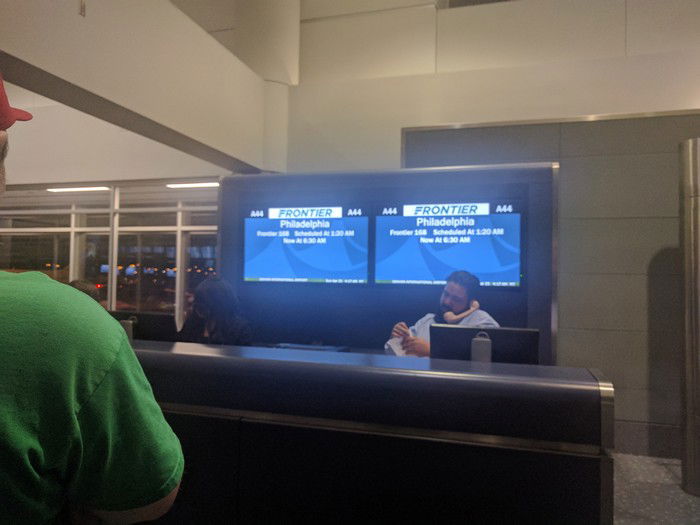 Frontier gate
I'm not a fan of 6 AM flights, but I guess they are better than 1:20 AM flights, right? 😉
We were then given $10 meal vouchers which were freshly printed at the gate. Since they had the name of each passenger printed on them, it took a bit for the agent to distribute them.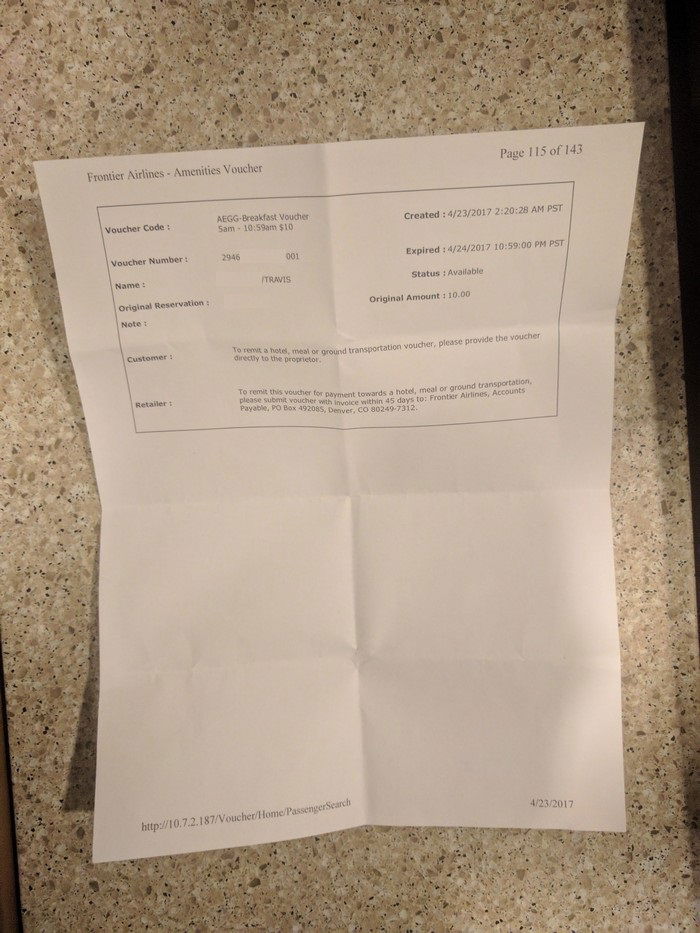 Frontier voucher
I decided to use my voucher to buy a few chicken sandwiches for the plane, and instead headed up to the Admirals Club for breakfast, which had just reopened for the day.
Re-boarding and take off
When I got back to the gate around 6 AM, it was about time to re-board the plane. The agent was advising that we would get compensation in the form of a voucher for the delay.
There was a new crew of flight attendants on the plane, and they were well aware of the situation and were quite sympathetic. The replacement pilot said a few nice things as well. That sort of impressed me, as I hate it when you get on a plane in situations like this and the flight attendants pretend nothing happened.
The flight itself was rather uneventful. Or at least I don't remember much because I dozed for most of the flight. Then again, without entertainment or Wi-Fi, that's about all there is to do on a Frontier flight anyway.
I do recall the flight attendants pushing the cart and peddling their wares. I would have taken a picture of the menu, but there was none. I don't have a degree in marketing, but it seems easier to sell stuff if people know what's available.
We finally landed in Philadelphia just shy of noon, a delay of about five hours.
I then made the long walk to baggage claim where it seemed to take forever for my bag to come out. I wish I had timed it, as it seemed like at least 30 minutes since we arrived at the gate.
Bottom line
My flight on Frontier was about what I expected. I'm not a fan of their seats — and think they are much less comfortable than Spirit — but at least I was in an exit row. The ground crew and flight attendants were also friendly enough.
I'm not sure what to think about the delay — of course it could happen on any airline, but network carriers could probably reroute you either on their own flights or interline you to other airlines.
Then again, there wouldn't have been any other options at 1:20 AM anyway, so even if I had been flying United, I'd most likely have been spending the night at the airport. I guess it would have been nice if they could have notified us about the delay earlier — had I known about the delay before I left for the airport, I would have been thrilled to get a few hours of sleep in a real bed. But perhaps the pilot called in sick at the last minute?
Either way, the gate agent was reasonably communicative in terms of keeping us informed as to the status of the flight. And I definitely appreciated the proactive food voucher.
Would I fly Frontier again? Yes, but only if the price was substantially cheaper than United.
What do you think of Frontier?