In May I wrote about how Cathay Pacific may soon restrict many award seats to members of their own frequent flyer program.
Are Cathay Pacific first class awards using partner miles going away?
While the development of alliances has been one of the best things to happen to frequent flyer programs in a long time, there's no denying that this opens many arbitrage opportunities. In other words, when programs like American AAdvantage sell miles at a discount and then their members book seats in Cathay Pacific first class, it does arguably devalue the program for Cathay Pacific's members.
Here's how the possible change was explained at the time:
Cathay Pacific is to set aside more free seats for its seasoned frequent fliers, under the latest proposal to revamp the award- winning airline's loyalty scheme.

The plan is to slash the number of free air tickets available for partner airlines and to reallocate those to Cathay's own Marco Polo Club members, sources close to the ongoing review say.

Cathay had been examining the feasibility of shifting its focus to members of the Marco Polo Club and another rewards scheme, Asia Miles, well before the Consumer Council criticised unnamed carriers last month for operating mileage schemes like "a lucky draw". No decision had been made yet, the airline said.

The sources say Cathay believes it is time to stop allowing external redemptions when the airline is capable of filling aircraft with paid passengers – boosting long-term profitability.
I'll be curious to see if and how these restrictions are put into place. I wonder whether they'll restrict premium cabin awards for members of partner programs altogether, only make the seats available to those members a certain amount of time before departure, or what. Such a restriction would no doubt be a big blow to the value of partner airline miles.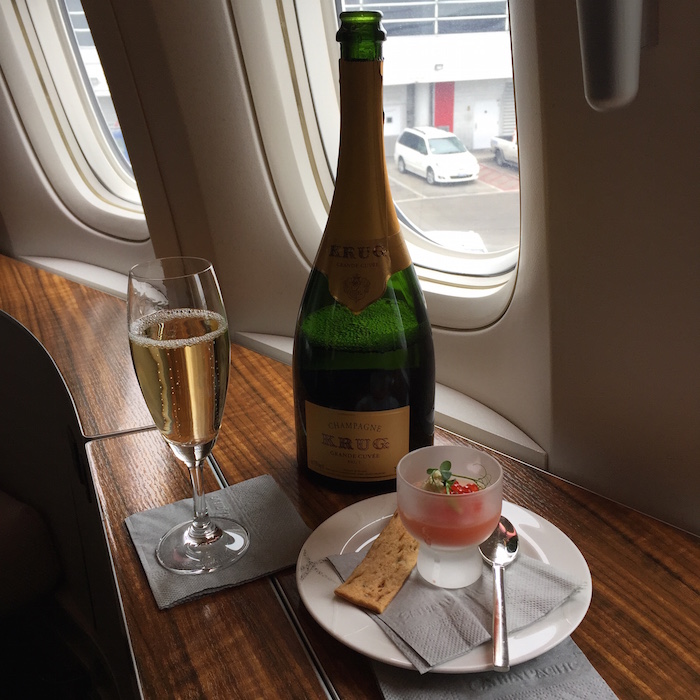 Cathay Pacific first class pre-departure service
Changes coming to Cathay Pacific's program as well
It looks like it's not just partner frequent flyer programs which are sort of getting the boot, but also members of Cathay Pacific's own Asia Miles and Marco Polo Club programs.
Cathay Pacific may cut benefits in their own frequent flyer program by the end of the year, per ejinsight.com.
What changes is Cathay Pacific looking at making?
Not surprisingly, they're considering linking miles earned more closely to revenue than to miles flown, just as British Airways has recently done:
As soon as by the end of this year, the Hong Kong carrier will change the way it calculates the mileage accumulated by members of its Marco Polo Club and Asia Miles from actual flying distance, which is the current method, to one based on airfare, Apple Daily reported on Tuesday.

If the mileage calculation is based on airfare, the gap will widen further because business-class airfare is normally at least double that of the economy class.

While the planned change has been criticized as "robbing the poor to help the rich", Cathay Pacific chief executive Ivan Chu Kwok-leung explained on the sidelines of the International Air Transport Association's annual meeting that it is aimed at making the company's frequent flyer program consistent with international practice.
It doesn't necessarily sound like Cathay Pacific is going to a directly revenue based program (as the article sort of hints at), but rather that they'll widen the gap between miles earned on discounted tickets and miles earned on higher revenue tickets.

Cathay Pacific's current mileage earning rates
Furthermore, Cathay Pacific plans to limit lounge access for Marco Polo Club Silver members:
Meanwhile, the airline also plans to limit access to its VIP lounges by Marco Polo Club silver card holders, who currently enjoy unlimited use, while those holding gold and diamond cards will be unaffected.

Chu said the planned change was in response to complaints from some members who said the VIP lounges are often too crowded.
Marco Polo Club Silver is technically only oneworld Ruby status (which isn't typically eligible for lounge access), but as an exception Cathay Pacific gives those members access to their business class lounges.

Cathay Pacific's current elite tiers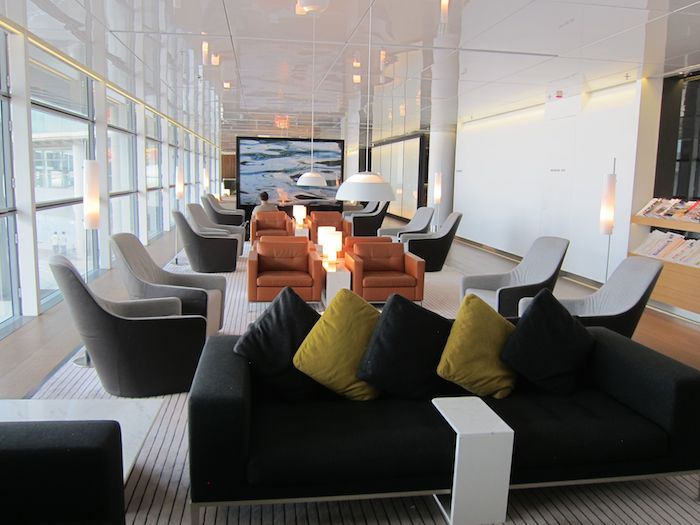 Cathay Pacific's The Bridge Business Class Lounge Hong Kong
Cathay Pacific also gives all members priority check-in and boarding, which they'll be eliminating as well:
As for green card holders who account for the largest portion of its members, Cathay is expected to cancel their current benefits of priority check-in and priority boarding.

Cost control is a must for all airlines amid the tough business environment, Chu said.
I'm not sure how offering priority boarding and check-in costs them anything extra, however. Everyone has to check-in and everyone has to board… no?
My thoughts on these changes
I think it goes without saying that none of this comes as a surprise. Frequent flyer programs are becoming less rewarding, and that's simply because airlines don't need to offer huge perks to fill seats. Airlines are wanting to do everything they can to incentivize full fare/premium tickets rather than frequent tickets, and these changes are just a further step for that.
The positive changes we'll see with frequent flyer programs will come with the opportunities for the airlines to monetize them, like through credit cards, partnerships, etc. After all, at least in the US more than half of miles are earned through activities other than flying.
I guess the one part I found odd about all these changes is how they're sort of being announced. Typically when airlines make changes to their frequent flyer program they're pretty set in stone, with an exact date given. It's a bit surprising to me how much Cathay Pacific executives are speaking "on the record" about future changes, without having an exact timeline or even all the details.
I'll be curious to see what really happens, especially when it comes to redeeming partner miles for travel on Cathay Pacific.

Cathay Pacific 777
What do you make of these impending changes to Cathay Pacific's program? Do you think they'll follow through with all of them?