While Delta SkyMiles isn't my favorite mileage currency, one of the things I do appreciate about SkyMiles is that the program has a higher "floor" value for miles than American and United.
That's to say that you can potentially "cash-out" SkyMiles towards the cost of a ticket at a better rate than you could with AAdvantage and MileagePlus.
This is all thanks to Delta's "Pay With Miles" feature, which lets you redeem miles at the rate of one cent each towards the cost of a Delta purchase. In this post, I wanted to look at how that works.
How Much Are Delta Miles Worth?
Personally, I value Delta SkyMiles at a bit over a cent each. I'm conservative about valuing miles, simply because you're holding onto a currency that can easily be devalued (and in the case of SkyMiles it is indeed often devalued, especially for international partner awards).
I do always hold out hope that there will be good deals for redeeming in international business class, either for travel on Delta, or for travel on a partner airline. However, that's not consistently possible nowadays.

China Airlines' 777 business class
For many people just redeeming for domestic travel is a lot more practical anyway.  That's one of the areas where Delta SkyMiles can be a great program. I know many people get frustrated by miles, and therefore don't think it's worth accruing miles with some airlines, whether through flying or credit cards.
Delta Pay With Miles
The good news is that unlike some other points currencies, SkyMiles have a legitimate "floor" value, thanks to the ability to redeem SkyMiles as cash towards the cost of a ticket.
If you have a Delta co-branded credit card then you can redeem SkyMiles for one cent each towards the cost of a ticket, in increments of 5,000 miles.
In other words, if a ticket costs $200, you could choose to:
Pay $150 plus 5,000 miles
Pay $100 plus 10,000 miles
Pay $50 plus 15,000 miles
Pay 20,000 miles
The best part is that for all practical purposes these are still considered "paid" tickets. Let's look at some more details about how this program works.
Who Is Eligible For Delta Pay With Miles?
The Pay With Miles benefit is available exclusively to those with Delta co-branded credit cards. This includes all seven co-branded cards, including the Blue, Gold, Platinum, and Reserve cards, both business and personal (the Blue only has a personal version).
Having elite status with Delta in and of itself doesn't give you access to this program.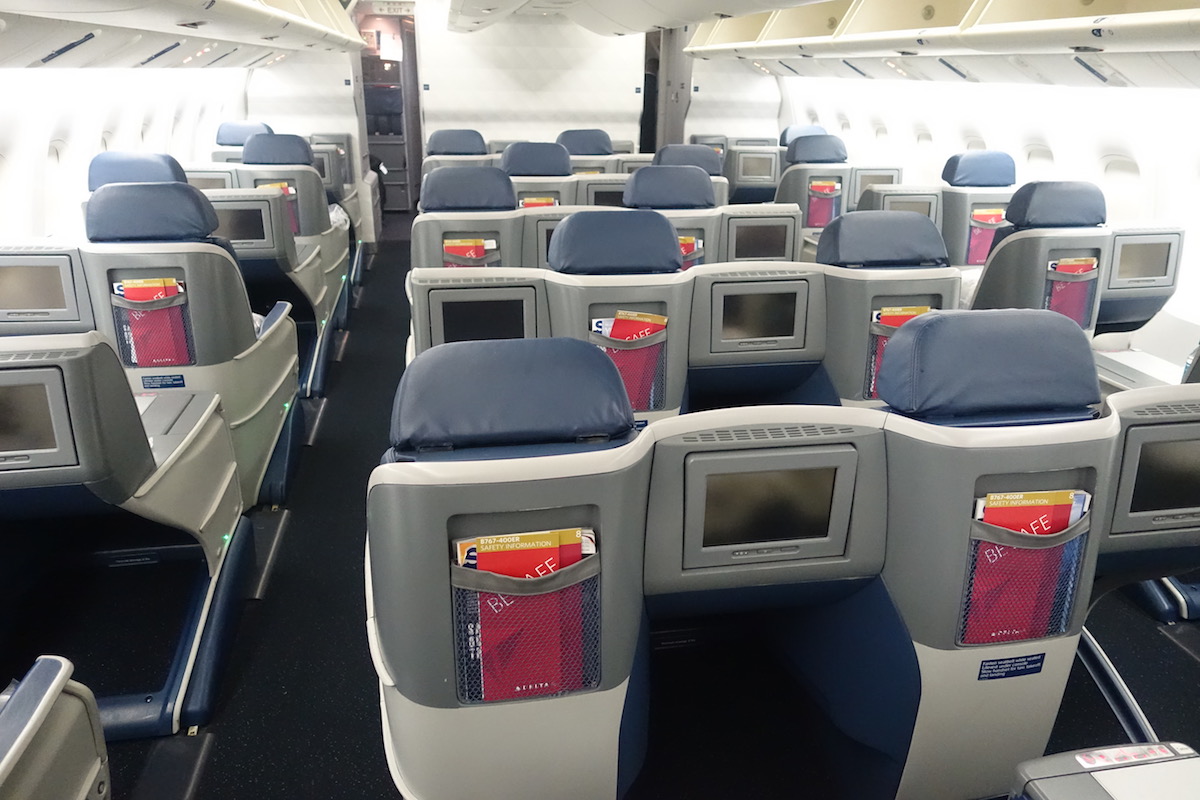 You should use Pay With Miles for a Delta One ticket
Do You Earn MQMs/MQSs On Delta Pay With Miles Tickets?
Yes, you earn Delta Medallion Qualifying Miles (MQMs) and Medallion Qualifying Segments (MQSs) for tickets booked through Pay With Miles.
This is one of the reasons the program is so popular, especially among elite members. The tickets you're redeeming your miles for can still help you requalify for elite status.
Do You Earn MQDs On Delta Pay With Miles Tickets?
Delta Pay With Miles tickets are eligible for the accrual of Medallion Qualifying Dollars (MQDs), but only for the portion of the ticket you're paying cash for, and not for the portion of the ticket being offset by miles.
Do You Earn Redeemable Miles For Delta Pay With Miles Tickets?
Delta Pay With Miles tickets are eligible for accrual of redeemable miles, though you'll only earn those miles based on the portion of the ticket for which you paid cash.
As a reminder, SkyMiles members earn the following number of redeemable miles:
Non-elite members earn 5x miles
Silver Medallion members earn 7x miles
Gold Medallion members earn 8x miles
Platinum Medallion Members earn 9x miles
Diamond Medallion members earn 11x miles
Can You Upgrade Delta Pay With Miles Tickets?
Delta Pay With Miles tickets are no different than any other cash ticket for the purposes of an upgrade. If you're a Medallion member who would otherwise be eligible for complimentary upgrades, you would be eligible as well on a Pay With Miles ticket.
The exception is if you're using Pay With Miles to offset the cost of a basic economy ticket, since those tickets can't be upgraded.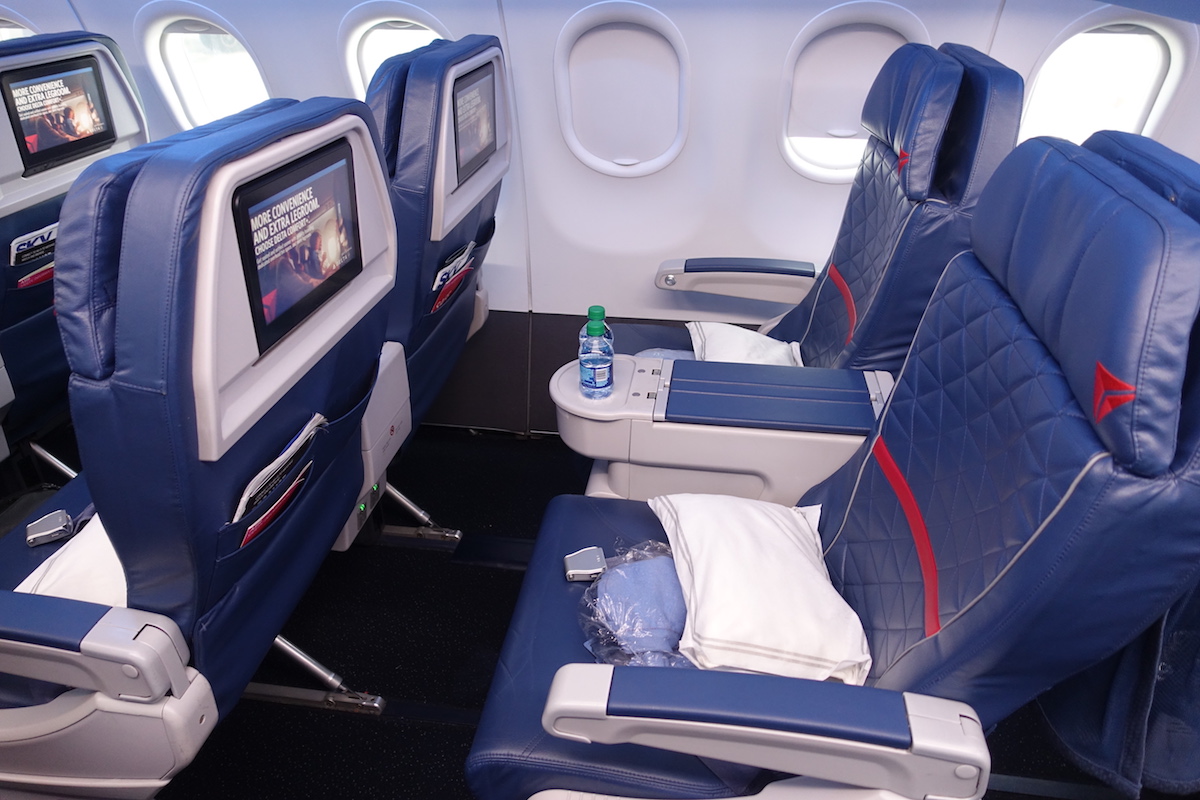 Delta Pay With Miles tickets are upgradable the same way as paid tickets
Is There A Limit To How Many Pay With Miles Tickets You Can Book?
Nope, as long as you have sufficient SkyMiles you can use the option for as many tickets as you'd like.
How Do You Book A Delta Pay With Miles Ticket?
The process is really easy. First, you have to log into your eligible SkyMiles account on delta.com (this would be for the account linked to your credit card).
Then you'd just search flights as you usually would. You'll see "Pay with Miles Eligible" written underneath eligible itineraries.
Once you select the flight and fare you want, go to the trip summary page. When you scroll to the bottom you'll see the option of choosing how many miles you want to redeem to offset the cost of the ticket.
Once you select the miles you want to redeem, you'll even see how many redeemable miles, MQMs, and MQDs you'll earn.
For example, if you choose to redeem 50,000 miles for the above first class ticket you'd just pay $26.20. Then you'd earn MQMs for the ticket as usual, but wouldn't earn MQDs or redeemable miles, since the entire ticket cost (minus part of the taxes and fees) is covered by miles.
Is Delta Pay With Miles A Good Deal?
People have very different takes on this program. I know some Delta loyalists who always redeem their miles this way, while personally, this isn't how I'd redeem my miles.
Why Some People Love Delta Pay With Miles
In many cases, it seems to be Delta's most loyal customers who like Pay With Miles.
One of the big challenges that many frequent flyers have is that they earn tons of miles, but then they don't actually want to redeem them, since they're on the elite status hamster wheel and want to earn elite miles for their travel (besides, Delta's credit cards can also help you earn elite status). This program is a great solution for those people.
Similarly, this is a useful program for the occasional flyer who doesn't want to deal with the complexity of frequent flyer programs.
There is something to be said for there being a floor value for miles, because I can see many people redeeming American and United miles for significantly less than a penny of value per point.
Why I Don't Think Delta Pay With Miles Is A Good Deal
Personally, I like to try and redeem miles for international first and business class tickets where I can get outsized value.
If you were getting a full cent of value per SkyMile when redeeming using Pay With Miles then I'd say it's a pretty solid value, but that doesn't account for the miles you're forgoing by using Pay With Miles. Let's say you redeem 10,000 miles to save $100 on a ticket. By not paying that $100 in cash you're forgoing:
In other words, you're forgoing anywhere from 1,000-1,600 points by not spending that $100 on airfare.
Ultimately you have to subtract that from the value you're otherwise getting, and as a result, I'd say you're getting closer to 0.8-0.9 cents of value per mile using this method.
That being said, partner redemptions largely aren't nearly as good of a deal as they used to be. There are definitely still ways to get way over a cent of value per mile, but it does take some effort with SkyMiles.
Bottom Line
A lot of people choose not to collect SkyMiles because they think that partner redemptions are tough to come by and are expensive. While that's largely true, there is something to be said for there being a floor value for SkyMiles.
In the context of these welcome bonuses on Delta credit cards, this means you could be receiving $700-900 worth of travel on Delta with these offers (and potentially much more).
For those with SkyMiles, do you use your miles for the Pay With Miles feature, or what is your favorite use of them?