Delta recently became the first US airline to take delivery of the Airbus A220 (the next North American airline to receive the aircraft will be Air Canada, in early 2020). This plane was formerly known as the Bombardier CSeries, but ended up being rebranded as the A220 thanks to a joint venture between Bombardier and Airbus.
The A220 represents an interesting direction for Delta, as these planes will largely be used to replace their MD-80 aircraft, which are quite old. Historically Delta is an airline that keeps planes for a really long time but maintains them well, while here Delta is actually buying new planes.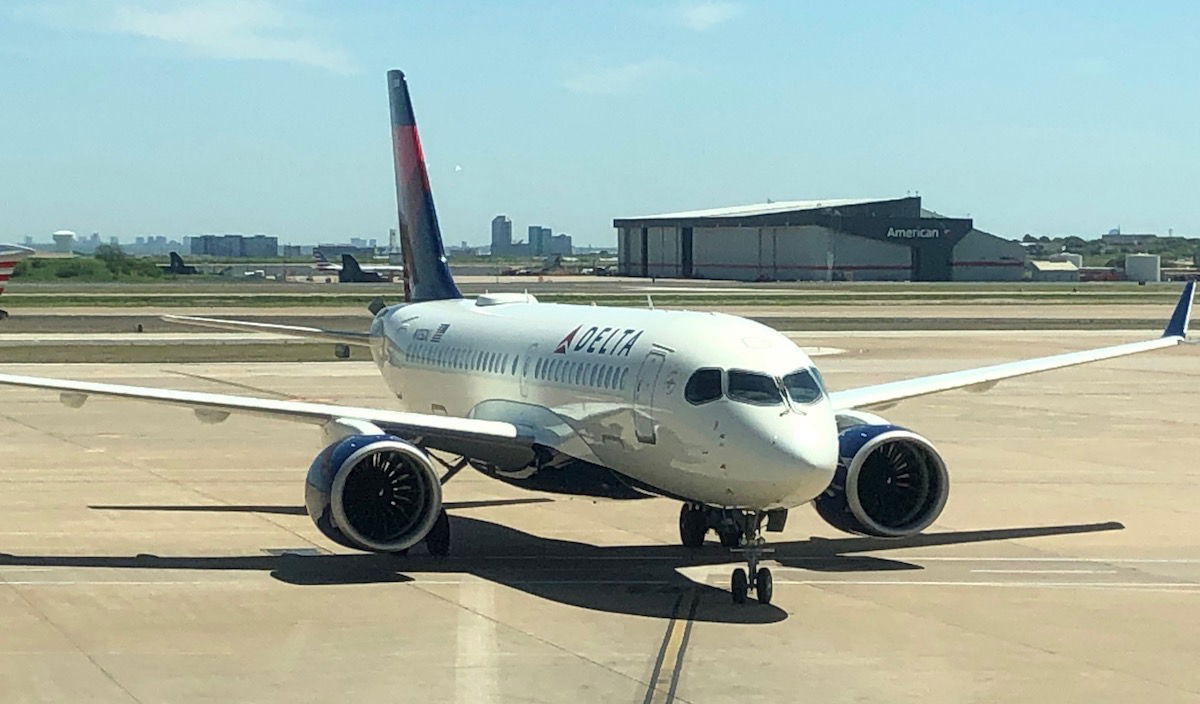 Walking onto a Delta plane with a new plane smell is sorta surreal!
Anyway, in this post I wanted to share my thoughts about my two hour flight on Delta's A220 first class from Dallas to Detroit.
The A220 cabin is beautiful
The A220 is known for being a comfortable little plane, and Delta did a fantastic job with their cabin finishes.
There are 12 first class seats, so the ratio of first class to economy seats is pretty good.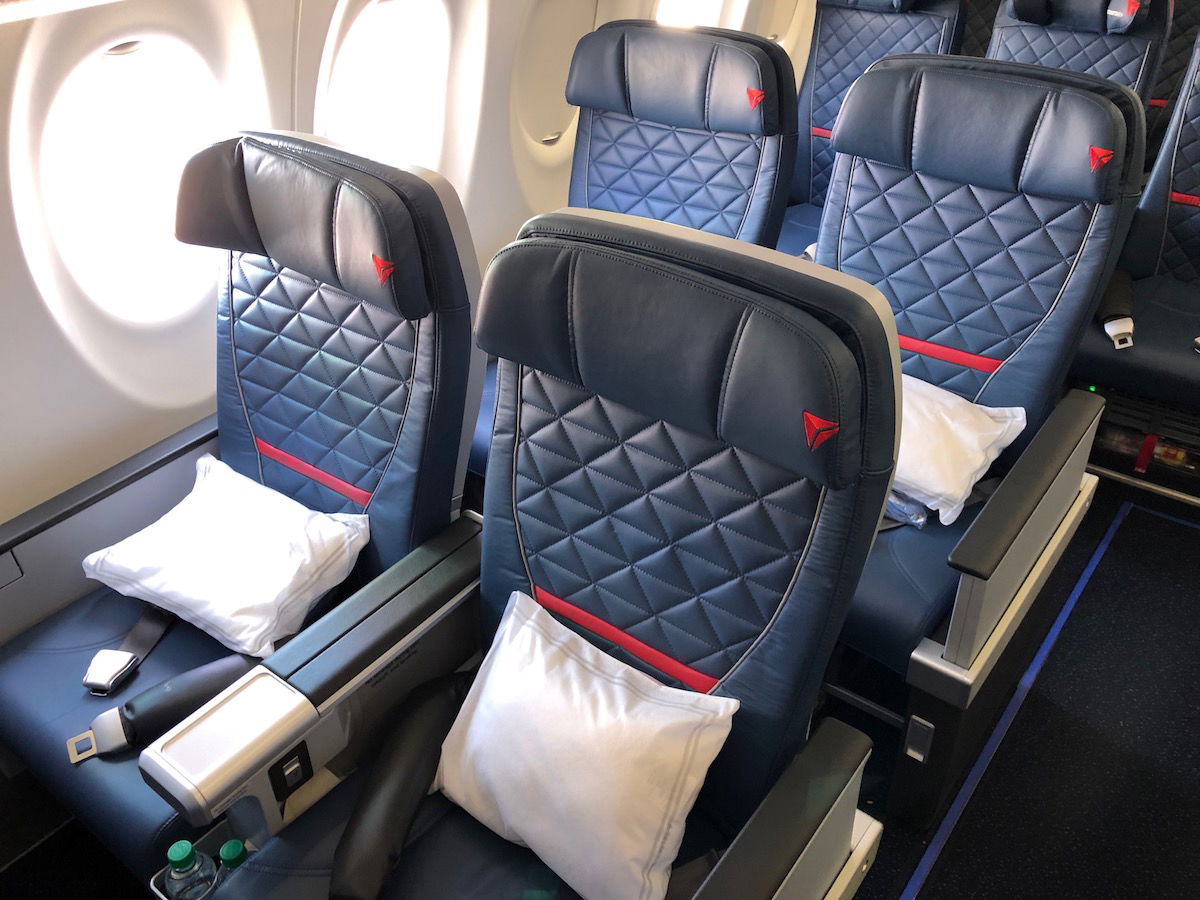 Economy is in a 2-3 configuration, so it's great that there's only one middle seat per row.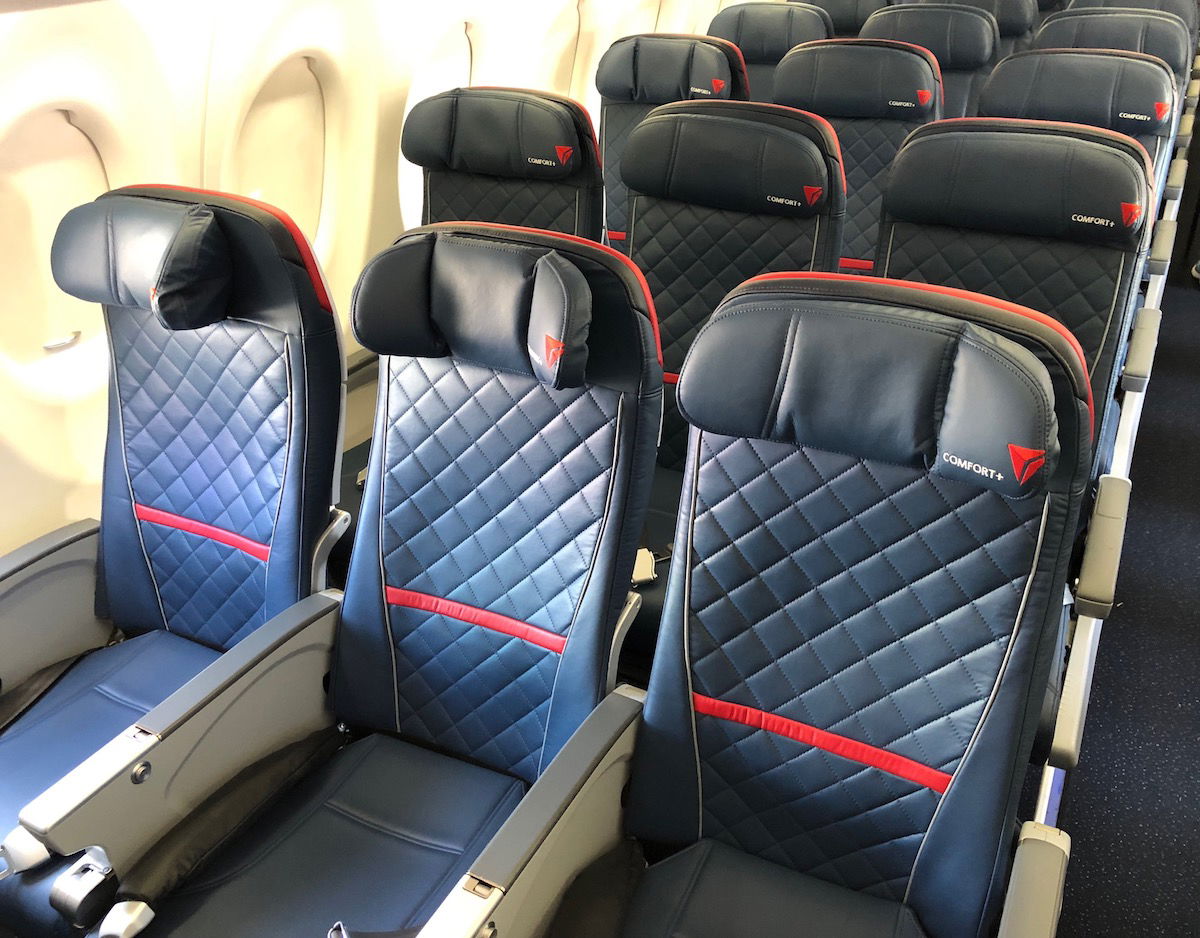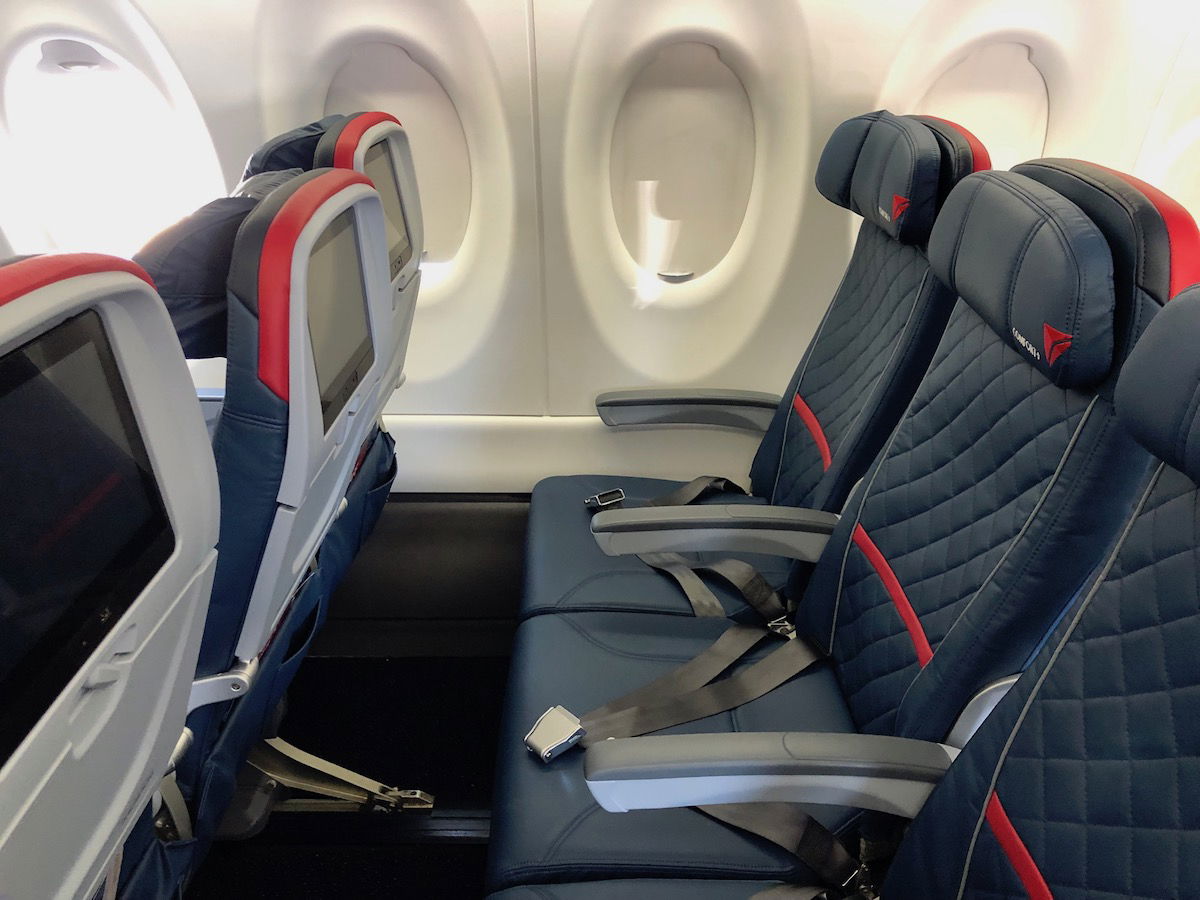 There are personal televisions, power ports, and high speed Wi-Fi at every seat.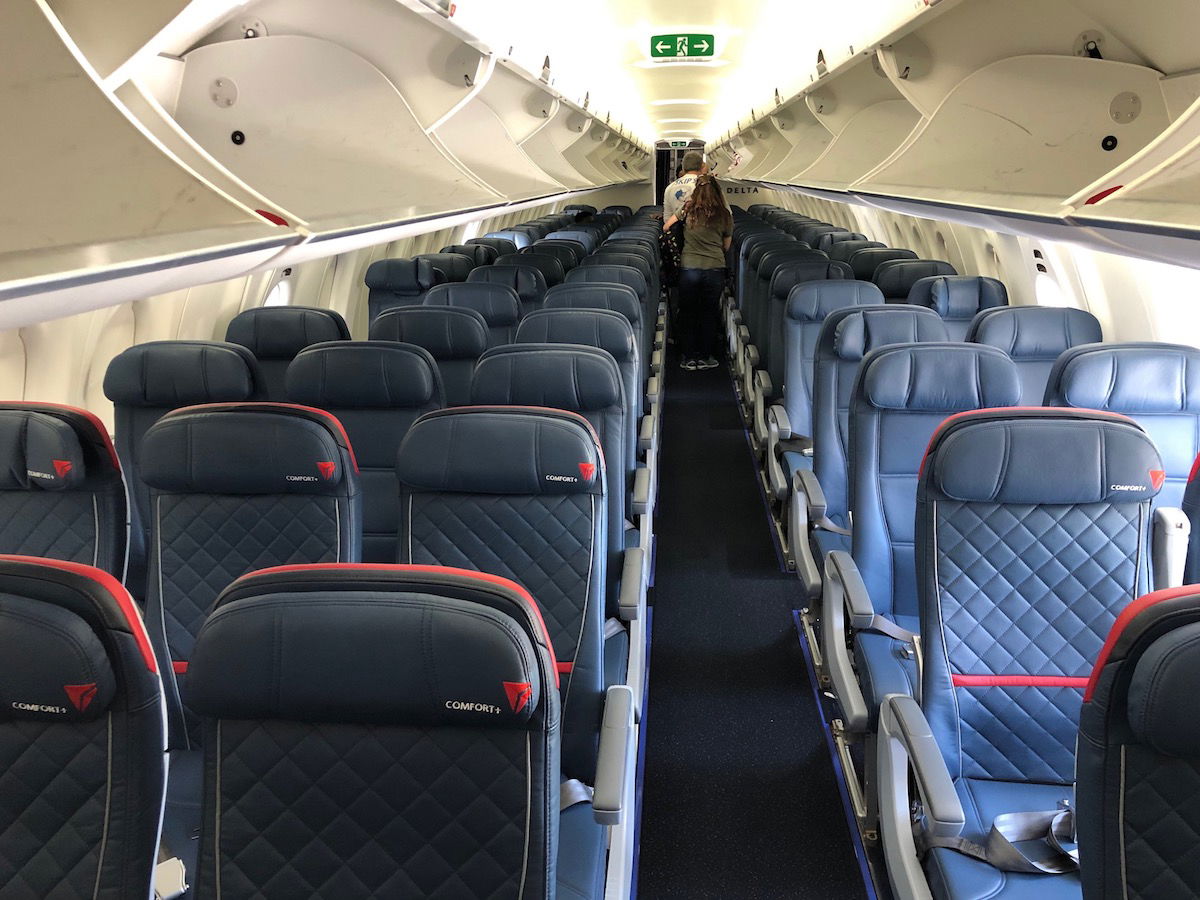 I find it hilarious that American thinks people don't enjoy watching TV on planes, but rather are happy bringing their own entertainment. How many people in the below picture do you see not enjoying the seat back entertainment?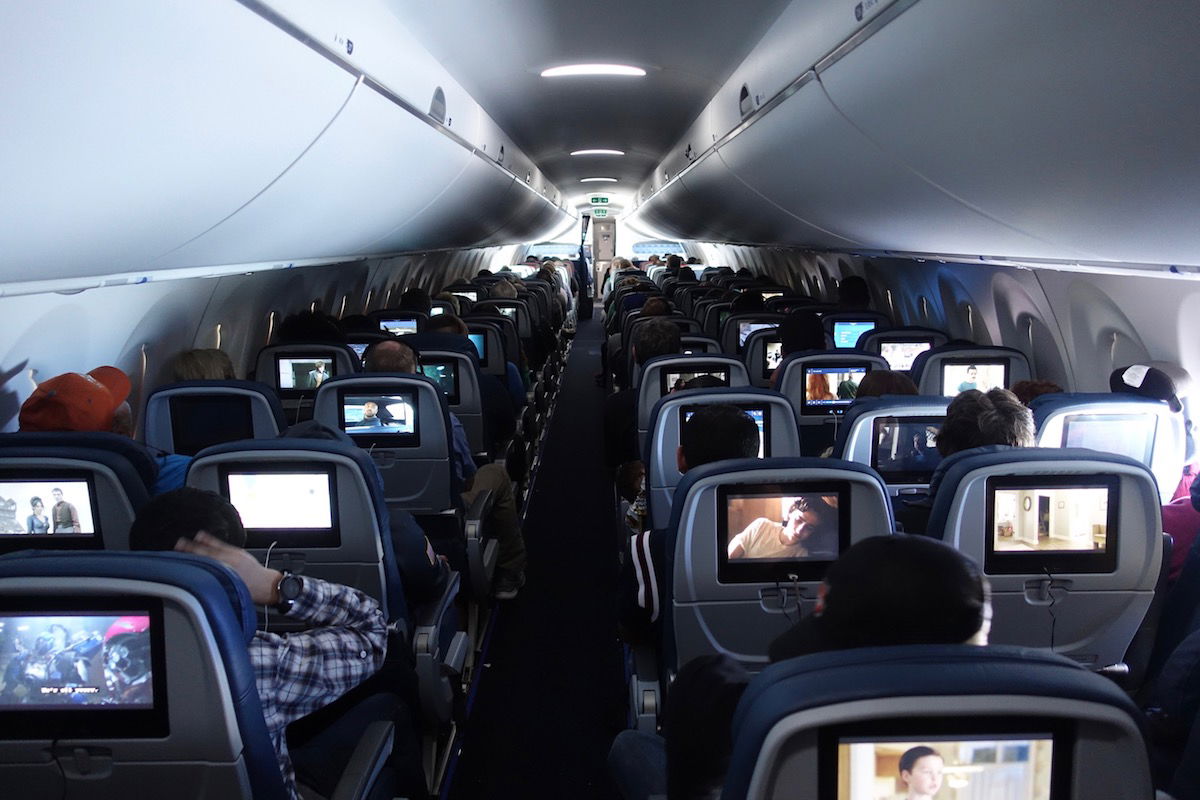 The overhead bins on this plane are definitely bigger than on the MD-80, though still not as big as on most mainline planes.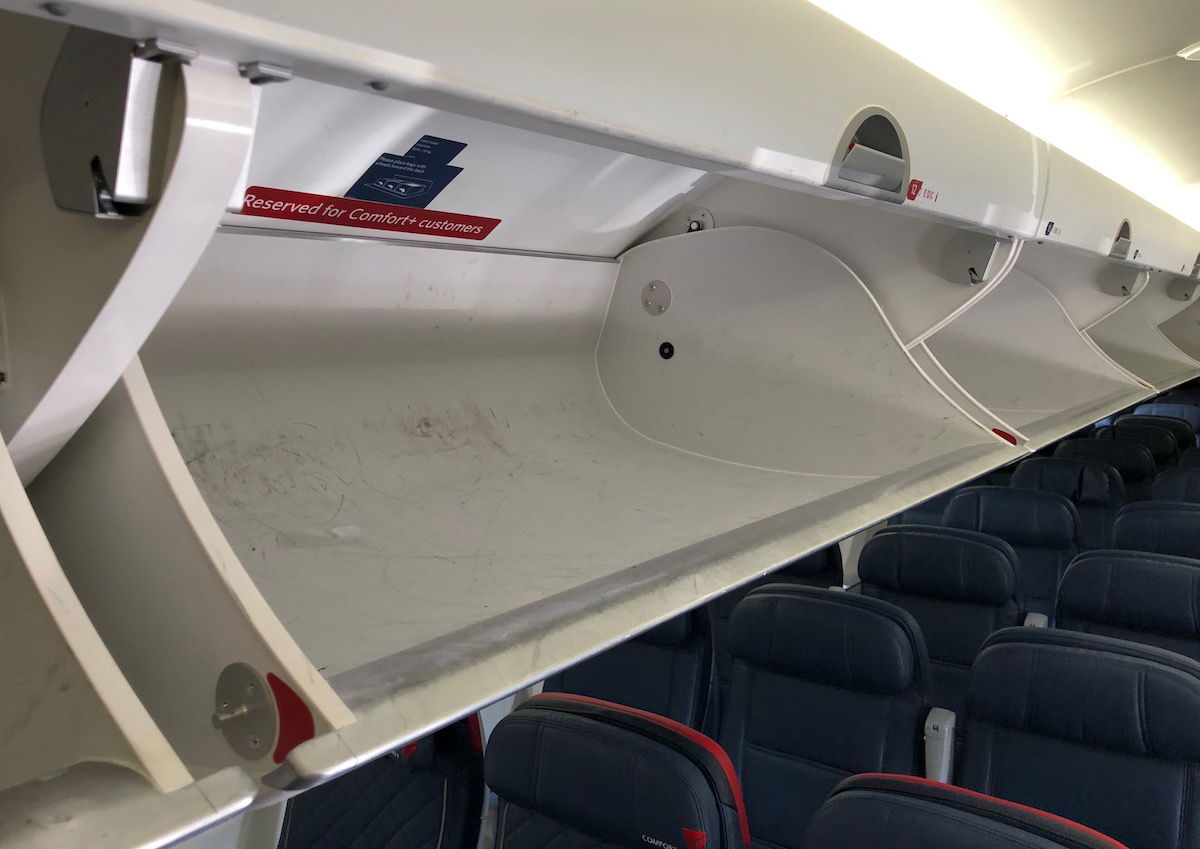 The bathrooms are spacious
Nowadays I feel like airlines are competing with one another to see how tight they can make bathrooms on planes. In that sense the A220 is a breath of fresh air, as the bathrooms are among the biggest I've seen on a narrow body plane.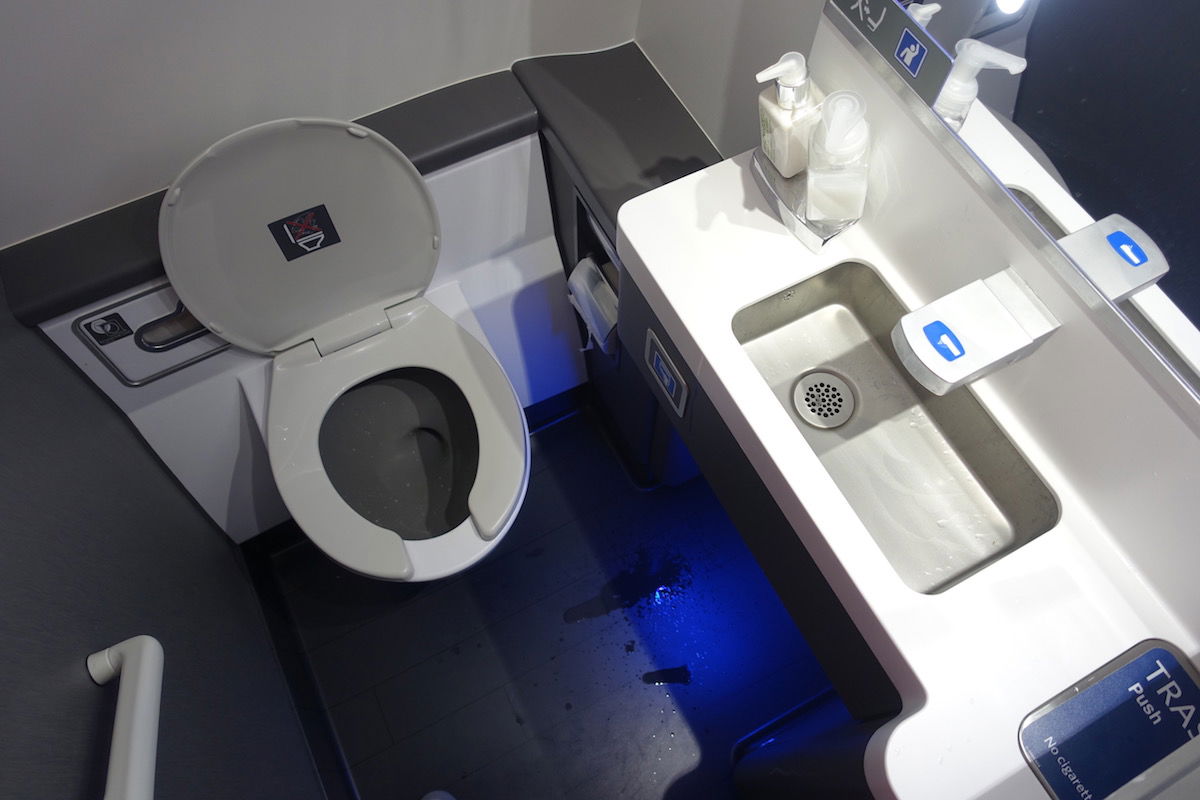 One of the bathrooms in the back even has a window.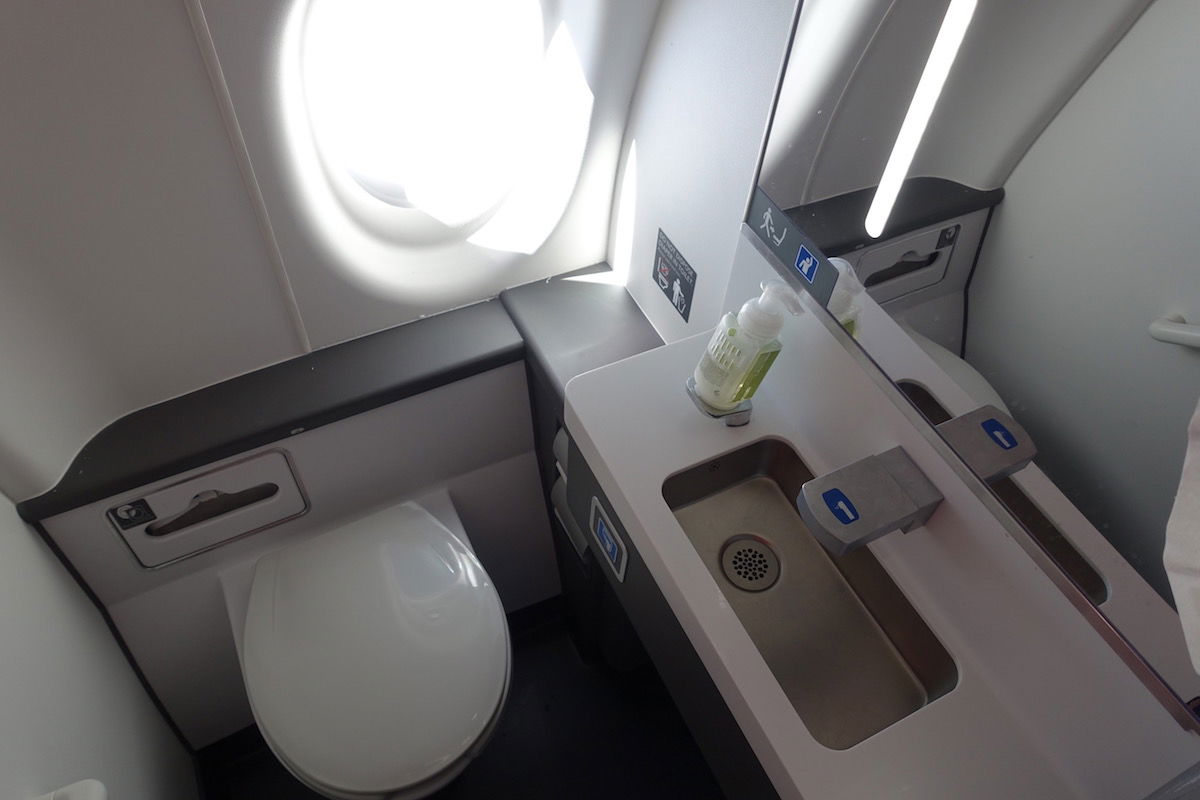 The first class cabin is on the tight side
This doesn't come as much of a surprise, but the cabin isn't quite as wide as your typical A320 or 737. As a result, first class seats are on the tight side compared to flying a 737 or A320.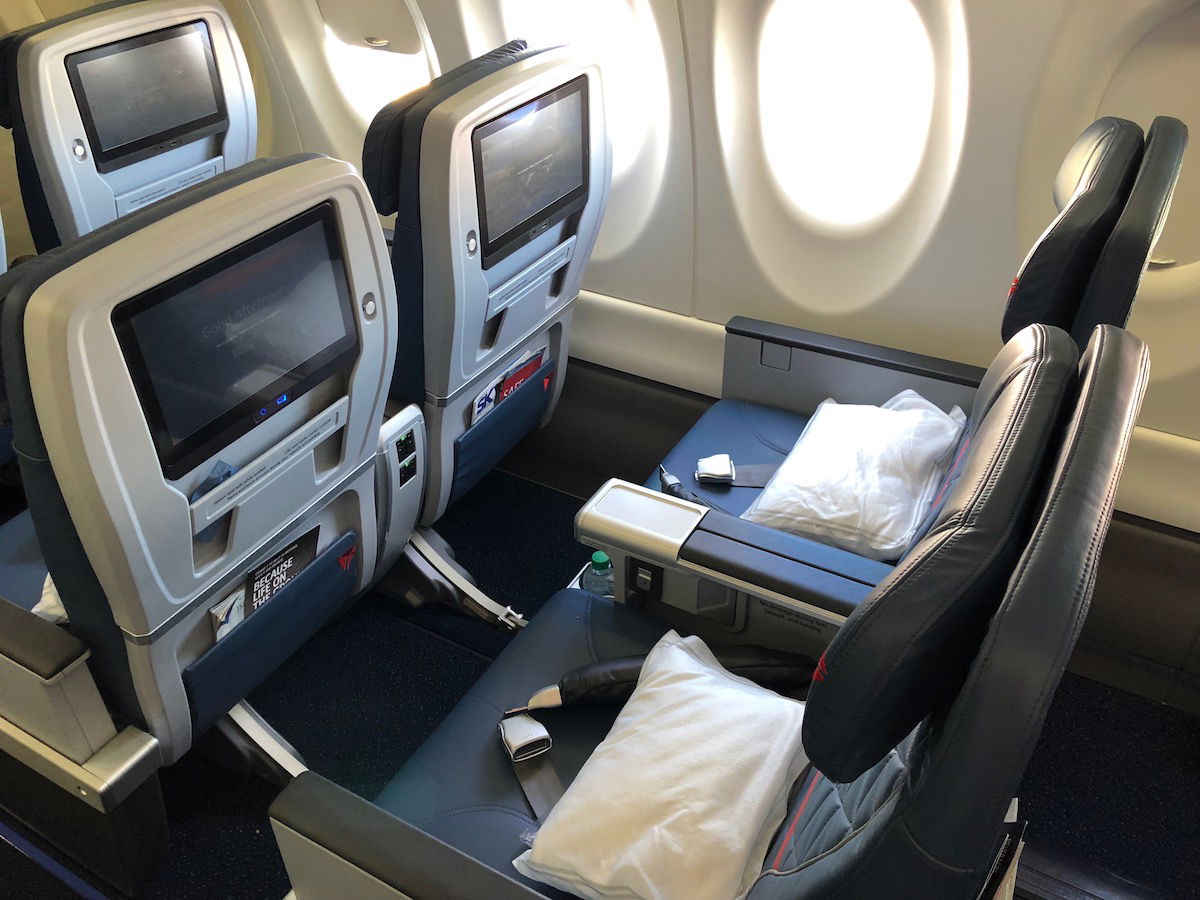 For example, the armrest between first class seats is quite narrow.

This isn't a big deal at all, but it's definitely less comfortable than your typical 737 or A320 first class. That's fair enough, and not a big deal, but is something worth being aware of.
CSeries vs. A220
It's interesting to me that even though the plane was rebranded as the A220 last year, the inflight entertainment and inflight announcements still refer to the CSeries. Did Delta not get the memo?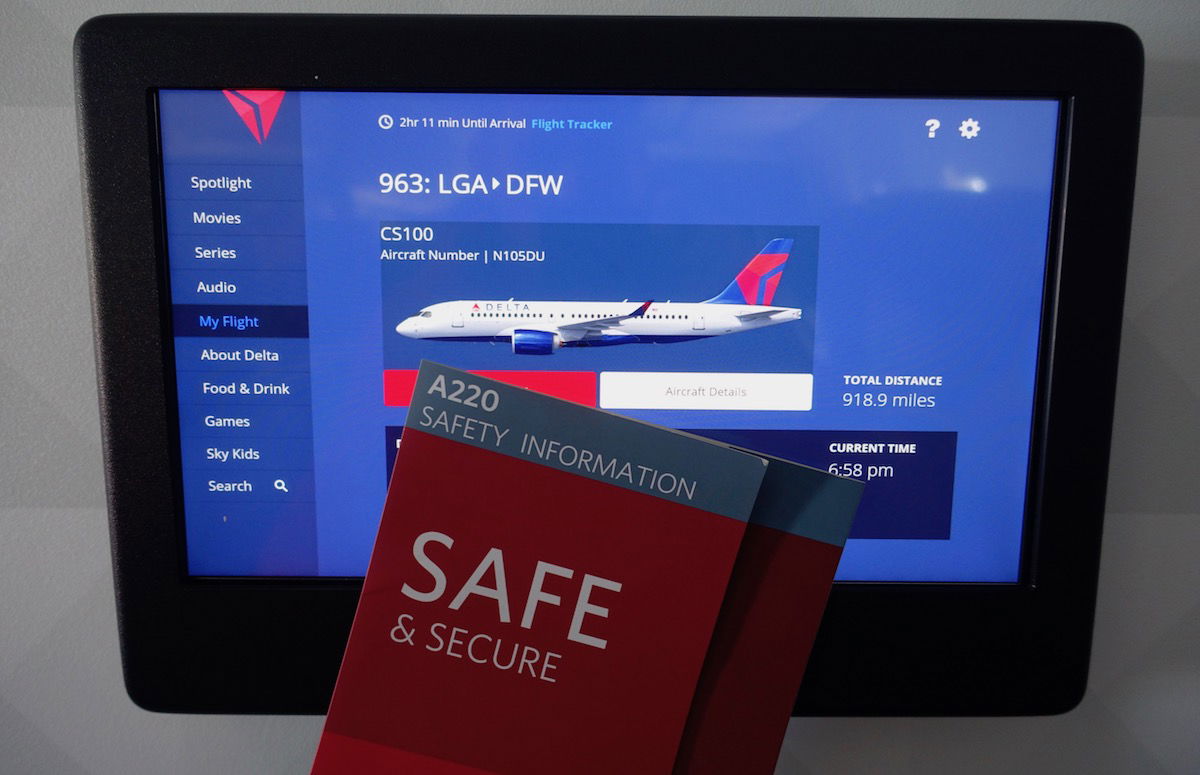 The Delta crew had no clue what they were doing
It was the crew's first time flying the A220, and they were hilariously unfamiliar with the plane. They couldn't get the PA to work at first. Then they couldn't get the safety video to work, so they did a manual safety demonstration.
And they were just generally so hilarious about it. The manual safety demonstration started with "believe it or not, there's over 60 years of seniority in this cabin."
"This plane is equipped with eight emergency exits. We have two exits at the front, four… wait, no, two window exits, and two exits in the back. That brings our exits down to six."
How many pilots does it take to close a door?
At departure time the gate agent tried to close the door, and it didn't latch. Uh oh. She tried again. And again. And again. The same problem persisted.
Then there was a pilot in the jumpseat who tried to help with closing the door from the inside. He couldn't get it to shut either. Then the captain of the flight tried to shut it. He probably tried it a dozen times before the door finally closed, and in the process some mechanism in the door definitely came loose.
We made it to Detroit safely, so I guess it wasn't a safety issue at least!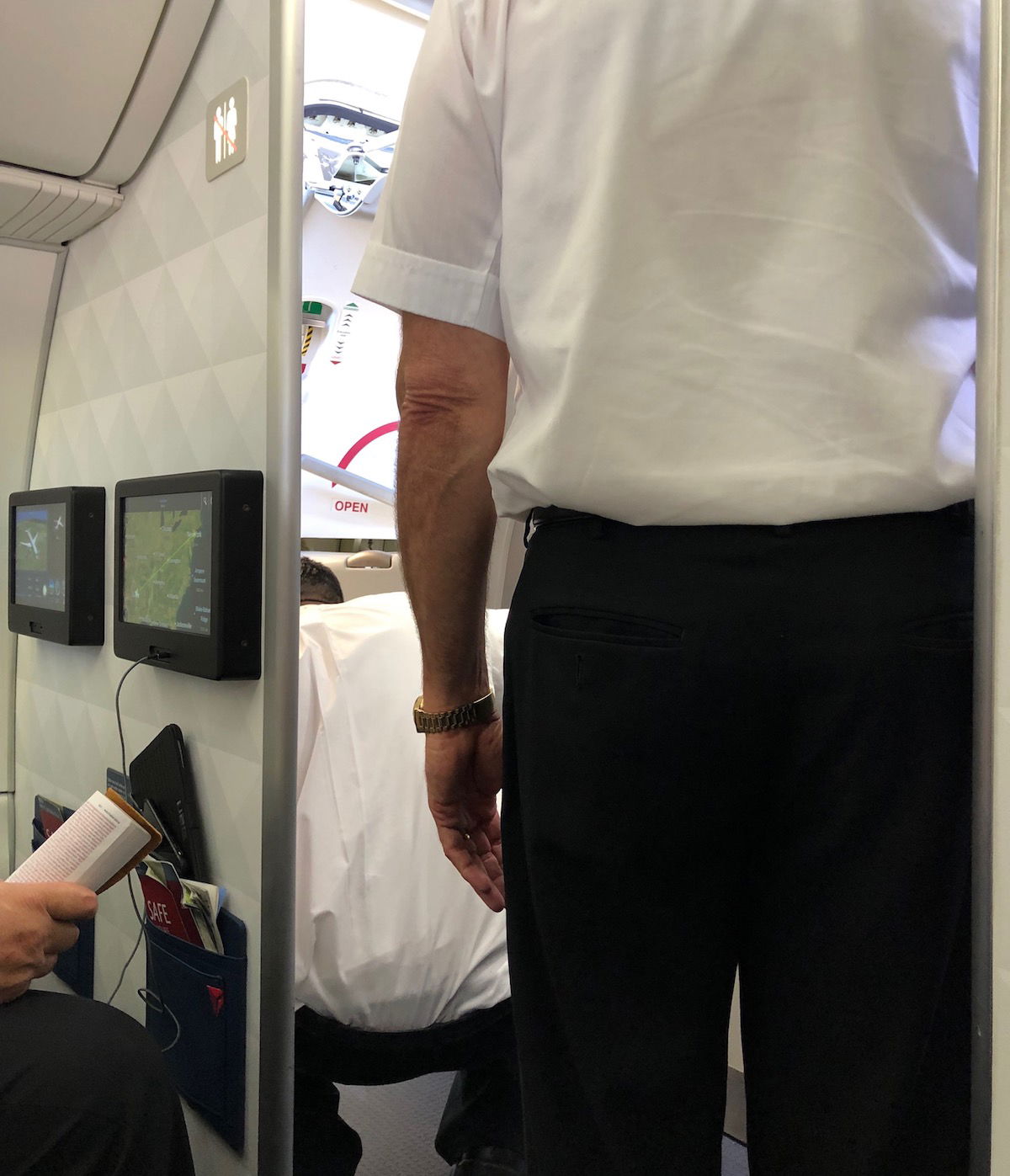 Delta crews (and other small touches) make a big difference
It's not like the difference between flying American and Delta is that huge, though there are a lot of small touches that add up.
For example, Delta has a bottle of water at your seat upon boarding, and also has a pillow and blanket, while American only offers a blanket.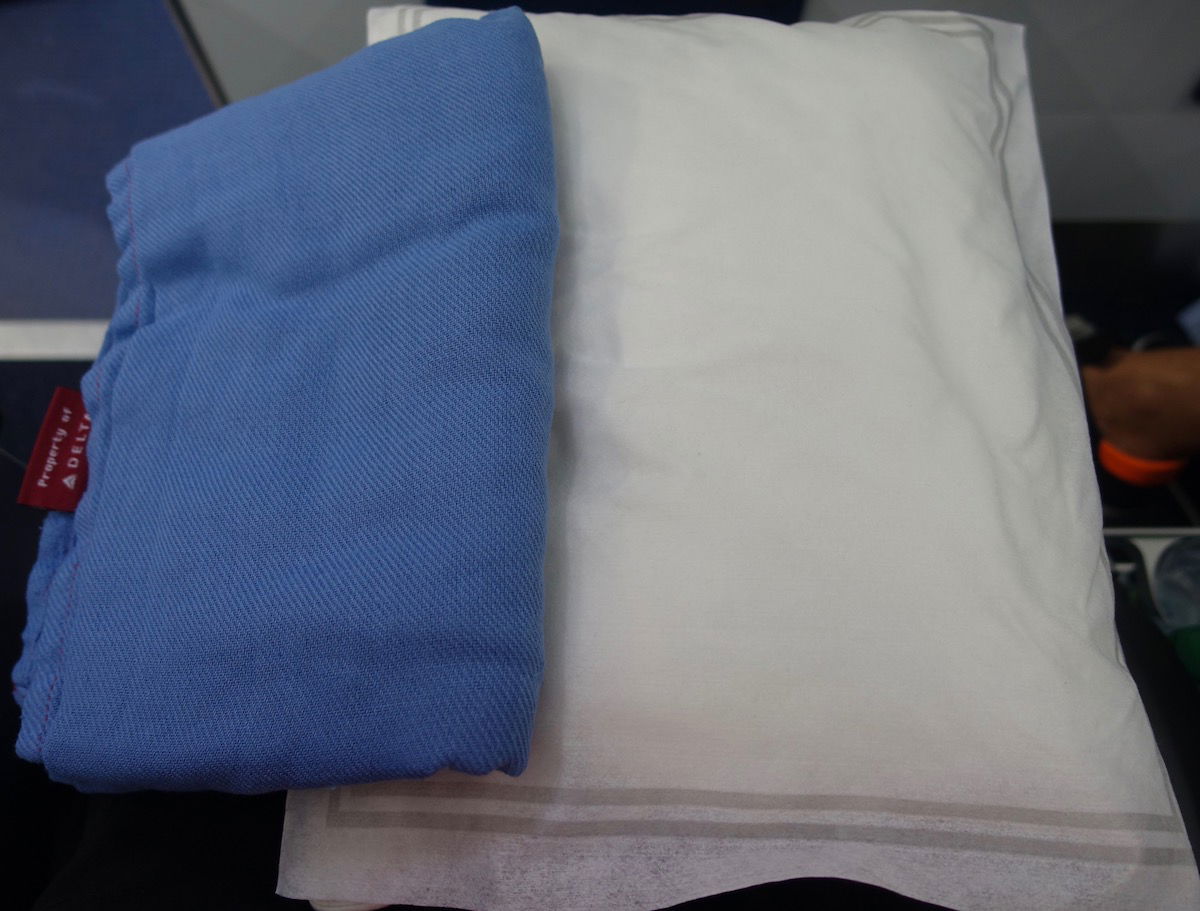 Similarly, their crews just really care, and it shows. They actually seem like they enjoy being there, and that makes a big difference.
Bottom line
It's great to see Delta adding A220s to their fleet. These are an improvement over their MD-80 planes. It's also great to see that these planes feature big bathrooms, personal televisions at every seat, and a reasonably sized first class cabin.
In economy some may even prefer this plane to other mainline planes, given the 2-3 layout, while in first class the seats are noticeably tighter.
The icing on the cake was that it was the crew's first flight on the plane, and the good humor with which they approached the flight.
If you've flown the Delta A220, what was your experience like?