Last November Delta announced their intentions to install fully flat beds on their BusinessElite equipped 757s, as well as to begin running BusinessElite configured 767s on their premium transcontinental flights. Now, maybe it's just me, but I prefer not having a 767 on a transcon flight since they're not equipped with Wi-Fi, which for me is one of the most important amenities on a plane nowadays. On a daytime flight I'd actually take a domestic first class seat with Wi-Fi over an international business class seat without it (I'm curious, am I alone that feels that way?).
Anyway, Delta originally announced they were going to start reconfiguring their 757s with the new fully flat business class as of March of this year. However, to this date they still haven't reconfigured any of their 757s.
The Delta Blog today has an update on this project, as the reconfigurations on these planes will now start in the spring of 2014, a full year late. They've also shared some pictures of what the new product will look like: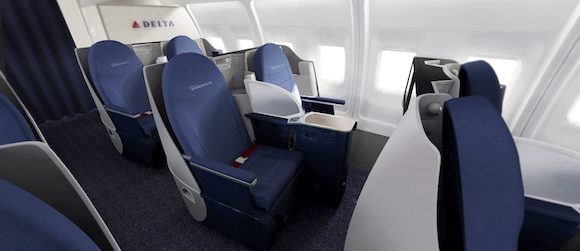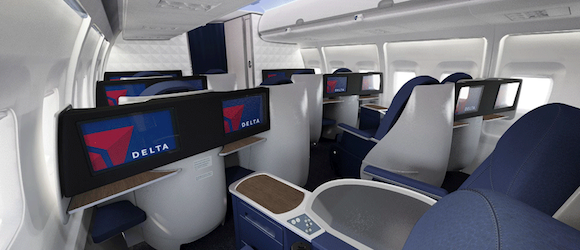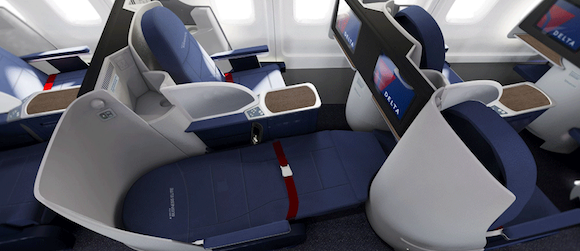 What's interesting (and not really surprising) is that American and United will soon all more or less have an identical business class product on their transcon routes. So while they're all improving, no one really has a competitive advantage.
American is still unique in that they'll continue to have three cabin planes with 10 first class seats on transcons, which are definitely a step up from the business class product offered by the competition. And then there's JetBlue, which yesterday unveiled their new premium transcontinental product. It'll be interesting to see if they're able to attract any premium passenger with their product, though.