I've been doing a lot of travel planning over the past week, though there's one trip that I'm planning in advance that I'm most excited about.
Planning a surprise birthday trip for my dad!
As I wrote about nearly a month ago, my dad has a big birthday coming up later this year. As long time readers may remember, over four years ago I took him on a surprise round the world trip for his "round" birthday. We both had an incredible time.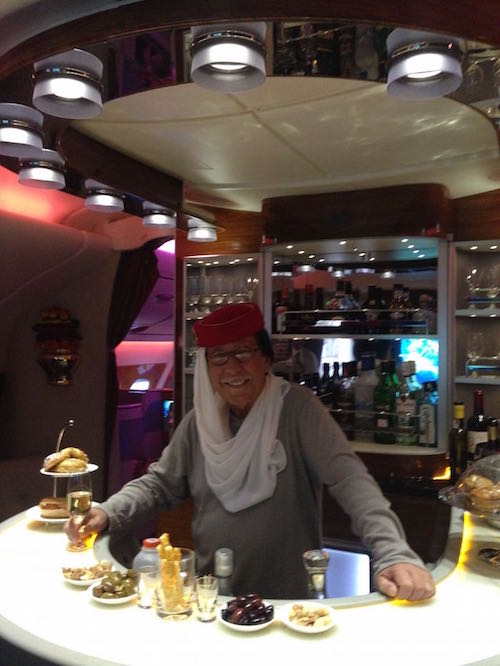 Not only did he love the entire experience, but he loved that the whole thing was a surprise, so he had no clue what our next destination was until we boarded each individual flight. Similarly, I got a real thrill out of seeing his reactions to things.
I realize I can't really top the last trip in terms of the airline products we can fly, given that it's tough to beat the routing we had last time. Furthermore, just flying around the world to various destinations in first class would be predictable, and I really wanted to surprise him.
So I decided that the focus of this trip really had to be the destination, and it had to be something he wouldn't expect. After putting a lot of thought into it, I figured a safari would be a great option.
I've never been on safari (well, assuming the safari at Busch Gardens in Tampa doesn't count), and neither has my dad. People who have taken a safari almost consistently say that it's the most incredible trip they've ever taken.
My dad is still in good health, and I don't want to take any opportunity to spend quality time with him while we're still both in good health for granted. So I'm really splurging, and booked us a safari (he just doesn't know it yet, and won't know until we land in Africa).
I asked you guys for tips about what safari we should do, and you guys had many amazing suggestions. There was so much good information that it was overwhelming. I've now made some decisions, and wanted to share what I've booked so far.
We're going to South African Singita properties
There were a lot of amazing suggestions, including for going on safari in Botswana, Kenya, etc. Given that my dad isn't that young anymore, I wanted to make sure I could book a safari that's not too complicated to get to, and at the same time that we can get to in comfort.
The single most popular suggestions from you guys were to stay at two of the Singita properties in South Africa. Singita has lodges all around Africa, though the two that were most frequently recommended were Singita Boulders and Singita Lebombo, so we're doing three nights at each of the properties.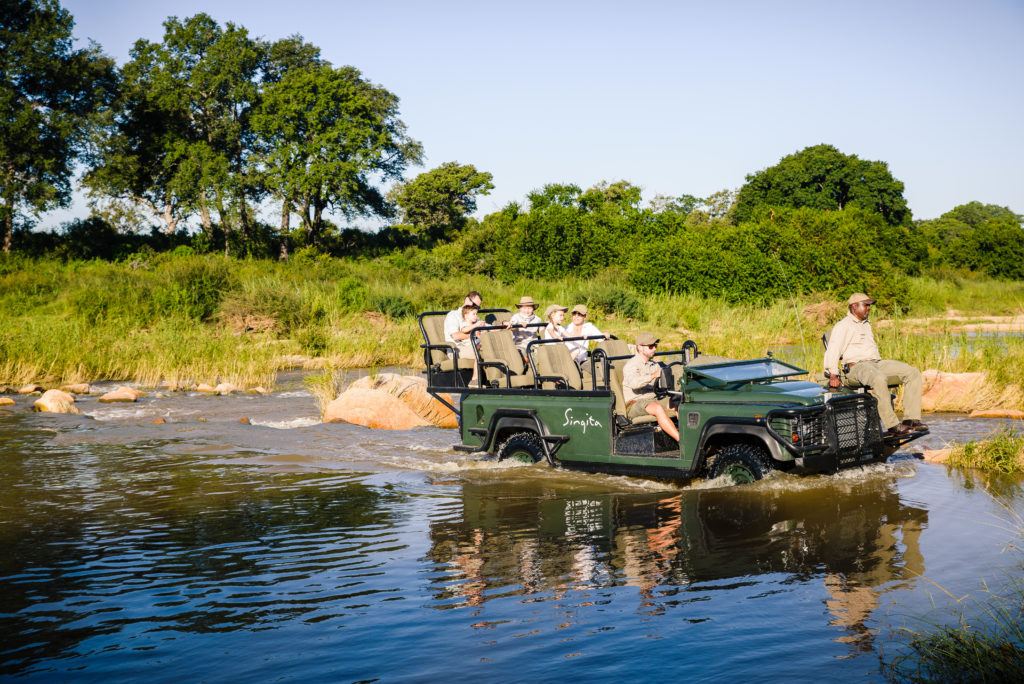 I'm paying an arm and a leg to stay there, but they're all inclusive (accommodation, food, drinks, two daily safaris, etc.). So it's costing a lot, but based on everything I've heard, it's spectacular and worth it. And I tend to think that if you're in a position to do something like this for your parents, you'll never regret it.
The flights…
I have the safari booked, and my plan is for us to spend a few nights in Cape Town at the tail end of the trip (more on that below). Otherwise I'm really flexible.
Now starts the adventure of trying to find the best flights to & from South Africa.
I started by booking the return flights. My logic is that we probably aren't going to be as "festive" on the return after having an amazing time and being gone for a while, so I booked something awesome, but in business class.
Specifically, I found award space on Qatar Airways from Cape Town to Doha on the A350-900, connecting to a flight from Doha to Dallas on the A350-1000 featuring Qsuites. What an incredible value for just 75,000 AAdvantage miles.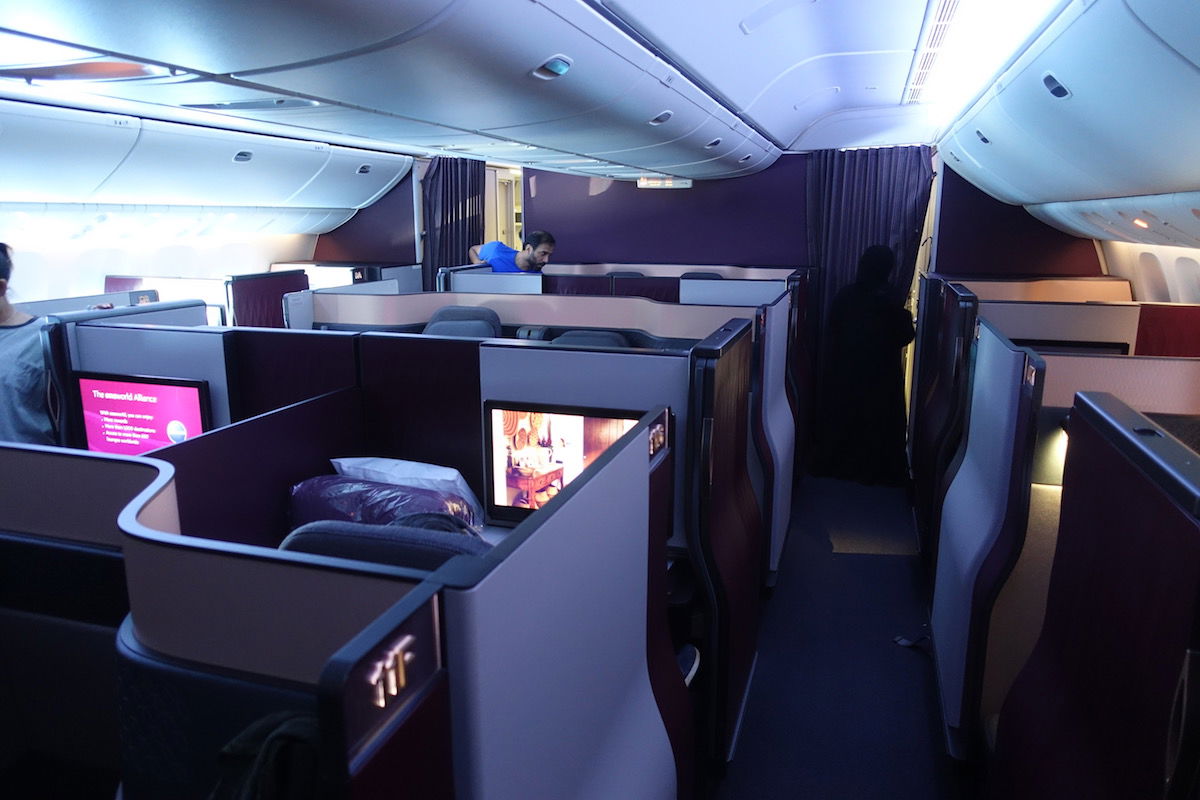 Now starts the adventure of booking the outbound. I guess I could try to wait until the last minute to find something, but I'd also feel less pressure if I booked something now. It's one thing to find two last minute first class award seats to Europe, but to find them all the way to Johannesburg is more challenging.
I don't see any Etihad A380 first class award availability to Abu Dhabi. There's (obviously) nothing in Lufthansa first class in advance. Emirates has some space, but I'd be paying 200,000 Alaska Mileage Plan miles per person, which I value at ~$4,000. He has also done that before, not that he'd mind flying Emirates again, since it's his favorite airline.
So that got me looking at some of the better paid first class fares to South Africa, while getting creative.
I'm not opposed to positioning to Europe and finding a good first class fare from there, or otherwise originating somewhere else in North America. I'd love for my dad to fly Air France first class, though that's not necessarily all that practical. There's no way to redeem miles on them without being an elite, and even when you can, the costs are prohibitive.
I was still playing around with some first class fares on Air France, with the outbound in first class and return in economy.
For example, just booking from New York to Johannesburg costs $6,400 per person with the outbound in first class: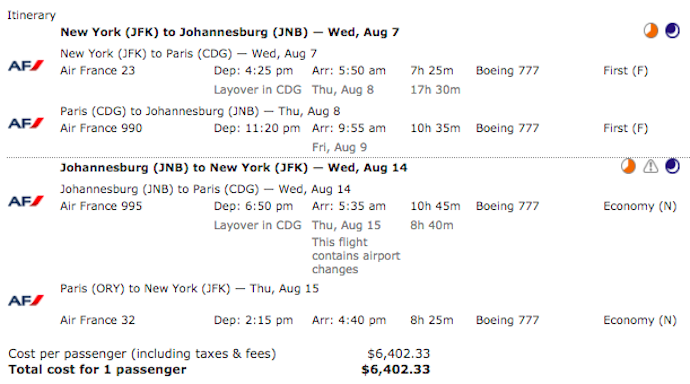 Booking the same flights but instead originating in Toronto returns a fare of $4,500: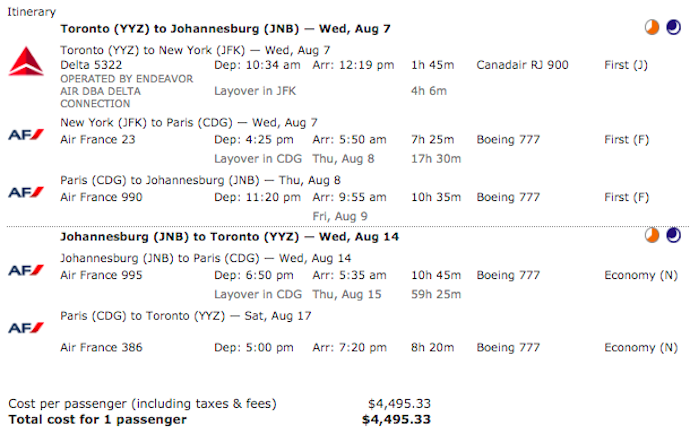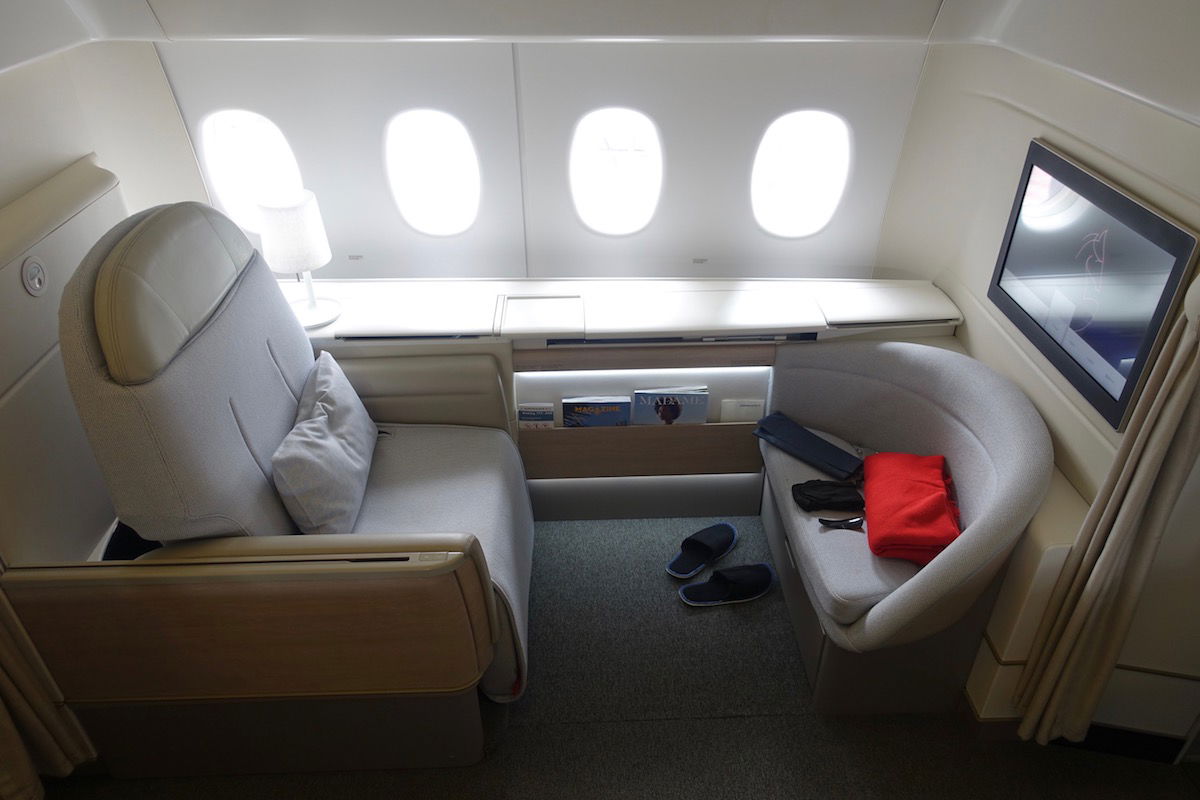 That's better, but obviously still a lot. I suppose I could redeem Ultimate Rewards points for that, and it would cost under 300,000 Ultimate Rewards points per person. That's still a ton, but realistically:
A redemption in Emirates first class through Alaska Mileage Plan would cost 200,000 miles, and I value those miles more
A redemption in Lufthansa first class through Aeroplan would cost 105,000 Aeroplan miles plus around $700 in fees, and I could only book that at most two weeks in advance, and the chances of seats opening up the whole way through are quite slim
Otherwise we could position to Spain and then I see a ~$3,000 Air France first class fare, but I'm not sure that actually ends up being a better value given the positioning costs.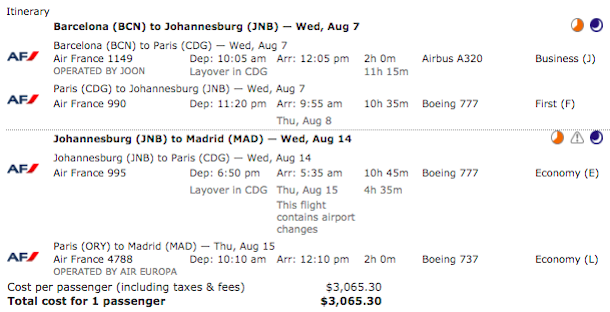 This isn't great either, but it would also be cool to try Emirates' new first class with him, so I see a fare of under $3,200 with the outbound in first class, and with his beloved A380 on the second segment.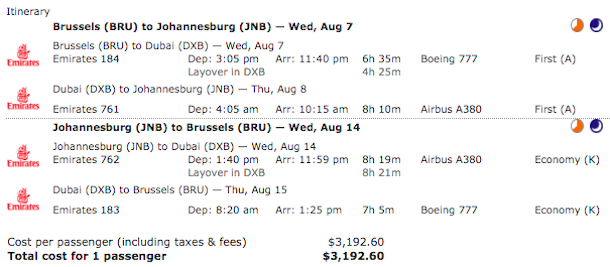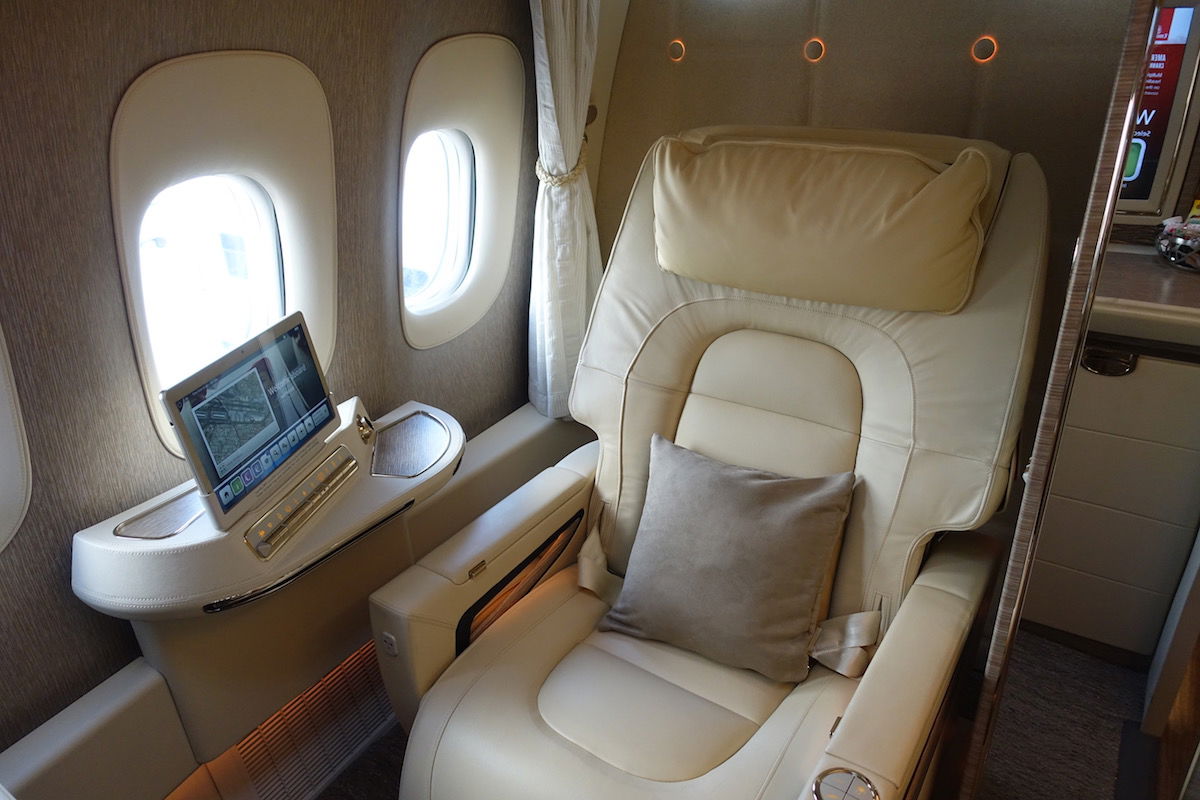 So anyway, I'm not sure if anyone has any ideas for great ways to get to South Africa, or any great fares departing either the US or Europe on fun airlines. These options are all a bit pricey, but I figured I'd share what I've researched so far, and I'd certainly welcome any good suggestions you guys have, as I'm sure I'm overlooking things.
Cape Town recommendations?
I figure if we're going all the way to South Africa we should also spend some time in Cape Town. I've only been twice — once when I was a little kid, and once a couple of years ago, when I stayed at the Westin.
My plan is to spend about three days there.
I'm still trying to figure out what to do on the hotel front. The Westin Cape Town was fine, but I'd ideally like to stay somewhere else, since I didn't love the location.
On the points front, it looks like Marriott has quite a few properties there, though I'm not sure if any of them are actually good.
Virtuoso has some solid hotels there as well, though the prices range hugely. They range from under $250 per night for the Taj Cape Town, to over $1,000 per night for The Cape Grace Hotel or The Silo.
Given how much I'm spending on the safari I'd love to redeem points for our Cape Town hotel, but only if there's a good option.
If you guys have any tips here, I'd love to hear them!
Bottom line
I'm so excited about this trip. I've already told my dad his surprise trip is planned, but he has no clue where we're actually going, and I can't wait to see his reaction. For those of you wondering how I can blog about this but keep it a surprise, my dad doesn't use technology, so he doesn't read the blog.
I've also told him I'm blogging about the trip planning, and he loves that it's a surprise, so he wouldn't even be tempted to find out.
I feel like I got the most important things booked, now I just need to figure out an outbound flight and Cape Town hotels…
Thanks again for all the tips!