In the interest of full disclosure, OMAAT earns a referral bonus for anyone that's approved through some of the below links. These are the best publicly available offers (terms apply) that we have found for each product or service. Opinions expressed here are the author's alone, not those of the bank, credit card issuer, airline, hotel chain, or product manufacturer/service provider, and have not been reviewed, approved or otherwise endorsed by any of these entities. Please check out
our advertiser policy
for further details about our partners, and thanks for your support!
---
I had quite a long daytime layover in Singapore, as I was arriving in Singapore at around 7AM and departing shortly after midnight. Since I was up all night on most of these flights I decided to get a day room at a hotel so I could rest up.
Singapore Changi is one of the best airports in the world, and in the past I've written about the airside transit hotels, which I've used for layovers.
However, for this trip I really wanted to try something new. So I booked a day room at the Crowne Plaza Changi, which is generally regarded as one of the better airport hotels in the world.
The hotel sells day rooms at the rate of 180SGD++, and that gets you an eight hour block, which I scheduled for 9AM until 5PM.
The Crowne Plaza is located landside (before security) in Terminal 3.
My flight was arriving at Terminal 2, so I decided to clear immigration there, and then head to Terminal 3, though I could have done it the other way around and made an airside transfer to Terminal 3 and then cleared immigration there.
While immigration at Changi is usually painless, I had to wait nearly 30 minutes to clear, which was the longest I've ever waited. I ended up arriving at the Crowne Plaza at around 8AM.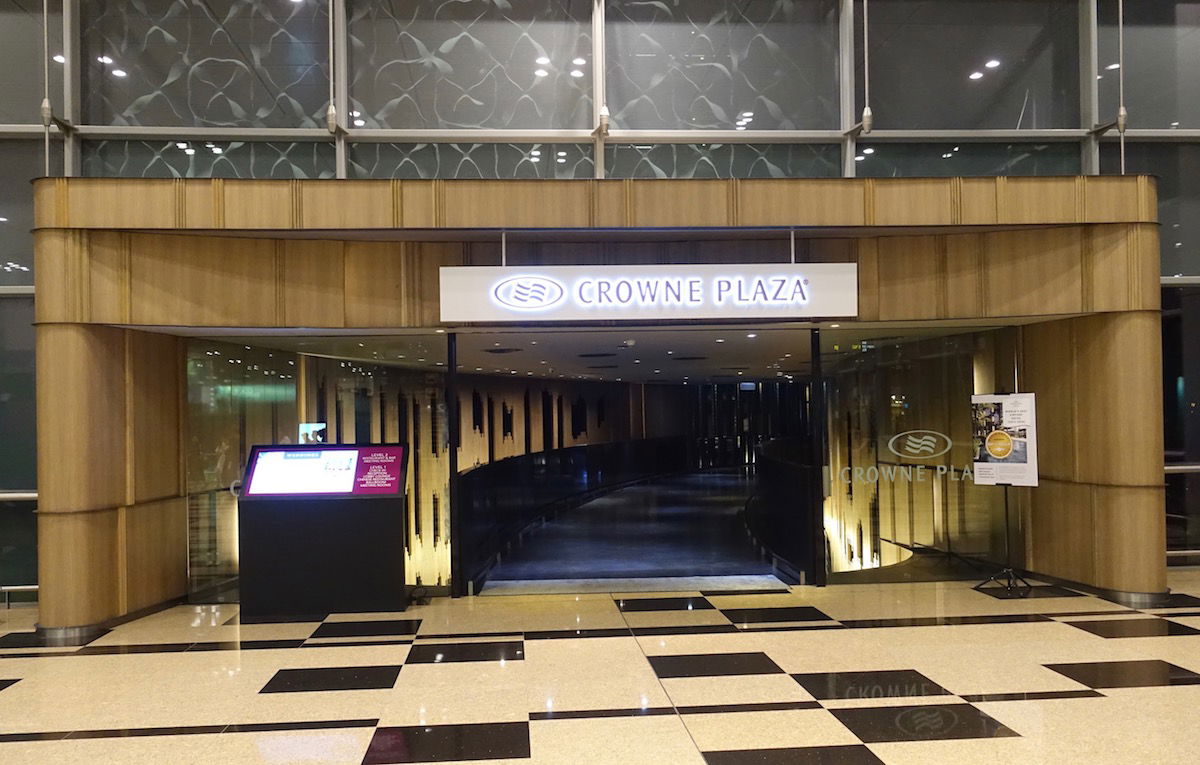 Crowne Plaza Changi Airport entrance
The hotel has a really quirky design that almost reminds me of a branded Disney resort, or something. It's futuristic and has differing themes throughout the hotel.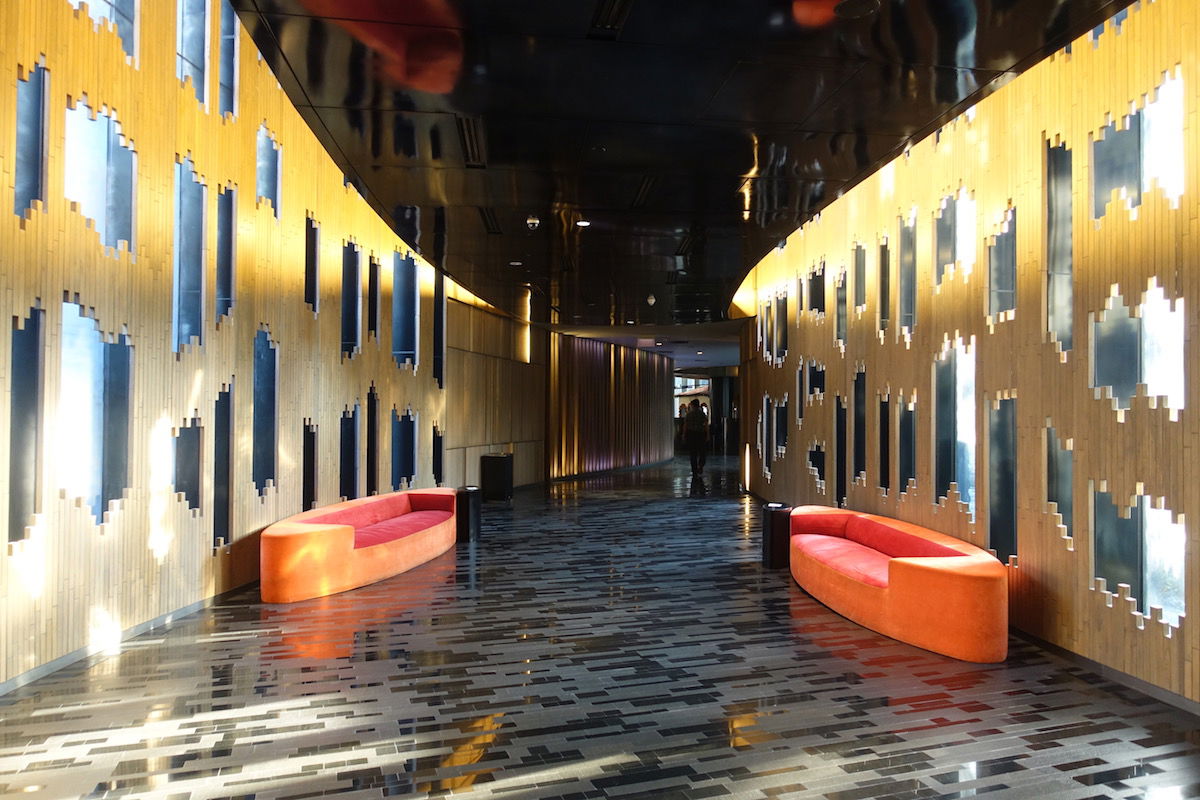 Crowne Plaza Changi Airport entrance
Inside the lobby was plenty of seating, though I believe part of it was at a restaurant (I didn't check out any of the food and beverage outlets while here, since I was eating enough on planes).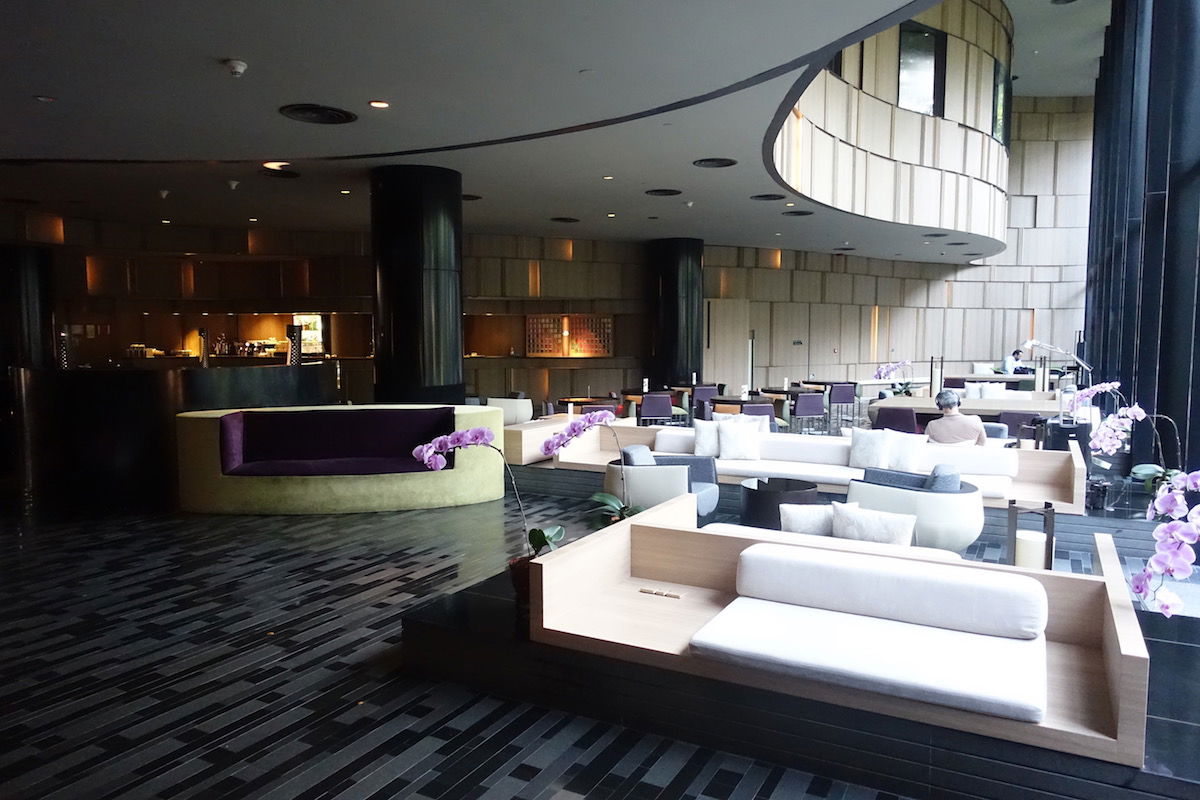 Crowne Plaza Changi Airport lobby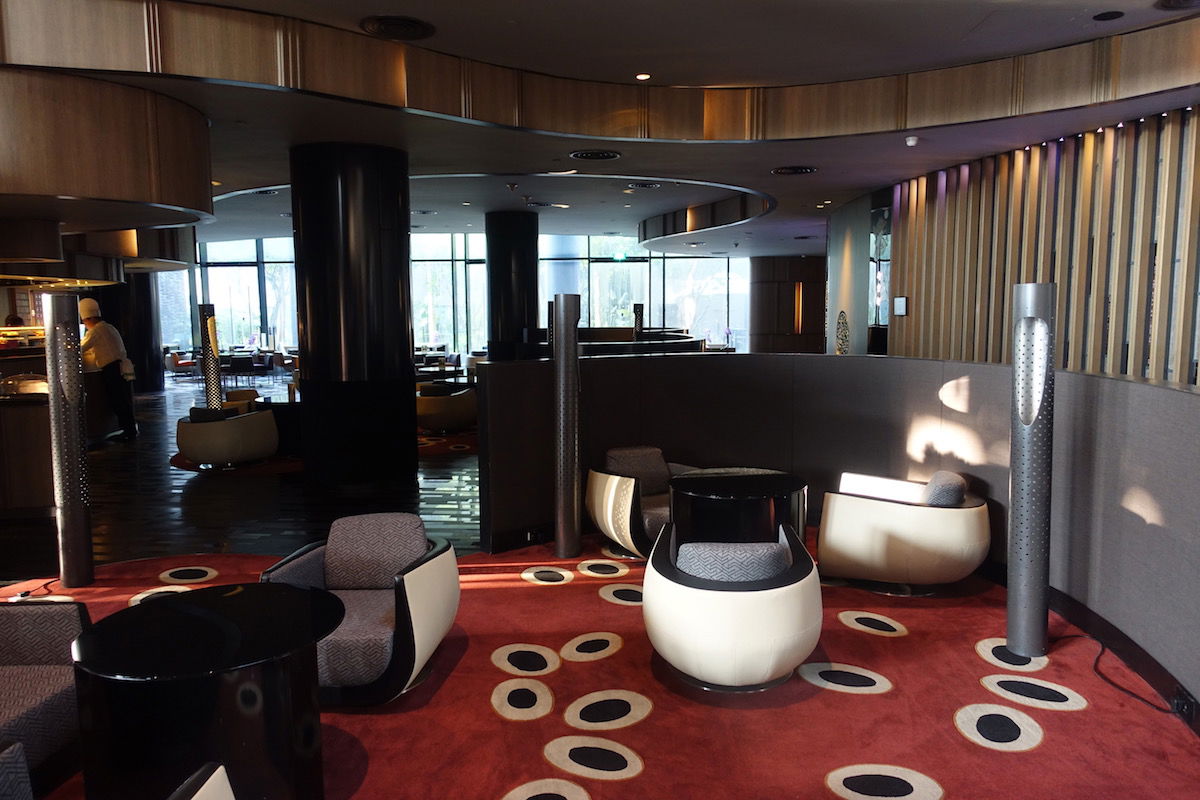 Crowne Plaza Changi Airport lobby
There was no wait at reception, and I was informed that they didn't yet have any rooms ready, but that a room should be ready within about 30 minutes. That didn't bother me, since I was early. So I just had a seat in the lobby and got some work done.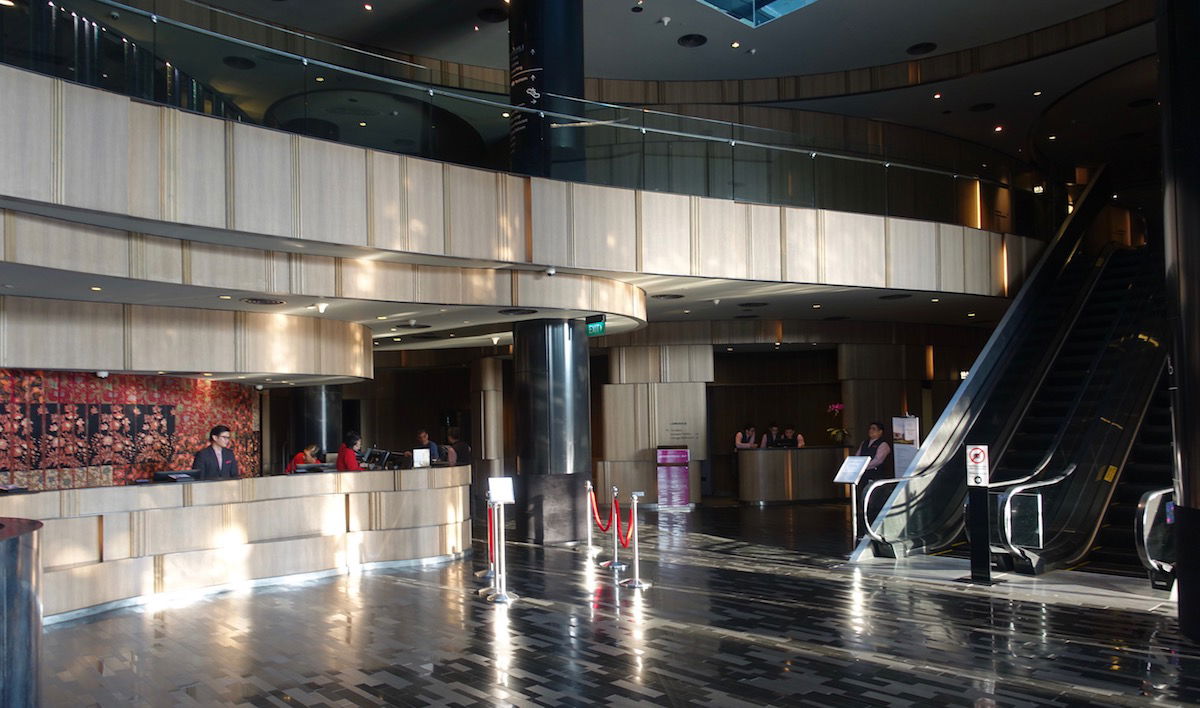 Crowne Plaza Changi Airport lobby
I then returned at around 9AM (even though they told me I could return at 8:30AM), and was told that a room was ready, though it had two beds rather than one king bed.
That didn't hugely bother me, or anything, but I had reserved a room with just one king bed, and the associate wasn't apologetic about it, but rather just acted confused about why I cared. She said it could be noon before a king room was available.
With a key in hand I headed towards my room. The elevators are right around the corner from reception.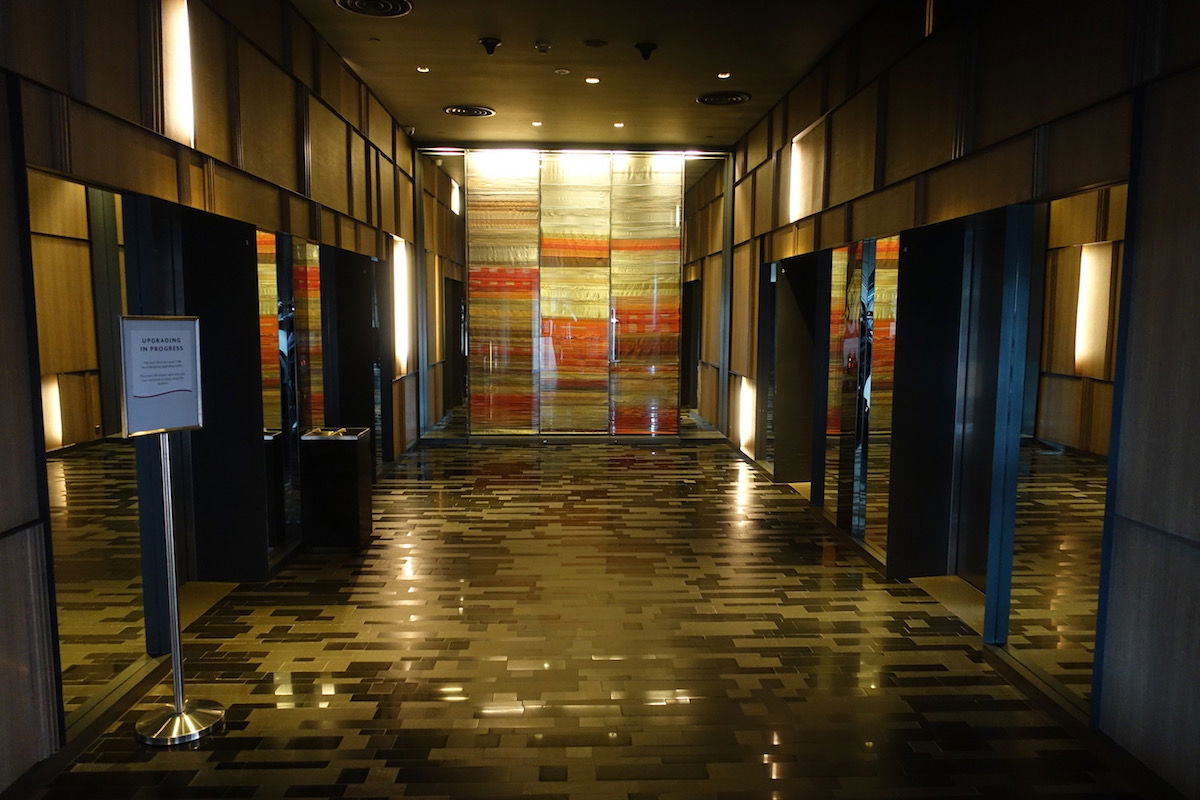 Crowne Plaza Changi Airport elevators
I was assigned room 922, located on the hotel's top floor. The hotel has exposed hallways, which seems to me like an odd choice. Yes, the hotel seems sort of tropical, but Singapore is also ridiculously humid, so it's not that fun transitioning between air conditioning and outdoors and air conditioning again.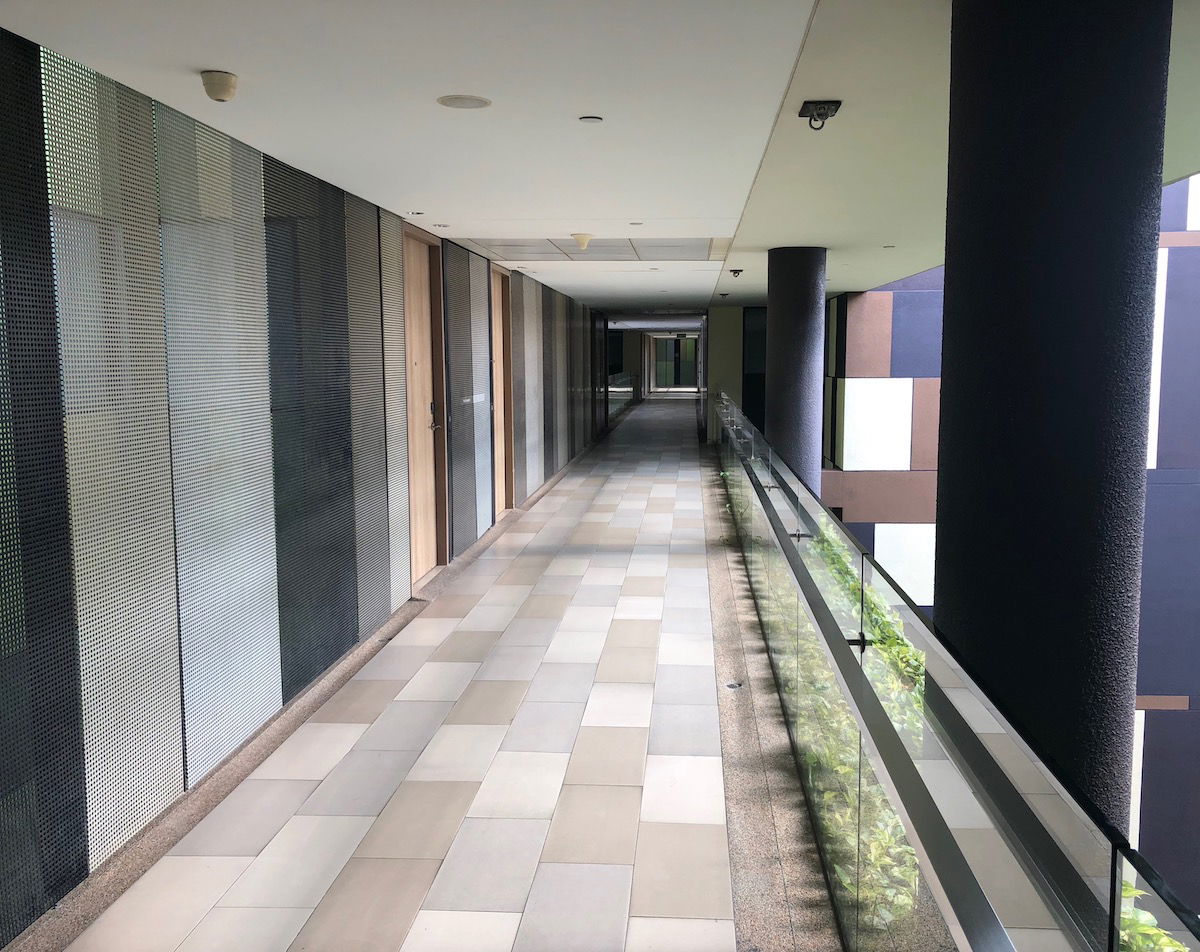 Crowne Plaza Changi Airport hallway
But I have to give the hotel credit for the quirky design.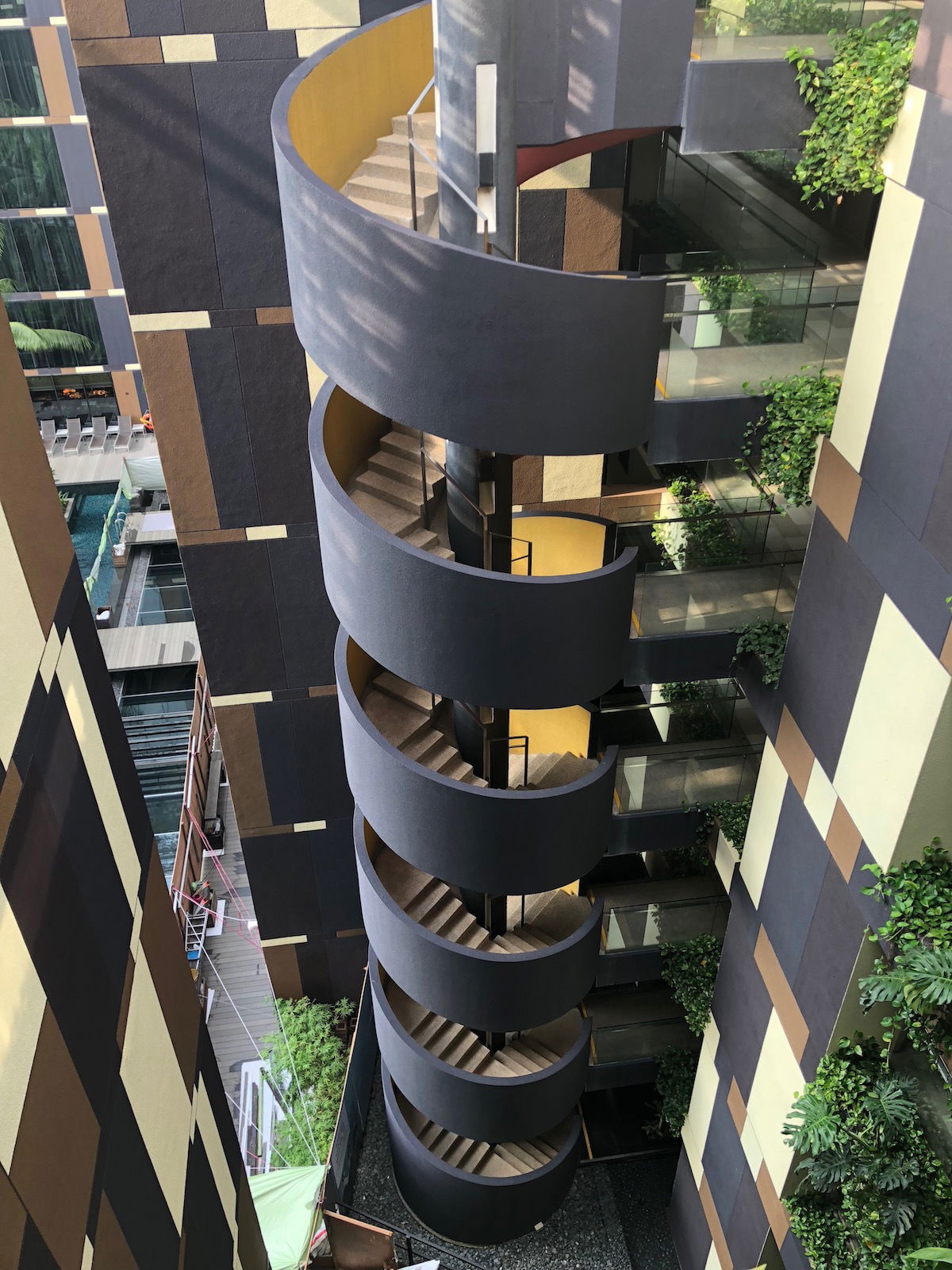 Crowne Plaza Changi Airport design
I was assigned what I believe is a standard room with two beds, and it was really nice. The room featured an entryway with the bathroom to the right and a closet to the left.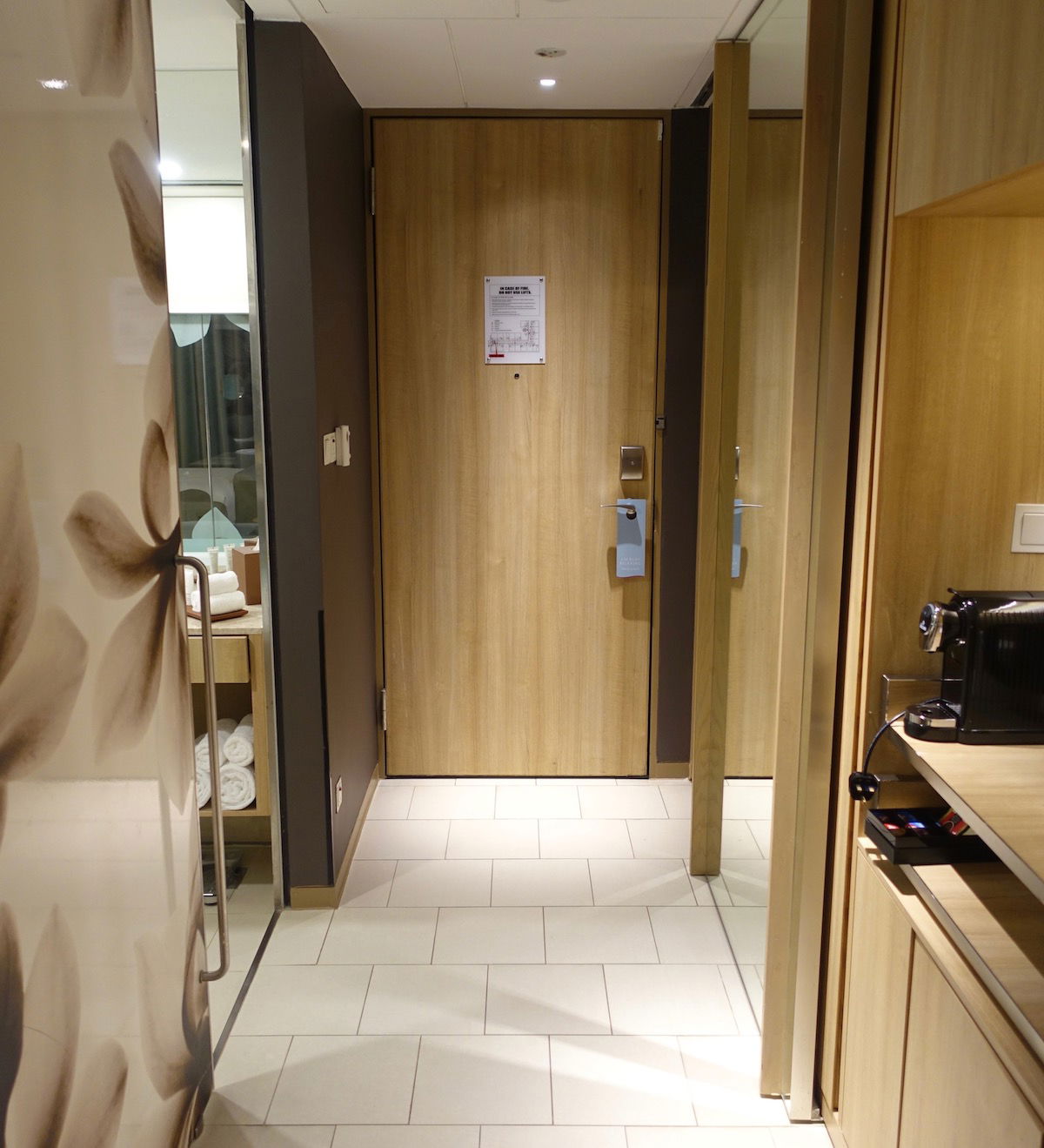 Crowne Plaza Changi Airport room entryway
I loved the carpets and the lighting.

Crowne Plaza Changi Airport room
In addition to chairs by the foot of the bed, there was a long bench opposite it by the wall-mounted TV.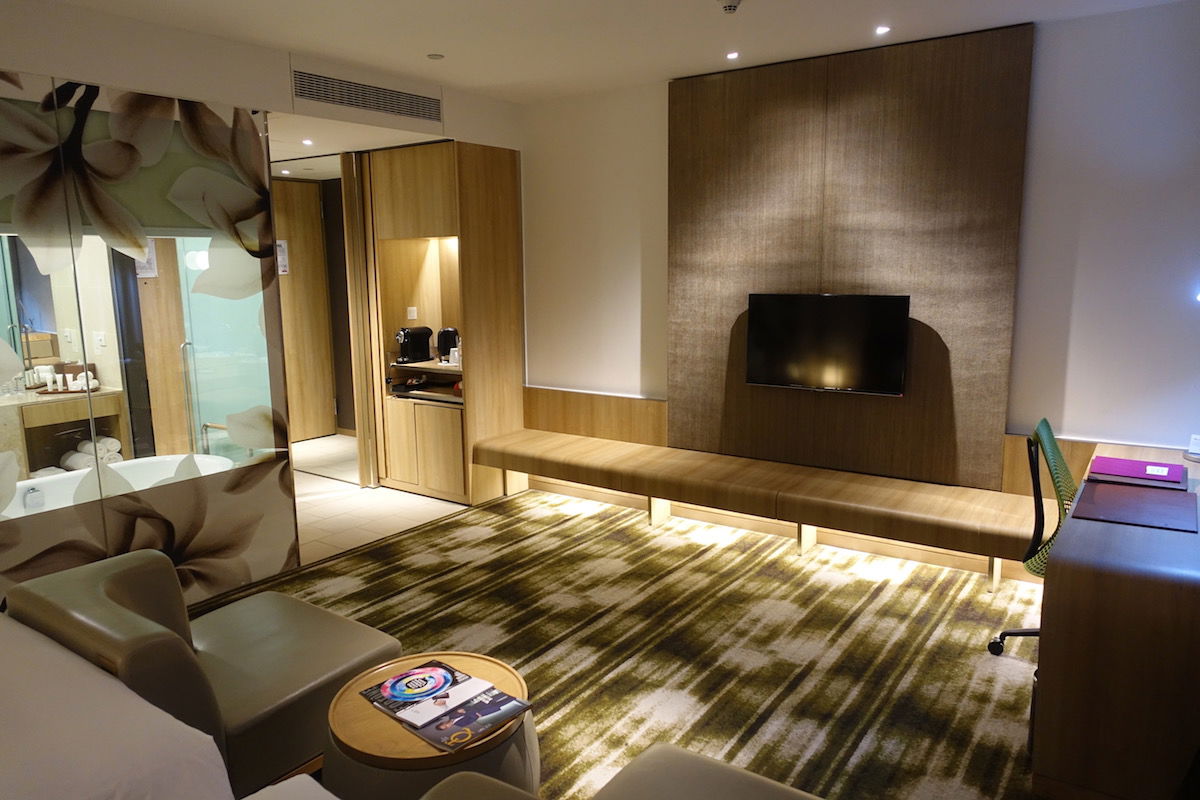 Crowne Plaza Changi Airport room
Along the far end of the room was a desk with a rolling chair.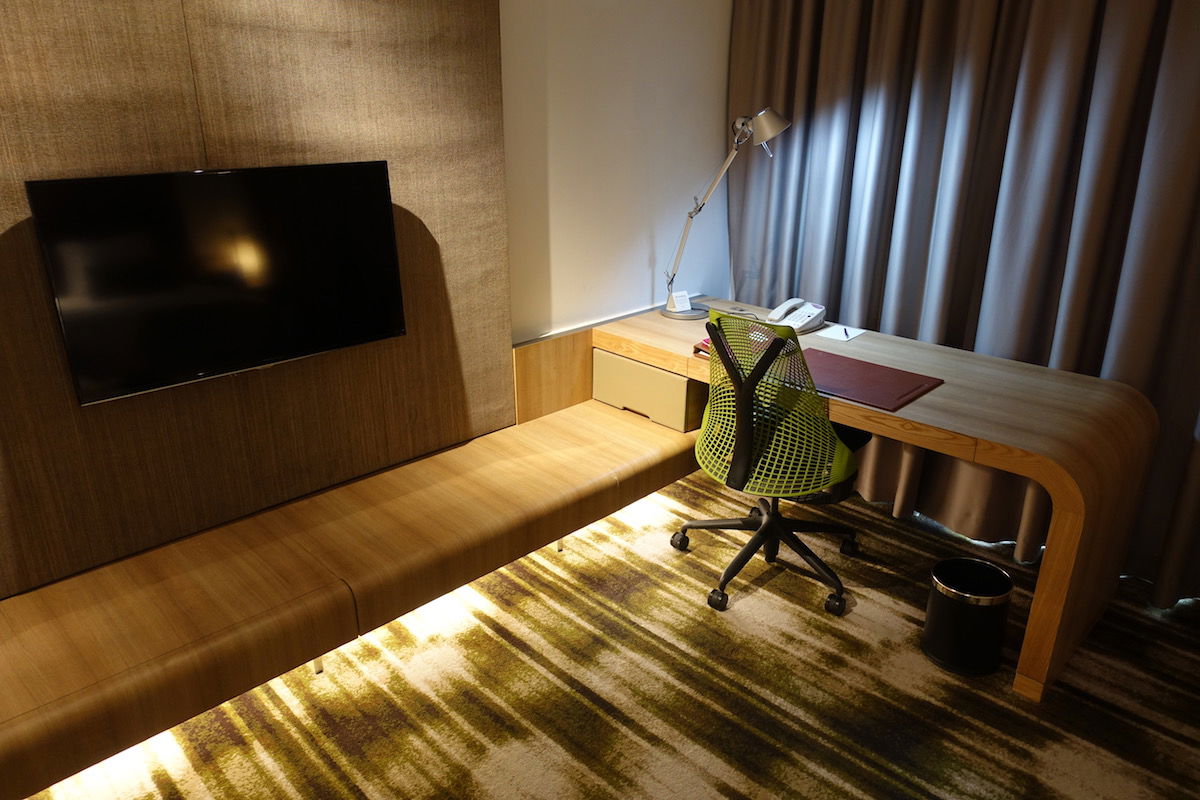 Crowne Plaza Changi Airport desk area
There was a glass partition separating the bathroom from the bedroom, though there was a curtain that could be lowered for privacy if traveling with someone.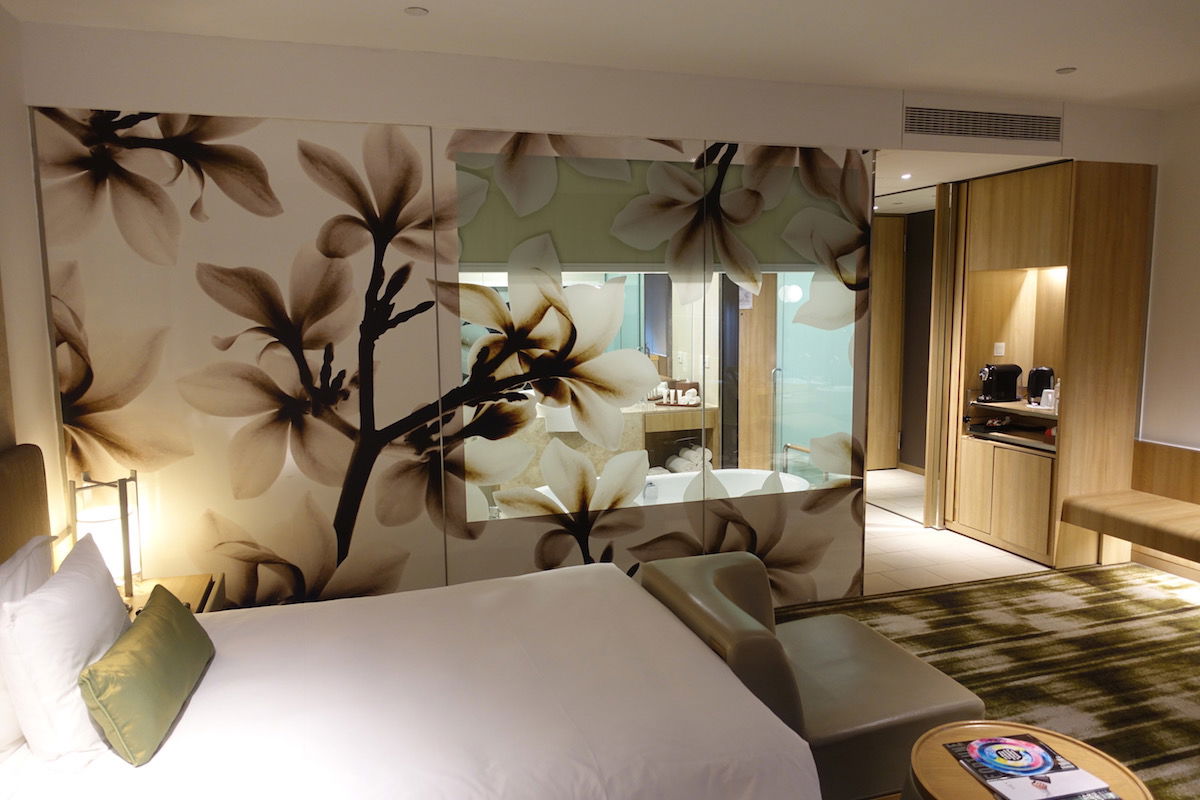 Crowne Plaza Changi Airport room
Inside the entrance and to the left was a coffee machine, kettle, bottled water, and minibar.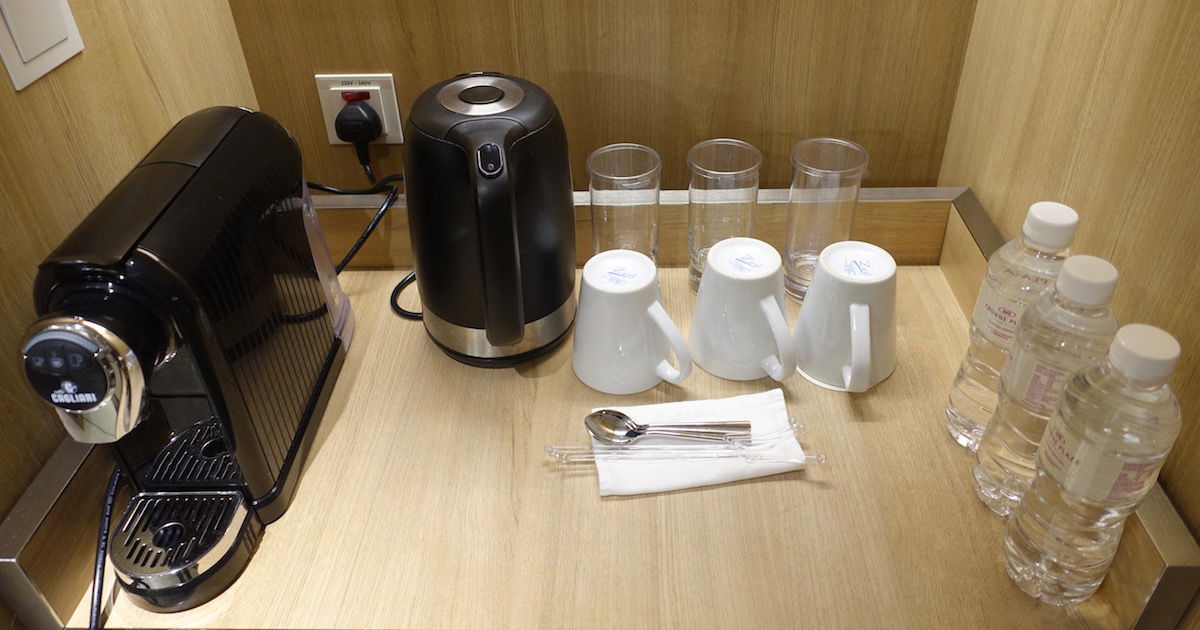 Crowne Plaza Changi Airport coffee machine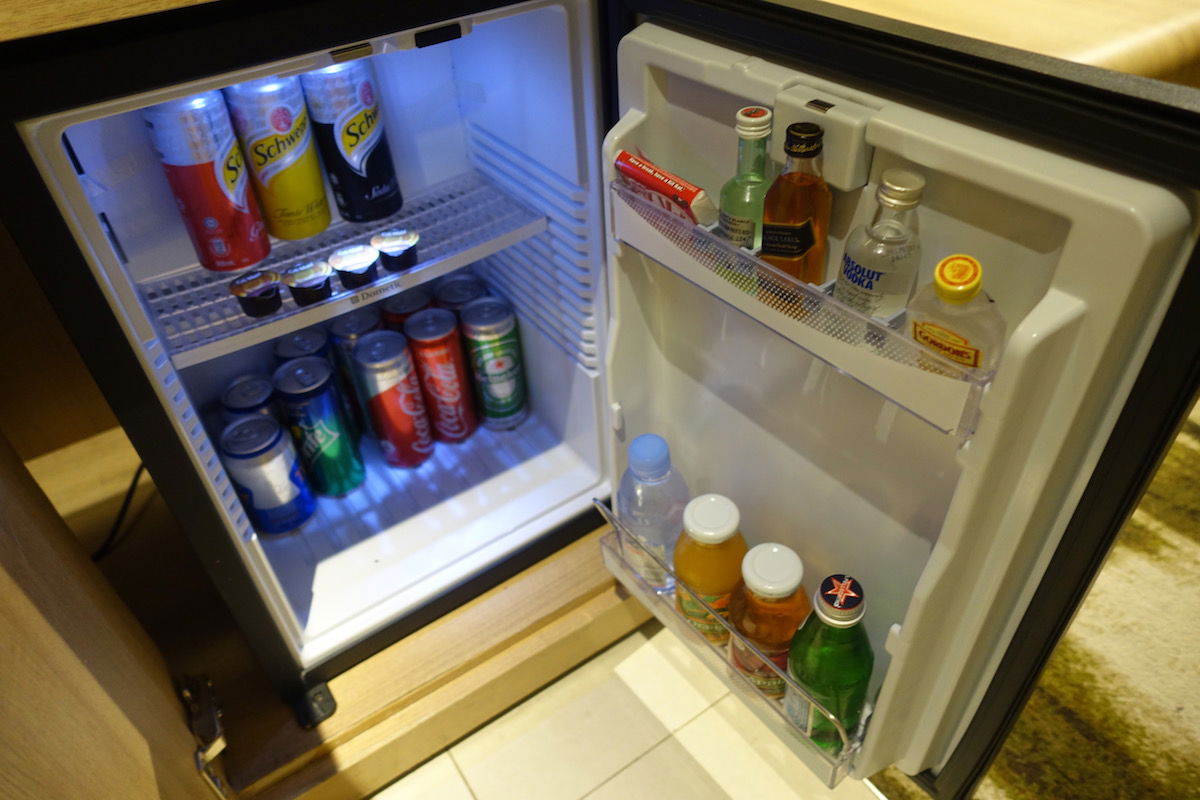 Crowne Plaza Changi Airport minibar
One of the cool features of the hotel is that each room gets a smartphone you can use during your stay. Before I had international data this is a feature I really liked, though I'm surprised an airport hotel would invest in this (since I find this is most useful for a city hotel where you want to explore, rather than an airport hotel, where most people are just quickly overnighting).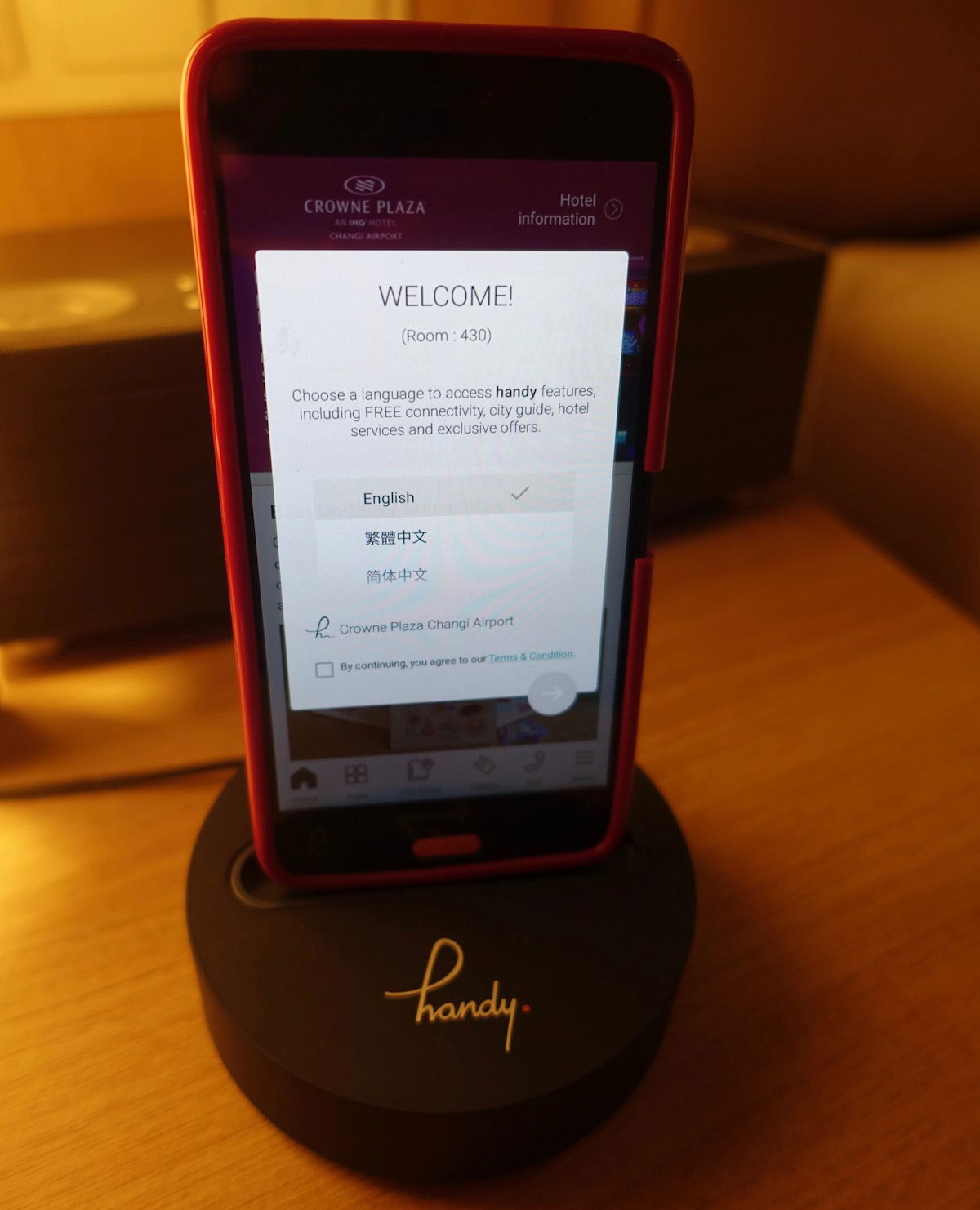 Crowne Plaza Changi Airport smartphone
Unfortunately my room didn't have much in the way of views.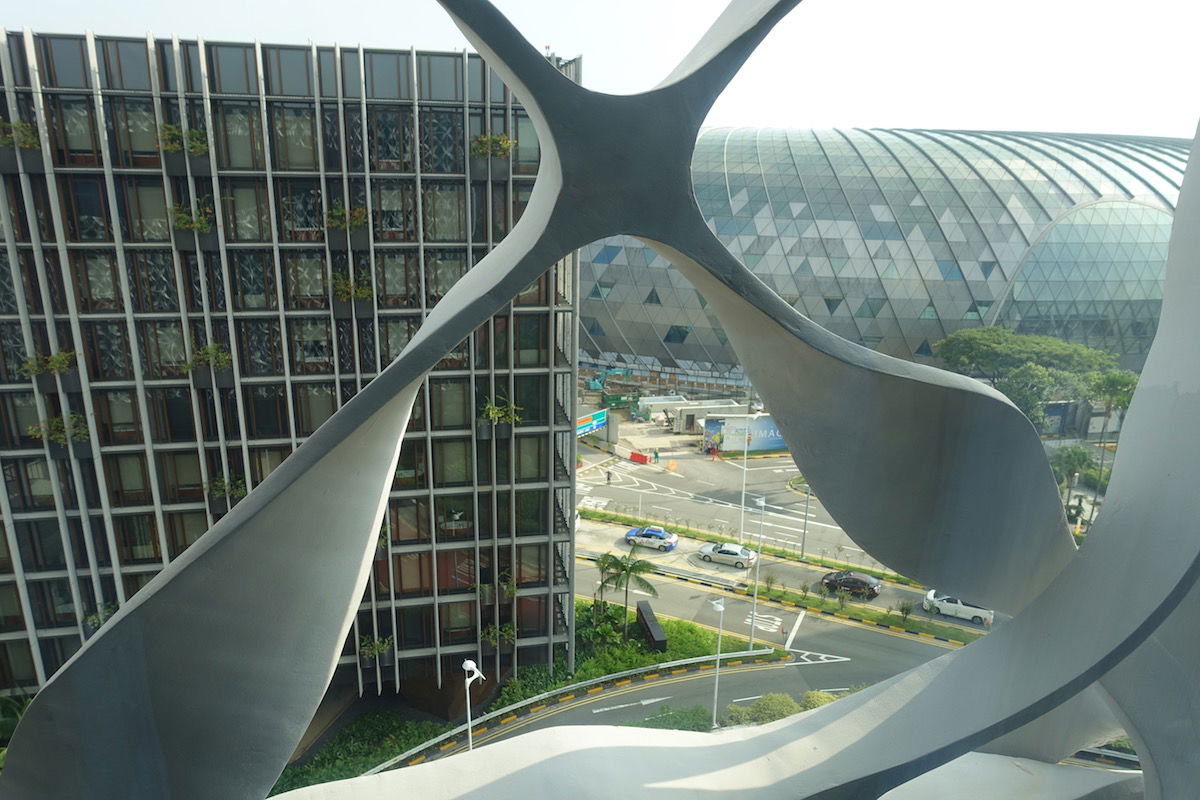 Crowne Plaza Changi Airport view
This hotel is known for incredible views, though only some rooms have those views, sadly. Below is a picture I snagged of the views from one of the exposed hallways of the hotel. As an aviation geek I'd splurge on a view room the next time I stay here, because those are some unbeatable aviation geek views.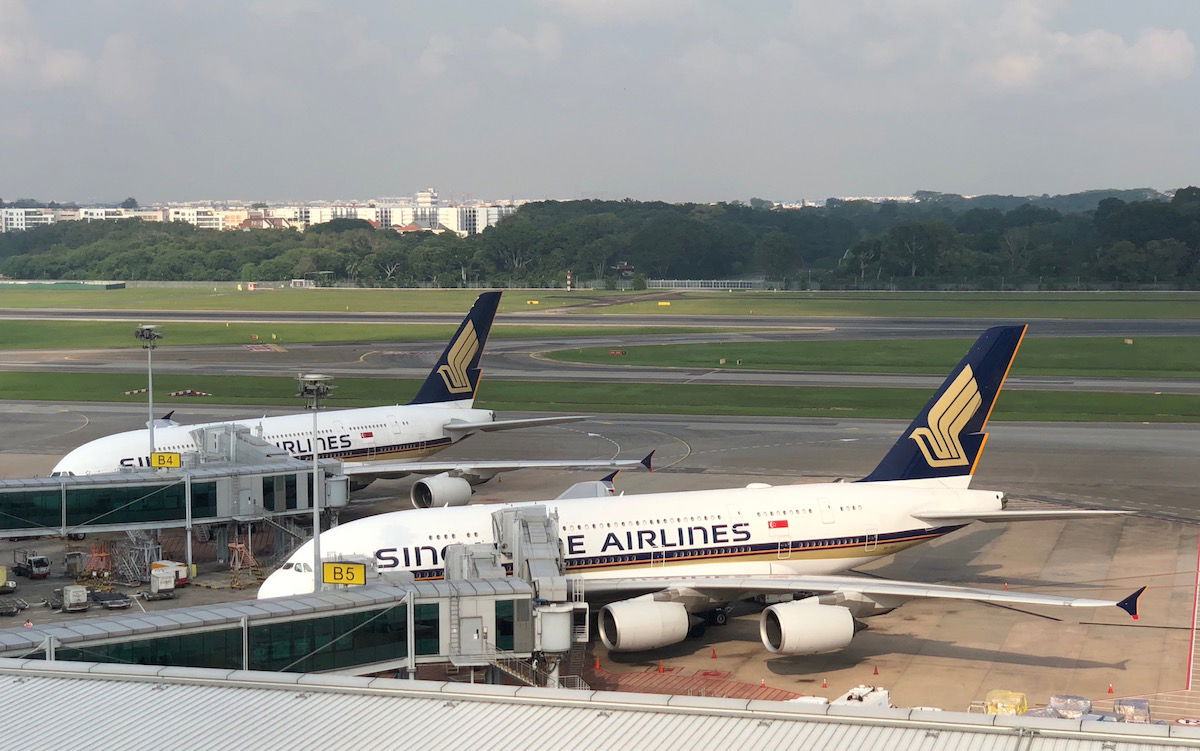 Crowne Plaza Changi Airport view
The bathroom was a good size, and featured a sink, walk-in shower, toilet, and bathtub.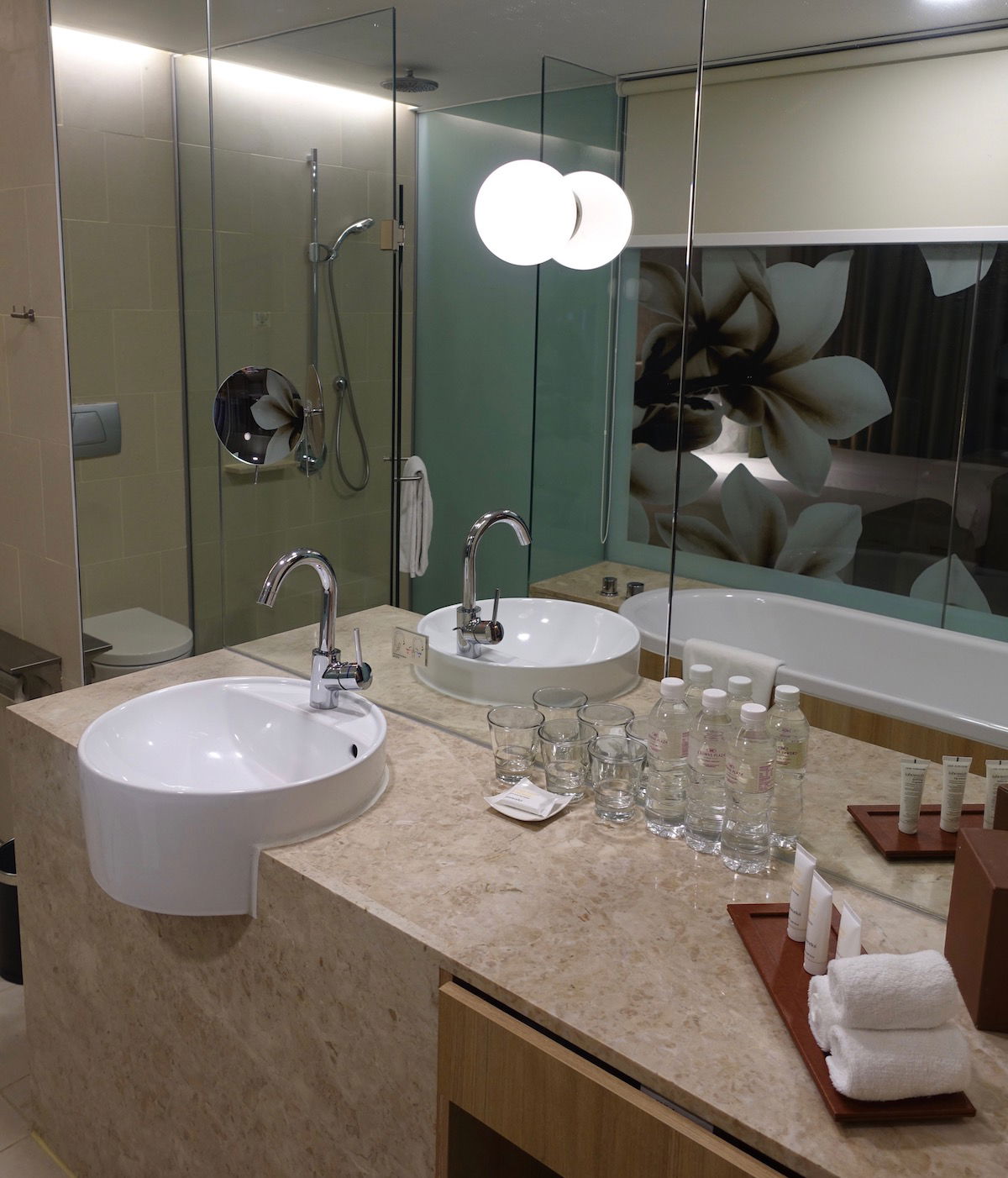 Crowne Plaza Changi Airport bathroom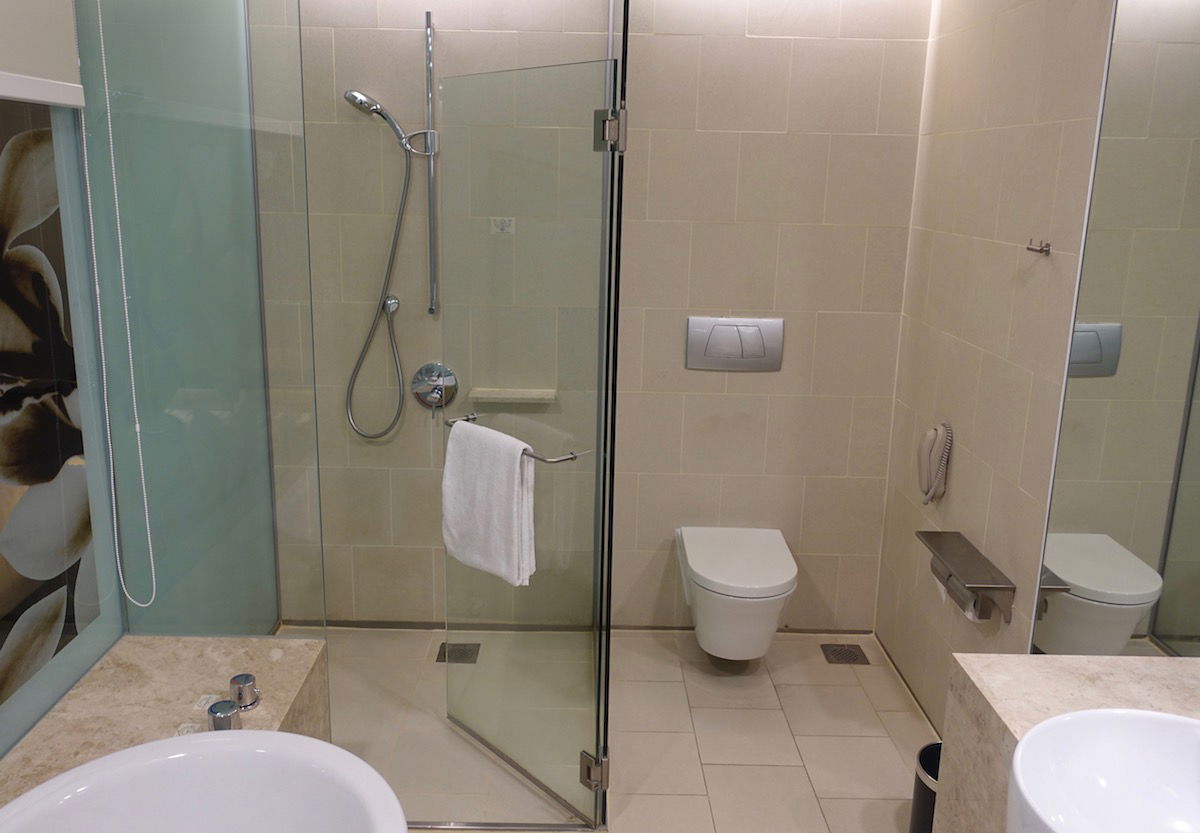 Crowne Plaza Changi Airport shower & toilet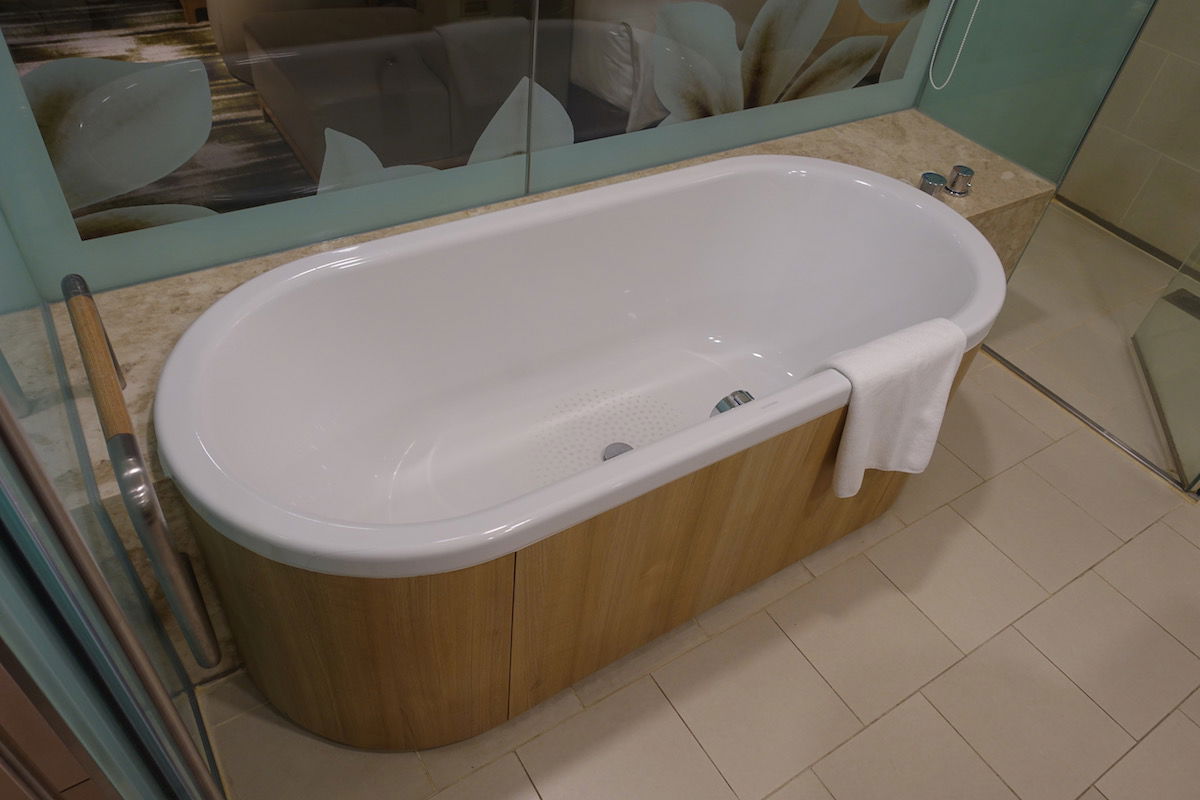 Crowne Plaza Changi Airport bathtub
The toiletries provided were pretty decent.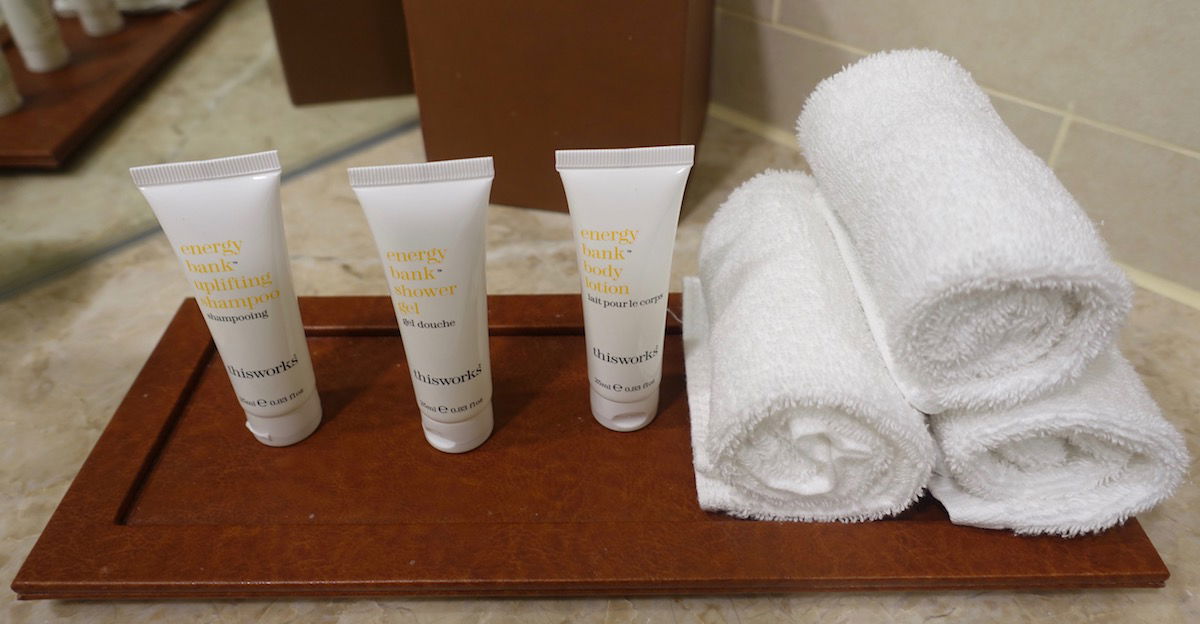 Crowne Plaza Changi Airport toiletries
I tried to sleep shortly after getting to my room, but for whatever reason couldn't sleep, which sucked. I struggled to fall asleep, and then things only got worse when I kept thinking about how I had to check out in a few hours. I'm not good at sleeping under pressure!
I ended up sleeping from about noon until 4PM, and then woke up but was still tired.
I decided to extend my stay, since I needed to check out an hour later. I used my anniversary free night certificate on the IHG® Rewards Premier Credit Card to book a night there, so I could stay at the hotel until my flight was departing.
In retrospect I should have probably just booked a night there and seen how early they would have checked me in, though I didn't potentially want to have to wait until the afternoon to check-in after taking several overnight flights. So yeah, not ideally planned, but whatever.
I headed back to the front desk, and checked out of the room that I had, and then checked into another room. I asked this time if I could have a room with a view of the airport, but was told that was a higher room category, and even as an IHG Platinum member I wasn't eligible for that (which shows how worthless IHG status is).
On the plus side, this time I got to experience a different type of room. It was also a standard room, but in the new wing.
My interactions with the hotel staff here were pretty negative. Usually I don't have much to say at an airport or city hotel since my interactions are limited, but it took the lady at reception over 20 minutes to check me out and then check me back in, and she wasn't friendly either.
Furthermore, I had been assigned a room in the new wing, but she didn't explain this to me. This requires going to a completely separate part of the hotel that I didn't even know existed.
Since I didn't know that, I first headed to the third floor (where I thought my room was located), walked around like an idiot for five minutes, and then went back downstairs to ask where my room was. Only then was it properly explained.
To reach the new wing you have to take the escalator up a level, walk down a long hallway, then enter your keycard to open a sliding glass door, and then walk down another hallway. It's really quite a haul.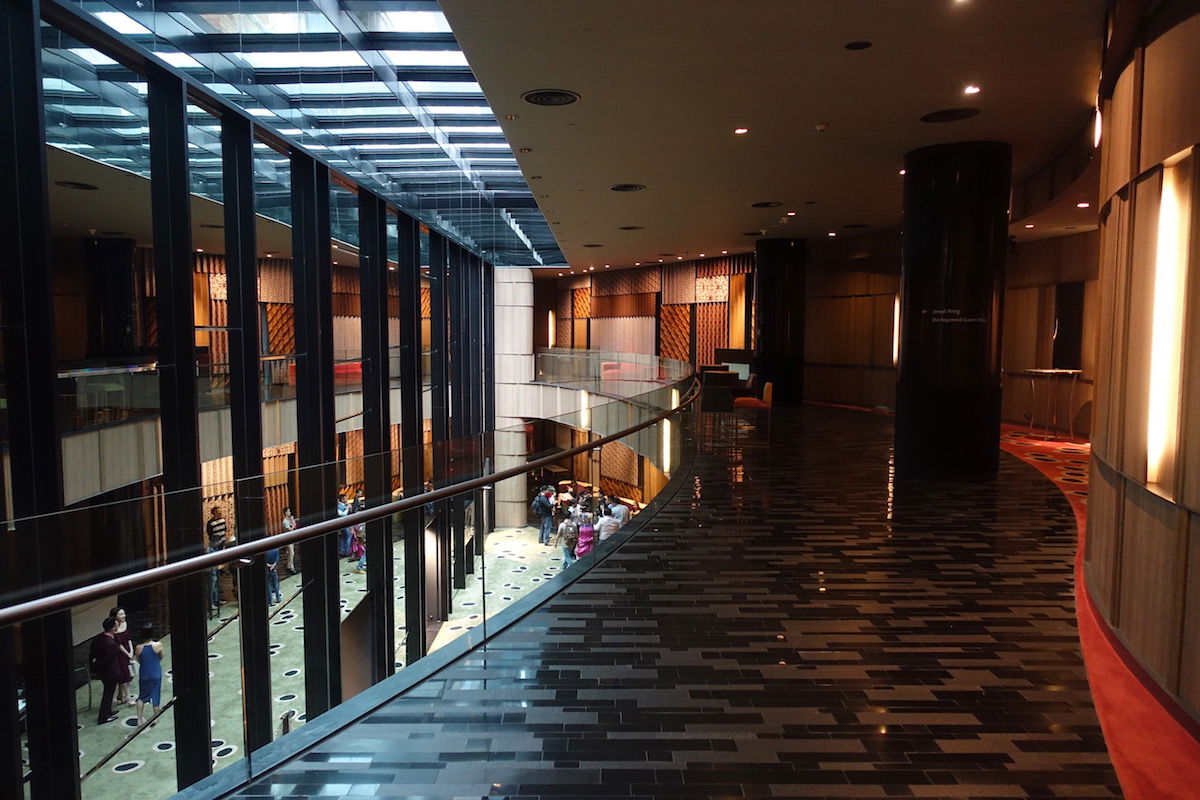 Crowne Plaza Changi Airport walkway to new wing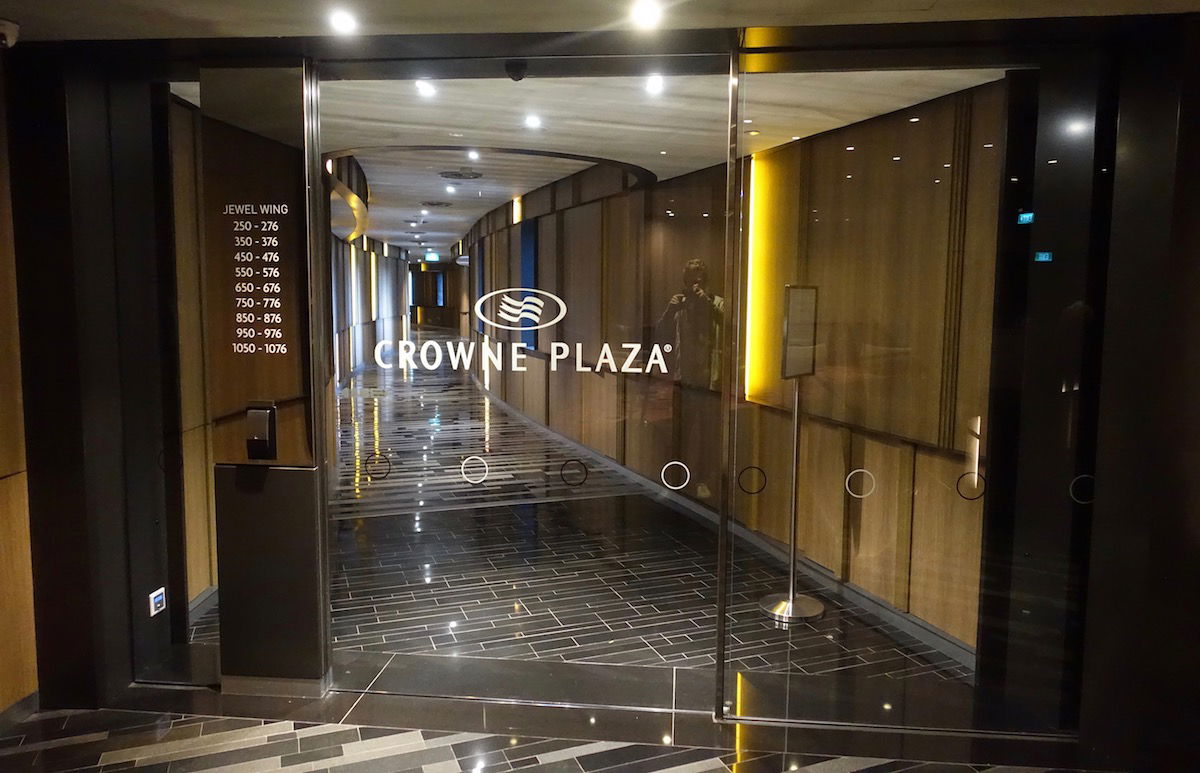 Crowne Plaza Changi Airport new wing
While the rest of the hotel has exposed hallways, this part of the hotel has interior hallways, which I preferred.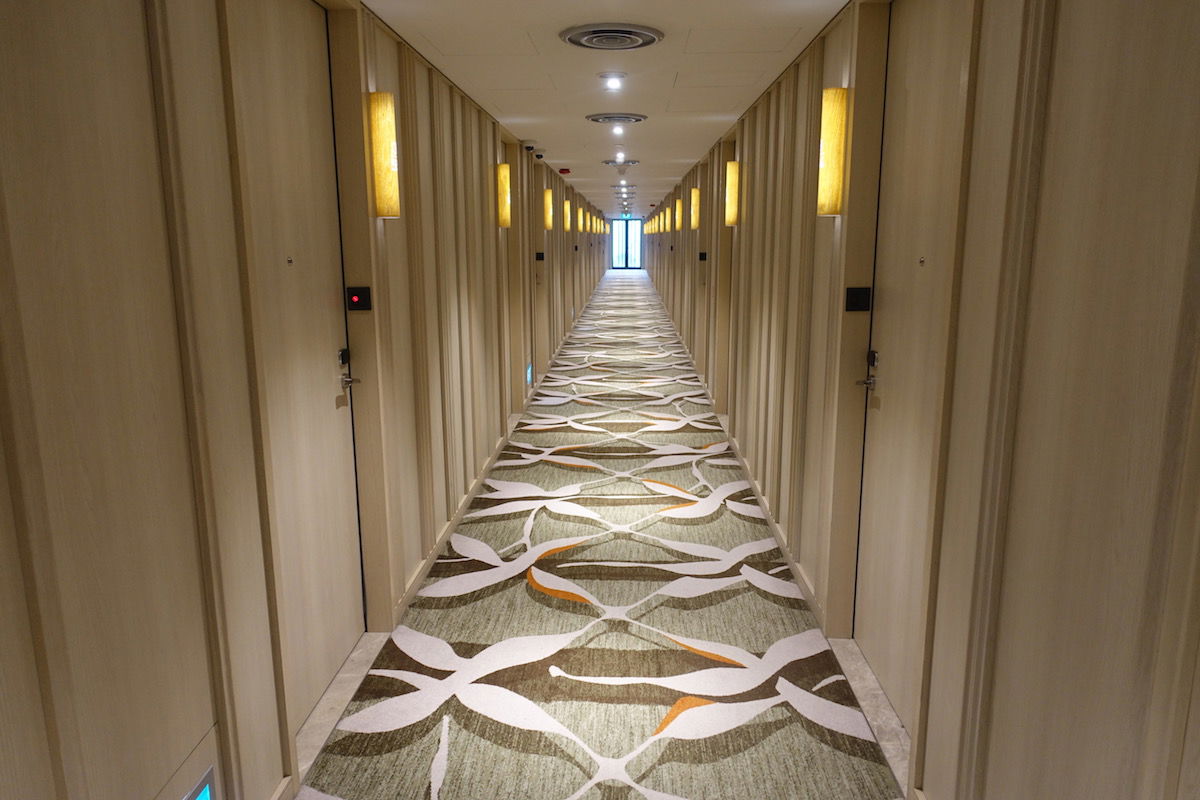 Crowne Plaza Changi Airport hallway
I was pleasantly surprised to find that this room had completely different decor. The other room had great decor as well, but this one was even nicer, in my opinion.
The room featured a desk right by the door, a king size bed in the middle of the room, and then a couch at the far end of the room.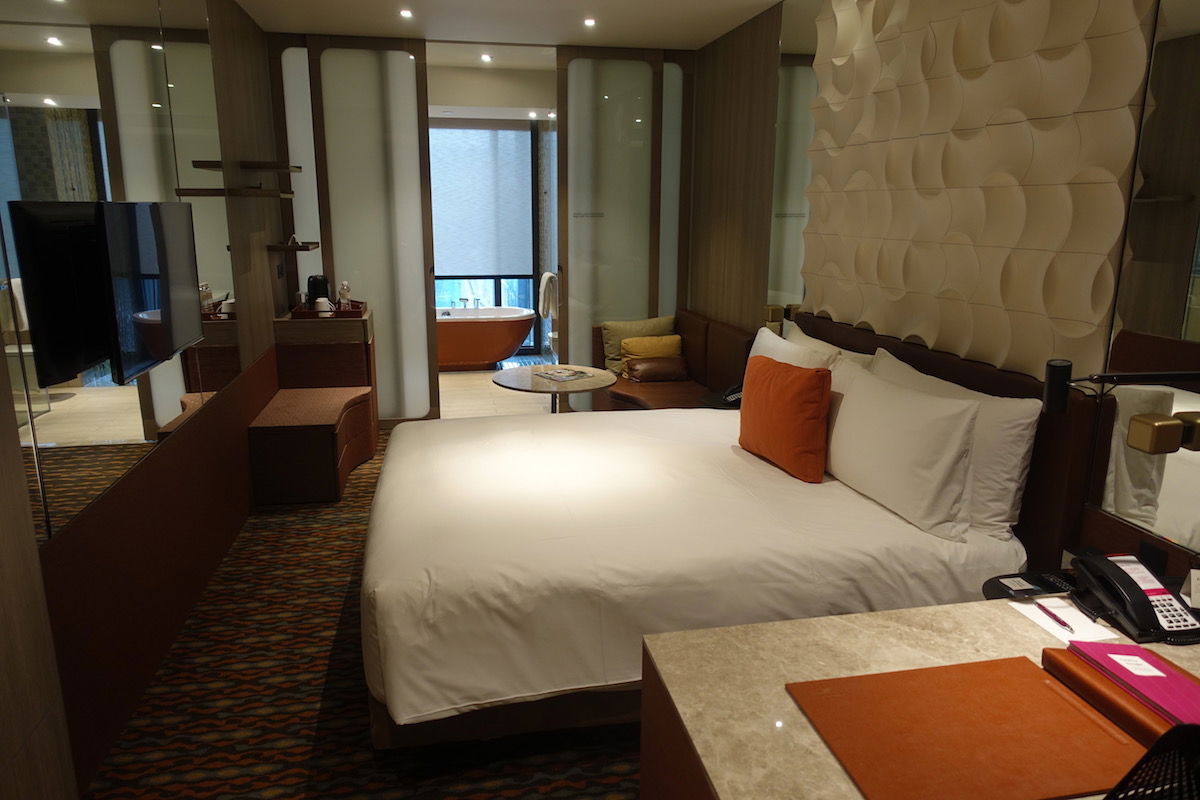 Crowne Plaza Changi Airport room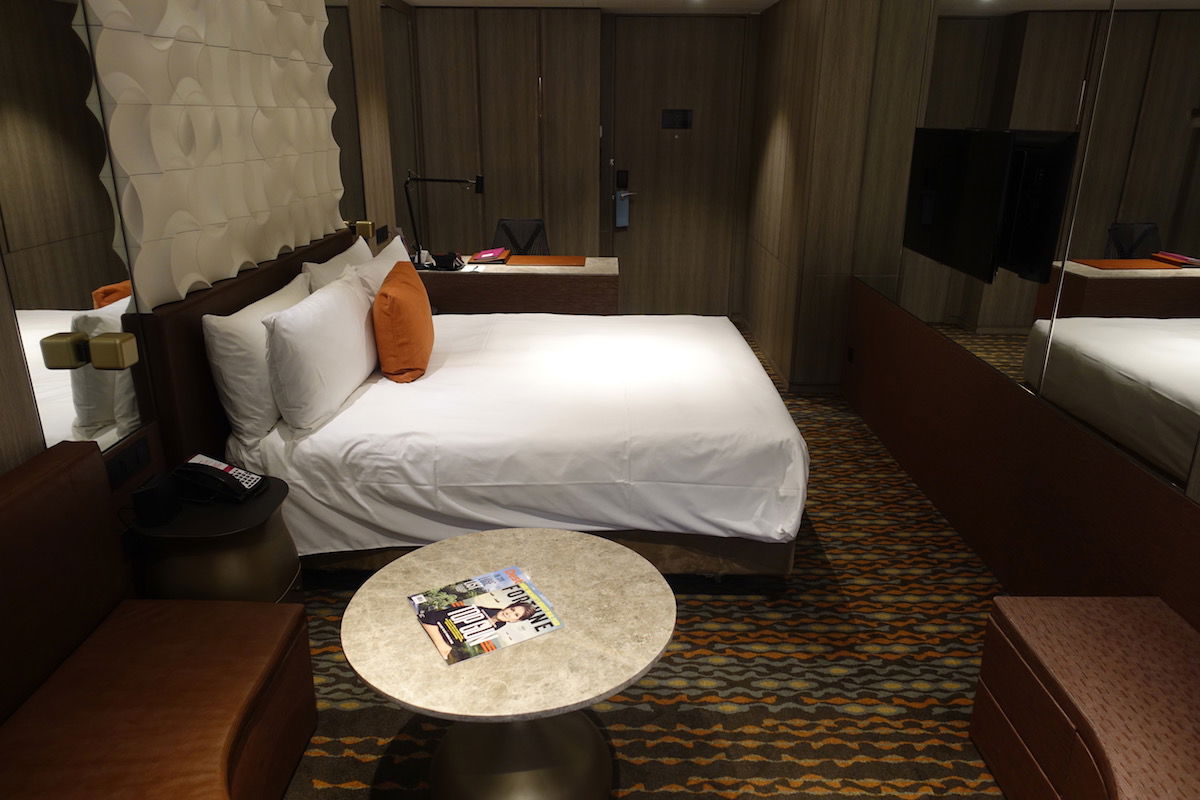 Crowne Plaza Changi Airport room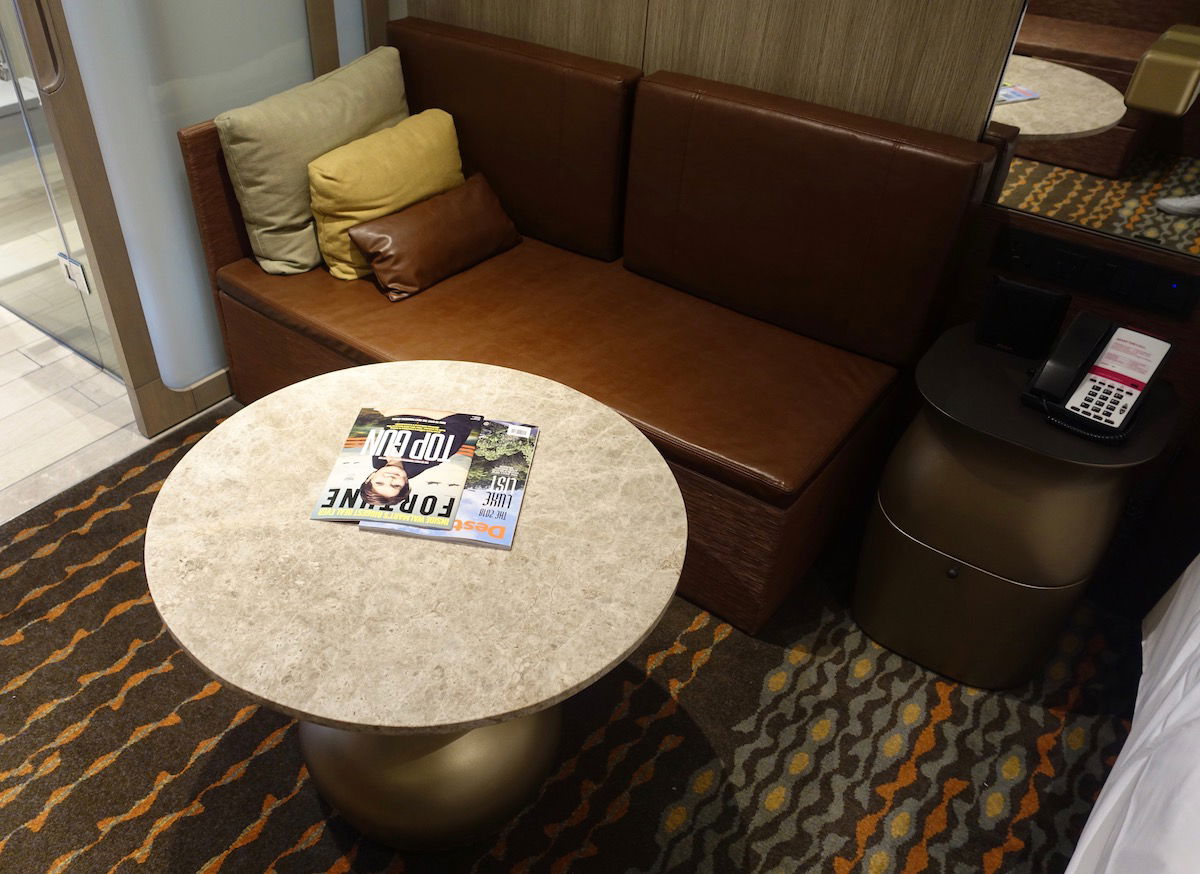 Crowne Plaza Changi Airport room
Then there were sliding doors leading into the bathroom. The bathroom featured a soaking tub, a walk-in shower, a toilet, and a sink.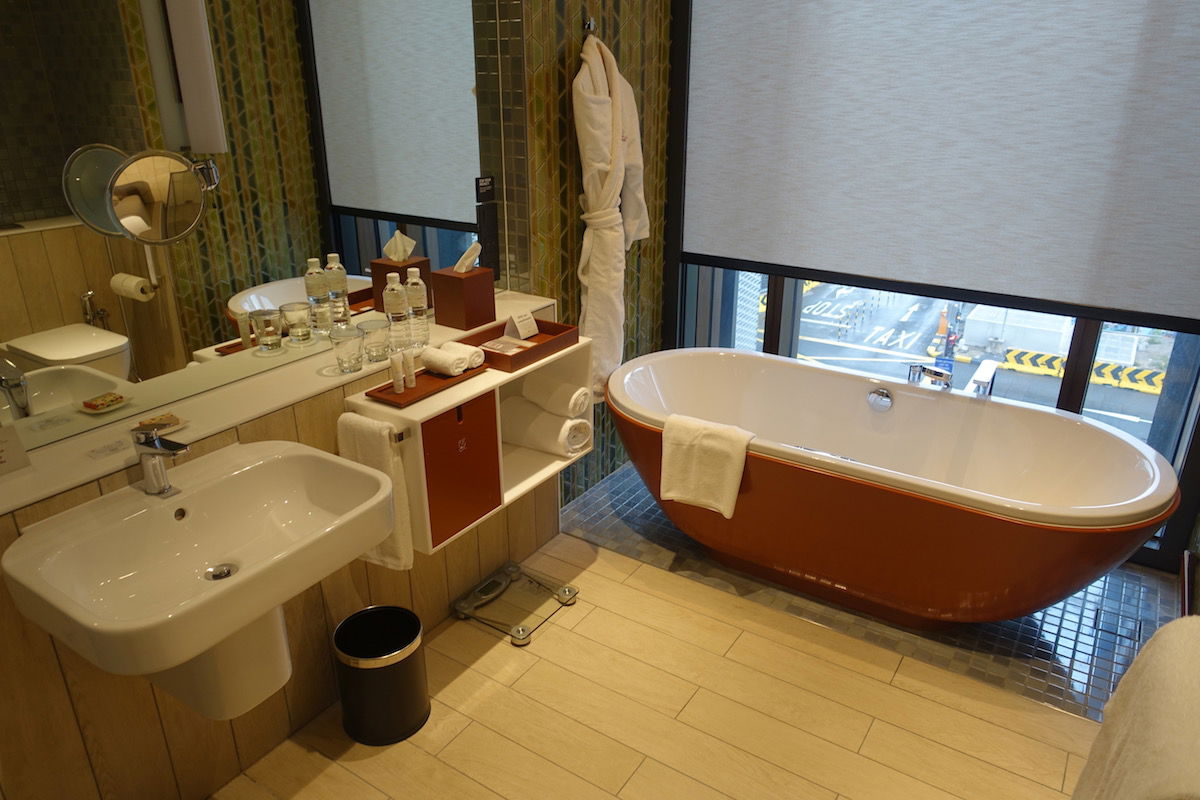 Crowne Plaza Changi Airport bathroom
This room also didn't feature anything in the way of views, and faced an outside roadway.
At this point I decided to check out some of the hotel's features. There's a pool on the third floor, which is popular with travelers. While the pool was open, the deck was under construction.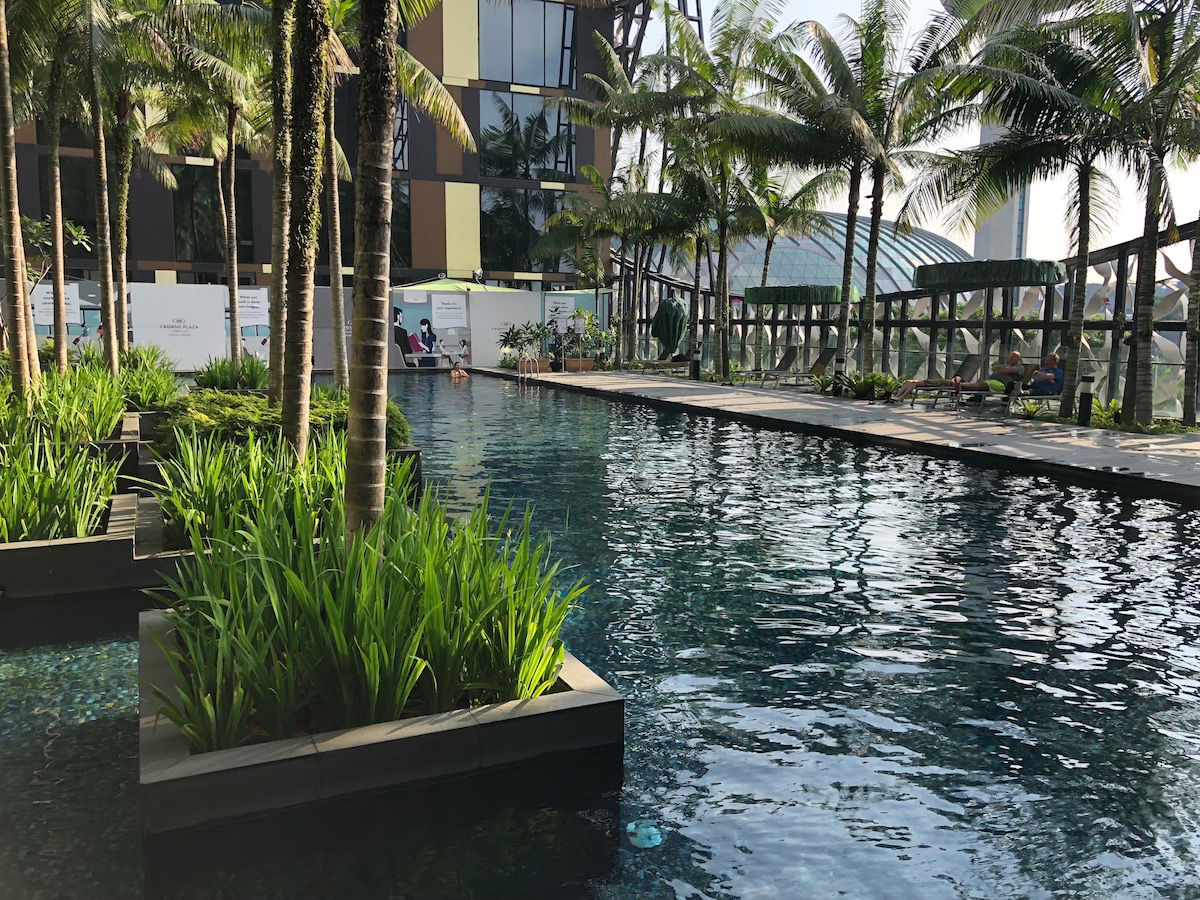 Crowne Plaza Changi Airport pool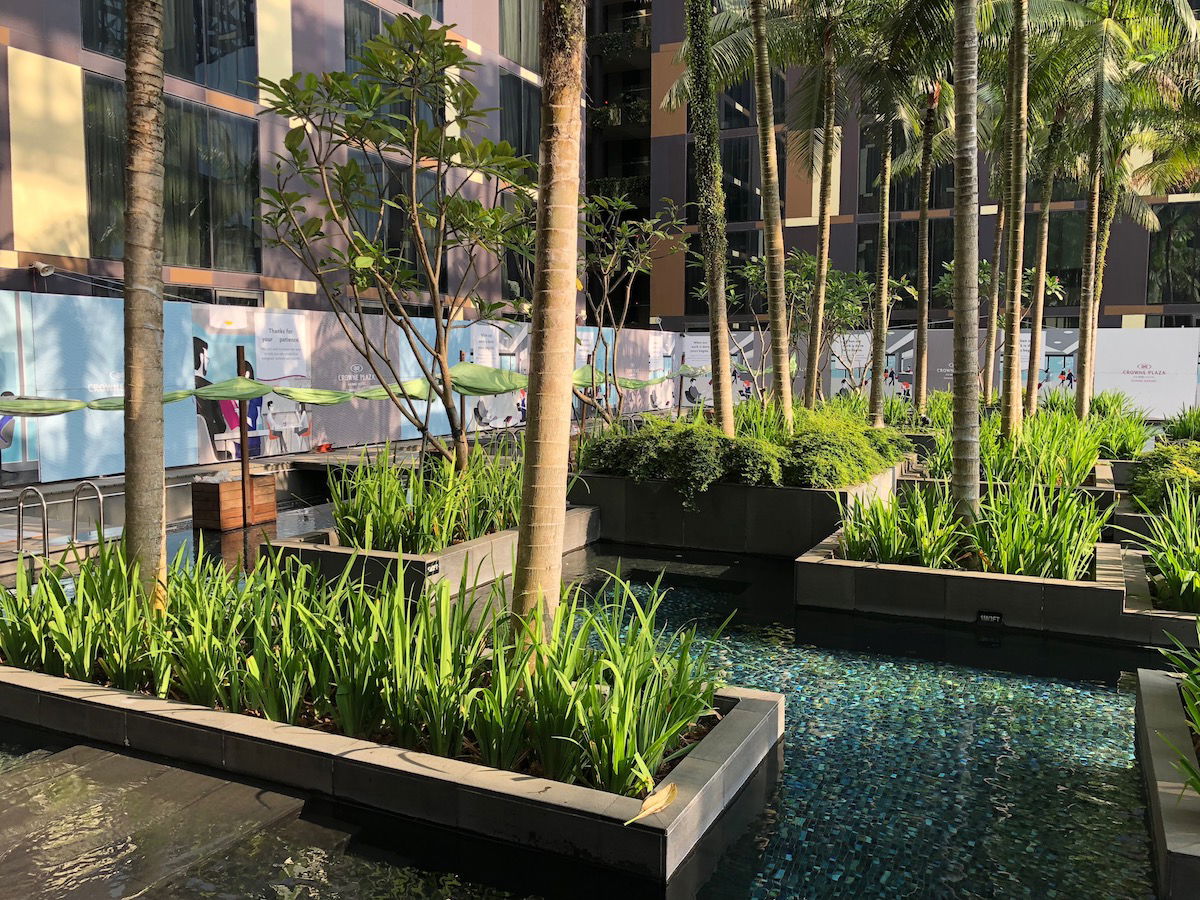 Crowne Plaza Changi Airport pool
The third floor is also where the gym was located, which is open 24/7.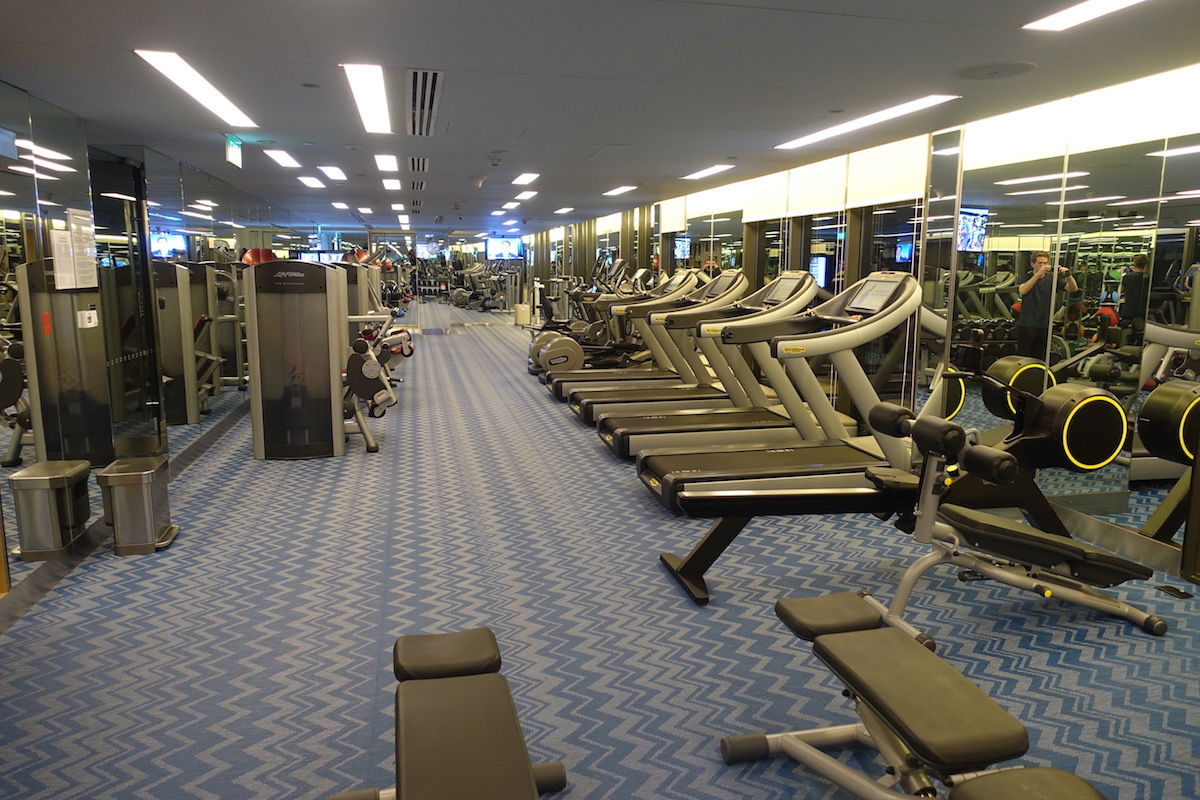 Crowne Plaza Changi Airport gym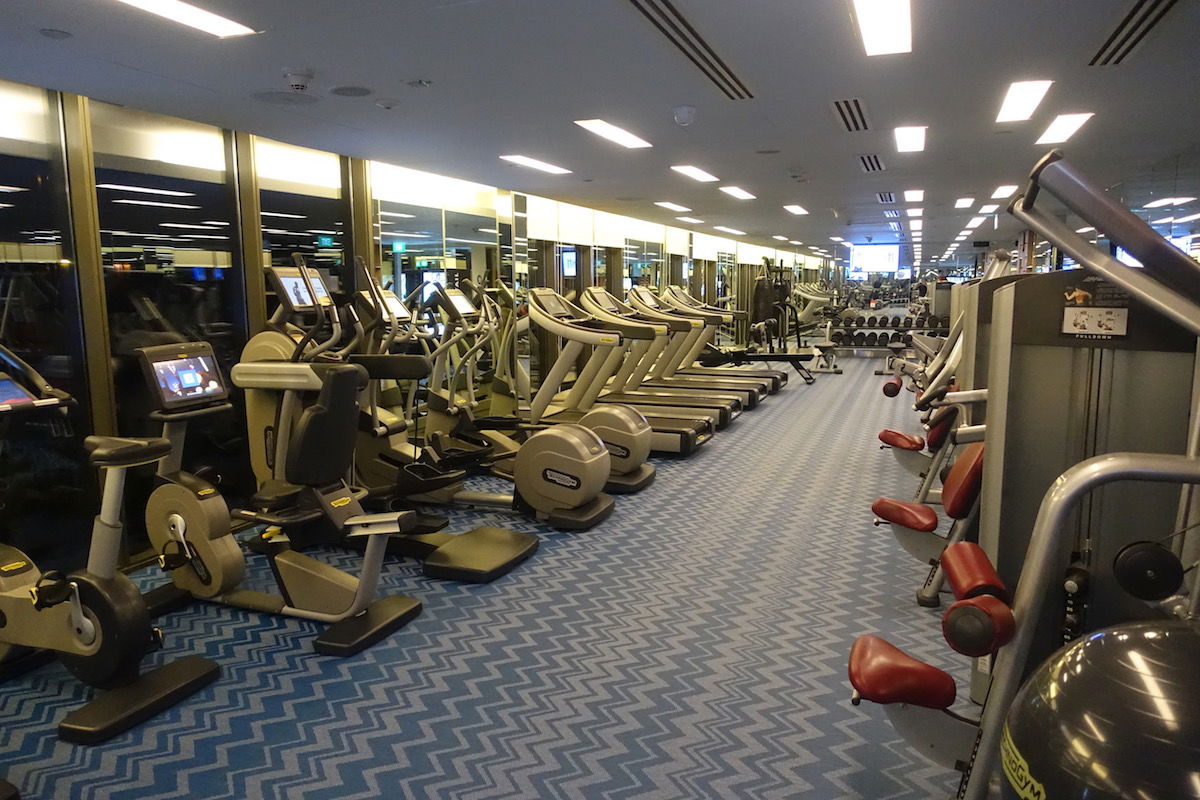 Crowne Plaza Changi Airport gym
Now let's get to the most ridiculous part of the stay. I decided to get a massage in the hotel's spa, which is located on the third floor. I was feeling achy after so much flying, so figured a massage would help.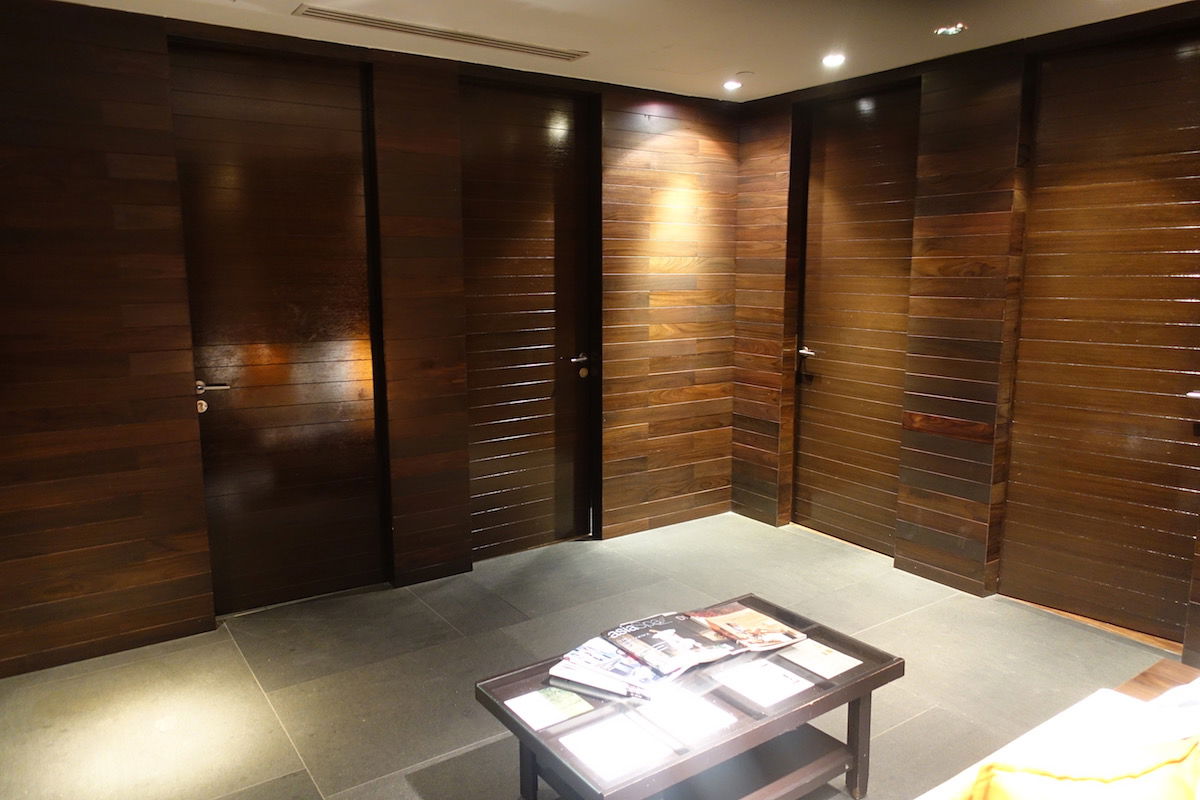 Crowne Plaza Changi Airport spa
The spa menu read as follows: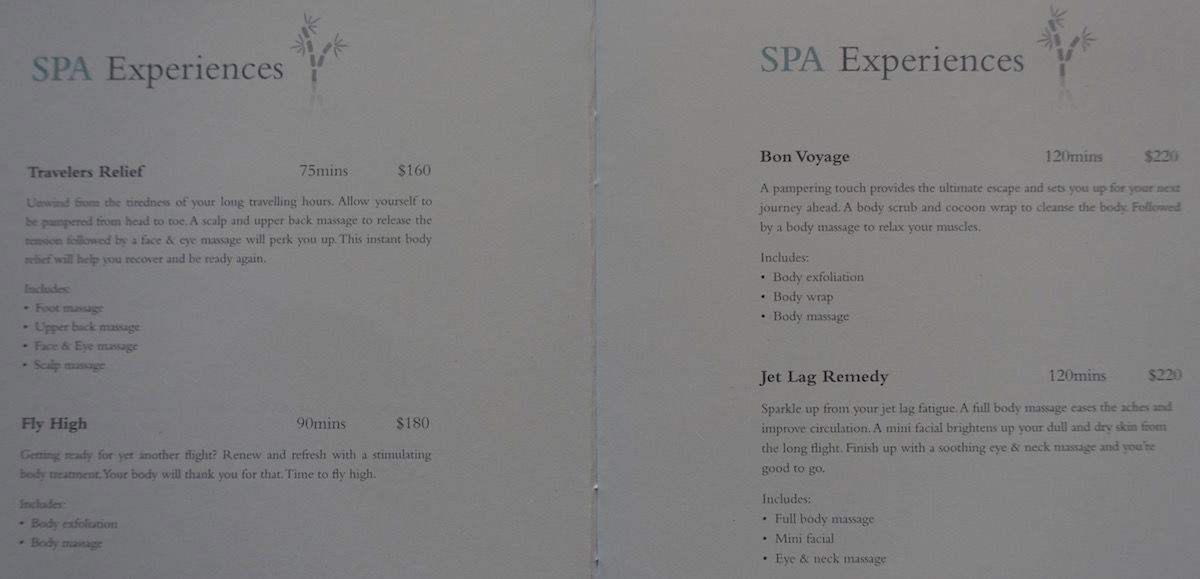 Let me start by saying that the "auntie" (as they'd call her in Singapore) seemed to be very well intentioned, but this is simply not how you run a spa. The treatment also wasn't cheap, as I had the "Travelers Relief" massage for 160SGD.
Where do we even begin?
She was the only one working, as there was no receptionist. That's fine as such, but the problem is that when people would walk in she'd stop the massage to go talk to them, or worse, yell from the room at them. If I'm getting a cheap massage on the streets somewhere that's fine, but I expect better in a real spa.
The massage lasted 65 minutes rather than the advertised 75 minutes
The second I took off my clothes and laid down on the table, she tapped me on the shoulder and said "this foot cream is very good. You want to buy 20 dollar or 57 dollar foot cream?" I said "that's alright," and she said "no, it's very good, you should have it, it will provide you with relief and is good when traveling." So I told her the 20 dollar one, thinking then when the massage was done I'd tell her I didn't want it. As it turned out, she used almost the entire bottle during the treatment, so I guess the massage doesn't even come with cream!
She used gloves for the entire massage, which, like, I'm all for being hygienic, but that just creates a really uncomfortable feeling that I can only described as feeling like leathery hands.
When the treatment was done she gave me the bill to sign, and pointed underneath the total and said "you write something for me there."
The massage itself was actually quite good, but I was really put off by everything else about the experience. I didn't actually end up complaining, since she was friendly and there wasn't any manager (or anyone else) to complain to. There were also signs in the spa saying the spa was run by a third party.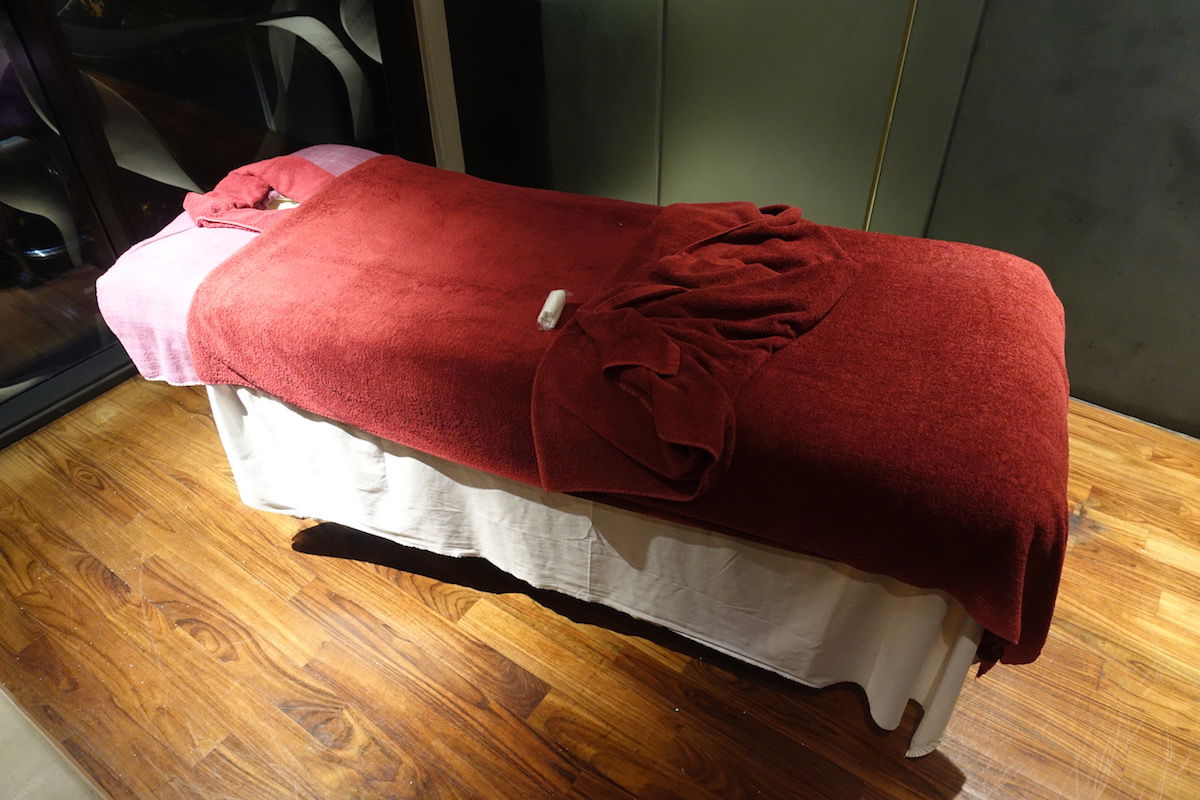 Crowne Plaza Changi spa
Crowne Plaza Changi bottom line
I don't think I'd return to the Crowne Plaza Changi. On the plus side, the hotel itself is beautiful. The rooms are truly among the most nicest airport hotel rooms I've ever seen.
However, just about everything else about the experience disappointed me. The service at the front desk was slow and unfriendly. The massage experience was awful. You also have to clear immigration to visit this hotel.
In the future I'd stay at one of the airside transit hotels if I had a quick layover and just wanted to rest my head, while I'd head into the city if I had a longer layover, since Singapore has lots of great hotels.
If you've stayed at the Crowne Plaza Changi, what was your experience like? Hopefully better than mine!