---
Etihad 288
Abu Dhabi (AUH) – Ahmedabad (AMD)
Friday, October 26
Depart: 11:00PM
Arrive: 3:40AM (+1 day)
Duration: 3hr10min
Aircraft: Airbus A320
Seat: 4F (Business Class)
At the forward door I was greeted by the cabin manager and pointed towards my seat, 4F. Etihad's business class cabin on the A320 consists of a total of 16 seats, spread across four rows in a 2-2 configuration.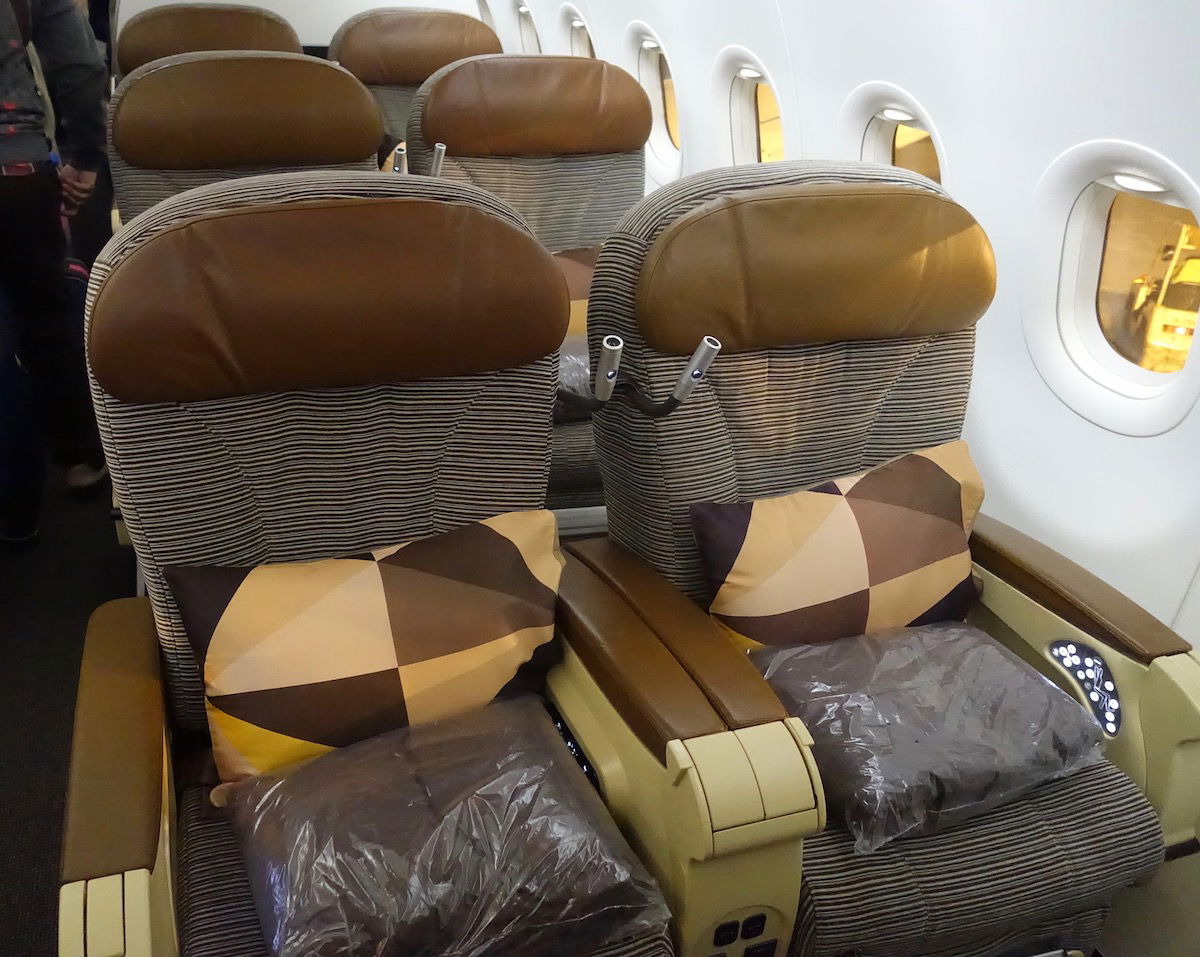 Etihad A320 business class cabin
For aircraft mostly operating regional flights, Etihad's A320s have very good legroom in business class. Unfortunately the airline isn't installing flat beds on their narrowbody aircraft (unlike Qatar Airways), but for a quick flight this is a solid product, and much more comfortable than what you'd find in the US.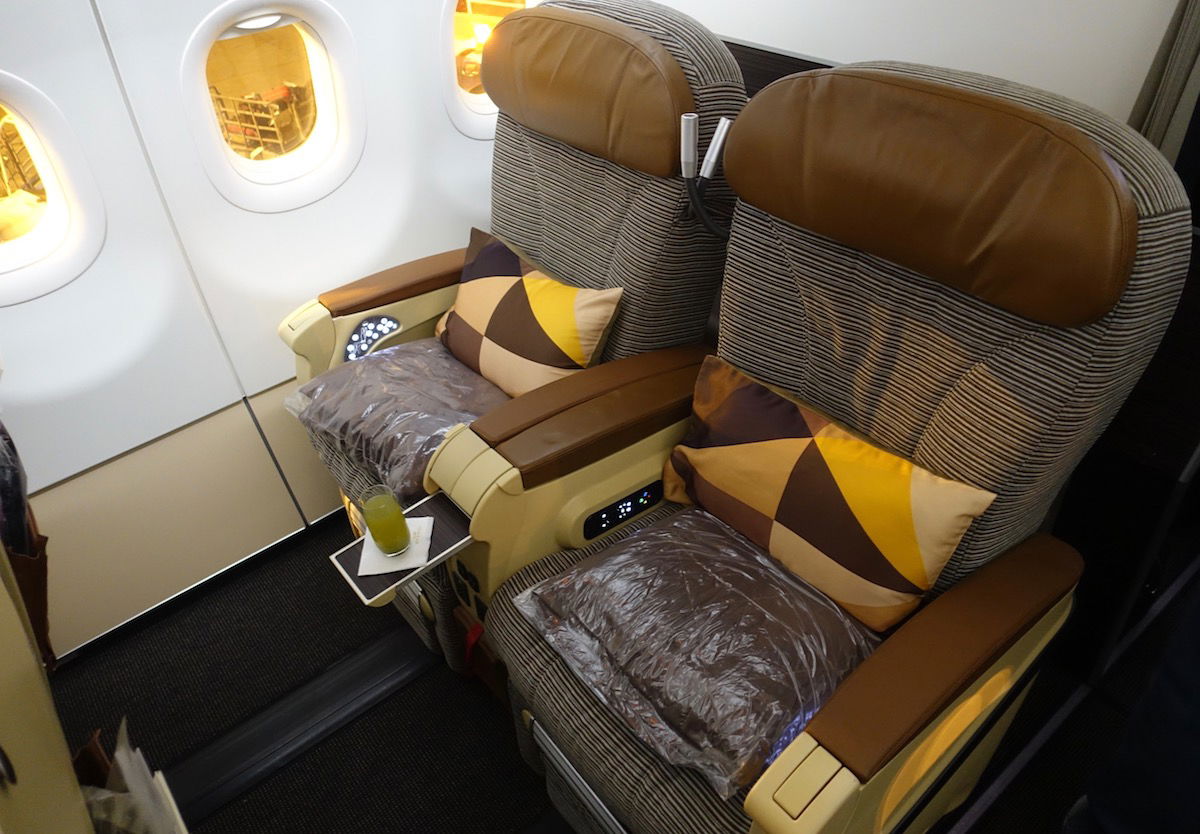 Etihad A320 business class seats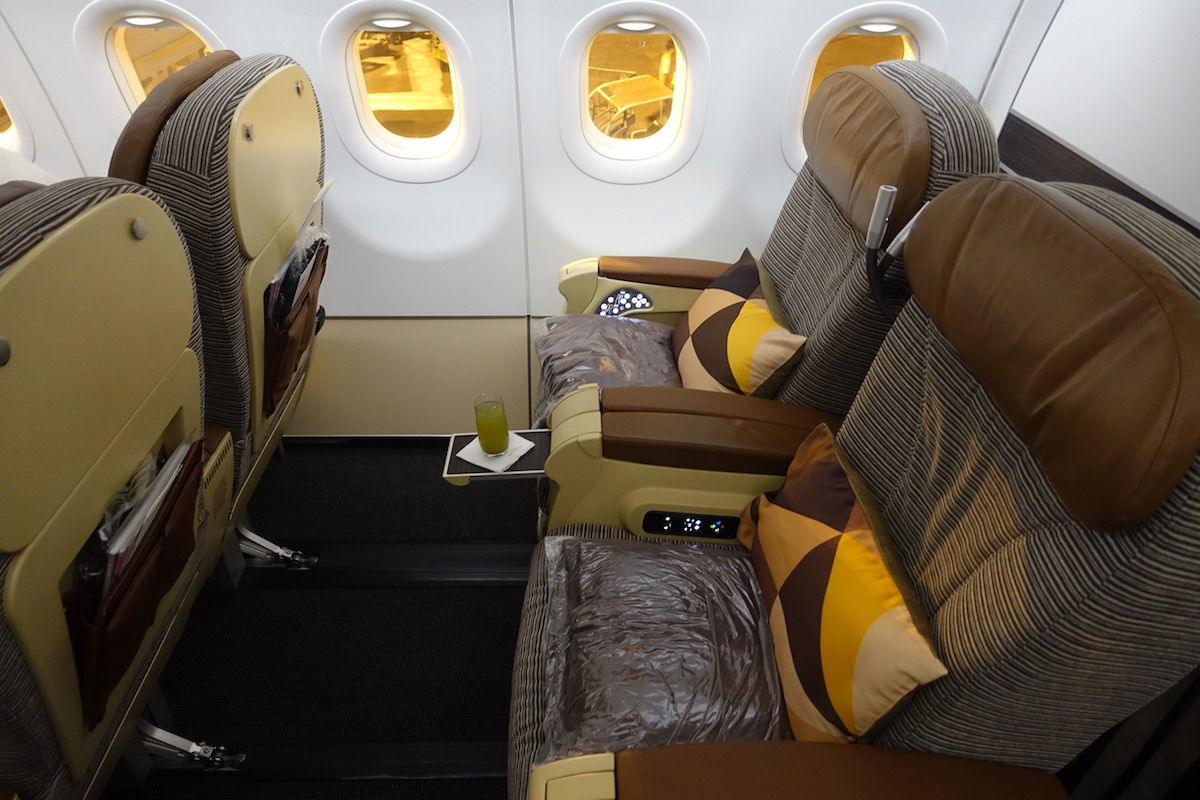 Etihad business class seats A320
I like how the seatback pocket has several small pockets, so that you place your phone in one, laptop in the other, etc.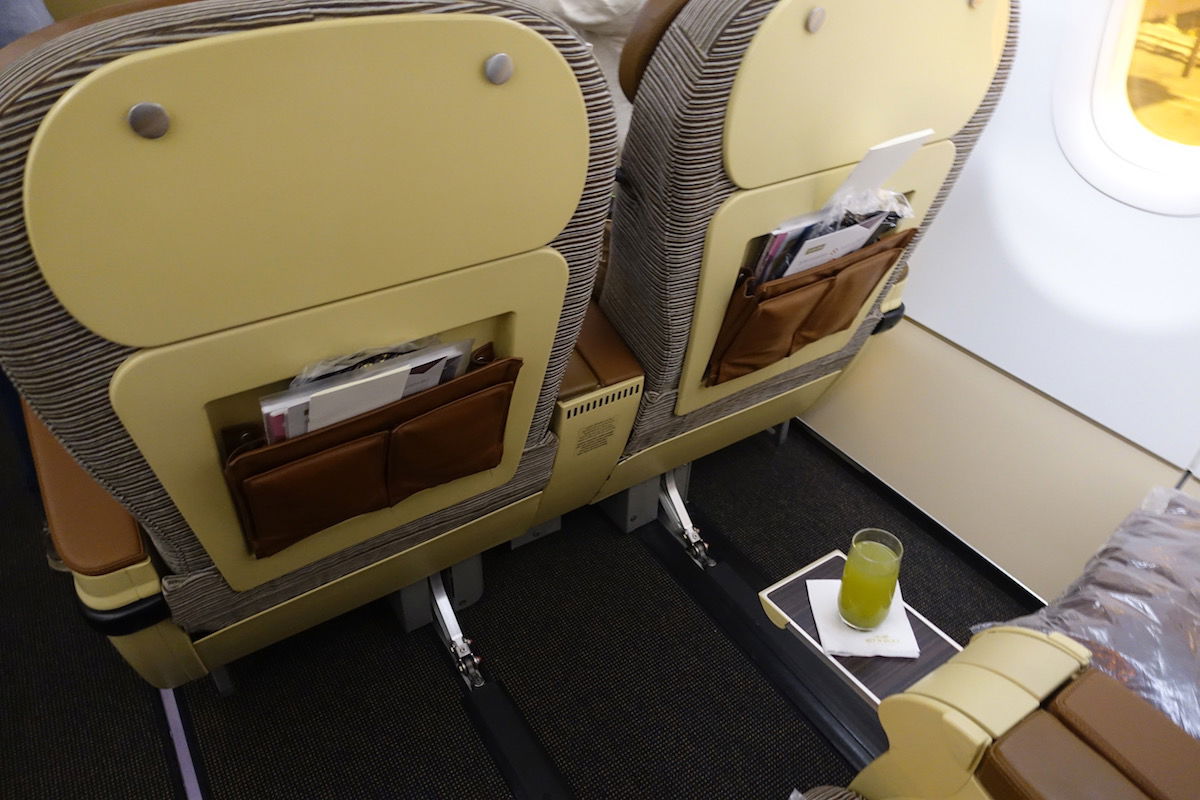 Etihad business class seats A320
The tray table can be released from the far armrest, and can be folded over in half.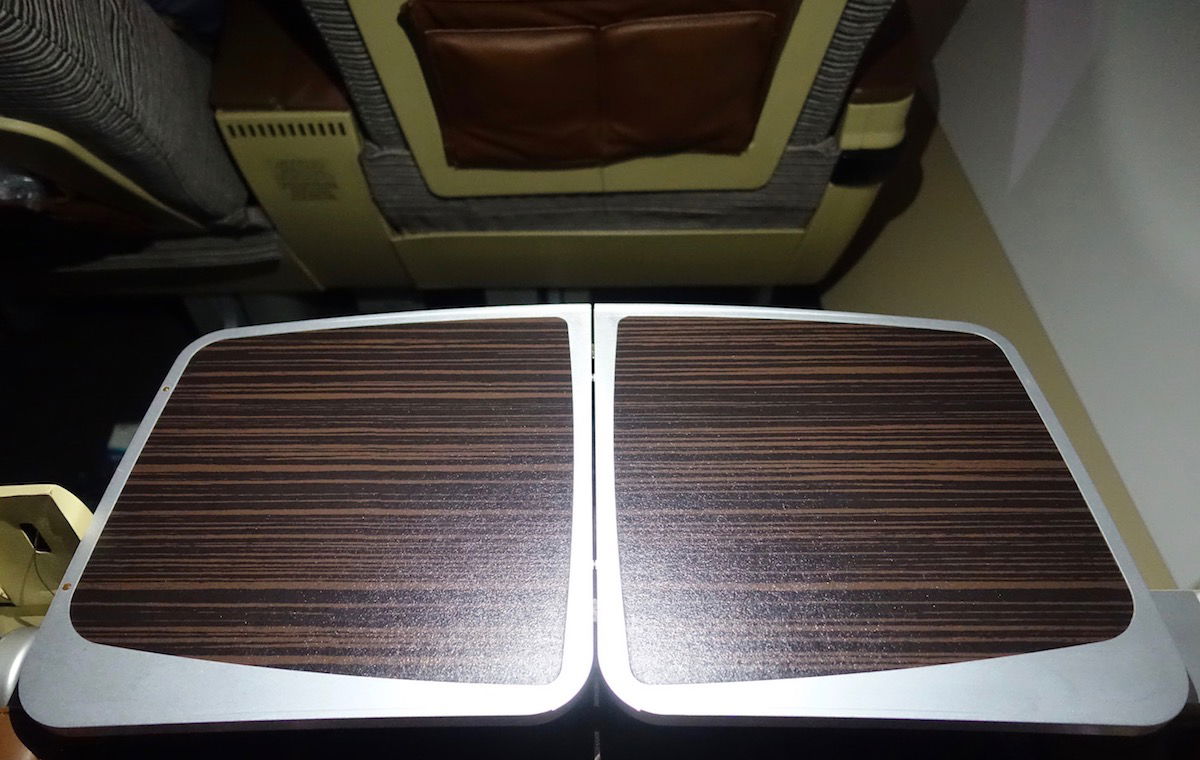 Etihad business class tray table
Then between seats there's a small drink tray, which is perfect for a pre-departure drink.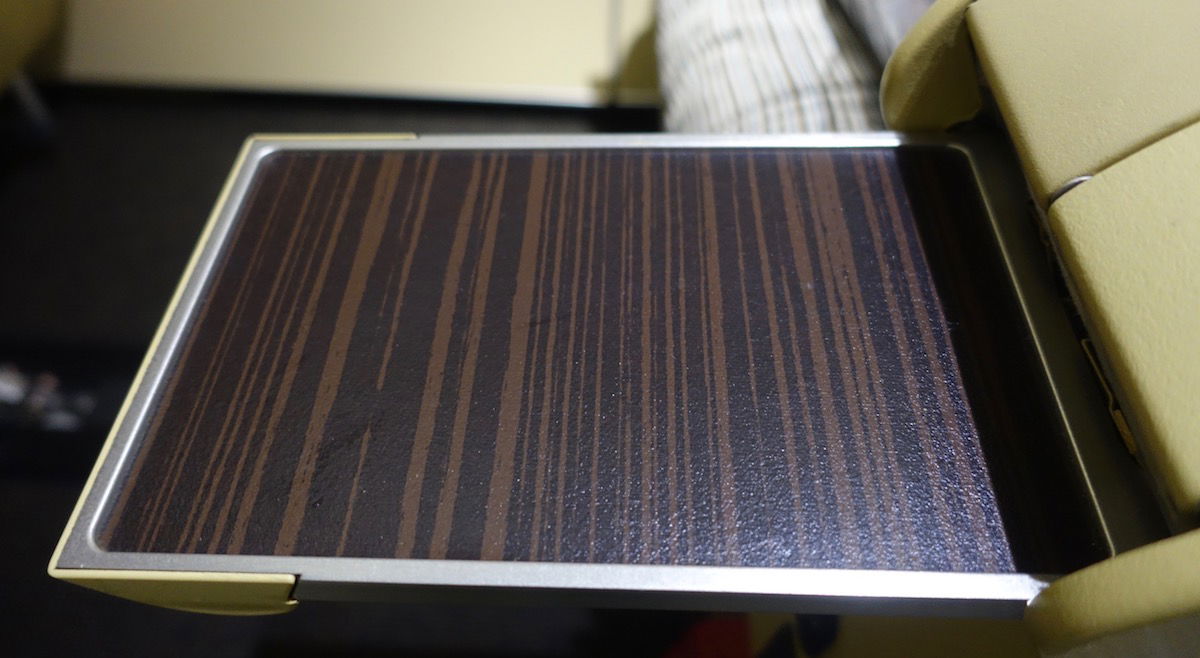 Etihad business class drink tray
The seat controls are located on the far sides of the seats, and are quite easy to use.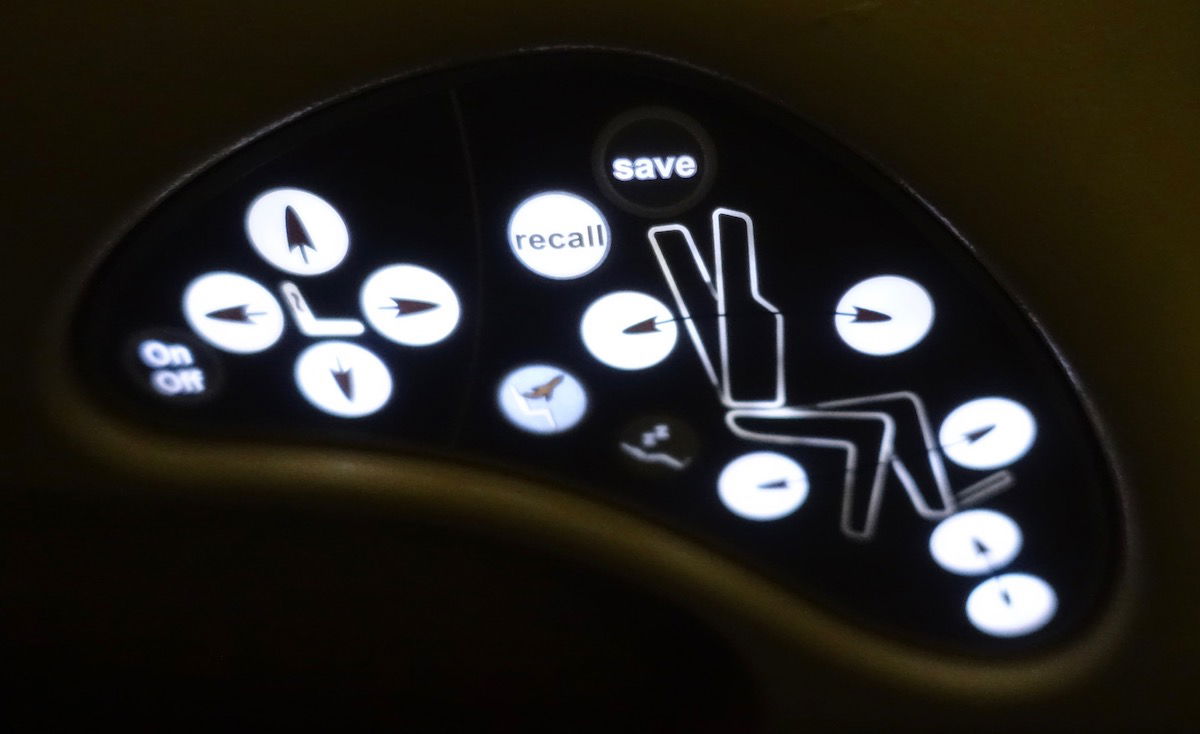 Etihad business class seat controls
Then to the sides of the center armrests were the entertainment controls.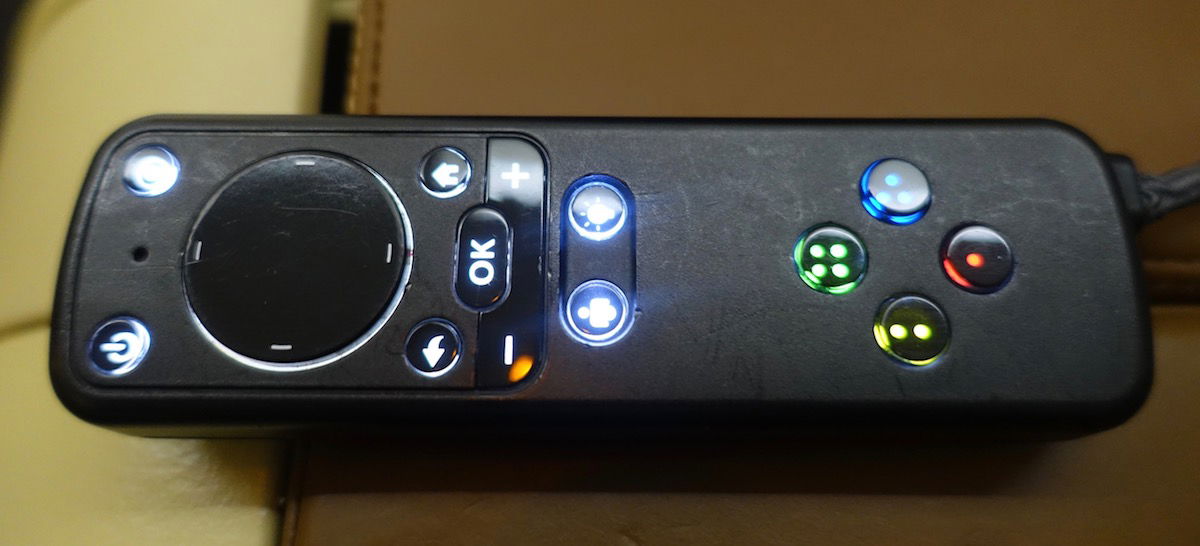 Etihad business class entertainment controls
Underneath seats and in front are the headphone jacks as well as power outlets, with both a 110v and USB outlet.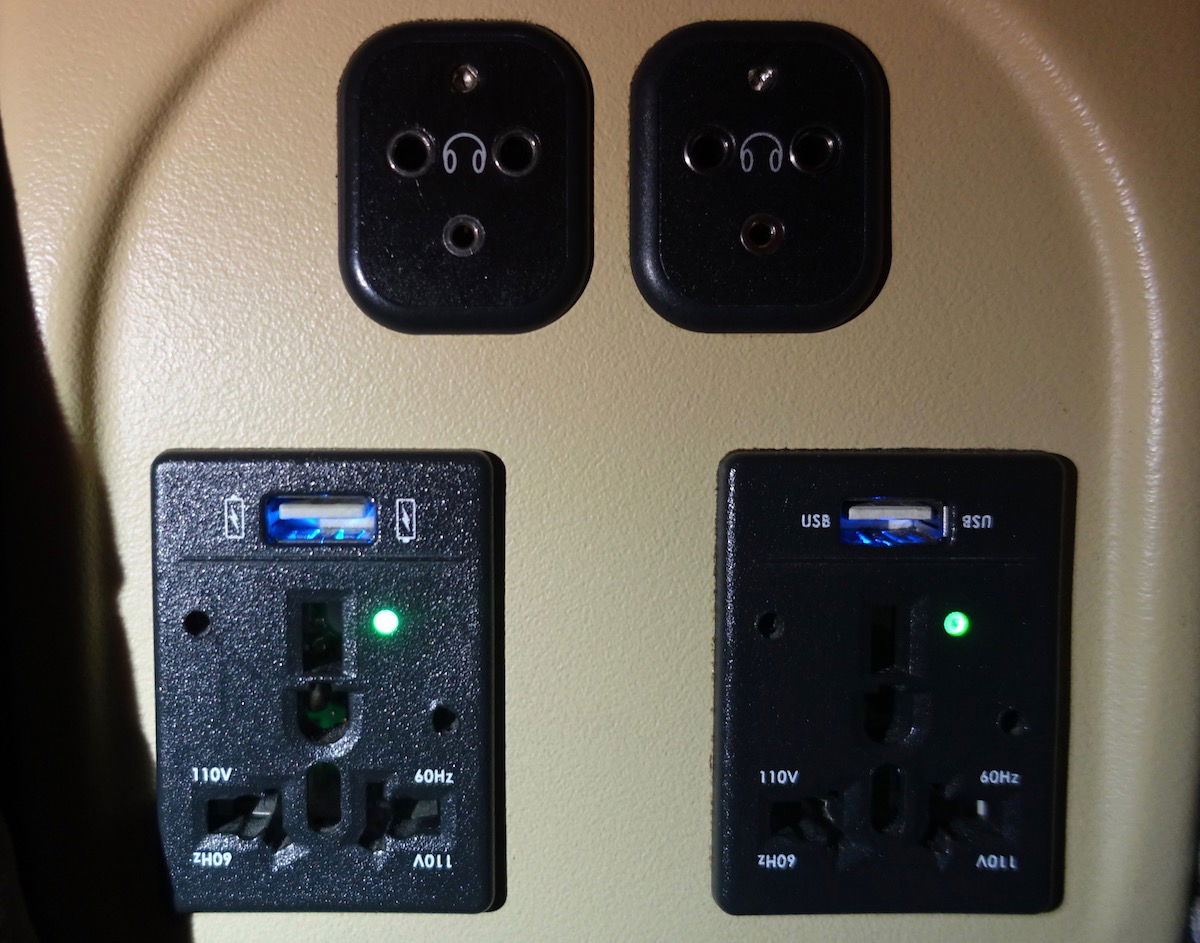 Etihad business class power outlets and headphone jacks
Waiting at my seat upon boarding were an excellent pillow and blanket.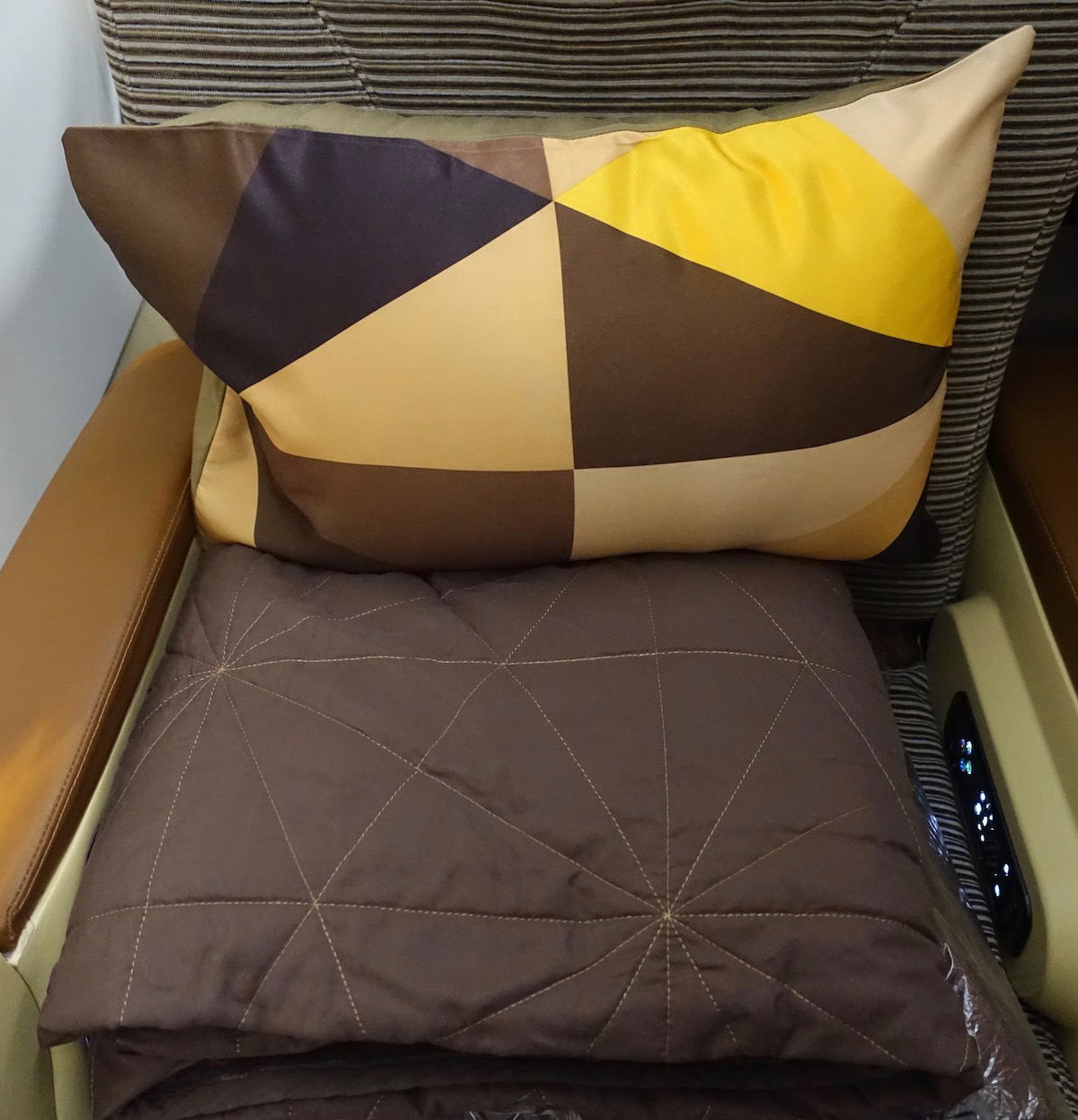 Etihad business class pillow & blanket
There were also some headphones.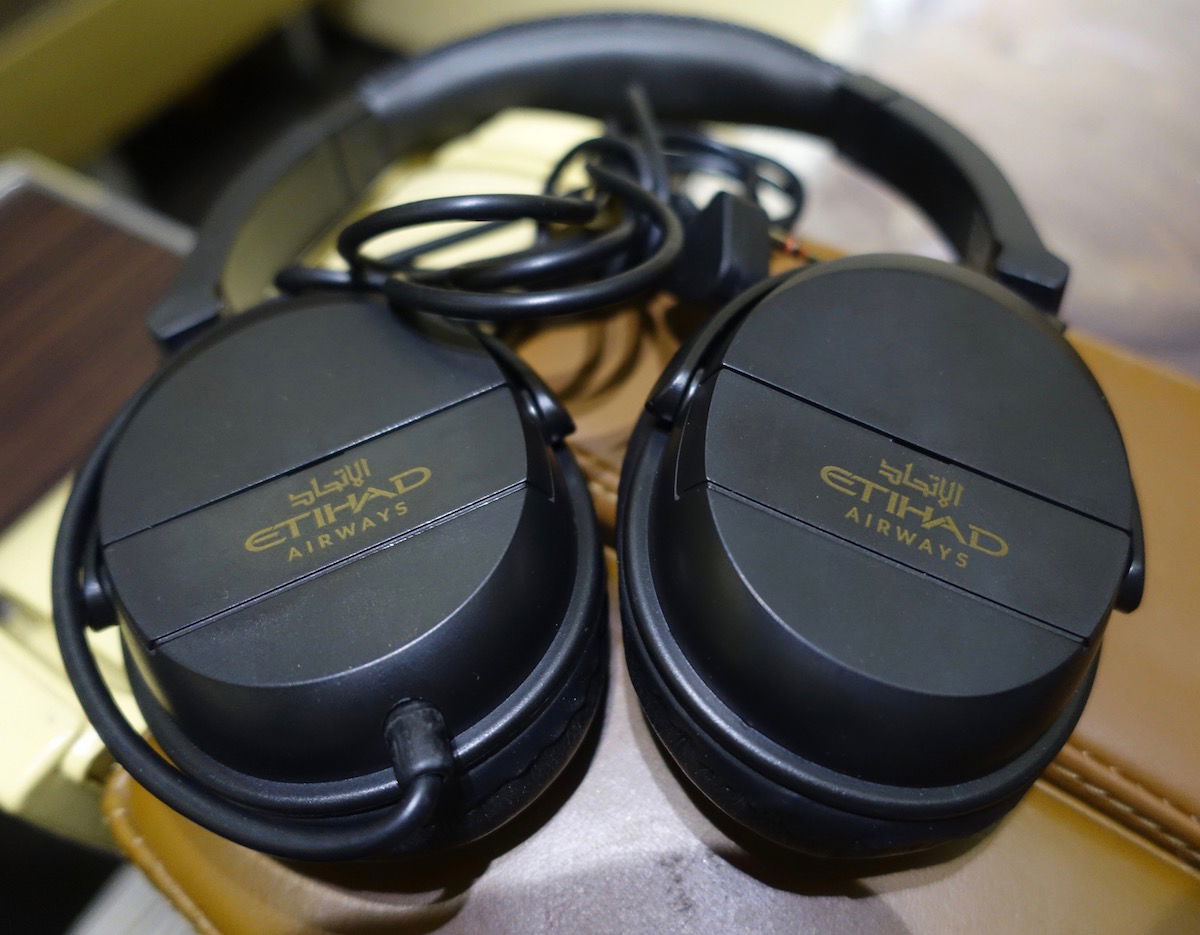 Etihad business class headphones
Boarding was efficient, and was complete by 10:40PM, about 15 minutes after it started. Unfortunately the boarding process was pretty rough, and I think just about everyone in an aisle seat took several bags to the head. There was also a lot of pushing and shoving.
While economy was completely full, 14 of the 16 business class seats were occupied (and I got lucky, because one of the empty seats was next to me).
At 10:45PM Captain Marcello made his welcome aboard announcement, informing us of our flight time of 2hr45min, and our cruising altitude of 37,000 feet.
At 10:50PM the main cabin door was closed. Around this time pre-departure drinks were served, with the choice between water, orange juice, or lime-mint juice. I chose the lime-mint juice, which was refreshing.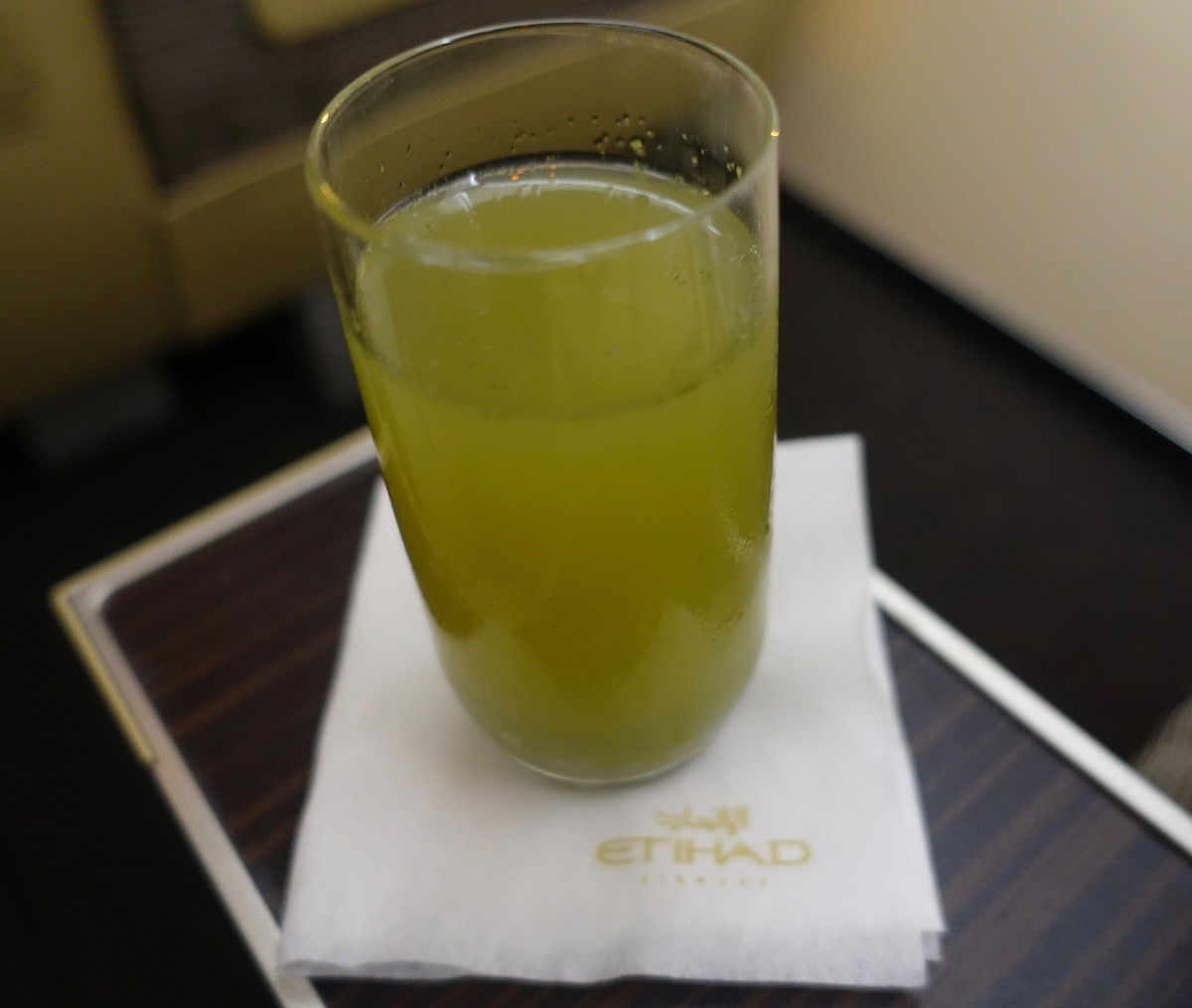 Etihad business class pre-departure drinks
A moment later hot towels were distributed. Then a few minutes later meal orders were taken.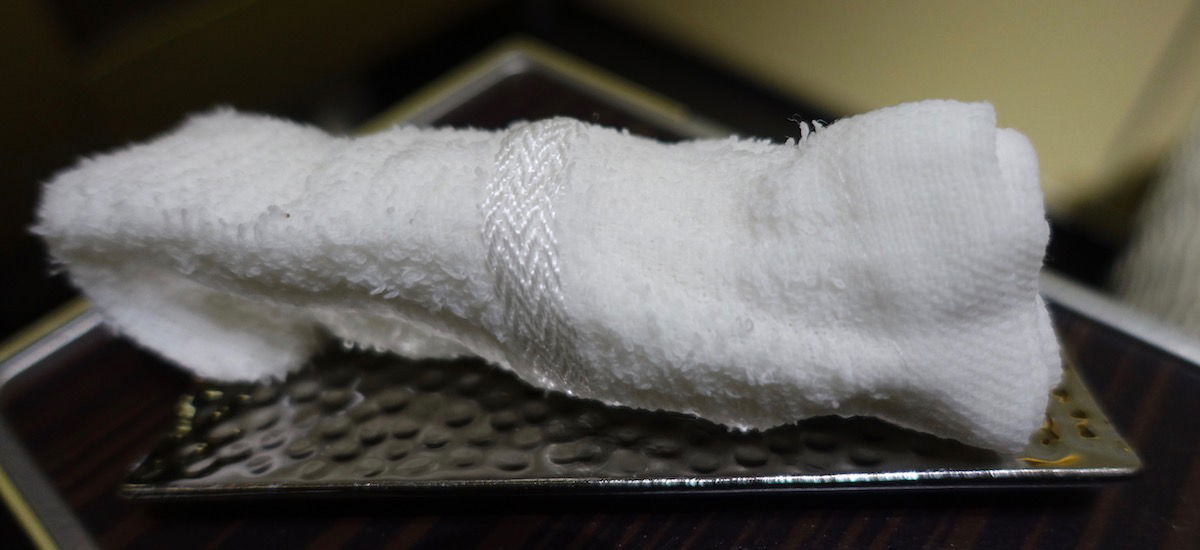 Etihad business class warm towel
At 10:55PM we began our pushback.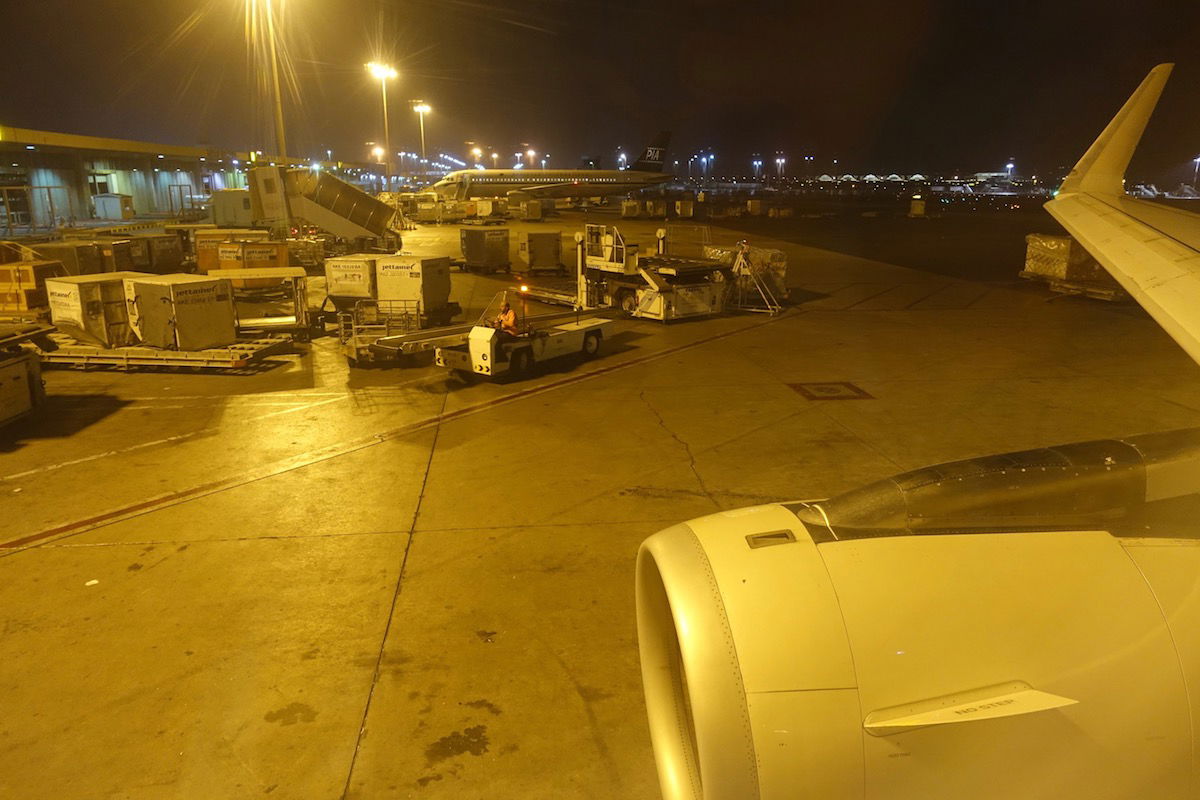 Remote stand Abu Dhabi
Parked a few stands over was a very cool PIA A320 in a retro livery.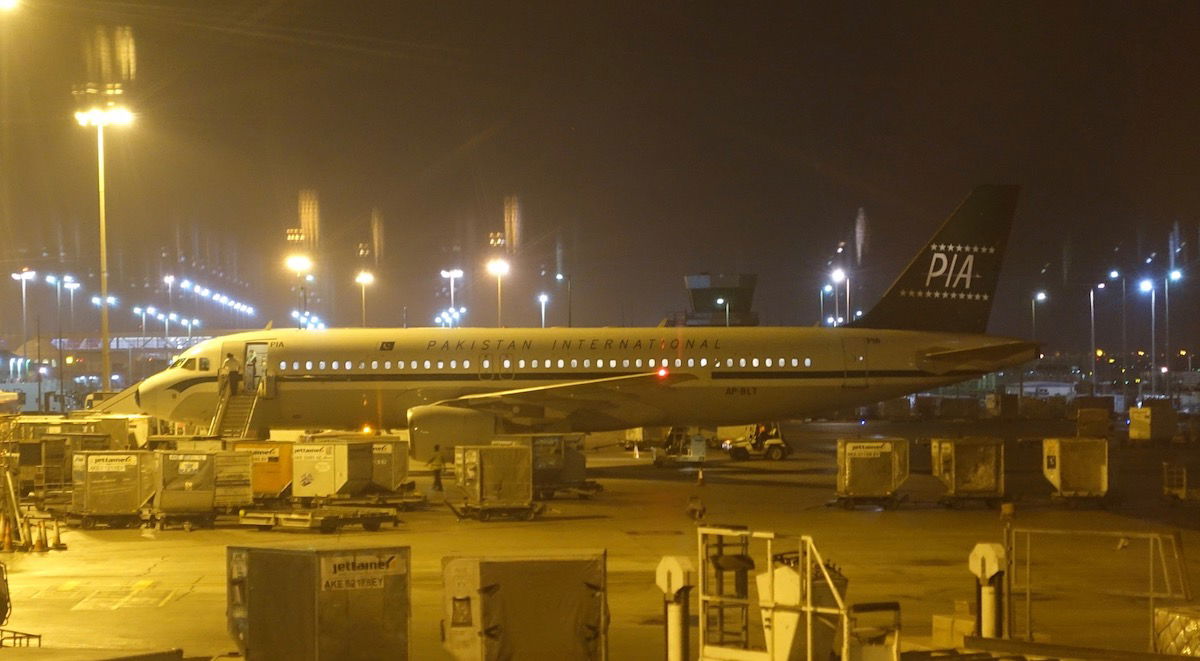 Special livery PIA A320 Abu Dhabi Airport
As we pushed back the safety briefing was screened. I guess one advantage of having a remote stand so far from the terminal is that we had a really short taxi, and were airborne by 11PM from runway 31L.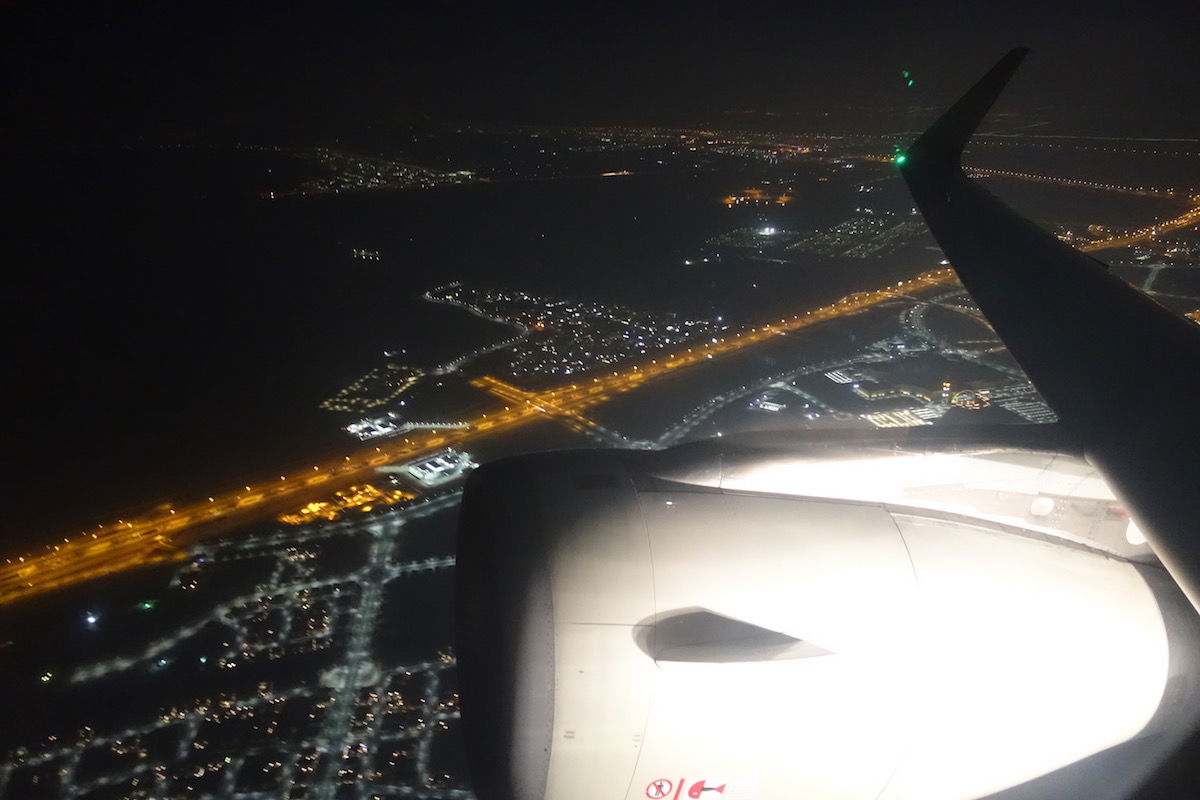 View after takeoff from Abu Dhabi
As we climbed out I checked out the entertainment selection. The personal televisions are located underneath the center armrest.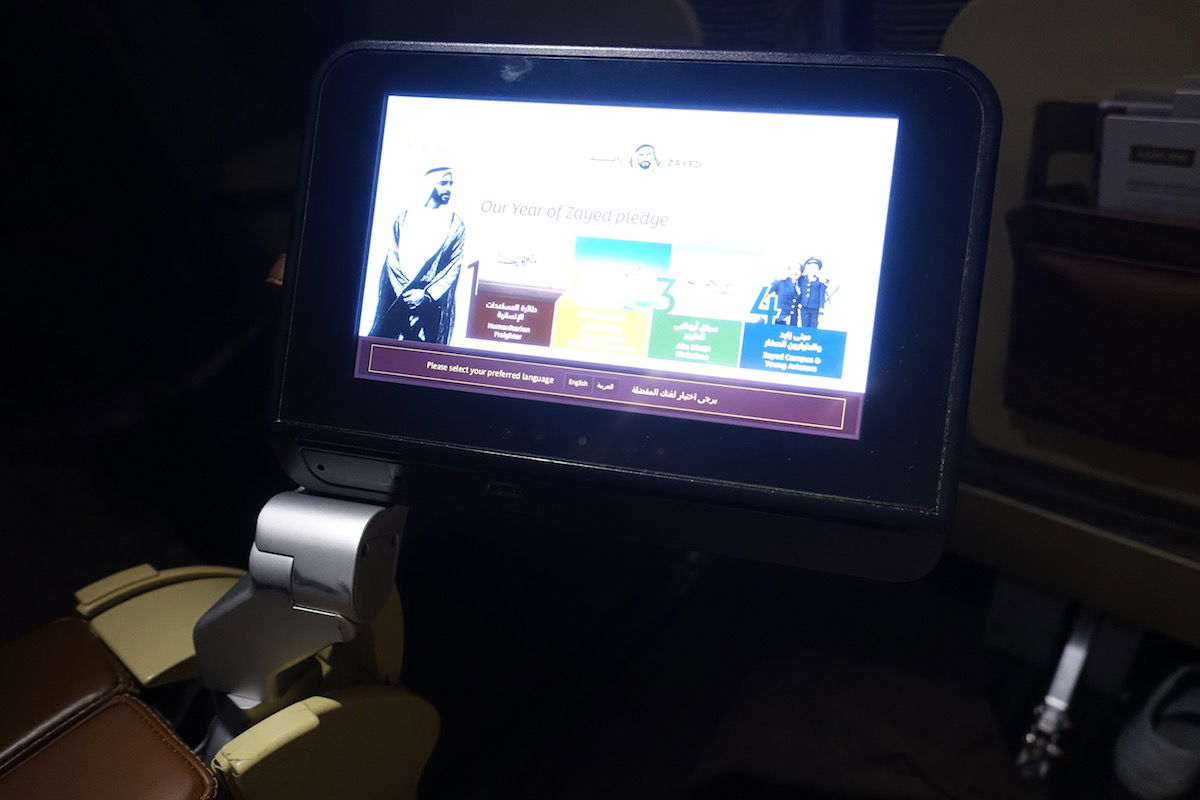 Etihad A320 business class entertainment system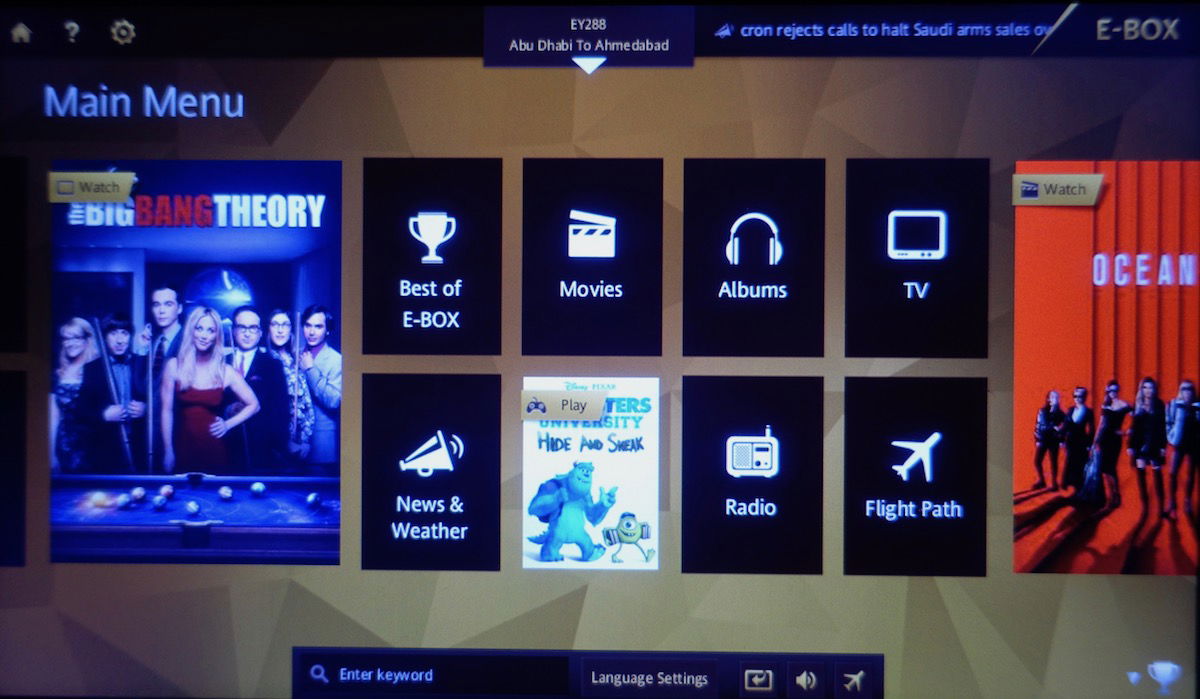 Etihad inflight entertainment selection
The selection was pretty good, and largely mirrored that on the previous flight from Washington.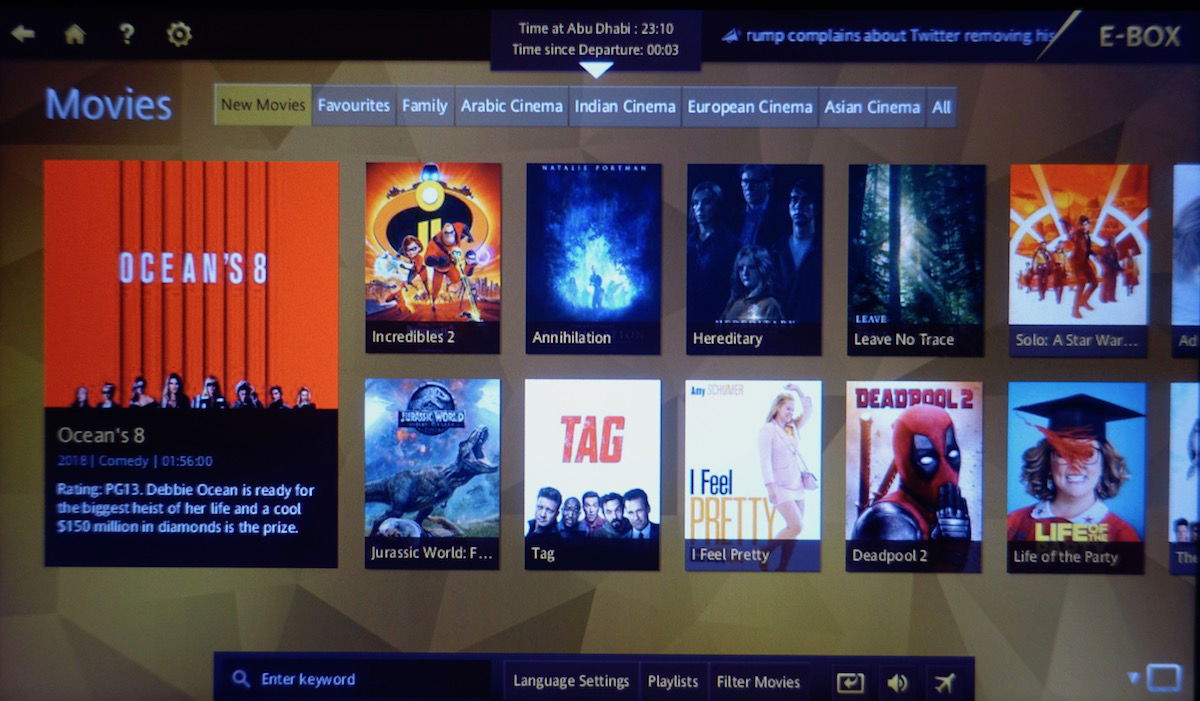 Etihad inflight entertainment selection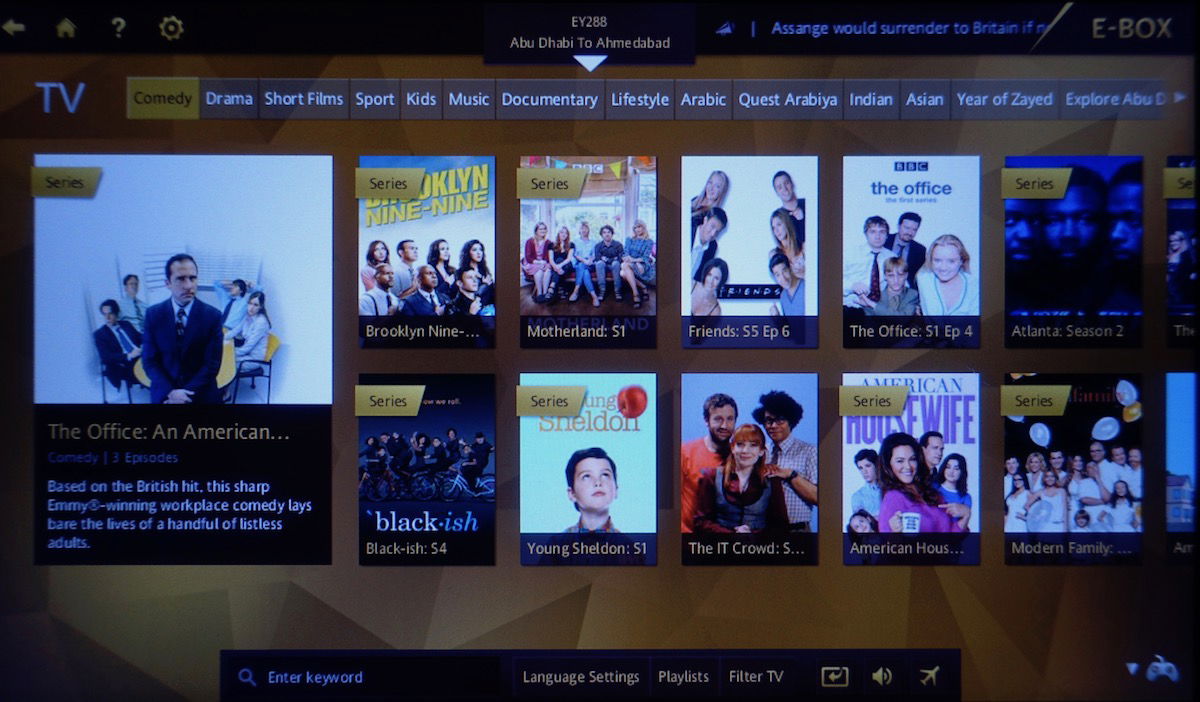 Etihad inflight entertainment selection
I also checked out the airshow.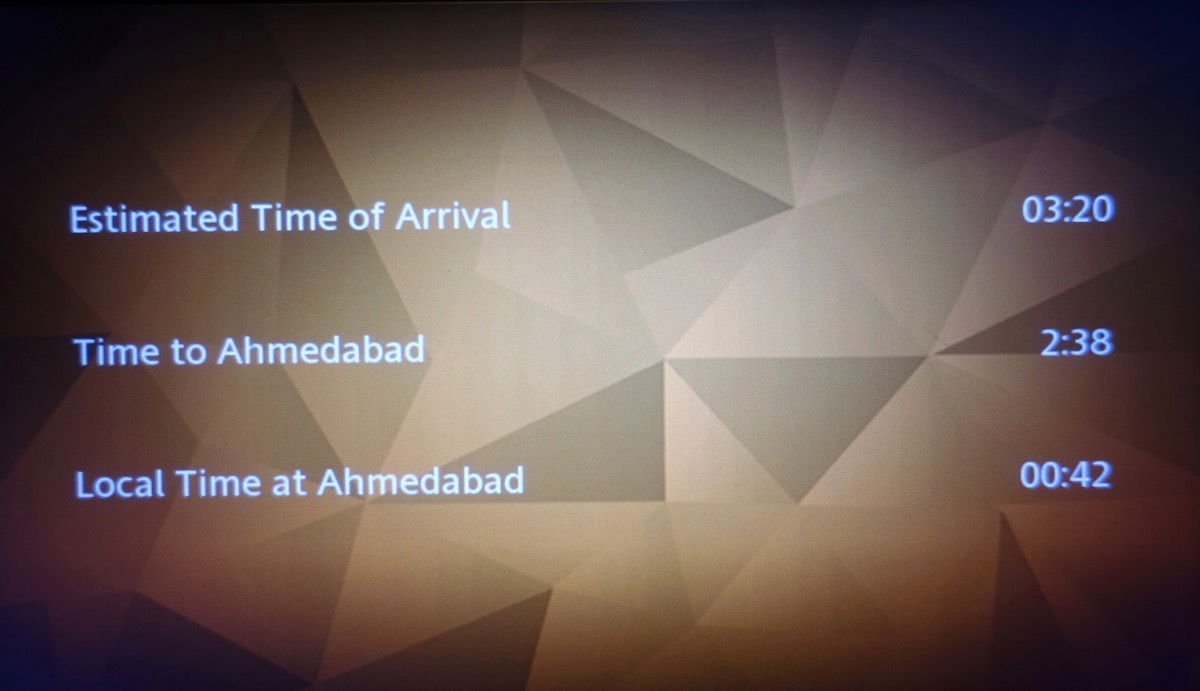 Airshow enroute to Ahmedabad
The meal service began about 40 minutes after takeoff. Since this was a late night flight, they didn't first do a round of drinks with nuts, but rather went straight for serving the meal along with a drink.
The menu read as follows: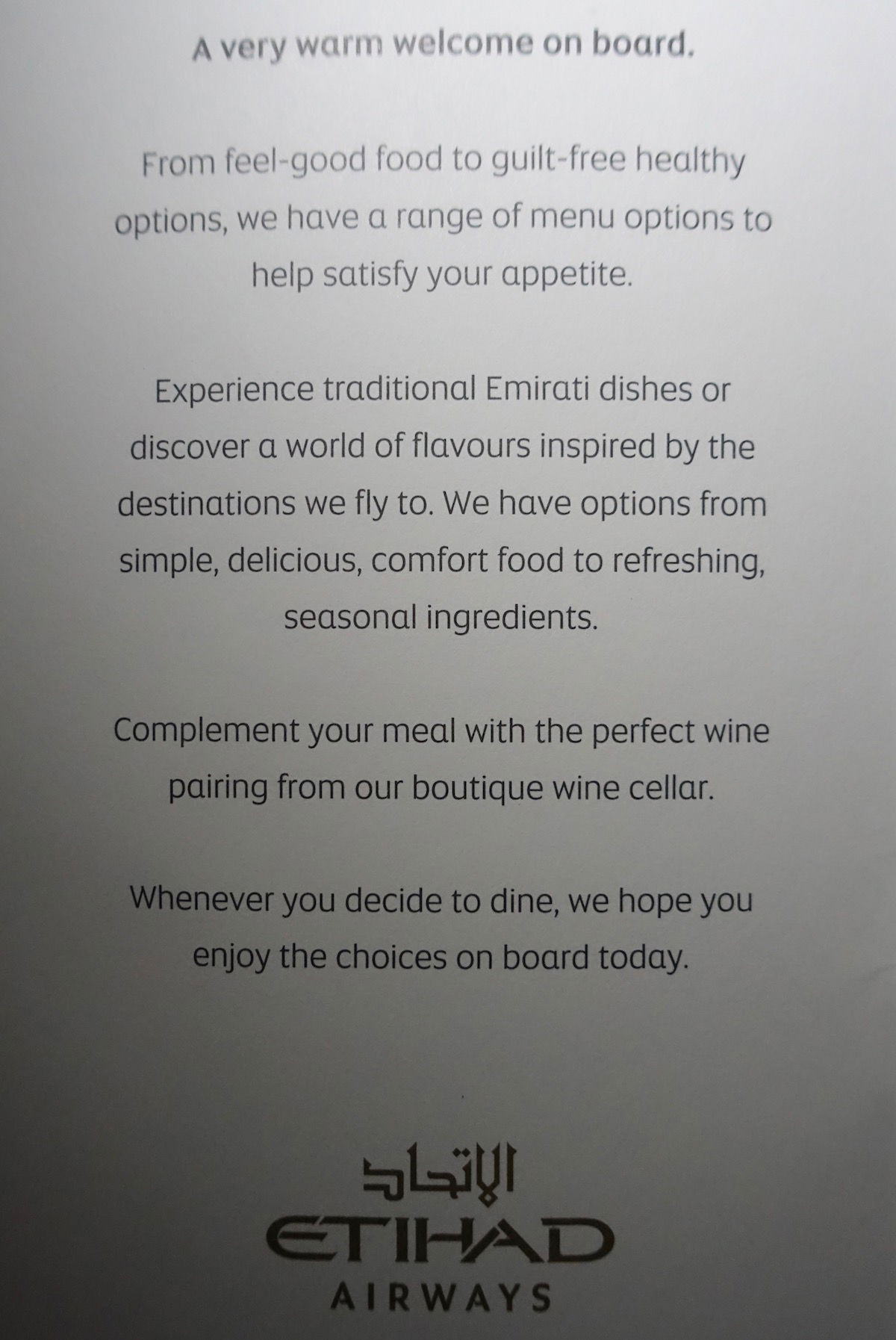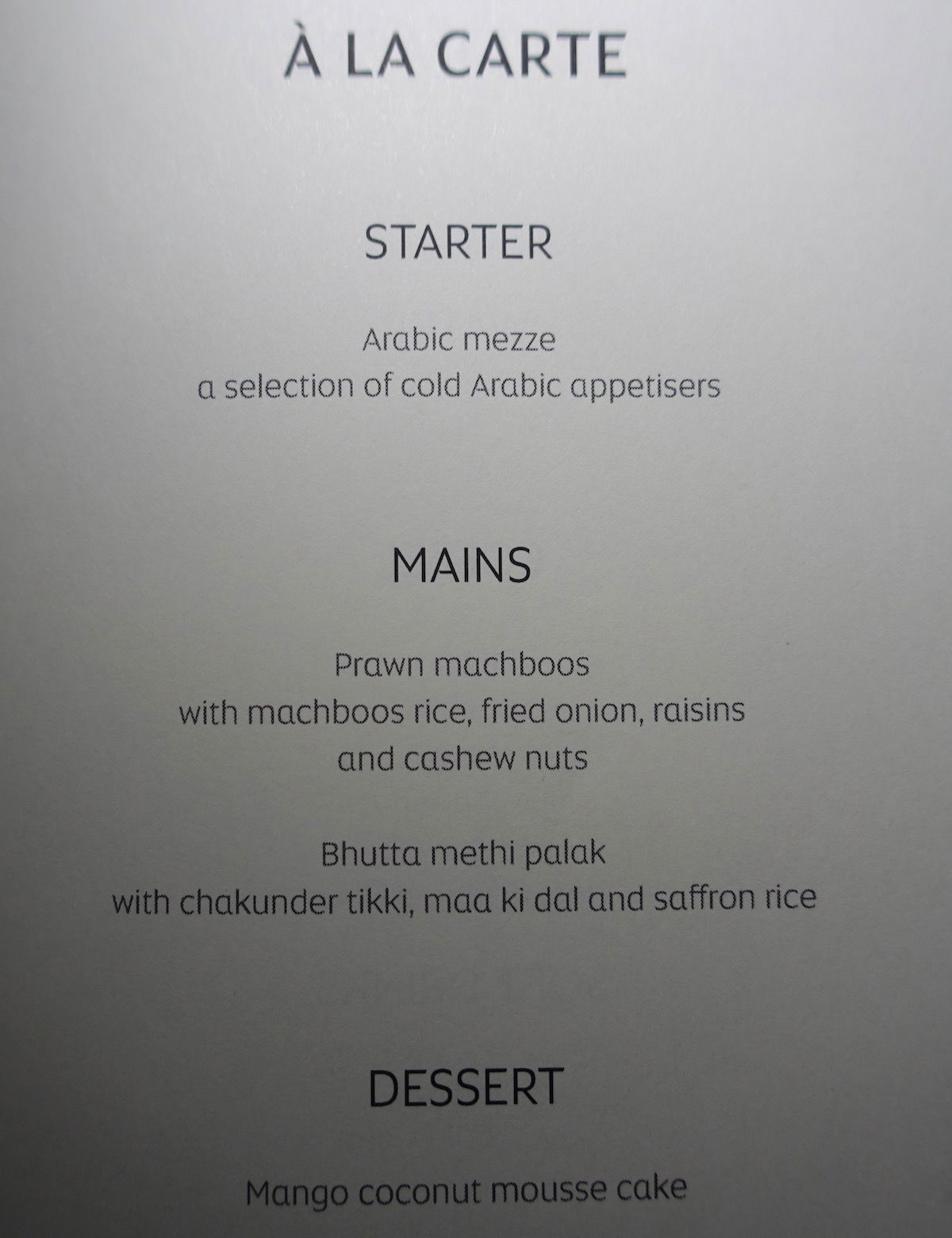 The drink list read as follows: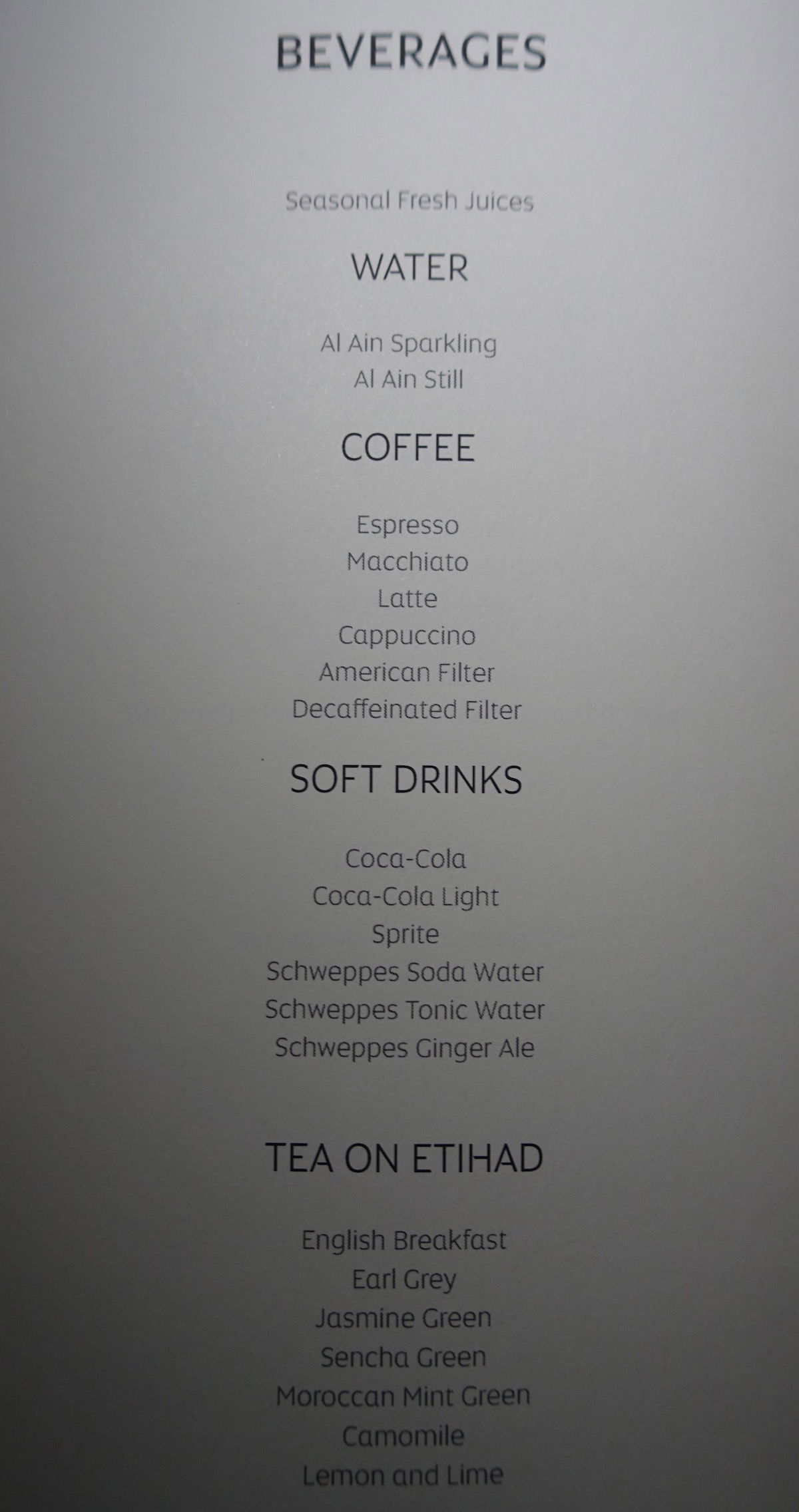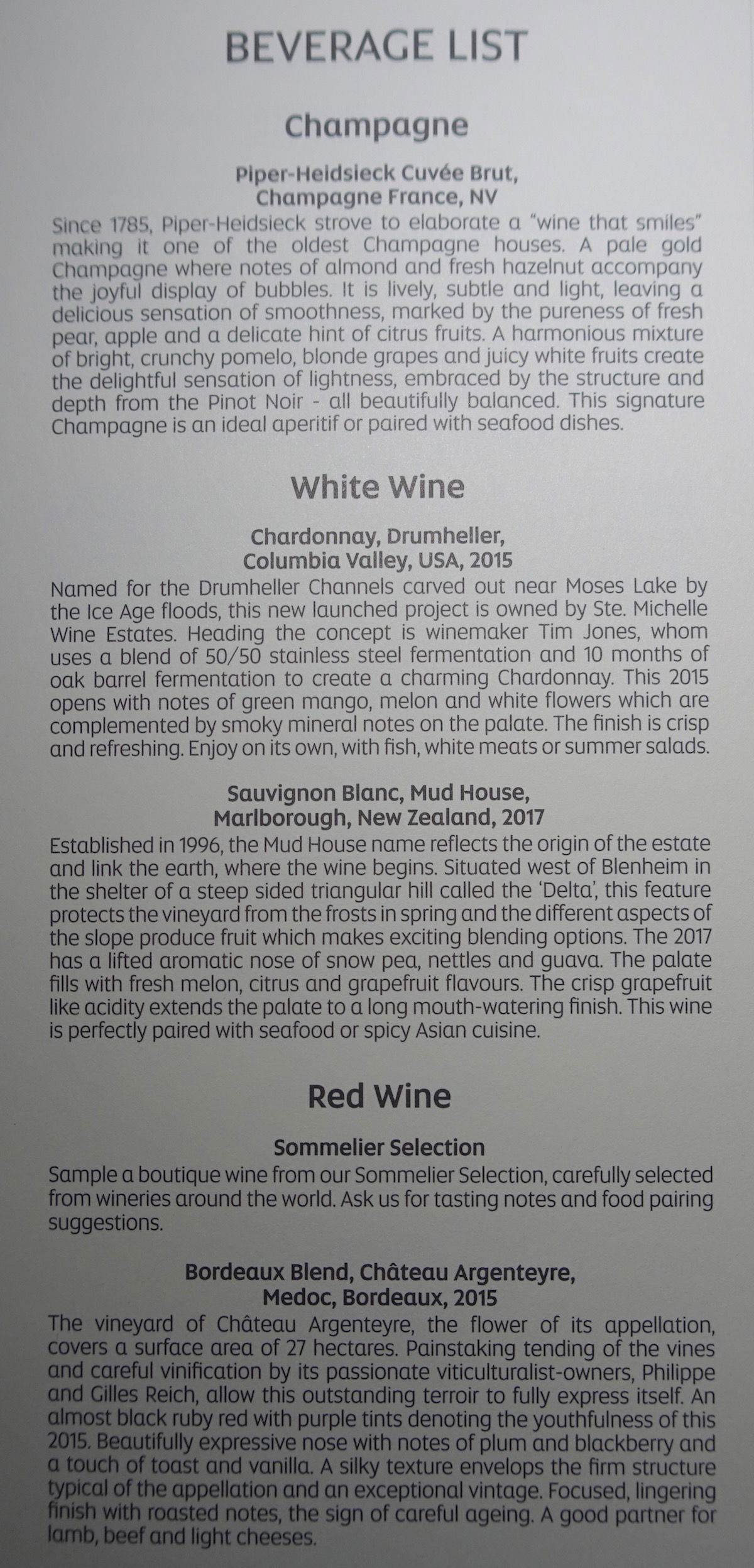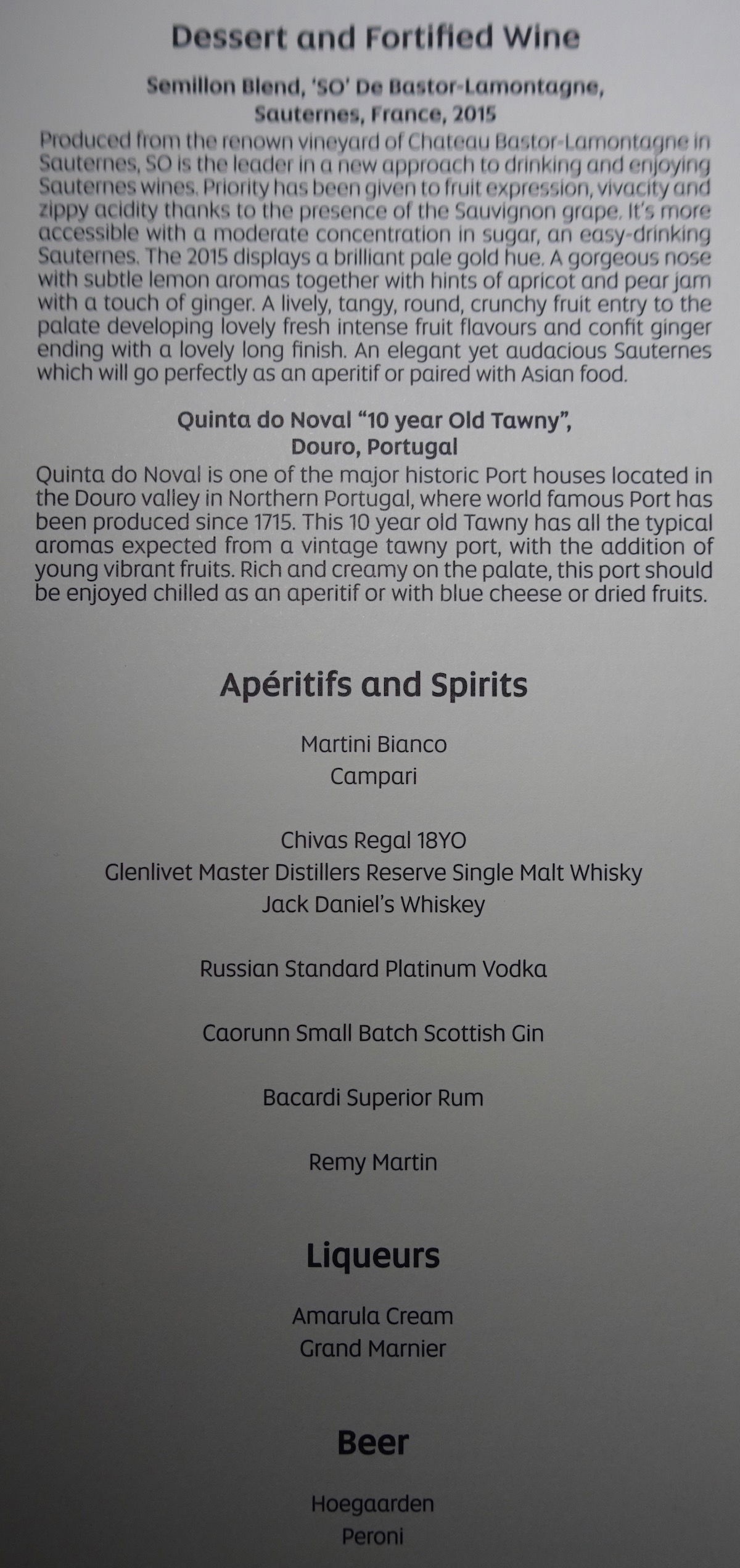 My entire meal, including the appetizer, main course, dessert, and a breadbasket, were served on one tray. I just had a glass of water to drink.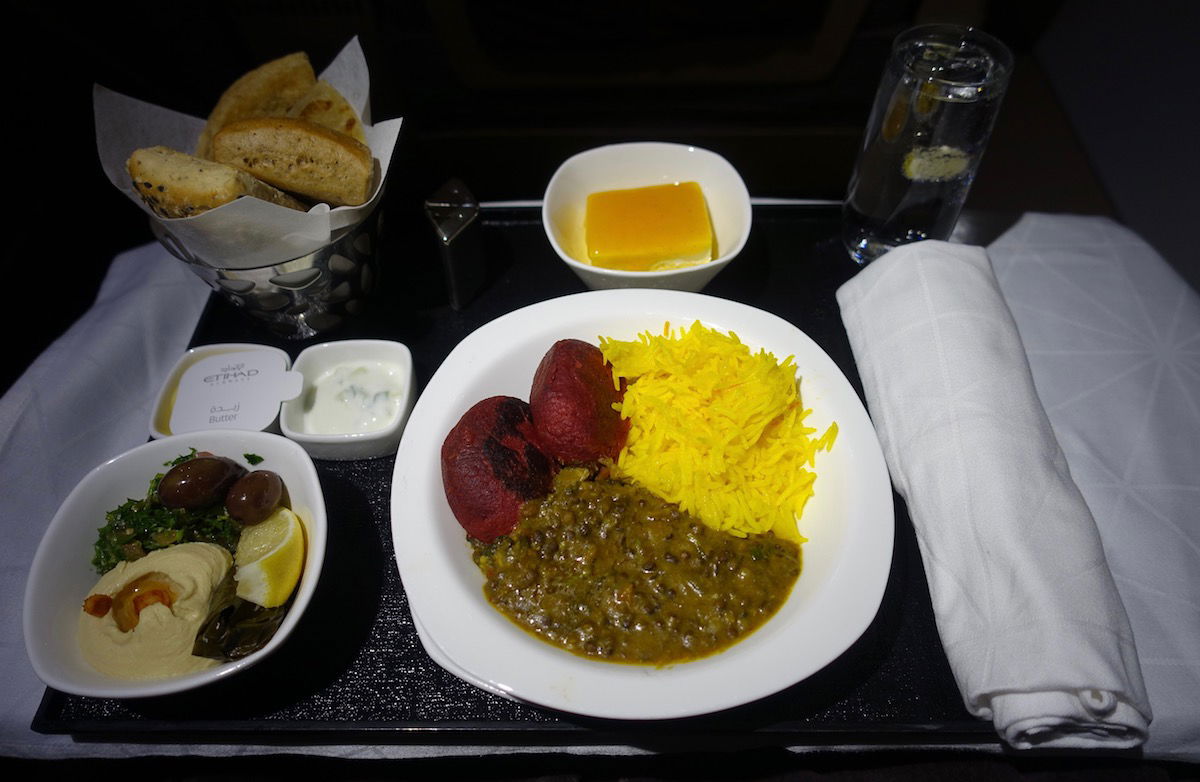 Etihad business class meal
The mezze was good, though at this point it was my third mezze in less than 24 hours, so…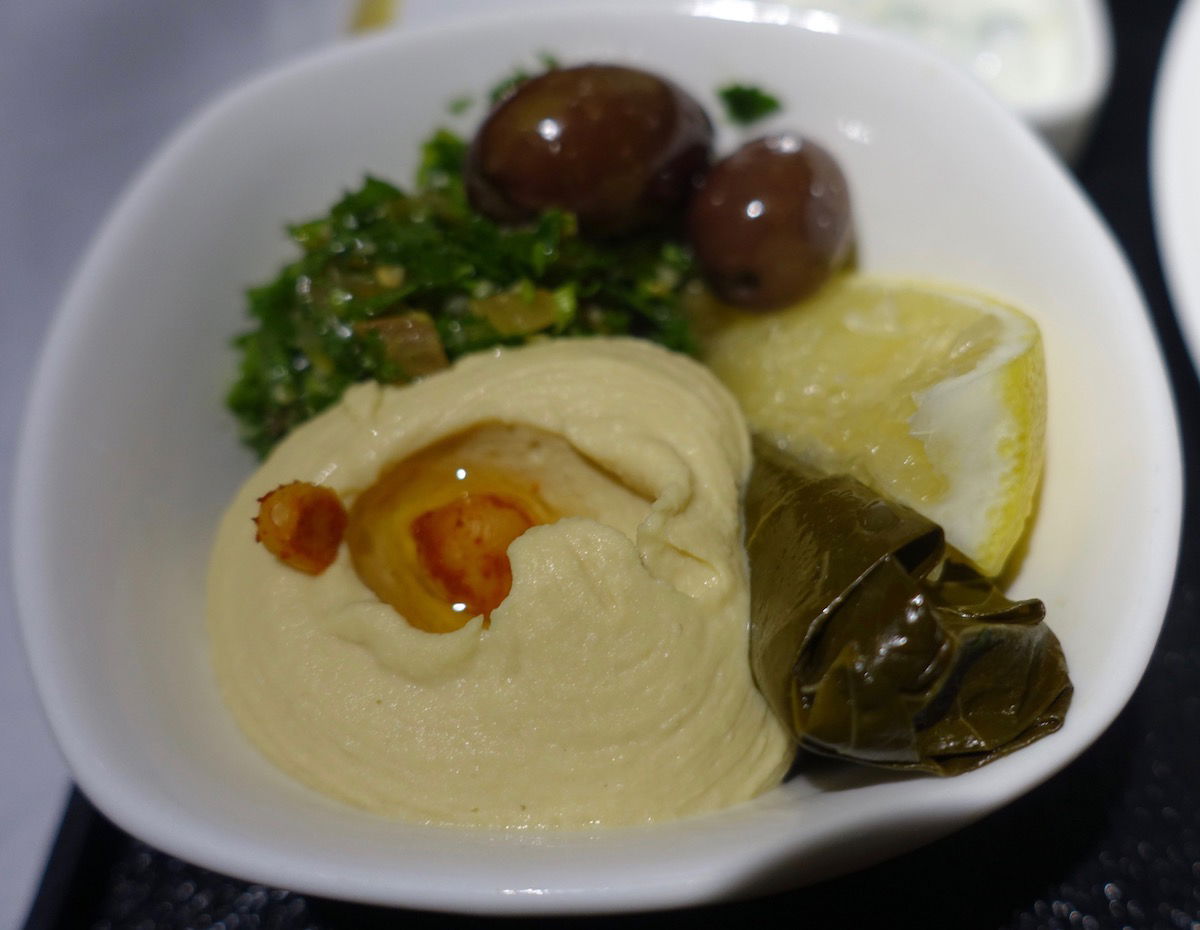 Etihad business class meal
The main course was exceptional (and spicy!), though frankly I'm a sucker for any Indian vegetarian food. The meal consisted of bhutta methi palak, with chakunder tikki, maa ki dal, and saffron rice.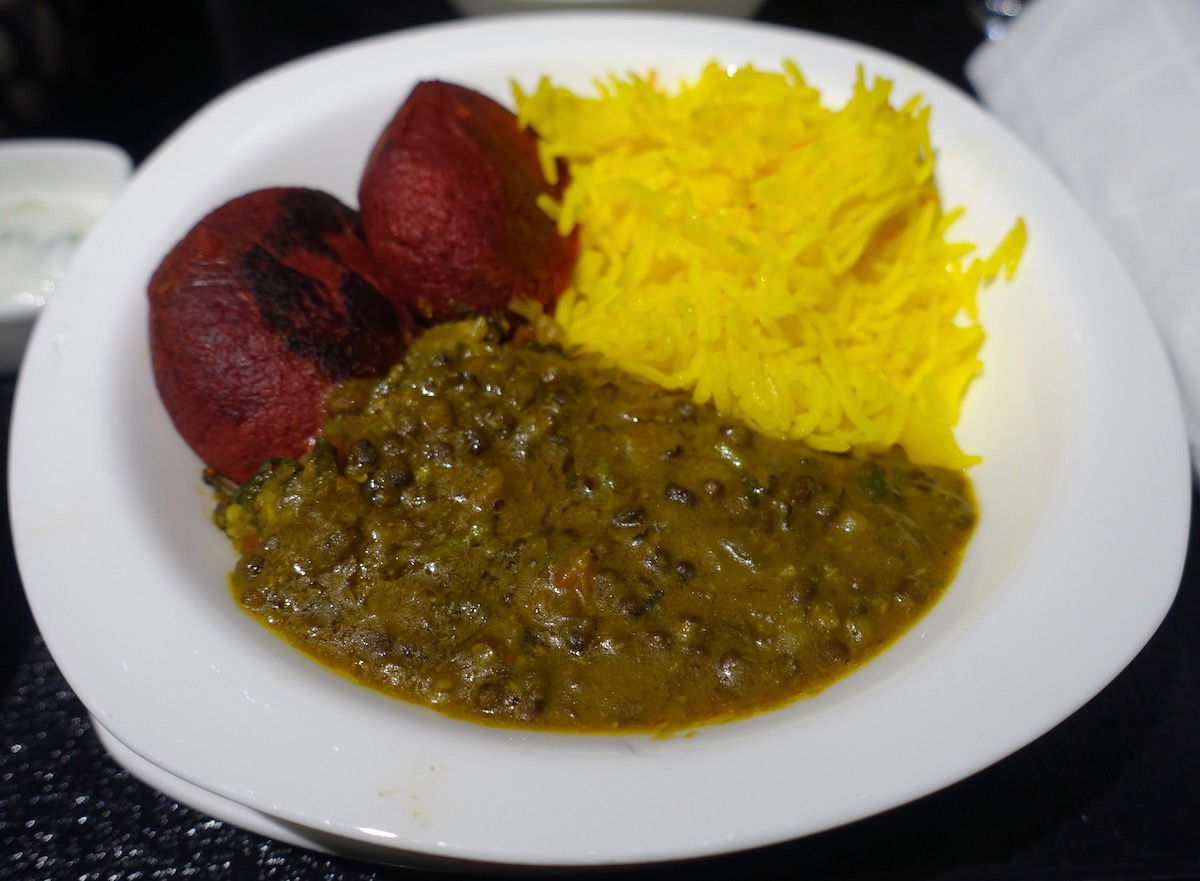 Etihad business class meal
There was a nice bread selection to accompany that.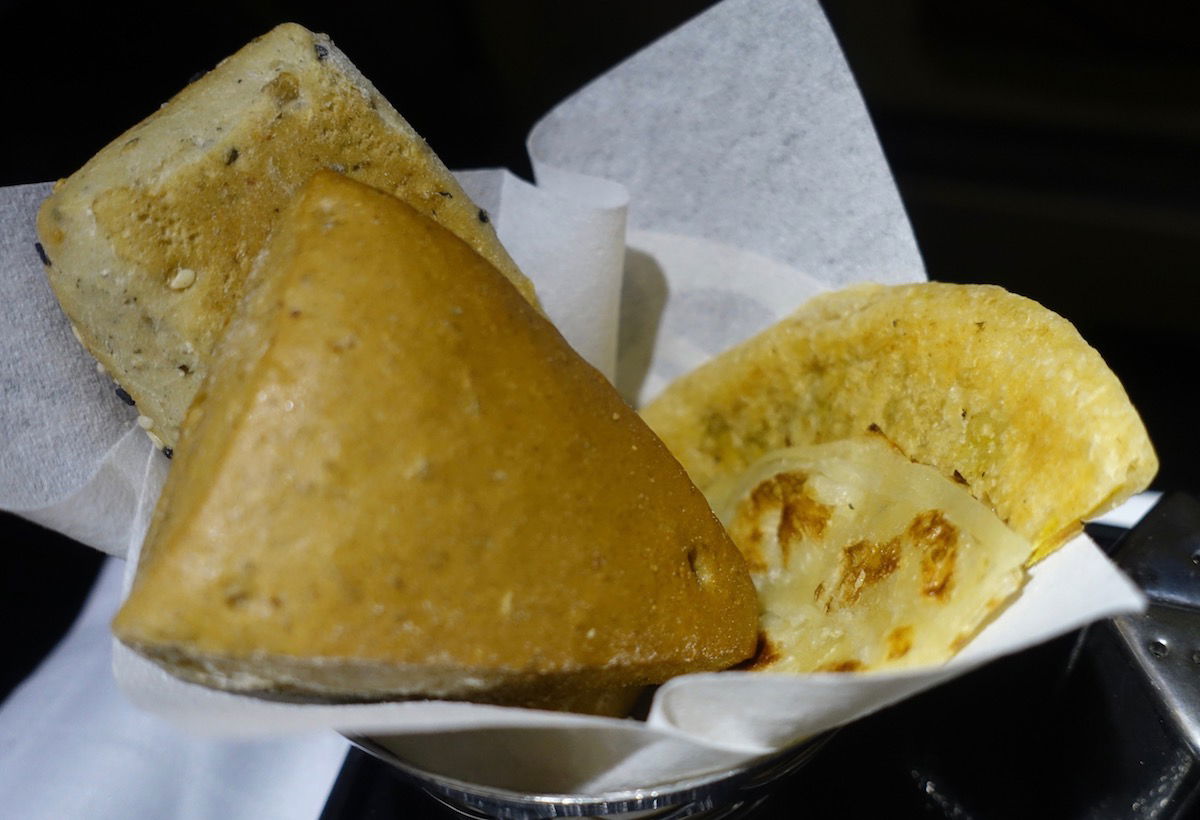 Etihad business class meal
For dessert there was a light mango coconut mousse cake.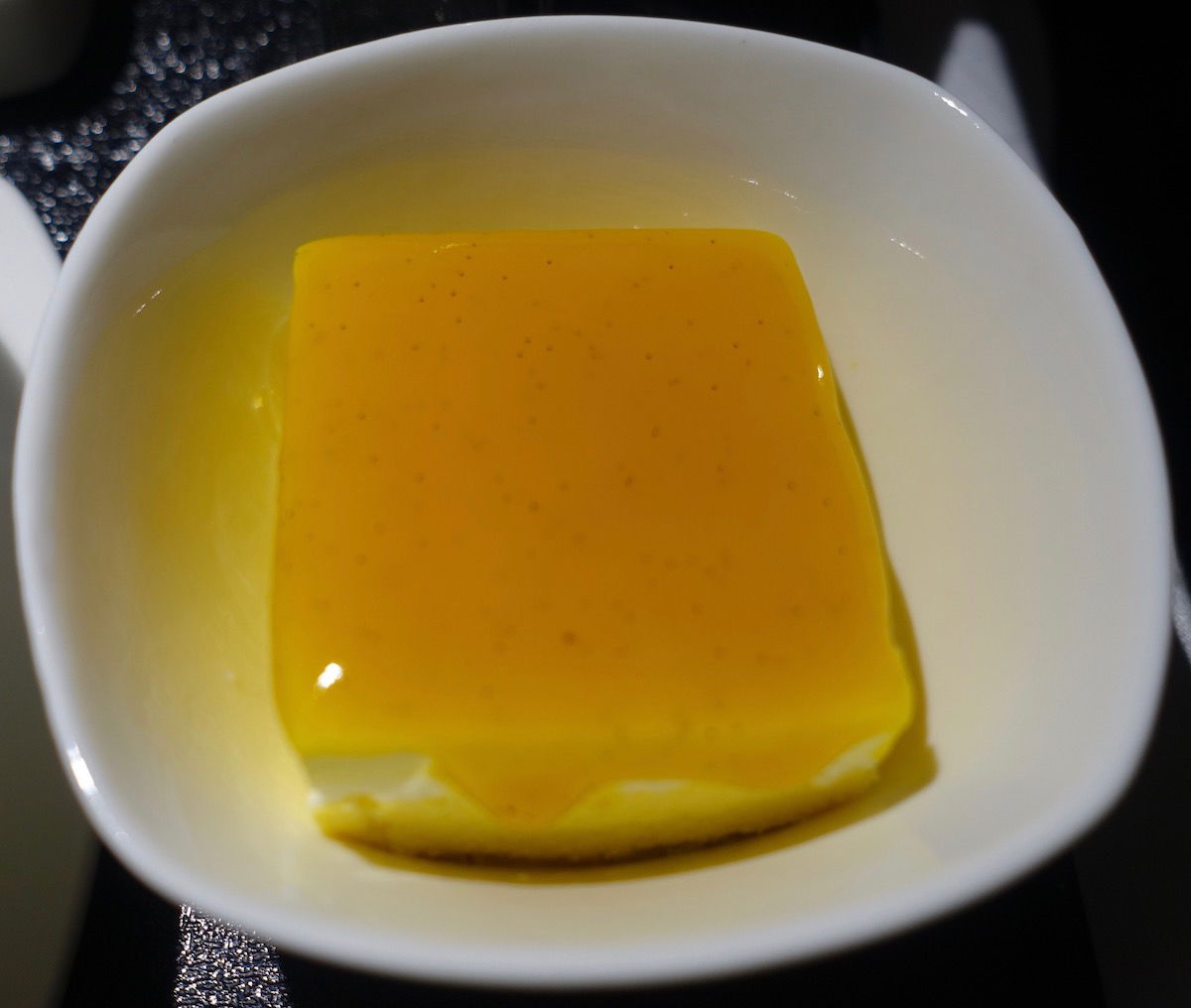 Etihad business class meal
At the conclusion of the meal I ordered a cappuccino. I appreciate that they even offer these excellent cappuccinos on short-haul flights.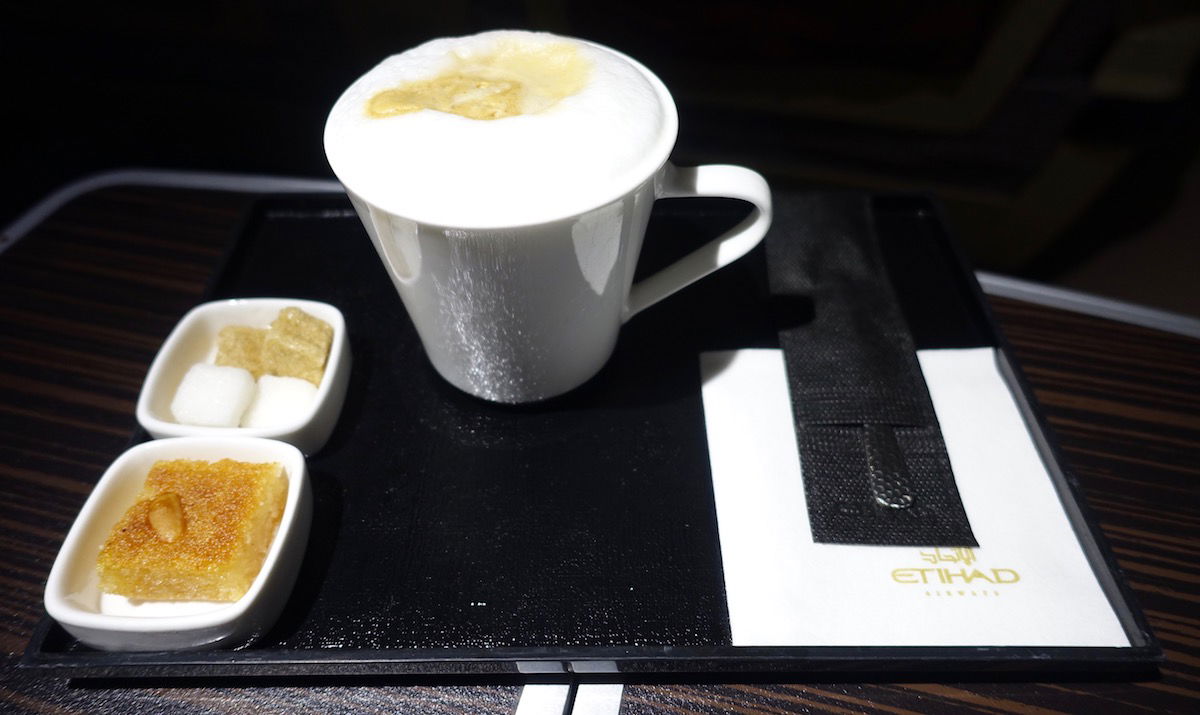 Etihad business class cappuccino
Service was fairly friendly and efficient from the two flight attendants working business class, which is about all I could hope for on an overnight flight like this. This is a really not glamorous trip for the crew to work, as they fly to Ahmedabad and back overnight.
My meal was totally done about 75 minutes after takeoff. At that point I checked out the lavatory, located at the front of the cabin, which was in pristine condition.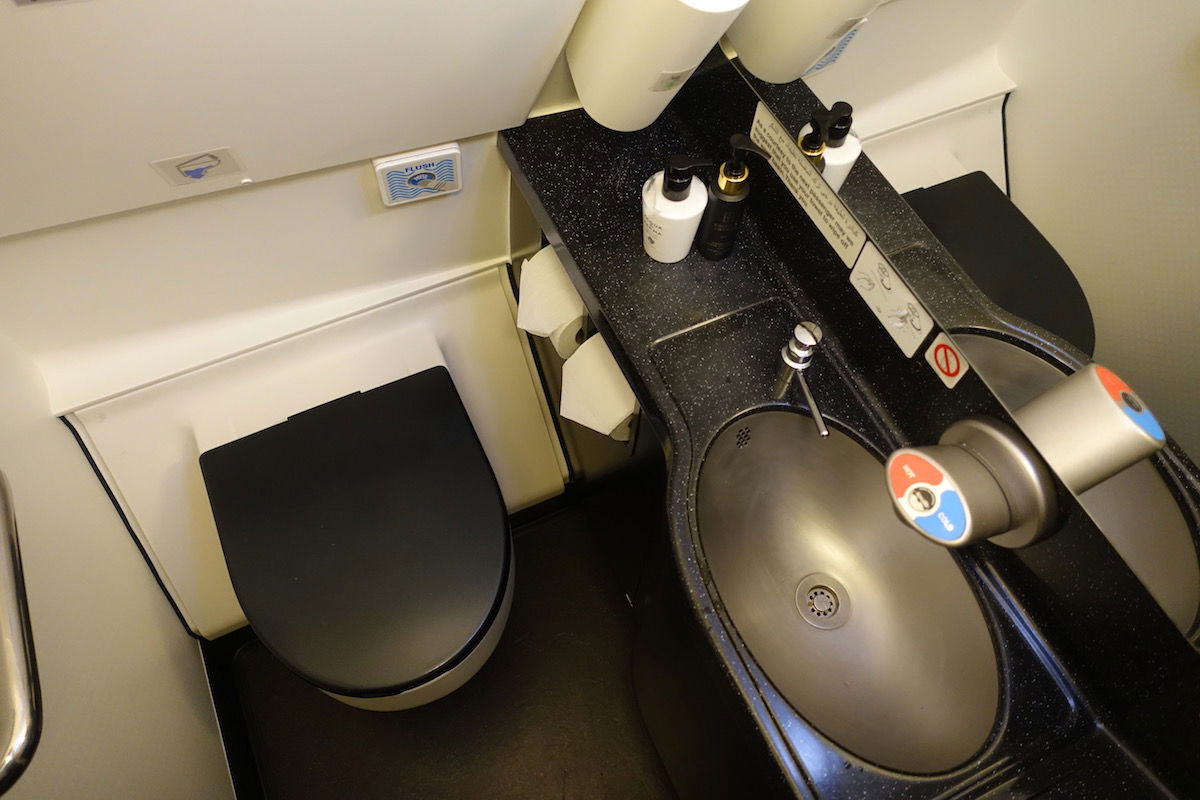 Etihad A320 lavatory
The one other noteworthy thing about the flight is that around the middle of the flight a bag fell on the head of the guy across from me. They had overstuffed the overhead bins because of the number of carry-ons, so when a lady seated in the bulkhead economy row opened the overhead bin, a bag fell on the head of the guy in the last row of business class. Fortunately it wasn't a huge bag, and the guy didn't seem to be hurt.
When the flight attendant saw this happen she ran over.
"Are you okay, sir?"
"I want compensation."
"How about another ginger ale, sir?"
"Okay."
I spent the rest of the flight working (I was planning on sleeping upon arrival), and about an hour before landing immigration cards for India were distributed.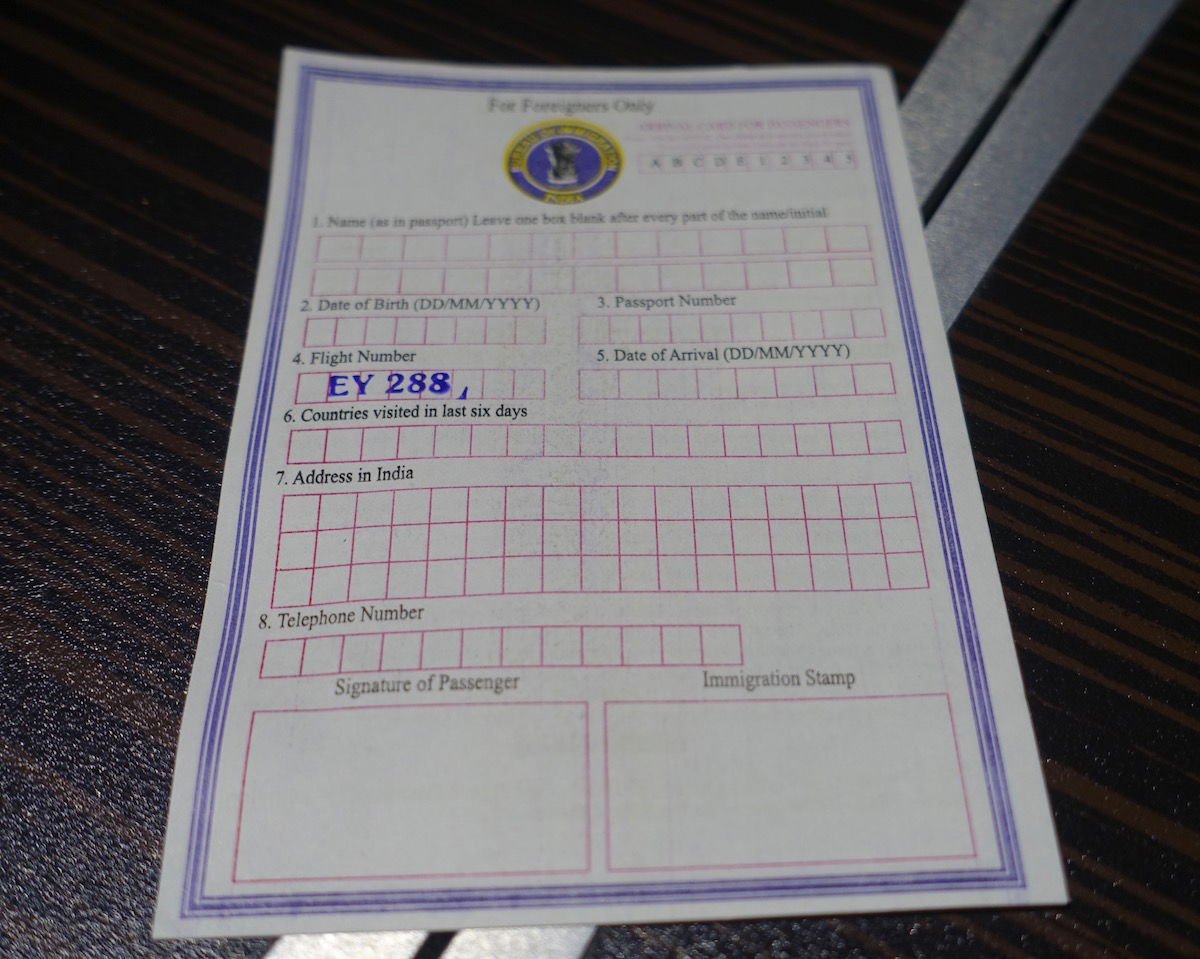 Landing card for India
Two hours after takeoff the captain announced that we'd be descending in about 15 minutes, and that we should be landing at 3:20AM (there's a 90 minute time change between Abu Dhabi and Ahmedabad).
At that point the crew prepared the cabin for landing. As I've often said, I find this to be so annoying on Etihad. At this point we had 45 minutes until landing, and the cabin lights were turned on all the way, everyone had to put their seat upright, etc.
We ended up landing in Ahmedabad around 3:15AM.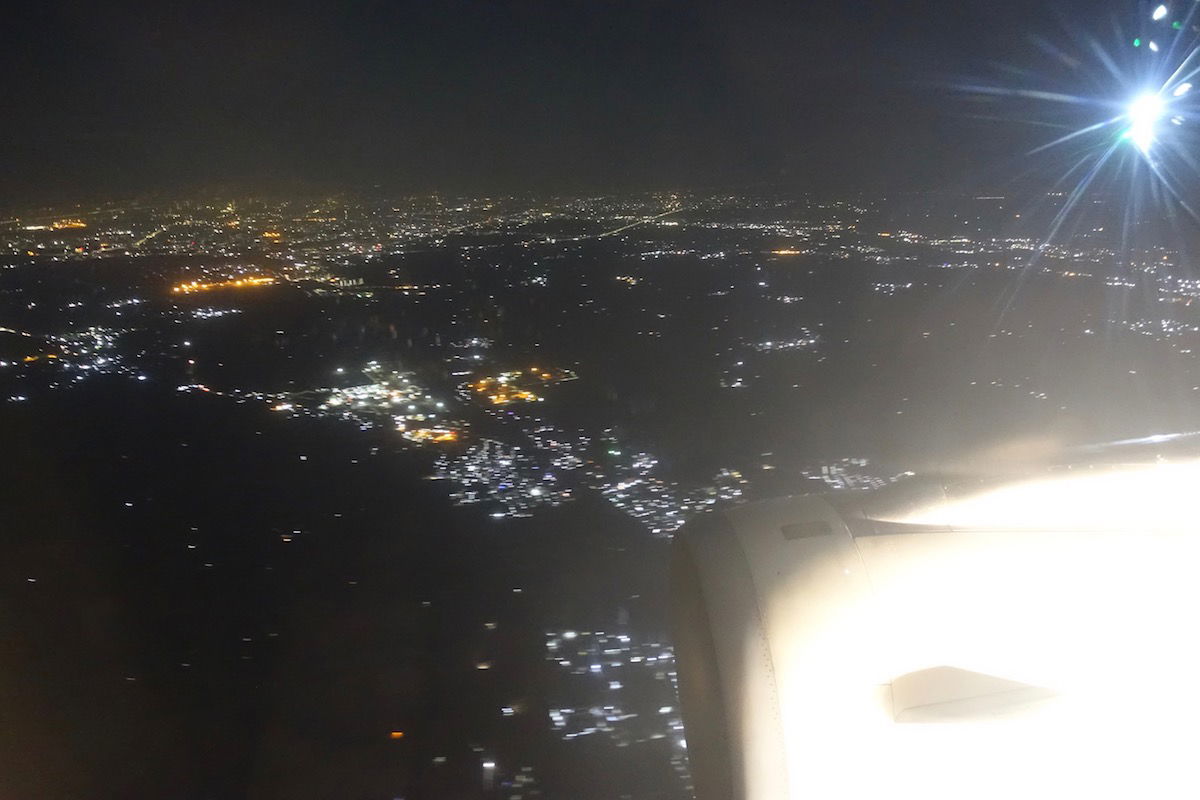 View approaching Ahmedabad
From there we had a 15 minute taxi to our arrival stand. That was my third remote stand of the day, though fortunately this time around it was just a very short drive (in a very old bus) to the terminal.
Immigration was quick, since we were the only flight arriving around this time.
Etihad A320 business class bottom line
Business class on regional flights to/from the Middle East certainly beats what you'd find in the US. I do think both Emirates and Qatar have a significant advantage over Etihad's narrowbody aircraft.
Emirates at least has angled flat seats on all their planes, while Qatar has the best short-haul service of any airline in the world, in my opinion.
Still, all things considered this was a pleasant flight.