Introduction: Flying Halfway Around The World For Half A Day
Review: China Airlines Business Class 777-300ER Los Angeles To Taipei
Review: China Airlines Lounge Taipei
Review: China Airlines Business Class A330 Taipei To Singapore
Review: Singapore Changi Airport Transit Hotel
Review: British Airways Lounge Singapore
Review: SATS Premier Lounge Singapore
Review: Japan Airlines Business Class 767 Singapore To Tokyo
Review: Royal Park Hotel Tokyo Haneda Airport
Review: Japan Airlines First Class Lounge Tokyo Haneda
Review: Japan Airlines Business Class 777 Tokyo To San Francisco
---
I don't think there's an airport with more amenities than Singapore's Changi. From a swimming pool to a butterfly garden to a movie theater, the airport has it all. But those aren't the only practical amenities the airport has for transit passengers.
There are also several airside transit hotels at Changi Airport, which proved very useful to me this trip. I arrived at Changi Airport at around 1:30PM, and my next flight to Tokyo was at 1:50AM, leaving me with about 12 hours. I knew I wanted to get some rest, so I started doing some research on which transit hotel I should stay at.
Per Changi Airport's website, here are the available transit hotels, along with their pricing:
My initial preference was to book the Aerotel Changi Airport Terminal 1, as it looked quite nice, and was also in the terminal I'd be departing from. However, based on the transit hotel's website, they didn't have any availability for the time I wanted to stay. I still sent them an email to see if they maybe had something available.
My second choice was the Ambassador Transit Hotel Terminal 3, given that I was arriving in that terminal. It also seemed to be sold out, and I sent them an email as well.
Within a day I heard back from both hotels. As luck would have it, the Terminal 1 transit hotel actually had availability, even though the website suggested it didn't. Meanwhile the Terminal 3 hotel was sold out. So I booked the Terminal 1 hotel, which was my first choice anyway.
I decided to reserve an eight hour block for an "M" room. I didn't go with the smaller and cheaper "S" room since they don't feature private showers and bathrooms, so I figured it was worth the premium.
My eight hour room block cost 130SGD (~96USD), which seemed reasonable for the convenience.
Upon arriving at Terminal 3 I followed the signage to the Skytrain.

Terminal 3 Singapore Changi Airport
The Skytrain station was just a very short walk from my arrival gate, so I took that towards Terminal 1.

Skytrain to Terminal 1 Singapore Changi Airport
I knew the Aerotel was located near gate D41, which is at the far end of the terminal. So I followed the signage in that direction.

Terminal 1 Singapore Changi Airport
While it was quite a hike, Changi Airport is one of the more pleasant airports to walk around, in my opinion. It's sort of like walking through a mall that just happens to have gates.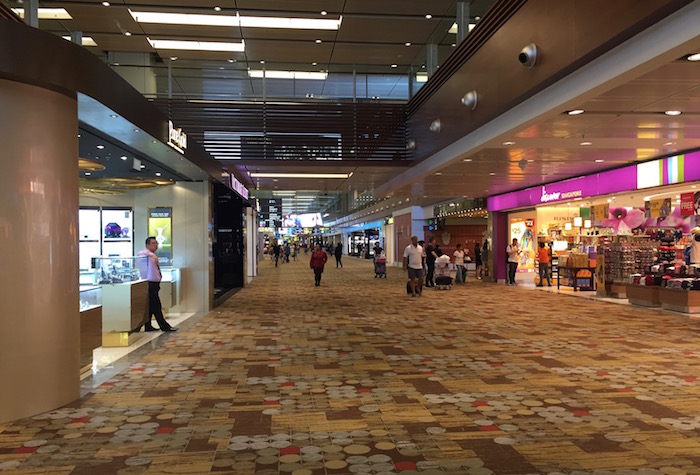 Terminal 1 Singapore Changi Airport
Eventually there was signage dedicated to the transit hotel, rather than just following signage towards gate D41.

Terminal 1 Singapore Changi Airport
The walk took about 10 minutes, and then I found myself at an escalator leading up to the swimming pool and transit hotel.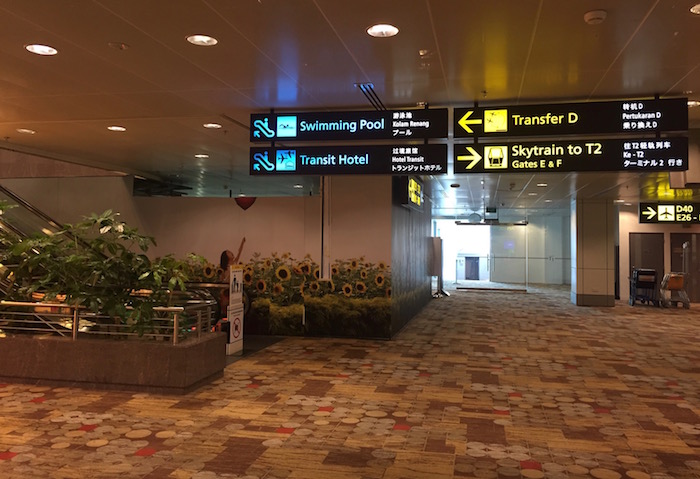 Transit hotel signage Singapore Changi Airport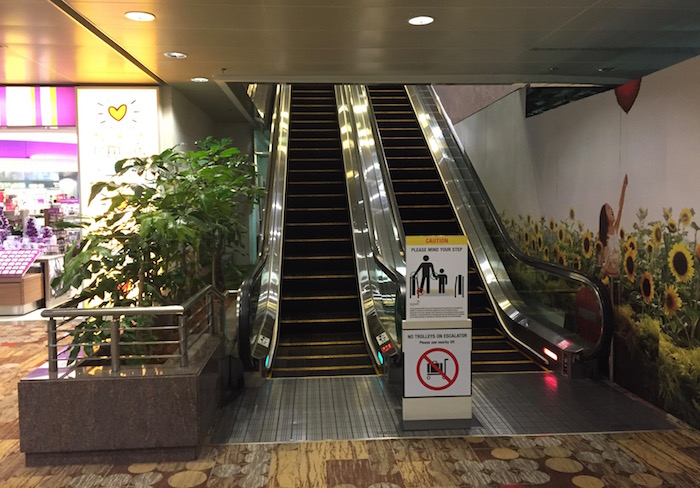 Escalator to transit hotel Singapore Changi Airport
Immediately at the top of the escalator was the reception desk for the Aerotel.

Aerotel Transit Hotel Singapore Changi reception
It's interesting that the reception desk is in the terminal, rather than there being some dedicated lobby.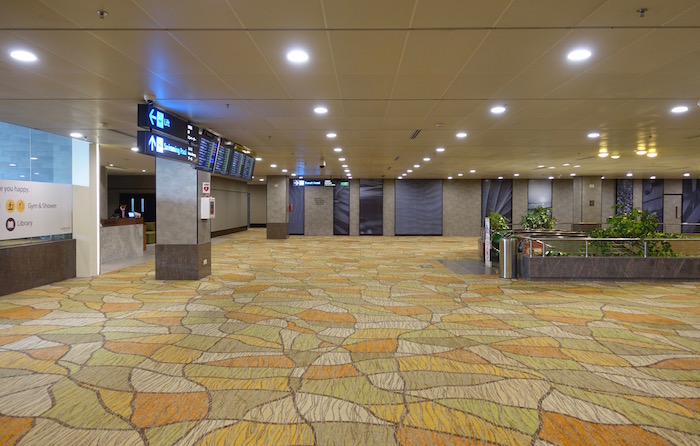 Aerotel Transit Hotel Singapore Changi "lobby"
The guy checking me in was rather abrupt, though I think that was simply his attempt at seeming competent and confident. The check-in process took a few minutes, as I had to sign a bunch of things and pre-pay for my room.
I had originally reserved the room from 1PM until 9PM, but my inbound flight was late, so he proactively updated the time of my reservation from 1:45PM until 9:45PM, which I appreciated.
He also explained that I'd receive a complimentary meal with my room, though I declined. He was shocked, and said "but it's included!" I said I'd think about it.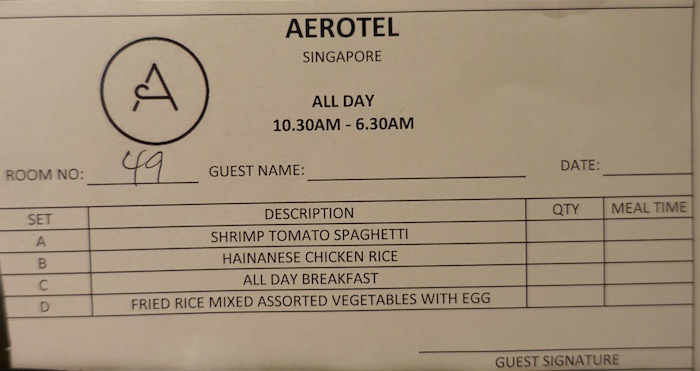 Aerotel Transit Hotel Singapore Changi complimentary meal
Opposite the reception desk there was a single door leading to all the rooms.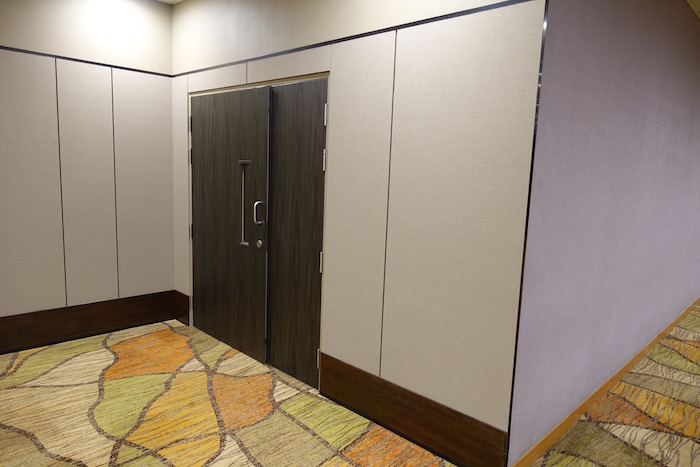 Aerotel Transit Hotel Singapore Changi door to rooms
Past the door was a beautiful hallway that made me feel like I was in a legitimate hotel. Based on the reception desk being in the terminal, I wasn't expecting that.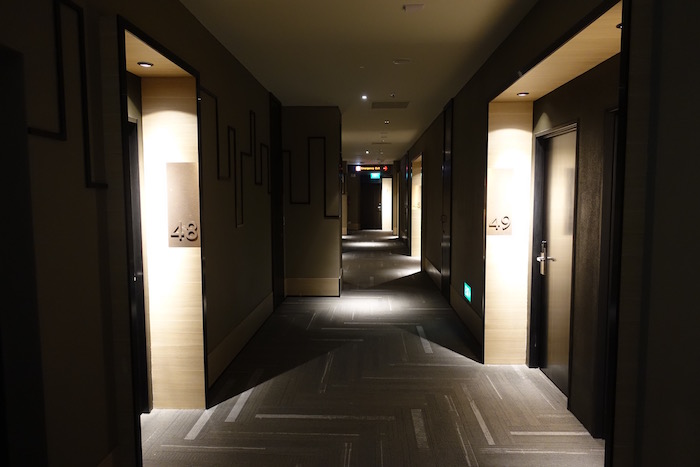 Aerotel Transit Hotel Singapore Changi hallway
I was assigned room 49, which was one of the first rooms on the right.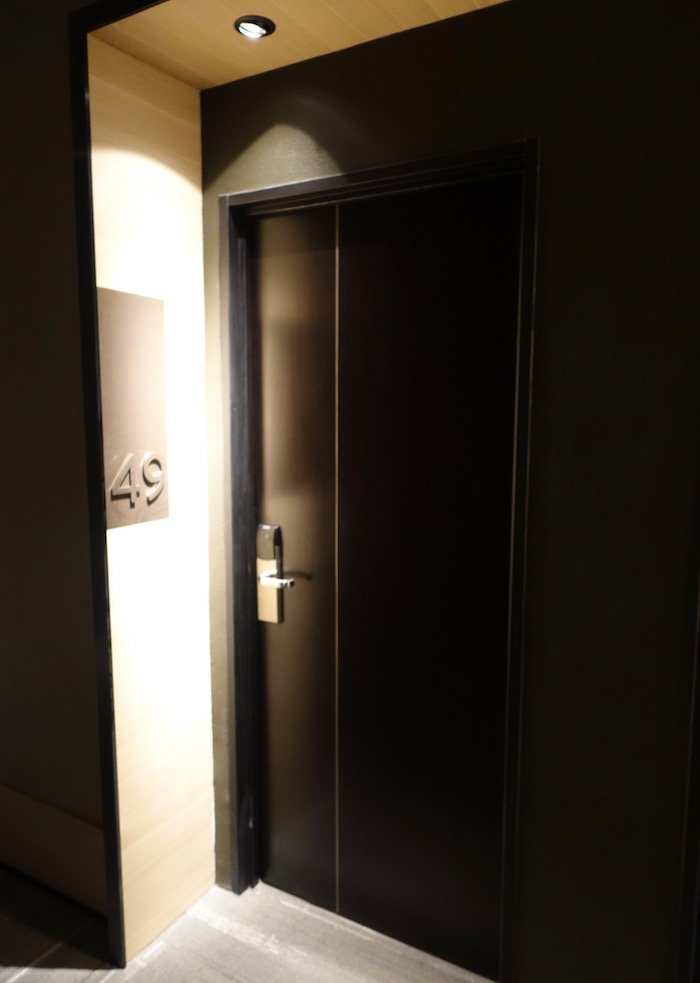 Aerotel Transit Hotel Singapore Changi M Room entrance
As you can see below, there are 50 M & L rooms, while there are 18 S rooms.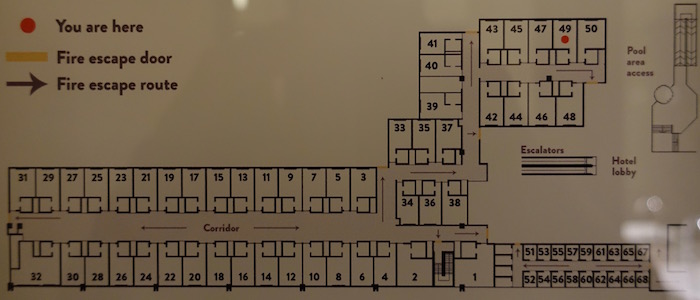 Aerotel Transit Hotel Singapore Changi floorplan
The room itself was gorgeous, easily the nicest airside transit hotel I've ever seen. It featured two beds. They were firm, though not uncomfortably so. The pillows were rather thin, though since I was alone I could use all four pillows (two under my head, and two to hold).

Transit hotel room Singapore Changi Airport

Transit hotel room Singapore Changi Airport
Across from the beds was a desk with a chair, as well as a lounging chair.

Transit hotel room Singapore Changi Airport

Transit hotel room Singapore Changi Airport
At the desk were international outlets, which I was happy to see (you'd think they'd be a given, but you'd be surprised…).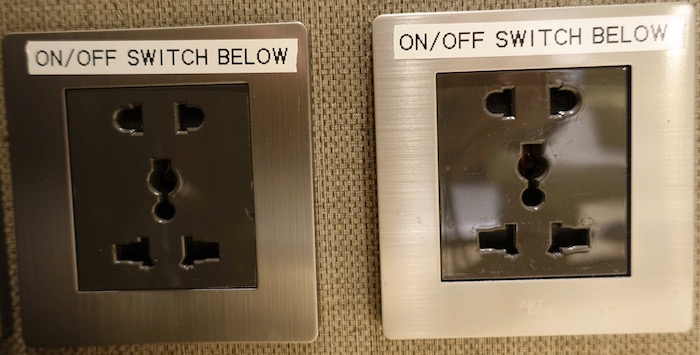 Transit hotel room international outlets Singapore Changi Airport
I'd note that the room doesn't have windows. While there are shutters at the far end of the room to create the illusion that there are windows, that's not the case. That's a good thing, since it means the room is completely dark with the lights out, even in the middle of the day.
There were also a couple of bottles of complimentary water, a kettle, and some coffee & tea.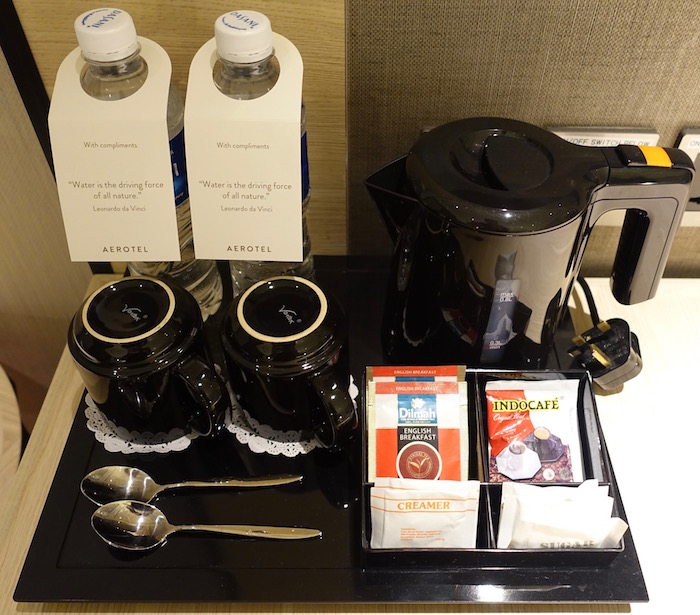 Transit hotel room complimentary coffee & tea Singapore Changi Airport
The bathroom was a decent size and functional, with a sink, shower, and toilet.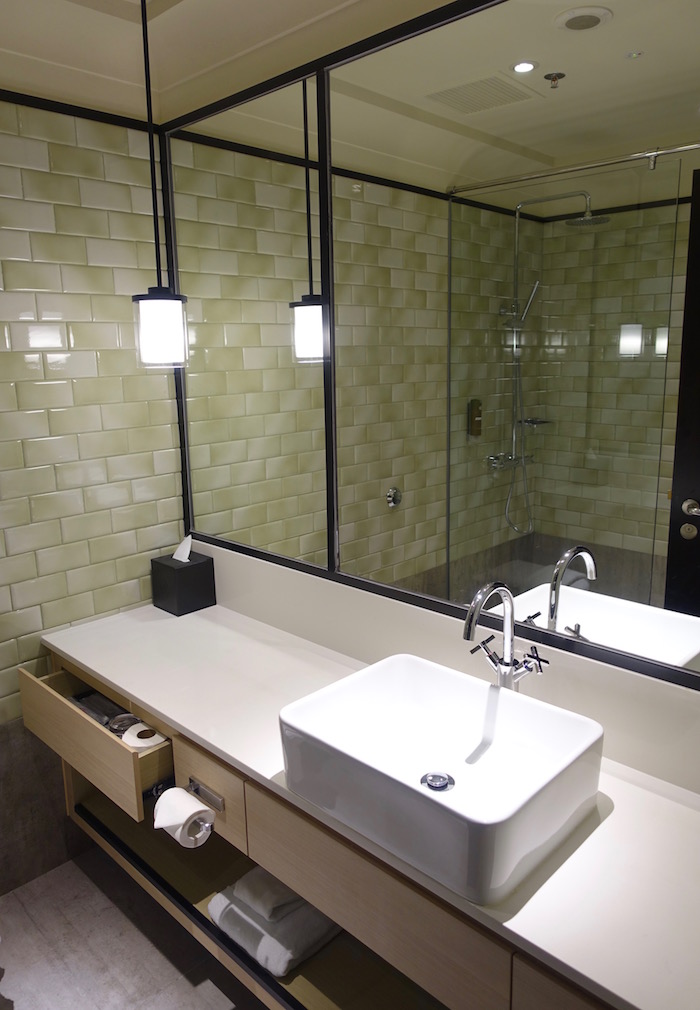 Transit hotel room bathroom Singapore Changi Airport

Transit hotel room toilet Singapore Changi Airport
The shower featured two shower heads, including one mounted to the wall, as well as a handheld one. There was a dispenser on the wall with shampoo and body wash. You had to squeeze the bottle to dispense from it, which sort of grossed me out as a (selective) germaphobe.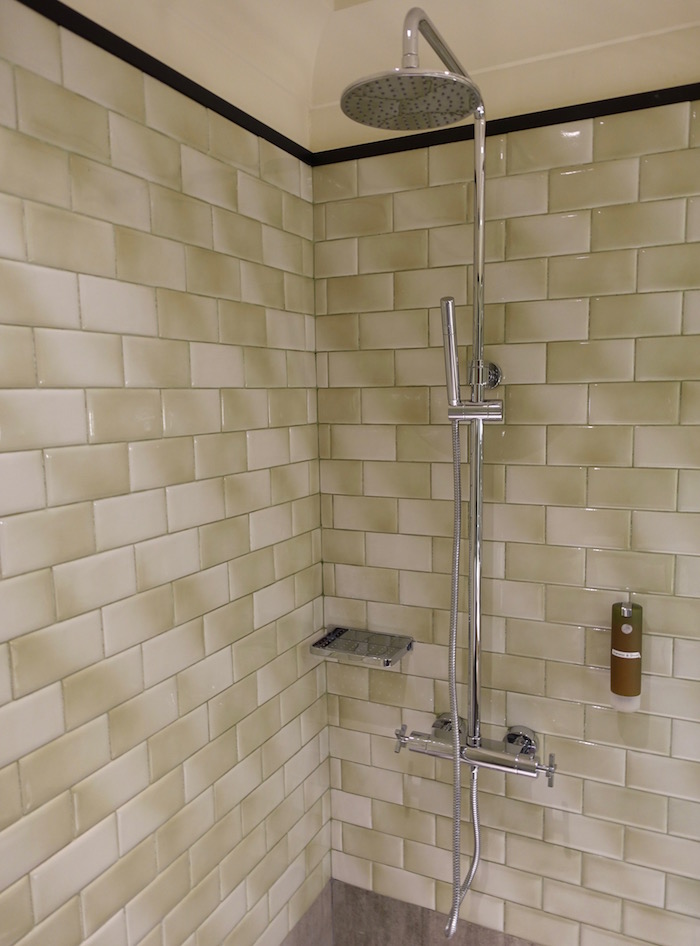 Transit hotel room shower Singapore Changi Airport
In the drawer by the sink were several amenities, including a toothbrush and toothpaste, comb, etc.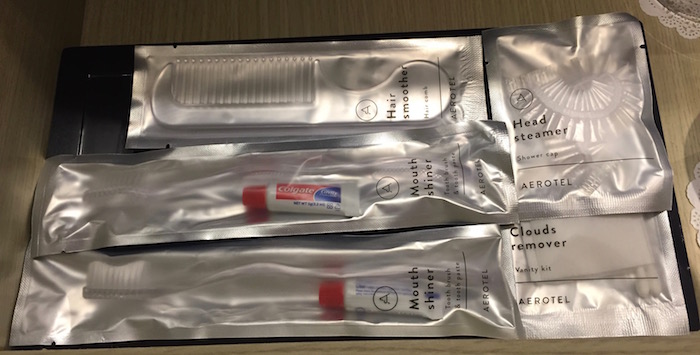 Transit hotel room toiletries Singapore Changi Airport
I managed to get a solid six hours of sleep, which really helped me recharge between long flights.
One other thing I'd note about the hotel is that they don't have their own wifi network, but rather use Changi Airport's free wifi network. Personally I find Changi's system to be quite annoying, as you need to enter your cell phone number and get an activation code. In my case the code never arrived (and I tried several times), though one of the front desk associates used his phone to get me a code, which I thought was nice.
While I didn't actually use it, I couldn't help but check out the pool. After all, it's not every day you can go swimming at an airport.

Transit hotel revolving door to pool Singapore Changi Airport
The pool is open daily from 6AM until midnight, and you can purchase access from the hotel reception for 17SGD (~13USD).

Singapore Changi Airport pool hours & cost
The pool has a beautiful deck with a bar, should you want any drinks.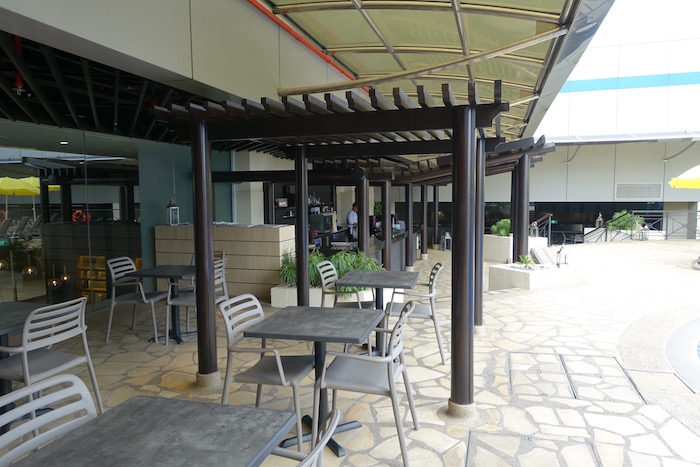 Singapore Changi Airport pool deck
The pool itself is a good size, and there was just one family there when I visited. There's also a hot tub attached to it.
I'd note that there's also a gym that transit hotel guests have access to, though I didn't have a chance to photograph it.
Aerotel Changi Airport bottom line
This transit hotel was fantastic, possibly the best airside one I've ever visited. The room was fresh and nicely appointed, and you even get access to a pool and gym, along with a free meal. If you have a long layover, I think getting a room at a transit hotel is a great option. Even the best first class seat can't compare to a real bed.
Even if you don't want a room at the transit hotel, it might be worth visiting so you can swim in a pool, which is a cool novelty for an airport.
If you've stayed at an airside transit hotel, which was your favorite?