When it comes to evaluating the benefits of credit cards, most of my focus is on the welcome bonus and the bonus categories for continued earning. I fully recognize that there are a number of valuable benefits such as trip delay insurance — I've used it three times this year, alone — and even cell phone insurance but points is my priority.
What I don't think about as often is the bonuses you can earn for meeting specific spend thresholds — commonly referred to as big-spend or annual spend bonuses. Many cards offer bonuses for spending on the card each calendar year. Of course, the required spending to earn these bonuses is quite steep and that's why they get less of my attention.
While I don't think focusing on these bonuses will make sense for many people, they can be great perks for big spenders — hello, business owners!
To simplify things, I've broken these down by the type of bonus reward you can earn for extra spending on a card:
Let's take a look at the different big-spend bonuses you can earn and see which ones are the best.
Free night certificates
There are three hotel chains with co-branded cards that offer free night certificates as a big-spend bonus: Hilton, Hyatt and Radisson. Obviously, if you rarely stay with one of these chains, free nights won't do much for you so you'll have to consider your travel habits.
Hyatt
With the World of Hyatt Credit Card issued by Chase, you will earn a free night certificate when you spend $15,000 in a cardholder year. This free night can be redeemed at any Category 1-4 property on any day of the week as long.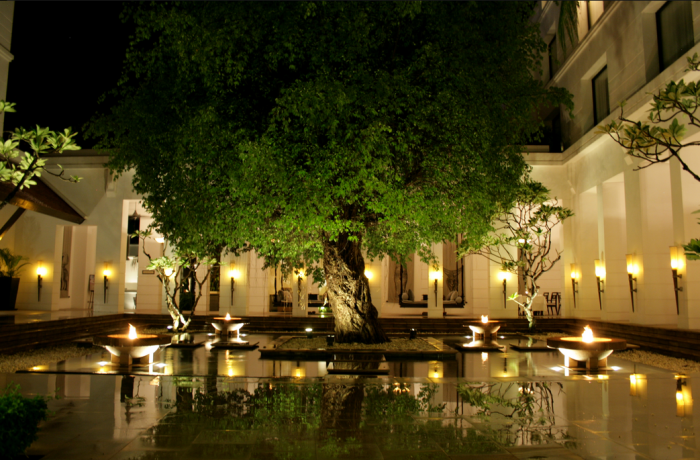 Park Hyatt Siem Reap
All you have to do is find award space and you can redeem your certificate.
Hilton
The Hilton Honors American Express Surpass® Card and the Hilton Honors American Express Business Card work a little bit differently. While you can redeem the free night at higher category properties than you can with the Hyatt free night, it's really a free weekend night award as it can only be used for stays on Friday, Saturday or Sunday nights.
To earn a free weekend night with either card, you must spend $15,000 in a calendar year. If you have both cards and spend $15,000 on each, you'll earn two free nights. If you have the Hilton Amex Business, you can also spend an additional $45,000 in a calendar year ($60,000 total) and receive a second free night.
Similarly, the Hilton Honors Aspire Card comes with a free weekend night upon renewal but you can earn a second free night by spending $60,000 on the card within a calendar year.
Radisson
Finally, we have the Radisson Rewards Premier Visa Signature Card and the Radisson Rewards Business Visa Card (both issued by U.S. Bank). If you spend $10,000 in a calendar year with either, you will earn a free night certificate that can be used at any U.S. property. In fact, you'll earn a free night for every $10,000 you spend up to $30,000 for a possible total of 3 free nights.
Free night wrap-up
Personally, I find they Hyatt free night option the most appealing. I mostly travel internationally which rules out Radisson and am often traveling during the week which can make using Hilton's free weekend nights more difficult.
Since earning Ultimate Rewards points has been a priority for me, I have plenty of points to transfer to Hyatt. It doesn't take much effort for me to find a time to pair Hyatt free nights with Hyatt award stays. In fact, I did just this at the Hyatt Regency Tsim Sha Tsui in Hong Kong earlier this year and plan to do it again later this year — yes, I like Hong Kong enough to visit twice in a year.
Companion passes/tickets
There are several cards that allow you to earn a companion ticket each year but most aren't really worth your spend. However, there are two opportunities that can be more than worth it.
Southwest Companion Pass
First up, the famous Southwest Companion Pass. If you earn 125,000 Rapid Rewards points in a calendar year, you will receive the Companion Pass for the remainder of the year in which you earned it plus the entire following year.
With the Companion Pass, you'll be able to fly 2 for 1 on both cash and award tickets and only be responsible for the taxes/fees of your companion's ticket. This can be a huge benefit for couples or travel buddies who want to explore the U.S., the Caribbean, Central America and Mexico.
The toughest part will be hitting the spend requirement as the Southwest cards only earn 1X point on spending that's not with Southwest Airlines and its hotel and rental car partners — this earns 2x. If you're able to take advantage of the Southwest shopping portal, that can help get you there a bit quicker.
If it's all 1X spend, you're looking at $110,000 to earn the pass. Not easy for many, but some business owners could knock that out in a month!
British Airways Travel Together Ticket
Earning the British Airways Travel Together Ticket is quite a bit easier as you only need to spend $30,000 each calendar year. Unlike the Southwest Companion Pass, this is a one-time use ticket that allows you to use Avios to book a 2 for 1 ticket on British Airways, valid for two years.
You'll be responsible for the taxes/fees for both tickets but you'll only need the Avios for one ticket. The taxes/fees are a real consideration, though, as surcharges on British Airways are very steep.
You'll also be on the hook for the Air Passenger Duty (APD) fee if you visit London. However, you can knock over $200 off the taxes/fees if you connect to a city such as Oslo.
Companion pass/ticket wrap-up
While I find little value in the Southwest Companion Pass because I mostly travel internationally, I have plenty of friends who absolutely love it and for good reason. Clearly, it's great for couples but even families can get a lot of out of not having to pay for one seat on each flight.
For the British Airways Travel Together Ticket, just make sure you can really maximize it. I probably won't focus on earning it but, if you want to fly first class on British Airways, there are much worse ways to go about it.
Redeemable points and miles
Previously, the United MileagePlus Explorer Card and the United MileagePlus Explorer Business Card allowed you to earn 10,000 United miles if you spent $25,000 in a calendar year. Chase removed this big-spend bonus when they added bonus categories to each card in mid-2018.
Now the IHG Rewards Club Premiere Credit Card is one of the only cards that earns bonus points after spending a certain amount every card year. You'll earn 10,000 IHG Rewards points after spending $20,000 in a calendar year. That's a pretty terrible return. I value IHG points at just $0.005 each, so I consider that only earning only a $50 bonus after a substantial amount of spend.
So, where does that leave us?
Delta
If you want a big-spend bonus that earns airline miles, I'd look to one of four co-branded Delta Amex cards.
With the Platinum Delta cards, you can earn 10,000 bonus SkyMiles when you spend $25,000 in a calendar year. If you spend a total of $50,000, you'll earn an additional 10,000 SkyMiles. That's 20,000 bonus miles for $50,000 in spend per year.
If you choose to go with one of the Delta Reserve cards, you can earn 15,000 bonus SkyMiles when you spend $30,000 and an additional 15,000 bonus miles when you hit $60,000 in a calendar year.
Of course, neither of these are as big as welcome bonuses but it's a nice perk if you're going to meet the spend thresholds anyway.
IHG
On the hotel side of the equation, we have the IHG® Rewards Premier Credit Card from Chase. While you will automatically receive a free night certificate for awards that cost up to 40,000 IHG points upon renewal each year, you can also earn some bonus points.
If you spend $20,000 on the Chase IHG Premier Card in a calendar year, you'll receive a 10,000 IHG bonus points. Considering the value of IHG points, this isn't a big bonus but it's better than nothing. The card also allows you to book 4th night free awards which can help you stretch these points a little bit further.
Redeemable points and miles
The redeemable points and miles you can earn through big-spend bonuses aren't really that impressive. The fact that you can earn bonus Delta SkyMiles should be more of a happy accident. If anything, the Medallion Qualification Miles (MQMs) — discussed below — are probably more important to the Delta Amex cards.
Similarly, if you just happen to spend $20,000 on the IHG Premier Card, the bonus points are nice but probably shouldn't be a priority.
Elite status bumps and nights (hotels)
The options for credit cards that can help you earn elite status is seemingly endless for both hotels and airlines. With co-branded hotel cards, you'll have options to earn elite status outright or qualifying nights toward status depending on your hotel chain of choice.
Marriott
There are several cards that provide complimentary Silver Elite Status with Marriott and even a card that provides complimentary Platinum Elite Status!
Hyatt
The World of Hyatt Credit Card takes a bit of a different approach. Rather than having a spend threshold to earn elite status, it comes with Discoverist status and lets you earn elite night credits toward Explorist and Globalist status.
For every $5,000 you spend on the Hyatt Card, you'll earn an additional 2 qualifying night credits. The card provides 5 qualifying nights so you'd need an additional 55 nights to earn Globalist — 50 additional nights to requalify.
Of course, that's $140,000 and $125,000, respectively, so this will only work for a few people but it could be an easy way to get those last few nights if you won't quite reach the required nights from your stays.
Hilton
Hilton also makes it easy to earn elite status by spending money on their co-branded cards. You can even earn top-tier Diamond status after spending a certain amount on their co-branded cards.
Hotel elite status wrap-up
If you spend a decent number of nights in hotels — but not enough to qualify for top-tier status — and have a lot of credit card spend, earning Marriott Platinum or Hyatt Globalist can make those stays much nicer.
Clearly, the spend requirement is much steeper to earn Hyatt Globalist through card spend alone but it could be a great way to move you from Discoverist to Explorist or Explorist to Globalist. This is where I think the Hyatt option could be very valuable.
Elite status bumps and qualifying miles (airlines)
With co-branded airline cards, you have several options to make earning elite status a little bit easier. In fact, you can earn elite status with card spend alone with one program.
Southwest
You can earn bonus Tier Qualifying Points with Southwest Rapid Rewards and two of their credit cards. You'll earn 1,500 points for every $10,000 in spend in a calendar year, up to 15,000 points per year.
Both the Southwest Rapid Rewards® Premier Credit Card and Southwest Rapid Rewards® Priority Credit Card have this benefit.
JetBlue
While JetBlue doesn't have the extensive network that you'll find with American, Delta and United, it does have the best option for earning elite status with credit card spend. In fact, it's quite simple to earn Mosaic status with JetBlue, you don't even have to fly a certain number of miles.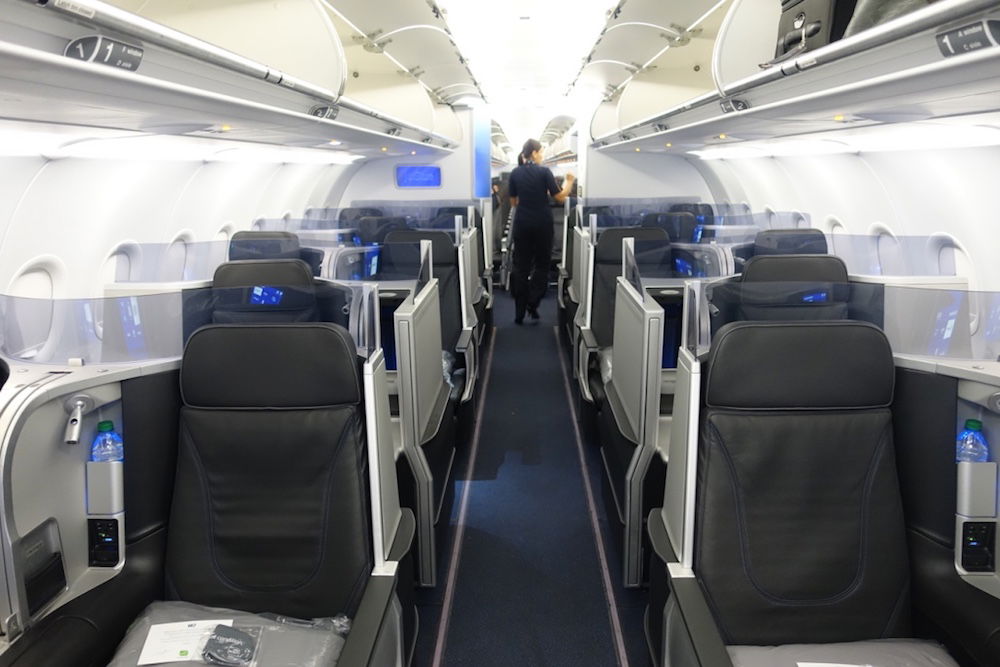 If you have the JetBlue Plus Card or the JetBlue Business Card from Barclays, all you have to do is spend $50,000 in a calendar year. That's it. It really is that simple.
Delta
Of course, JetBlue won't fit everyone's needs so the next best option for earning elite status via card spend is with Delta. With Amex's four co-branded cards, you'll have several options.
Both the Delta Platinum Amex and the Delta Platinum Business Amex allow you to earn 10,000 Medallion Qualification Miles (MQMs) when you spend $25,000 on one of the cards. You can an additional 10,000 MQMs once you reach $50,000 in a calendar year.
The Delta Reserve Amex and Delta Reserve Business Amex are similar in that you can earn 15,000 MQMs after spending $30,000 in a calendar year and an additional 15,000 when you reach $60,000.
You can also earn a Medallion Qualification Dollars (MQDs) waiver for Silver, Gold and Platinum Medallion status when you spend $25,000. The MQD waiver for Diamond requires $250,000 in spending.
Airline elite status wrap-up
I regularly bemoan the irrationality of chasing airline status but, if you happen to be on the cusp of the next tier with Delta, I can see why this option would be appealing. Especially, if you're just a few thousand miles short of Diamond Medallion.
Similarly, for big spenders who enjoy flying JetBlue, you can jump to Mosaic without being a road warrior.
Bottom line
While these big-spend bonuses really do require BIG spend and won't be for everyone, there's some value to be had if you're going to be spending the money anyway. If you fall under this category, you just have to decide which bonuses provide the most value to you.
Do you plan to leverage any of these threshold bonuses this year?