The list of countries that Americans are allowed to travel to is still fairly small, though it is growing by the week. Countries take different approaches to welcoming visitors — some allow visitors without restrictions, some require COVID-19 testing before departure, and some require testing upon arrival.
As I've written about before, Costa Rica will soon be welcoming all American visitors, after initially starting to open to Americans as of September 2020. What's fascinating is that the country is now eliminating the testing requirement for visitors, which seems counterintuitive.
Let's go over all the details…
Costa Rica will soon welcome all Americans
Costa Rica began allowing visitors from the US as of the beginning of September, but only from select states. Visitors had to prove they resided in one of these states by presenting a driver's license or other form of state ID to prove that they're from there.
That list has grown since it was first announced, and currently Americans from the following 23 states and territories are allowed in Costa Rica:
Arizona
California
Colorado
Connecticut
Florida
Georgia
Maine
Maryland
Massachusetts
Michigan
New Hampshire
New Jersey
New Mexico
New York
Ohio
Oregon
Pennsylvania
Rhode Island
Texas
Vermont
Virginia
Washington, D.C.
Wyoming
As of November 1, 2020, Costa Rica will welcome visitors from all US states.
In general I totally get the concept of allowing Americans only from select states, since obviously not all states are doing equally well. To my knowledge, Costa Rica is the only country allowing Americans only from select states.
Costa Rica's tourism minister has made it clear that states were chosen based on having similar or lower coronavirus infection rates to what is being seen in Costa Rica. The problem is that coronavirus is getting significantly worse in Costa Rica, so that's not necessarily saying a whole lot…
Costa Rica eliminates PCR testing requirement
This is where it gets a bit strange. Up until now Costa Rica has required proof of a negative PCR coronavirus test taken within 72 hours of travel to Costa Rica. There was no option to get tested on arrival.
The requirement to get tested within 72 hours of travel has become an industry standard. Airlines have even started to partner with labs to make time sensitive testing before departure more accessible.
But as reported by The Tico Times, as of October 26, 2020, Costa Rica will no longer require visitors to get tested prior to travel. What's the logic for this? As Costa Rica's tourism minister explains:
International tourism "has not been a source of COVID-19 contagion" in the country (probably at least partly due to the testing requirement?)
In early October the Pan American Health Organization (PAHO) stated that coronavirus testing for incoming travelers "is not recommended as a tool to mitigate the risk of international spread"
Like I said, this certainly counters the trend…
Other requirements to visit Costa Rica
While the requirement to be tested is being eliminated, there are a couple of other requirements staying in place:
All people entering Costa Rica will have to complete a digital epidemiological form, known as a "Health Pass"
Visitors will have to purchase travel insurance that covers accommodation in the event of quarantine and medical expenses due to coronavirus; this can be purchased from either an international company or an insurance company in Costa Rica
Coronavirus in Costa Rica
Costa Rica has a population of about five million people, and has seen a total of 101K coronavirus cases, and 1,251 coronavirus deaths. Both of those totals have significantly more than doubled compared to September 1.
While the country has had some cases going back as far as March, the situation has gotten significantly worse since July. In recent weeks the situation is the worst it has been, with over 1,500 new cases being reported on some days.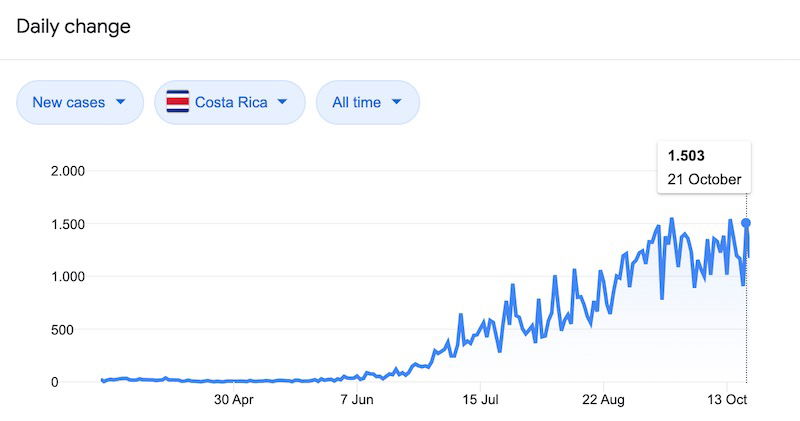 It's an odd time to open borders to tourists, let alone to eliminate a testing requirement. Then again, so many countries are struggling with finding the right balance between restarting the economy and keeping people safe.
Bottom line
Costa Rica started welcoming American tourists as of September 1, though only from select states. As of November 1 the country will start welcoming Americans from all states. Up until now the country has been requiring negative PCR test results prior to travel, but that's being eliminated as of October 26.
As is the case with most countries that have reopened, don't necessarily expect the timeline or current policies to stick. International travel regulations are constantly changing, and we've seen a countless number of countries adjust requirements, or backtrack on reopening altogether. There are lots of risks to international travel right now.
Anyone have Costa Rica on their radar for a trip at some point? What do you make of the country eliminating its testing requirement? Does it make you more or less likely to visit?