A few days ago I wrote about how Chile was planning on reopening to visitors next week. Well, there's an update on that, as the country won't be opening quite in the way that was initially announced, and it could impact anyone who has a trip planned in the next few weeks.
As always, entry restrictions for countries are constantly changing, which is one of the many risks of planning international travel right now.
Chile will once again welcome some visitors
Chile closed its borders back in March, and hasn't allowed tourism since. That will finally be changing. Initially the plan was that as of November 23, 2020, Chile would once again welcome visitors with testing:
You need to provide proof of a negative COVID-19 PCR test taken less than 72 hours before arrival in Chile (this is a tight timeline, since it has to be within 72 hours of arrival, rather than within 72 hours of departing for Chile); those without proof will need to quarantine for 14 days
You need to provide an affidavit saying that you don't have any coronavirus symptoms
You must enter the country via Arturo Merino Benítez International Airport in Santiago (SCL)
However, it now appears the country has backtracked at least a bit. The US Embassy in Chile notes that:
Between November 23 and December 7, 2020, non-resident foreigners who have been in a high risk countries (including the United States) in the past 14 days will have to complete a mandatory 14 day quarantine
Only after December 7, 2020, will non-resident foreigners entering Chile from high risk countries be allowed to skip the 14 day quarantine
All non-resident foreigners entering Chile will be subjected to a 14 day "period of vigilance," whereby they'll have to report their location and health conditions daily to the Health Ministry through a system that will be implemented in the coming days
So yeah, unfortunately those coming from high risk countries won't be able to visit without a quarantine for the first 14 days that Chile is reopening to tourists. The fact that this policy was implemented after the initial announcement also makes me think that this could quite easily be pushed back.
Coronavirus in Chile
Chile has a population of just under 19 million. The country has seen a total of 528,000 coronavirus cases, and around 14,700 deaths. Chile is now pretty consistently down to below 2,000 cases per day.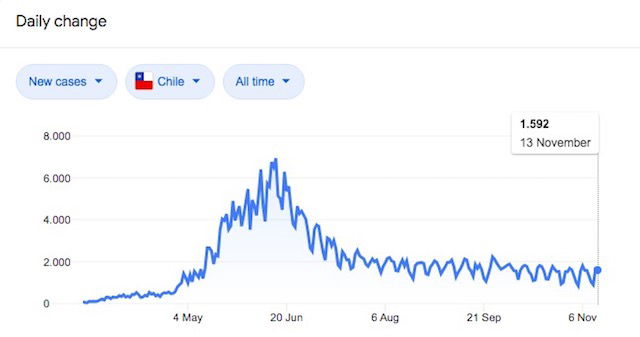 Just for some context, Chile's population is slightly smaller than Florida's, and Florida has seen a total of 871,000 coronavirus cases and a total of around 17,400 deaths.
So Chile hasn't exactly done great with coronavirus, but it's also not the worst country out there in that regard.
One big benefit of traveling to Chile
If you are planning to travel in the coming months, Chile might not be a terrible place to consider (assuming you're allowed in). I say that in the sense that we're entering winter here in many parts of the world, which makes outdoor activities and outdoor dining challenging. If you're going to travel, you're much better going to a place where you can keep your distance and dine outdoors.
With Santiago being in the Southern Hemisphere, summer is about to start down there, so the weather should be great. There are plenty of opportunities to enjoy the outdoors, eat outside, etc.
As I always caution, just remember the general risks and complications of traveling internationally nowadays (beyond the risk of coronavirus as such):
Border restrictions are constantly changing (as we're seeing here)
Airlines are frequently adjusting schedules due to the uncertain times
There's the risk of having to quarantine at your own expense, in some cases even if you don't have coronavirus (like if you were in close contact to someone who got it)
Your health insurance may not be valid abroad, and travel insurance may not cover coronavirus-related expenses
Anyway, these aren't challenges that can't be overcome, but it's worth thinking carefully before planning international travel.
Bottom line
Chile will be reopening to visitors from low risk countries as of November 23, 2020. The country will primarily require a negative PCR test taken within 72 hours of arrival. The negative PCR test is a pretty standard requirement for travel at this point, though just keep in mind that the test needs to be within 72 hours of arrival in Chile, rather than within 72 hours of departure to the country.
However, the country will only allow those from high risk countries (including the US) without a quarantine as of December 7, 2020, and personally I wouldn't be surprised to see that timeline pushed back.
Is anyone considering a trip to Chile?