I'm guessing that this will be my last installment in the China Eastern saga. I thought the last one would be, but I woke up to an email from them this morning, and I think it's only fair I share that. For context, here are the previous posts of this "story:"
The email came from China Eastern's director of marketing in North America, and read as follows:
Good morning, Ben, from Los Angeles!

My name is _______ and I am Director, Marketing-North America at China Eastern Airlines.

I read your blog often and yesterday I saw the posting about your July 26th flight from Los Angeles to Shanghai on MU586. We aim to achieve the highest levels of service and I appreciate your honest comments and feedback. First and foremost, safety is China Eastern's number one priority. Smoking anywhere onboard the aircraft – including the flight deck – is prohibited.

You are a valued customer, and I have notified our head office that the smell of cigarette smoke may have been detected on MU586. I can assure you we will investigate this matter internally and with the cockpit and cabin crew who operated your flight.

If you have further concerns, or would like to share more details about your experience onboard China Eastern so that we can improve our service levels, please contact me at your convenience.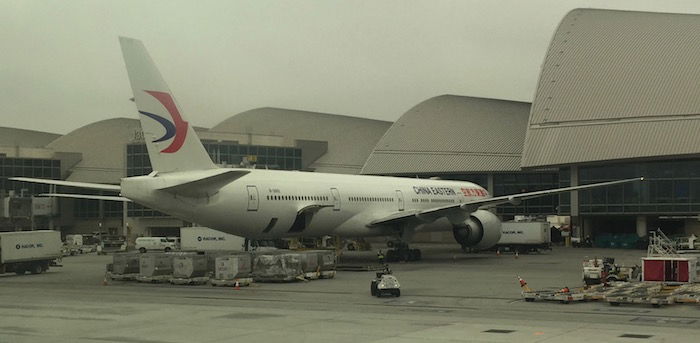 Kudos to her for reaching out. I'm impressed that she addressed one of the major issues and didn't make an excuse, but rather actually says it will be investigated.
At first I thought it was a bit disappointing that the director of marketing emailed (rather than someone who works in onboard service, etc.), but her English is perfect, and I know in the past when I got emails from Chinese carriers from their onboard service team, there has been a communication gap.
So do I have hopes that suddenly no pilots will smoke on China Eastern again? Absolutely not. But it's nice to know they're at least taking note of the situation, and confirming outright that this behavior is unacceptable.
Now I'm closing the China Eastern chapter of this trip, and moving on. I'm guessing Royal Air Maroc, Saudia, and Pakistan will likely hold their own on the entertainment front as well. 😉