It has been an interesting 48 hours of travel, to say the least! For those of you not caught up on the China Eastern saga:
As I began to talk about in the previous post, our experience took a very drastic turn with our Shanghai to Colombo flight. We were met by the China Eastern duty manager at the airport, and he escorted us to the lounge. He and two other people closely observed us at the lounge, and we saw the lounge transform before our eyes. All the garbage around the lounge slowly disappeared, all the food was restocked, we were proactively brought warm towels and water, etc.
They even put out Thursday's "For The Edible" selection — how did they know that's my favorite type of food to eat on Thursdays?!?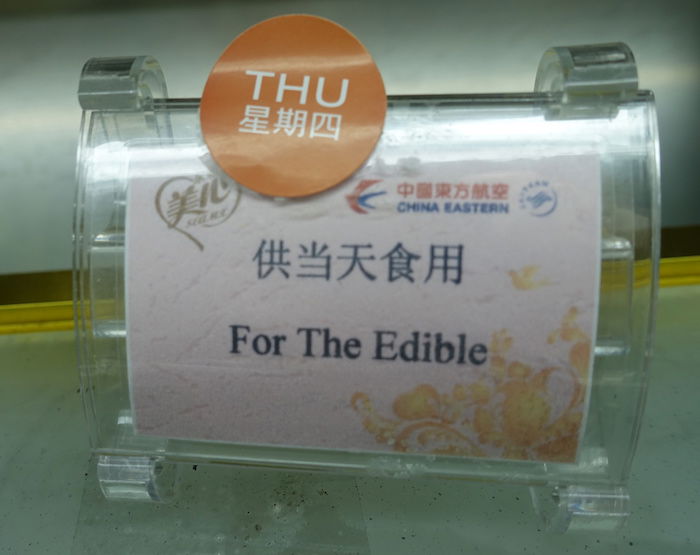 Then we were escorted onto the plane. Obviously they had singled us out at this point, but I wondered how well they communicated with the flight attendants in terms of explaining the "situation." I put that in quotes because I don't know how any of this went down in practice.
Did someone call from head office and tell the duty manager just to take care of us and not let us out of his sight? Or did he know everything that was going on? Similarly, I wondered how well that would all be communicated to the flight attendants.
So let's talk about the good and the bad of the flight…
The bad…
Our flight was operated by an A330 featuring China Eastern's oldest business class cabin. The seats were angled and lacked padding…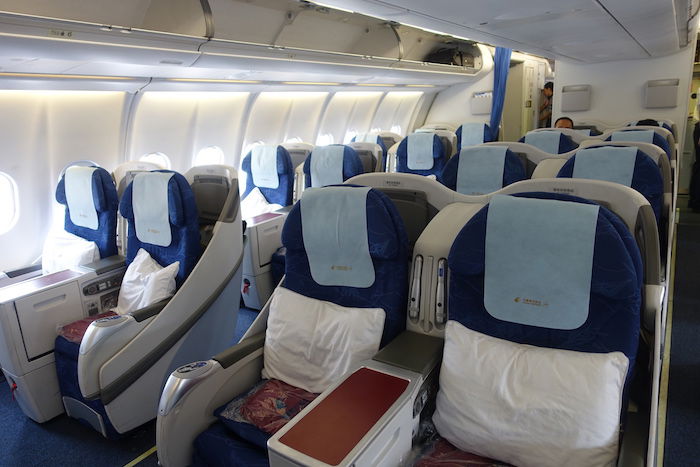 …and they were also quite beat up.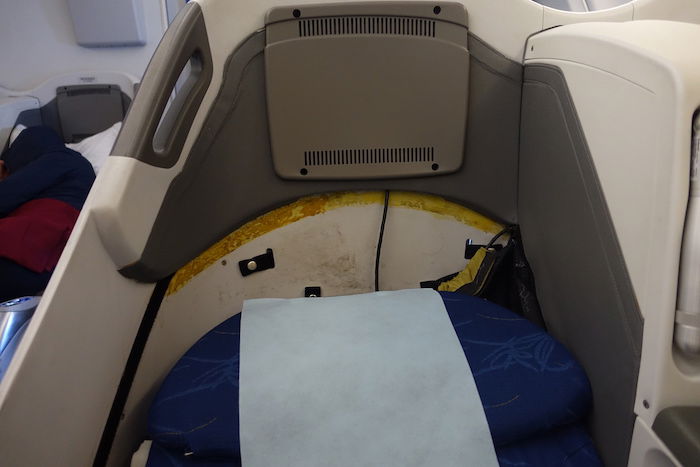 The flight was blocked at over seven hours, and was in the air for over six hours.
There was just one meal service, and everything was served on one tray, with the only dessert option being fruit. It was the most underwhelming airline meal I recall having in a long time.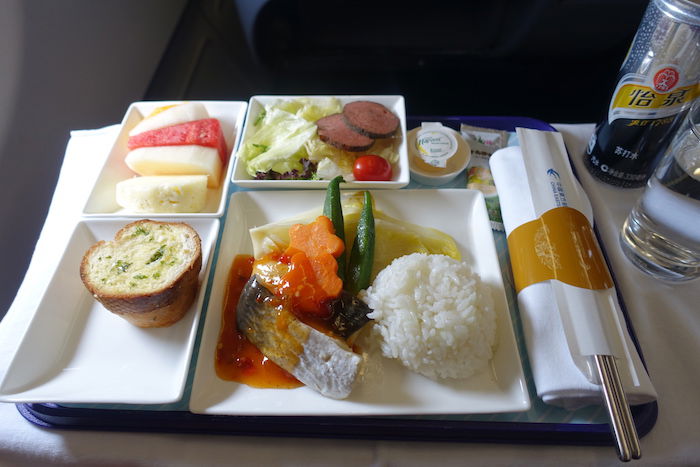 The flight was also delayed by 90 minutes due to lightning, but that was outside the crew's control.
The good…
The crew was spectacular (and obviously we were getting special treatment, but I'll address that further below). Just to give a few examples:
The crew was constantly smiling, and throughout the flight they basically had two flight attendants standing behind the cabin observing to make sure everyone was happy
I really felt like I was on Singapore Airlines — every time I went to the lavatory they checked to make sure it was clean, the toilet paper was folded into a triangle every time, etc.
The service was so attentive — we were addressed by name, constantly offered drink refills, etc.
During the delay we were proactively offered a small snack and several drink refills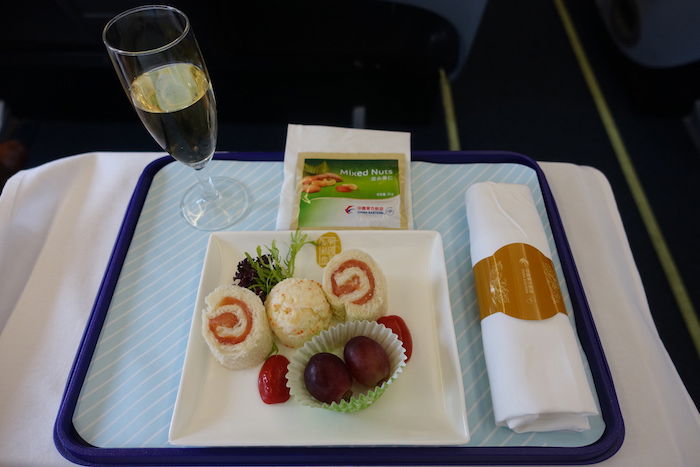 The crew even presented us with an adorable handwritten note telling us how important our suggestions are, and several times during the flight emphasized how they appreciated feedback on their service.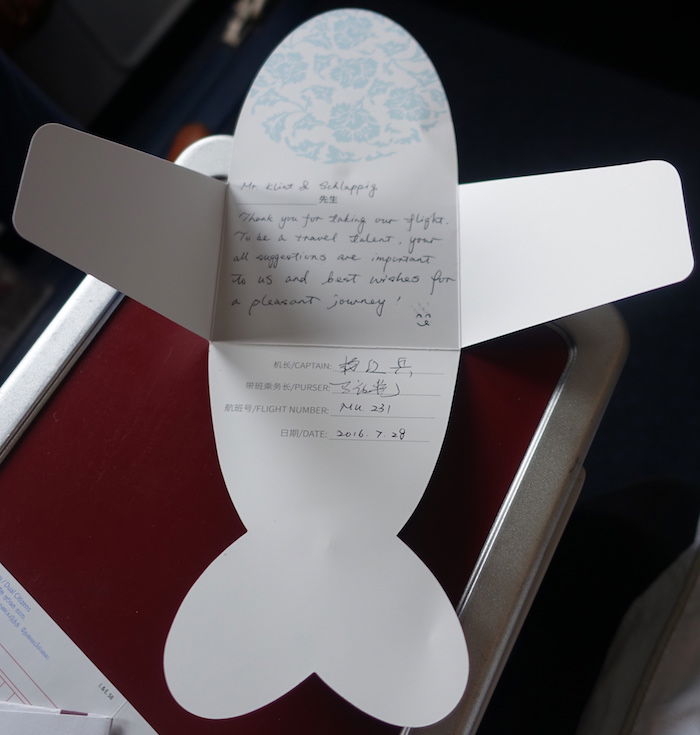 The service was simply flawless, and as good as I've had on any airline. I'll also note that other passengers were getting great service as well, so it's not that they were treating us amazingly well, while ignoring other passengers. None of which is to say we didn't get special treatment, but rather that I'm happy that our special treatment at least led to better treatment for others as well.
What about smoking?
Unlike the last flight, which felt like a smoking room, I don't believe the crew smoked on this flight. A couple of times I smelled cigarette smoke, but that was quickly overpowered by the smell of something like Lysol combined with orange peel. If they did smoke, they at least did a decent job covering it up, so I'll give them the benefit of the doubt.
Obviously we got special treatment, but…
It goes without saying that we got special treatment on this flight, though I wonder what that looked like in practice.
Here's the thing — if management just threatened the crew and said that if they don't do a good job they'd be in trouble, I would have expected that the crew would be smiling and friendly, and perhaps a bit nervous.
But this crew performed their service with such grace and precision, and I really don't feel like China Eastern trains their average flight attendants that well. Did they somehow staff this flight with a "special" crew last minute? If so, do they just have those kinds of crews standing by, or…? It seems farfetched, but the service was so flawless that I can't imagine this was just an average crew on their best behavior.
We tried to see what the crew knew about us, though the only thing the cabin manager said is that "I told my crew that you pay very close attention to the service, so service should be extra good."
Bottom line
I'm amused by this whole situation. The first flight featured a great hard product and horrible soft product, while the second flight featured a bad hard product, incredible service, and terrible food.
Matthew also wrote a post about our experience today, which is a bit more detailed, so check that out.
I'm still trying to decide what to make of all of this…