Hello from Hong Kong! After flying Ukraine International Airlines to Europe and Vietnam Airlines to Asia, my next segment this weekend was from Shanghai to Hong Kong in Cathay Dragon's A330 first class. Cathay Dragon is a Cathay Pacific subsidiary that operates many of their intra-Asia routes, especially to/from mainland China.
This flight was mostly a "check the box" flight for me, because Cathay Dragon has an international first class cabin, and prior to this flight they were only one of three airlines I hadn't flown in first class. Since I'm hoping to fly every airline in international first class by this summer, this was a good opportunity to knock that out.
Only a few Cathay Dragon's A330s have a first class cabin, and they fly them primarily to Beijing, though they also occasionally operate them to Shanghai. I was on one of those Shanghai frequencies.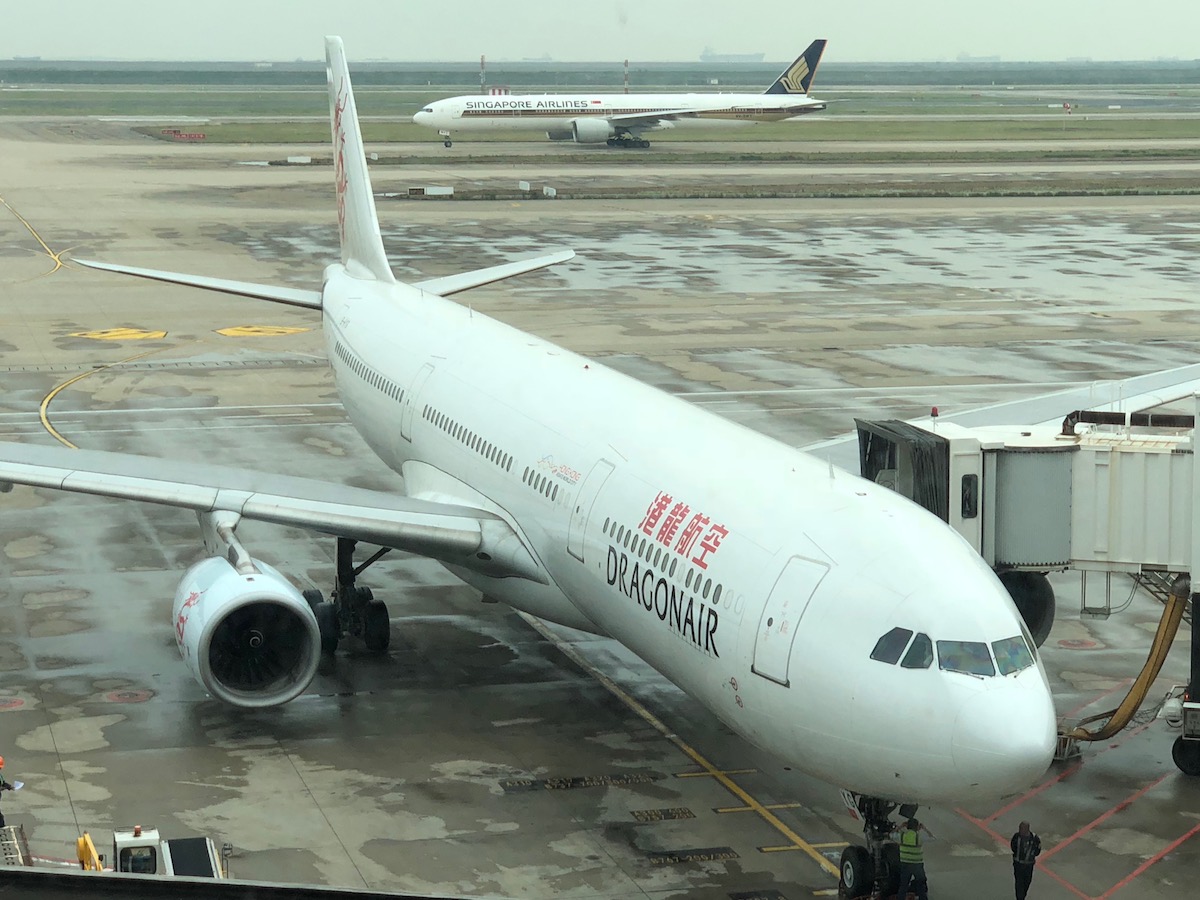 The entire Cathay Dragon experience was fascinating, because it was so similar to Cathay Pacific, yet also different. The Cathay Dragon business class cabin consisted of the same regional business class seats that Cathay Pacific has, which are fine for short flights, but which I'd avoid for longer flights and redeyes.
Meanwhile Cathay Dragon's first class cabin consists of eight reverse herringbone seats, which are identical to Cathay Pacific's longhaul business class seats (minus the finishes). It might seem cheap of them to install business class seats as first class seats, but when you consider that they operate at most three hour flights…
What really blew me away on this short two hour flight was the service. Before takeoff I was offered a drink of choice plus a canapé, consisting of veggies and salmon. Ironically the pre-departure canapé has been eliminated in Cathay Pacific first class. In first class, Cathay Dragon serves the respectable Taittinger Brut Millesime 2008.
For the meal service there was a choice between a Western menu and an Asian menu, and I mixed and matched from the two. To start I had daikon wrapped shrimp with rosemary ginger sauce, which was excellent.
Next up was borsch, which I wasn't expecting to be very good, but it pleasantly surprised me.
I then switched over to the Asian menu, where I had wok fried diced beef fillet with wild mushroom and black pepper sauce, and stuffed scallop with prawn mousse, gong bao sauce, asparagus, and peppers. YUM!
For dessert I had Chinese pudding (coconut milk, red bean, and osmanthus).
To finish off the meal I was offered a warm towel and a box of chocolates, like on Cathay Pacific.
The crew was friendly, attentive, and professional. The only downside to the flight was that the service was so elaborate that I barely had the opportunity to recline my seat.
Cathay Dragon planes don't have wifi, though the entertainment selection was the same as on Cathay Pacific. Rather than calling it "StudioCX" they call it "StudioKA," though. The selection of movies and TV shows was extensive, though the monitor itself was extremely low resolution.
Cathay Dragon really exceeded my expectations. I was expecting this would feel like a second rate Cathay Pacific, but in reality I found an experience that felt every bit as high quality. I'd fly them again in a heartbeat, though their first class is only available on a very limited number of flights.
Their business class just consists of regional seats which I generally avoid, given how many longhaul aircraft with flat beds are operated within Asia, even on the shortest flights.
If you've flown Cathay Dragon, what was your experience like?