We've seen airlines operate some "flights to nowhere" for aviation enthusiasts in recent months due to the pandemic, though this was a different kind of flight to nowhere.
KLM 777 suffers bird strike, returns hours later
KLM flight 515 yesterday (Sunday, February 28) from Amsterdam to Zanzibar was a bit of an adventure, as reported by The Aviation Herald. The flight was operated by a Boeing 777-200 with the registration code PH-BQD. The plane experienced a bird strike on the left engine shortly after takeoff while climbing out of Amsterdam's Schiphol Airport.
While the crew knew there was a bird strike, there were no indicators that there was anything abnormal, so they made the decision to continue the flight (this isn't unusual — I've experienced this before, and I've also experienced a lightning strike where we continued).
While the plane was at 35,000 feet and around 100nm southeast of Athens, Greece, the pilots finally made the decision to return to Amsterdam. Presumably there was some abnormality that caused the pilots to make this decision, whether it be an indicator light finally going off, or something else.
On the return journey the plane's altitude fluctuated, as it initially flew at 36,000 feet, then 28,000 feet (which is quite low), and then it climbed back up to 34,000 feet.
Altogether the 777 spent just under six hours in the air before landing back at its origin airport. Based on the fact that the plane turned around it seems clear there was no immediate danger (or else the flight would have diverted), but that the plane would have likely had to be taken out of service for an extended period of time, which is much easier to do at a hub than a small outstation.
The aircraft has been on the ground in Amsterdam since yesterday. Photos of the plane show some damage both to the fan blades as such, and to the outside of the engine.
The flight ended up being postponed until today, when it operated without a hitch.
Flights to nowhere aren't that uncommon
These kinds of unintentional, extended flights to nowhere happen more often than you might think. On average we see maybe one every month or so, and they can be for a variety of reasons. Heck, I've written about two separate occasions where KLM operated flights to nowhere: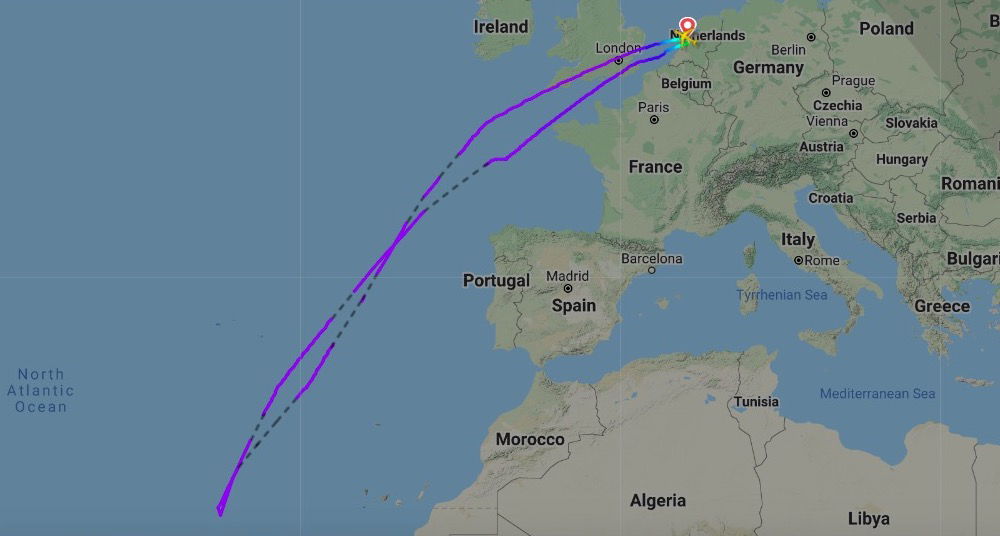 A KLM flight to nowhere just a couple of months ago
Bottom line
Yesterday a KLM Boeing 777 operated a nearly six hour flight to nowhere. The plane had a bird strike on takeoff, but all indicators pointed to there not being any issue, so the plane continued. However, clearly some problems were encountered further into the flight, at which point the crew made the decision to return to Amsterdam.