The terrible situation unfolding in Afghanistan is having quite some implications on aviation, with one flight today being particularly noteworthy.
Emirates' 5hr30min+ flight to nowhere
Kabul's Hamid Karzai International Airport is served by several international airlines, including Emirates, Turkish Airlines, FlyDubai, Air India, and more. With Kabul now being taken over by the Taliban, airlines are canceling service to the airport, as you'd expect. While the United States military is in theory in control of the airport to allow for evacuations, it's a complicated and fluid situation.
One flight in particular stands out — Emirates operates a daily flight between Dubai and Kabul — EK640 departs Dubai at 10:50AM and arrives in Kabul at 2:30PM, while EK641 departs Kabul at 4:20PM and arrives in Dubai at 6:45PM. The 1,048-mile flight is operated by a two-cabin Boeing 777-300ER.
EK640 was on approach to Kabul today when the decision was made for the flight to turn around, for the safety of passengers and crew. 2hr14min after departing Dubai, the plane began its descent from 37,000 feet. The plane then descended to 28,000 feet, where it entered an extended holding pattern, which lasted for about 30 minutes.
At that point the plane once again climbed, and continued its journey back to Dubai, where it landed 5hr34min after taking off from the same airport. You can see this all on a map below.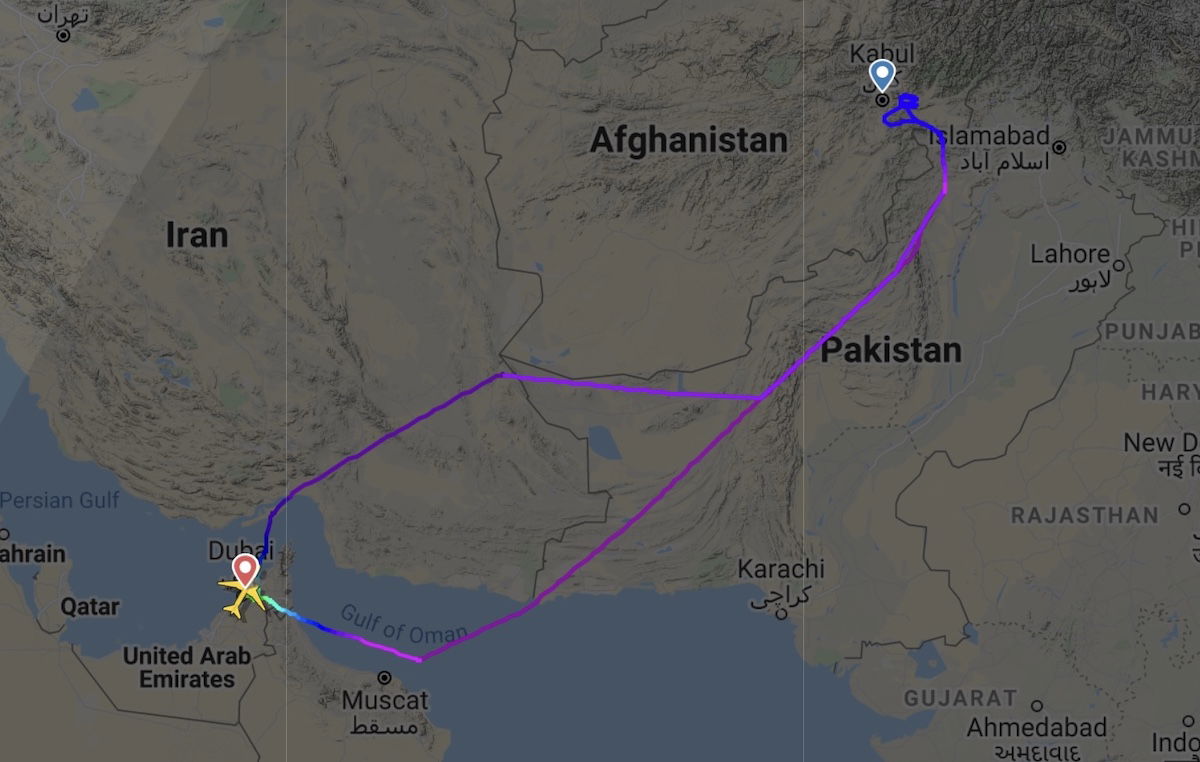 Ordinarily fuel is a concern when you're approaching your destination and need to turn around, though my guess is that Emirates loads enough fuel for the roundtrip as a standard policy on this route. And in the case of a 777 that can carry enough fuel for a 15+ hour flight, it hardly poses any logistical issues to have some extra fuel.
On top of that, Emirates crews do same day turns in Kabul anyway, so this actually shortened their work day.
Even so, this is quite complicated, and presumably wasn't an easy decision — while Emirates looked out for the safety of the crew, I imagine hundreds of people were left behind in Kabul who wanted to evacuate. That being said, if the airline couldn't be assured that the plane could operate safely, it seems like the only reasonable decision for the airline to make.
Other flights were also impacted
Emirates wasn't the only airline that made the decision to turn around enroute to Dubai today. FlyDubai also operates up to two daily flights to Kabul. The early morning flight operated as scheduled, while the late morning flight (FZ305/306) didn't.
The Boeing 737-800 took off for Kabul, but turned around roughly an hour into the flight. The plane ended up landing back in Dubai about 2hr3min after departure.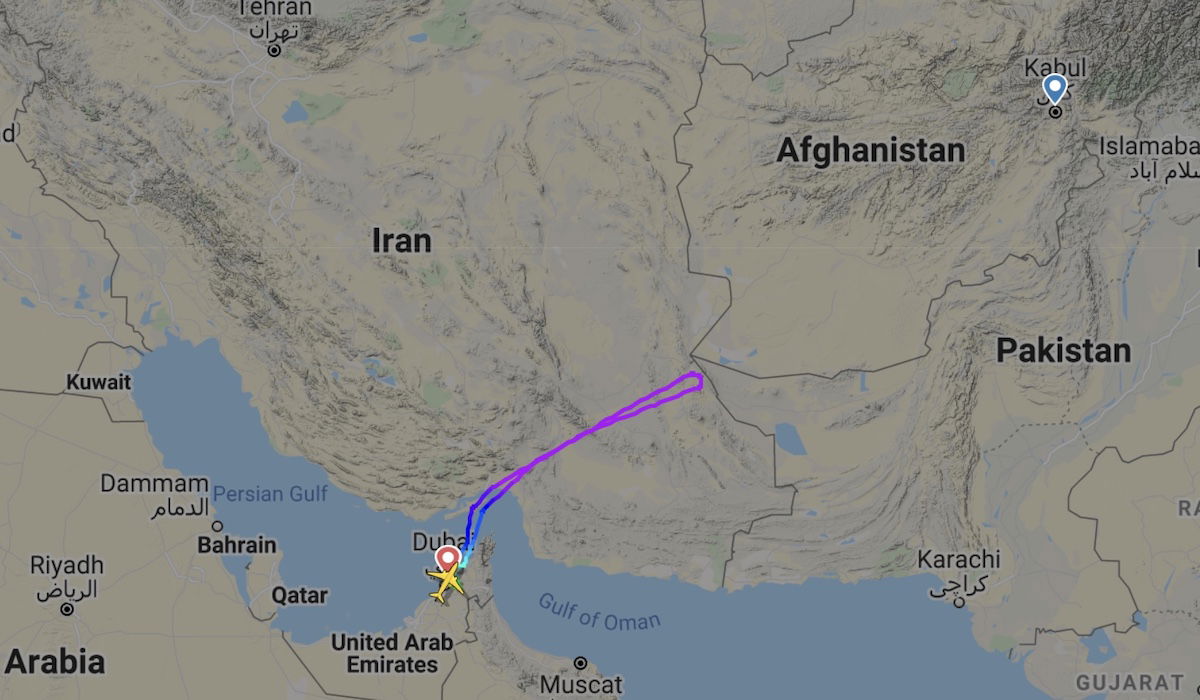 Turkish Airlines operated its daily flight between Istanbul and Kabul (TK706/707) as scheduled — that's because the flight left Istanbul just after midnight and landed in Kabul in the very early hours of the morning, and left Kabul by 8AM.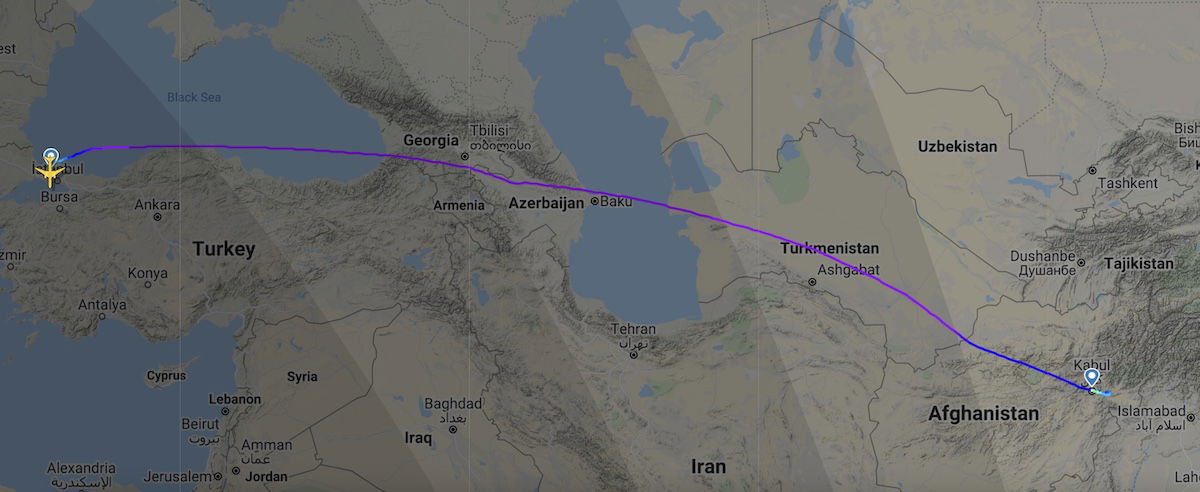 Bottom line
With the situation in Afghanistan rapidly deteriorating, international airlines are canceling their flights to Kabul for the safety of crews and passengers. The most eventful such flight today was Emirates' flight from Dubai, which was on approach to Kabul when the decision was made to turn around, leading to a 5hr30min+ flight to nowhere.