Earlier this year I reviewed KLM's new Crowne Lounge at Amsterdam Schiphol Airport, which is the Dutch carrier's new flagship lounge.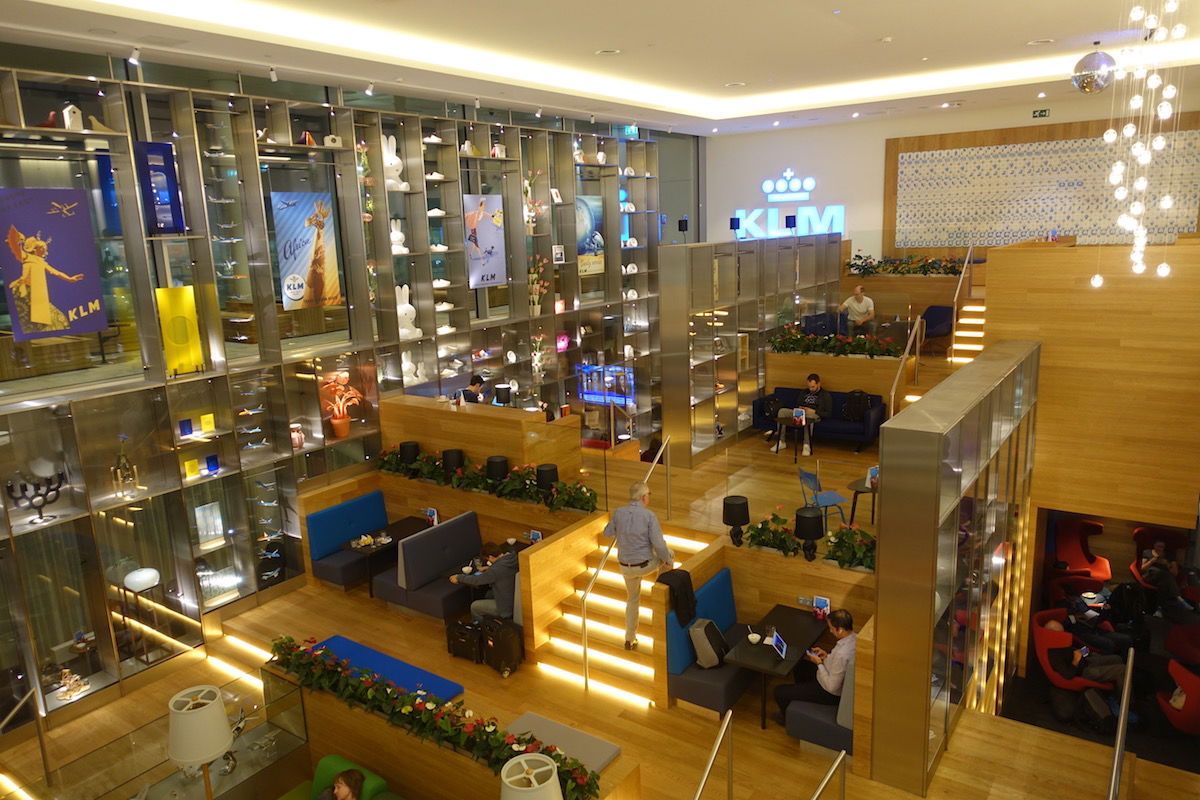 KLM Crown Lounge Amsterdam
The catch is that the airline has been opening the lounge in stages, and while it has been open in some form or another for over a year, up until now the lounge hasn't been fully operational. Well, that has finally changed.
Today KLM has formally opened the completely renovated non-Schengen Crown Lounge in Amsterdam. So at last we have the finished product.
Now that the lounge is finished, it features a total of 6,800 square meters (~73,000 square feet), with about a thousand "full service" seats, as they're calling it. The lounge is about double the size of the original lounge that was in the non-Schengen area.
When I visited the lounge it was really crowded, so I hope now that it's fully operational that's less of an issue (I'd love some data points on that if anyone visits soon).
In addition to features available to everyone, the lounge has a couple of paid offerings.
For one, the KLM Lounge has Blue Restaurant, which is a paid restaurant within the lounge. A Michelin-starred chef is behind the concept. On the one hand I like the option to have access to some sort of premium dining, though at the same time I don't love the precedent of charging to eat in a business class lounge.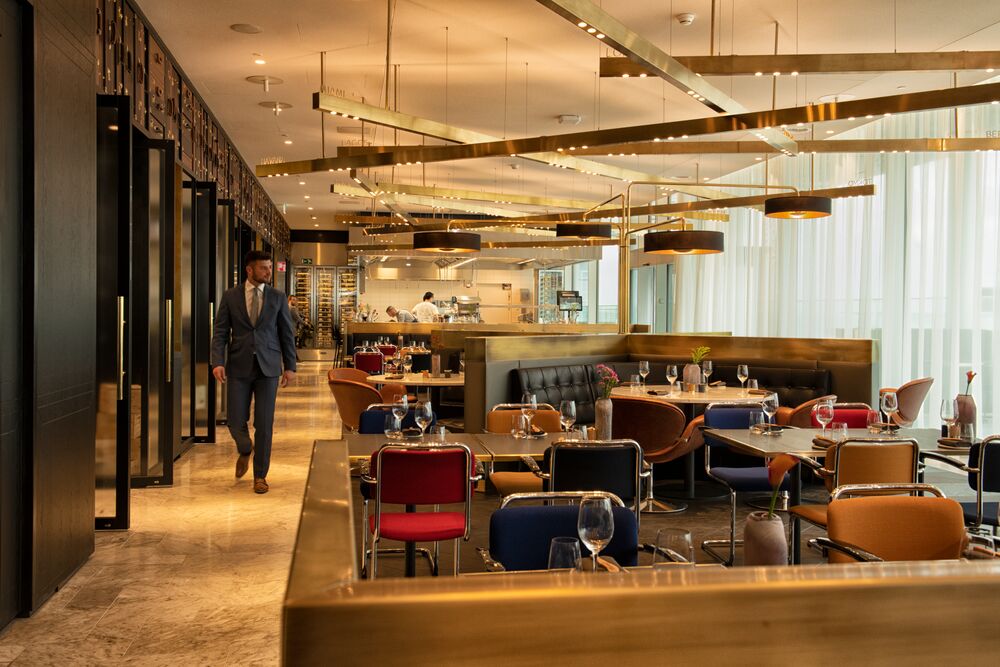 Blue Restaurant KLM Crown Lounge
The KLM Lounge also has paid sleep cabins. You can book in the following increments at the following costs:
Three hours for 49.50EUR (or 12,400 miles)
Five hours for 75EUR (or 18,800 miles)
Please don't redeem miles for this, as it's a horrible value. The sleep cabins are only open when the lounge is otherwise (so you can't overnight here), and you need to have lounge access to book a cabin here. The cabins have queen size beds and 33″ TVs, so they could be a nice place to relax for a long layover.
Originally I believe the lounge was supposed to have a spa, though it doesn't look like that ended up happening — I'm guessing they chose the sleep cabins instead.
Here's how KLM describes the five "Dutch landscapes" available in the lounge, which are supposed to help customers work relax, refresh, eat, drink, find entertainment, and engage in fine dining:
In the Polder landscape, customers can work ideally and relax at the same time. The carpet, decorated in varying shades of green, is reminiscent of the Netherlands' vast pastureland. And a 110-metre LED light wall simulates the Dutch sky. The lighting adapts to the time of day and includes a beautiful sunset.

In the lively City landscape, customers can enjoy "live" cooking, a Heineken Bar, specially designed by Heineken, and a coffee bar with a barista. The new food and beverage concept – characterised by stylish, high-quality, and fresh seasonal products – comes from KLM's partner Vermaat. Reducing waste is an important pillar for both companies to lounge catering.

The Sea offers everything customers need to recharge their batteries during their journey. The area has twenty free showers, which customers can reserve in advance at the lounge's self-service kiosks. The luxury sleeping cabins offer privacy, tranquillity, and comfort – for a fee – using Flying Blue miles, or three hours for EUR 49,50. It's the perfect place to close your eyes and rest during a transfer or a long journey. In the future the showers and sleeping cabins will be equipped with digital allocation systems using QR codes.

The striking Dutch Mountain zone offers visitors a variety of options for working and having fun, from a TV room to a DJ stand for special events. It devotes attention to Dutch design and offers historical attributes from KLM's heritage.

Sky is an exclusive and original area on the second floor. At the explicit request of KLM customers, Sky's high-end setting offers a terrace with a beautiful view of Schiphol Airport. You can enjoy excellent meals and a wide range of drinks in Blue by KLM, a restaurant and adjacent bar for an extra fee. Blue's menu is compiled by Joris Bijdendijk of RIJKS®, the Rijksmuseum's Michelin-starred restaurant. Blue offers a fantastic gastronomic experience, carefully considering individual timing and personal needs.
Bottom Line
The new KLM Crown Lounge sounds like a significant improvement over the old one. When I visited the lounge earlier this year I loved the decor and quirky vibe of the lounge, though it was also really busy.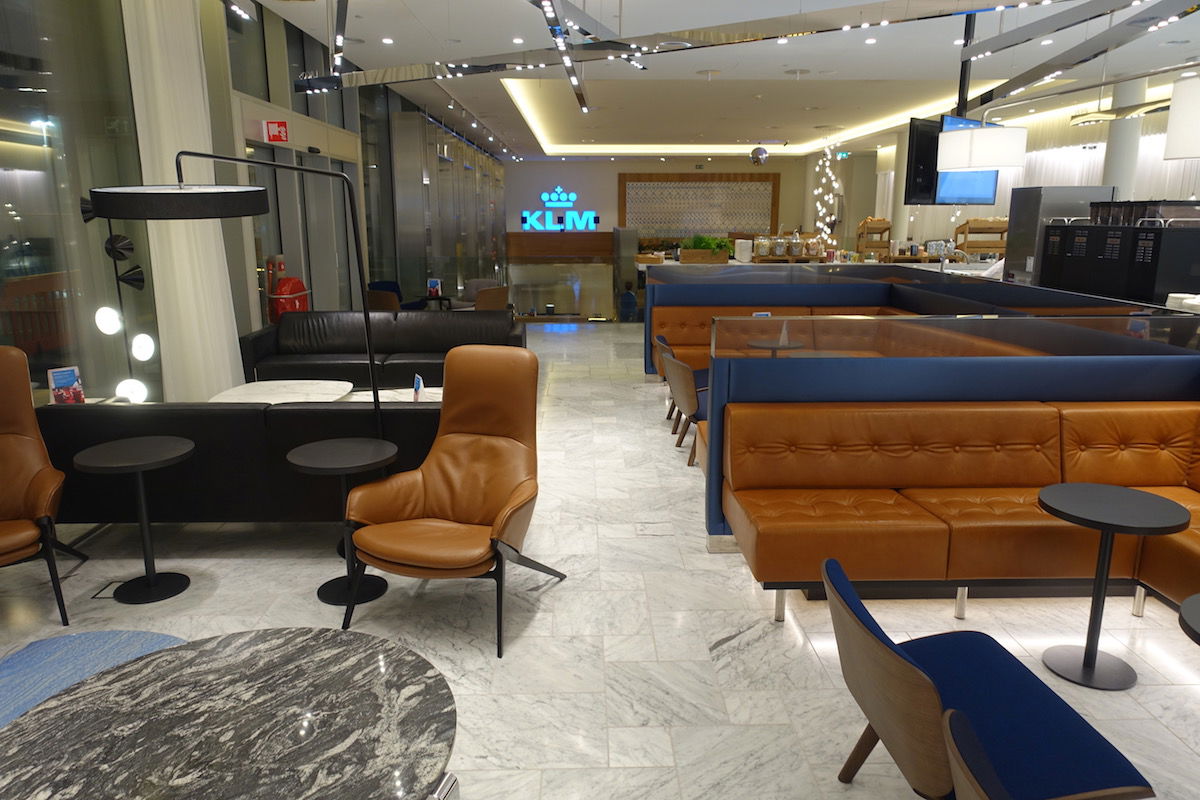 KLM Crown Lounge Amsterdam
I'm curious if the fully opened lounge will make the space feel less crowded.
Has anyone visited the Crowne Lounge recently? If so, what was your experience like?