---
While I've had the privilege to fly British Airways First class on several occasions, this was my first trip on their A380. I'm not nearly the avgeek Ben or Andrew are, but I was still pretty excited.
I don't have much to add to Ben's assessment of the seat and cabin (other than to say that I think the 777 is my favorite of the three BA first class configurations I've flown), but I did want to share my experience with the A380 First Class Tasting Menu.
The tasting menu is exclusive to the A380, and was designed for British Airways by the Langham hotel in London. The concept is geared towards making high-altitude food more interesting and palatable, and the people at BA are quite proud of the science involved in the menu.
I felt like we'd been eating and drinking all day, so wasn't particularly hungry. Selecting the tasting menu might seem like an odd choice in that situation, but a longer service with smaller portions and careful wine pairings sounded more interesting to me.
It was an excellent decision.
To start, the flight attendants were just pickled when I ordered the tasting menu.
Oh, wonderful! You'll love it! May I bring the wine pairings as well? They truly make the meal.
How can it not be a great experience when someone is so excited to share it with you?
I was informed that the tasting menu took a bit longer to prepare ("But it's well worth it!"), so enjoyed the amuse bouche with a glass of Grand Siècle in the meantime.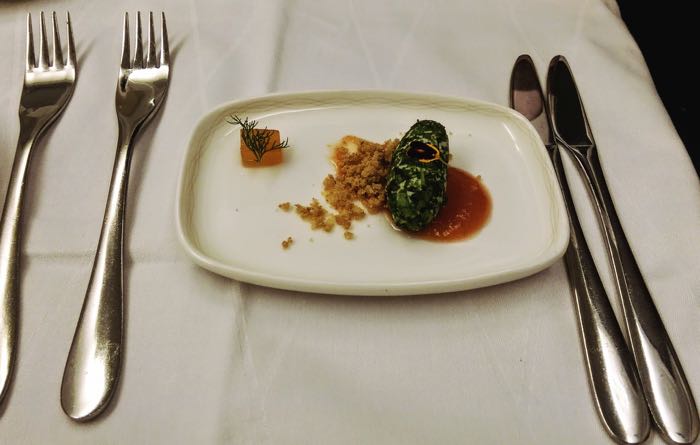 One
Galantine of corn-fed chicken with beetroot, girolles, gingerbread, and golden raisin purée
Wine pairing: Cline Cellars Marsanne/Roussanne 2013, Sonoma Coast, California
I'll be honest, I'm not a food critic, and I don't know what half the words are in that description. But the first course was carefully plated, and quite tasty.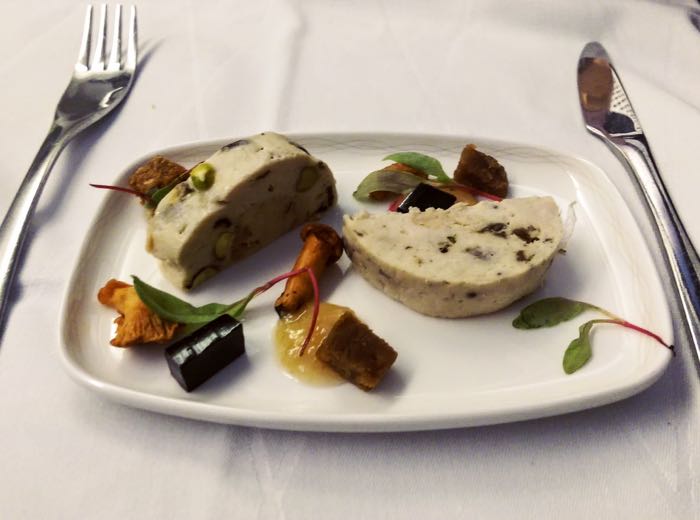 The wine set the flavors of the dish off surprisingly well (I haven't ever had much success with airplane wine), so we were off to a great start.
Two
Lobster consommé with garlic pearls
No wine pairing
The challenge with reviewing a soup course is that there truly isn't a way to make it visually interesting.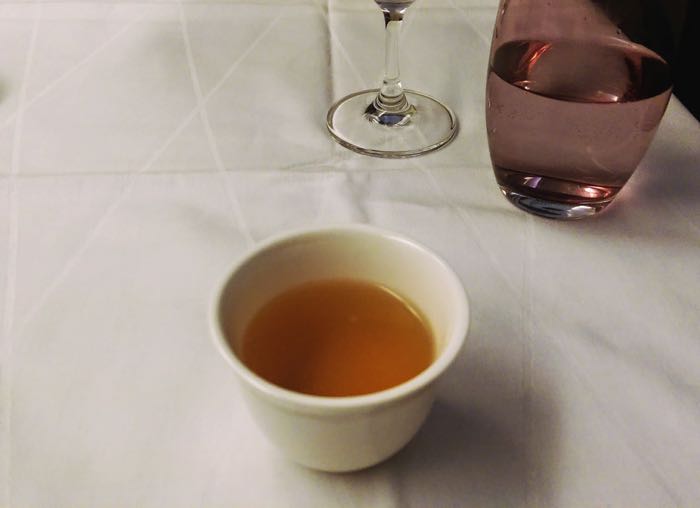 The broth itself was certainly interesting though, with a complexity of flavor I wouldn't have expected. The richness of the lobster gave a depth to the dish, and the small portion was perfect — the consommé was intense enough that I wouldn't have wanted an entire bowl.
Three
Roasted lemon infused halibut with crab tortellini and burnt butter emulsion
Wine pairing: Chablis Grand Cru Bougros 2010, William Fèvre, Burgundy, France
I generally feel the fastest way to ruin fish is to cover it with a cream sauce, but this one was surprisingly light.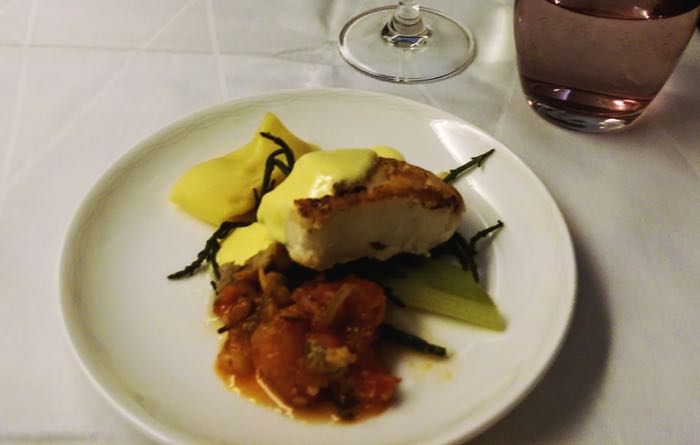 I also enjoyed having just a few bites of pasta to accompany the fish — again, the portion was perfect. This was my least favorite of the courses though (most likely due to personal preference regarding fish and cream).
Four
Fillet of British lamb in a filo roll with pulled lamb stuffed potato fondant, piquillo pepper, courgette and tomato jus
Wine pairing: Château Balestard la Tonnelle 2008, Saint-Émilion Grand Cru Classé, Bordeaux, France
I wouldn't typically expect a dish this complicated to be turned out well in a British Airways galley, so didn't have high expectations for this dish.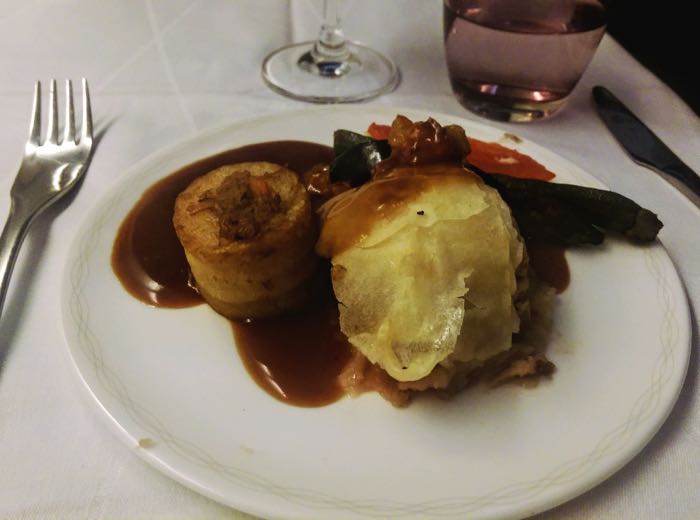 To my surprise, the lamb was also well-prepared, and the filo was neither too flaky nor too chewy. Impressive.
Five
Chocolate and hazelnut cylinder
Wine pairing: Muskat Ottonel Schilfwein 2012, Weingut Willi Opitz, Burgenland, Austria
I don't know how you could go wrong with hazelnut and dark chocolate anyway, and this was as excellent as you'd expect.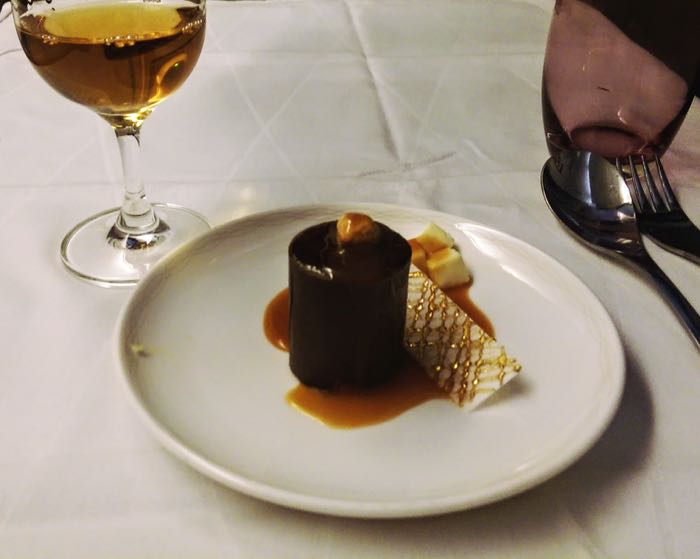 The dessert itself wasn't too sweet, and the bitterness of the chocolate and earthiness of the hazelnuts really came through. I don't typically prefer dessert wines, but the juxtaposition of the strong chocolate and sweet wine was perfect.
Tea
Despite taking my time with the courses — and I'm not a particularly fast eater to begin with, so the rest of the cabin had long-since finished their meal service by the time I got to dessert — this was still quite a bit of food.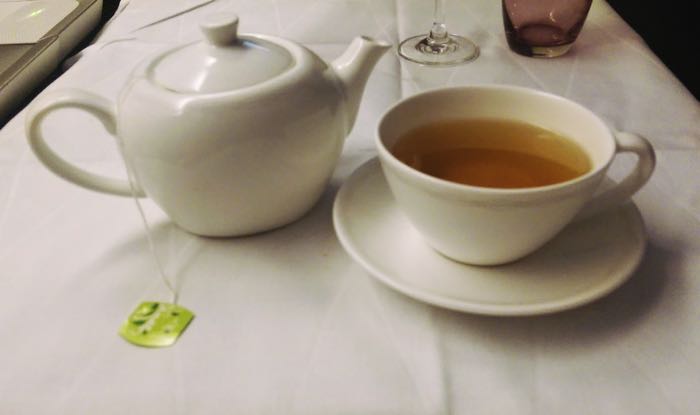 A pot of peppermint tea was the perfect way to finish the meal. Chocolates were offered, but seemed excessive at that point.
Bottom line
I love anything airlines do to set their product or service apart, so I was enchanted with the idea of the A380 tasting menu to begin with. The concept isn't just a gimmick, and I thoroughly enjoyed the meal.
That being said, our crew on this segment was fantastic, took a tremendous amount of pride in the service in general, and were particularly excited about the tasting menu. I don't know that the items would have been prepared with such care by the lousy crew I had later that month on the BA 777, for example.
But as it was, the execution was delightful, and made for a nice change of pace from the typical transatlantic offerings.
Have you tried the British Airways A380 tasting menu? What did you think?