Ben and I have recently been sharing our experiences flying low cost carriers. He and I both flew Spirit for the first time this summer, while I've also had several flights on Frontier over the past few years. I even flew SkyBus during their brief history!
I don't have a problem flying the LCCs at all. I understand their business model, and as Ben said, if you read the rules and understand their game, you can thrive within their system. I know people who swear by flying Frontier, right down to leaving a second wardrobe at their destination so they can avoid checking bags. Other people have a cargo vest which enables them to basically bring the contents of a carry-on without paying the bag fee.
I also enjoy mingling with the clientele on these flights. Spirit and Frontier are basically like public transportation in the sky — SkyBus had the right name, if nothing more — so they attract people from all walks of life which is great. I nearly witnessed a fight break out over a dispute over which line was legitimate at Spirit check-in and Ben heard a few colorful words during his flight.
My point is, those of us with super-elite status can find ourselves in a bubble where we go from premier check-in, to the TSA PreCheck lane (or Clear) security, to the airport lounge, to priority boarding, to our first class seat, to Global Entry immigration, all without interacting with anyone that isn't just like us. There's nothing wrong with that, but I think it's good to stay grounded once in a while by seeing how the other 99% of the population flies.
That said, I still tend to avoid low cost carriers for one simple reason.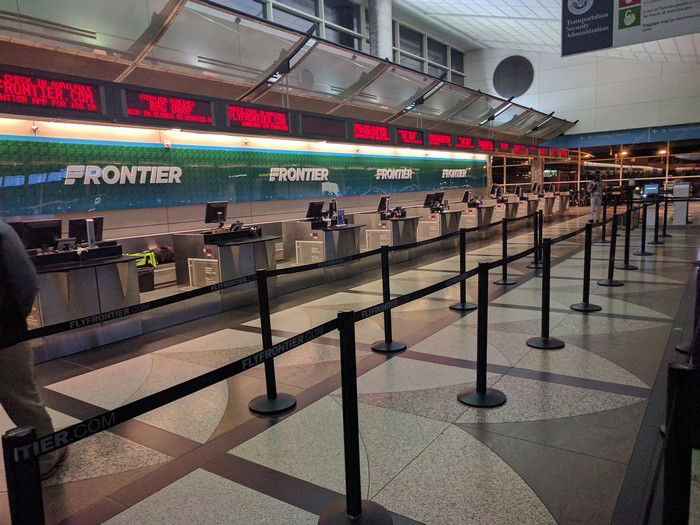 Irregular operations such as flight delays and cancellations are a daily occurrence on pretty much every airline.
Some carriers may have a better or worse record than others, but if you fly enough, you'll eventually find yourself waiting at the gate for a delayed flight no matter who you fly.
Not all IRROPS are even the fault of the carrier, as weather or airport congestion can impact everyone flying through a region. In the past few months alone I've had a 5-hour delay on Frontier when the pilot called in sick and a 3-hour delay on United due to a mechanical. And those are just the ones I can remember off the top of my head.
IRROPS are bound to happen no matter who you fly — the real difference is in how airlines recover from them. In my experience, legacy carriers are simply far better equipped to deal with irrops than low cost carriers, for two main reasons.
The size of the network matters
American, United, Delta, and to as lesser extent Southwest each operate a dense hub-and-spoke network of flights within the United States. That gives them a lot of redundancy to reroute you if they experience weather or operation difficulties with a particular flight.
Say you are flying from Detroit to Boston like I was earlier this summer. Delta, JetBlue, and Spirit all fly that route non-stop. Spirit has one flight per day, JetBlue maybe three, and Delta about seven. If you are flying Delta and something happens to your flight, they can easily move you to the next flight. That's true of JetBlue as well, but to a lesser extent.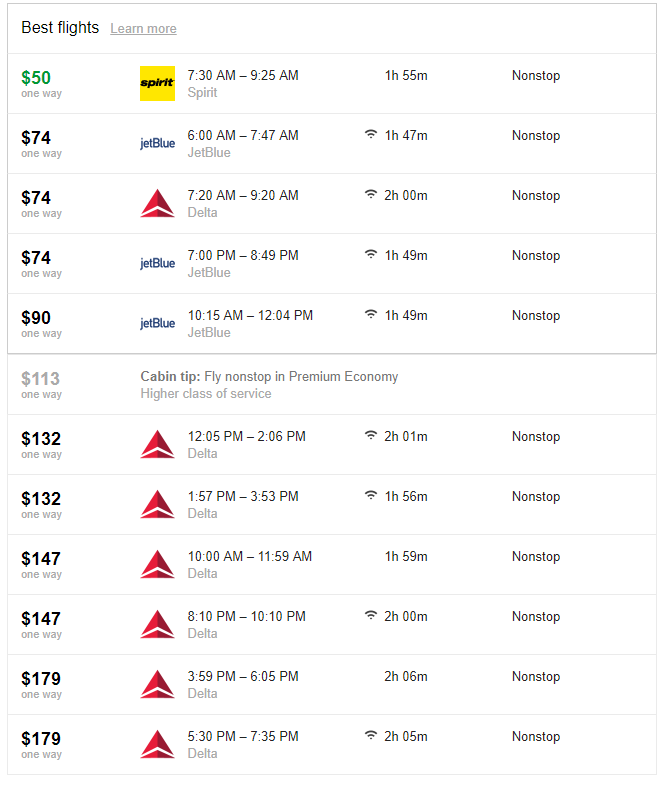 Non-stop flights from Detroit to Boston
Meanwhile, if your Spirit flight gets canceled, you are most likely going to have to wait until the next day, or get a refund and buy a walk-up ticket on another carrier.
It's not just about the number of daily frequencies
Now imagine that your Delta flight from Detroit to Boston cancels, but all of the other Delta flights that day to Boston are already full. Because Delta operates a dense network, they can route you via New York LaGuardia, or even Atlanta.
You might not prefer the added connection and the longer travel time, but they'll get you to your destination on the same day. Here's Delta's route map, for example.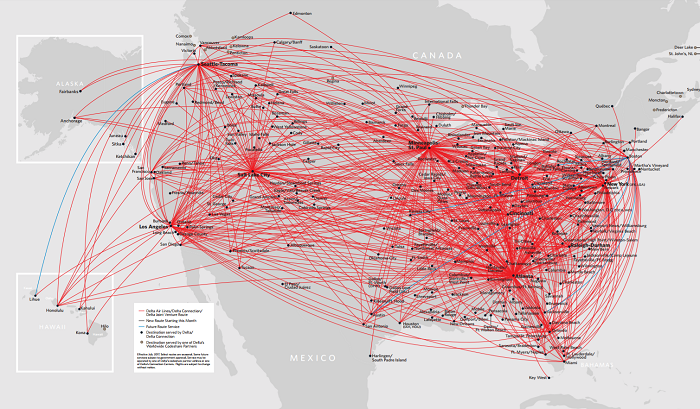 Delta route map
Spirit's network just doesn't have the same redundancy.
And in fact, their route map probably overstates their redundancy since I expect that most of the lines coming into a destination aren't actually timed well for connections.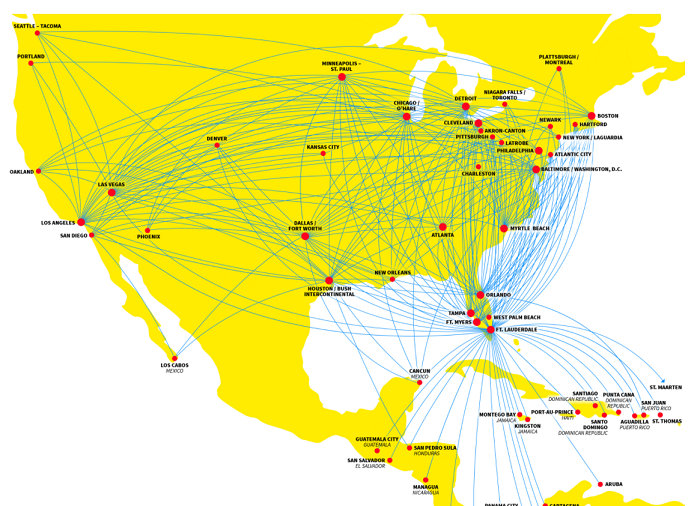 Spirit route map
In short, flying is like routing packets of information through the internet — the shortest route may not always be the fastest route given the congestion or equipment currently operating.
The most reliable networks are those that offer a significant degree of redundancy and can adapt on the fly to changing conditions. Low cost generally don't have alternative routing options to get you to your destination since they tend to operate point-to-point routes which were specifically selected to pick off the most lucrative routes of network carriers.
That's all fine and dandy when the sun is shining, but when the stuff hits the fan….
Most low-cost carriers lack interline agreements
The low cost carriers tend not to play with each other or the network carriers — they tend to operate in their own little world as though they are the only airline that exists. That's just part of their business model, and helps them keep costs low.
The legacy carriers, on the other hand, generally have some form of interline agreements between themselves. That means, for example, that if you are flying United from New Orleans to Oklahoma City via Houston and your first segment is delayed, it's pretty easy for the counter agent to move you over to American via Dallas.
Now don't me wrong, this form of mutual cooperation is no where near as good as it once was. As airlines have gotten bigger and bigger through consolidation, some — <cough> Delta <cough> — have taken more of a go-it-alone approach. But it's still better than nothing in most cases.
About 10 years ago, I was scheduled to fly from Boston to Denver on JetBlue for a weekend trip to see my girlfriend. My flight got cancelled and they couldn't rebook me until two days later because the next day's flight was already full. So it would essentially turned into a trip in vain.
If JetBlue had an interline agreement with United, they could have easily moved me to one of their several non-stop flights. But instead, there was really nothing I could do but take a refund and go home. (Don't worry, she still married me a few years later.)
Bottom line
I really appreciate what low cost carriers have done to bring down the cost of airfare. I love how they have brought flying to the masses by offering rock bottom fares that are accessible to a larger segment of the population. I also don't mind their fees and schemes as it's all part of the business model, and if there's one thing I tend to be good at it, it's figuring out how to maximize my opportunities within someone else's system.
But all that aside, I tend to avoid low cost carriers because I understand the statistical value of network redundancy. I'm willing to pay a little more — though not always a lot more — to increase the chances that I'll get to my destination on time, or in some cases, at all.
Do you worry about the lack of redundancy when flying low cost carriers?