I like to think that having flown over a million miles, I'm at least decent at figuring out what to do when things go pear-shaped. I'm reasonably savvy at using the available tools to find my own alternatives, and have enough experience to anticipate how things are likely to turn out.
But sometimes it's still hard to decide what to do.
Now this story isn't anywhere near as entertaining — or extreme — as when Tiffany routed through Europe to get from Los Angeles to New York during a snowstorm, though I imagine more than a few of you have faced something similar.
So I'm curious as to how you would have handled it.
My original itinerary was a nonstop
I was scheduled to fly from Denver to Orlando on a United nonstop flight, departing a bit after 8:00AM and getting in just before 2:00PM.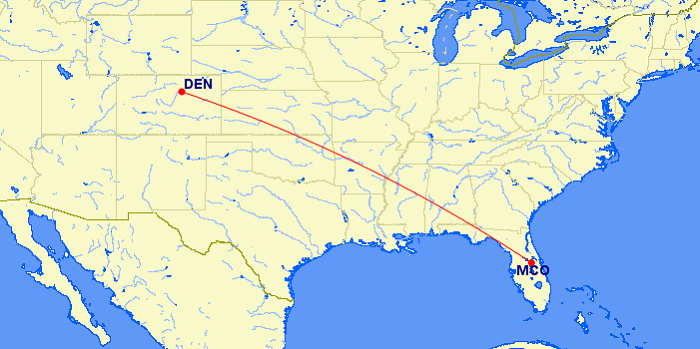 Denver to Orlando (GCMap.com)
I got to the airport, made it through security, and settled into the lounge. Only then did I get the call that my flight was going to be delayed by two and a half hours due to the dreaded aircraft maintenance.
I say dreaded because in my experience not all delays are created equal. If you're waiting for an inbound aircraft to arrive, you can check to see when it left — assuming that it has — and be reasonably assured that they'll be able to turn the plane around 30-60 minutes after it arrives. Same if you're waiting on crew. Those delays are fairly predictable.
But aircraft maintenance is something that I've seen drag on and on. They might not have realized the severity of the problem, don't have the right parts, keep finding other problems, or who knows what. And that can make it hard to predict how long it will take to fix. I've seen delays on United due to maintenance start out at 15 minutes and slowly turn into three hours, a quarter hour at a time.
Anyway, I didn't necessarily need to be in Orlando promptly, but I also didn't especially need to sit around the Denver airport. So I figured I'd start looking for alternative options.
An alternative with a connection in Houston
The next United nonstop flight was leaving an hour or so later than mine at around 9:30AM. That clearly would have been the most logical choice but alas, it was fully booked.
Then I noticed that there was a connecting option via Houston that was leaving around 8:30AM. It ultimately wouldn't get me to Orlando until 4:30PM, roughly 10 minutes after my delayed flight was projected to get in.
So I could switch to that, but would I really gain anything? Or would I actually get in later?
At this point, the decision seemed to come down to just how much I trusted United's estimate of the delay. If I believed that the flight would depart as projected, staying the course would be the best alternative.
But if they ended up being wrong…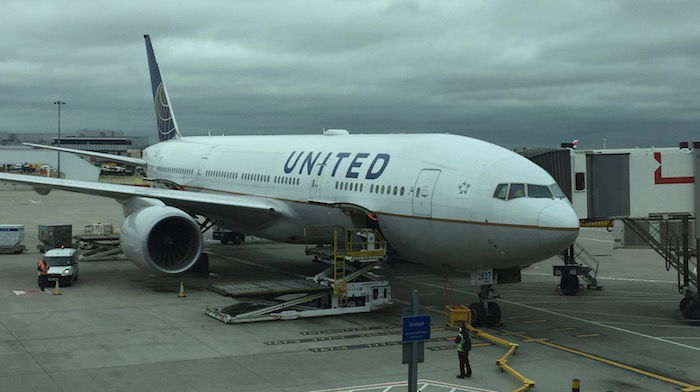 Comparing the secondary factors
Since I was having trouble deciding, I started thinking through the various other factors that were in play.
On the delayed flight, I had a prime aisle bulkhead seat, which I consider equivalent to the exit row on United, thanks to the bulkhead not going all the way to the floor. So swapping to some middles in the back wouldn't be appealing.
But sure enough, there were exit row aisles or windows on each of the alternative flights, so the seating would be roughly the same. The upgrade chances were slim, but then again, they were on my delayed flight too. So all of that was a wash.
And finally, not that it should matter much, but if I stayed in Denver for the 2.5 hours, I could work in the lounge. If I took the connection, I could have lunch at the Amex lounge. That had me thinking about chicken thighs. And chorizo gravy.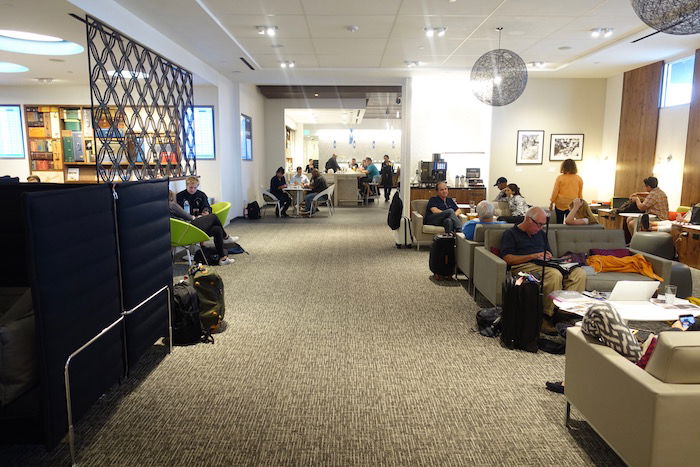 Amex Lounge Houston
In the end, I decided to take Tiffany's advice for IRROPS (and a zombie apocalypse for that matter), and keep moving rather than stay put.
Taking action always seems to feel better than just accepting your fate.
So how did it turn out?
Shortly after I boarded my flight to Houston, I checked the app and noticed that United had swapped equipment for my delayed flight. Apparently they were no longer waiting to fix the plane, but rather for another flight to come in. Had I known that before boarding, I would have probably stuck with the original.
And indeed, the delayed flight got to Orlando at about 4:15PM, just as projected.
I, however, wasn't so lucky. My Houston to Orlando flight ended up being delayed by 30 minutes, so we didn't actually arrive until close to 5PM.
So I basically saw my delay and then raised it by close to an hour.
Now I'm curious, what would you have done in this situation?