First, let me say that I'm not the biggest fan of Valentine's Day or other Hallmark holidays, but there are a few times in your life when it can be worthwhile to go with the flow. And for me, that was ten years ago when I managed to pull off the biggest Valentine's Day surprise of my life for my then girlfriend, now wife, by flying in unannounced halfway across the country to meet her for dinner.
Looking back, I kind of laugh at the crazy things that I did like that as a young man in love. But it was fun. And given that that girl became my wife, it apparently worked.
The backstory
Amy and I had been dating long distance for about six months when Valentine's Day rolled around. She was in Denver, I was in Boston. We'd each flown a bunch of trips to see the other by that point, and were fairly serious, but we mutually decided that since Valentine's Day fell on a Wednesday that year, it didn't make a lot of sense for one or both of us to take off work just for that silly day. So I would fly out the following weekend and we'd celebrate then.
Or at least that's what I led her to believe.
I hadn't had too many girlfriends at that point in my life and I was sort of thinking that she might be the one so I wanted to make our first Valentine's Day special.
My surprise Valentine's Day plan
I booked myself a ticket to Denver to arrive on the evening of Valentine's Day, just in time to meet her for a late dinner. Booking the ticket, it turns out, was the easy part.
I didn't want her to think she was going to sit at home by herself on Valentine's Day so I arranged with Jen, one of her single girlfriends, to plan a mock date for the two of them. Acting as my stunt double, Jen suggested that the two of them get all dolled up and head out to a steakhouse which she had a gift card for. Jen concocted some excuse for why it needed to be a late-ish dinner — around 9 PM — and it was set.
Of course, she wouldn't be the one showing up.
For my part, I needed to make the day special for her from afar so she would still feel like I remembered the day even though we wouldn't be together. So I sent a Valentine's gift box to her office with a note on it that said Do Not Open Until Valentine's Day. I figured that would keep her occupied and keep up the illusion that I wasn't going to be there. It was nothing special, just your typical silly, sappy Valentine's stuff like a stuffed bear, an "I Love You" Mug, some chocolate, and a mix CD.
Apparently, it was well received.
Delayed but not deterred
Everything was going just fine until it decided to blizzard in Boston and the rest of the east coast. By Wednesday evening, flights were still getting out of Boston Logan but there were delays all over the place.
And I had allowed myself almost zero buffer. I needed to land in Denver, rent the car, and drive about 30 minutes to meet her for dinner.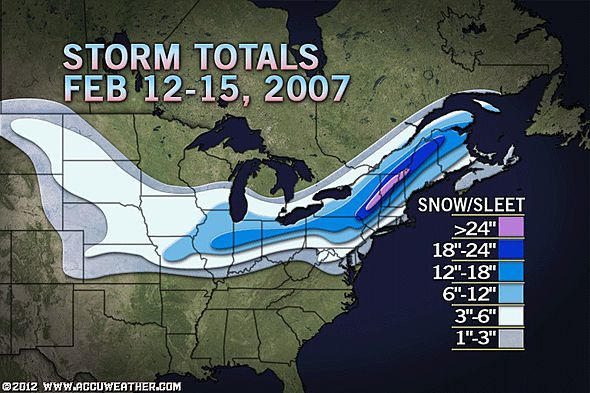 Storm totals from Valentine's Day blizzard 2007 (from Accuweather.com)
By the time I got to the airport, my flight was delayed by about four hours which obviously wasn't going to work. My heart sank. I hadn't met Tiffany yet — OMAAT itself was still a year away from launch — or else I might have asked her to reroute me from Boston to Denver via London. 😉
Instead, I noticed that the Denver flight prior to mine had also been delayed and was now scheduled to take off about the time that mine was originally scheduled. And as luck would have it, there was one seat left. The gate agent was even willing to move me to it. Except there was one one small problem.
I was flying to Denver in February so of course I was bringing my skis. And bags have to fly with the passenger. You absolutely cannot under any circumstances voluntarily separate yourself from your bags. Period.
Unless you sweet-talk the gate agent.
About how the love of your life is at the other end of this flight and if you don't get on this plane she's going to get stood up on Valentine's Day. And she'll blame United, vow never to fly your airline again, and certainly not go on to become a United Million Miler.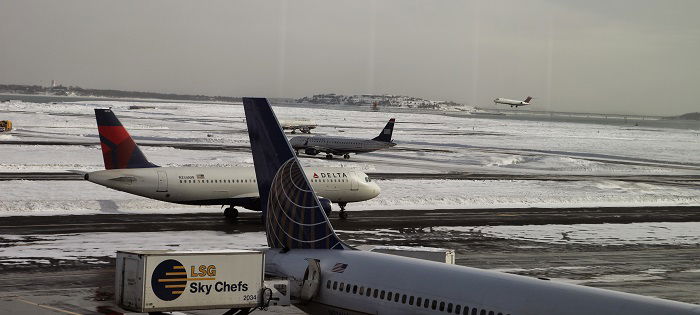 Boston Logan In The Winter, But Not 2007
Actually, I have no idea what I said, but whatever it was, it worked. I was soon sitting on the one plane that could get me to Denver in time for Valentine's Day dinner.
Success at last
I got to Denver, slightly later than planned, but I was there.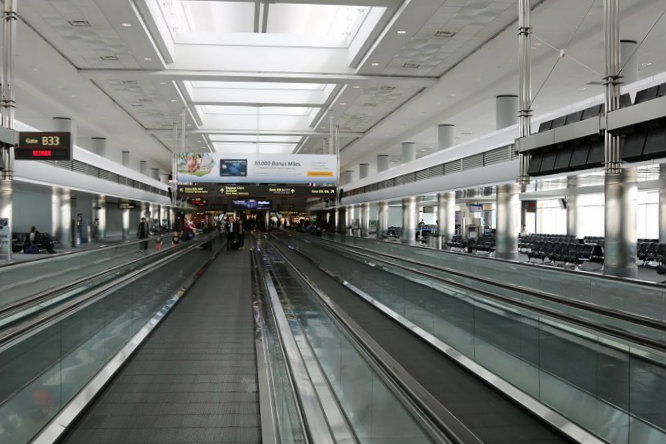 I had called Amy around noon to wish her a Happy Valentine's Day and to tell her I would be out-of-pocket until the evening as we were entertaining visitors at work (not true). So while I was on the bus to get the rental car, I gave her another call to tell her I had had a long day (true!) and was about to go to bed (not true). I wished her a wonderful evening with Jen and we said goodnight.
About a half hour later, I rolled into the parking lot. I headed into the restaurant and there she stood at the hostess station. I walked up, put my arms around her from behind, and whispered in her ear "what's a beautiful girl like you doing out out alone on Valentine's Day?"
Have you ever flown to surprise someone on Valentine's Day? How did it go?