Avatar Airlines, America's most promising airline startup, has just made an incredibly generous offer to British Airways. Once accepted by British Airways (which surely it will be), this has the potential to change the aviation landscape in the US forever.
What is Avatar Airlines?
There's not all that much innovation in the US airline industry, and that's where Avatar Airlines stands out. Avatar understands that the key to success is to differentiate oneself.

Avatar Airlines 747 buzzing a beach
Avatar Airlines plans to fly Boeing 747s domestically in all kinds of markets, operating as a low cost carrier. The airline plans to be a flying billboard (I've heard marketing towards birds is extremely lucrative), and the airline will even offer an annual membership where you pay a fee and then get unlimited flights bookable within 72 hours for just the cost of taxes and fees.
Avatar Airlines' exceptional management team has been working on launching the airline since 1992, but we all know that starting a world class airline takes time. But don't worry, they're almost there, and the airline plans to start flying by next year.
Obviously coronavirus has been a bit of a setback, and months back the airline even requested funding through the CARES Act, intended to provide up to $50 billion in support to struggling airlines (and yeah, who said airlines need to actually have airplanes?).
Anyway, there's good news. If you're someone who has questioned Avatar Airlines up until now, that's all about to change.
Avatar Airlines wants British Airways' 747s
British Airways has just retired its fleet of 26 Boeing 747-400s, and there's fantastic news for British Airways — Avatar Airlines wants those planes, and it's willing to offer British Airway equity in exchange for them.
With Avatar Airlines' brilliant proposal:
Avatar Airlines wants British Airways to give it 26 Boeing 747-400s
In exchange, British Airways will own a 22% stake in Avatar Airlines; this comes in the form of 11 million preferred shares, valued at a cool $165 million (of course the airline is worth $750 million, why do you ask?)
Naturally, remaining shares would then sell when investors realize what a great opportunity this is, and that would cover the working capital needed to start operations
While British Airways is probably already prepared to sign on the dotted line, the deal gets even better than that:
Avatar Airlines will give British Airways the privilege of providing maintenance for its 747 fleet
Avatar Airlines and British Airways would have a codeshare agreement, so that Avatar Airlines could provide British Airways with feed at its US gateways
Now, British Airways might already have a transatlantic joint venture with American Airlines, which provides said feed along with revenue sharing opportunities. But American also simply can't do what Avatar Airlines can. Sure, American may have hubs at many of British Airways' US gateways, but there are so many markets where it doesn't.
For example, British Airways operates a seasonal London to Charleston flight. American only flies to Charlotte and Dallas from there. But think of all the destinations that Avatar Airlines could serve with 747s out of Charleston, ranging from Albany to Trenton.
As the letter so beautifully concludes:
"There's an expression 'the whole is worth more than the sum of its parts' and that's exactly how we both need to look at your 400s. COVID-19 created some horrific consequences, but this will be the golden goose of a lifetime left in its wake."
And this is only the beginning of Avatar Airlines' journey. The airline will then order brand new Boeing 747-8s, as the airline believes Boeing will restart production of the plane with such a big order:
"Avatar's financial plan calls for onboarding a fleet of thirty 747-400s during its first three flight-operational years and transitioning to the Boeing 747-8 by means of an IPO at a time when the company is cash-rich, well-branded and loved by the public. (I have no doubt that Boeing would love to put the Dash 8 back into production if it had a cash buyer with an order for 30 additional aircraft)."
The one problem with Avatar Airlines' business model
Look, Avatar Airlines' business model is incredible, don't get me wrong. But I do think the airline is making one mistake — why not go for A380s instead? They're higher capacity, and several airlines are retiring these planes right now. Think about it:
Avatar Airlines could acquire A380s from Air France and Lufthansa, and start providing those airlines with feed in the US (they don't really need Delta or United, anyway)
Then Avatar Airlines could help Airbus restart A380 production, and keep it going until the end of times
If the A380 becomes popular again thanks to Avatar Airlines, then maybe Emirates will acquire Avatar Airlines, and then Emirates can start domestic US routes
That's how all of that works, right?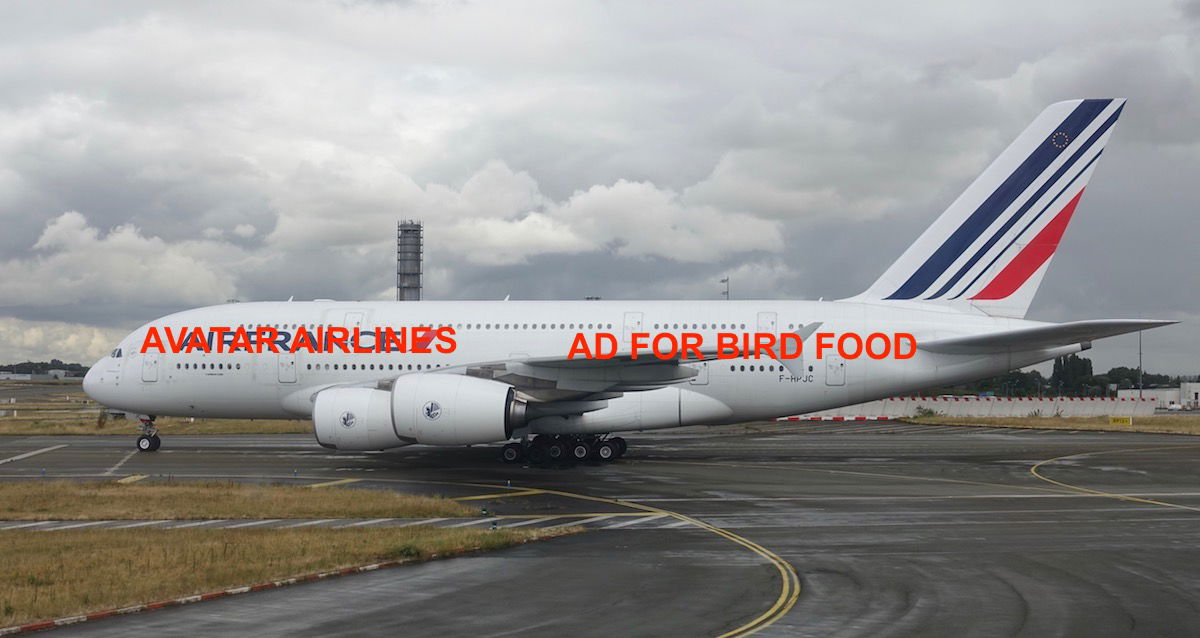 I'm considering a career in graphic design
Bottom line
After nearly 30 years of planning, Avatar Airlines intends to launch operations by next year. In many ways conditions are perfect for Avatar Airlines now — with British Airways retiring its 747s, Avatar Airlines can just take them over, and in exchange give British Airways an equity stake.
But it goes beyond that, as there's so much potential if the two companies work together. For all we know, British Airways could drop its joint venture with American Airlines, instead allowing Avatar Airlines to use its 747s to provide feed at US gateways.
I hope flights go on sale soon, because I am oh-so-definitely booking the inaugural flight.
(Tip of the hat to @IshrionA)