Hello from Incheon! I just took the 13-hour flight on the Asiana A380 from Los Angeles to Seoul Incheon. I've flown this route before in first class, though this was my first time trying Asiana's longhaul business class product. In this post I wanted to share my initial impressions, though I'll have a full trip report soon (I'm doing this preview post in a different format than in the past, so please let me know what you guys think):
Asiana A380 business class seats
Asiana has a staggered configuration in business class on their A380s, so seats are in a 1-2-1 configuration. Window seats alternate between being closer to the window and being closer to the aisle. I swear I assigned myself a "true" window seat, but somehow I ended up in one of the seats closer to the aisle, which are much less desirable. Oops.
Ultimately this is a decent hard product, though not great. Personally I prefer Apex Suites, reverse herringbone seats, etc. While the "true" window seats are solid, the rest of the seats just aren't as good as what else is out there.
I also don't find Asiana's cabin finishes to be especially inspiring.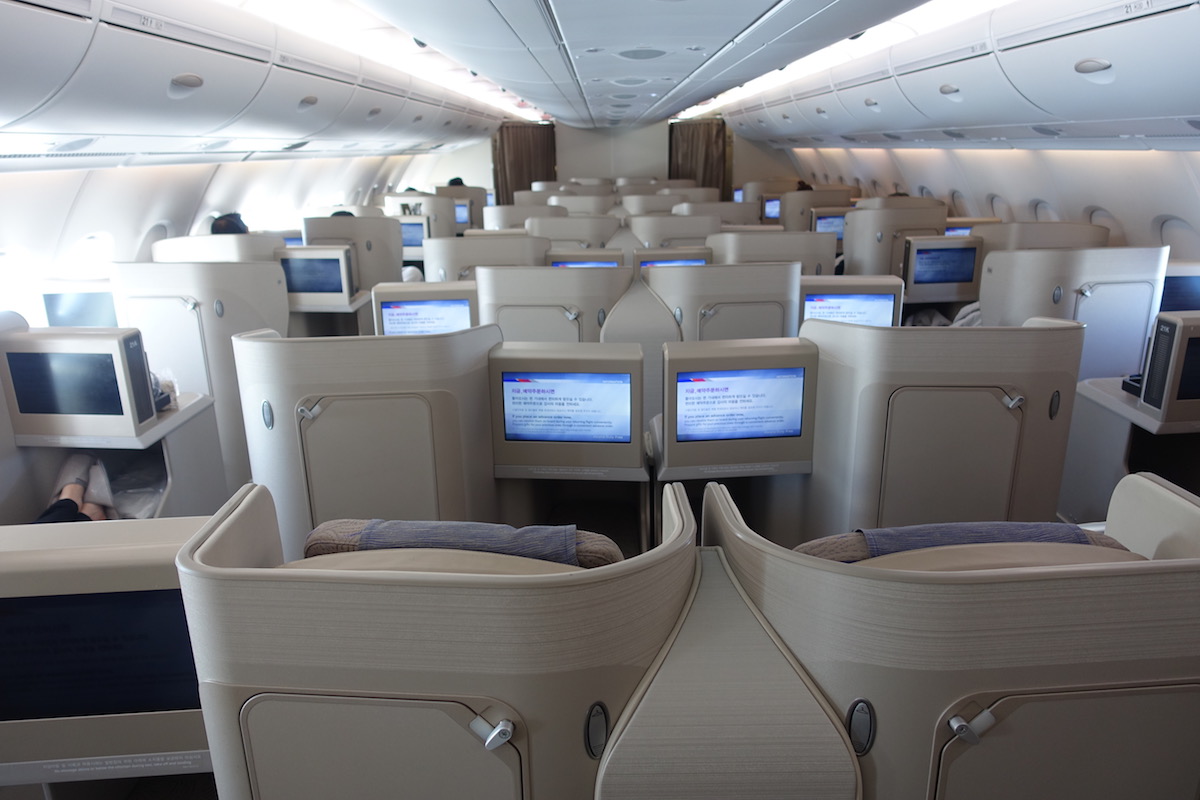 Asiana A380 business class entertainment
For my purposes the entertainment was excellent. They had about a dozen episodes of Hawaii Five-0, and I binge watched. Other than that, the selection is fairly limited. For example, there are only about 20 Hollywood movies.
My bigger frustration is that Asiana doesn't have wifi, which I personally value.
Asiana business class food & drinks
The food and drinks were solid overall. I thought the presentation and quantity of food was great, while the quality was good though not amazing.
I selected the western meal for lunch after takeoff, which started with prosciutto, vegetables, and melon.
That was followed by zucchini soup.
For the main course I had grilled salmon with pesto cream sauce, mushroom risotto, and vegetables. While the accompaniments were great, the salmon itself was dry.
Then there was a cheese plate.
Lastly there was cheesecake for dessert.
Laurent Perrier champagne was on offer in business class, which I like.
Asiana business class amenities
Business class passengers receive a pretty basic L'Occitane amenity kit. While I like the brand as such, I thought the kit was missing some basics, like lip balm, which almost all airlines have in their amenity kits. There were also flimsy slippers and good headphones.
My biggest frustration was with the bedding. Business class passengers get one tiny pillow. The blanket wasn't great either, though it was sort of a blessing that it was light, given that the cabin was kept quite warm.
In terms of A380 specific amenities, Asiana has two couches at the front of the cabin, though there's no extra service there. I never saw anyone use them during the flight.
Asiana business class service
The crew was incredibly well intentioned, charming, and efficient. The service was the highlight of the flight, as all of the flight attendants were great. They weren't just attentive during meals, but also between meals kept checking to see if anyone wanted anything to eat or drink.
Where does Asiana business class rank?
Asiana business class is a solid option that I wouldn't avoid, but I also can't say I'd seek it out. In terms of transpacific airlines I've flown, taking into account the overall product I'd say it ranks behind China Airlines, EVA Air, Japan Airlines, and Korean Air (at least on their 747-8s and 777s with the new business class).
It's an all around fairly well rounded product with phenomenal service, it's just that I think some other airlines do better when it comes to bedding, wifi, hard product, and other amenities.
If you've flown Asiana business class, what did you make of it?