On Tuesday I wrote about the US Airways Trial Preferred program, which is hands down the best way to earn top tier status with US Airways (and now by connection, with the new American).
It's one of the few "shortcuts" to top tier elite status, so understandably there were many questions.
Many, many, questions. 😉
Between the original post, Ask Lucky, Twitter, Facebook, and my email, I've received literally hundreds of questions clarifying how the program works, so I thought it would be helpful to consolidate everything into one place.
Trial Preferred Overview
As a refresher, through a US Airways status challenge, you can get a fast track to status based on how much flying you do in a 90 day period.
US Airways gives you the status upfront, and there are fees associated with the trial:
Dividend Miles Silver Preferred status costs $200
Dividend Miles Gold Preferred status costs $400
Dividend Miles Platinum Preferred status costs $600
At the end of the 90 day period, your status is based on how many miles you flew, as follows:
Silver: Fly 7,500 miles or 10 segments
Gold: Fly 15,000 miles or 20 segments
Platinum: Fly 22,500 miles or 30 segments
Chairman's: Fly 30,000 miles or 40 segments
Now on to the questions…
I don't have elite status on any airline, can I enroll in the trial?
Yes. This is a challenge not a match, and you don't have to show evidence of elite status in another program to enroll.
I am already a Dividend Miles Silver/Gold/Platinum. Can I use this as a shortcut to Chairman's status?
No. US Airways elites aren't eligible for the trial.
I am an AAdvantage Gold/Platinum/Executive Platinum. Am I eligible?
Yes, unless you also have US Airways status.
What flights count for the challenge?
Any flight marketed and operated by US Airways or American Airlines.
So if I fly an American codeshare on British Airways metal, that counts?
No. You need to have an AA or US flight number, and it needs to say "US Airways," "US Airways Express," "American Airlines," or "American Eagle" on the outside of the plane.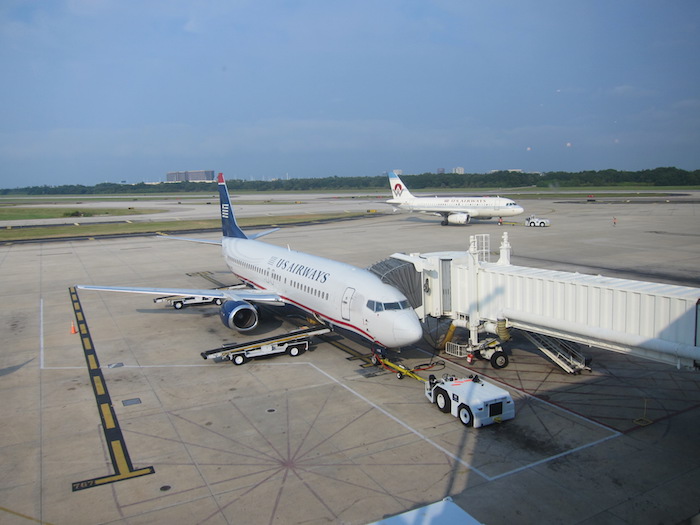 Revenue miles flown on this plane count towards Trial Preferred.

As do those on this plane.

And even this plane!

But not this plane.
I thought travel on American, US Airways, British Airways, Iberia, Japan Airlines and Qantas was eligible for the American Airlines challenge?
Yes, but the American Airlines status challenge is different. The Trial Preferred program is through US Airways, so their rules apply.
But aren't US Airways and American Airlines merging?
Yes, but it's a gradual process. Both programs have separate rules at this time.
Is the challenge based on EQMs or miles flown?
The challenge is based on "butt in seat" miles flown. While you earn a 50% elite qualifying miles bonus for paid first class, for example, this challenge isn't based on elite qualifying miles. It's based on butt in seat miles. So you need to fly 30,000 miles in 90 days to earn Chairman's Preferred, whether it's in full fare first class or discounted economy class.
So, if I'm currently an AAdvantage Executive Platinum, can I use my systemwide upgrades to upgrade an AA flight, and then credit the flight to US Airways?
Yep! The reason is because anyone can use a systemwide upgrade, and it's not tied to the person flying having any status. Just make sure your Dividend Miles number is attached to the reservation.
In the above circumstance, when should I put my US number in the record?
Anytime, it doesn't matter. You can add it at the time you book, by phone, on the website, at check-in, at the gate, etc. Putting your Dividend Miles number on the reservation doesn't disqualify you from using a systemwide upgrade.
Wait! So then I can use my AAdvantage 500-mile stickers on flights, and then credit the flights to Dividend Miles for the trial?
No. Systemwide upgrades and stickers are different. You can use systemwide upgrades and still credit to US Airways. That's because systemwide upgrades can be used by anyone, and aren't tied to the person with status necessarily flying. 500-mile sticker upgrades, however, are specifically tied to the person with status flying. So if you choose to fly on American for your trial and have status with American, you can't receive complimentary upgrades or use 500-mile sticker upgrades and still credit to US Airways.
Can I receive my elite upgrades on flights for the challenge?
If flying US Airways during the trial you'll have Dividend Miles status for 90 days (either Silver, Gold, or Platinum, depending on whether you paid $200, $400, or $600, respectively), so you'd be eligible for whatever upgrade benefits you get with that status.
The challenge lasts for 90 days, but the year is almost over. Can my challenge span multiple years?
Yes. If you start a challenge around November 1 and it runs through around February 1 of next year, that's fine. Your status would still only be good through February 2016.
If I complete the trial, when will I get my golden ticket American systemwide upgrades?
Sometime in the second quarter of next year. It could be April 1, or it could be June 30… we don't know yet, and neither does American.
I've already booked flights on American or US Airways. Will those flights count for the challenge?
Yes, provided they are marketed and operated by American or US Airways. Credit is based on when you fly, not when the tickets were purchased.
So if I complete the challenge in January, will Chairman's Preferred status become AAdvantage Executive Platinum?
Yes, sometime in the second quarter.
How long will this challenge opportunity last?
It's anyone's guess. I wouldn't count on it sticking around though.
How long will this status last?
As long as you finish the challenge before June 2015 your status will be valid through February 2016.
Where should I fly for the challenge?
Fares are often cheap to China in winter, and there have been decent fares to Europe as well. Follow @TheFlightDeal on Twitter for fare updates. Or just go visit your mother.
Bottom line
Hopefully lots of people are able to benefit from the trial to earn top tier status, before it's eventually discontinued.

Any other questions?