Usually I'm not much for artsy hotels. I find far too many of them to be style over substance, with little thought given to what's important for the frequent traveler. To that end I actually find Andaz hotels to be a good mix between style and substance, given that they're trendy (though not over the top) yet practically designed.
I'm staying at the new Andaz Amsterdam, and this is by far the artsiest Andaz I've visited (and I've visited almost all of them). I mean, the design in the room is downright bizarre, though in an awesome way. The one thing that pleasantly surprised me is that even though it's super-artsy, it's also practical.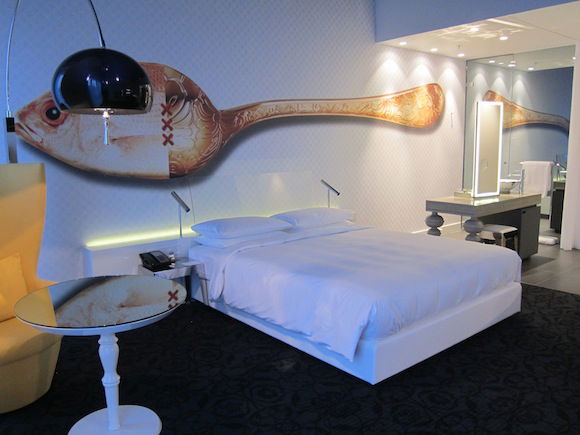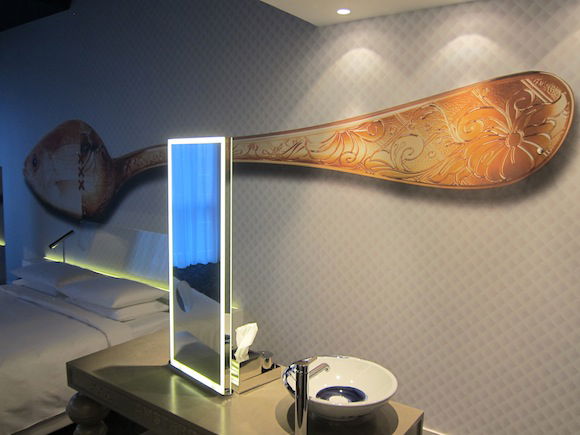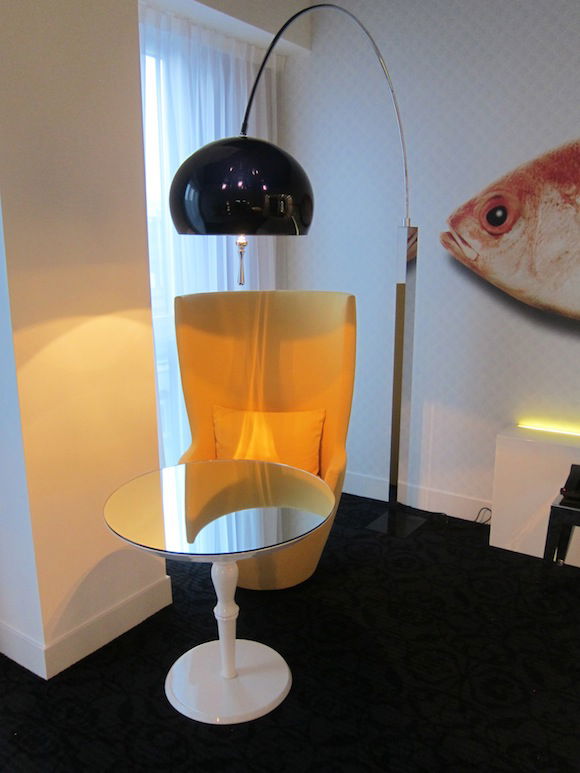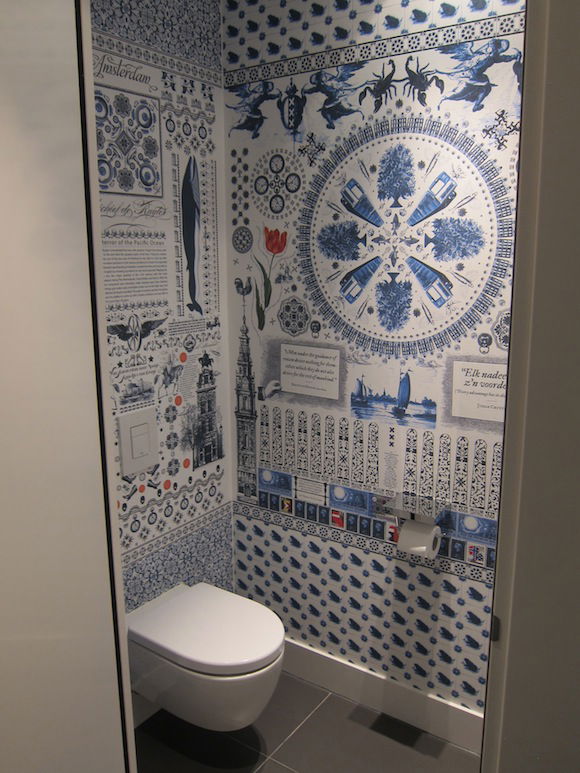 The bathroom and shower are actually separated from the rest of the room (I'm looking at you, W hotels). There are several outlets near the desk. There's even an adapter near the desk.
I did have a couple of hiccups though that are leaving me shaking my head. As I blogged about a few days ago, I was trying to decide between booking the Andaz Amsterdam on cash or points. In the end I decided to pay cash, given that they were also running a promotion for 2,000 bonus points per stay, and a reader pointed out that the suites at this hotel are nice, so that would allow me to use a Diamond suite upgrade.
After making the booking I realized they only had the "large suite" available for the first night, while the standard suite was available for the second night. The way Hyatt processes Diamond suite upgrades is that you call up Gold Passport, and then they call the hotel. While there are published rooms that the suite upgrades confirm into, I've found hotels somewhat flexible with it, though you often have to contact them directly.
When I asked you guys on Twitter where I should stay and you recommend the Andaz Amsterdam they Tweeted me and said to let them know if I needed any assistance. So I direct messaged them, gave them my confirmation number, and asked them if they'd be able to confirm a suite upgrade using a Diamond certificate for my stay. They responded that they could, so I called Gold Passport to apply it right away. Hyatt could only confirm it for the first night, as I expected, though I direct messaged the hotel to let them know it had been applied, thinking they'd take care of it from there.
Anyway, I went to check in and sure enough they didn't have a suite upgrade available for the first night, but only the second night. I showed them the direct messages I had sent the hotel on Twitter, and all of the associates explained that the Twitter account is run outside of the hotel in the US. If so, that's the first time I've ever heard of a hotel's individual Twitter account not being run by someone at the hotel, and if true, that's a really bad strategy in my opinion. For that matter it's bad news when the employees at a 100 room hotel don't know who runs their Twitter account.
It wasn't a big deal (I was more confused by the location of their Twitter account than the miscommunication), so I asked them to go ahead and downgrade me for both nights since I didn't want to switch rooms. However they had blocked me in a garden view king room, which is just about their entry level room. Given that they were still selling canal view rooms online for both nights I told them this was rather disappointing. They said they weren't available, so gave me a large garden view king instead. But below you can see what rooms they're still selling as of the time of this post.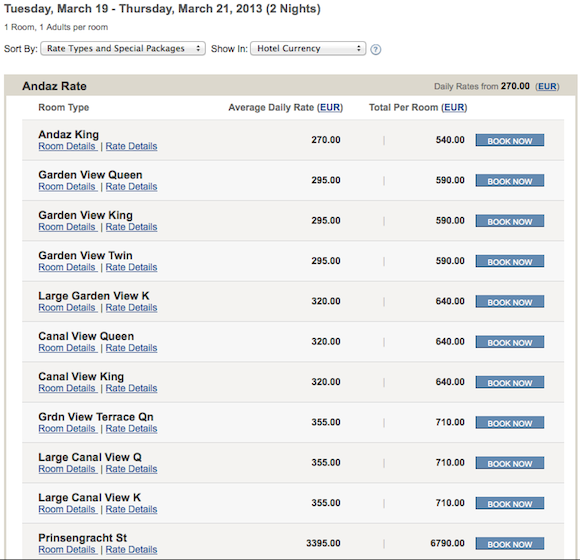 I took a nap this evening after two very short nights and ordered a sandwich and dessert from room service. Five minutes after I order it they call me back to ask if I want dessert. Yes, I believe I ordered it. Then five minutes after my food is delivered they call me to tell me that they don't have mozzarella cheese for the sandwich, and ask if I'd prefer a different type of cheese. What the…?
Lastly. I've gotta say their minibar "complimentary snack selection" sure leaves a bit to be desired.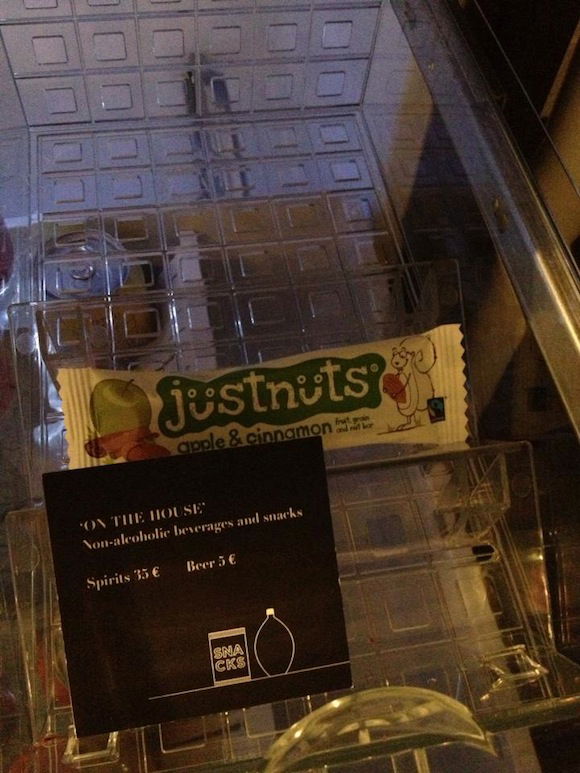 Anyway, I really do love this hotel, and I actually found all the front desk associates to be exceedingly friendly, though there are definitely some areas for improvement in the few hours I've been here.