In February I first wrote about the major changes that American is making to their lounges. Perhaps most significantly, American is greatly revamping their Flagship Lounge concept. Flagship Lounges are American's international first class lounges, which up until now have been available to the following passengers:
Passengers traveling in oneworld longhaul international first class same day
Passengers traveling in first class on American's A321 between New York and Los Angeles/San Francisco
American Executive Platinum members traveling on a longhaul international itinerary, regardless of the class of service
All non-American AAdvantage oneworld Emerald members traveling on any oneworld flight, even if it's domestic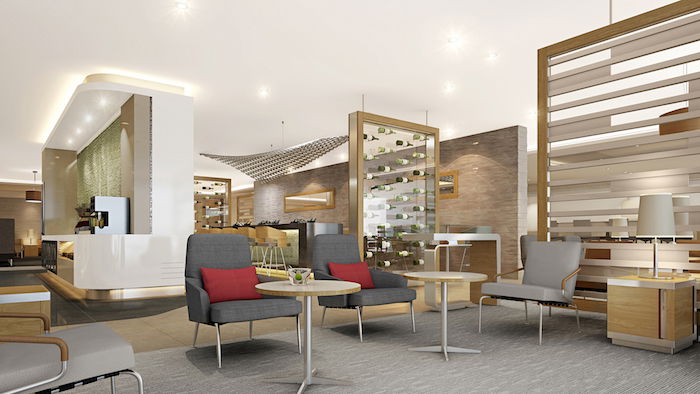 Rendering of American's new Flagship Lounge
As part of these Flagship Lounge changes, American will both be renovating their existing lounges and changing access requirements. Specifically, American will basically be turning Flagship Lounges into international business class lounges, meaning that passengers in first class, business class, and oneworld Emerald members will have access to the lounges.
However, what I hadn't realized until now is that AAdvantage Platinum, AAdvantage Platinum Pro, and oneworld Sapphire members will also have access to Flagship Lounges. Per American's lounge updates page:
First and Business Class customers (on qualifying international flights or 3-class transcontinental markets)*
AAdvantage® Executive Platinum and Platinum members in any cabin (on qualifying international flights)*
oneworld® Emerald and Sapphire members in any cabin on all flights**
This doesn't apply yet, but rather only once the new lounges open next year (to avoid confusion, American is renaming their Flagship Lounges "International First Class Lounges" for the time being).
I realize American is increasing the size of their Flagship Lounges, but they're going to have to increase their size by a lot to accommodate all these passengers. The way I see it:
This is great news for AAdvantage Platinum and other oneworld Sapphire members
At the same time, this is sort of a downgrade in terms of Executive Platinum benefits, since Platinum, Platinum Pro, and Executive Platinum members will have access to all the same American Airlines lounges (fortunately oneworld Emerald members still get access to oneworld first class lounges, like Cathay Pacific first class lounges, Qantas first class lounges, Japan Airlines first class lounges, etc.)
I imagine that Flagship Lounges will be really crowded with all these passengers in them
As a point of comparison, United's Polaris Lounges are only open to business & first class customers, and elite members just get access to United Clubs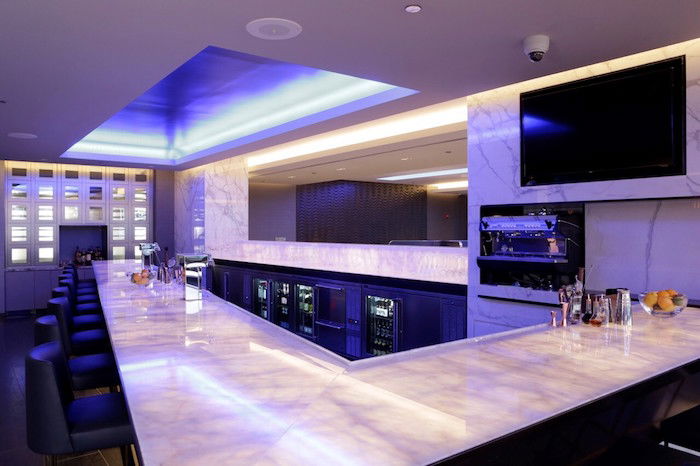 United Polaris Lounge Chicago O'Hare
For what it's worth, the first physical space of a new Flagship Lounge is now open. Specifically, the Flagship Lounge New York JFK has opened, and you can find some great pictures of it on The Unaccompanied Flyer blog. It does look a lot bigger than the old space, though I still suspect the lounge will be overcrowded once these access policy changes kick in.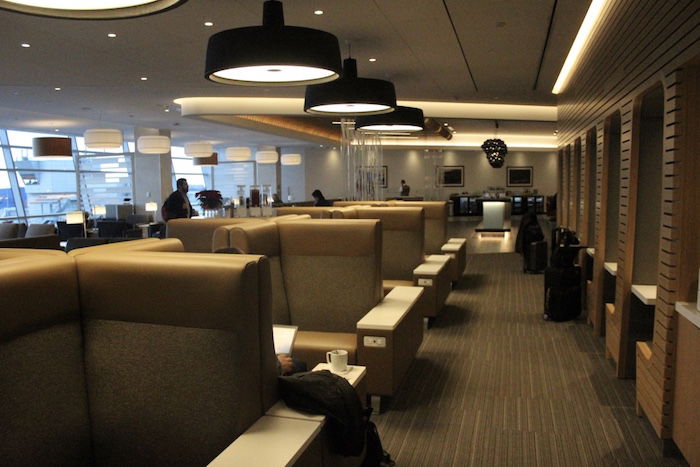 New Flagship Lounge JFK, per The Unaccompanied Flyer
Bottom line
I'm happy to see American trying to update their lounges, though I'm a bit skeptical about crowding issues. Now all business class passengers, as well as oneworld Emerald and Sapphire members, will have access to the same lounges. I assume American has run the numbers on this in terms of allocating space. One of the nice things about Flagship Lounges has long been that they're generally a bit quieter than Admirals Clubs, though I doubt that will be the case anymore.
Are you happy to see that oneworld Sapphire members will get access to Flagship Lounges?