In the interest of full disclosure, OMAAT earns a referral bonus for anyone that's approved through some of the below links. Citi is an advertising partner of OMAAT. These are the best publicly available offers (terms apply) that we have found for each product or service. Opinions expressed here are the author's alone, not those of the bank, credit card issuer, airline, hotel chain, or product manufacturer/service provider, and have not been reviewed, approved or otherwise endorsed by any of these entities. Please check out
our advertiser policy
for further details about our partners, and thanks for your support!
I just had the chance to check out the American Admirals Admirals Club in Concourse E at Washington National Airport (DCA). This isn't just any Admirals Club, but rather it's the first redesigned Admirals Club that American has opened, featuring completely overhauled decor. The lounge opened in October 2022, and this will act as a blueprint for future Admirals Club redesigns.
The renderings looked amazing, so what's the lounge like in person? Well, I was extremely impressed — this is truly a gorgeous lounge, and design-wise it's a quantum leap compared to the previous Admirals Club design. American did a phenomenal job, and I can't wait for this design to be rolled out to more clubs in the coming months and years.
Admirals Club Washington location & hours
While American has three Admirals Clubs at Washington National Airport, the redesigned one is located in Terminal 2 Concourse E. All gates in Terminal 2 are connected airside, as you first clear security at a central checkpoint, and then you can pick which pier you want to walk to.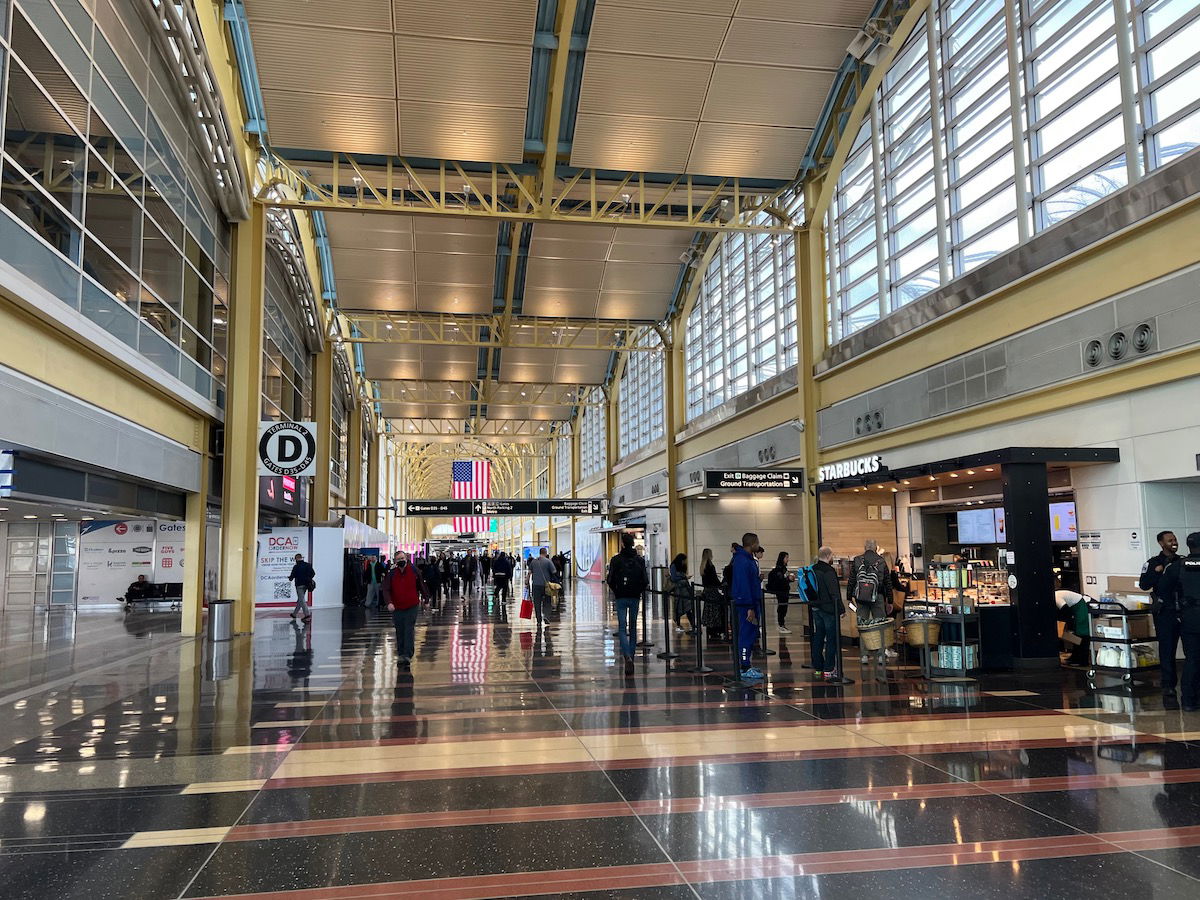 American primarily operates out of Concourse D & E (most mainline jets operate from Concourse D, while most regional jets operate from Concourse E). I was arriving from Concourse D, and it was only a roughly five minute walk to Concourse E. There's a handy corridor with a moving sidewalk connecting the two areas.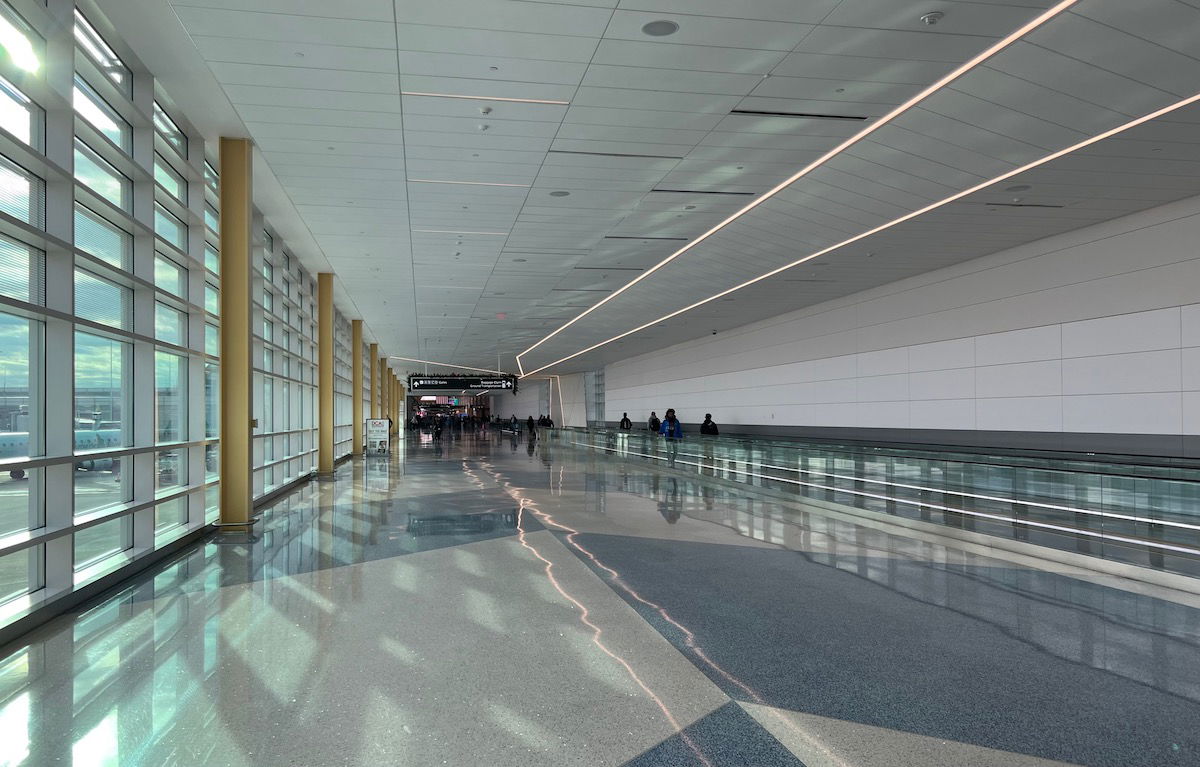 Once in Concourse E, just keep walking straight ahead, and you'll see the entrance to the Admirals Club on the left. You can actually see quite a bit of the lounge from inside the terminal.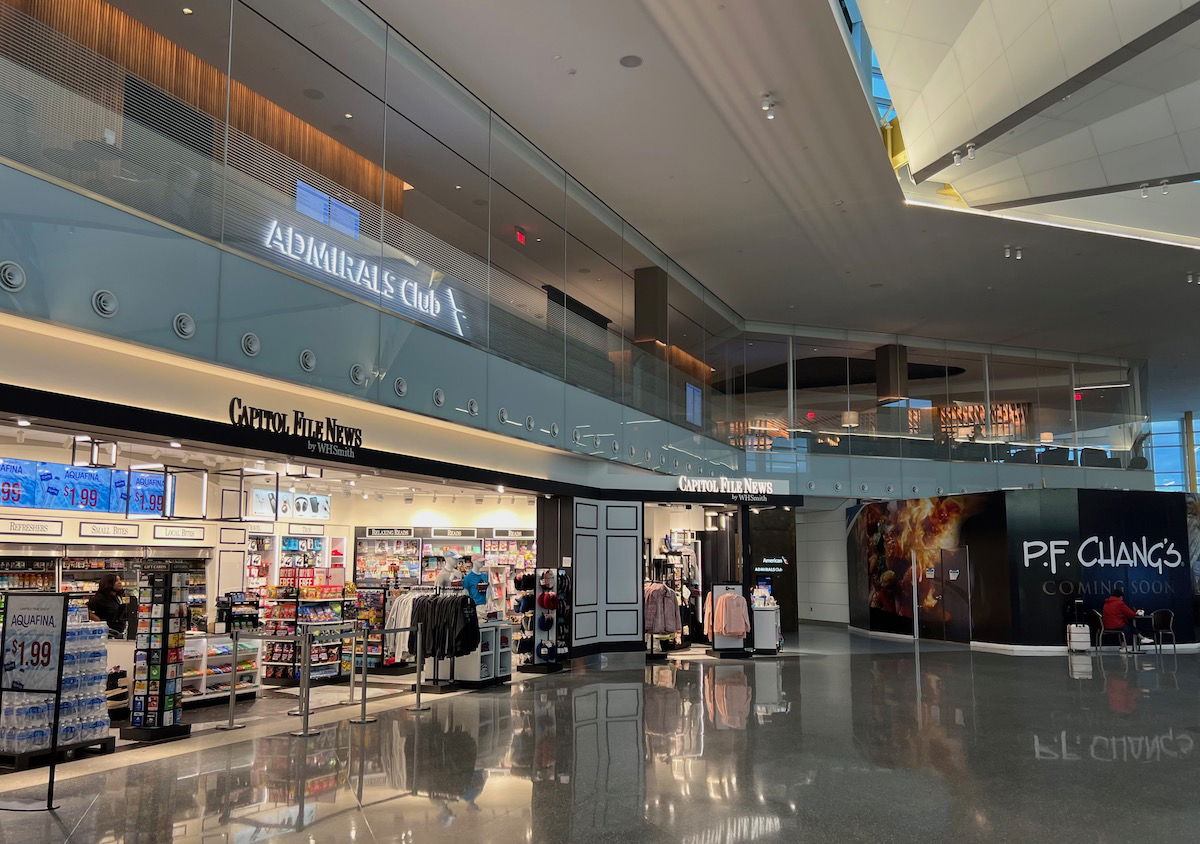 The Admirals Club redesign starts from the moment you walk in, as the lounge has a cool textured exterior, and a huge backlit American Airlines logo inside the entrance.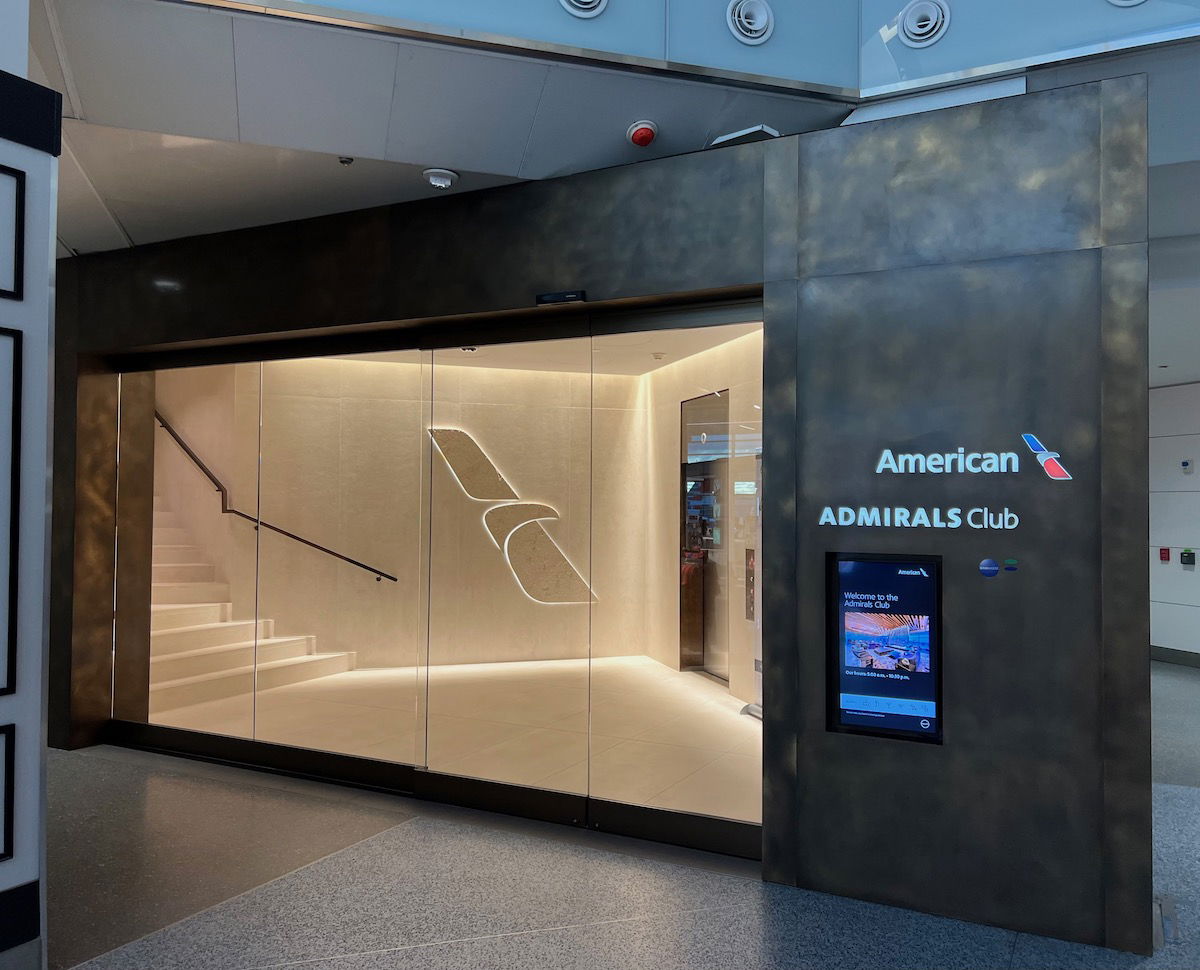 Since the lounge is one level above the concourse, you can either take stairs or the elevator.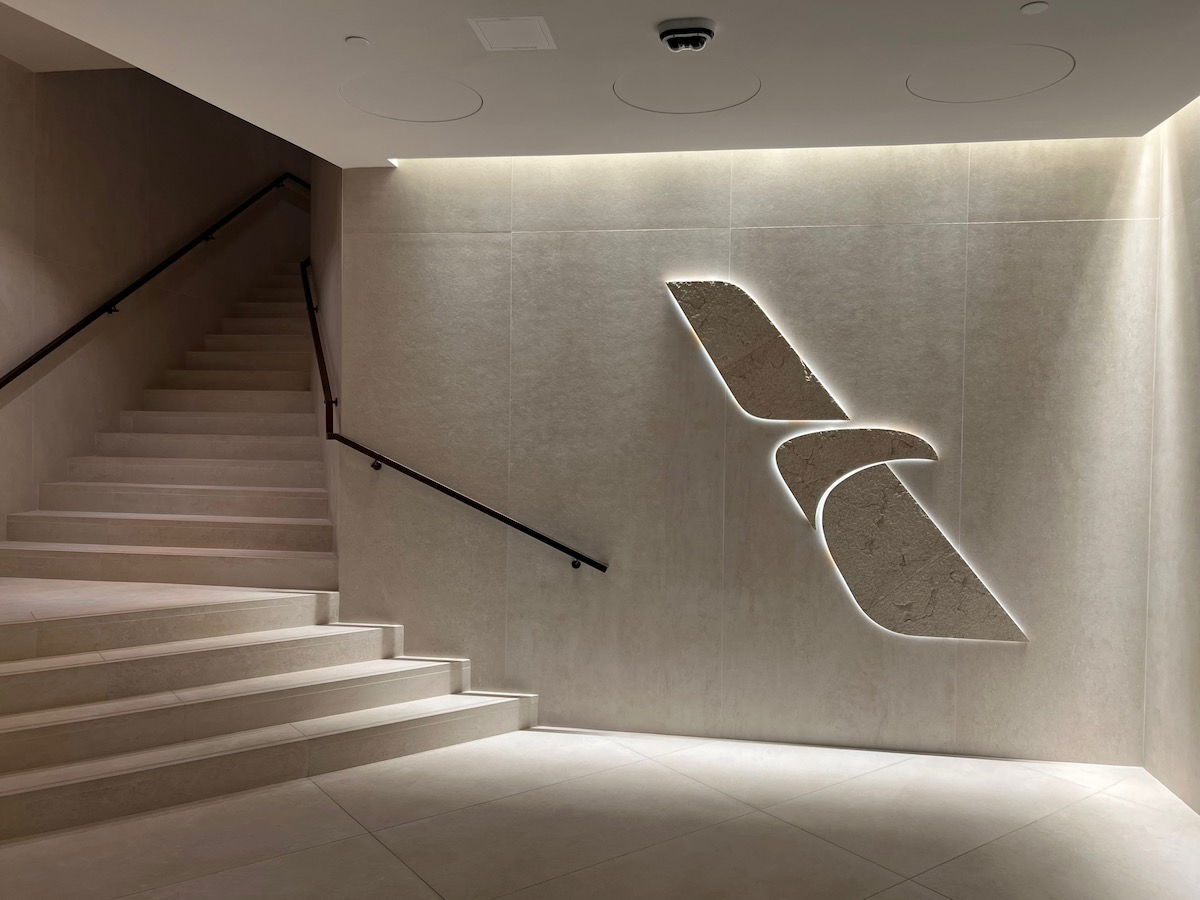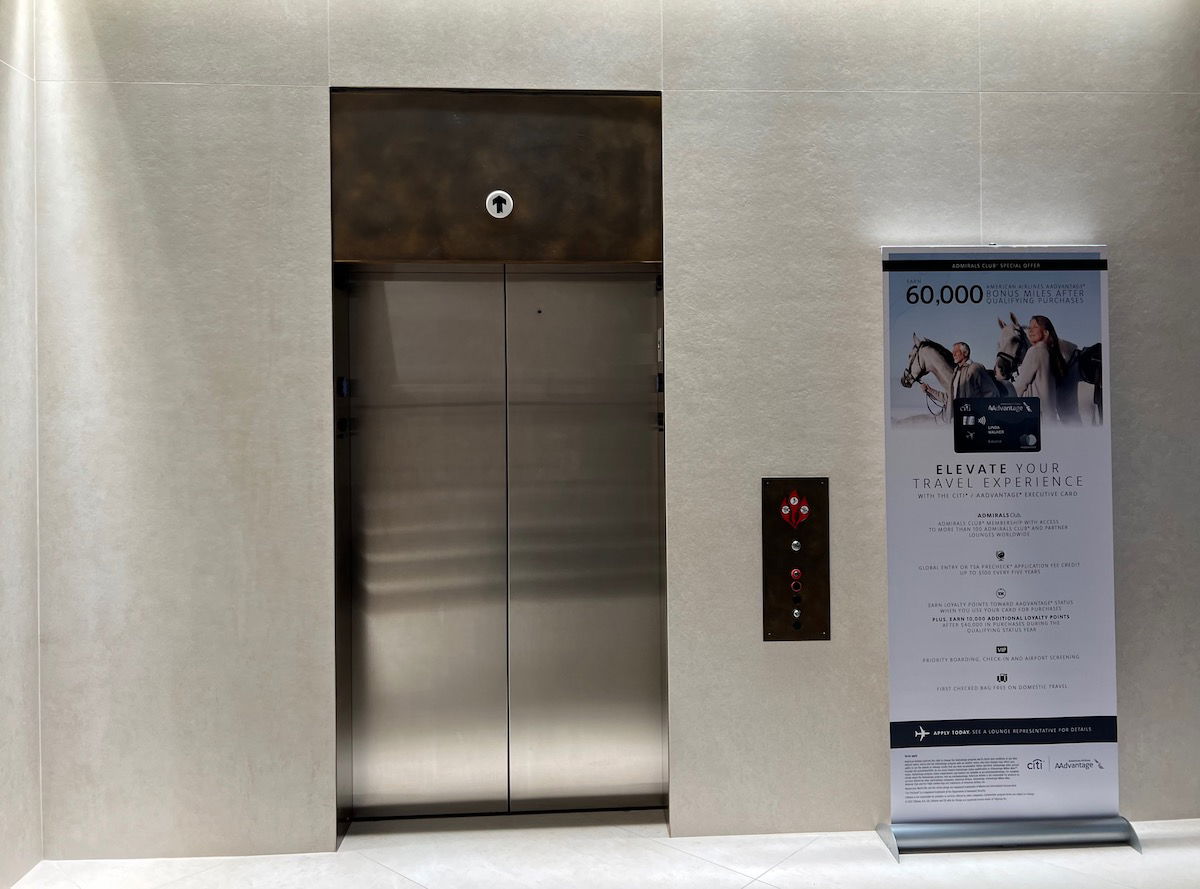 As far as hours go, this particular Admirals Clubs is currently open daily from 5AM until 10:30PM.
Admirals Club Washington entry requirements
There are a variety of ways to access American Admirals Clubs, ranging from buying an Admirals Club membership, to having elite status and being on an eligible itinerary.
Personally I access Admirals Clubs using the Citi® / AAdvantage® Executive World Elite Mastercard® (review), which is one of my all around favorite airline credit cards. The card has a $595 annual fee, and offers an Admirals Club membership for the primary cardmember.
In and of itself that represents cost savings compared to a membership, as the cheapest cost for an Admirals Club membership is usually $850 per year.
See my guide to American Admirals Club access.
Admirals Club Washington seating & layout
The new Admirals Club Washington is roughly 14,500 square feet, with seating for around 235 people. Given that the airport has three Admirals Clubs, there's no shortage of lounge capacity here. Actually, that's one thing I have to give American credit for — I find Admirals Clubs are generally among the least crowded airline lounges in the United States, and this lounge was no exception.
Once inside the lounge, you can turn left or right down a main corridor — turning right will bring you to the buffet, bar area, and cafe-style seating, while turning left will bring you to the fireplace and more traditional lounge-style seating.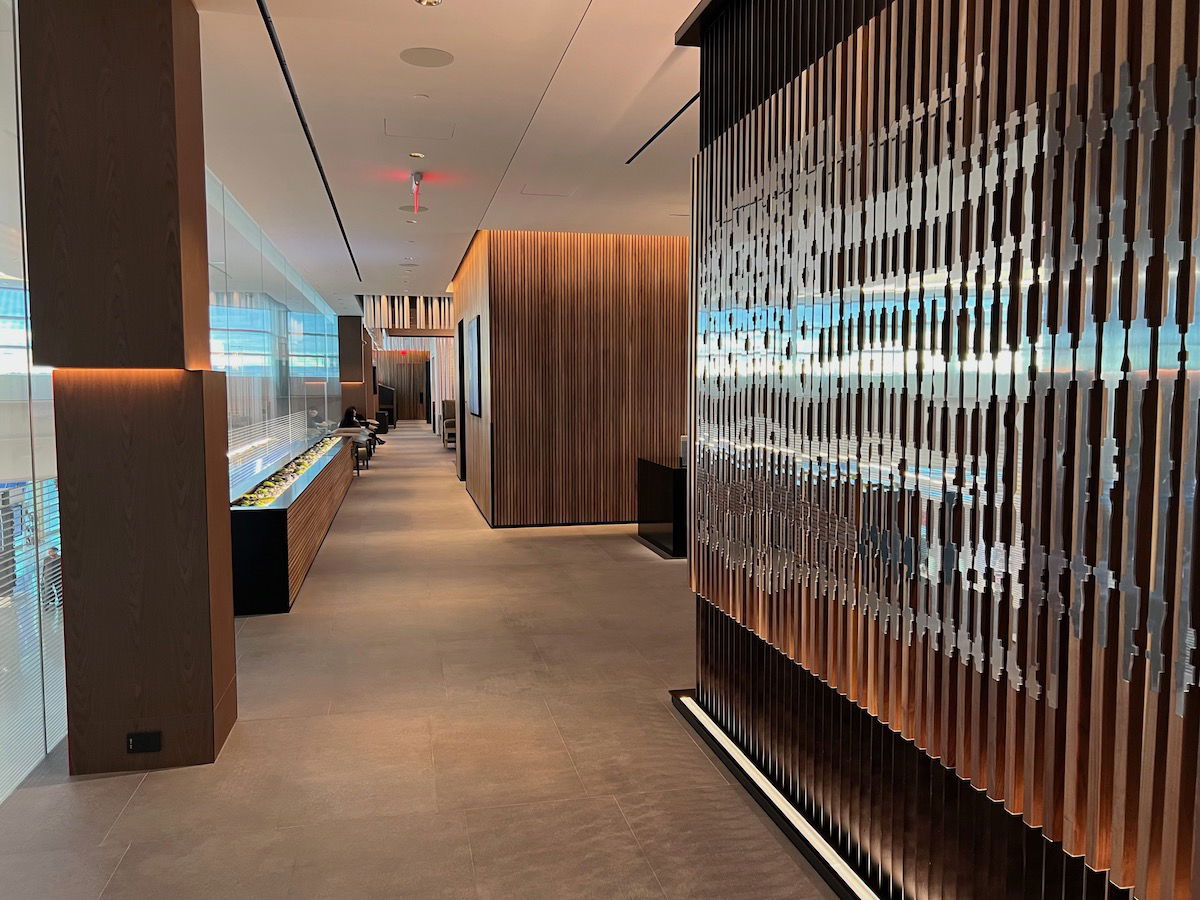 Let's start to the right. In this area, there's first the bar with half a dozen seats, as well as several tables with high-top seating.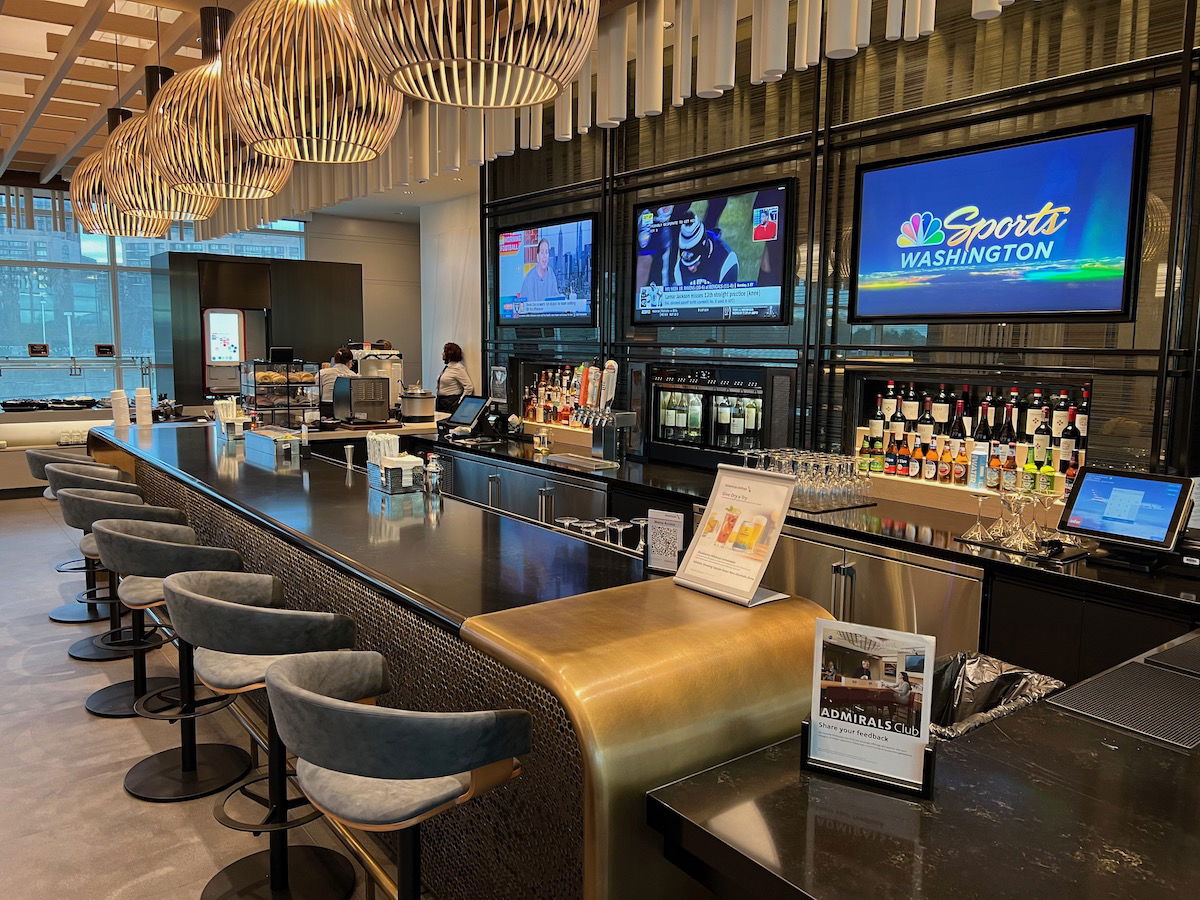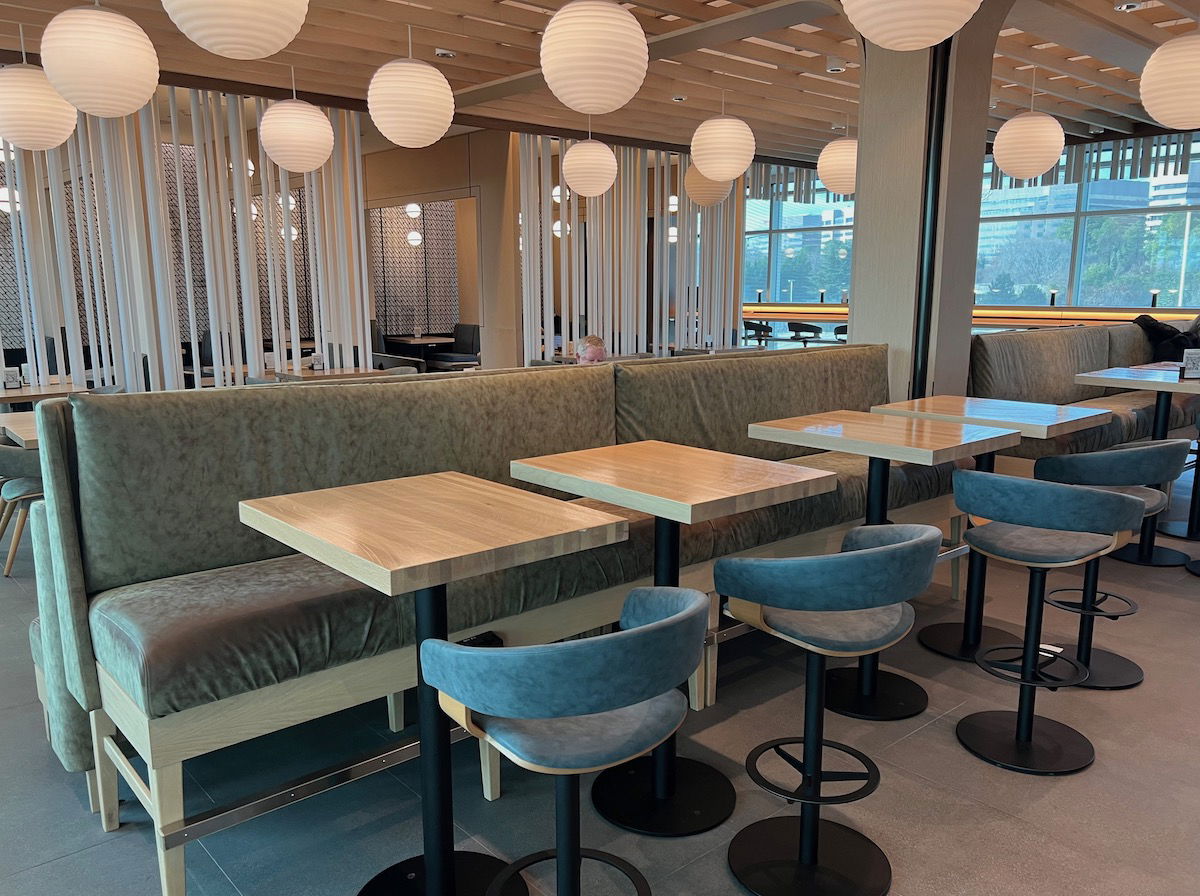 Then there are some dining tables each seating two to four people.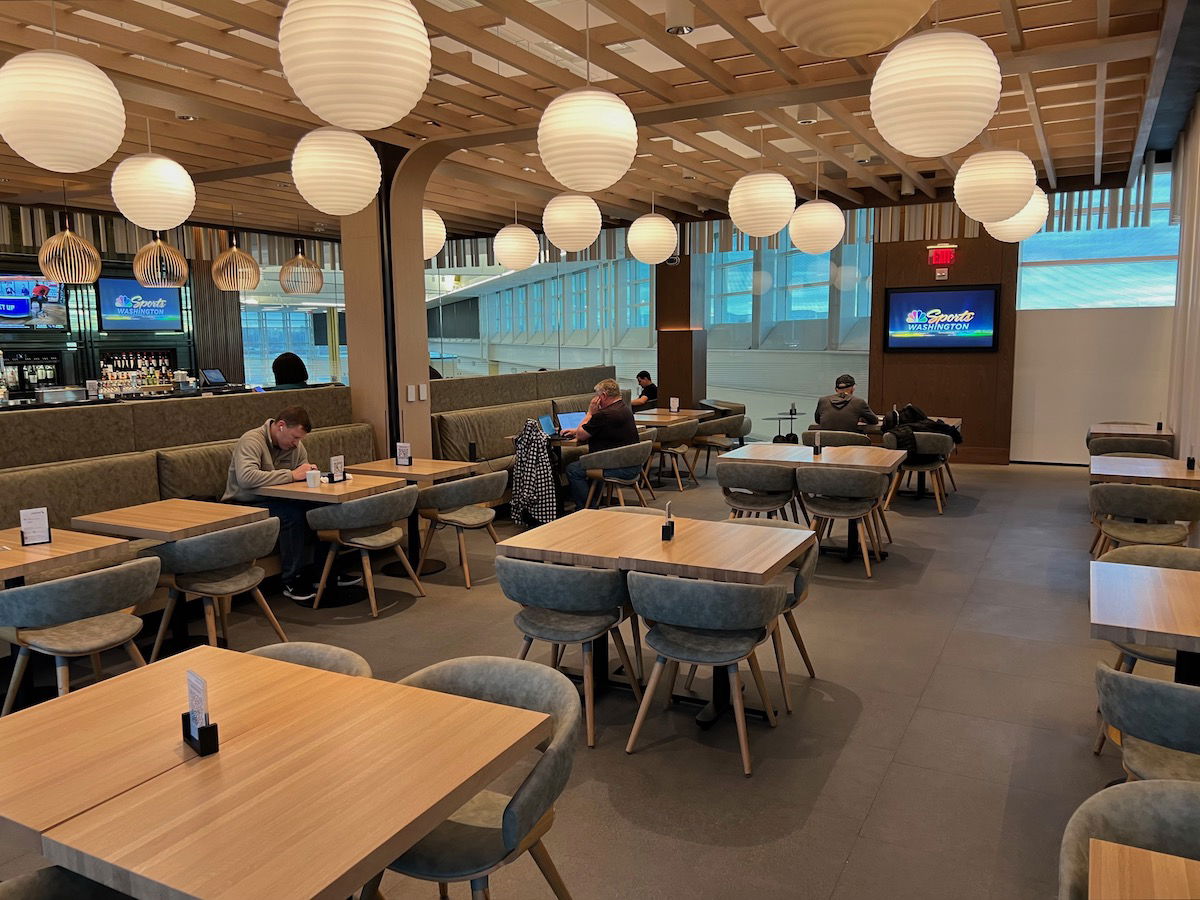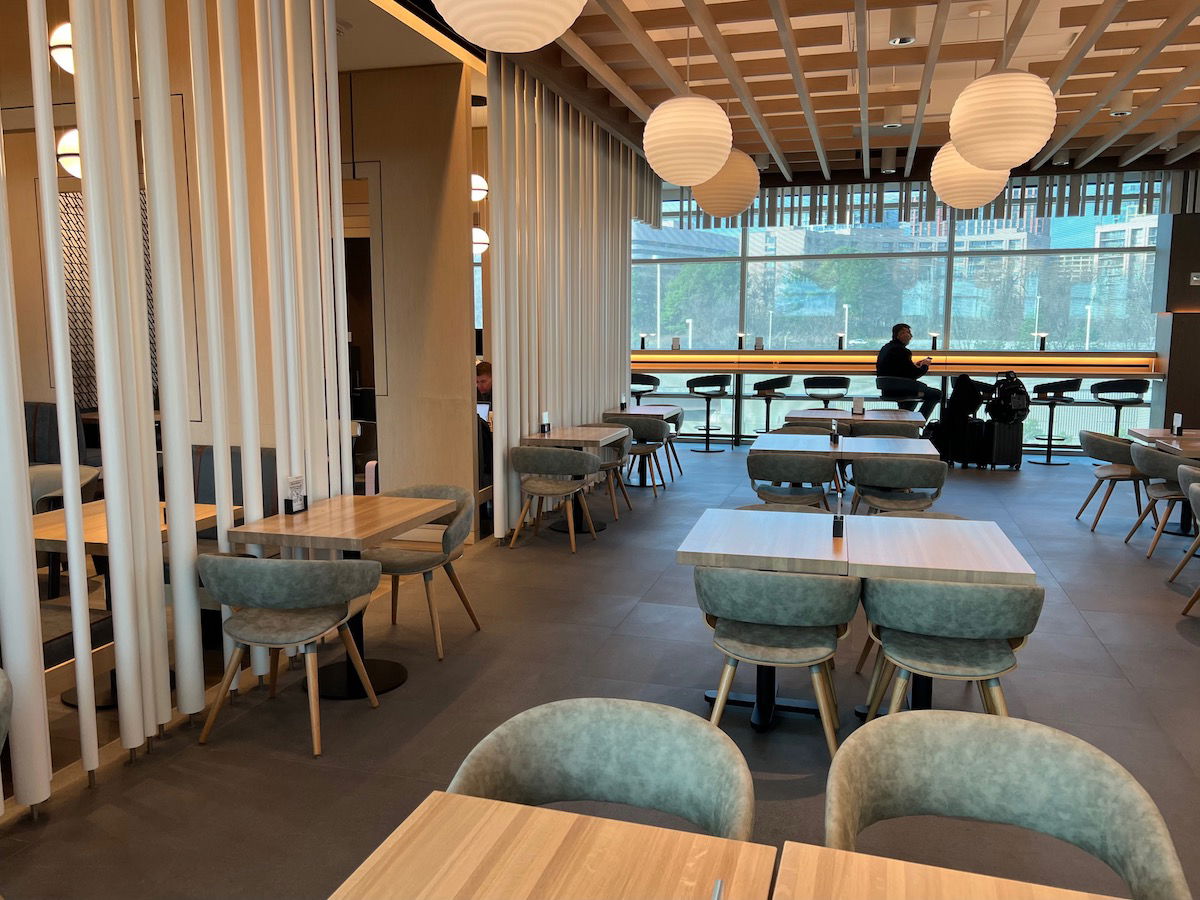 There's then a more private dining area, with booths along the sides and a row of tables along the center. There really is great attention to detail in terms of lounge design, as I found it to be quite elegant and interesting.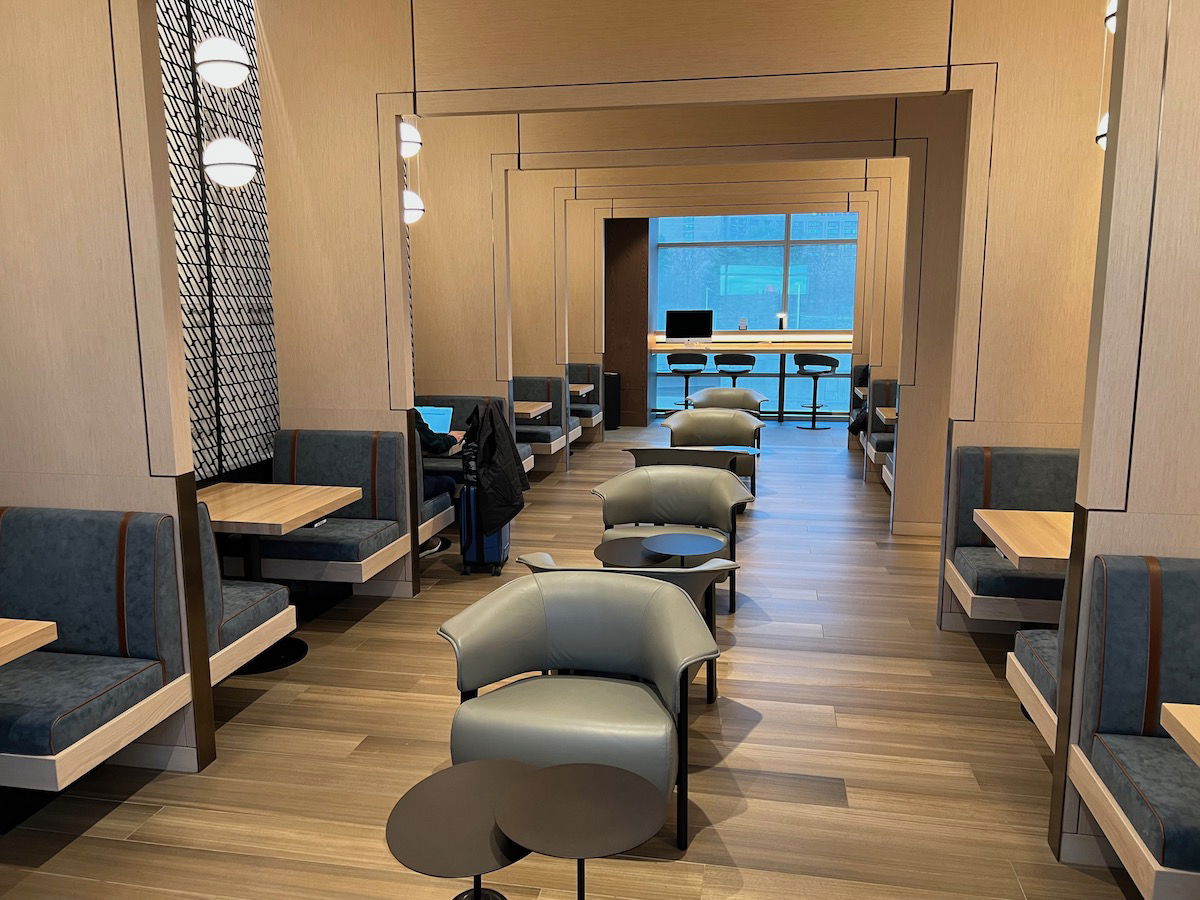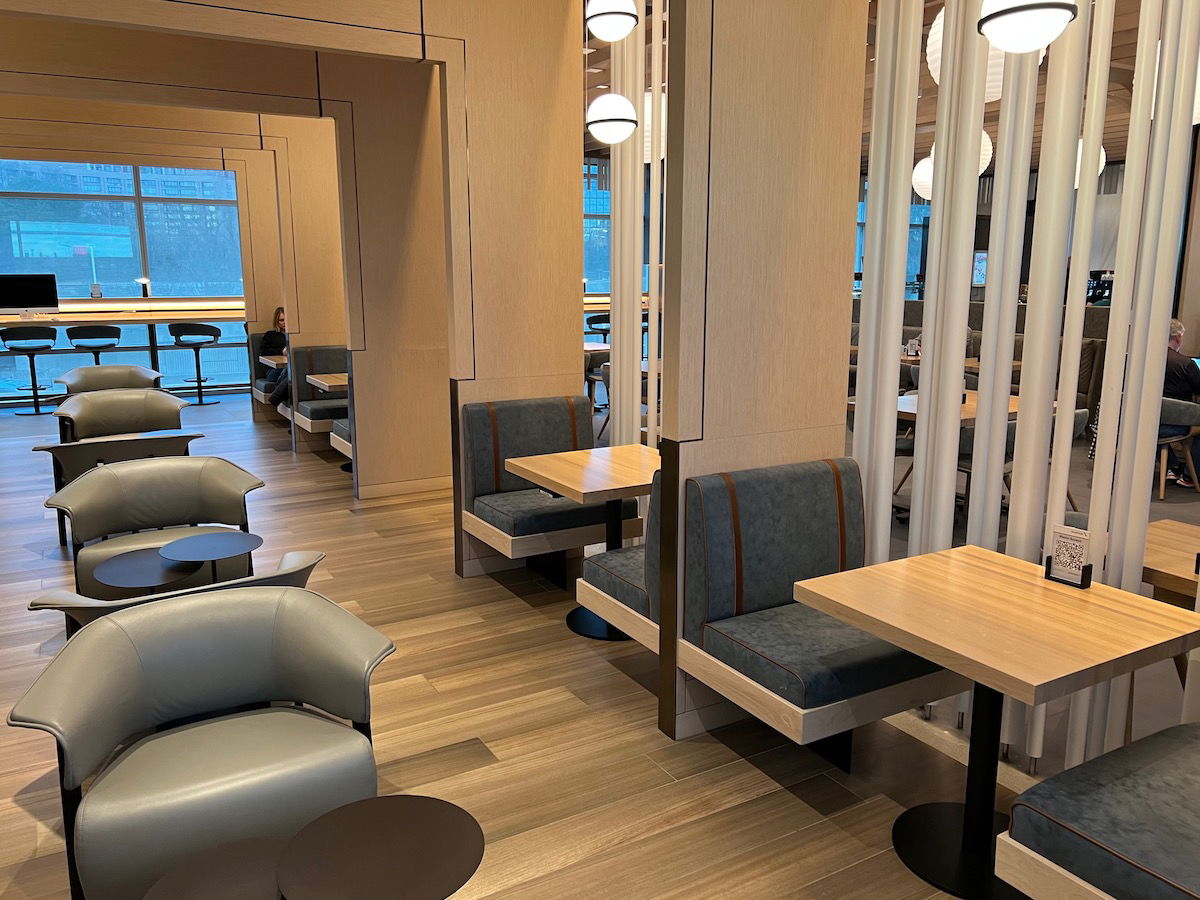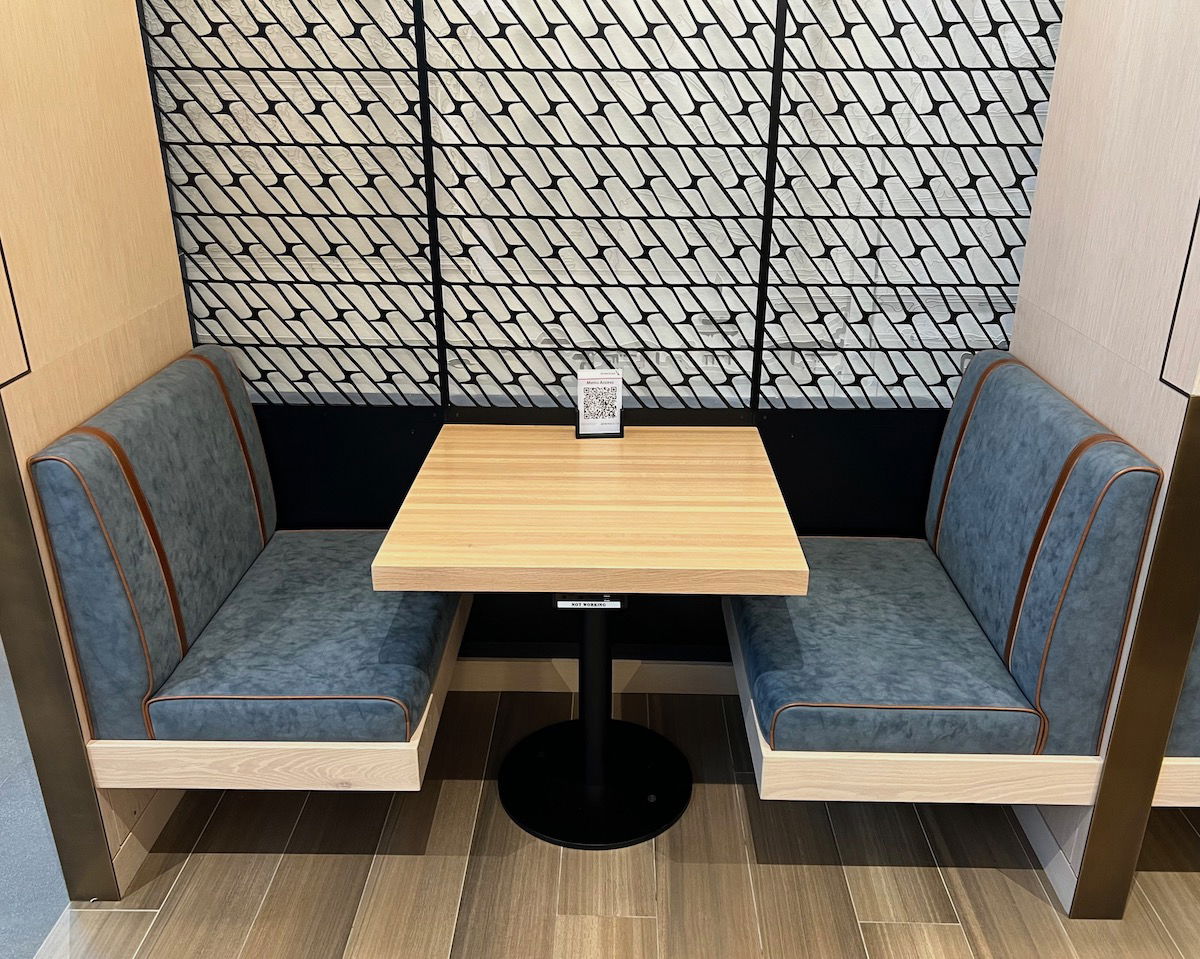 Along the windows there's a long table with some high-top seating. There's also an iMac, as well as a printer.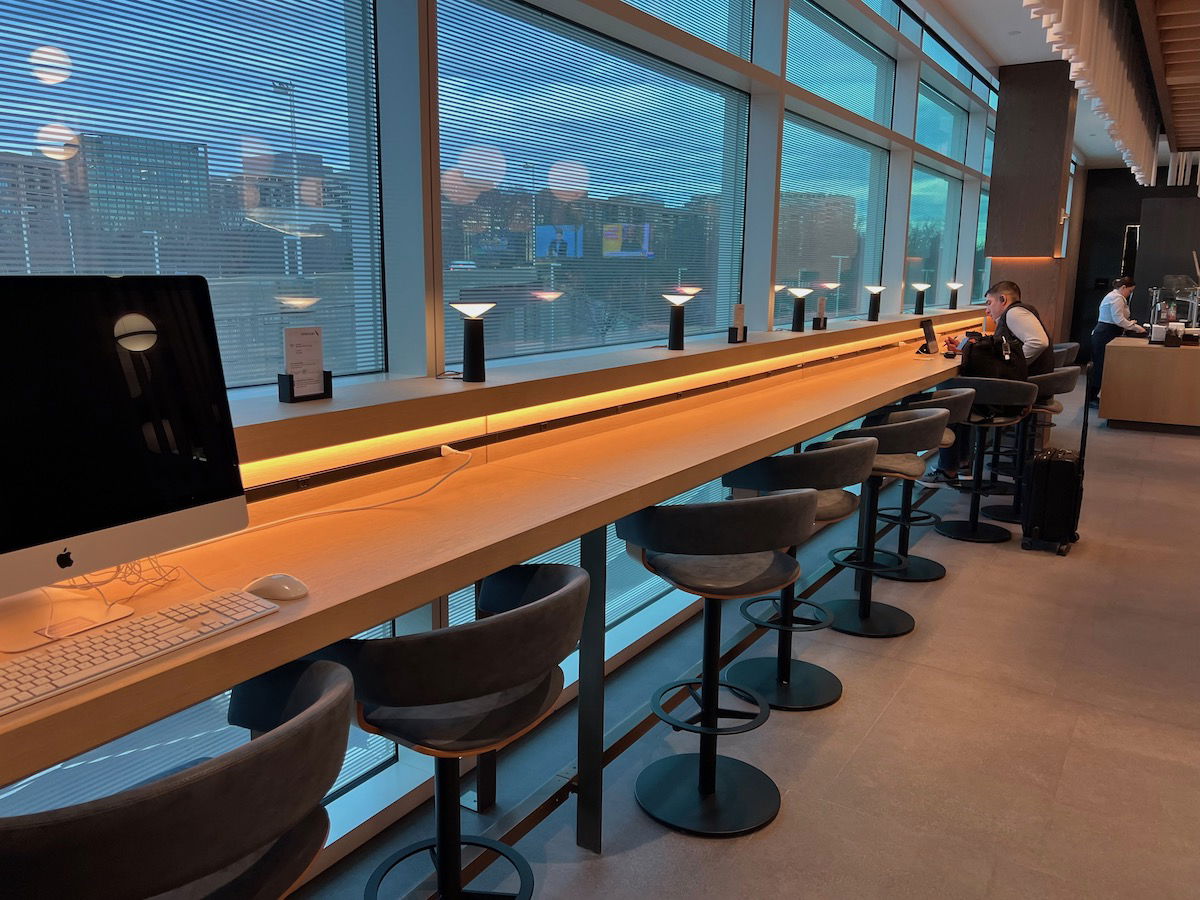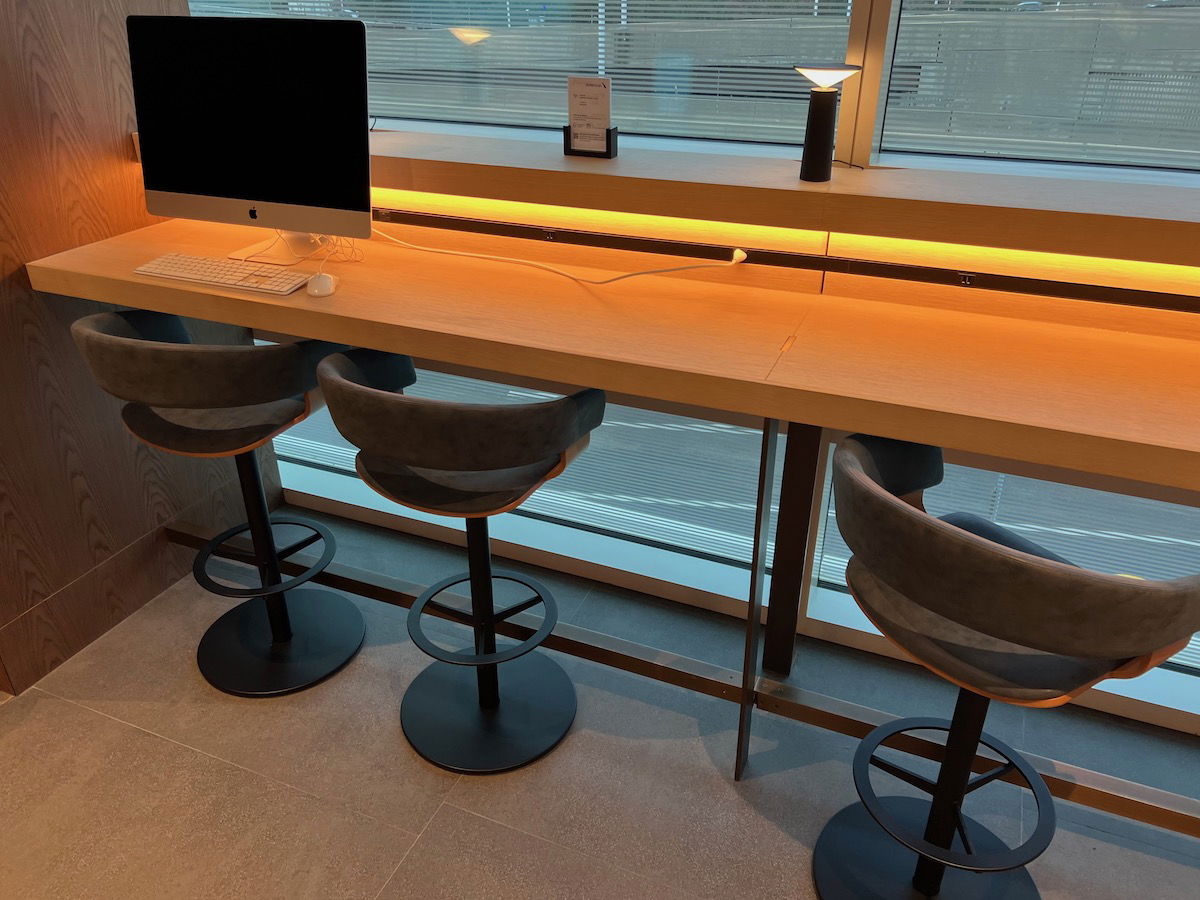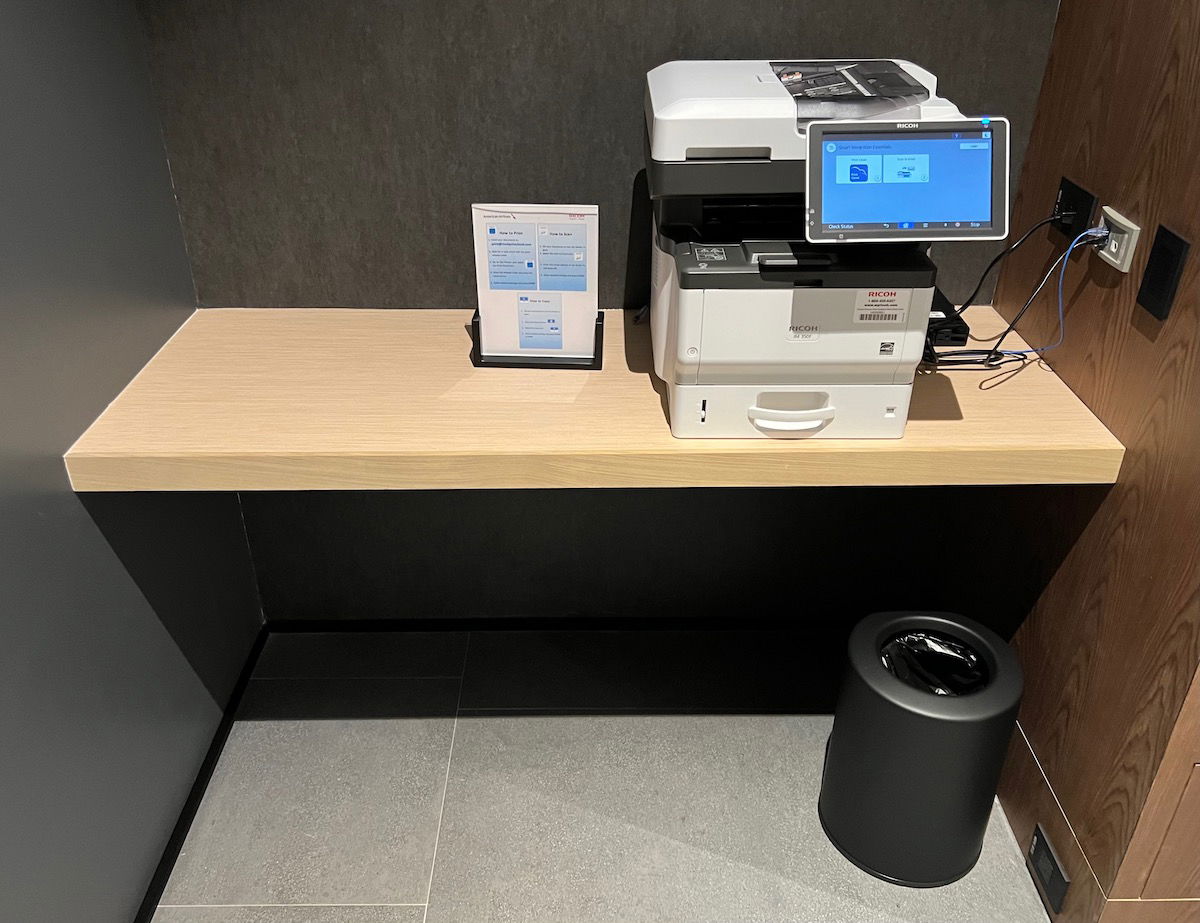 In the very back of the lounge are some sort of non-enclosed phone booths of sorts. I'm not sure exactly what purpose this serves, but it at least looked pretty cool. This is also where the bathrooms are, and I'll talk more about those in a bit.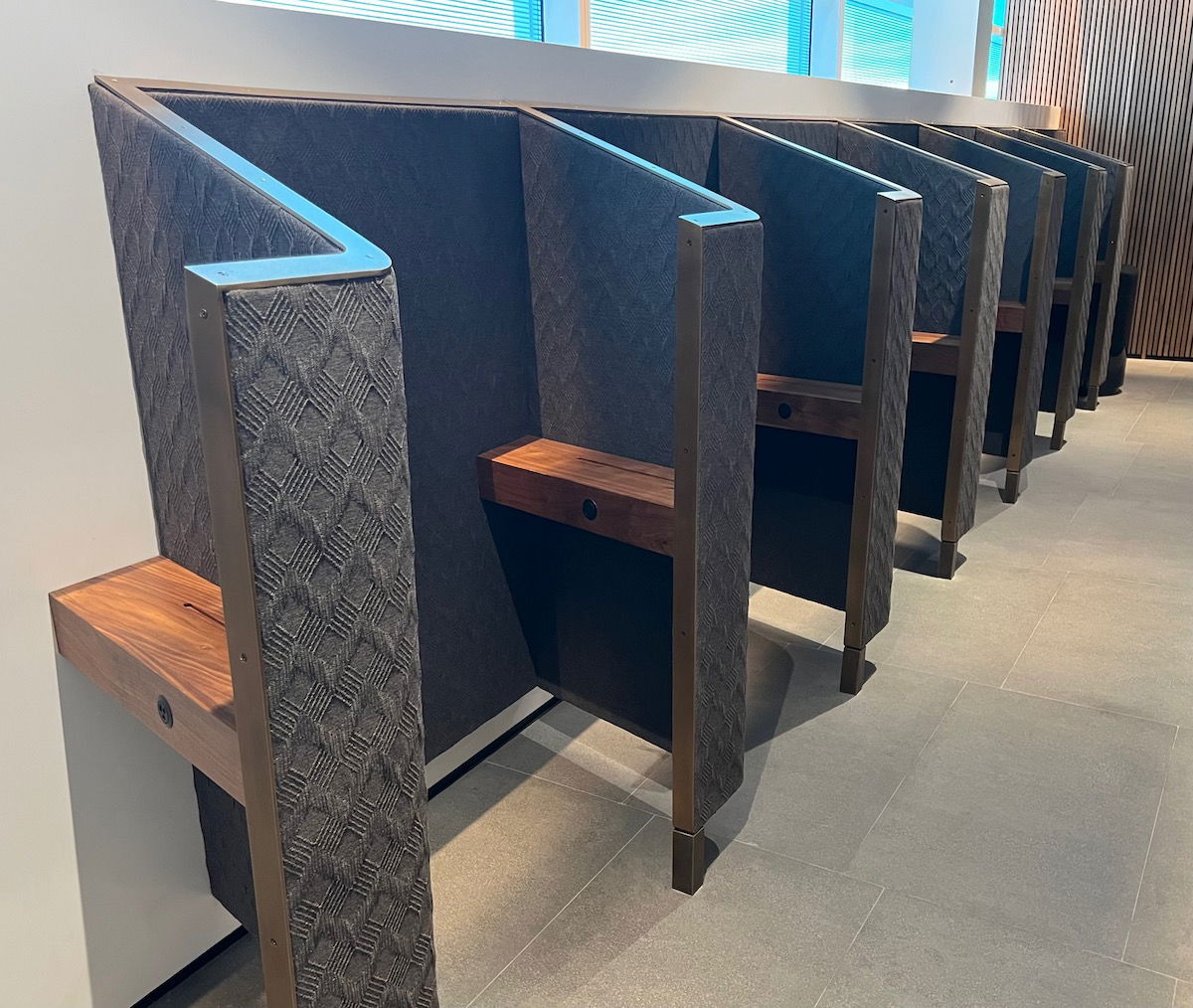 Now let's take a look at the other side of the lounge, which has plenty of seating for those who are looking to relax rather than eat or work at a table.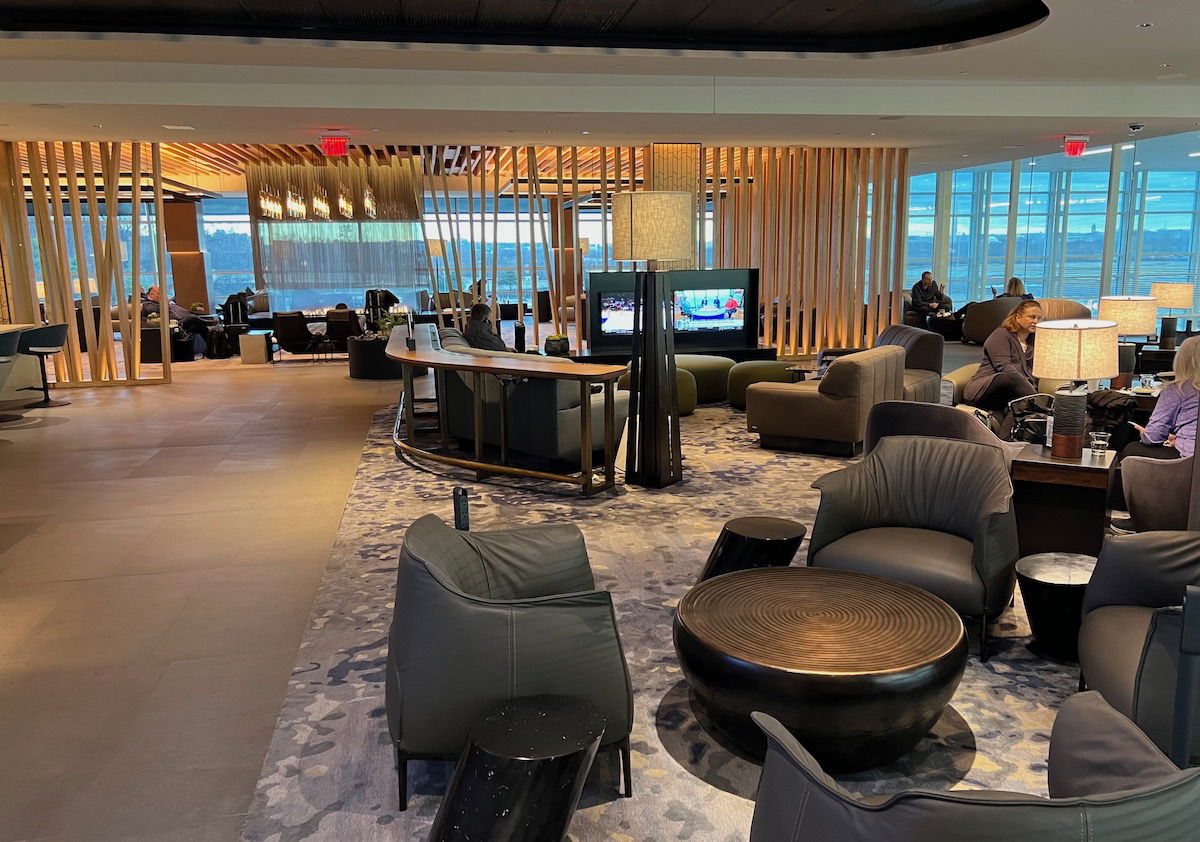 The focal point of the lounge is the fireplace, which is the first time that something like this has been installed in an Admirals Club.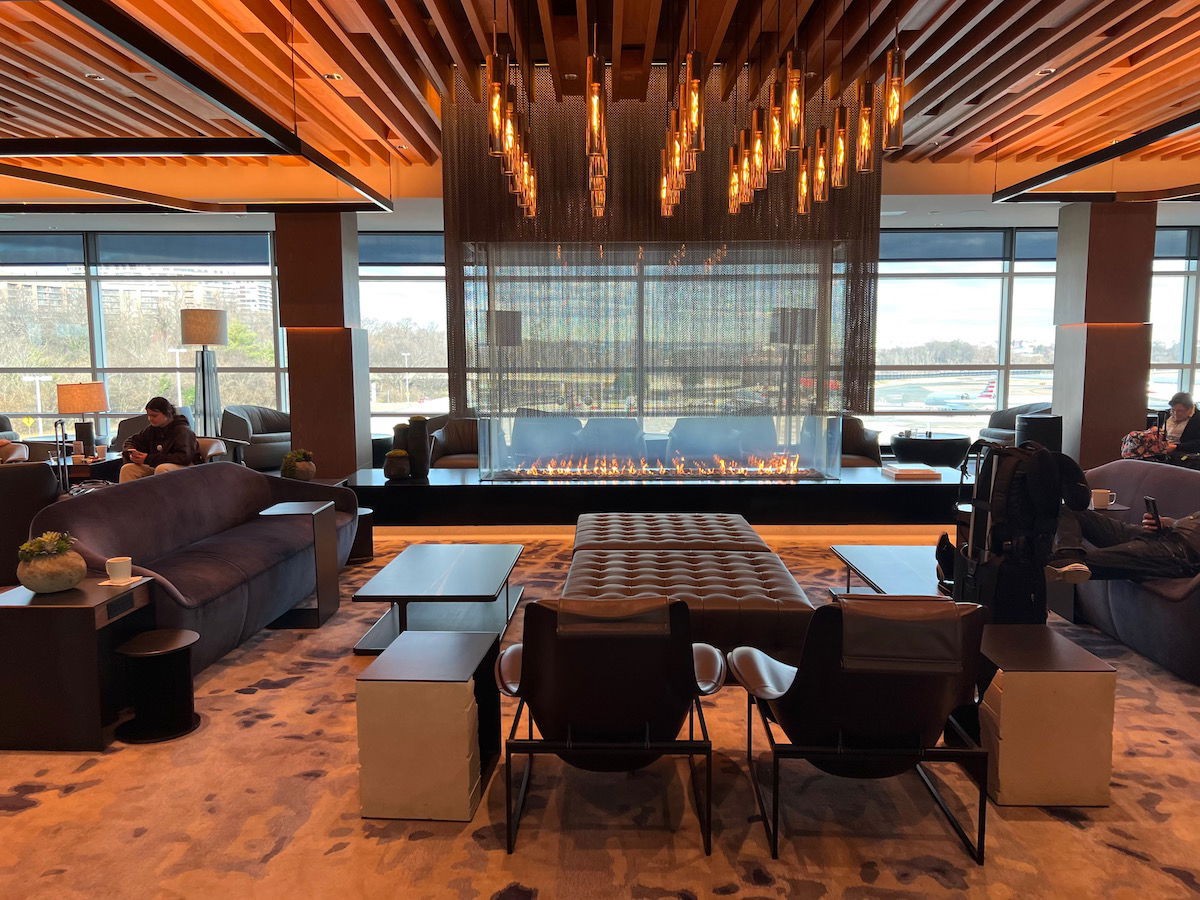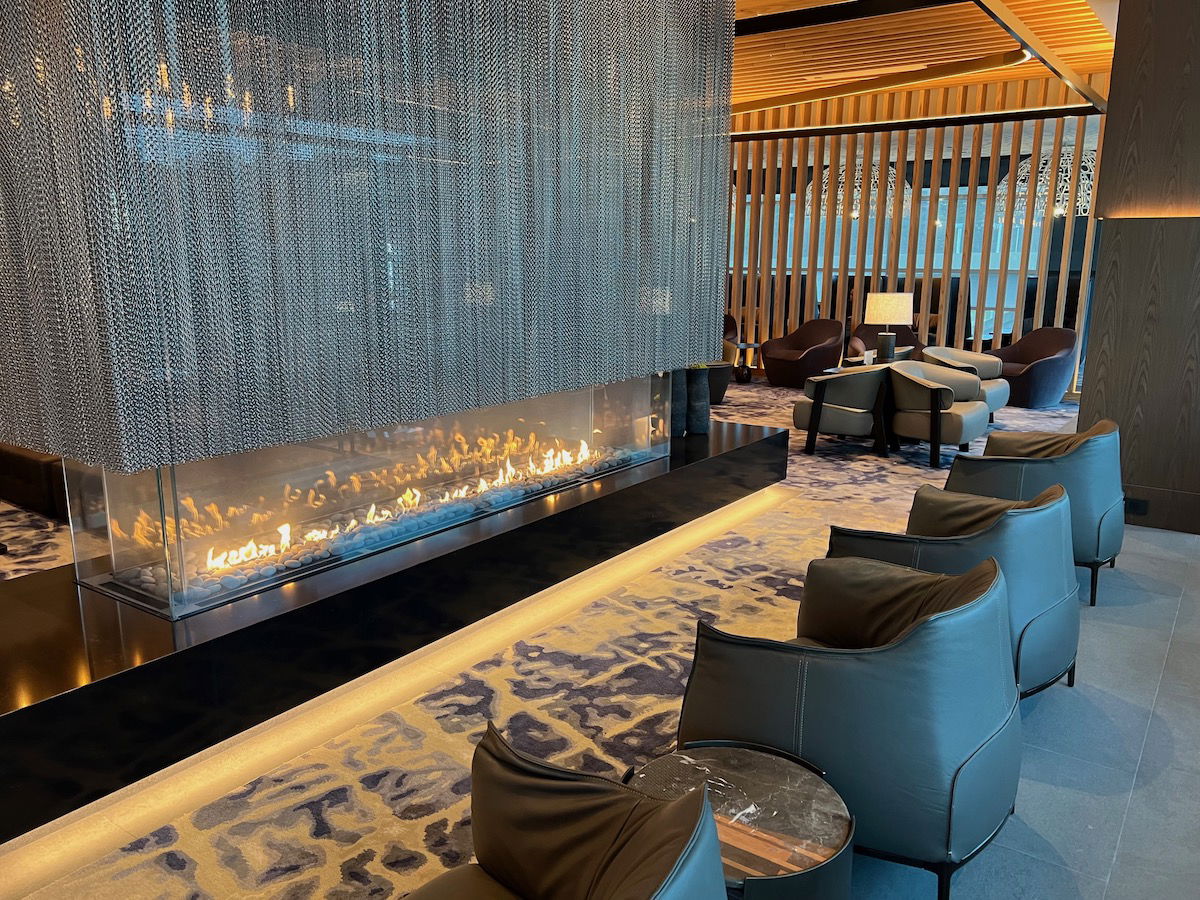 I was surprised by the quality, variety, style, and durability of the lounge furniture. Rather than the previous design that reminded me of a very nice hospital waiting room or cafeteria, the new design is honestly beautiful. From the seats as such, to the carpet, to the ceiling design, this was unlike any Admirals Club I've been in before.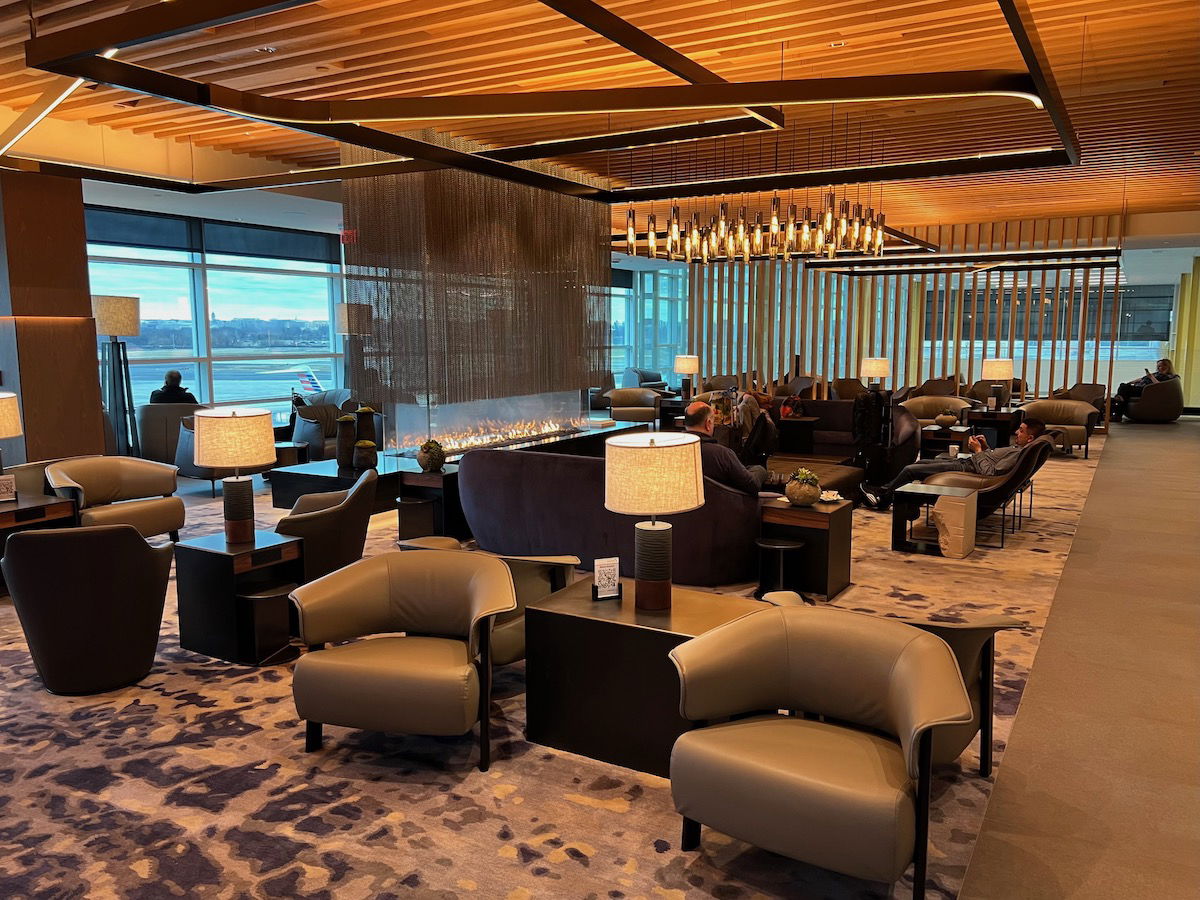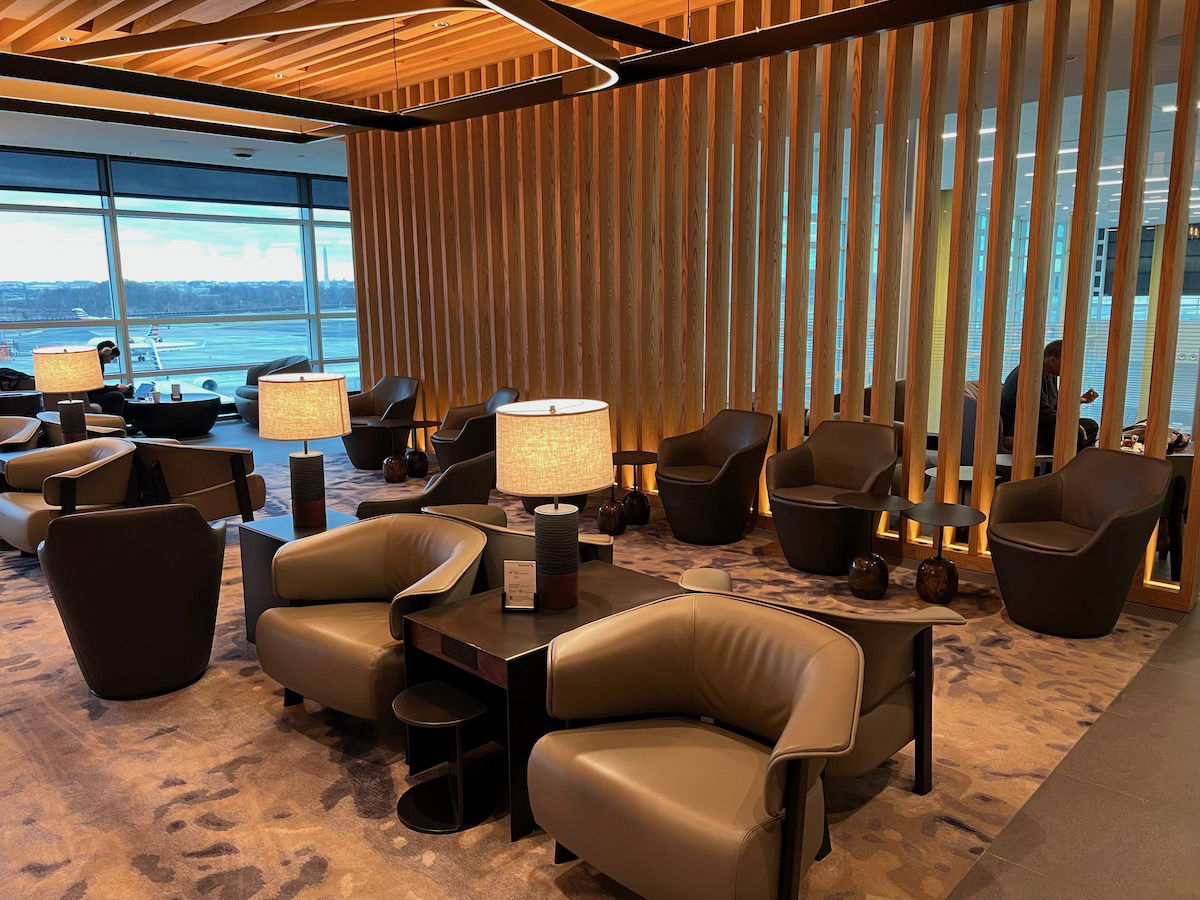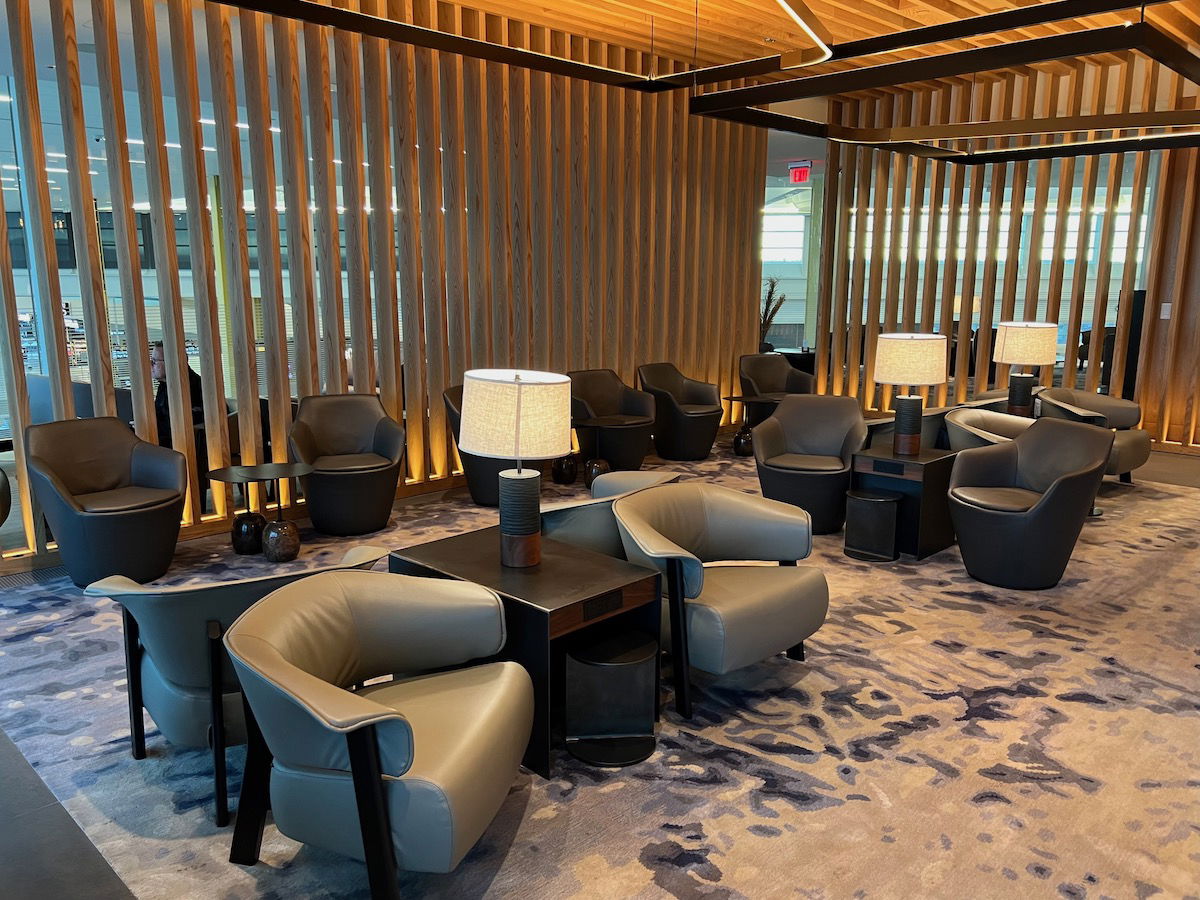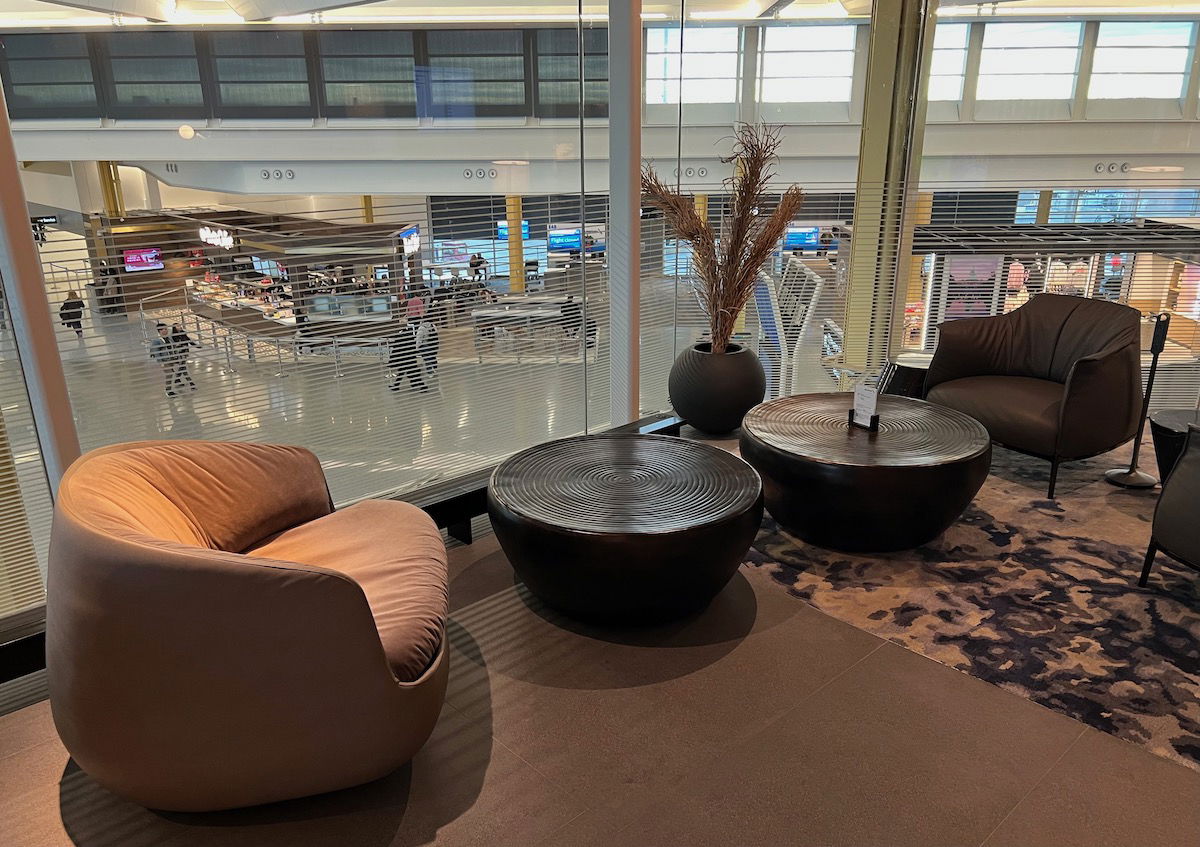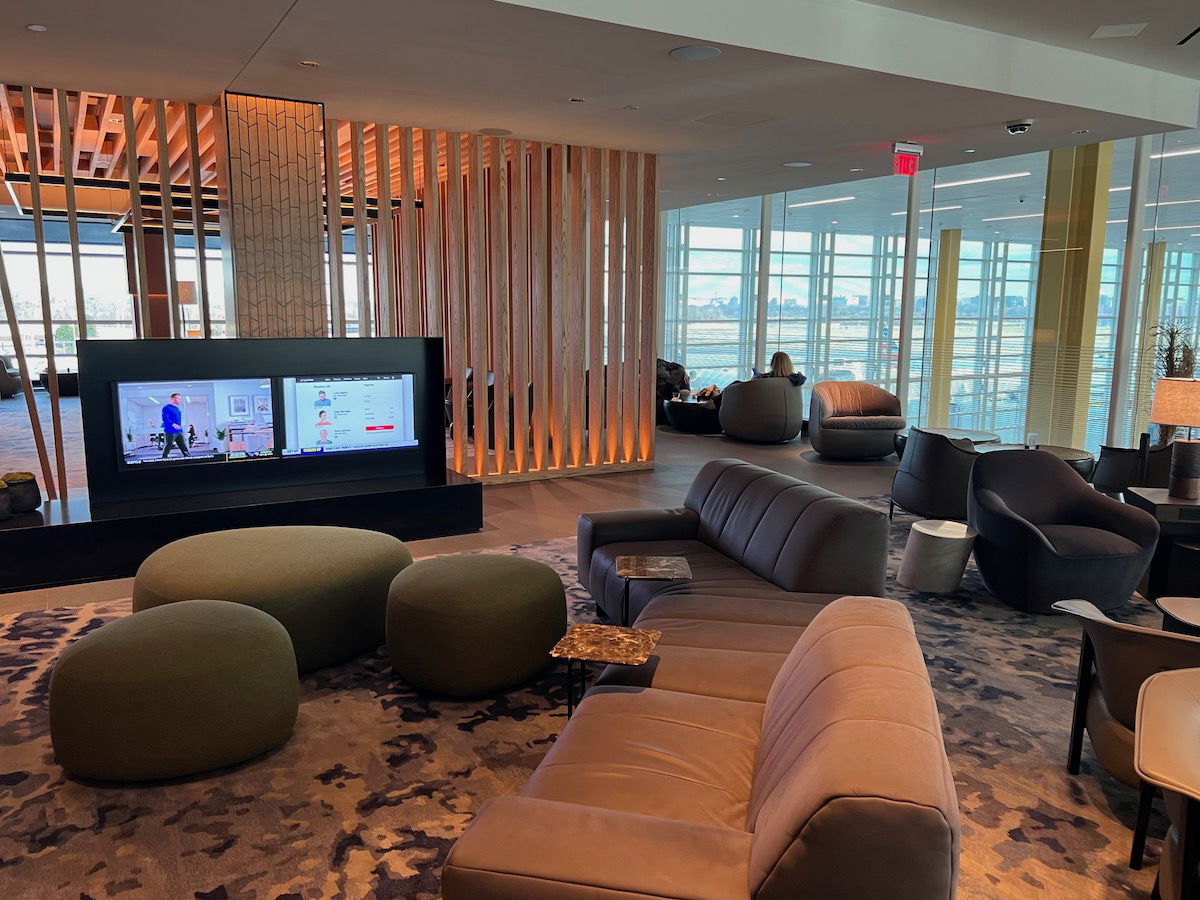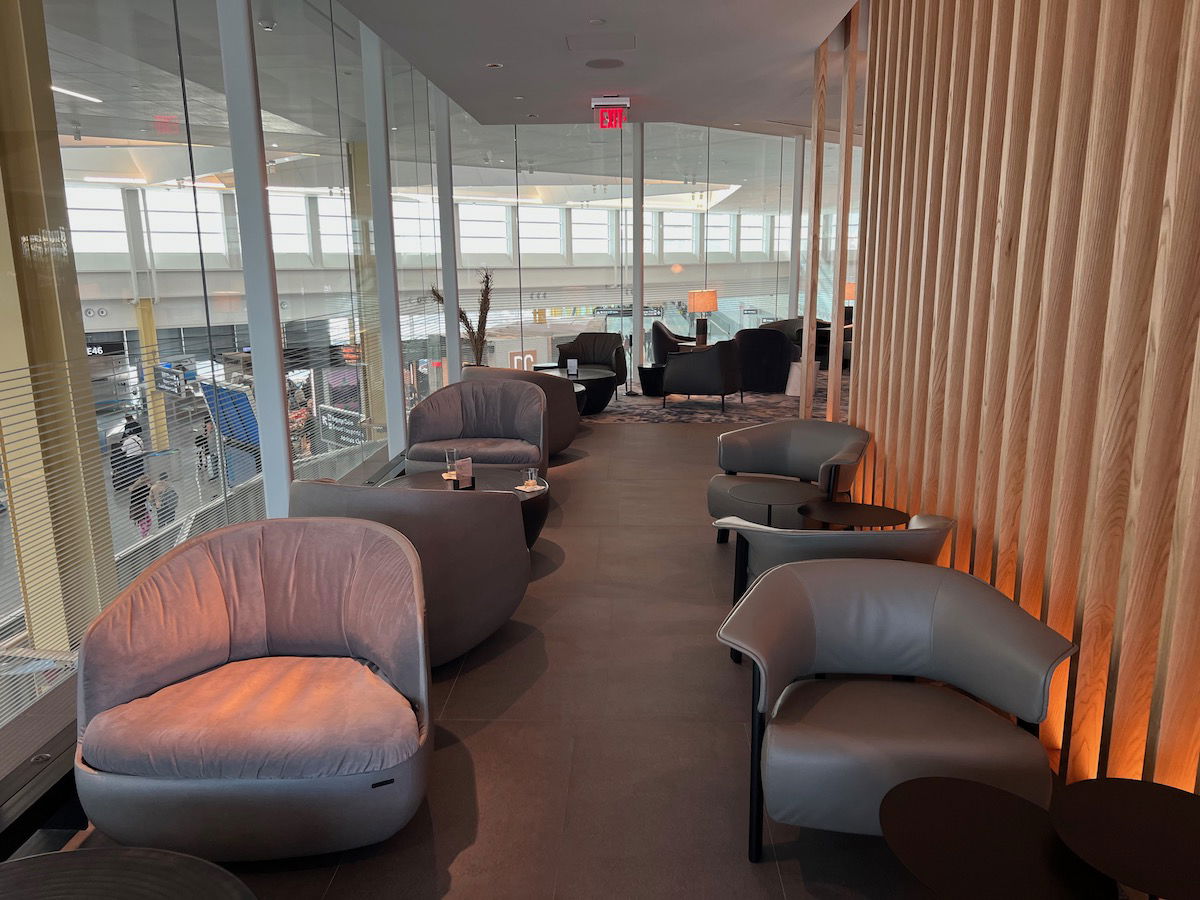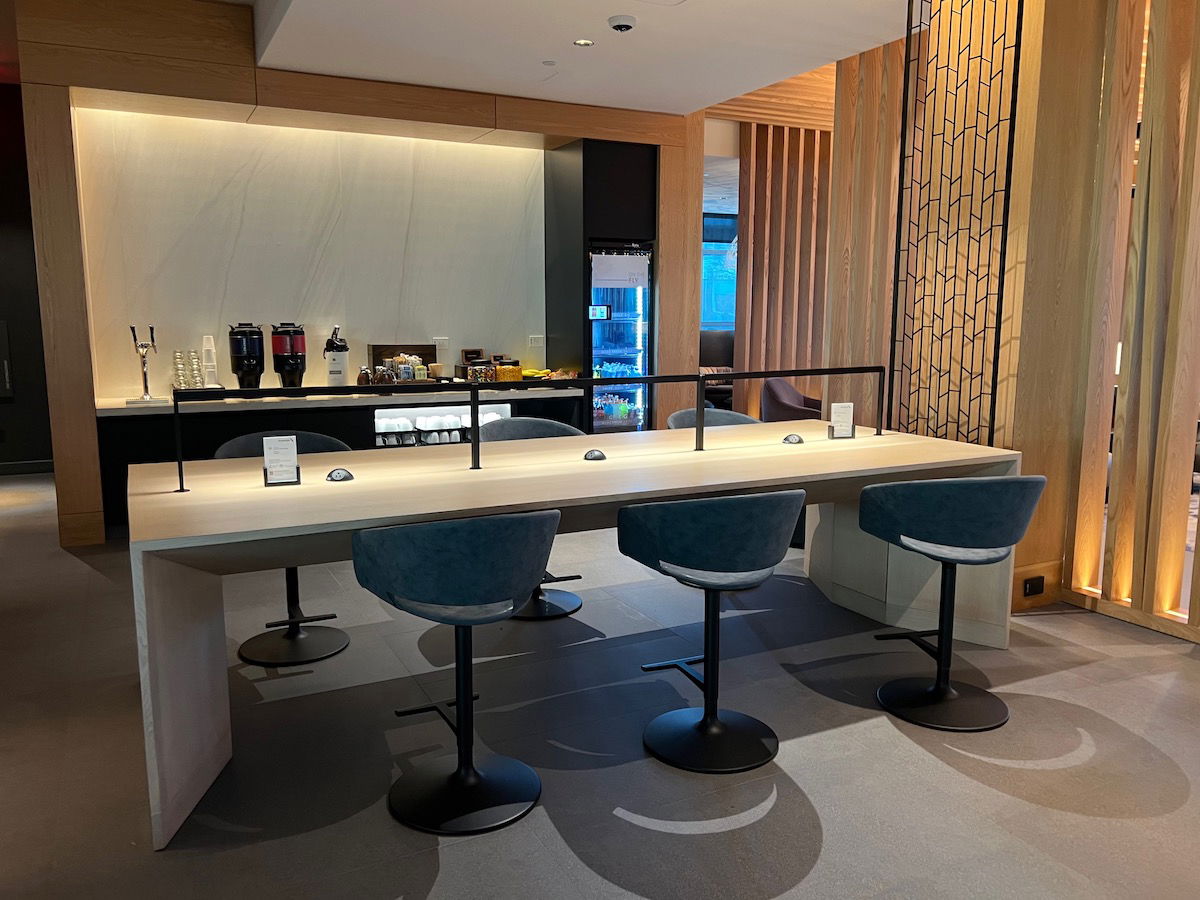 For aviation geeks, you'll love the seating by the window, which boasts great views of the apron.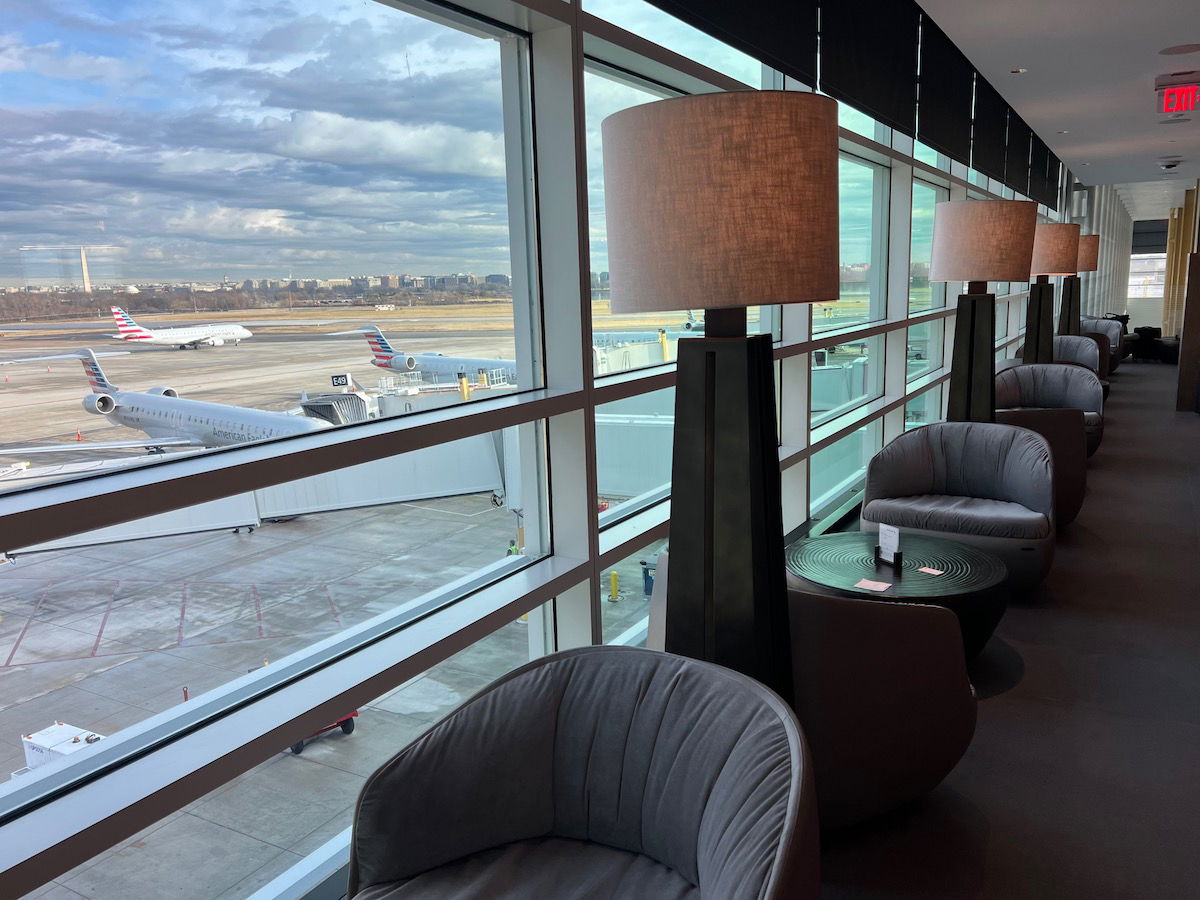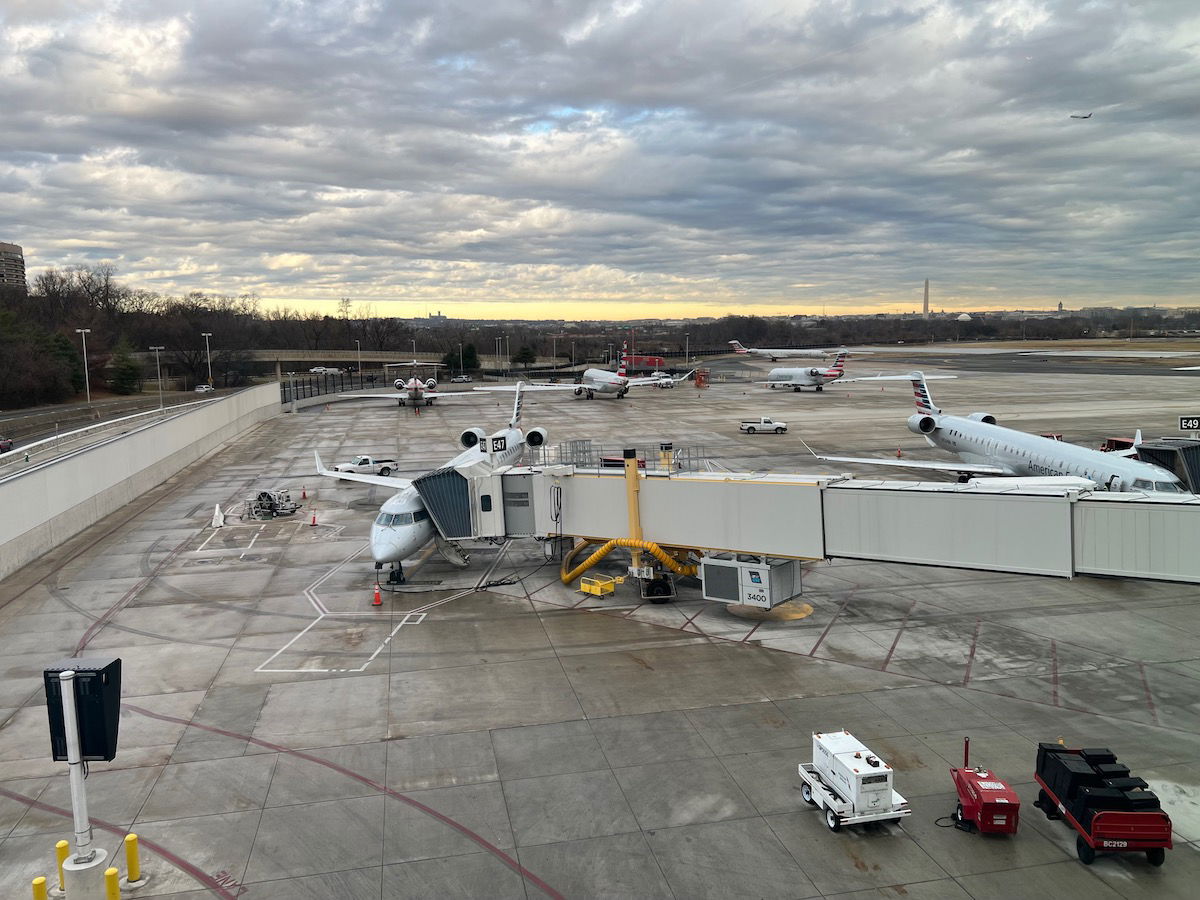 I also love the 10 seats with ottomans, which are both comfortable and private.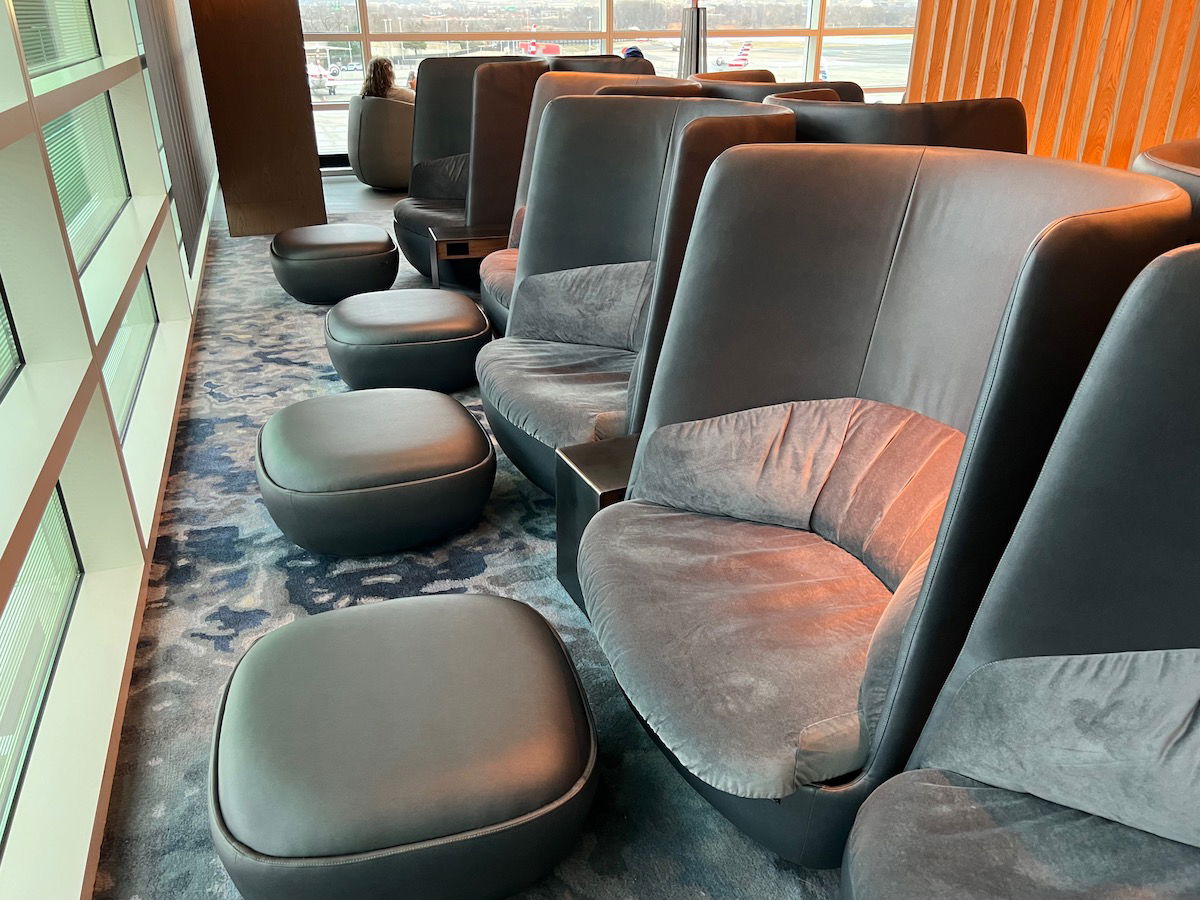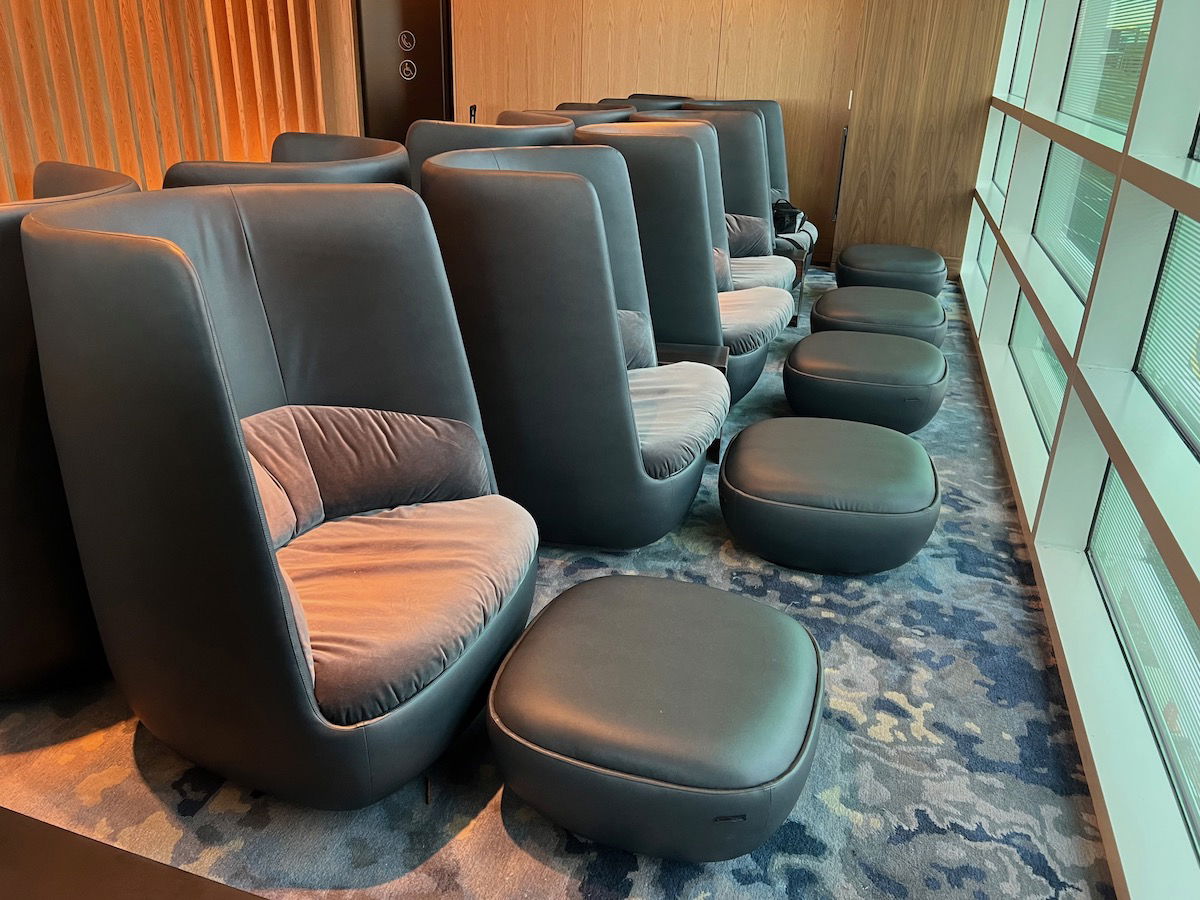 The lounge also has three phone booths. They don't have any seating, but they're great if you want to take a private call (which I imagine happens in Washington DC with some regularity). 😉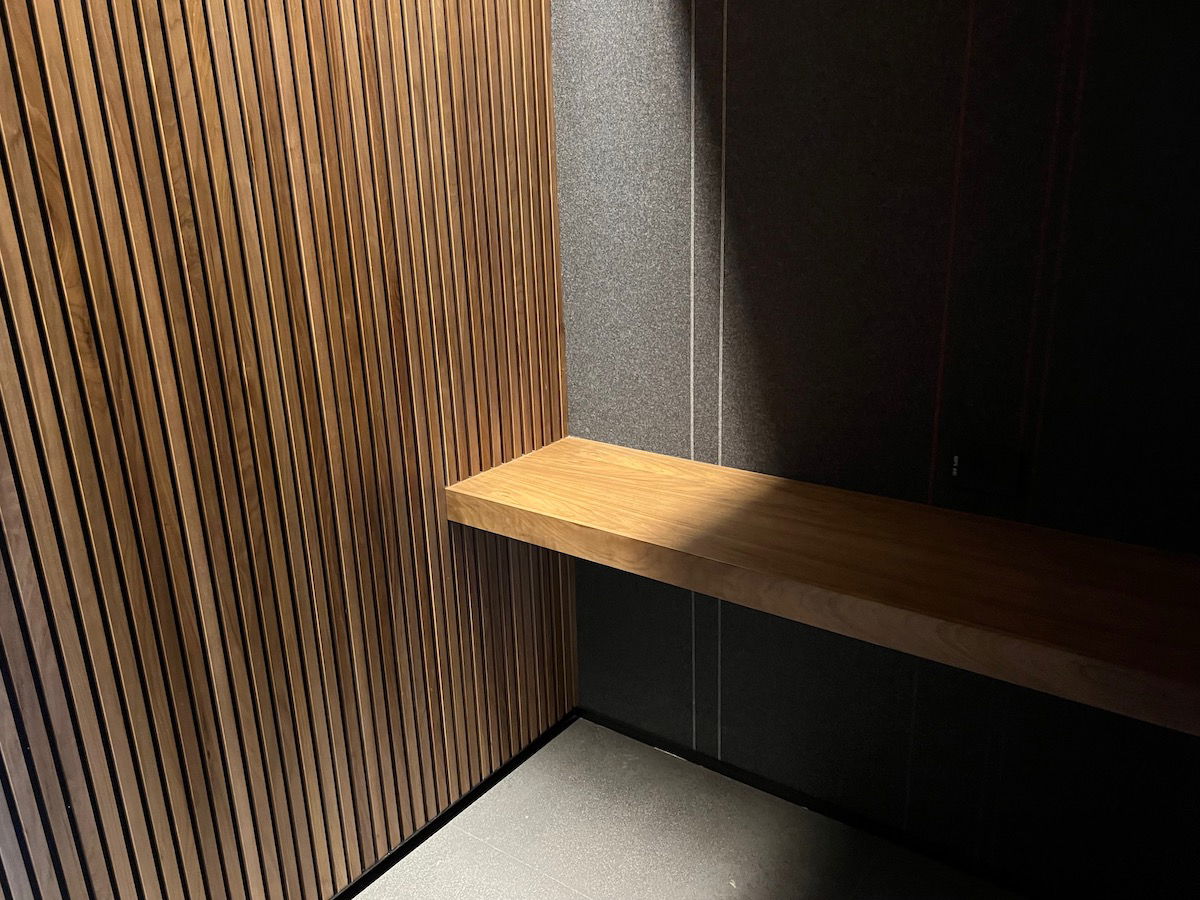 I can't say enough good things about the attention to detail with the design. You can tell someone really put thought into this, as the space has so many elements that make it feel more like a home or a nice hotel, rather than a generic airport lounge.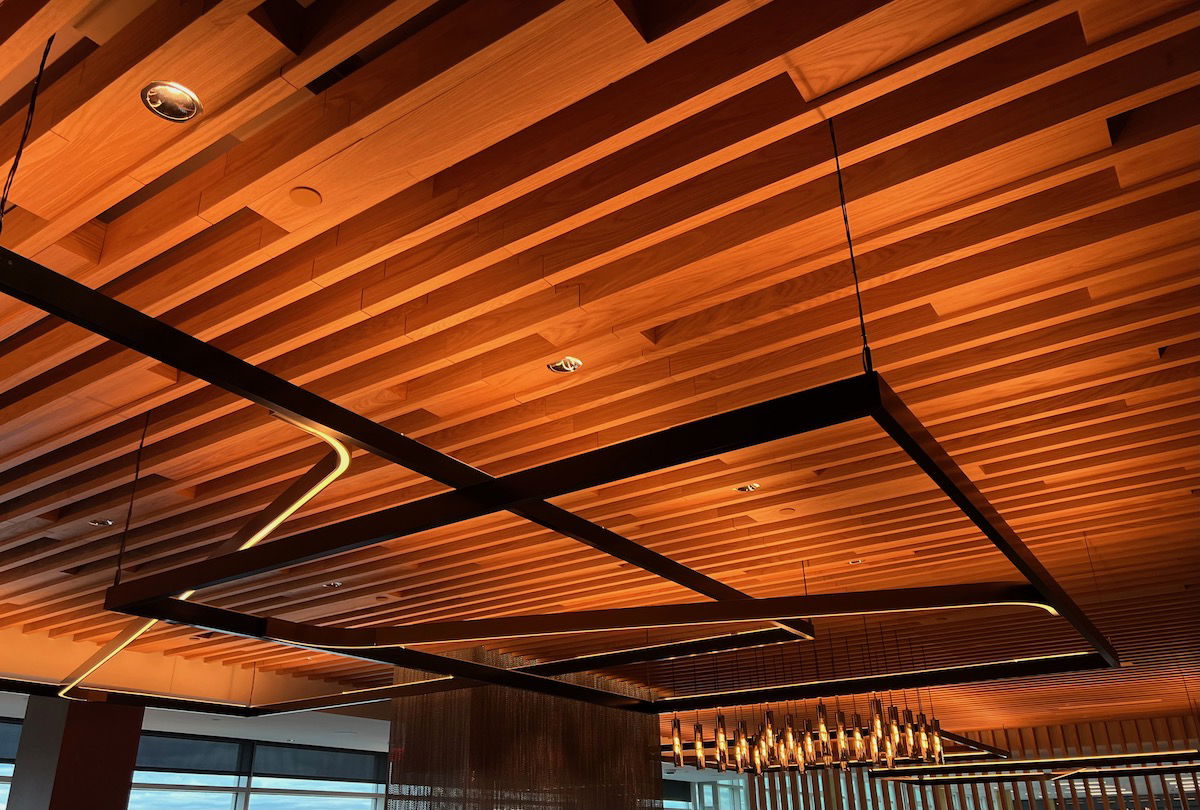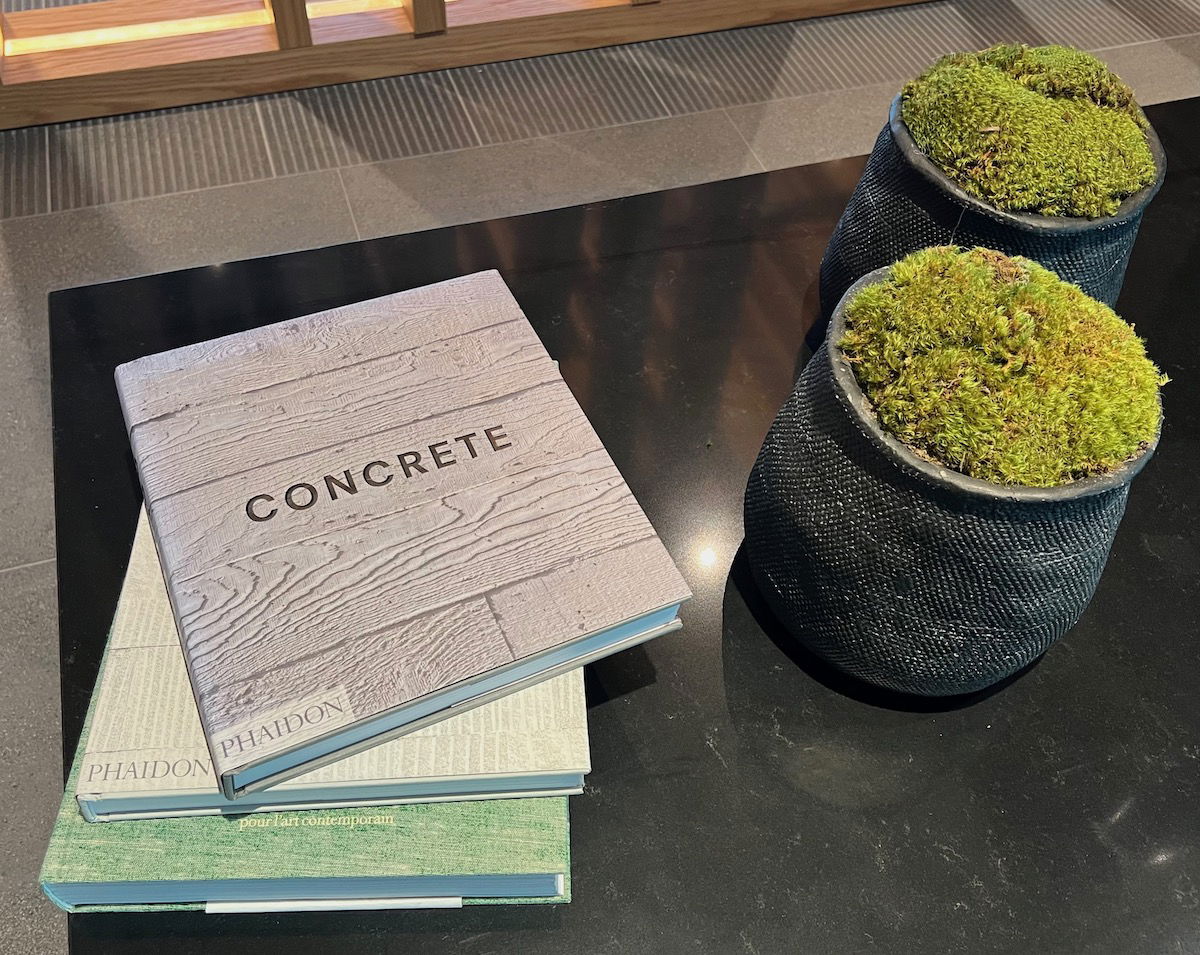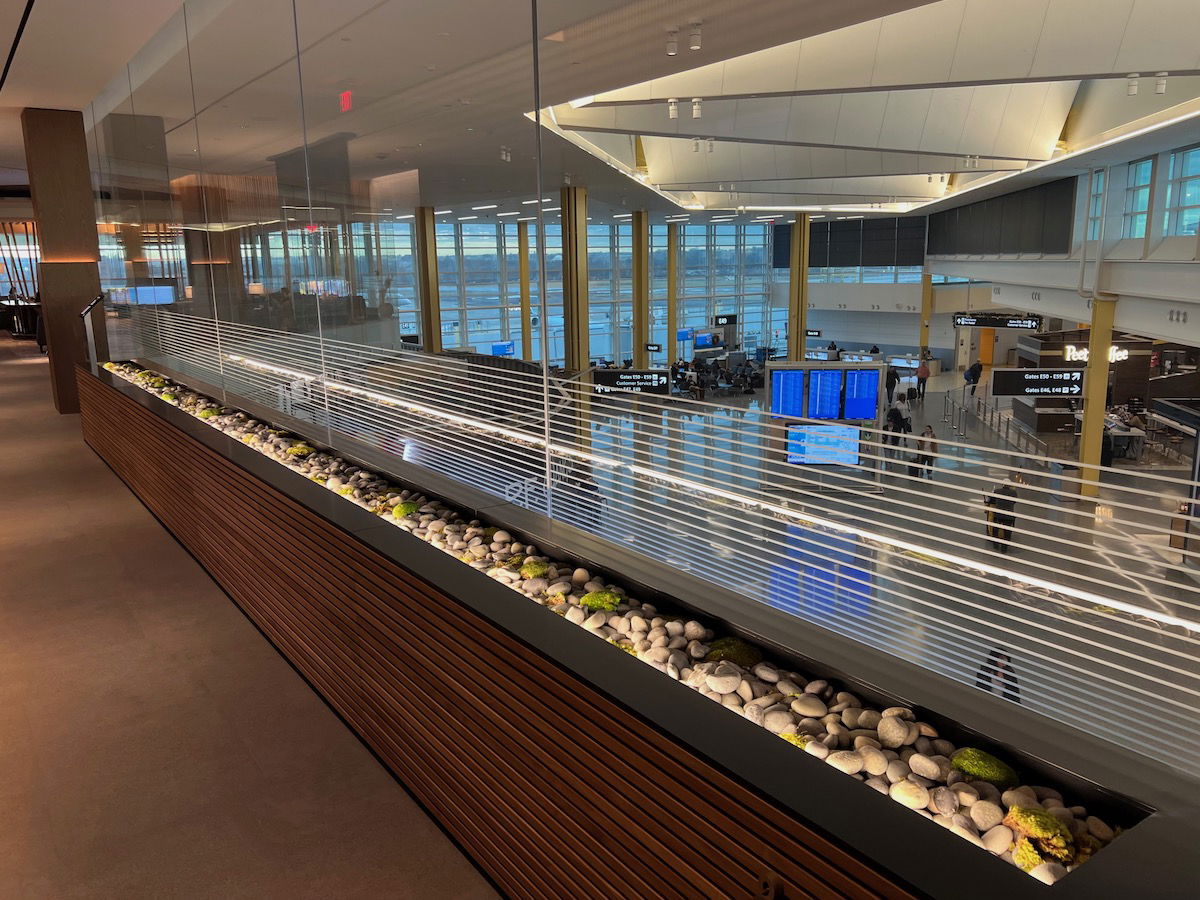 Admirals Club Washington food & drinks
The Admirals Club Washington has a great design, but what's the food & drink selection like? After all, that's an area where American has historically lagged. The main buffet is located right next to the bar.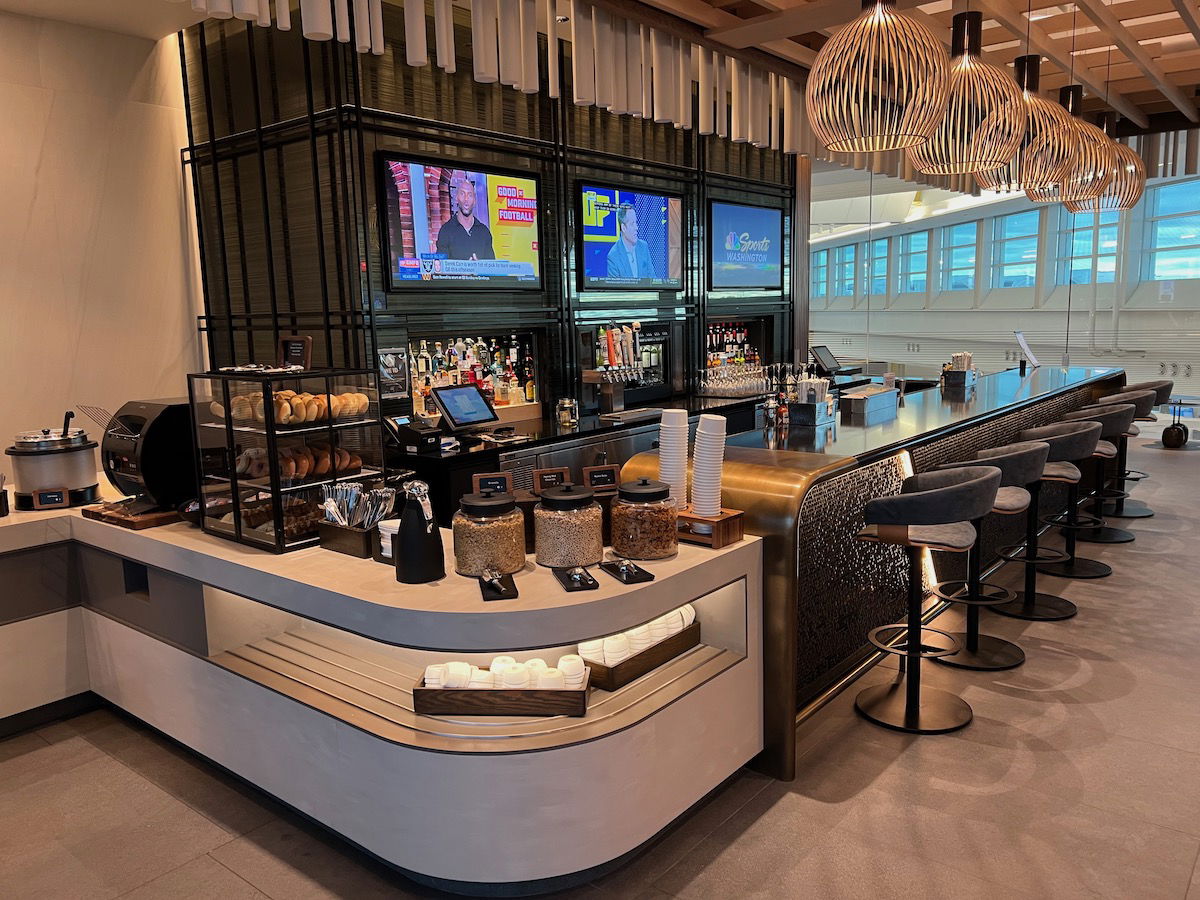 I was there during breakfast, and I appreciated how there was a posted menu, so you could get a sense of what's available (and it's also useful for people with dietary restrictions).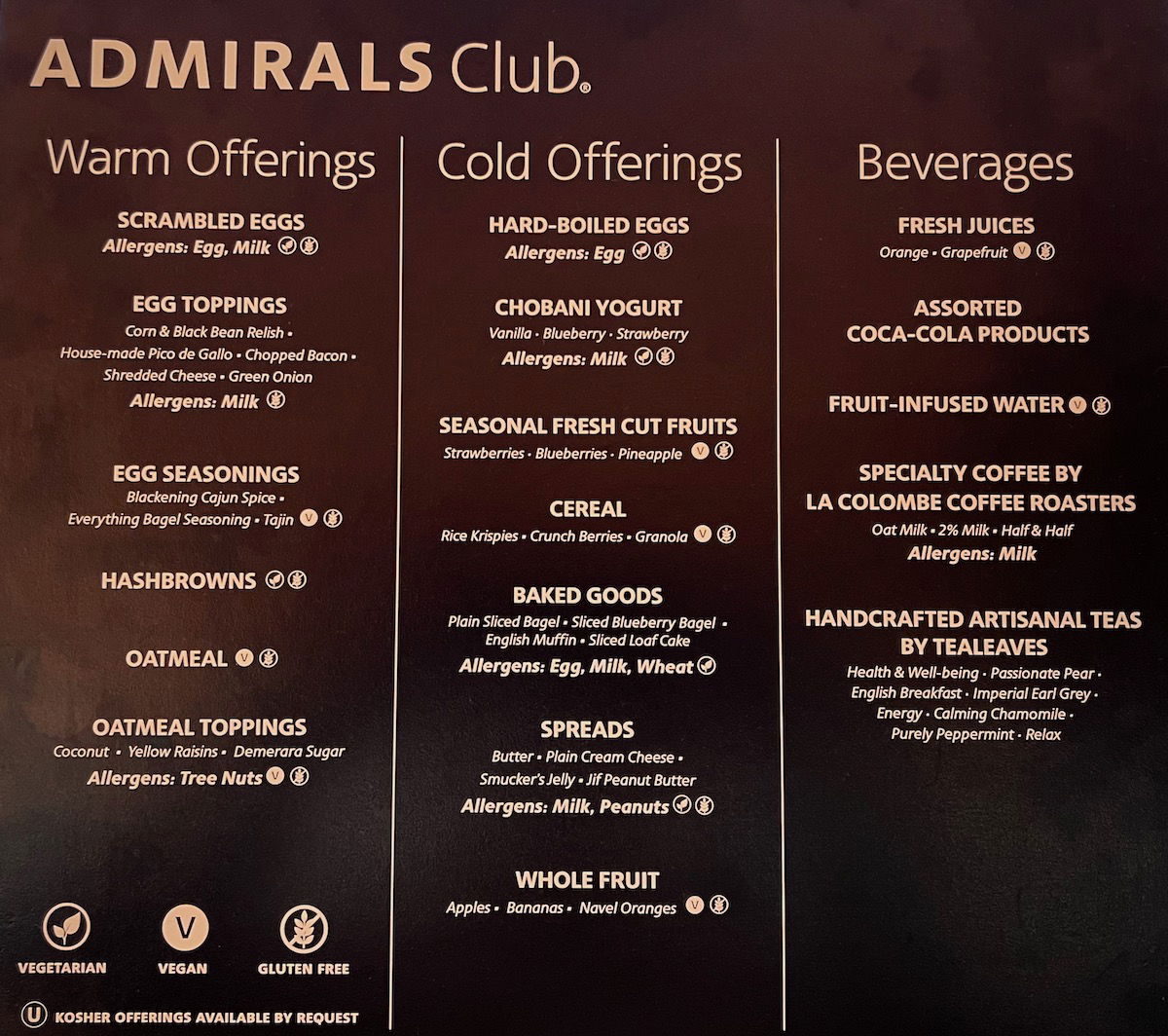 Breakfast options included three types of cereal, pastries, bread, bagels, oatmeal, yogurt, hardboiled eggs, and scrambled eggs with a variety of toppings.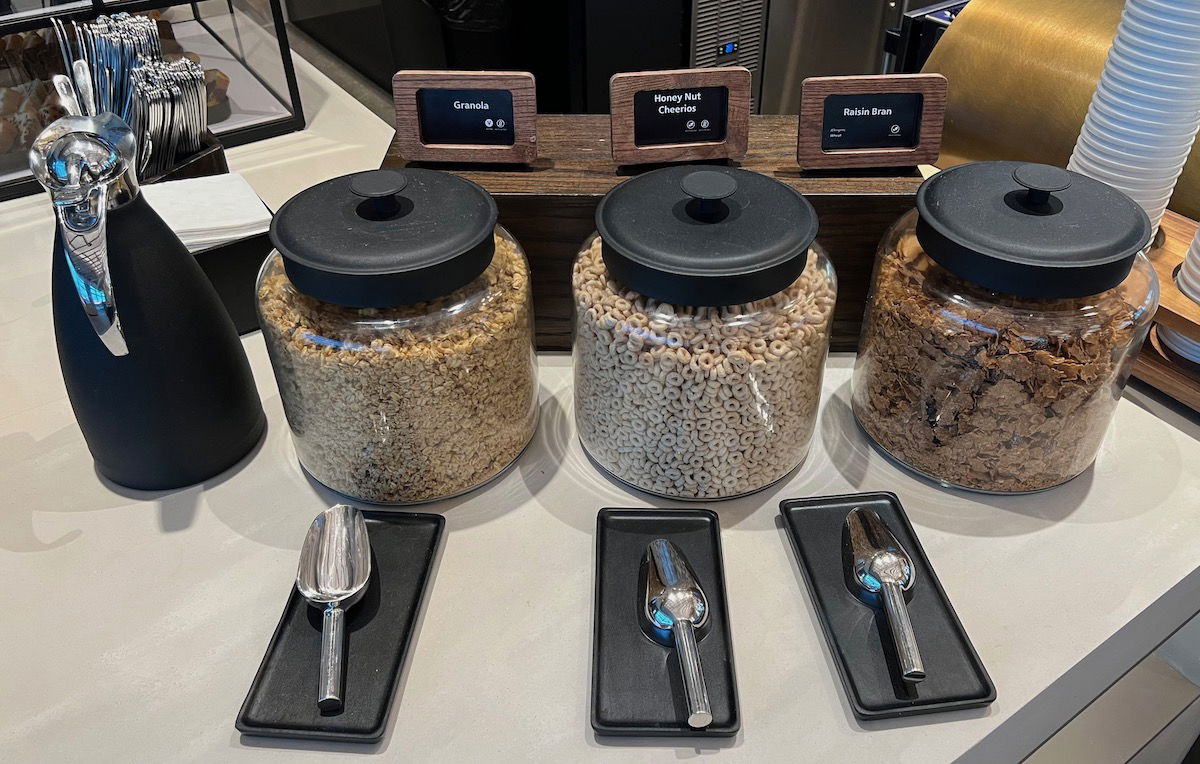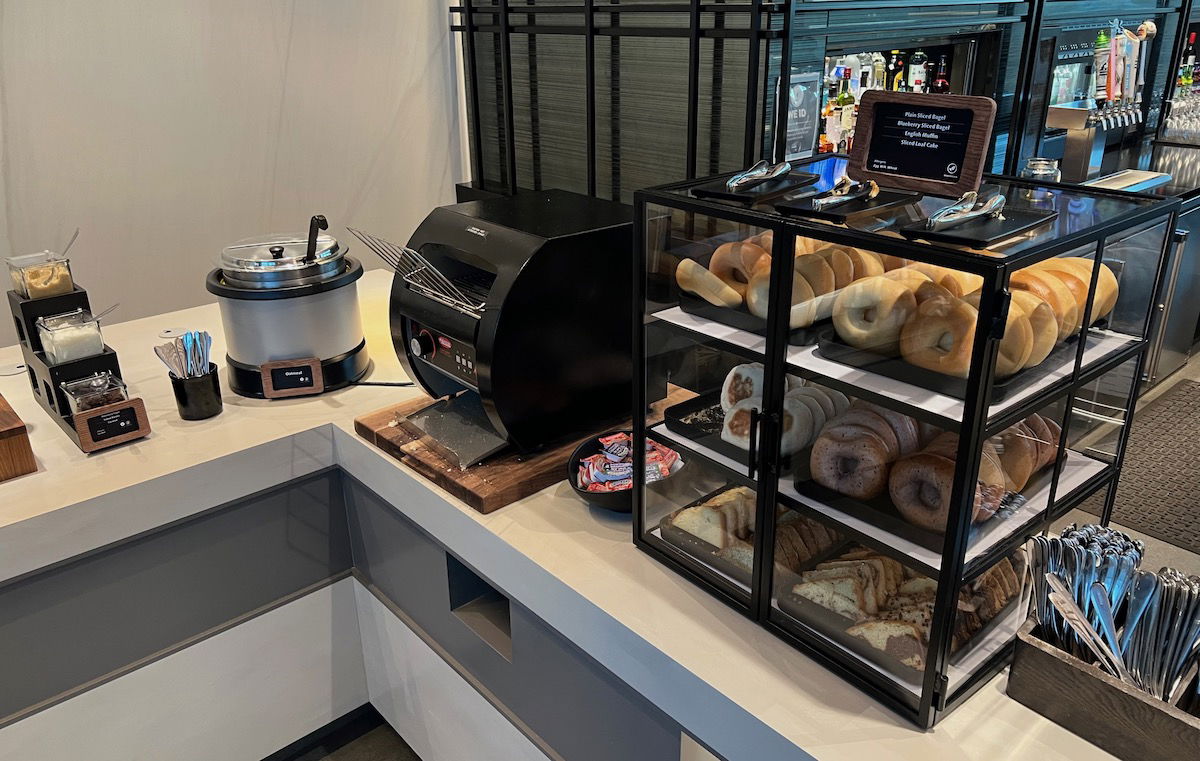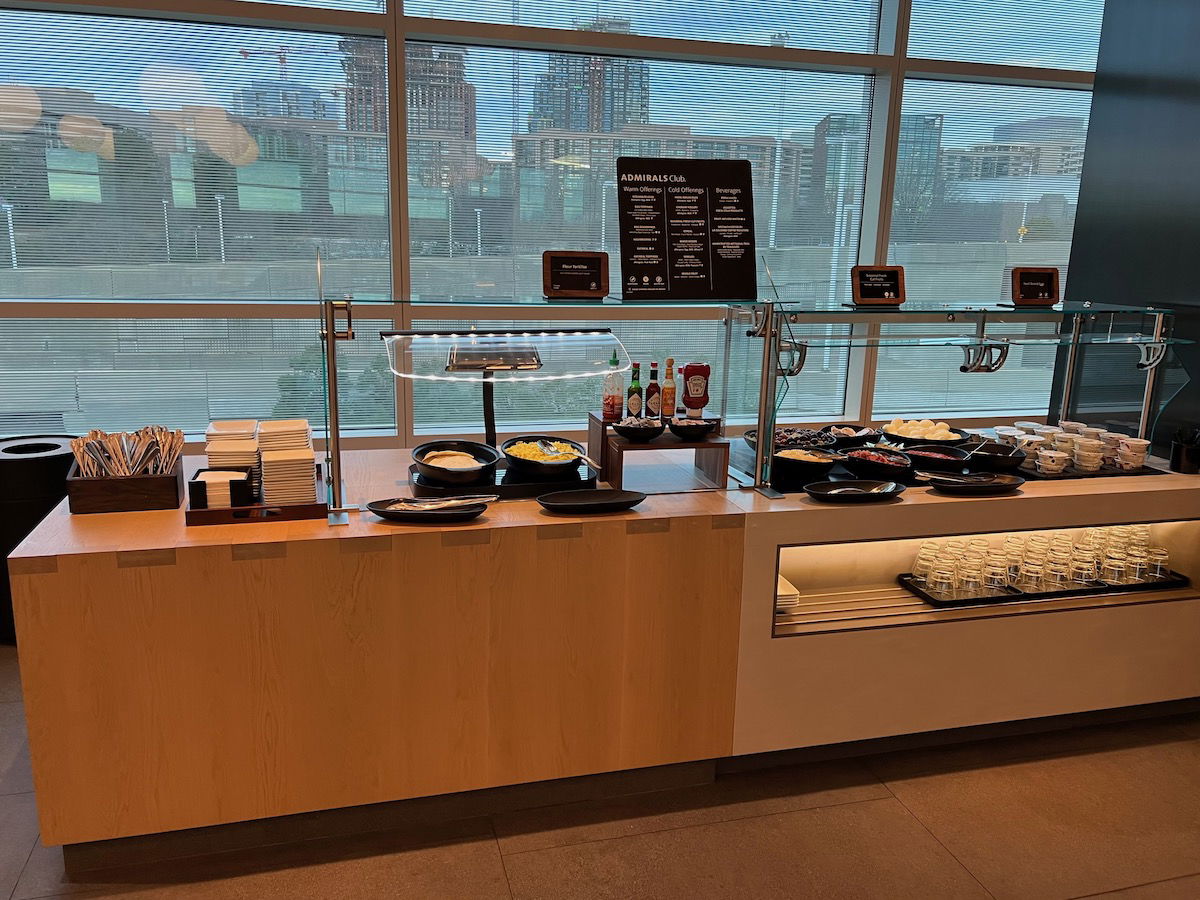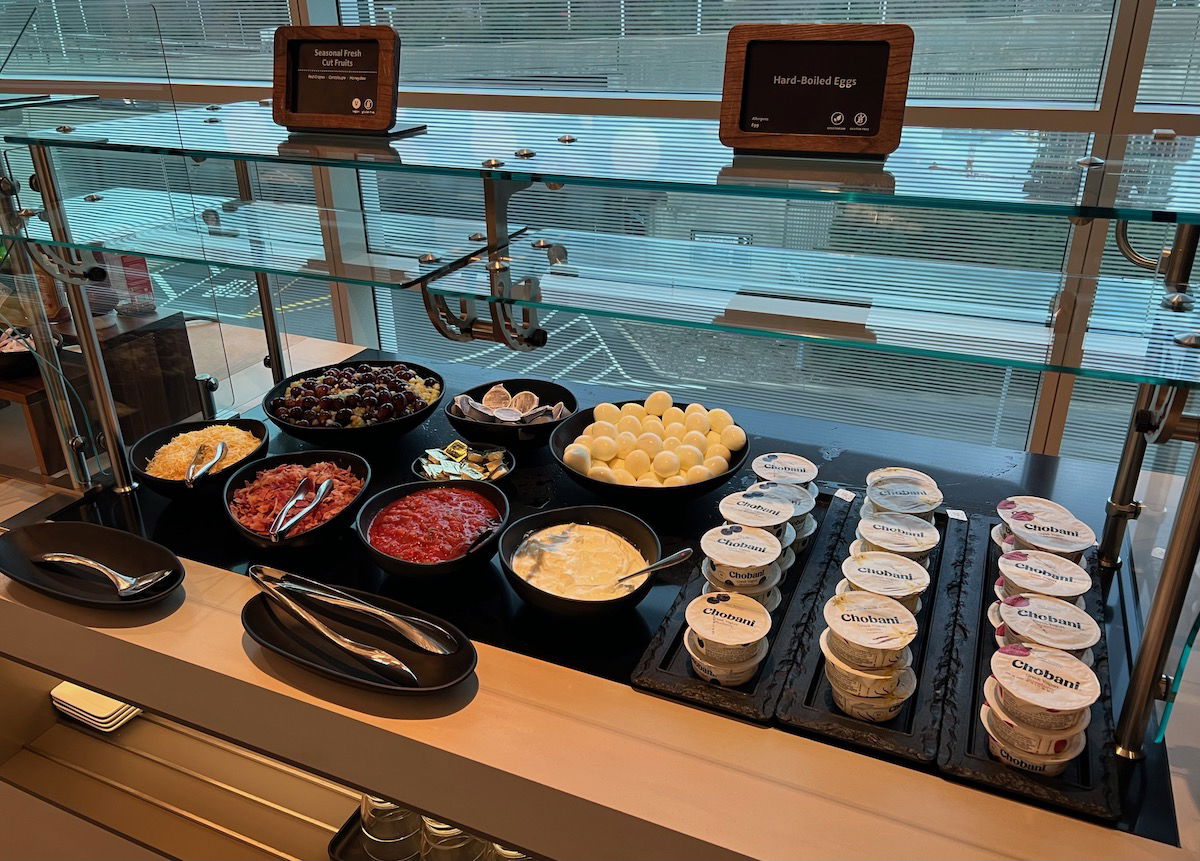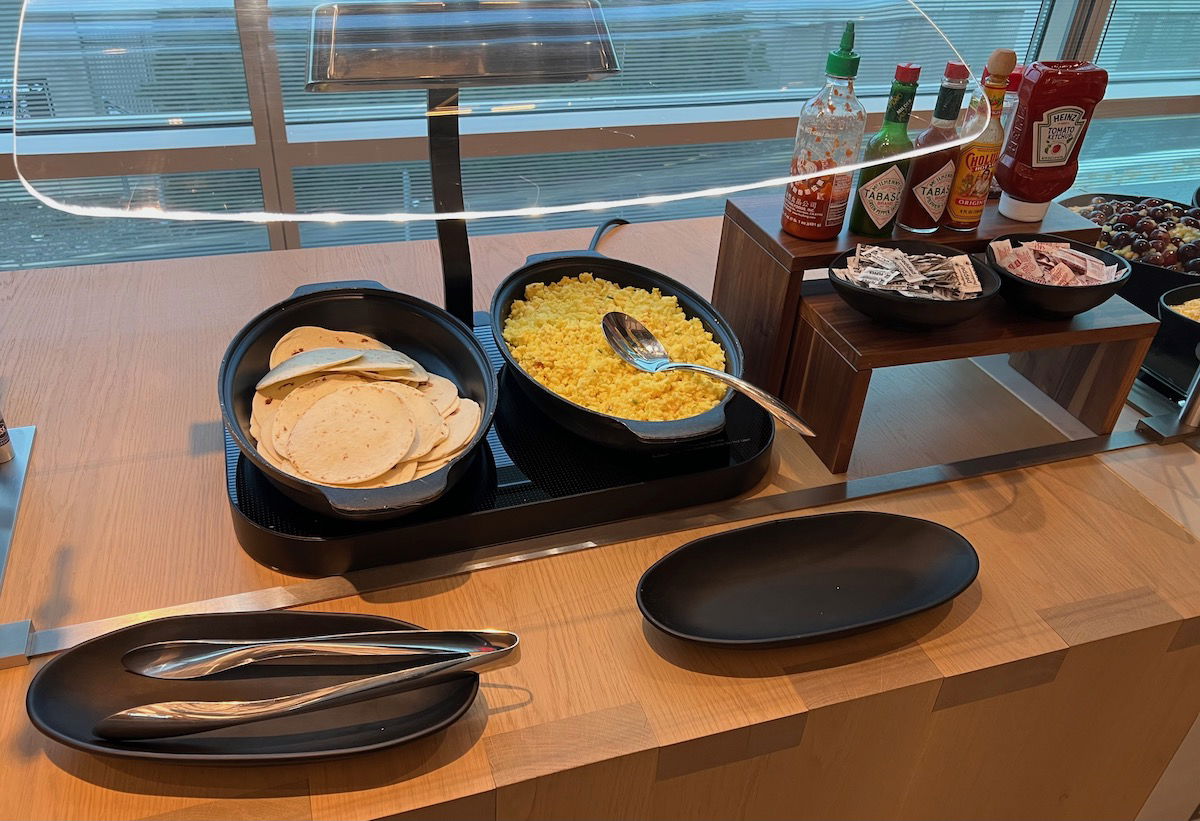 There was also an espresso machine, plus drip coffee from La Colombe.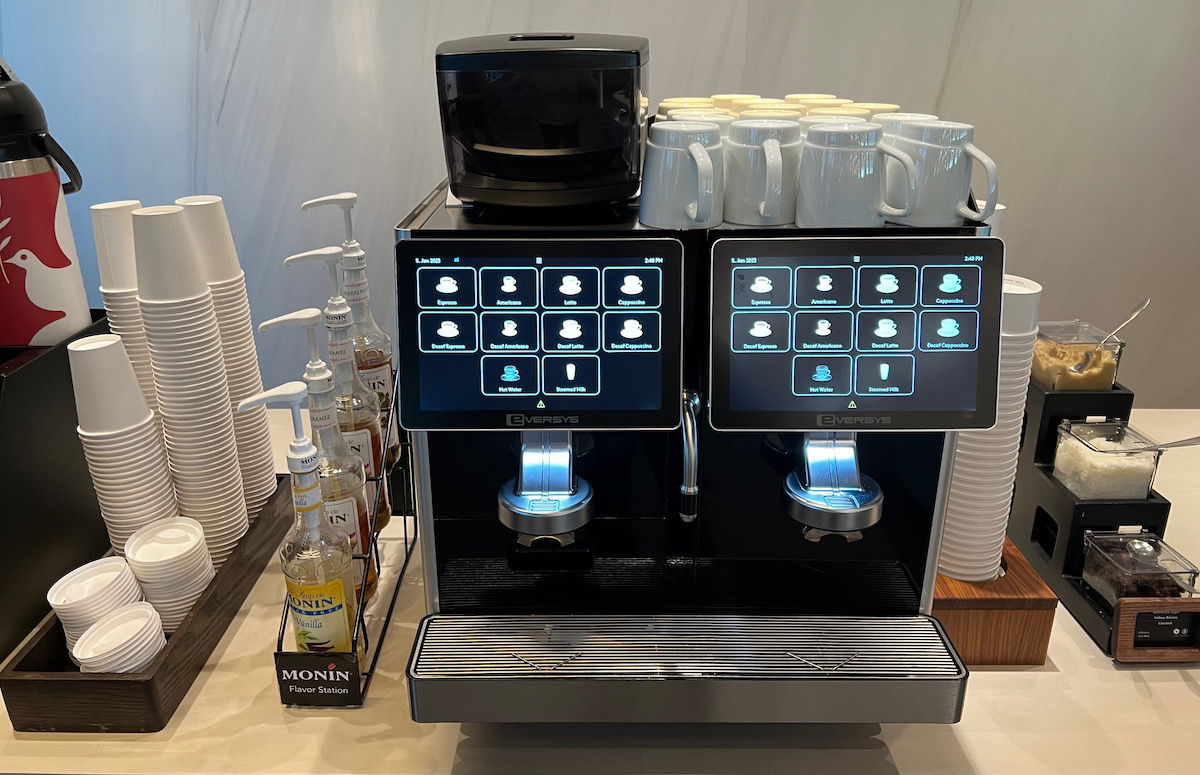 There was also a soda fountain with all kinds of Coke products.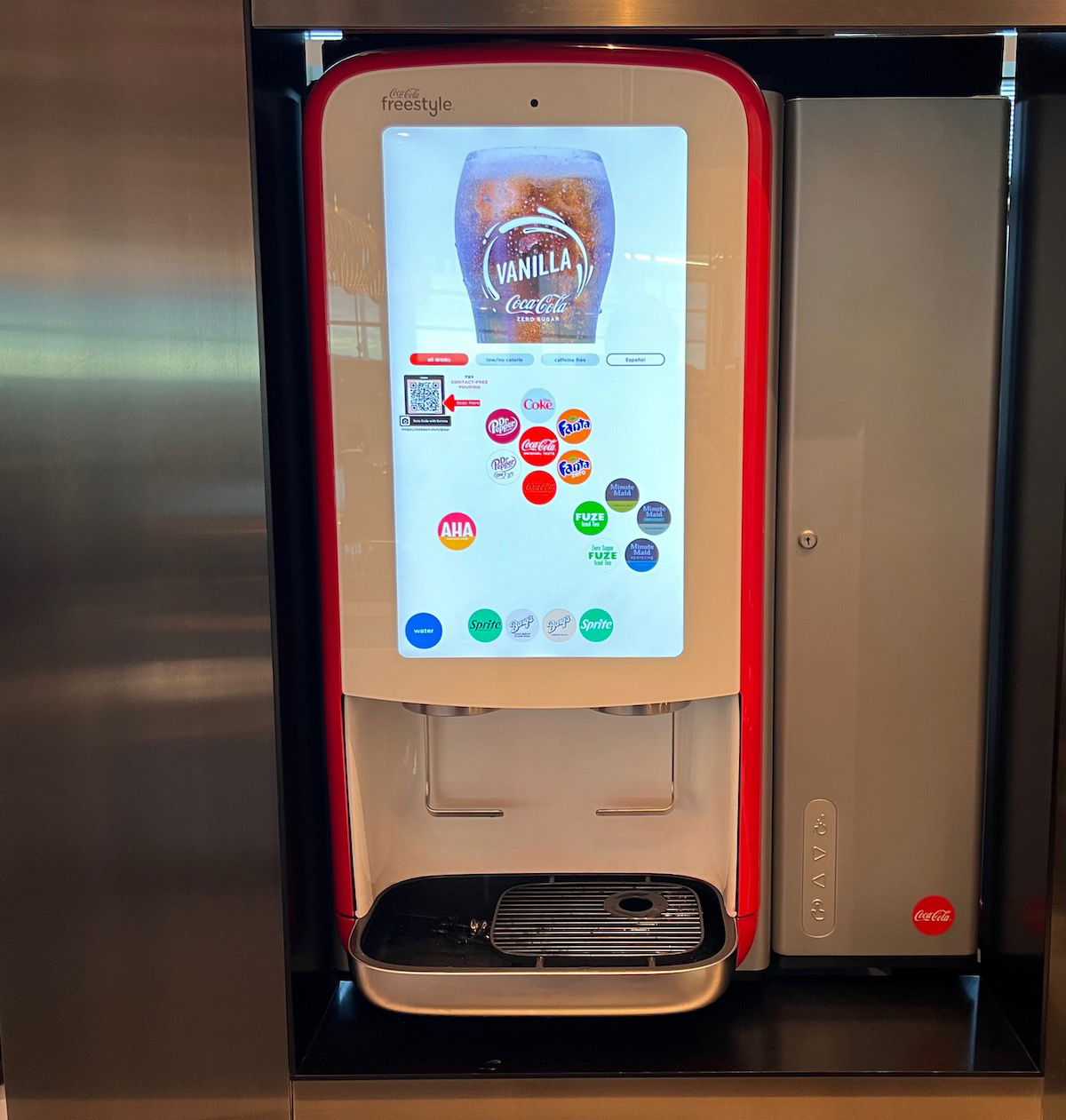 As far as other drinks go, Admirals Clubs offer complimentary "basic" alcohol. So expect you can get a beer, wine, or liquor, but don't necessarily expect it to be great. There's a menu with items for purchase, including premium alcohol and more substantial food.
While the other side of the lounge didn't have a full buffet, it did have a small variety of drinks and snacks. Specifically, it had a water fountain (with both still and sparkling water), coffee, and hot water.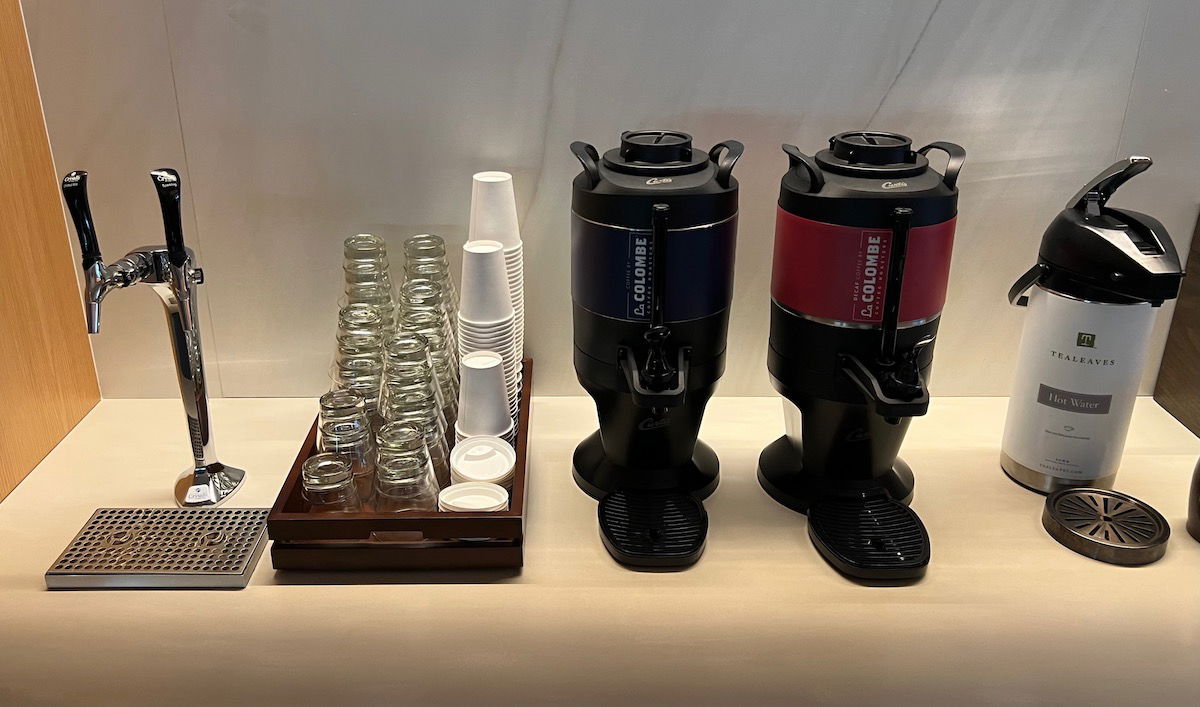 There were also two snacks (M&Ms and Goldfish), as well as whole fruit (bananas, oranges, and apples).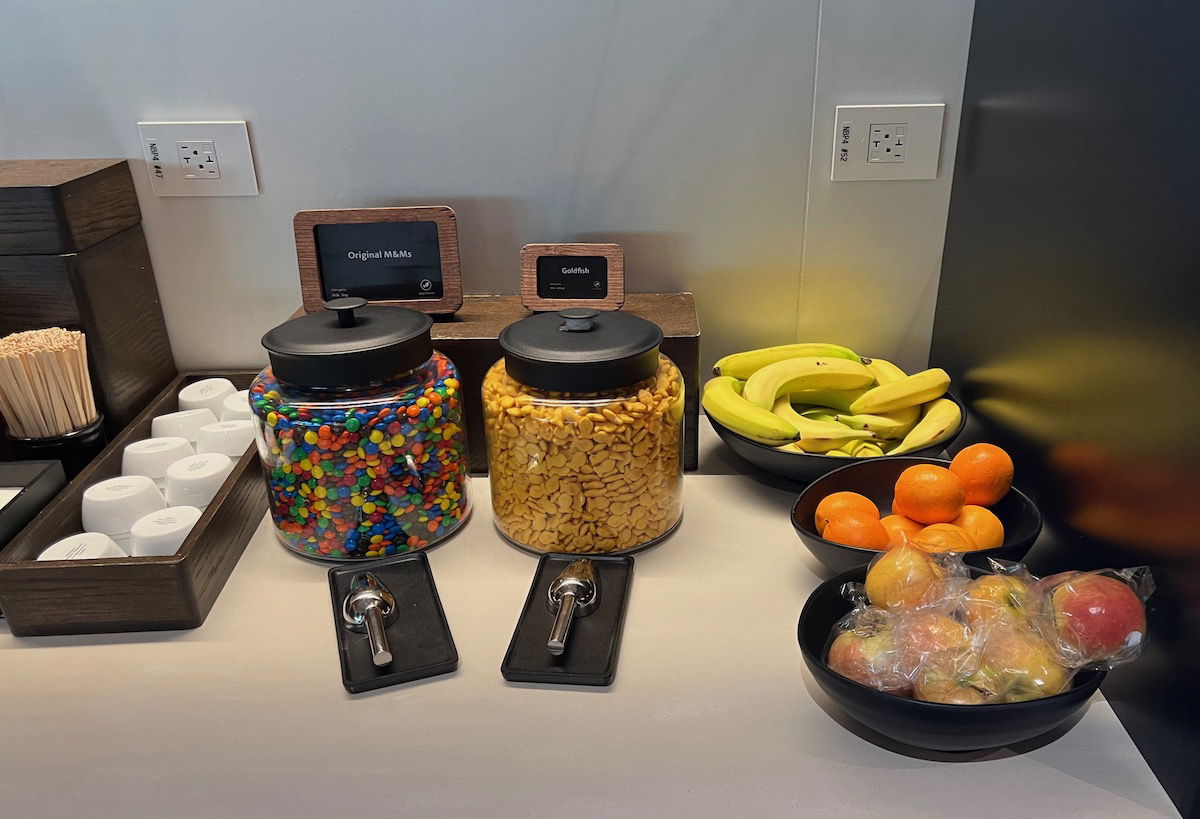 Next to this was a fridge with drinks for purchase, for those who want to take something to go.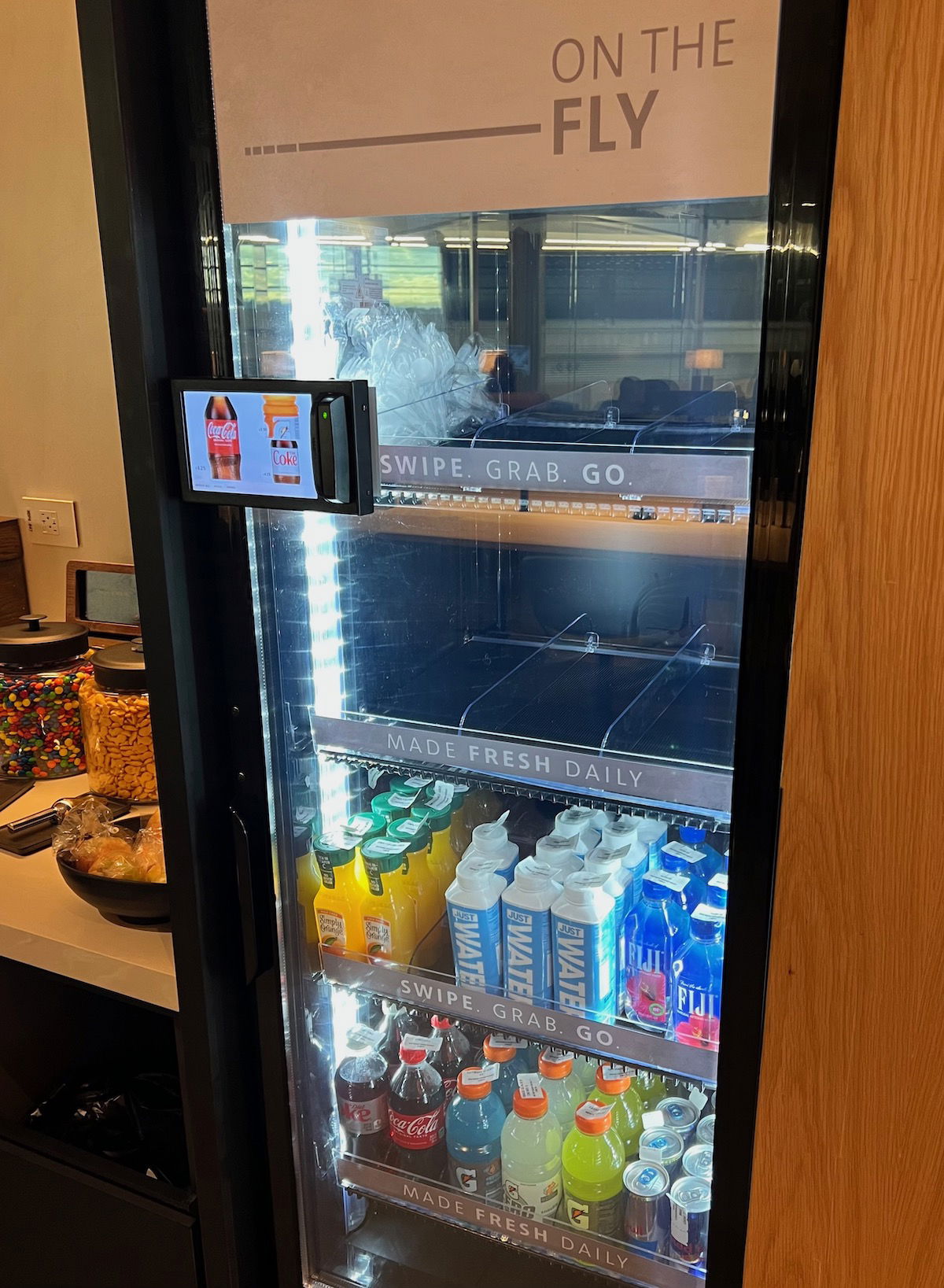 Admirals Club Washington bathrooms
The bathrooms are in the very back of the Admirals Club, on the same side of the lounge as the bar. The men's bathroom had three sinks, three urinals, and several stalls. Again, the design was gorgeous.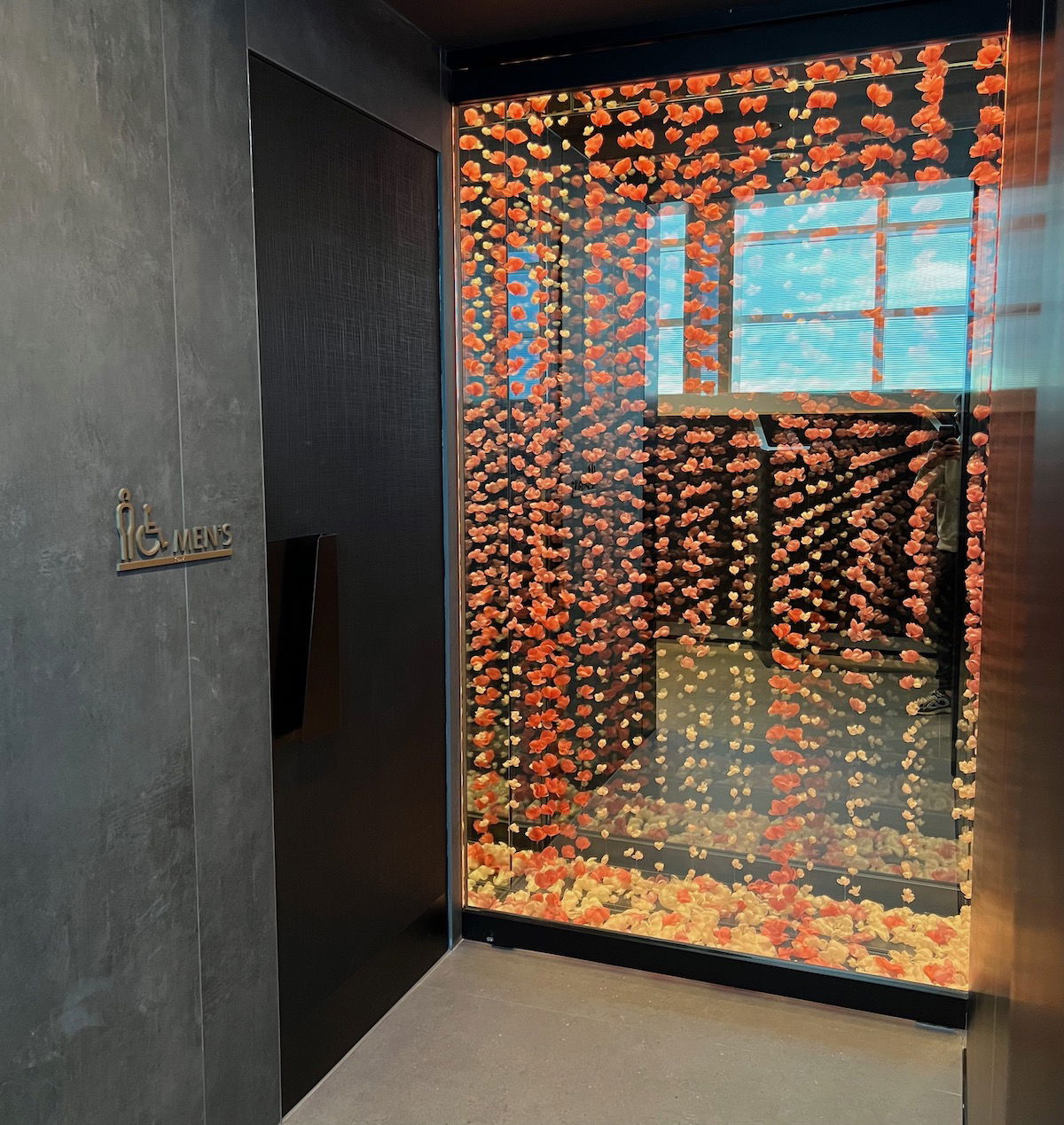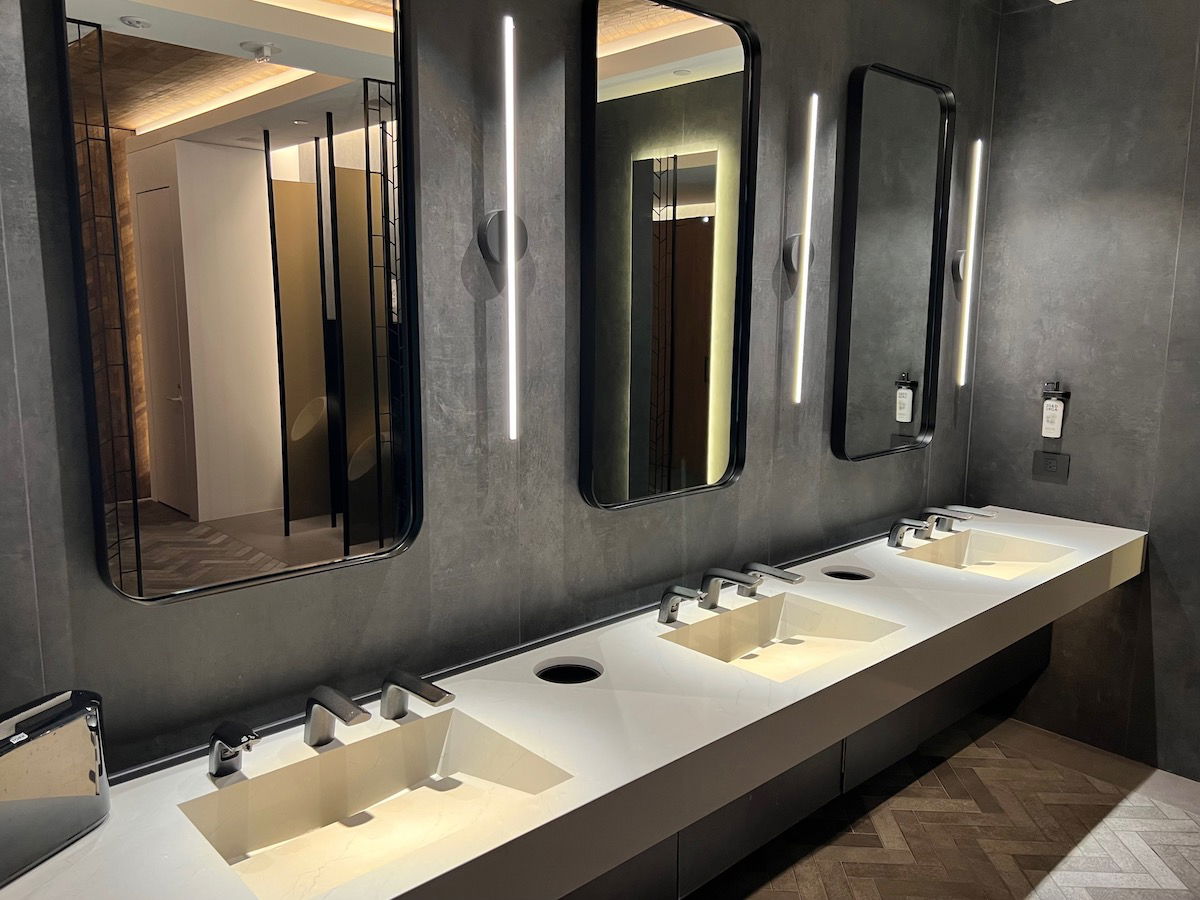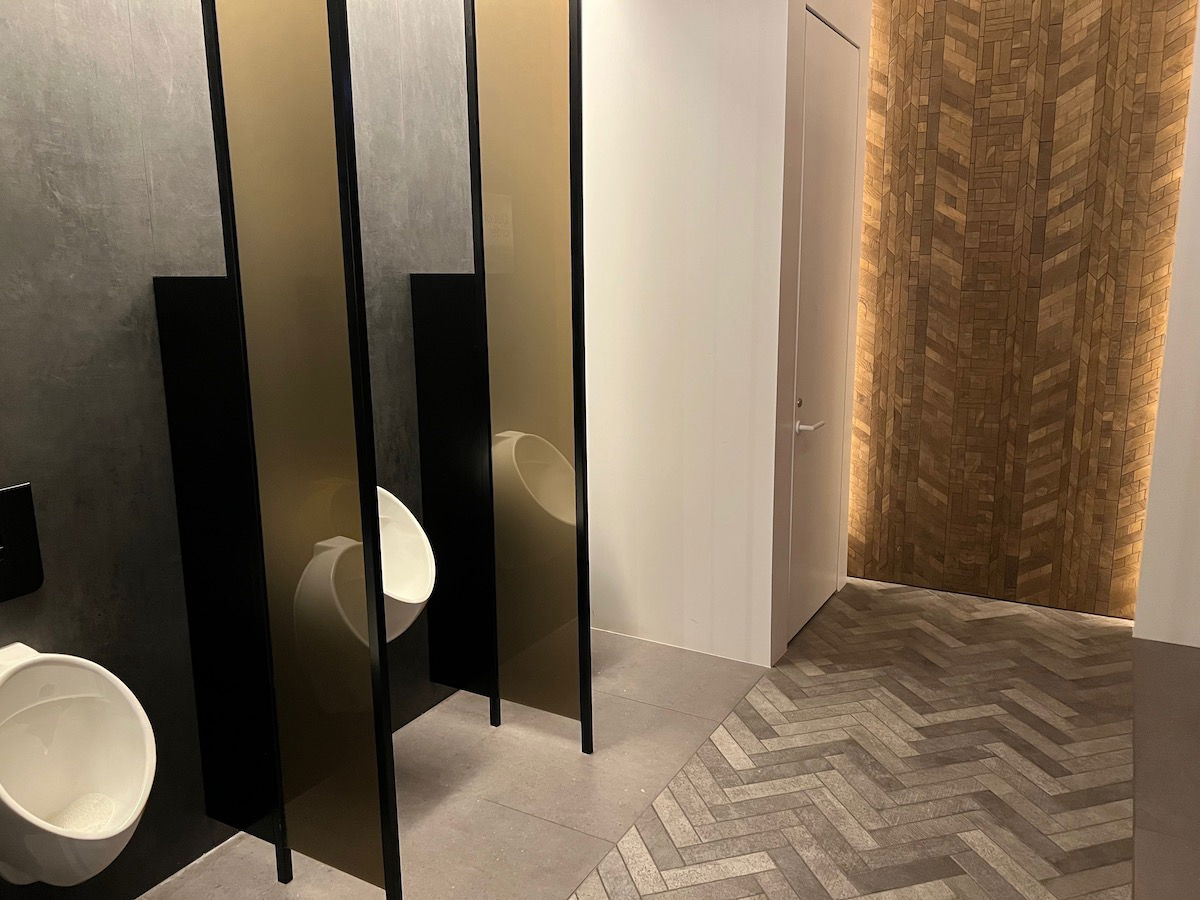 The Admirals Club Washington has no showers, which is fair enough, since there aren't many people here getting off a long haul flight…
Bottom line
I'm happy I had the chance to check out American's first redesigned Admirals Club. I was blown away by how nice this lounge was, as it's totally different than what you'll find in any other Admirals Club. American did a phenomenal job creating a space that's cozy and luxurious-feeling, all while still being functional. I can't wait to see more Admirals Clubs be redesigned in the same way.
Admirals Clubs still don't have a particularly impressive soft product when it comes to complimentary food & drinks. However, I also don't find these lounges to be consistently overcrowded, so as far as I'm concerned that's a fair tradeoff.
What do you make of the redesigned Admirals Club in Washington?