In the interest of full disclosure, OMAAT earns a referral bonus for anyone that's approved through some of the below links. The information and associated card details on this page for the Hilton Honors American Express Aspire Card, American Express® Green Card, and Amex EveryDay® Preferred Credit Card have been collected independently by OMAAT and has not been reviewed or provided by the card issuer. These are the best publicly available offers (terms apply) that we have found for each product or service. Opinions expressed here are the author's alone, not those of the bank, credit card issuer, airline, hotel chain, or product manufacturer/service provider, and have not been reviewed, approved or otherwise endorsed by any of these entities. Please check out
our advertiser policy
for further details about our partners, and thanks for your support!
There are lots of aspects to maximizing your credit card strategy, including taking advantage of the best welcome bonuses, spending categories, and card perks.
Sometimes I think it's interesting to break down credit card strategies by card issuer, so in this post I wanted to share my American Express card strategy for 2021. In separate posts I wrote about my Chase card strategy and Citi card strategy.
American Express has lots of great rewards cards — which do I have, why do I have them, and how has coronavirus changed my approach towards Amex cards?
Restrictions On Applying For Amex Cards?
American Express has some rules in place when it comes to being approved for cards. Let's take a look at what those restrictions are, as they can impact your approval adds, and can also dictate the best strategy for applying for cards.
Amex Credit Cards Vs. Hybrid Cards
The first thing to understand about Amex cards is the distinction between credit cards and hybrid cards:
A credit card has a credit limit, and you can finance charges over time if you want to (though you should avoid doing so unless there's a special offer, given the high interest rates charged)
A hybrid card (historically this would have been known as a charge card) doesn't have a pre-set spending limit, but the big difference is unlike a traditional credit card, this card will allow you to carry a balance for certain charges, but not all
Amex Four Credit Card Limit
Generally speaking, American Express limits you to having at most four credit cards. In the past the limit was five cards, but due to the current environment, it seems that limit has been lowered to four cards.
Note that you can still keep five credit cards if you have them already, but you're unlikely to be approved for a fifth credit card right now. This limit also only applies to credit cards, and not hybrid cards. It doesn't matter how many of those four cards are personal or business, it's just all about whether they're credit cards.
Two Amex Cards Every 90 Days
You typically can't be approved for more than two Amex credit cards in any 90 day period. Hybrid cards are excluded from this limit.
Once In A Lifetime Rule
American Express welcome bonuses are all "once in a lifetime," meaning that you can't earn the bonus on a given card more than once.
However, "lifetime" doesn't necessarily mean your lifetime or Amex's lifetime. In some cases people report that limit resetting after you haven't had a card in seven years, though that's not a published policy.
Which American Express Cards Do I Have?
At the moment I have seven American Express cards.
I have the following two Amex hybrid cards:
I also have the following five Amex credit cards:
Which Amex Cards Do I Use Most?
For me, the single most rewarding American Express card for spending is the Amex Blue Business Plus Card. This no annual fee card offers 2x Membership Rewards points on the first $50,000 spent every calendar year, and it has no annual fee.
I consider this to be the single best business card for the first $50,000 of non-bonused spending every year.
On top of that I've historically quite liked the Amex EveryDay Preferred Card, which has some great bonus categories, as it offers:
3x points at U.S. supermarkets, up to $6,000 per year
2x points at U.S. gas stations
A 50% points bonus when you make at least 30 purchases per billing cycle
That means if you make 30 transactions per billing cycle you earn:
4.5x points at U.S. supermarkets
3x points at U.S. gas stations
1.5x points on everyday purchases
However, with bonus categories on other credit cards having been improved considerably, this card isn't quite as great as it used to be, in my opinion.
I also use the Amex Platinum Card for airfare purchases, as the card offers 5x points on airfare purchased directly from airlines or through Amex Travel, on up to $500,000 on these purchases per calendar year, and also offers great travel protection on those purchases. I value Membership Rewards points at 1.7 cents each, so that's like an 8.5% return on airfare spending.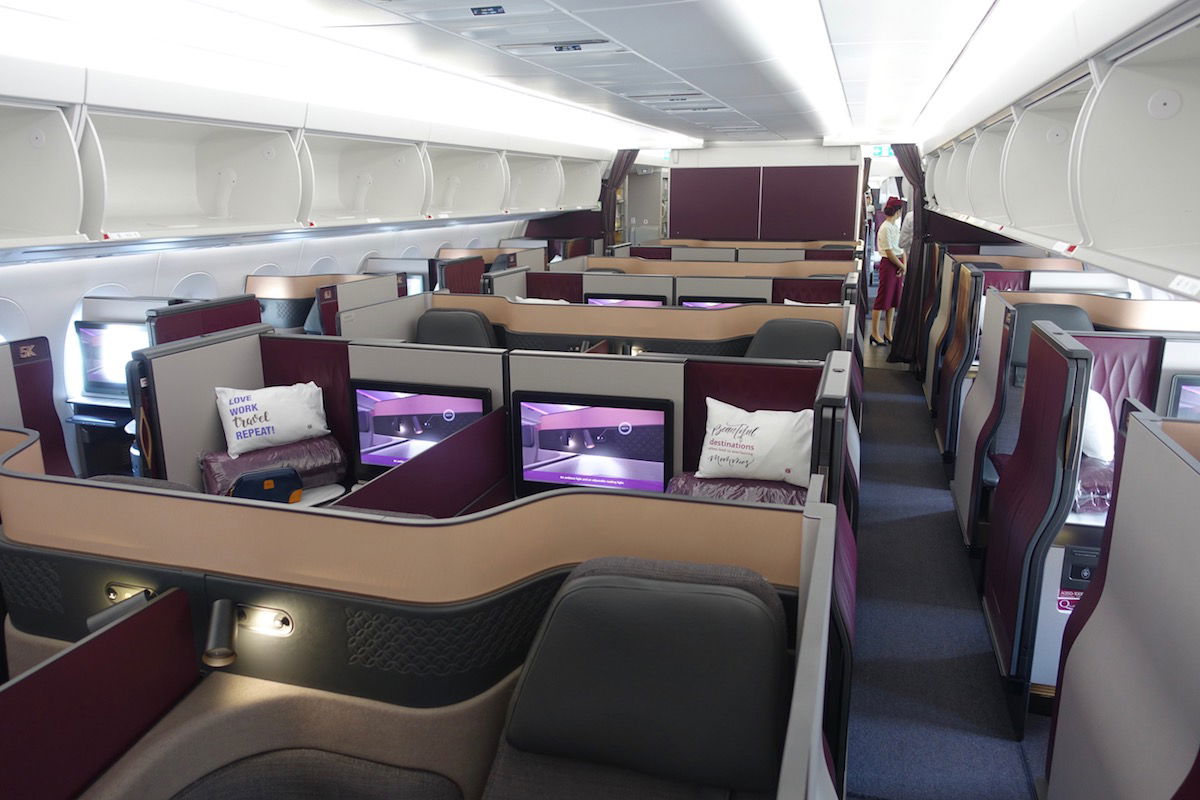 I earn 5x points on airfare with the Amex Platinum
Which Amex Cards Do I Have For The Perks?
Amex in general has great card perks, so that's a reason I have a few cards from the issuer. I have the Bonvoy Business Amex because it offers an anniversary free night certificate valid at a property costing up to 35,000 points per night, which to me more than justifies the annual fee.
Then the Marriott Bonvoy Brilliant Amex offers each Card renewal year, up to $300 in statement credits for purchases on the Card at hotels participating in Marriott Bonvoy™. Effective 9/22/22, the $300 Marriott Bonvoy statement credit benefit will no longer be available. It will be replaced with a NEW benefit of up to $300 in statement credits per calendar year (up to $25 per month) for eligible purchases at restaurants worldwide, as well as a free night award valid at properties costing up to 50,000 points per night, which combined more than justify the $450 annual fee.
On top of that, between the two cards I earn 30 elite nights towards Marriott Bonvoy status annually, which can get you 60% of the way to Platinum status.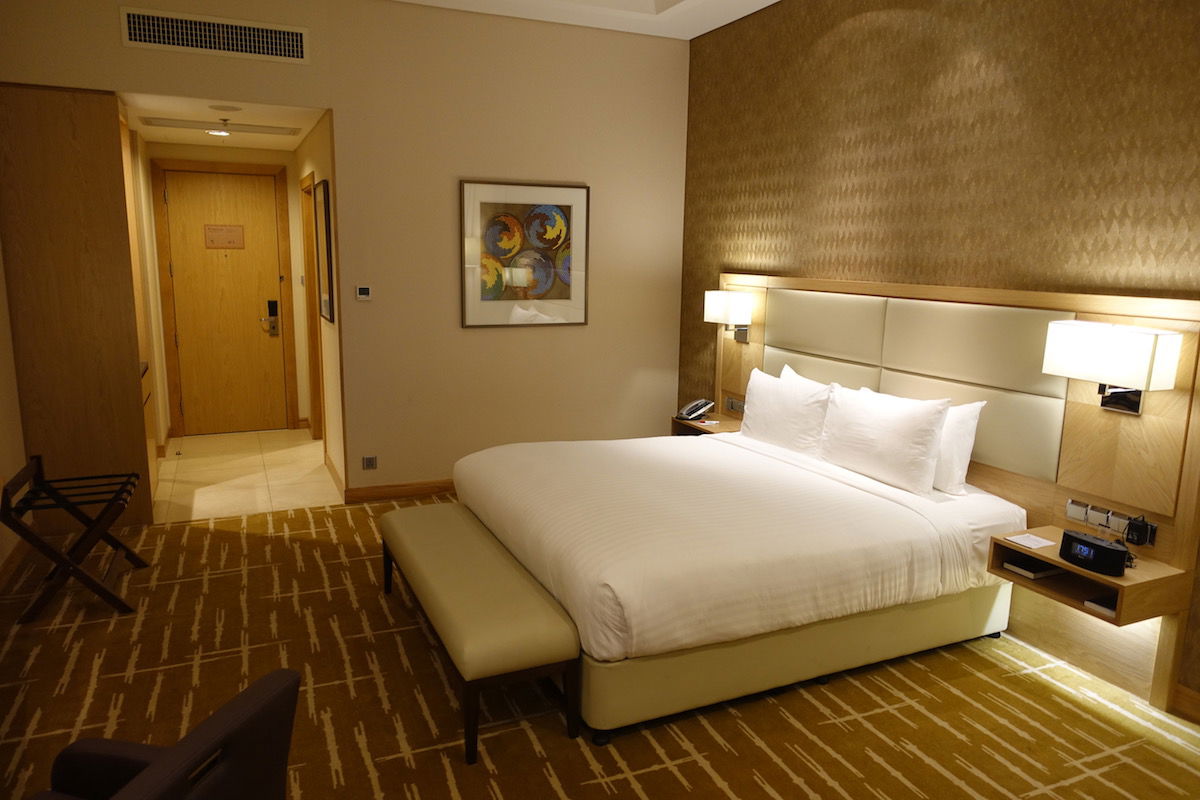 Redeem your anniversary free night certificate at the Marriott Kigali
The Amex Hilton Aspire Card is also one that I have for the perks, and at this point is the Amex card that I find to have the richest benefits. The card offers Diamond status for as long as you have the card, a $250 airline fee credit every calendar year, a $250 Hilton resort credit every cardmember year, and a free night reward every cardmember year as well.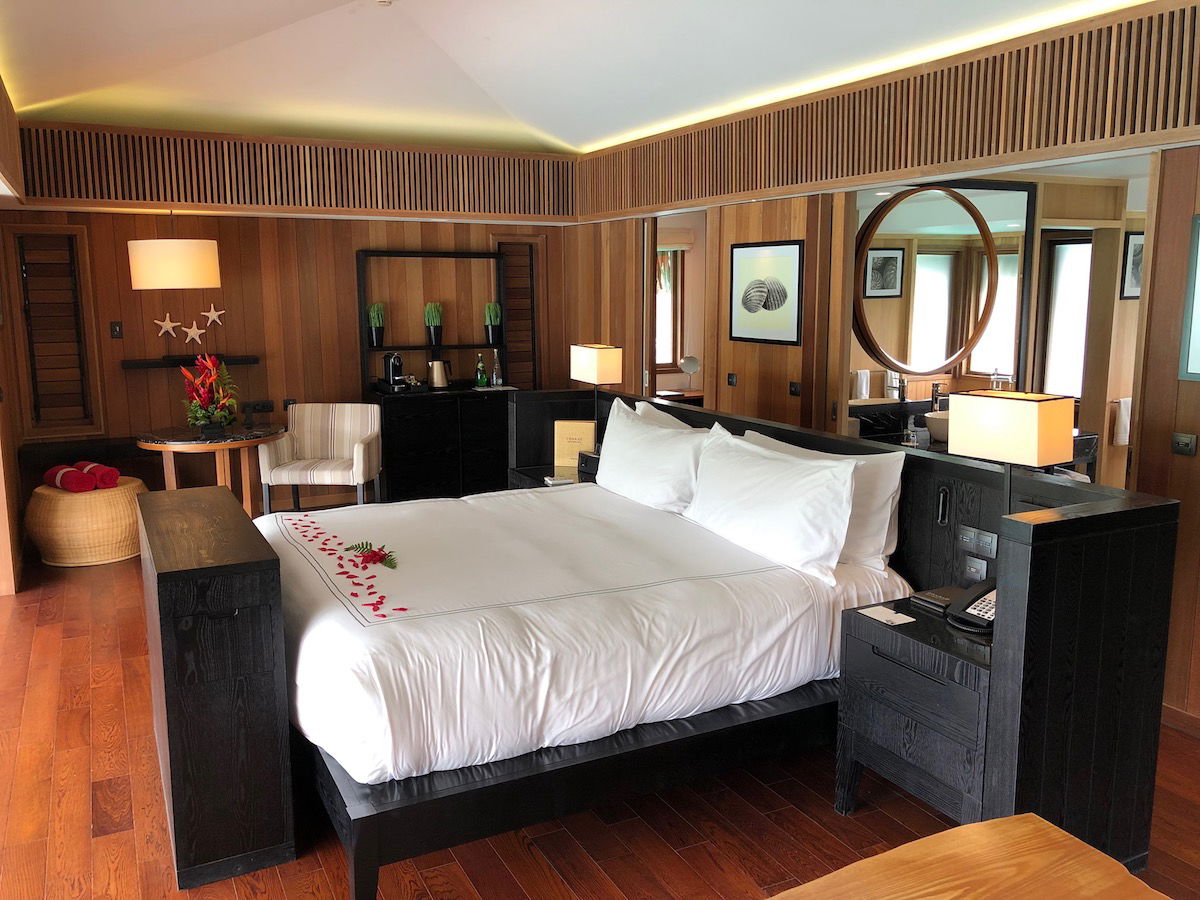 I've used my Hilton resort credit at the Conrad Bora Bora
While I use the Amex Platinum Card for airfare purchases, I largely justify the annual fee with the perks. The card offers a $200 annual airline fee credit, up to $200 annual Uber cash benefit, $100 annual Saks credit, access to Centurion Lounges and Delta SkyClubs, and more.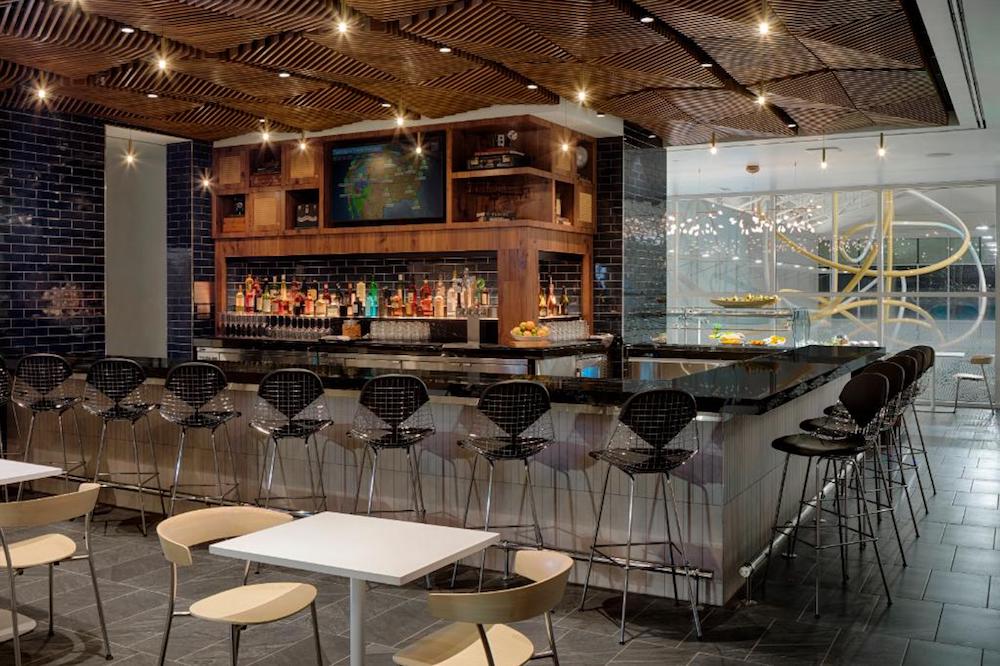 I value the Amex Platinum Card for Centurion Lounge access
Where Does The Amex Green Card Fit Into This?
The Amex Green Card was relaunched in 2019. This is such a fantastic card, though I haven't figured out how exactly it fits into my strategy. The card has a $150 annual fee, but offers: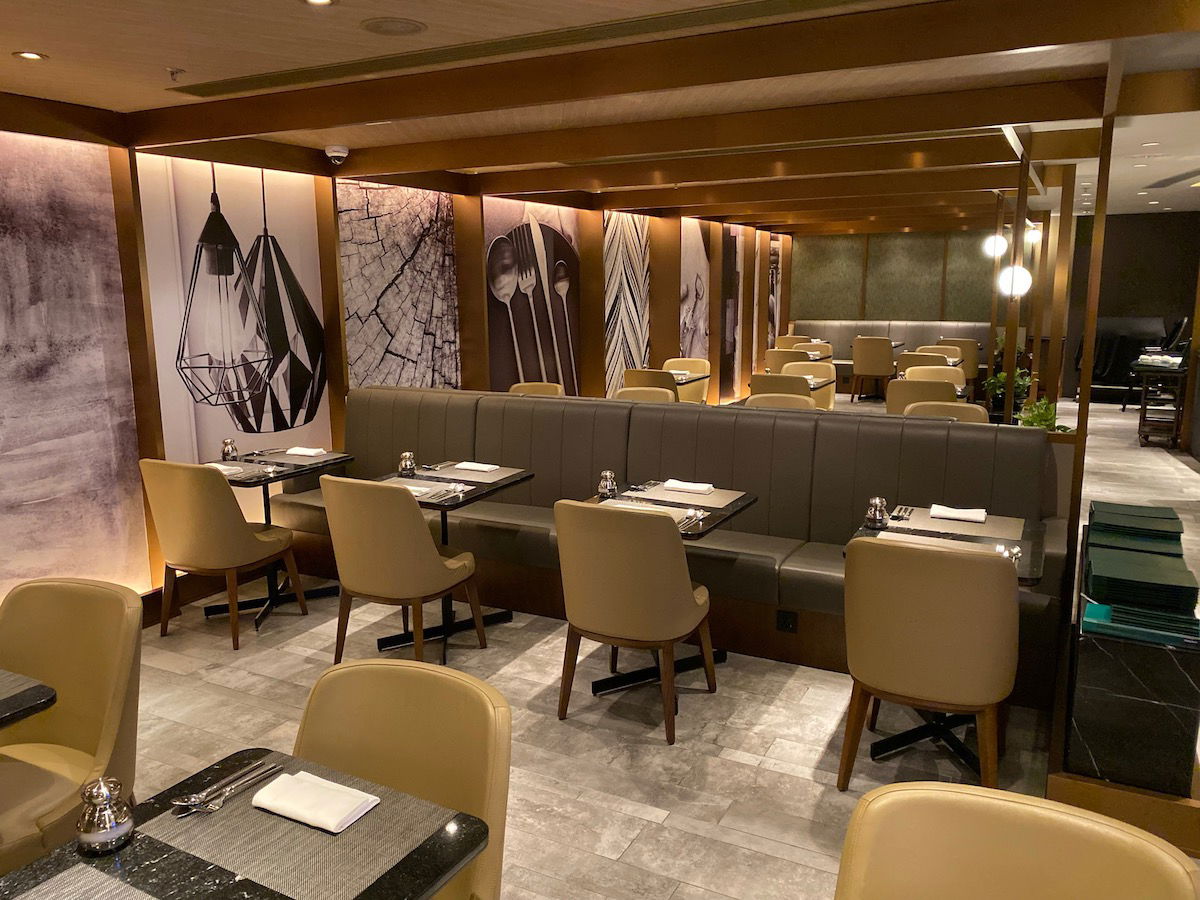 Use your LoungeBuddy credit for the Plaza Premium First Lounge
For someone looking for a simple credit card strategy that minimizes annual fees, I think this is a brilliant alternative to the Chase Sapphire Reserve.
However, in my case, this isn't a card I'm putting much spending on yet. As of now, this is a card I'm roughly breaking even on, as I value the $100 CLEAR credit at face value, and the LoungeBuddy credit at maybe 50% of face value.
I'll hold onto the card to see if there are any good Amex Offers deals, and then will decide how this card fits into my overall strategy in the future. In some ways it's almost frustrating that I'm not able to get more value from such a great card. I guess this really shows you how competitive credit card rewards have become.
Which Amex Cards Do I Want?
Overall I'm quite happy with my Amex card portfolio at the moment, and I'd say I'm doing a good job maximizing the Amex Membership Rewards points I earn, and also taking advantage of Amex card perks.
I recognize that I can't get any more Amex credit cards right now (since I'm at the limit), though I could potentially get some hybrid cards. The card that most tempts me is the American Express® Gold Card (review), which I consider to be one of the most valuable cards out there. The card has a $250 annual fee (Rates & Fees), and offers the following in addition to a great welcome offer:
4x points at restaurants
4x points at U.S. supermarkets, on up to $25,000 in purchases annually
An annual dining credit of up to $120
Benefits with Uber (as of February 2021)
I can't help but feel like this should probably be part of an overall card strategy shift for me, and that I should probably: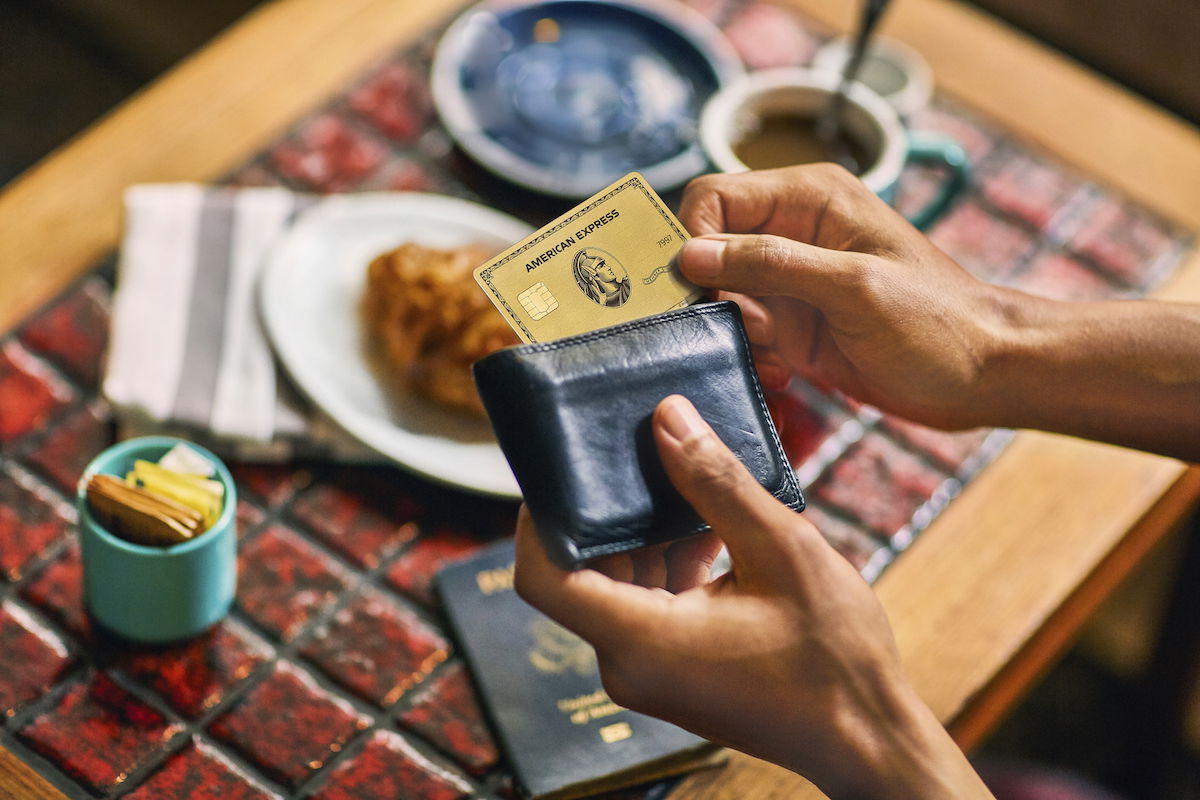 I feel like I should shift my strategy and get the Amex Gold Card
Amex Card Strategy Summary
At this point, I think I have a pretty good mix of Amex cards in terms of some cards helping me maximize my spending, and other cards helping me maximize my perks.
To summarize my big picture Amex strategy:
How does your Amex card strategy compare to mine?
The following links will direct you to the rates and fees for mentioned American Express Cards. These include: American Express® Gold Card (Rates & Fees), The Blue Business® Plus Credit Card from American Express (Rates & Fees), The Platinum Card® from American Express (Rates & Fees), Marriott Bonvoy Brilliant™ American Express® Card (Rates & Fees), Marriott Bonvoy Business® American Express® Card (Rates & Fees), Hilton Honors American Express Aspire Card (Rates & Fees), and American Express® Green Card (Rates & Fees).