You Get What You Pay For On American
---
As I explained in the last installment, I had received notice that my flight from Beijing to Chicago would be delayed by several hours due to a late inbound aircraft. That ended up working out pretty well, since it meant we could sleep in and not head to the airport at the crack of dawn.
American 186
Beijing (PEK) – Chicago (ORD)
Saturday, May 9
Depart: 1:40PM
Arrive: 1:30PM
Duration: 12hr50min
Aircraft: Boeing 777-200
Seat: 2D (First Class)
I already knew on the outbound that we would have the same crew in both directions. That's always a double edged sword. If you have a terrible crew, you're out of luck. If you have an awesome crew, you're in luck.
Fortunately we had Scott and Eliot on this flight, so I knew it would be a great flight. Upon boarding through door two we were recognized by the business class crew, who said "didn't you just fly with us on the way out?" Yep!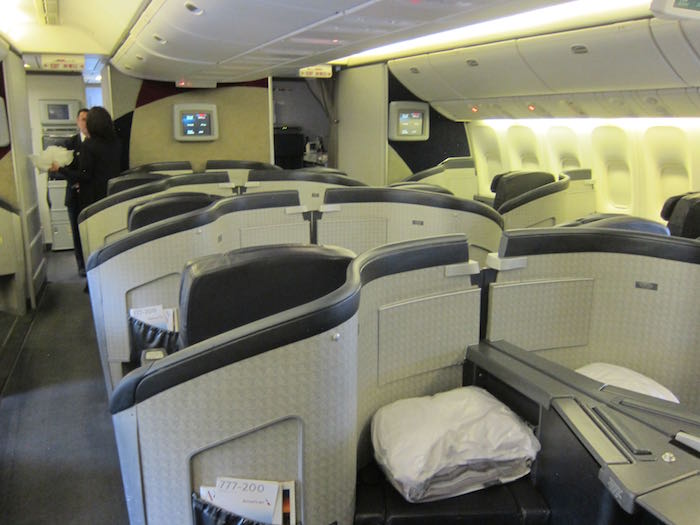 American 777 first class cabin
We headed to seats 2D & 2G, which were a bit further from the galley than the seats in row one we selected on the outbound.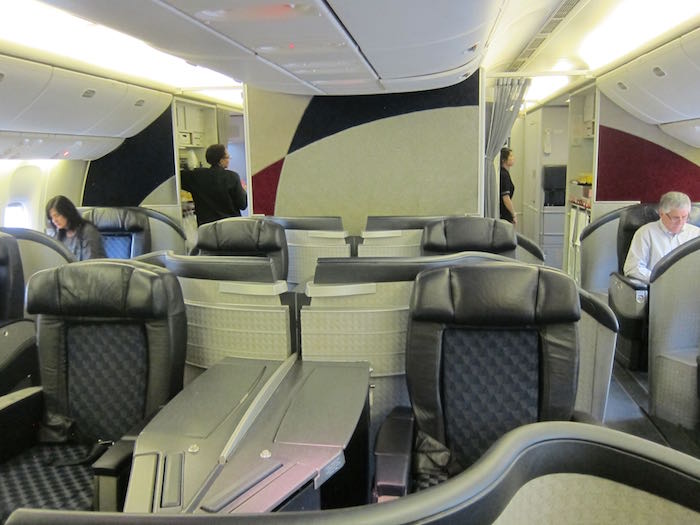 American 777 first class cabin
I was in 2D, while Tiffany was in 2G.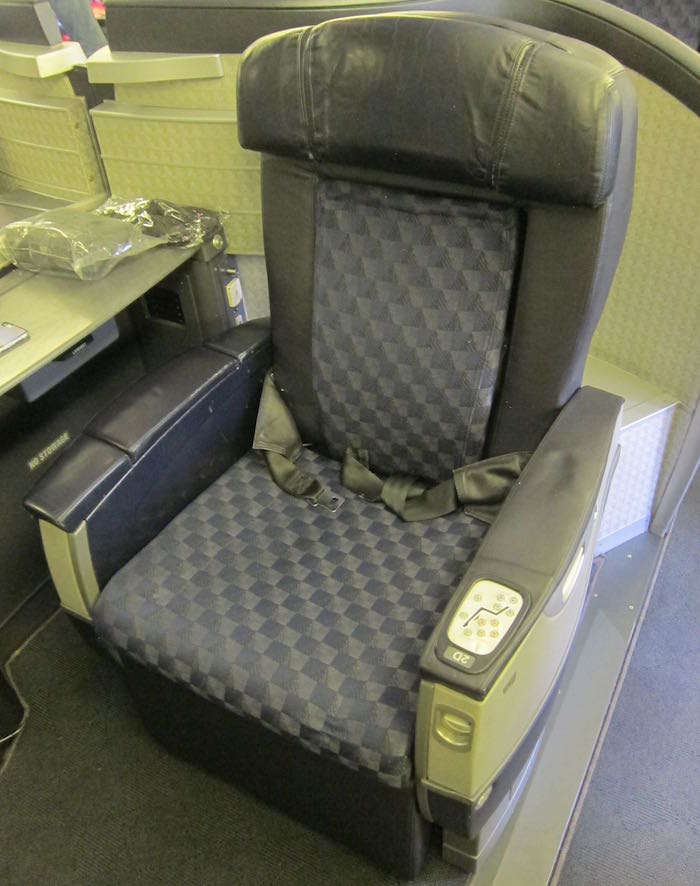 American 777 first class, seat 2D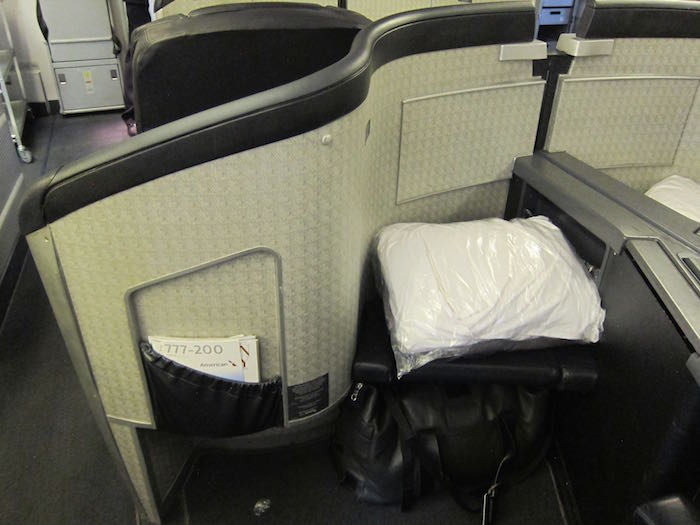 American 777 first class, seat 2D
One of the first officers was seated in 2A during boarding, and he looked at us in a really confused way for a minute. Then he had the same reaction as the business class crew — "wait, didn't you just fly with us from Chicago a couple of days ago?" Yep indeed.
He was super nice, and I talked to him for about five minutes. He apologized for the delay, and explained they'd do everything they could to fly at "going home" speed. For that matter all the pilots were super nice. At one point or another I ended up talking to all four of the pilots, and they were outrageously friendly (which I often don't find to be the case on US carriers).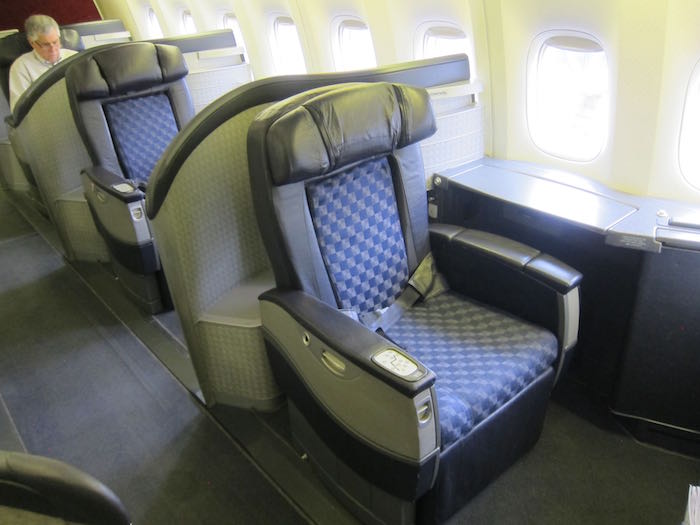 American 777 first class, seat 2A
Waiting at my seat were an amenity kit and slippers.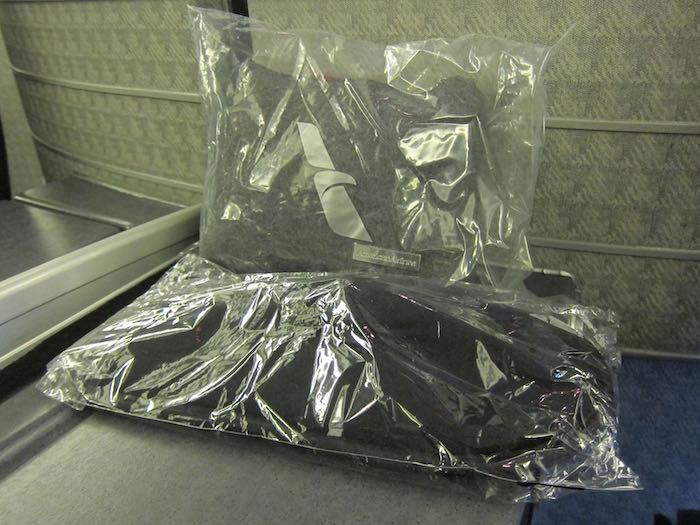 American first class amenity kit and slippers
Then on my ottoman were the menu, pajamas, a blanket, and pillow.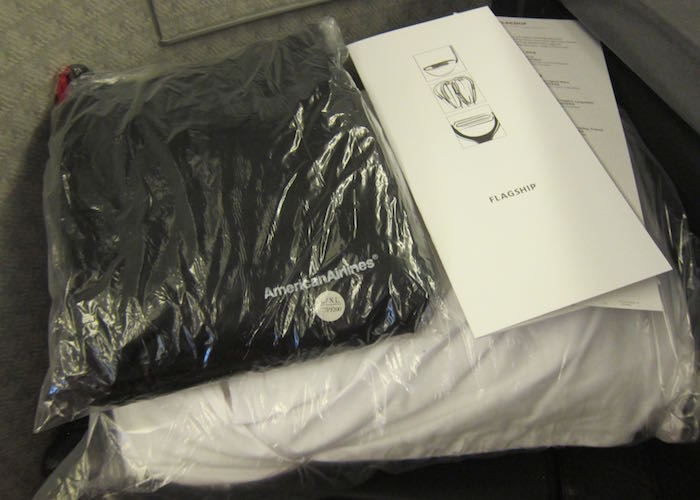 American first class pajamas and menu
Without even asking, Eliot brought me a glass of champagne. This time around he served Gosset on the ground, which is their first class champagne (usually they just serve the undrinkable business class champagne during boarding). We didn't want to waste the bottle, so we polished it off before takeoff.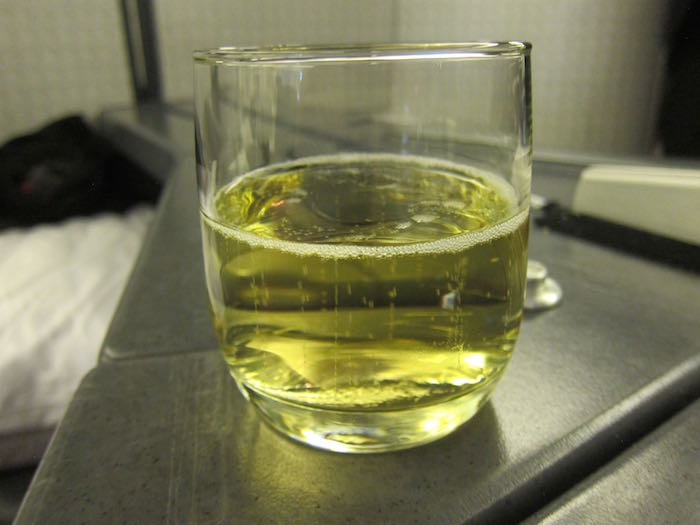 American first class pre-departure champagne
Scott did his rounds throughout the cabin, much as he did on the way out. He looked every bit as put together as he did on the outbound. He greeted each passenger by name, presented them with the menu, and talked about how they had "prepared a wonderful service" for the flight. Class act (and a hell of a marketer, for that matter)!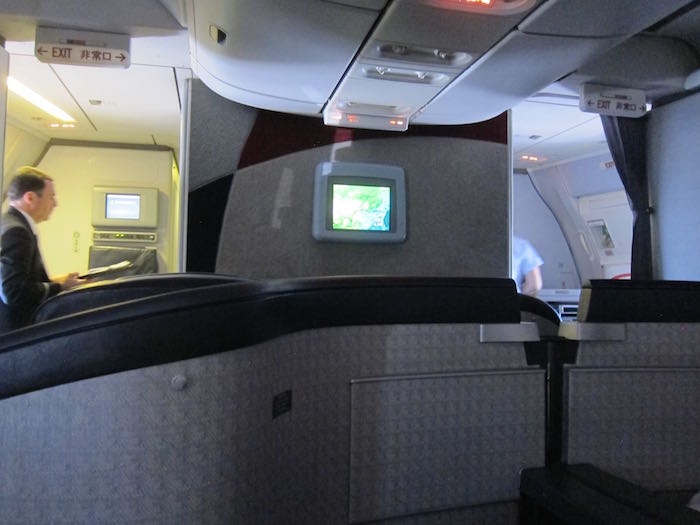 View from seat 2D in American 777 first class
While boarding finished up I decided to change into my pajamas. One of the two first class lavatories was broken, and apparently one of the economy lavatories was broken as well. Ouch.
Boarding was efficient, and at 1:30PM we began our pushback with a half full first class cabin for our 12hr15min flight.
The safety video played as we taxied out. The taxi to runway 19 took quite a while, and we were only airborne at 1:55PM.
There was a bit of chop on the climb out, though about 20 minutes after takeoff the lunch service began.
The lunch menu read as follows: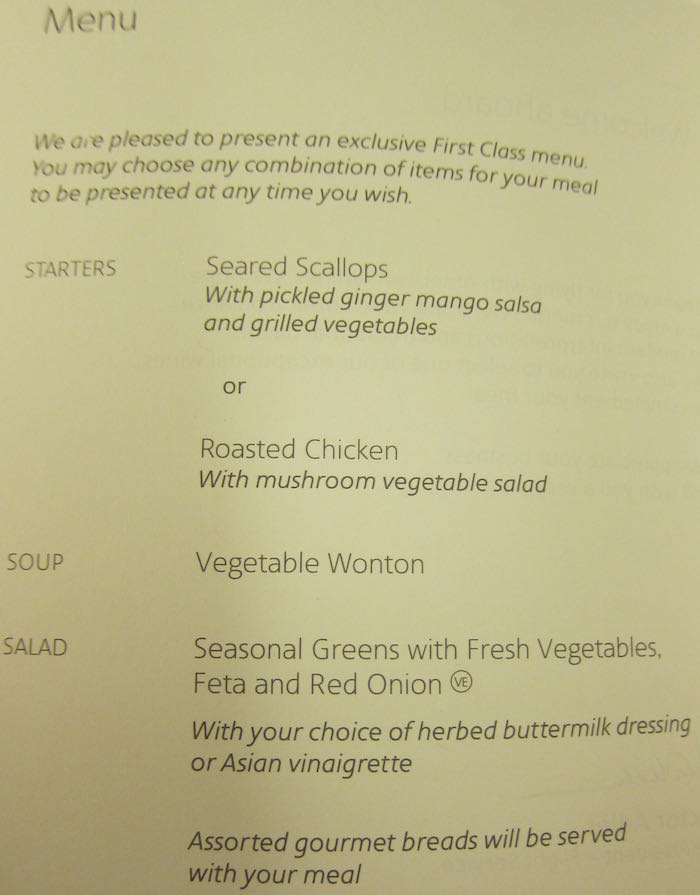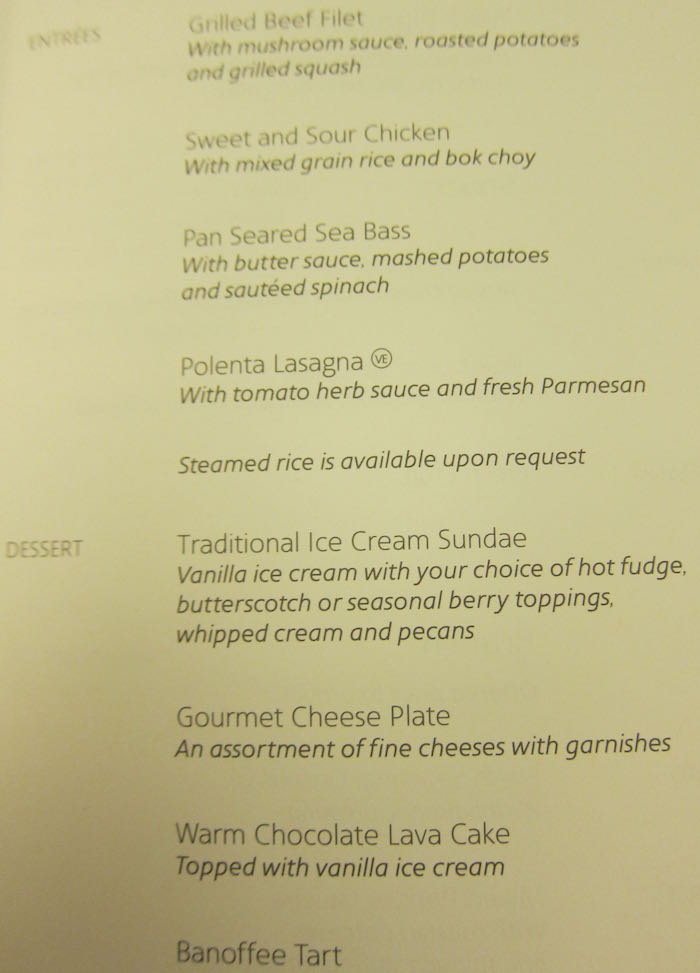 The wine/beverage list read as follows: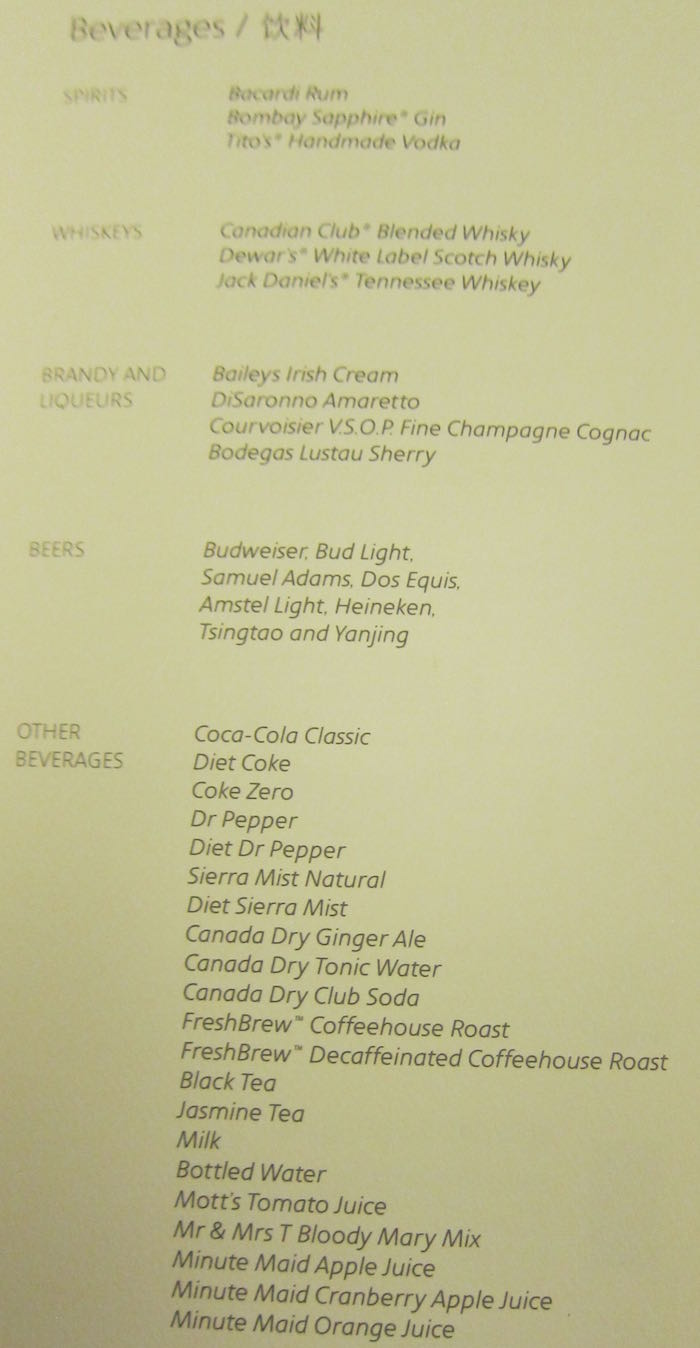 Let me preface this by saying that airline catering out of China is almost uniformly terrible, in my experience. Then again, American's catering has gotten terrible even out of their hubs, so…
Anyway, service began with drinks and nuts. I had a glass of champagne and some still water.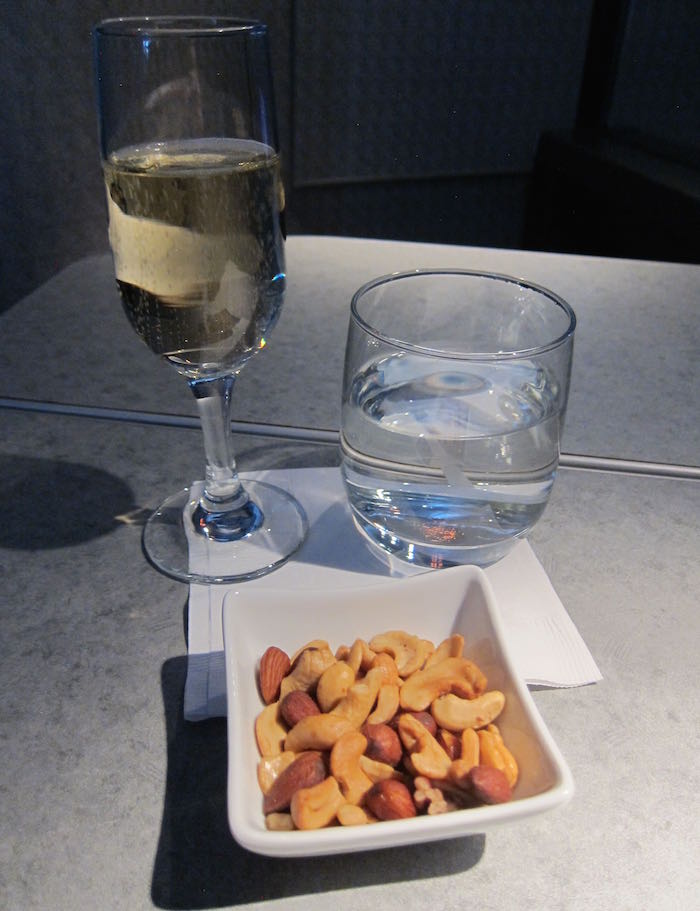 American first class lunch — nuts and champagne
At that point my table was set and I was offered a selection from the bread basket. I chose some pretzel bread, which was probably the highlight of the meal.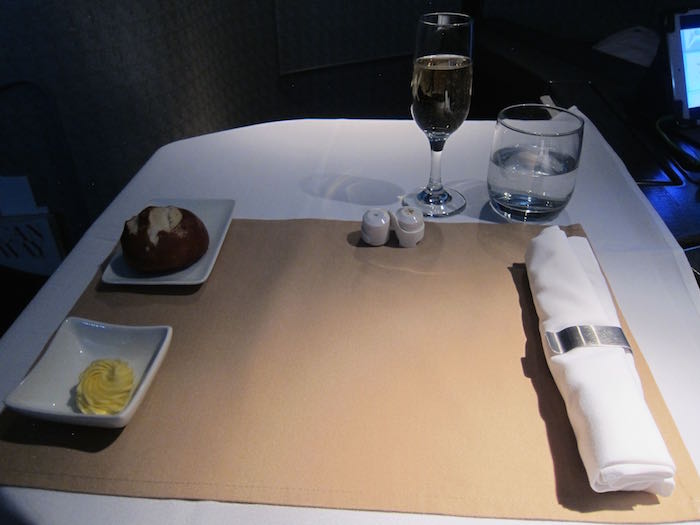 American first class lunch table setting
For the starter I ordered the scallops. I wish I could say how they tasted, though they were so hard that I couldn't even cut them with a knife. Unbelievable.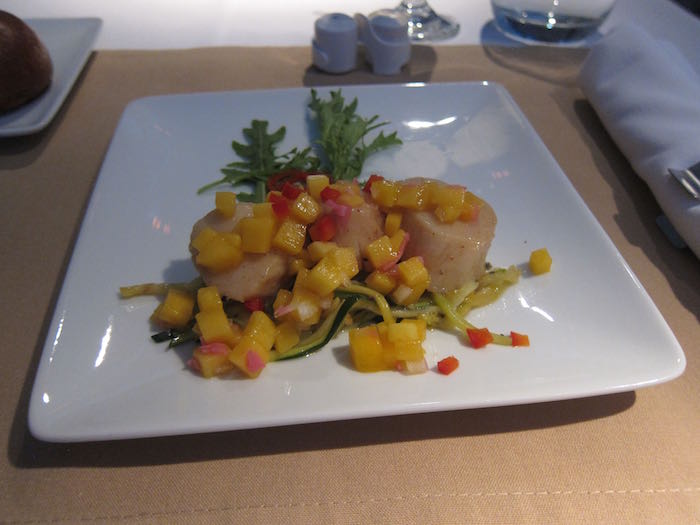 American first class lunch starter — seared scallops
Meanwhile Tiffany had the chicken starter, which apparently wasn't much better.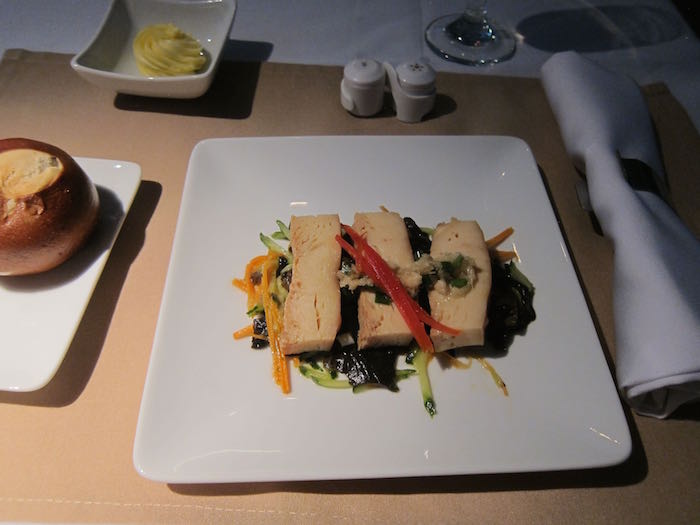 American first class lunch starter — roasted chicken
Next I was served the vegetable wonton soup. It was pretty terrible as well.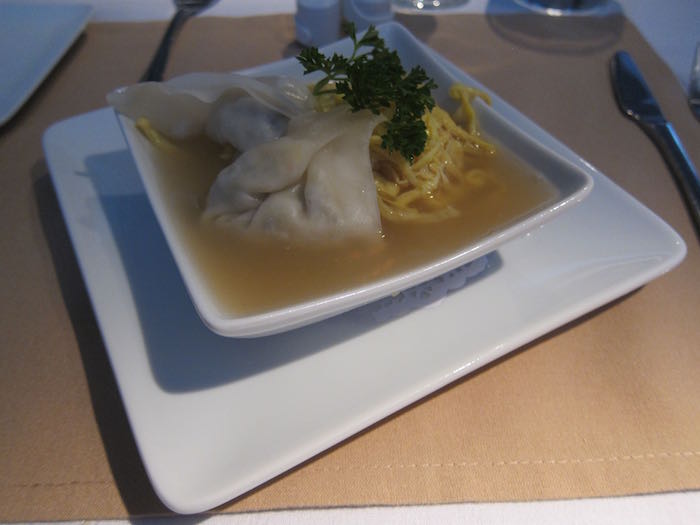 American first class lunch soup — vegetable wonton
The next course consisted of salad, which was non-offensive.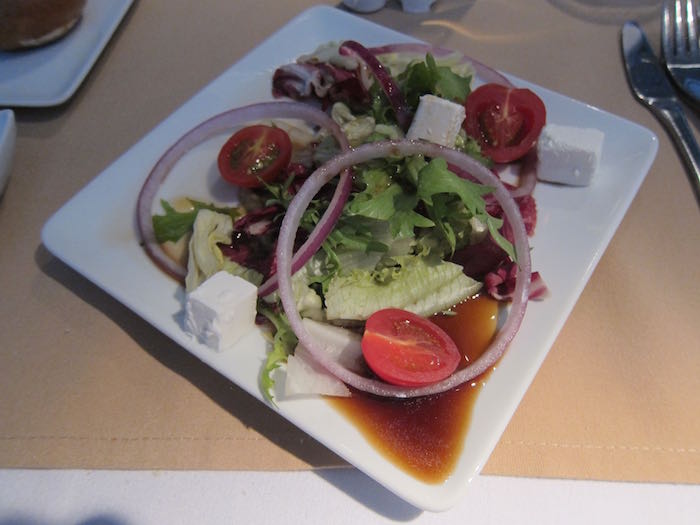 American first class lunch salad — seasonal greens with fresh vegetables, feta, and red onion
For the main course I ordered the sea bass. I'm really not trying to bitch, but it was awful. Completely inedible, from the sauce to the fish.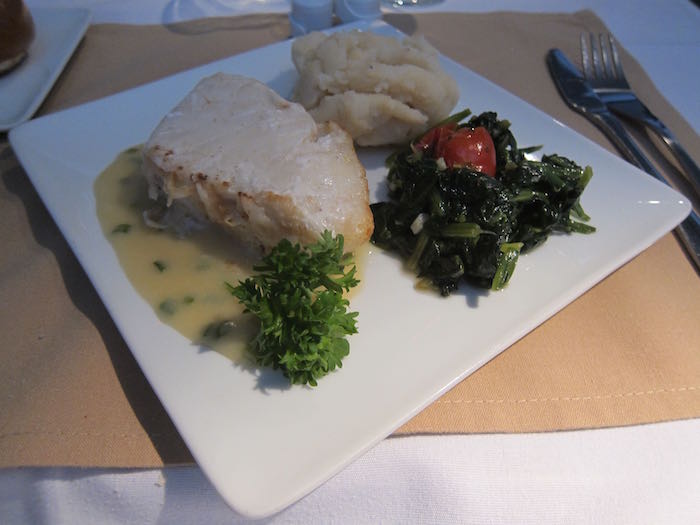 American first class lunch main course — pan seared sea bass
Lastly for dessert I had the chocolate lava cake. In relation to the rest of the meal it was very good. In relation to any other chocolate lava cake I've ever had, it wasn't.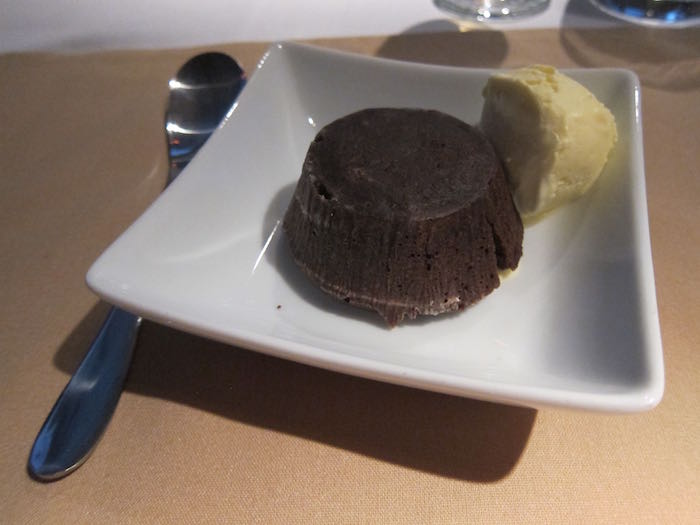 American first class lunch dessert — warm chocolate lava cake
Noting my dissatisfaction with the meal, Eliot asked if he could at least make me a cocktail, which I took him up on. It was sweet and sassy, as I'd expect from him.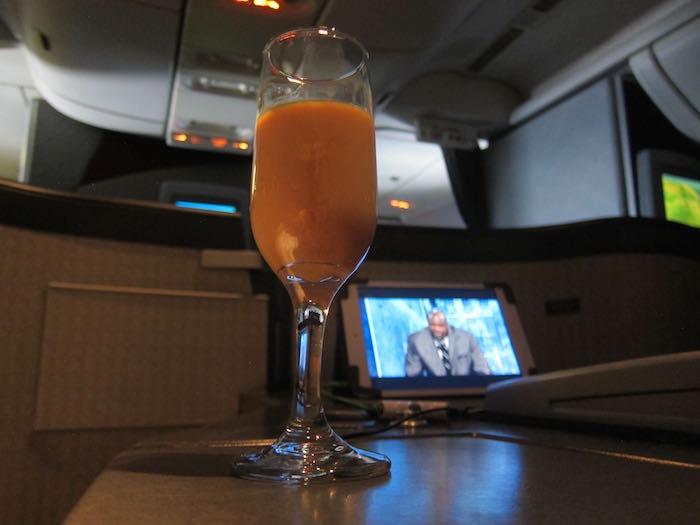 Post-lunch cocktail
Once the meal was finished each passenger was offered a bottle of water.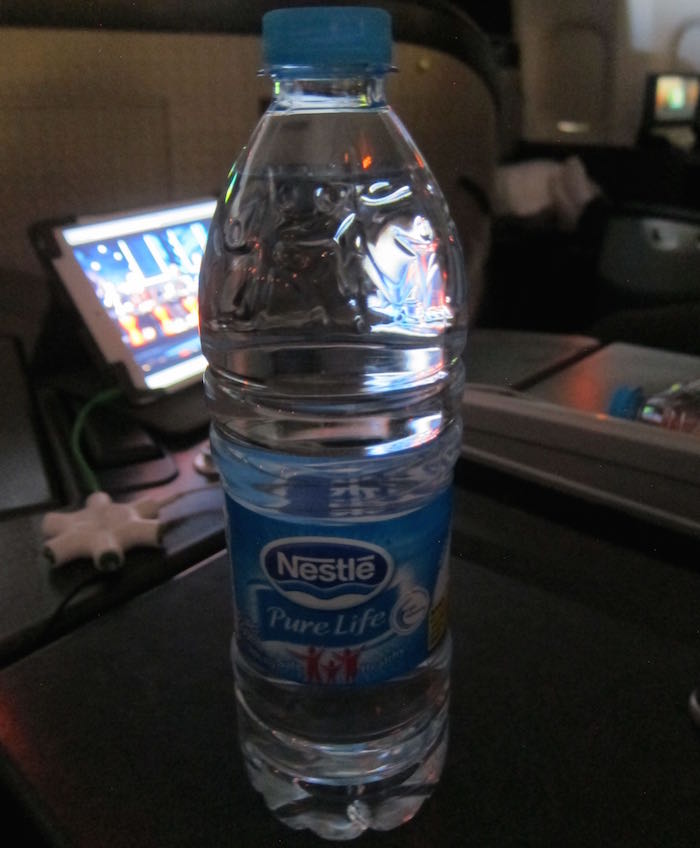 Bottled water
Again, service throughout the meal was excellent. Eliot and Scott were a class act, and made a great team. You had super straight-laced and professional Scott, and fun and informal Eliot.
The great news about American first class is that since there's not really anything to do and I don't really overeat or drink too much on American, I find it quite easy to sleep. So I had my bed made and headed straight to sleep, with a bit over 10 hours to go to Chicago.
While I slept almost the entire way on the outbound, I "only" got about six hours of sleep on this flight. That's still a great amount of sleep, but after the sleep I got on the last flight…
I should note that row two is much better than row one in terms of galley lighting. Furthermore, the crew finally figured out how to turn off the light above row one on this flight. Apparently when the lighting system is set to "daytime lighting" that light automatically turns off, while when it's set to "nighttime lighting" it stays on by default. So by just keeping it on daytime lighting the cabin was much darker.
I woke up with about four hours to go to Chicago, as we were over northern Canada.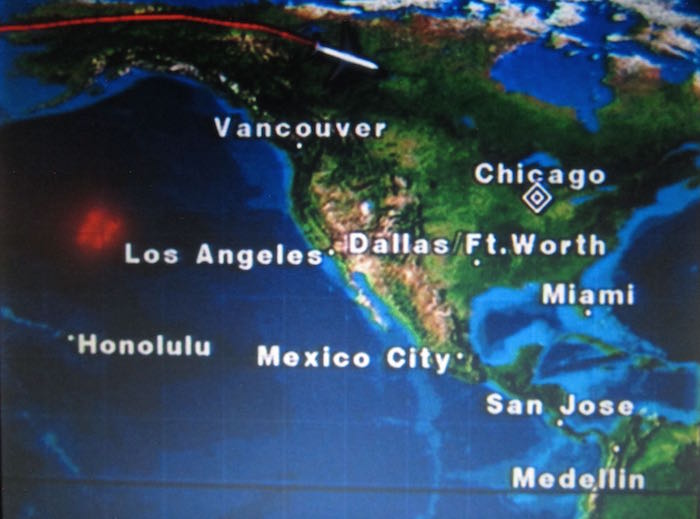 Airshow enroute from Beijing to Chicago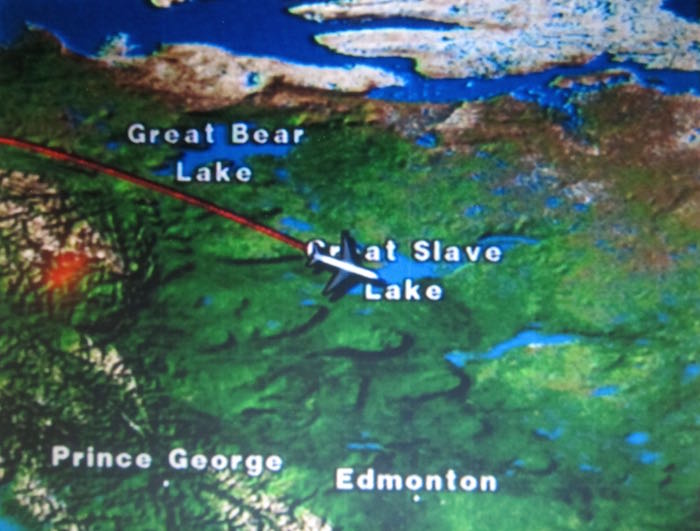 Airshow enroute from Beijing to Chicago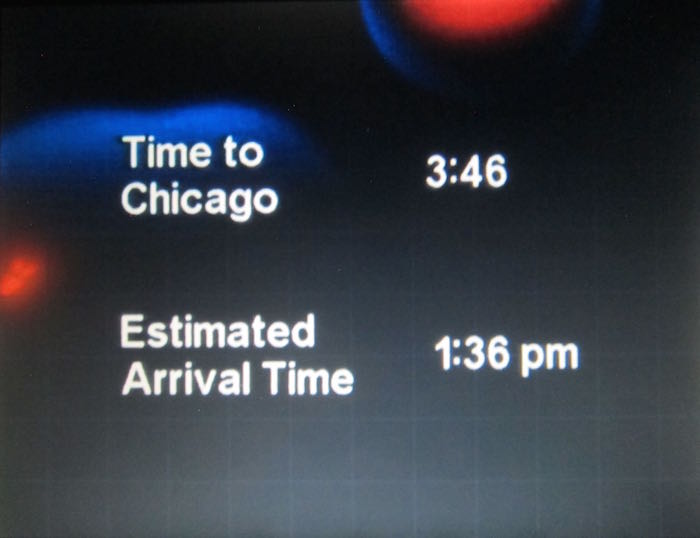 Airshow enroute from Beijing to Chicago
I was a bit hungry, given that I didn't really eat the first meal. So I had a look at the mid-flight snack menu, which read as follows: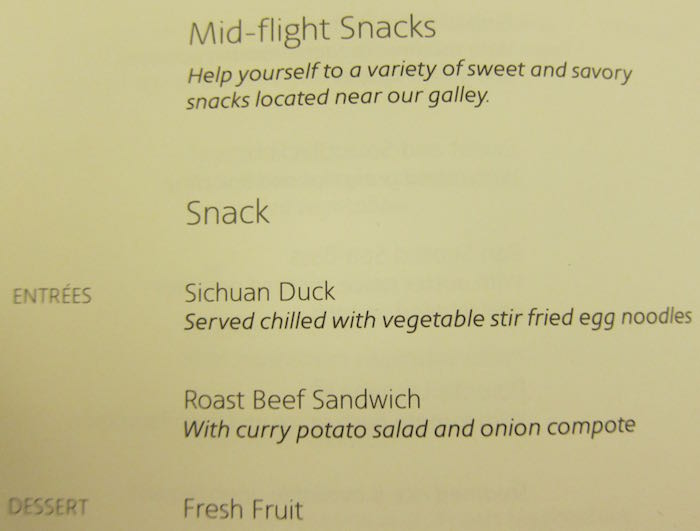 I selected the roast beef sandwich. The bread was stale and beef was chewier than gum, but at least the small quantity of curry potato salad and the fruit side were good.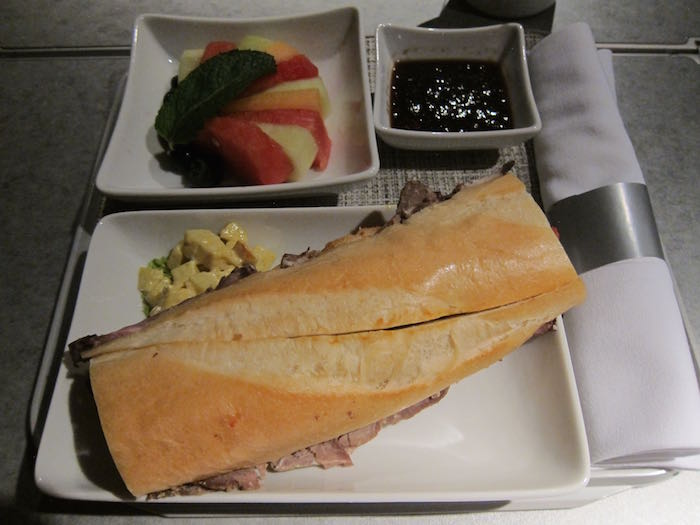 American first class mid-flight snack — roast beef sandwich
A couple of hours later the pre-arrival bunch service began. The menu read as follows: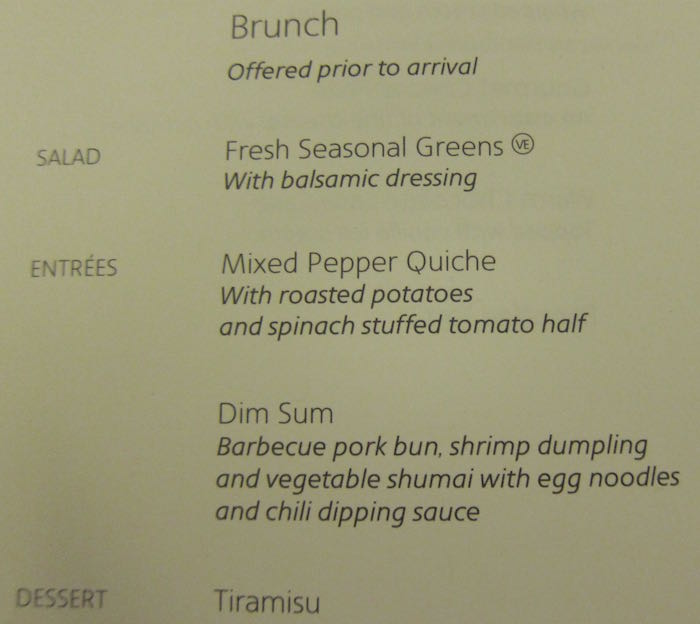 Having learned my lesson with Beijing catering at this point I decided to skip this. Tiffany ordered the duck from the snack menu.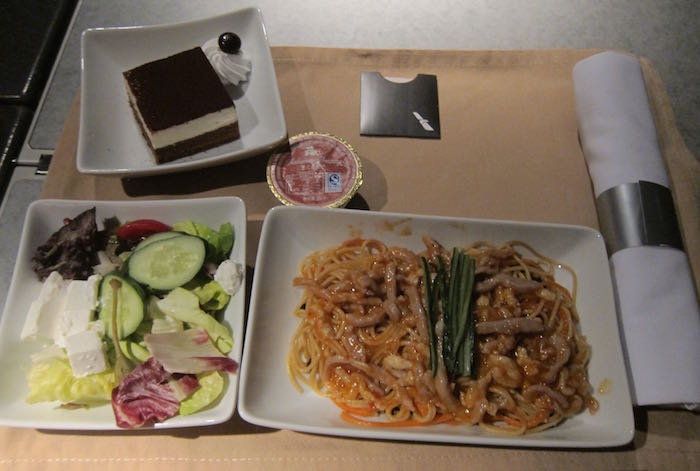 American first class snack — duck
Meanwhile on my next trip to Beijing I ended up having the mixed pepper quiche, which was actually very good for airplane quiche. Better than any quiche I've had catered on a flight out of the US. So I'd highly recommend ordering that in the future.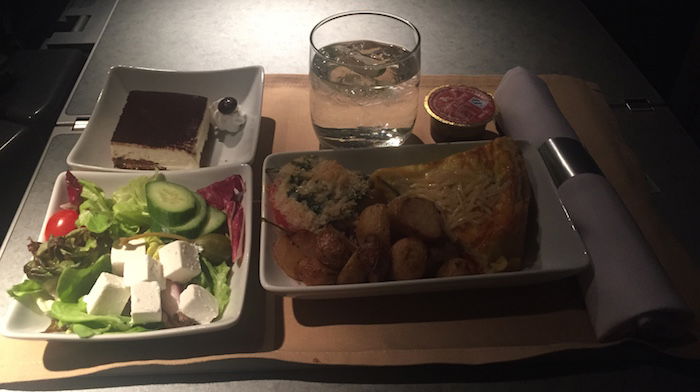 American first class brunch — mixed pepper quiche
I spent a couple of hours getting work done on my laptop, and before I knew it we were descending to Chicago. Scott came around the cabin to bid each passenger farewell and thank them for flying American, and again offered a box of chocolates as a parting gift.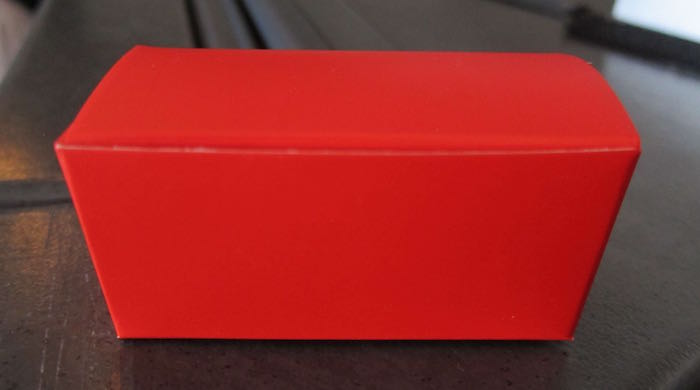 American first class pre-landing chocolate
Our descent into Chicago was smooth, and we touched down at 1:30PM, and had a five minute taxi to gate M1 from there.
American 777 first class bottom line
American's old first class is a really underwhelming product, at least compared to what's offered by non-US airlines. The seats and entertainment are disappointing, while the food is disgusting.
That being said, I can't emphasize enough how awesome and professional Scott and Eliot were. If only the rest of the product matched the service they provided.
All that being said, I actually found myself about as well rested as I've ever been on a plane in American first class. That's because without great food, great entertainment, Wi-Fi, or amenities, there isn't all that much to do. That makes it the ideal circumstances for getting some shut eye.
All-in-all I'm excited for American to reconfigure their 777s with a new business class product and without first class. Ultimately the catering and service will presumably be similar, while American's new business class hard product is only marginally worse than American's old first class product.