Earlier this year American announced that they would be introducing Main Cabin Extra fleetwide. This is a product similar to United's "Economy Plus," which offers a few extra inches of legroom in the front of the economy cabin. AAdvantage Executive Platinum and Platinum members (along with up to eight companions on the same reservation), as well as full fare customers, will receive complimentary access. Furthermore, through the end of 2013 AAdvantage Gold members will receive complimentary access. For anyone else that wishes to purchase Main Cabin Extra, the cost will range from $8 to $108 depending on the length of the flight.
There have been a few aircraft flying around with the new product for a while now, though it was totally luck of the draw whether or not you get an aircraft equipped with Main Cabin Extra.
Via AAdvantageGeek it looks like American has now updated their seatmaps on 757s and 767s to reflect Main Cabin Extra. Now, I'm not sure how far along they are in the reconfiguration process, though I suspect they're erring on the side of caution by showing this seatmap for all 757 and 767 flights.
Here's the 767 seatmap with Main Cabin Extra seating: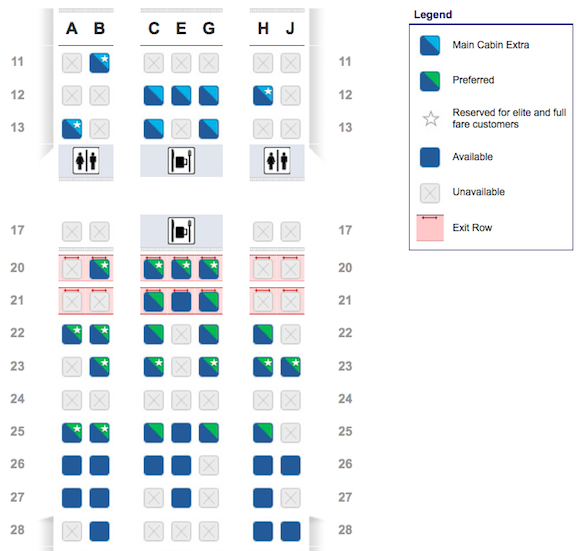 And the 757 seatmap with Main Cabin Extra seating: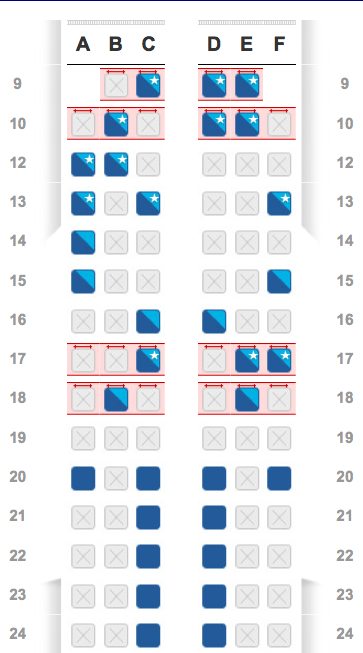 You can find some pictures of the new Main Cabin Extra seating on Traveling Better. The 767 Main Cabin Extra sure is small at only three rows, and seems to have quite a bit of wasted space behind the last row.
Anyway, here's to hoping the existing fleet is reconfigured quickly, and that international upgrade policies at American don't change so us Executive Platinums never have to experience it. 😀