We've seen airlines around the world understandably adjust service in light of the current pandemic. Service was almost entirely cut on some airlines around the time the pandemic shut down air travel, though we've seen airlines start to slowly add back more service, in a calculated way.
Well, American Airlines is countering the trend in first class, and is actually eliminating meals on many of its longest domestic flights.
How American Airlines' first class service has evolved
Back in March 2020, American Airlines adjusted its first class meal service, as follows:
On flights of under 900 miles, there were drinks upon request but no snacks
On flights of 900 to 2,199 miles, there were drinks upon request, plus a paper bag with a small snack, hand sanitizer, and a bottle of water
On flights of 2,200+ miles, there were meals served on a single tray, plus a drink service
The American Airlines "paper bag"
A few weeks back the airline made an improvement to service, and started serving a fruit and cheese plate on flights of 900 to 2,199 miles.
Now American Airlines is making another change — American Airlines will now only serve a fruit and cheese plate on domestic flights of 2,200+ miles, with the exception of premium transcontinental flights (from New York to Los Angeles and San Francisco) and longer flights to Hawaii (like Dallas to Honolulu).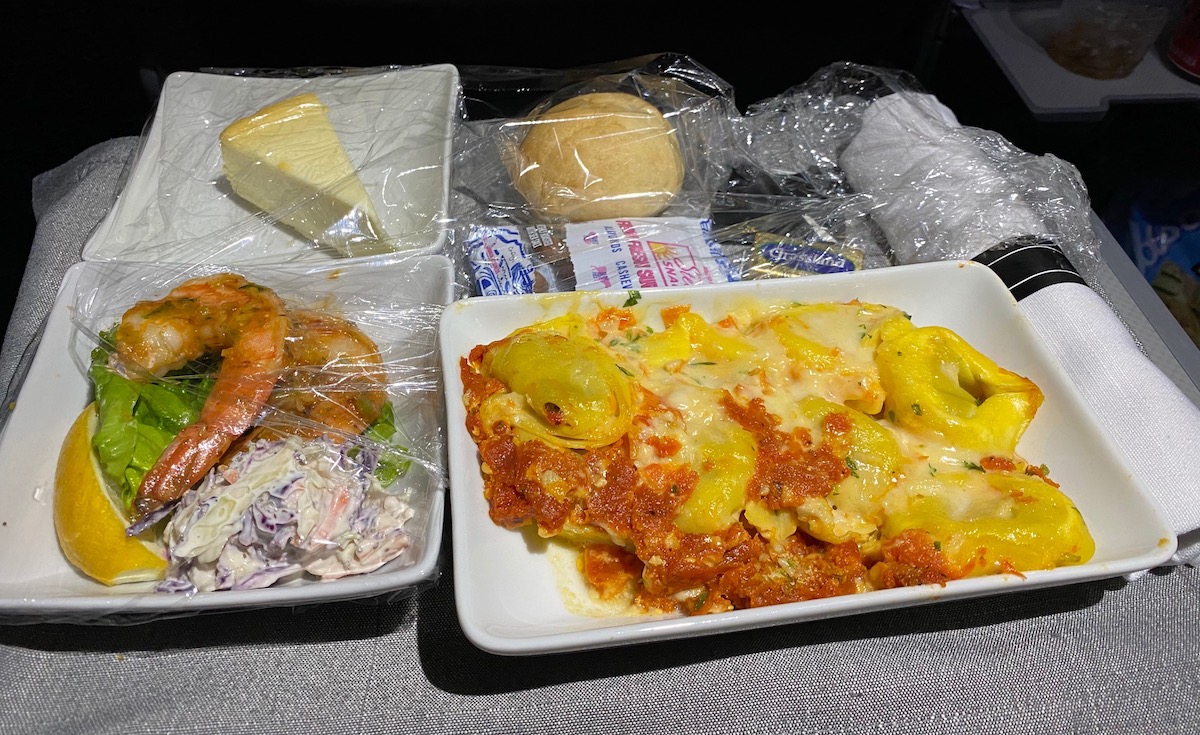 A meal American served on 2,200+ mile flights
That means American Airlines is cutting hot meals on a majority of its longest domestic flights, and will replace them with fruit and cheese plates.
I don't particularly mind this
Throughout this pandemic we've seen airlines take different approaches towards onboard service:
View from the Wing argues that "a strong inflight experience is more important than ever." I'm not sure I agree, or at least I'm not sure that should extend to meal service.
Some aspects of the inflight experience would impact my airline choice, and are more important than ever. I'm talking about things like airlines that choose to block seats, airlines that go above and beyond to clean planes and enforce mask policies, etc. But personally I'm not sure that the availability of a meal on a domestic flight will dictate my airline choice anytime in the foreseeable future.
Bottom line
I'm writing about this because I find it interesting that American is countering the industry trend, and not because I necessarily find it significant. While most airlines around the world are adding onboard service at this point, American Airlines is scaling back first class service on its longest domestic flights.
Even though I suspect American's motivation here is cost cutting, I'm not convinced this change is necessarily a bad thing, since limiting interaction on planes, and maximizing the amount of time people spend with their masks on, is ultimately for the better. Furthermore, you're probably also better off for not getting to "enjoy" one of American's domestic first class meals. 😉
It's still a bit surprising to see, though…
What do you make of this move by American?