Most airlines are currently in a transitionary period when it comes to inflight service & catering. At the start of the pandemic airlines greatly reduced service to minimize contact between passengers and crews. Now airlines have started to bring back service, though gradually, with different airlines having different policies.
In this post I wanted to share three domestic first class meal service experiences on recent flights. In no particular order:
Delta first class dinner from New York to Tampa
The first thing that was remarkable about this flight is that Ford and I both cleared our upgrades to first class as SkyMiles Silver Medallion members. I would have outright paid for first class (it was an extra $120 or so, and that's less than what I value first class at), but the upgrade seemed like a slam dunk (when I booked a week out, no first class seats were taken, and there were very few passengers in Comfort+ or the exit rows). Sure enough, it worked out.
I wasn't expecting to get anything other than a snack basket or maybe a snackbox, so I was quite impressed to be served something more substantial. There were three dinner options — a chicken salad sandwich, a prosciutto sandwich, and a superfood bowl. All the meals were served in boxes.
I ordered the chicken salad sandwich, which was served with packaged sea salt chips and a packaged chocolate chip cookie. The sandwich was surprisingly okay. The bread wasn't hard as a rock, so that was a treat.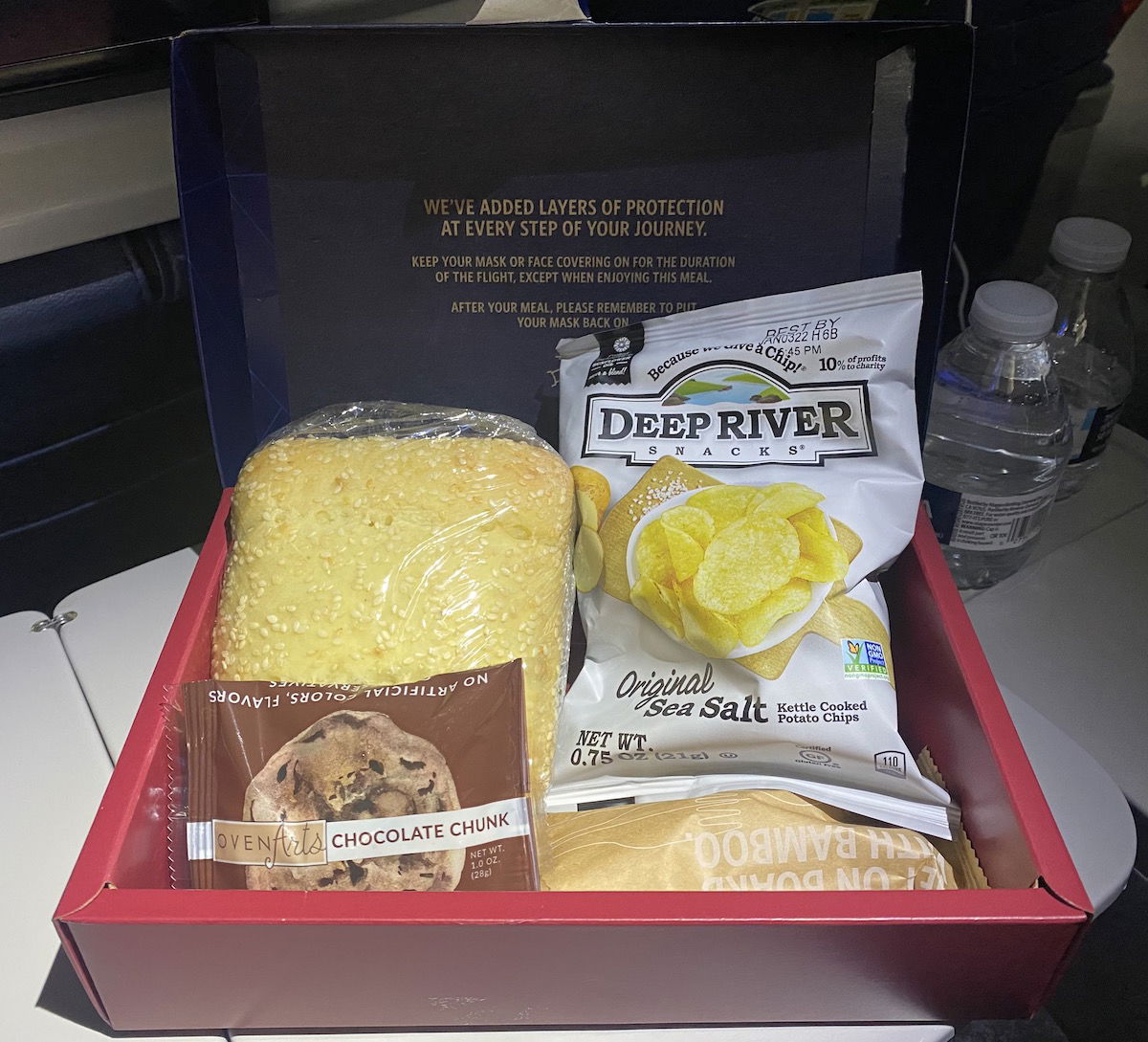 The better of the two things we ordered was definitely the superfood bowl, which was served with sourdough flatbread (I would have ordered this as well, but I wanted to get pictures of two different meal options).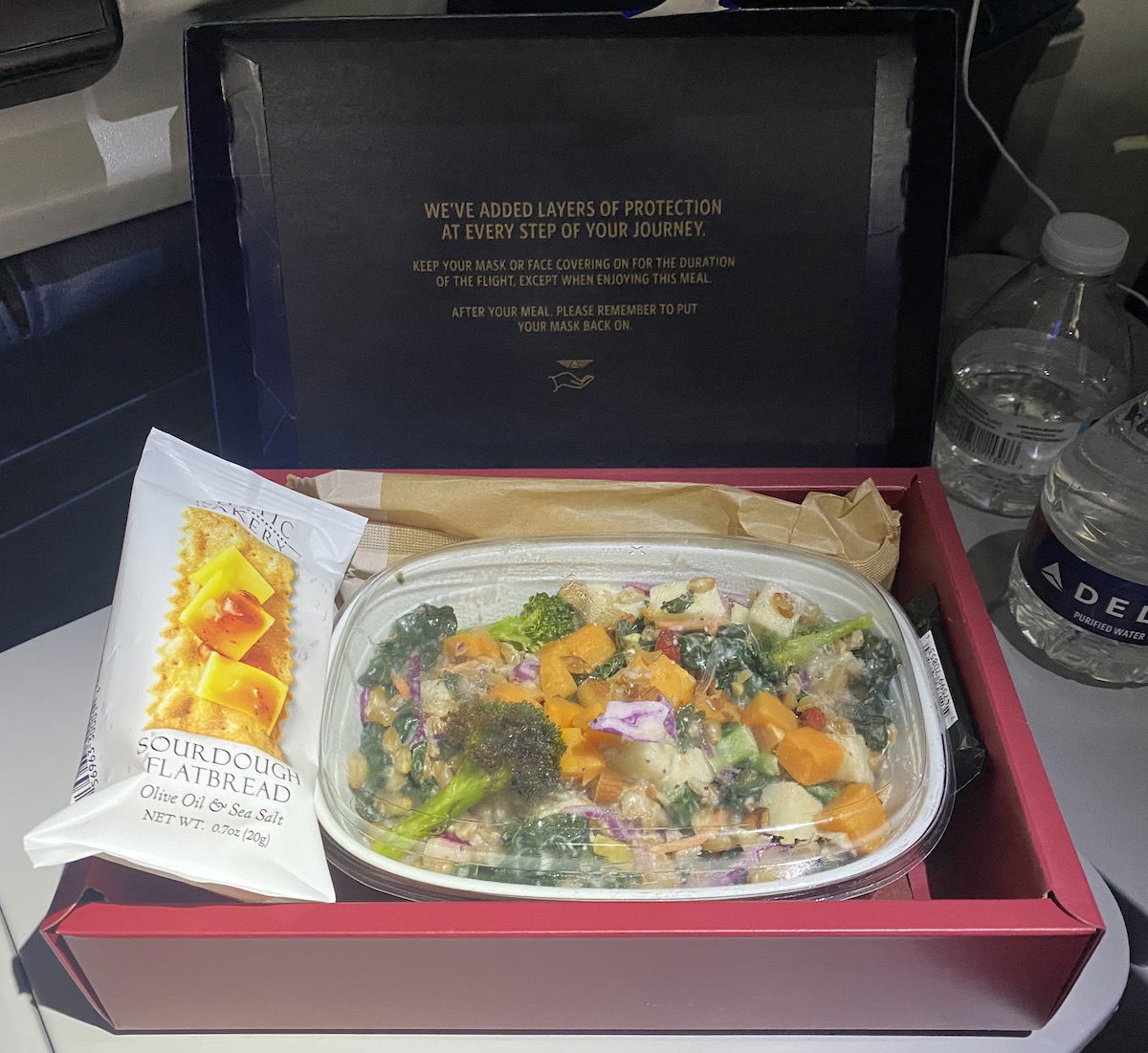 I don't want to give airlines any ideas here that they can use for "enhancements," but why can't airlines usually serve something this simple and healthy(ish)? Like, instead of cheese ravioli with a cheese plate as a side, I far prefer something like this, ideally plated properly. Kudos to Delta on the superfood bowl…
American Airlines first class breakfast from Fort Lauderdale to Dallas
American Airlines was serving "bistro boxes" for a while, and recently brought back food on trays. The current rendition of this is a joke, if you ask me. As described, the options were either "fruit and yogurt or salmon and some other stuff."
The one option consisted of strawberry yogurt, some granola, some grapes, berries, and one strawberry, a whole banana, a hard-as-rock room temperature pretzel roll, and cream cheese.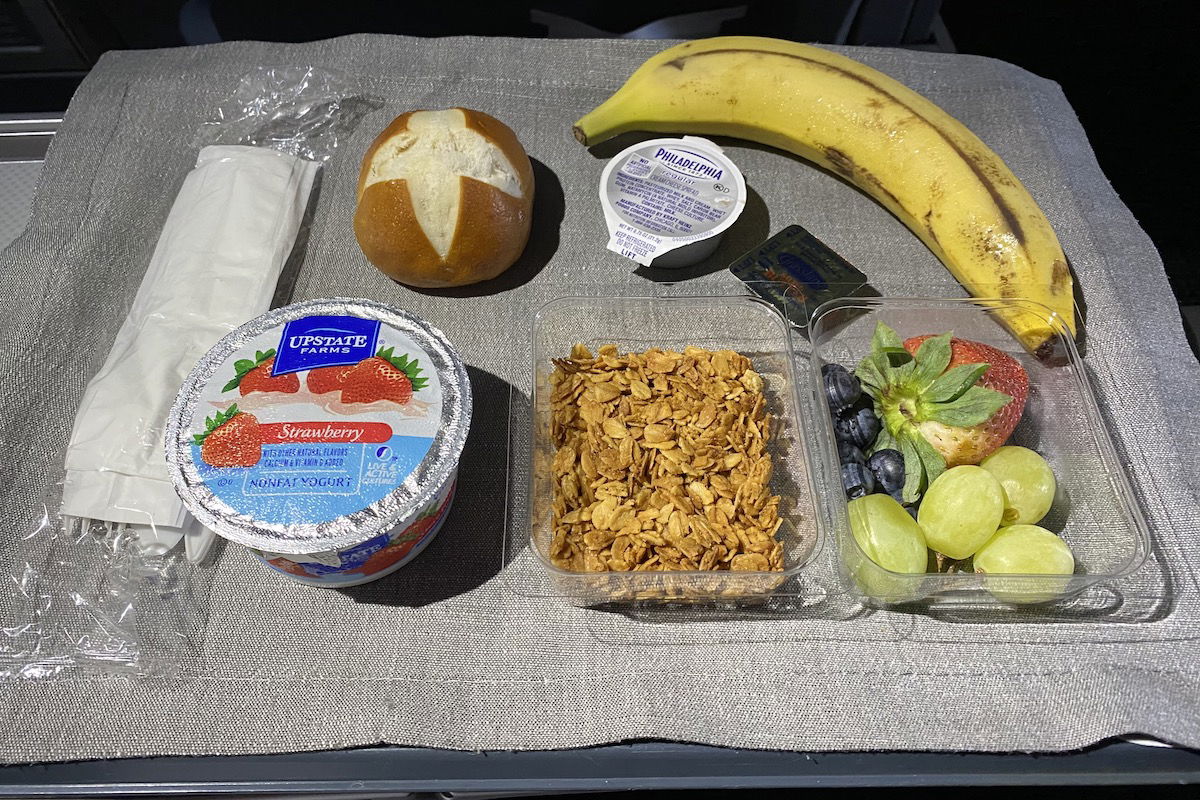 The other option consisted of strawberry yogurt, a sliced egg, some smoked salmon, grapes, berries, and one strawberry, a room temperature pretzel roll, and cream cheese. I'm not sure what exactly the thought process is here? Am I supposed to make a stale pretzel bread sandwich with salmon, egg, and cream cheese?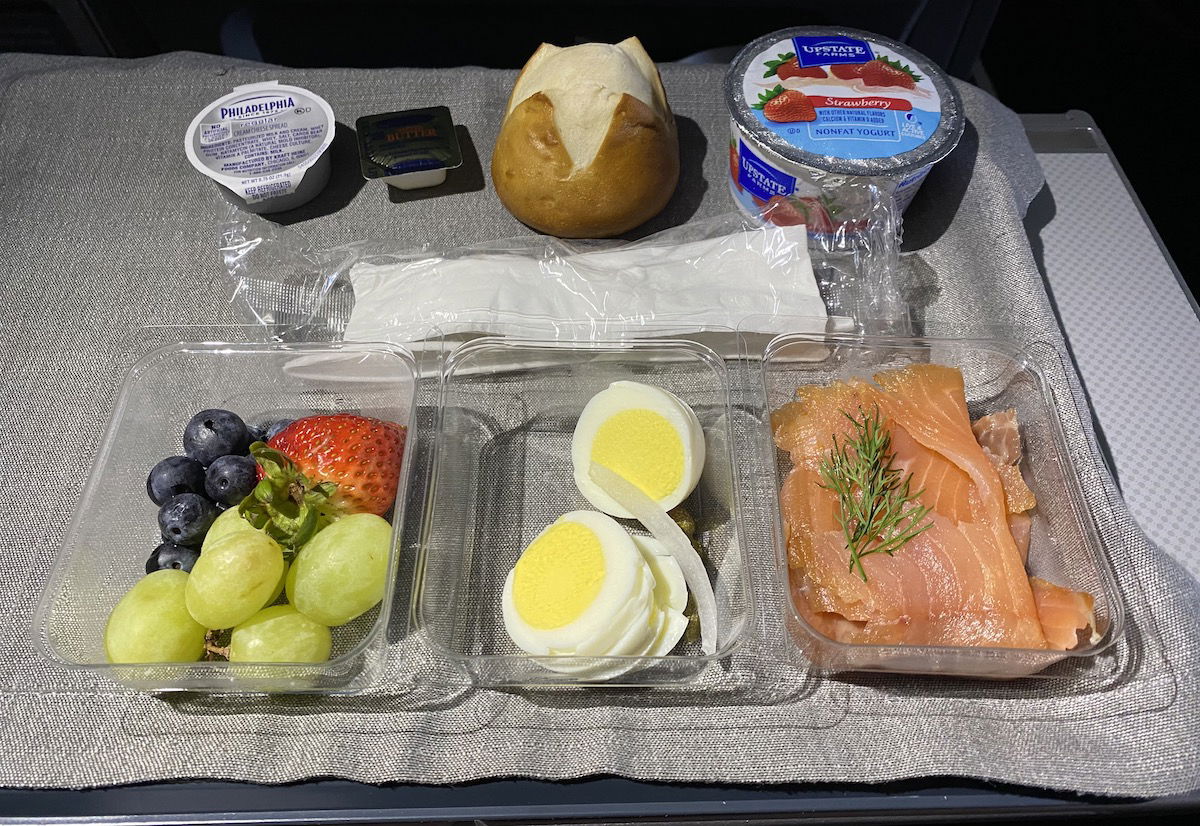 The whole thing kind of just felt like someone at the catering facility went to the supermarket, saw what was on sale, purchased it, and put it all on one tray.
American Airlines first class breakfast from Dallas to Fort Lauderdale
While the breakfast left a lot to be desired, dinner in the other direction was much better. The two options were either a fruit and grain salad or a turkey sandwich.
The fruit and grain salad was legitimately pretty decent and heathy. It was served with a side of grapes, berries, and strawberries, some hummus with crudites, air popped chips, and a brownie bar.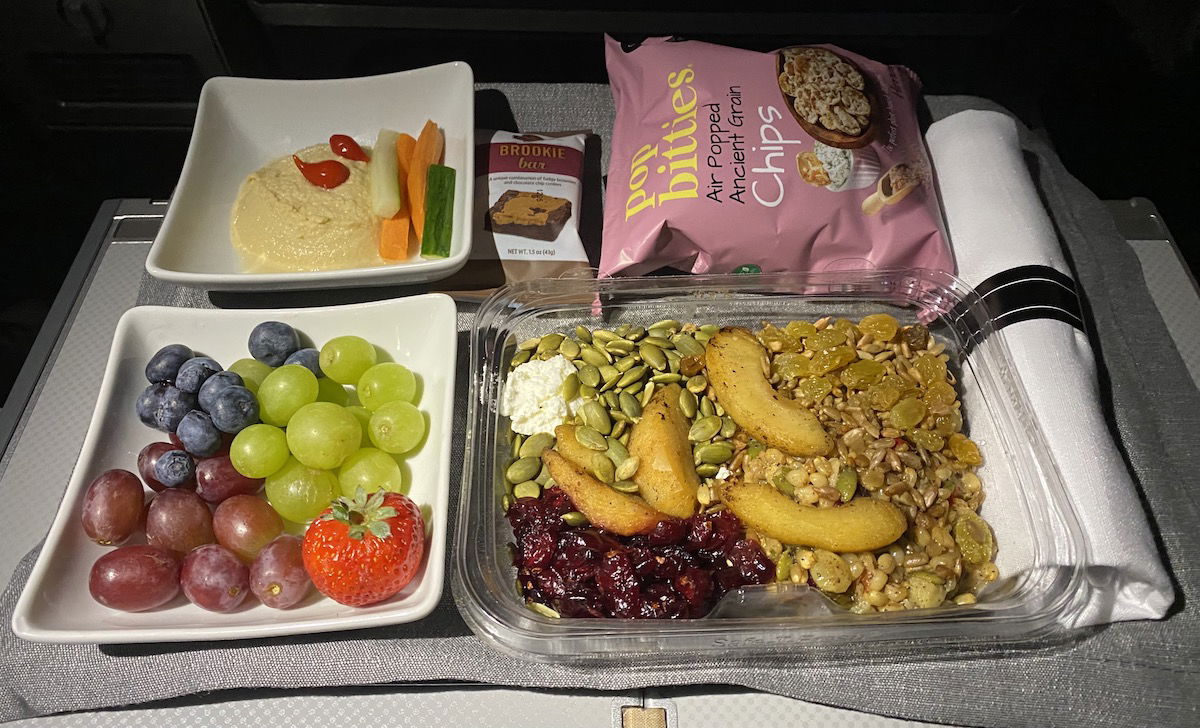 Personally I preferred this to what American served pre-pandemic, and I'd be happy to see something like this stick around (ideally with fewer plastic containers).
The other dish was a different story. There was a turkey and cheese sandwich on a stale pretzel roll, with a side of potato salad, as well as a side salad with cheese. Much like the breakfast, it very much gave off "what's on final clearance at the supermarket" vibes.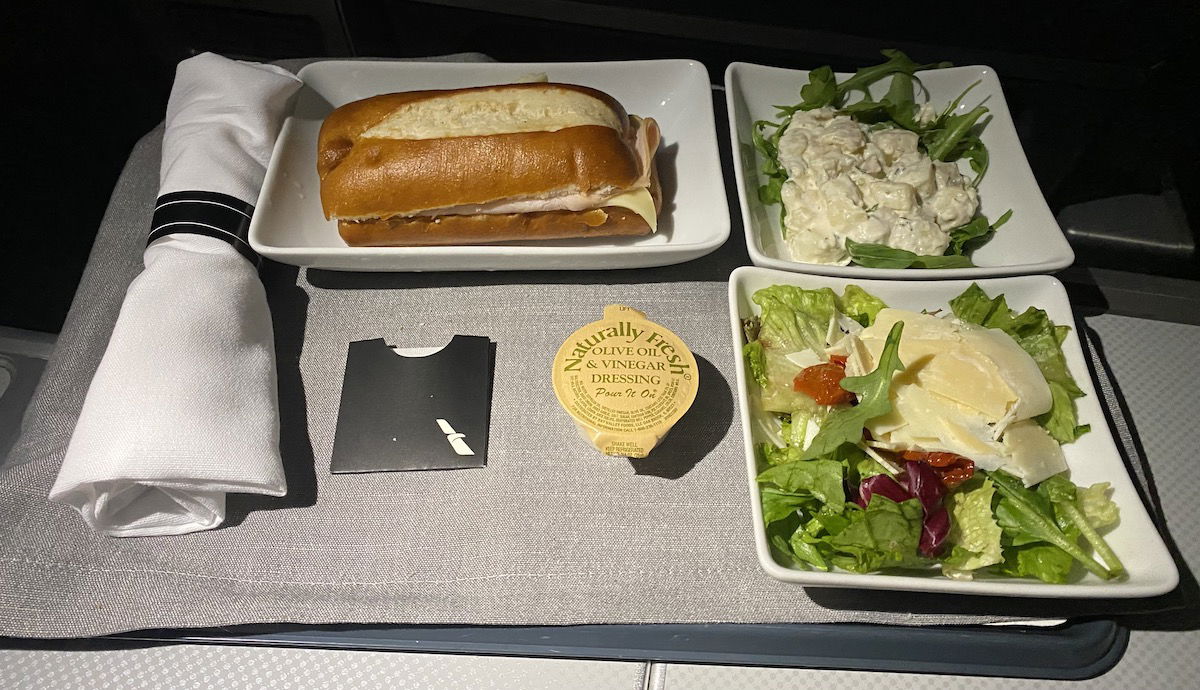 Bottom line
Many airlines are progressively bringing back inflight service, and my last few domestic first class flights have had more domestic airplane food than I've otherwise seen in the past 18 months.
In all cases these seem like interim solutions, so I wouldn't draw too many conclusions based on what's being offered at this very moment. I do have to give both American and Delta credit for the unique salads they served, which in both cases I enjoyed more than pre-coronavirus catering on either airline. I'd love to see those stick around, ideally with real plates.
Airlines love to take a "champagne lifestyle on a beer budget" approach to catering, especially on a domestic flight. If your catering budget is a few dollars per passenger, I'd prefer that you don't serve lobster, wagyu-anything, etc. How about just trying to do something simple well?
As far as the rest of the food goes, it was certainly less inspiring. I'm not sure why airlines aren't heating bread rolls, but I think they should be reminded that room temperature airline bread rolls aren't good. Period.
If you've flown domestic first class within the United States recently, what was your experience like?