Want to receive extra benefits for your stay at Aman Tokyo, including complimentary breakfast, a space available room upgrade, a property credit, and more? Contact [email protected] for more details. He may even be able to help if you already have a stay booked.
I've heard many people suggest that Aman Tokyo is the world's best city hotel. I was skeptical, especially after our disappointing stay at Amanemu. I was also curious how the Aman concept, which is so heavily based on nature and seclusion, would translate for a city hotel.
So, does Aman Tokyo live up to the hype?
Booking Aman Tokyo
For our two night stay at Aman Tokyo we booked the entry level room (a deluxe room) at a rate of about 80,000 JPY per night. Ford booked us through Virtuoso, which offered the following benefits:
Upgrade at time of arrival, subject to availability
Complimentary Full Breakfast at The Restaurant by Aman for two daily for duration of the stay
$100 USD equivalent Food & Beverage credit to be utilized during stay (not combinable, no cash value if not redeemed in full, excludes mini-bar)
Complimentary Wi-Fi
Early Check-in/Late Check-out (subject to availability)
There's no reason not to book through Virtuoso, since you pay the same rate the hotel would otherwise charge.
Obviously Aman Tokyo isn't cheap, though it's worth noting that they have the largest entry level rooms in all of Tokyo, so when you take that into account, their pricing is more reasonable by comparison.
Aman Tokyo location
Aman Tokyo is located in the Otemachi Tower, in the heart of Tokyo's Financial District, not far from Ginza. It's near the subway, so you have easy access to anywhere in Tokyo. It's also within walking distance of the station from which the Narita Express departs, which sure is convenient.
Aman Tokyo check-in and lobby
The Aman's lobby isn't on the ground floor, but rather there are just elevators leading up to the lobby. The Aman's entrance is certainly understated, and you really have to know where you're going to find it.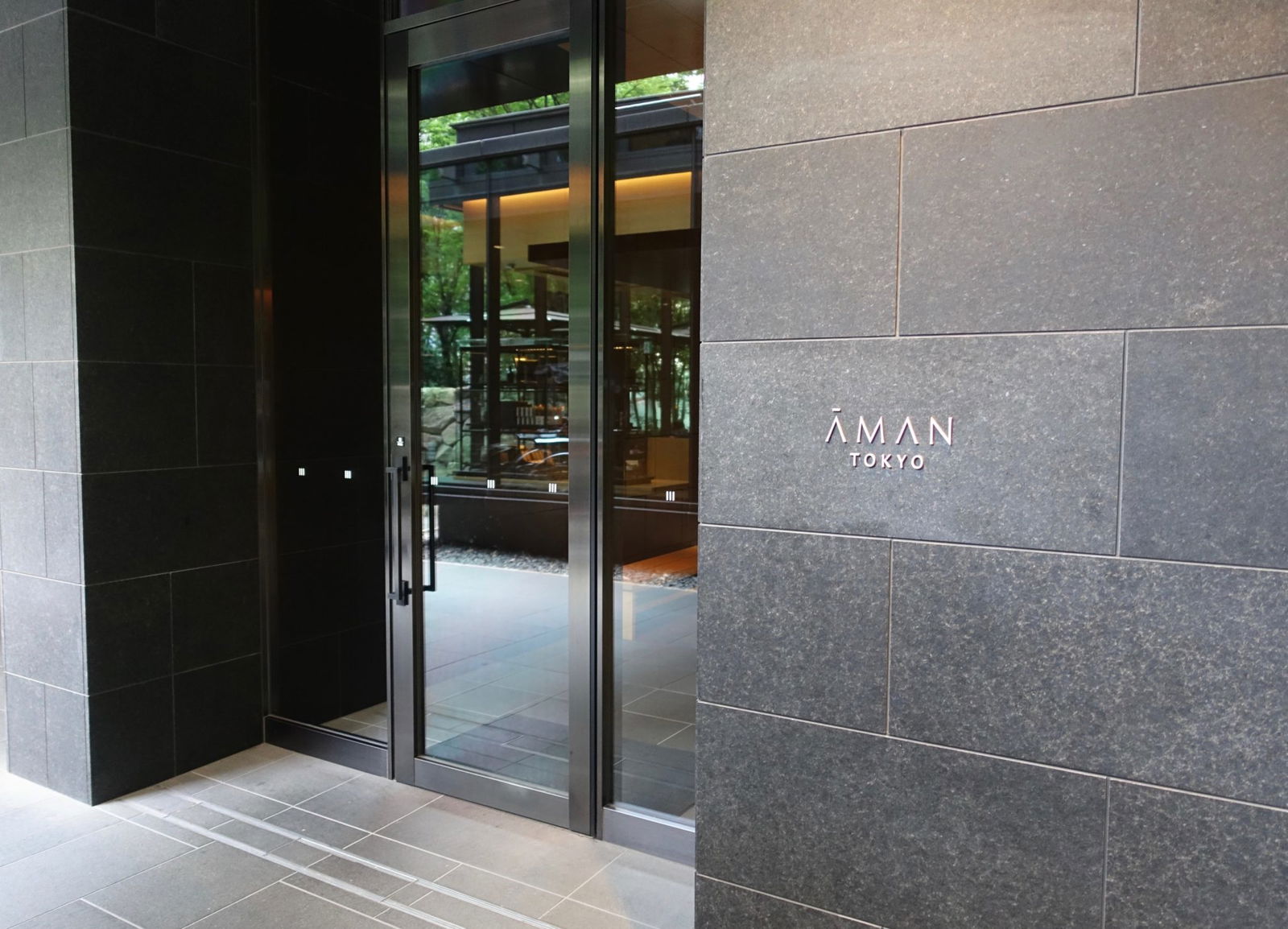 Aman Tokyo entrance
The ground floor level is very nice, with several hotel staff on hand to help, and then elevators at the end of the hall leading to the hotel.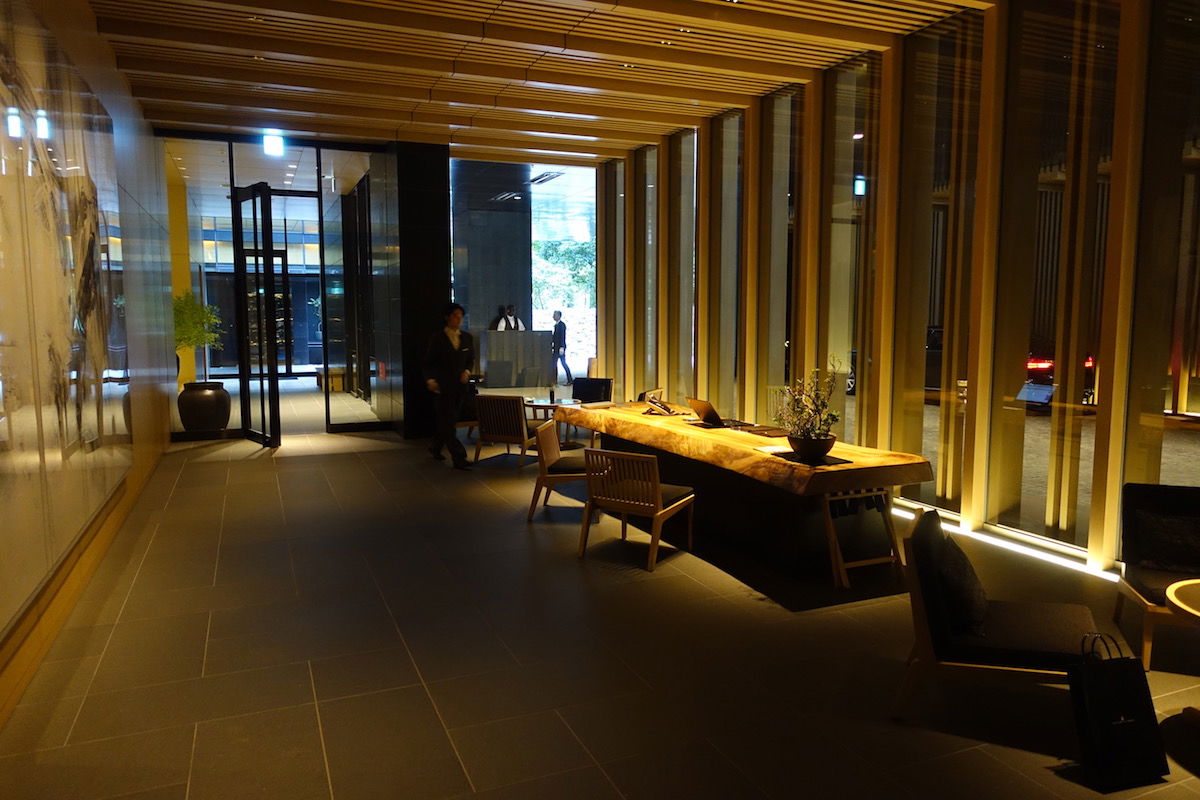 Aman Tokyo ground floor entrance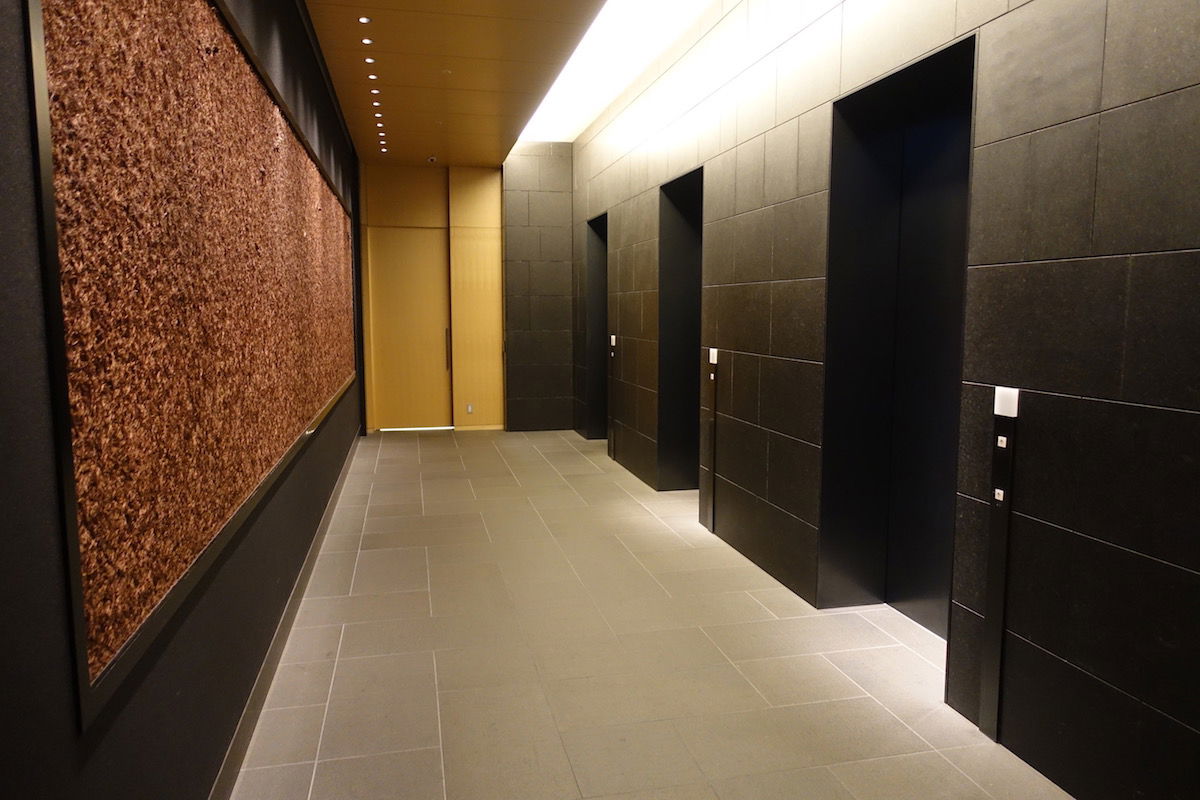 Aman Tokyo elevators
The lobby is on the 33rd floor, and as you exit the elevator reception is just outside the elevator. It's almost uncomfortable how close it is to the elevators. We were invited to have a seat in the lobby, and were offered cold towels and welcome drinks while our check-in was processed.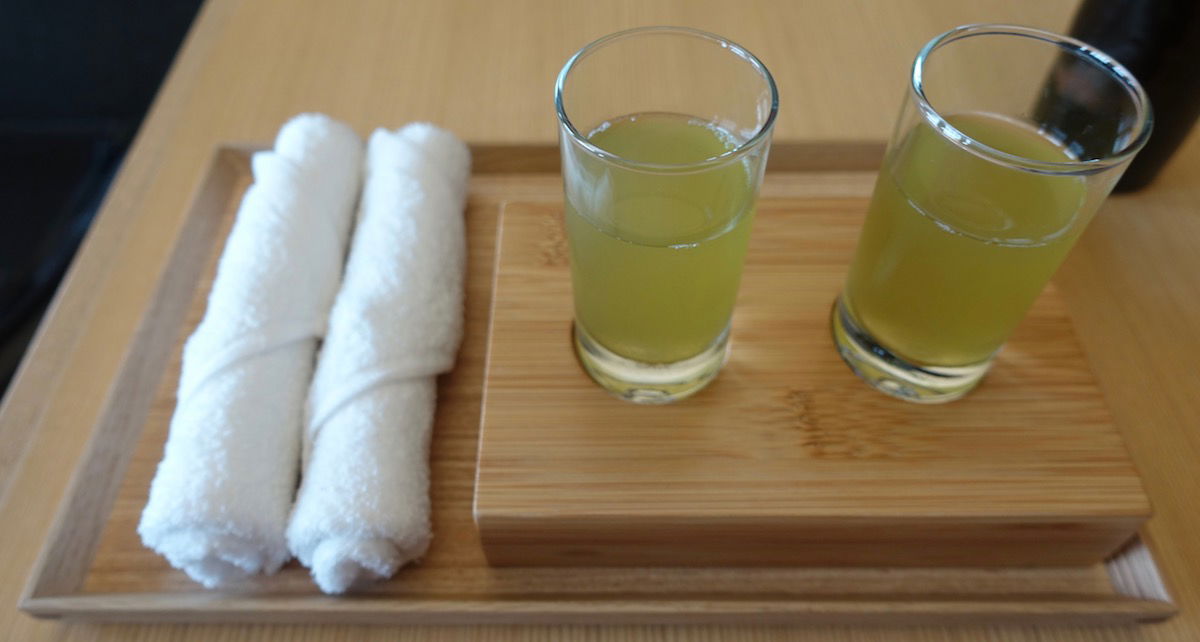 Aman Tokyo welcome drink & towel
We had arrived a bit early, so we were told our room wasn't quite ready, but should be within about 15 minutes.
Aman Tokyo has the most insanely gorgeous lobby I've seen in my life. Period. Bar none. Wow, wow, wow. Pictures really don't do it justice.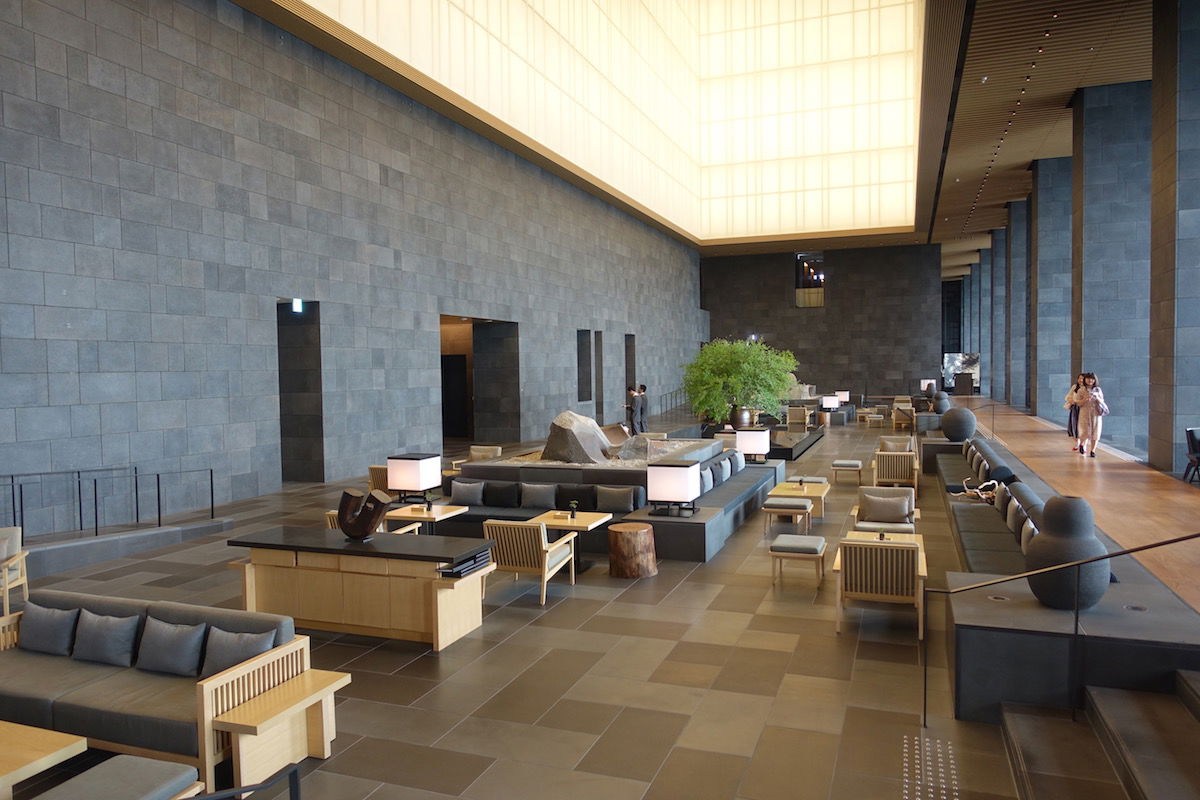 Aman Tokyo lobby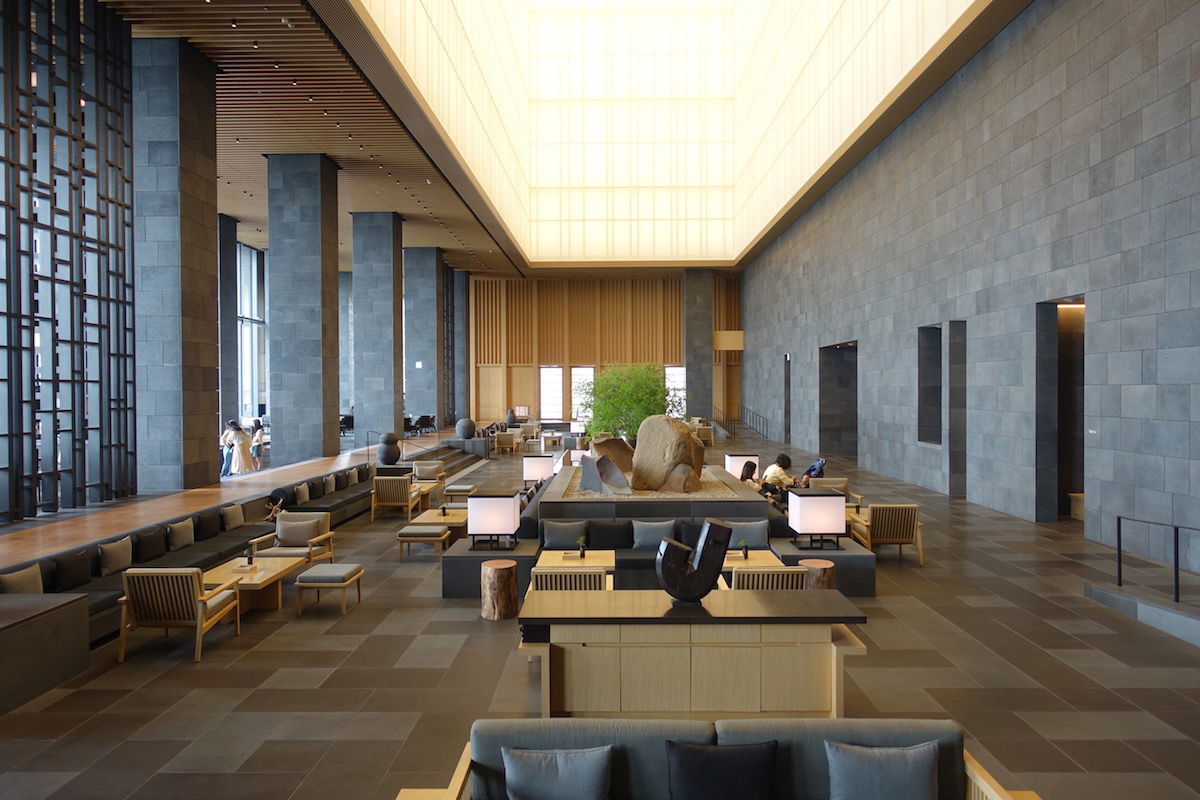 Aman Tokyo lobby
You have an even better view of the lobby if you go up a level to where the spa is, as there's a lookout.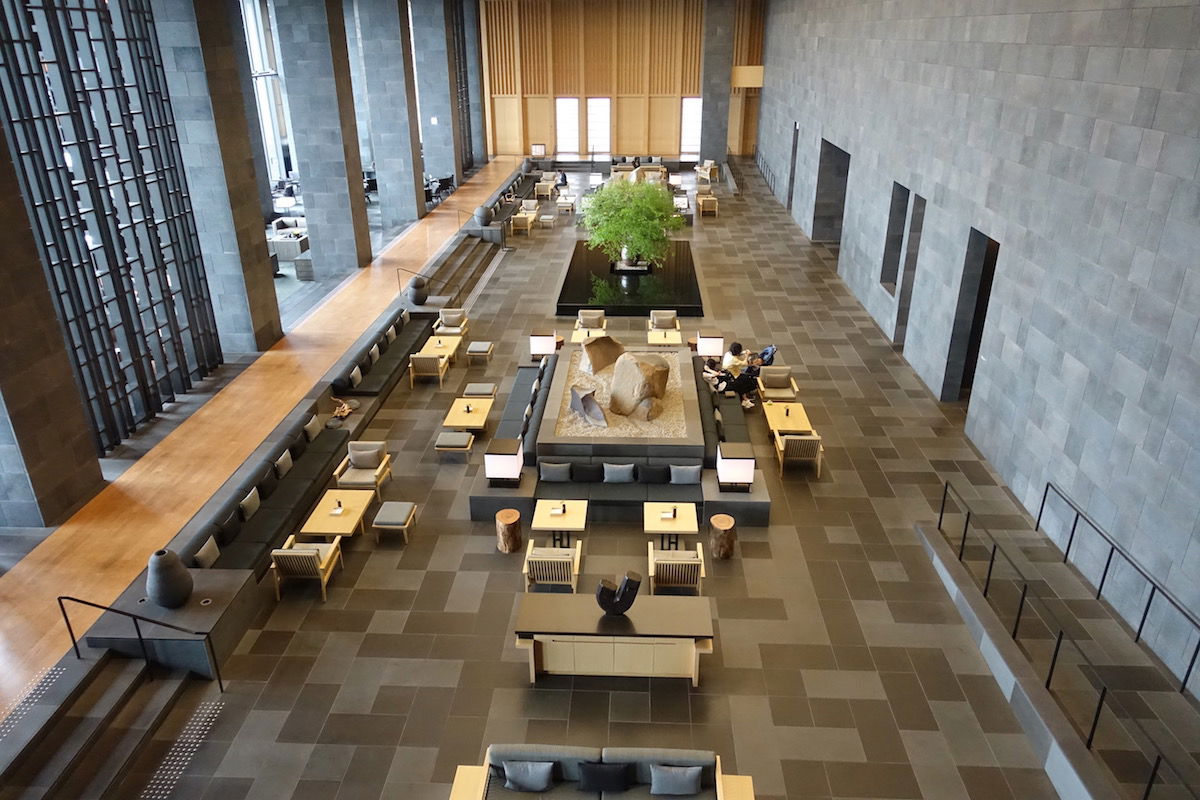 Aman Tokyo lobby
Apparently the lobby has 30 meter ceilings.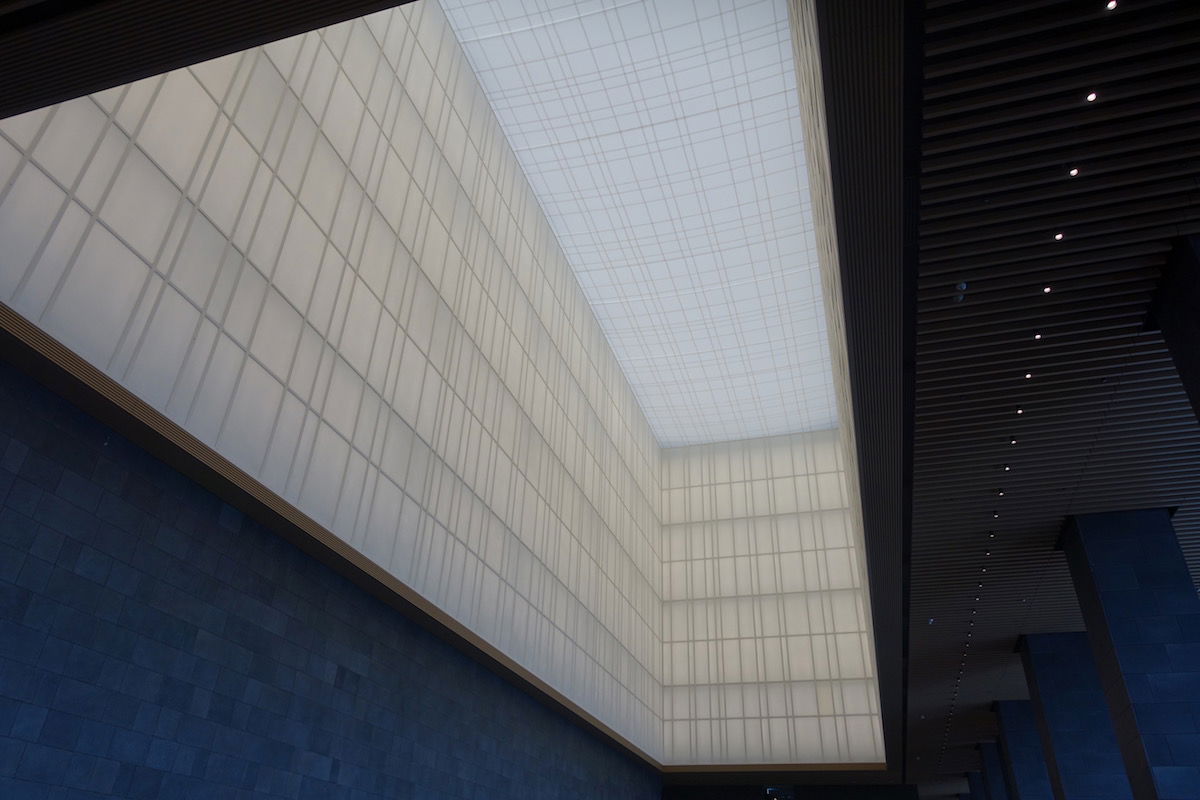 Aman Tokyo lobby
While the restaurants are over to the side, the lobby has plenty of seating as well, should you just want to lounge around. Even though the hotel is open to the public, it never got crowded.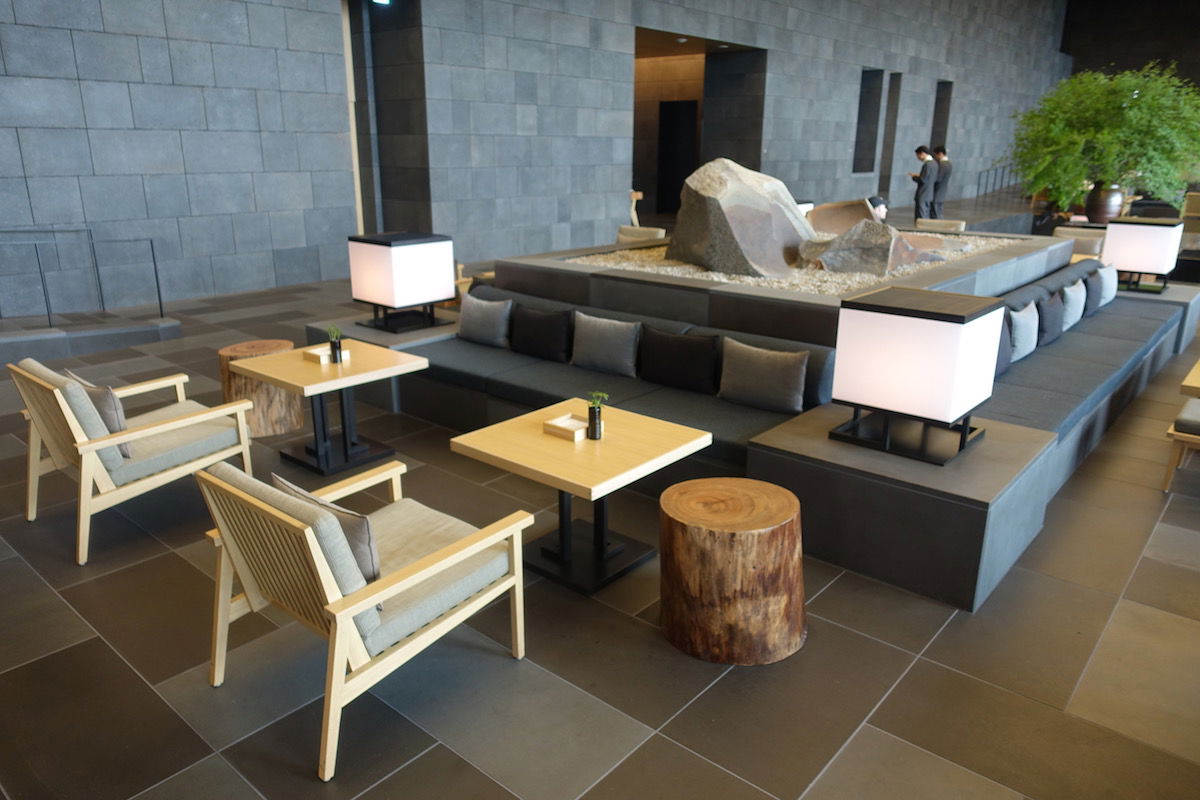 Aman Tokyo lobby seating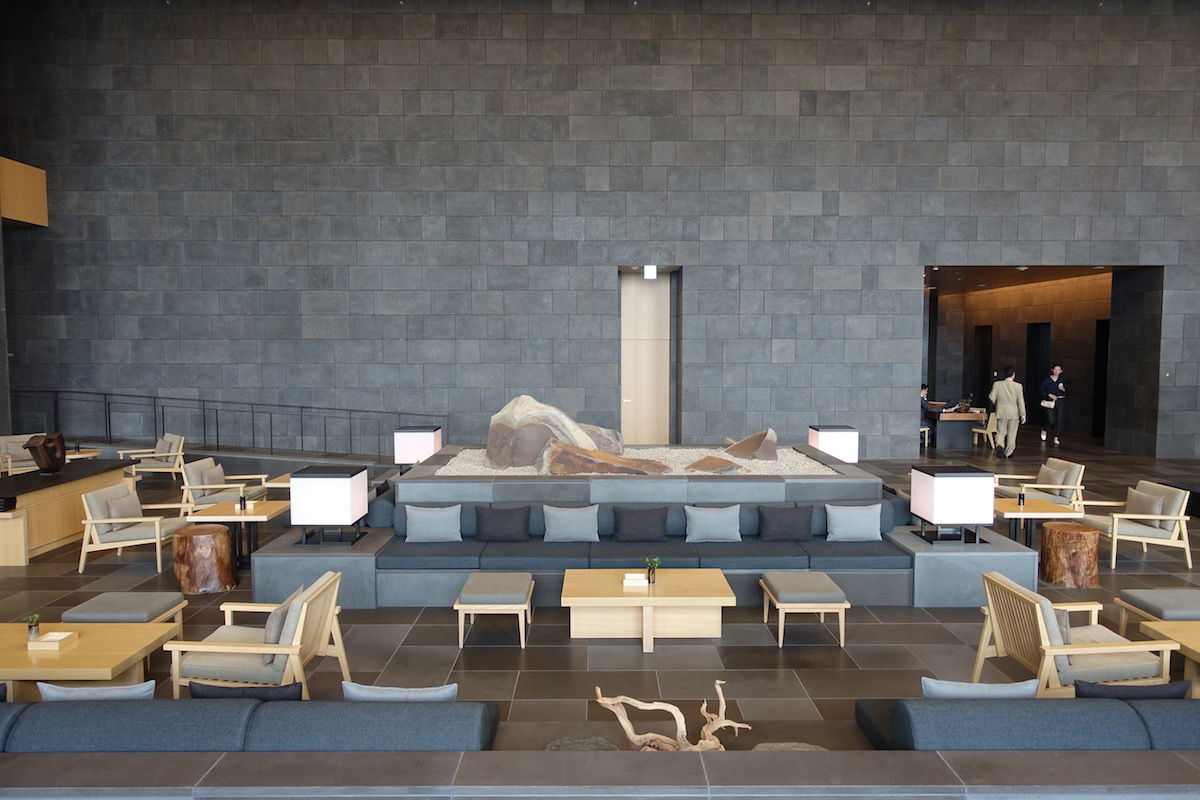 Aman Tokyo lobby seating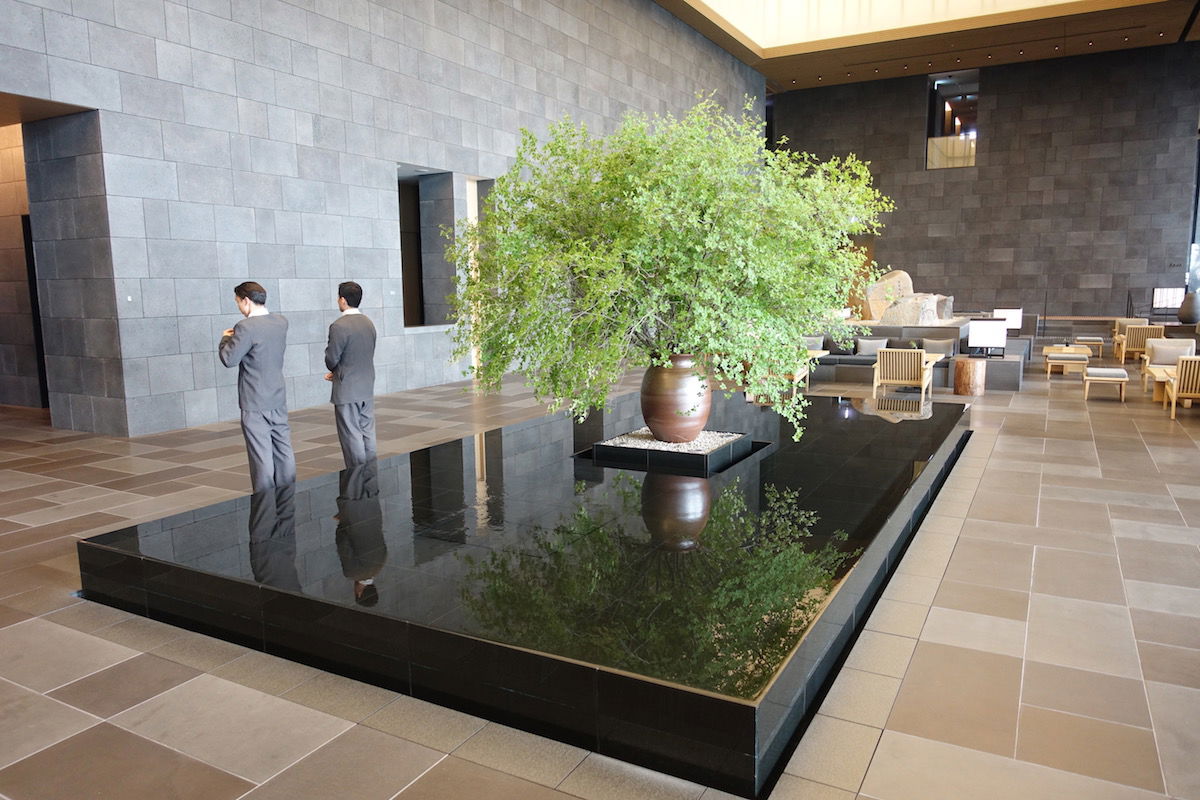 Aman Tokyo lobby
Within about 15 minutes we were informed our room was ready, and we were escorted up.
Aman Tokyo room
We were assigned room 206, located on the… 36th floor. Yeah, that takes some getting used to, though at least the elevator lists both room numbers and floor numbers.
The Aman takes up floors 33 through 38 of the building it's in. The lobby is on the 33rd floor, and then the floor above that is the spa. So then rooms 1XX are on the 35th floor, rooms 2XX are on the 36th floor, rooms 3XX are on the 37th floor, and rooms 4XX are on the 38th floor.
I guess that's intended to make the hotel feel more intimate, given that it has just 84 rooms? I'm not sure, but it took me a minute to get used to that.
Anyway, everything about the design of this hotel was well executed, in my opinion.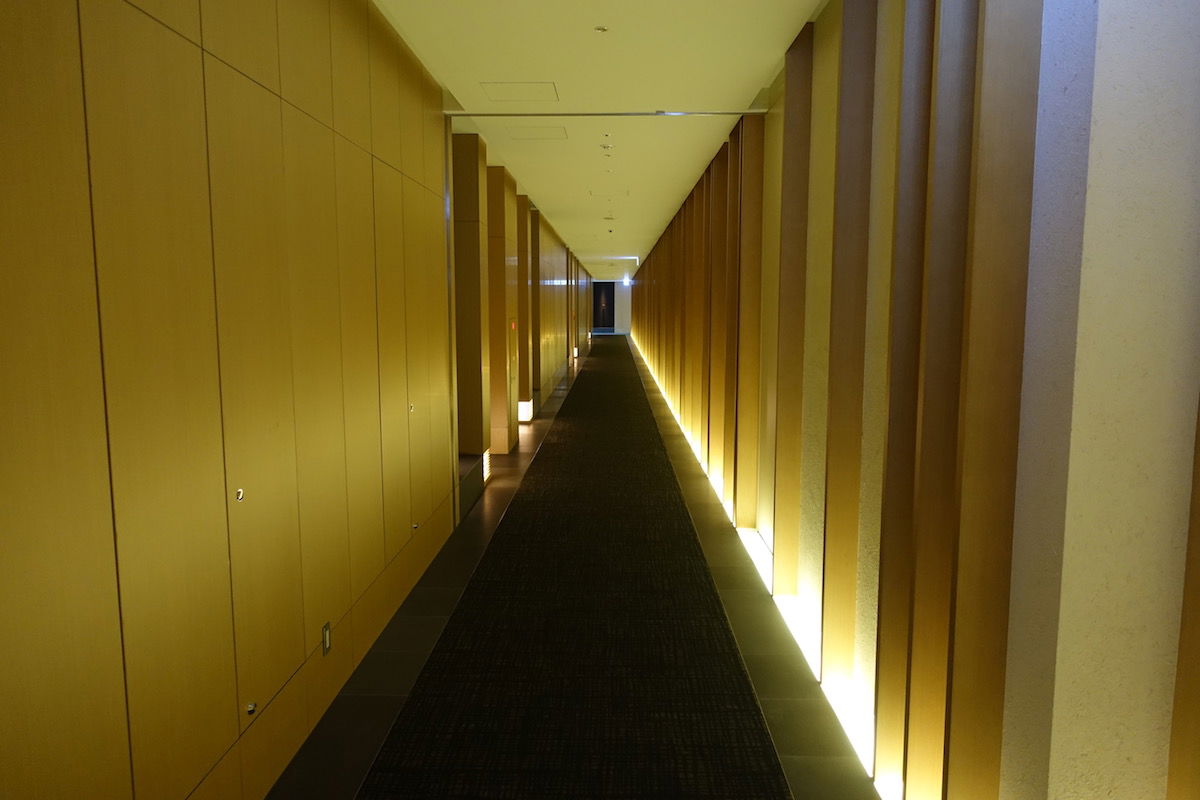 Aman Tokyo hallway
The deluxe rooms here are 71 square meters, which is about 765 square feet. That's massive for a standard room, and is more like a typical junior suite.
When you walk into the room you're behind the bed, looking towards the living area.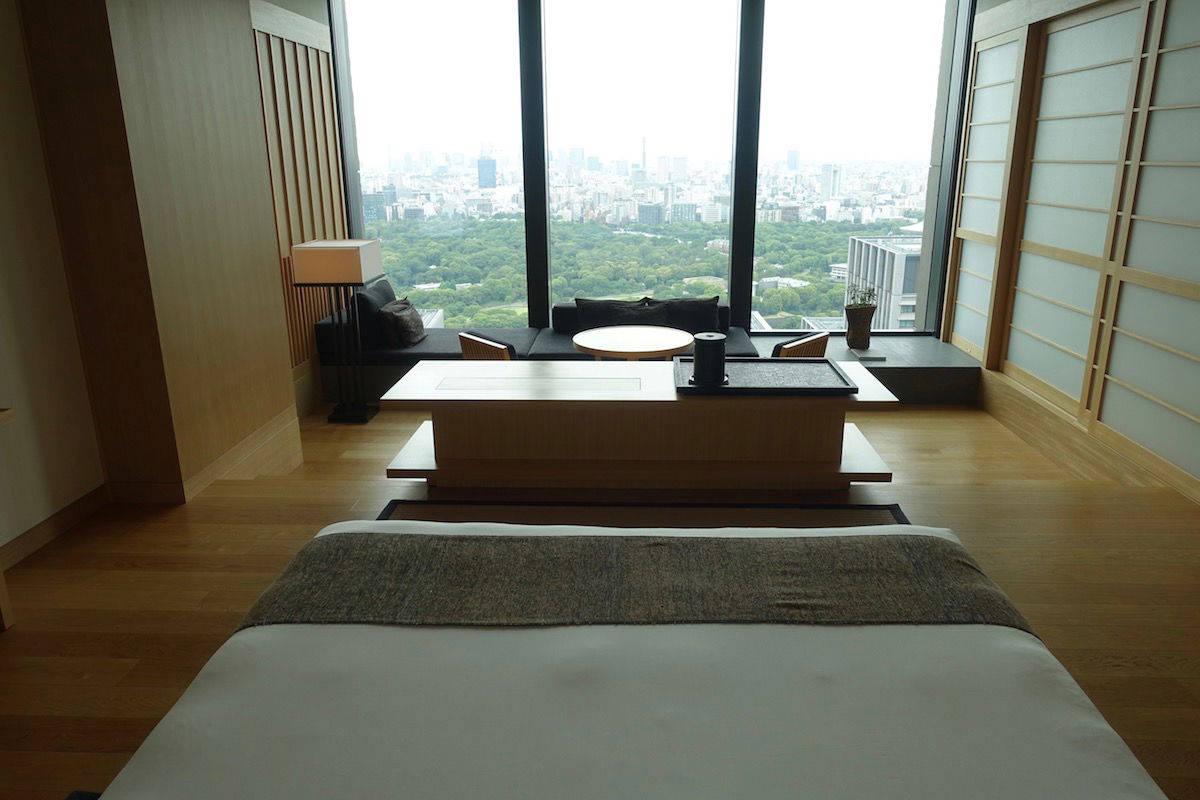 Aman Tokyo room
There was a king size bed, which was set fairly low to the ground.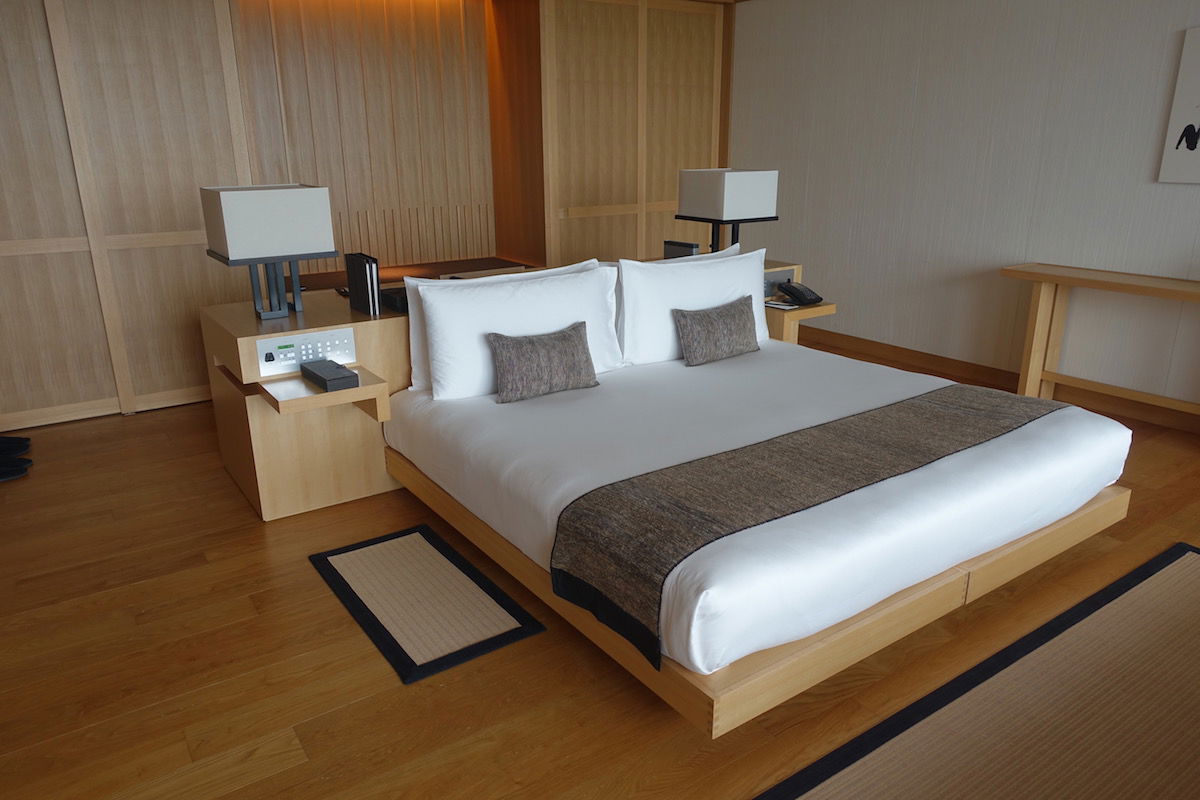 Aman Tokyo room
Behind that was a desk, and then behind that were some closets and a luggage rack.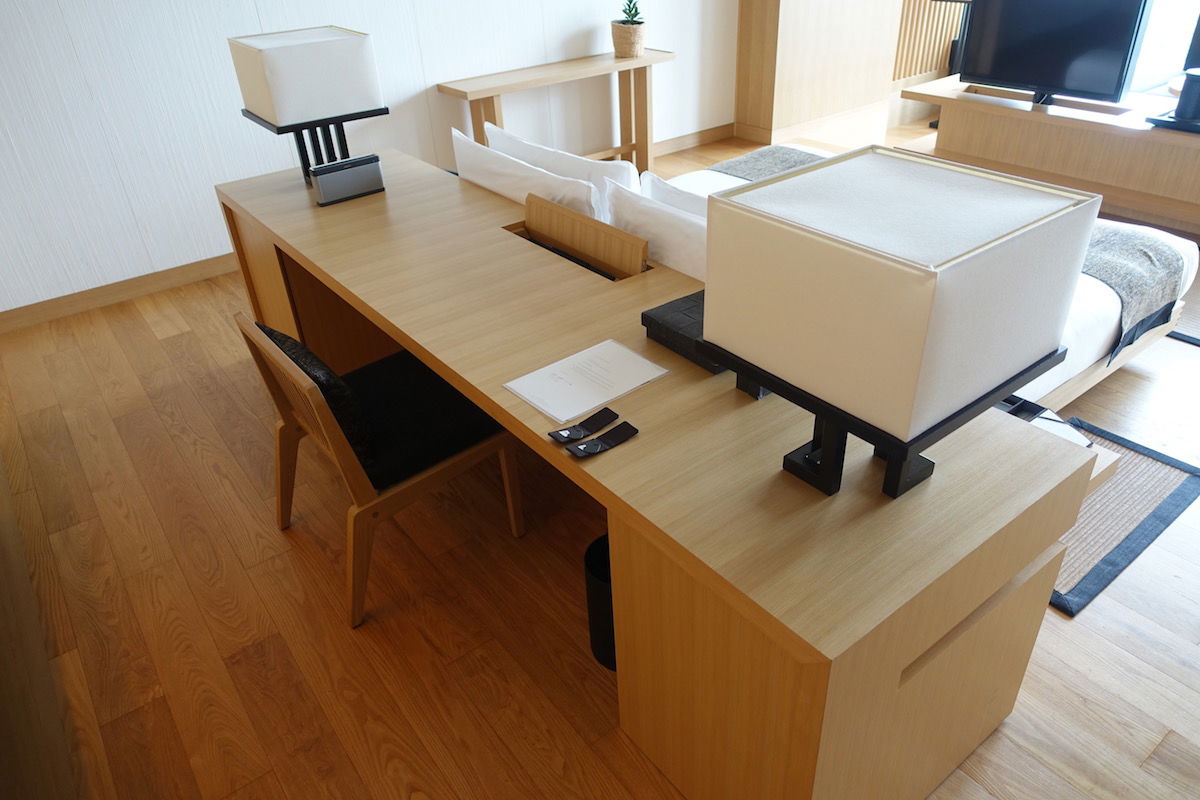 Aman Tokyo room
Then there were a couple of steps leading down a level to the living area.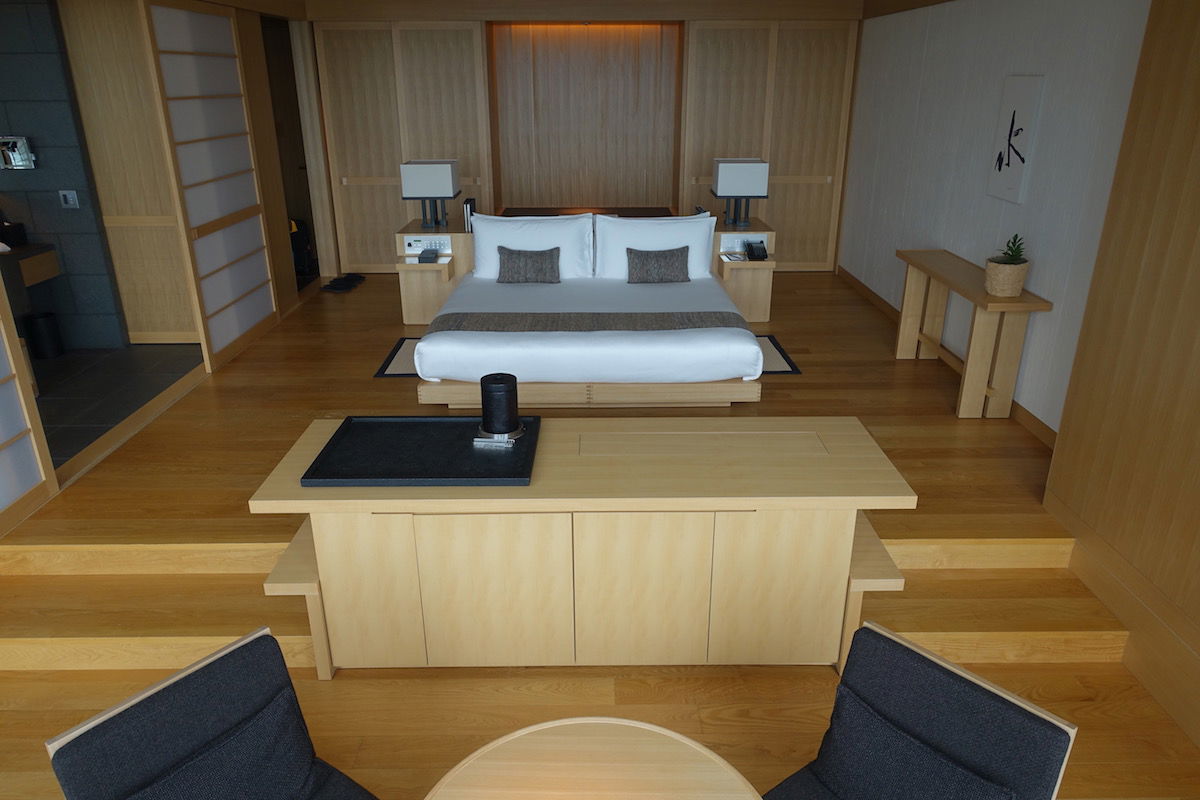 Aman Tokyo room
There was a TV between the living room and bedroom, which could be swiveled depending on which side you want to watch it from.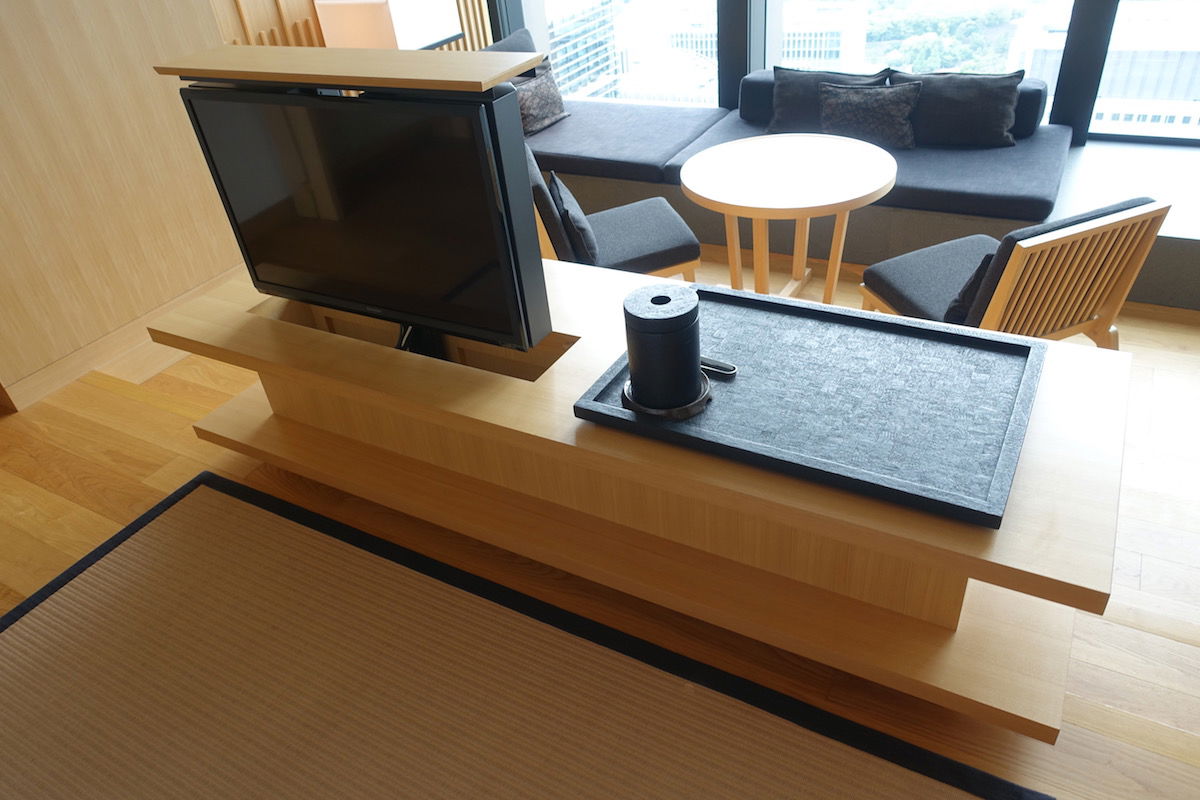 Aman Tokyo room
The sitting area consisted of a couple of chairs, a table, and then some cushions on a raised area. While I liked the aesthetic, it wasn't necessarily the most comfortable place to sit.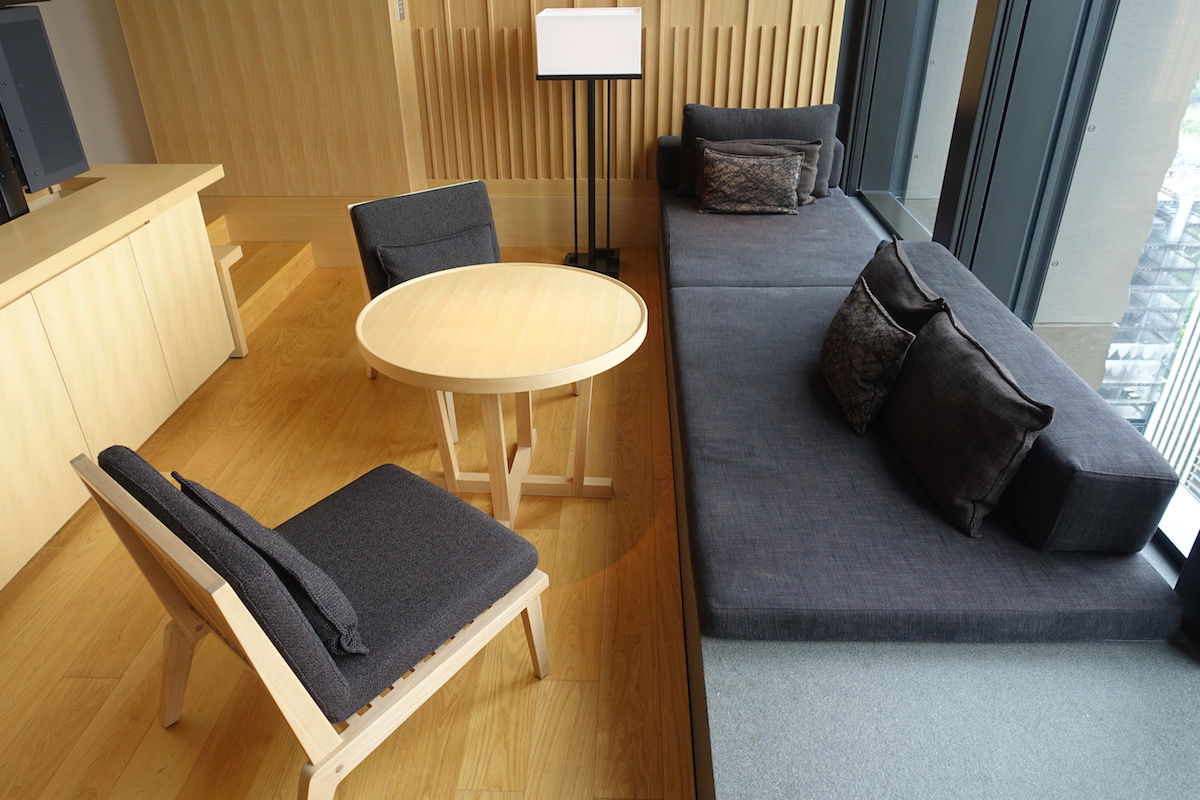 Aman Tokyo sitting area
The room had very nice views, and for a moment I felt like I was in New York looking out over Central Park. While the views were nice, I preferred the ones from the Ritz.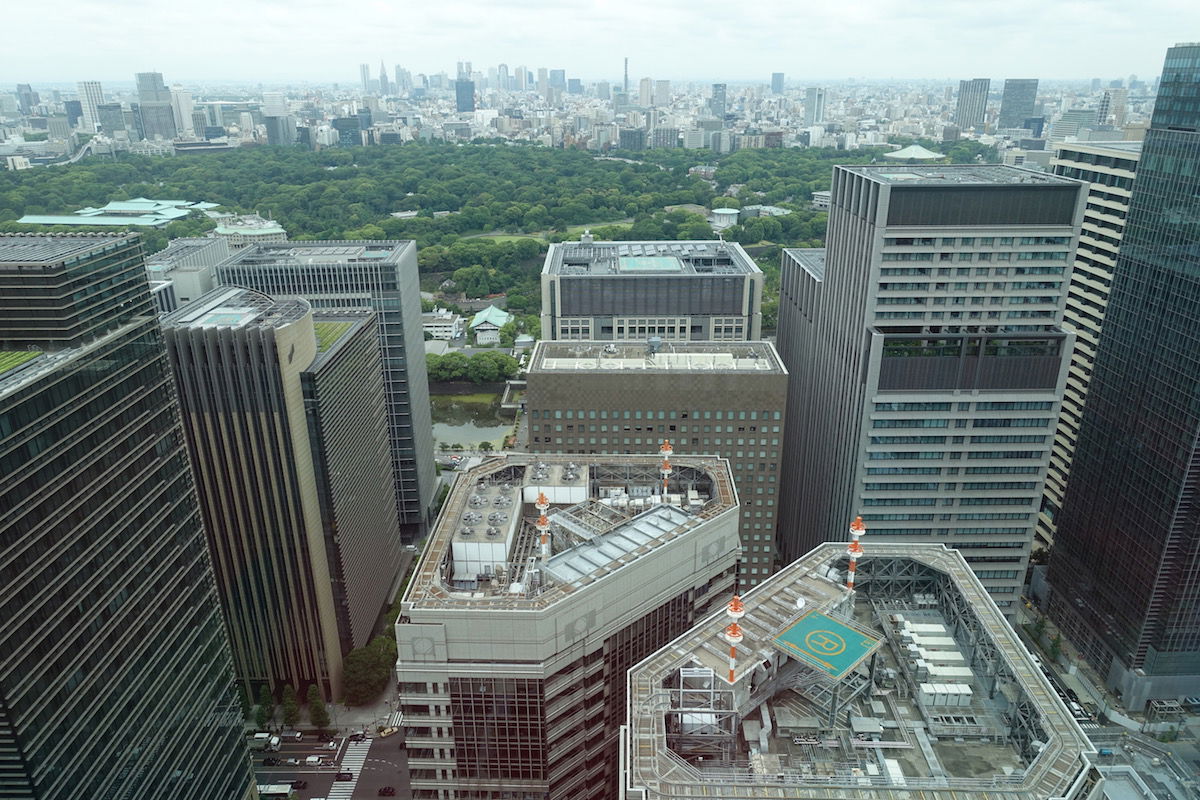 Aman Tokyo view
There was a minibar in the room, and as usual at Amans, non-alcoholic drinks were complimentary.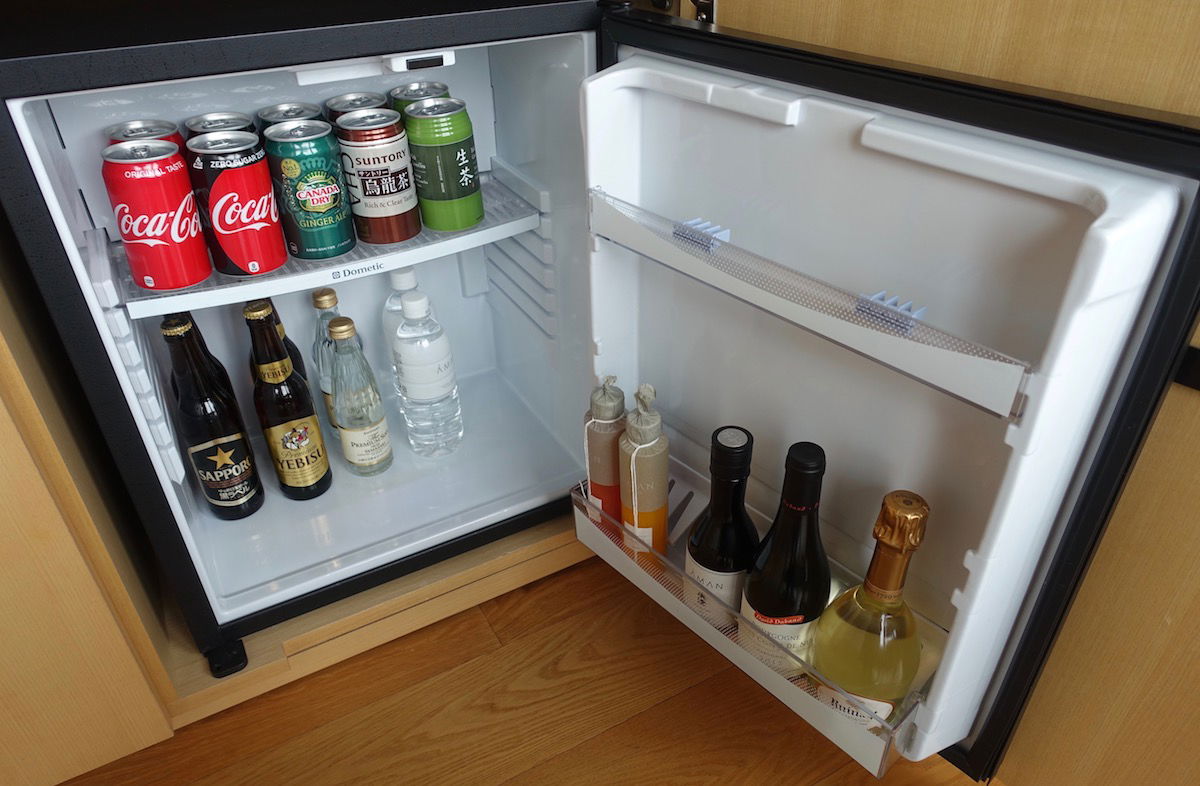 Aman Tokyo minibar
There were also a couple of jars with complimentary snacks.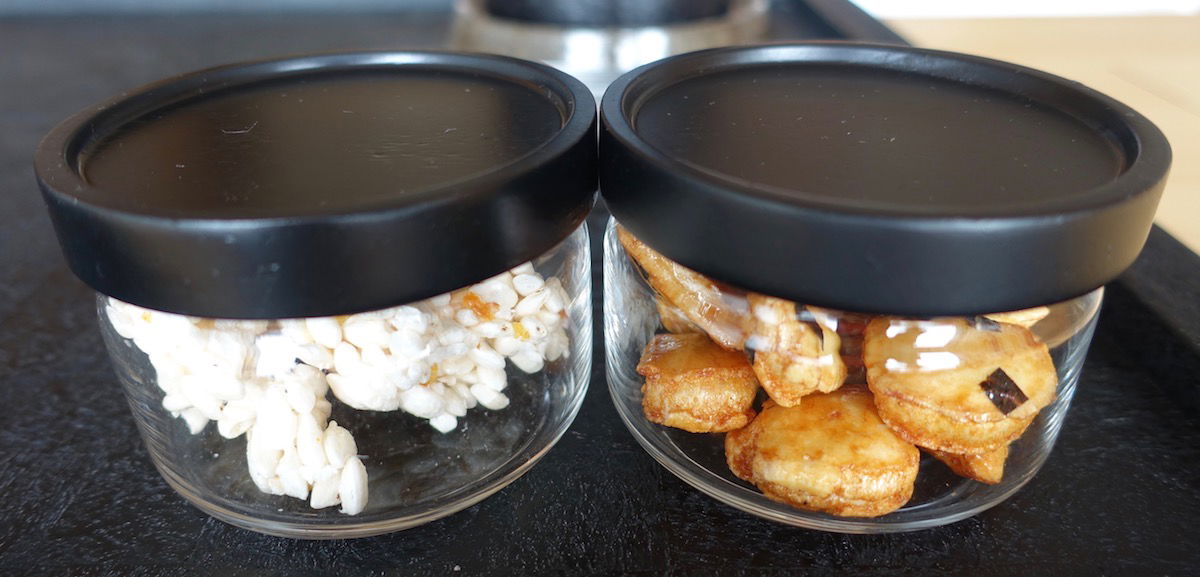 Aman Tokyo complimentary snacks
On the table was a small welcome amenity with some fruit. While a welcome amenity is by no means a "right," I was reflecting on how Aman is among the stingiest luxury hotel groups out there when it comes to these. When you check into a nice hotel you often get a bottle of wine or something more substantial, but I find Amans pretty consistently have either nothing, or just something fairly simple.
That's fine, but just not something I thought much about until now.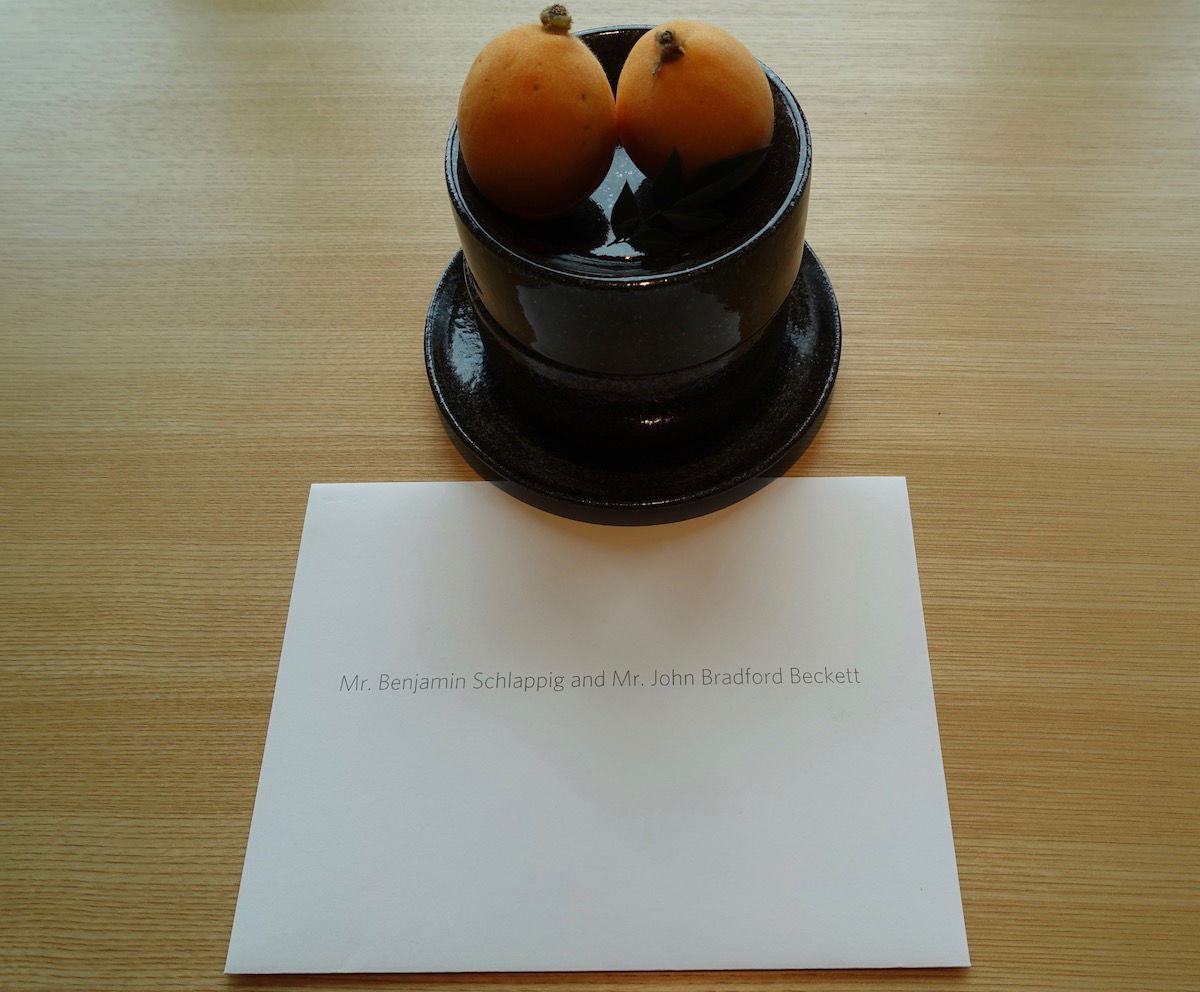 Aman Tokyo welcome gift
The bathroom was in a rectangular shape, and spanned the entire length of the room.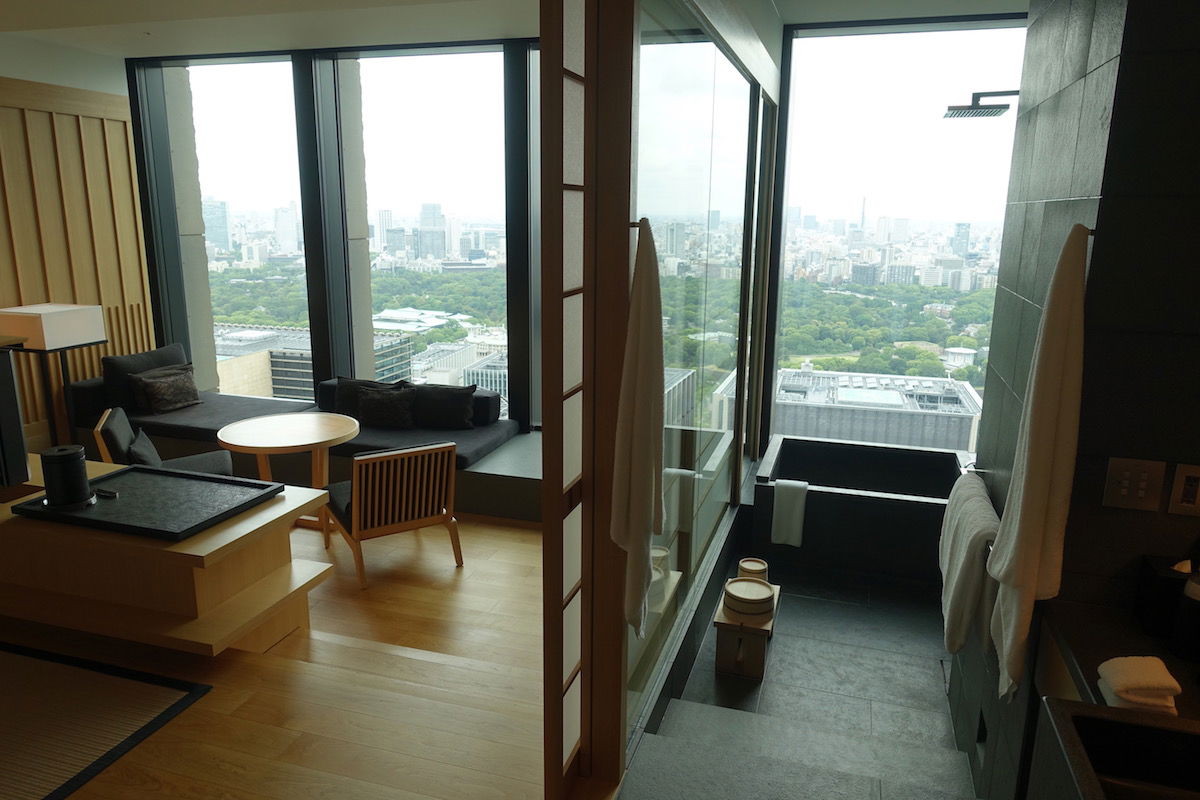 Aman Tokyo room
There were double sinks.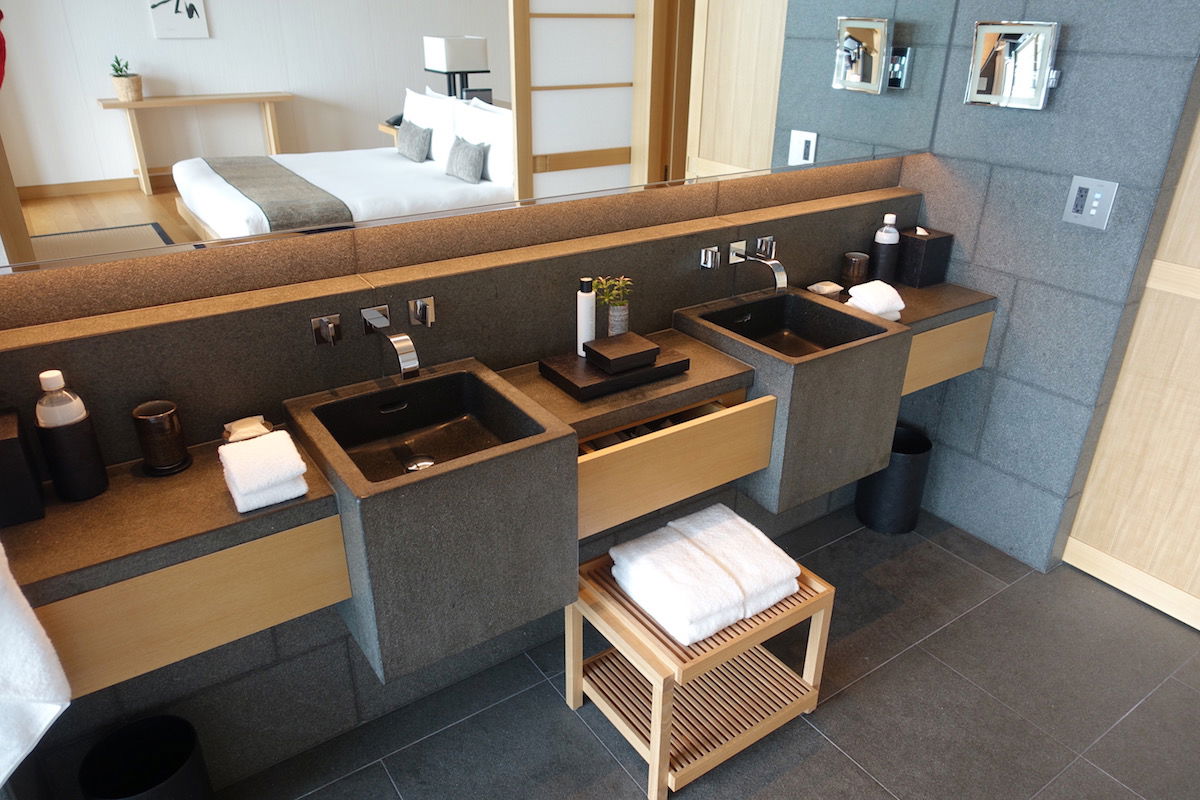 Aman Tokyo bathroom
Then to the left was the shower "complex," which included a tub and shower.

Aman Tokyo bathtub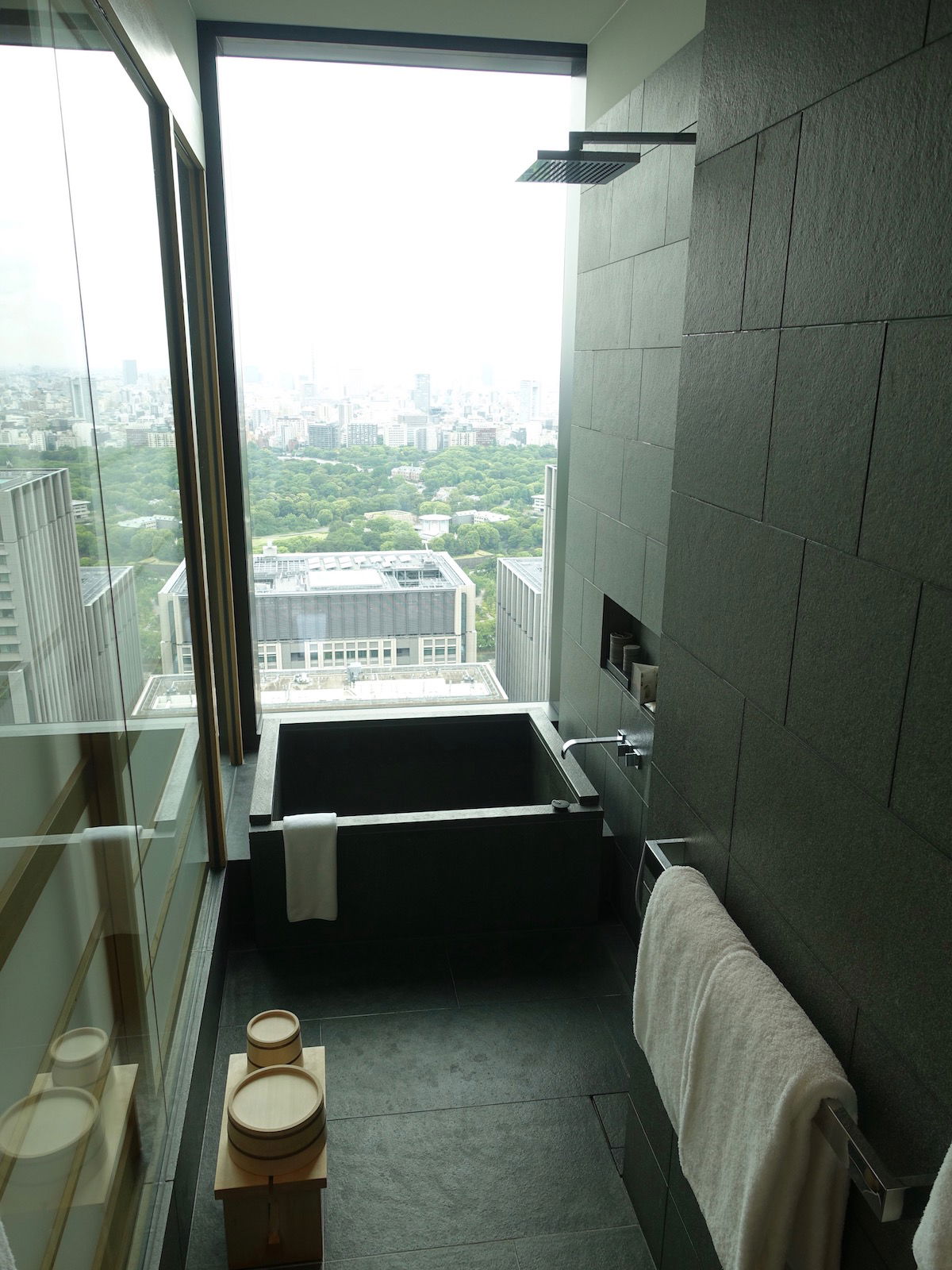 Aman Tokyo bathroom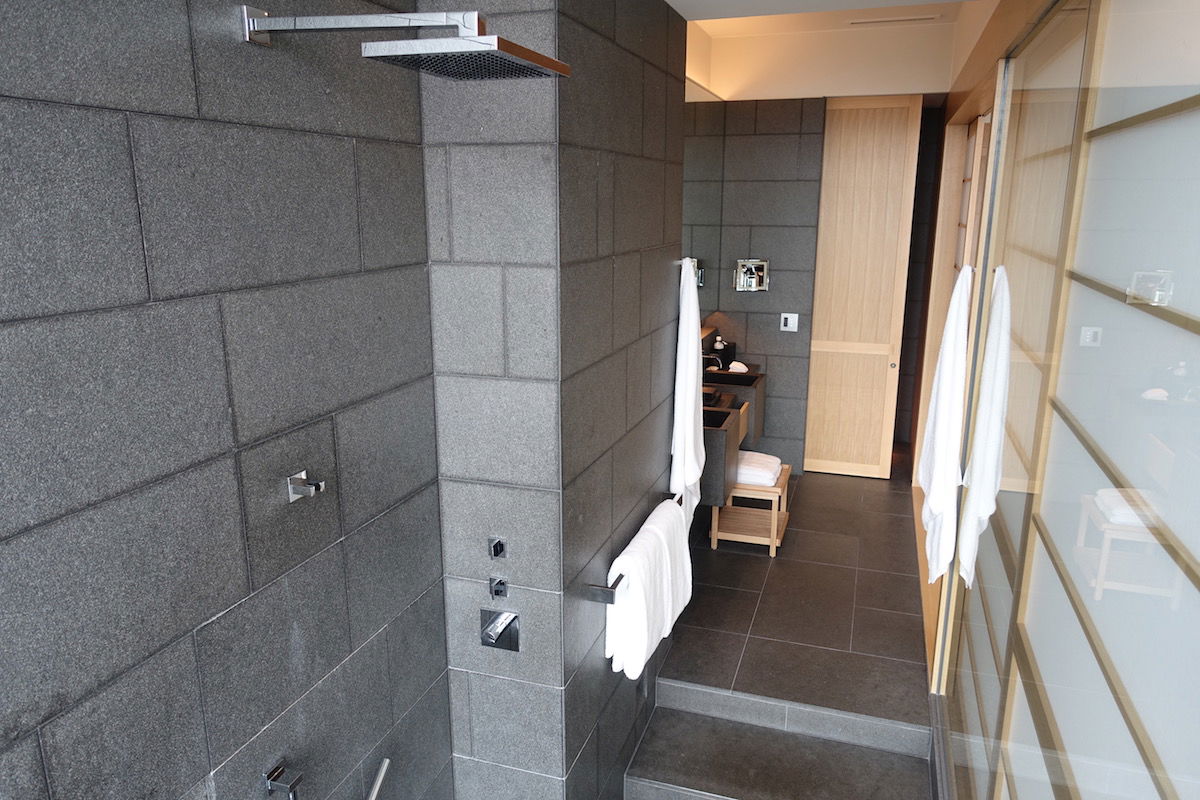 Aman Tokyo bathroom
Toiletries were in the same containers as at Amanemu.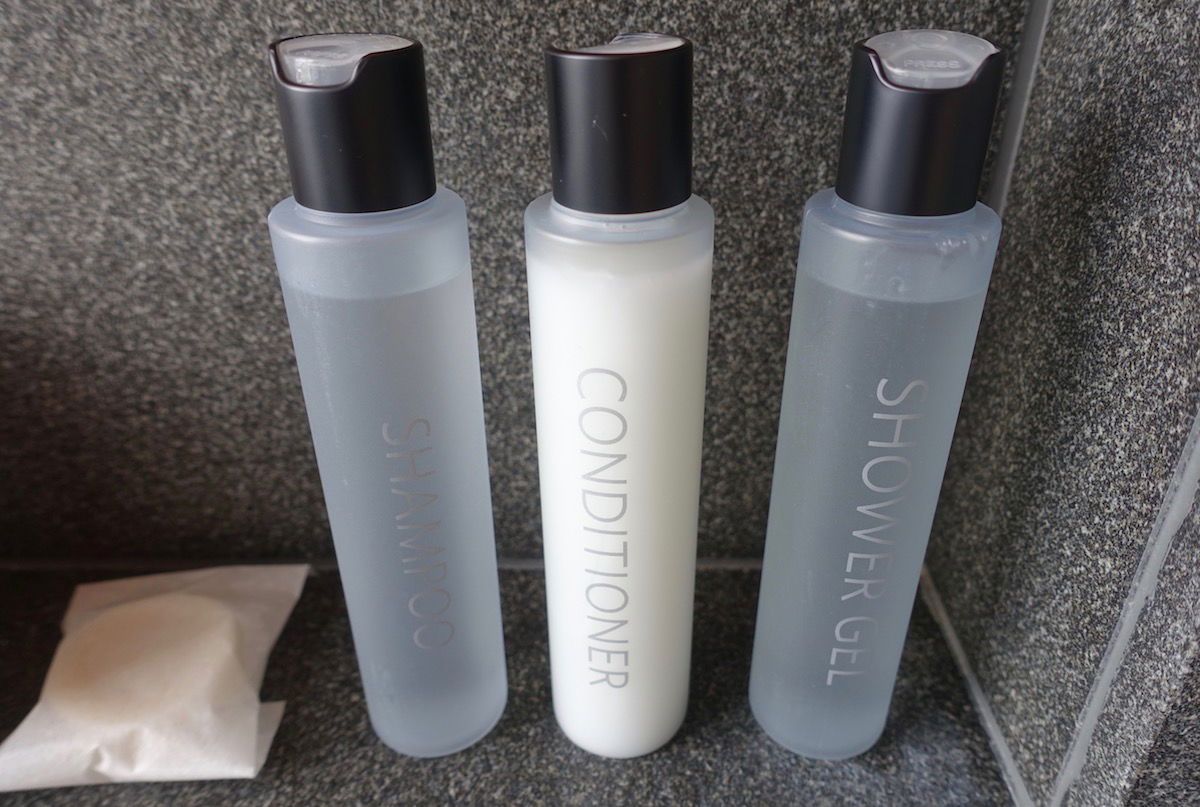 Aman Tokyo toiletries
Then the toilet was to the right of the sinks.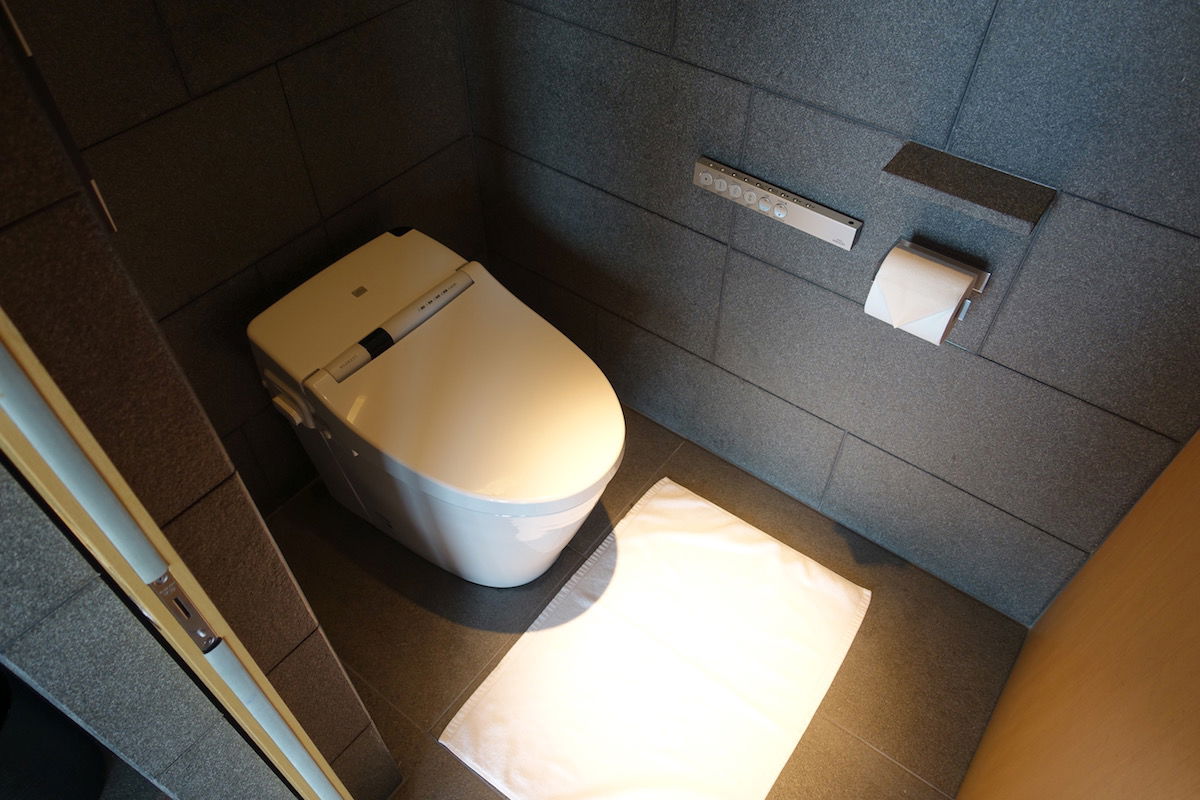 Aman Tokyo toilet
Aman Tokyo lobby lounge
Given how beautiful the Aman's lobby is, we had pre-dinner drinks in the lobby lounge both nights. If you want to check out the Aman without paying for a room, I'd highly recommend coming for a drink. This way you can enjoy the ambiance of the lobby, and drinks aren't that outrageously priced, at least as far as five star Tokyo hotels go.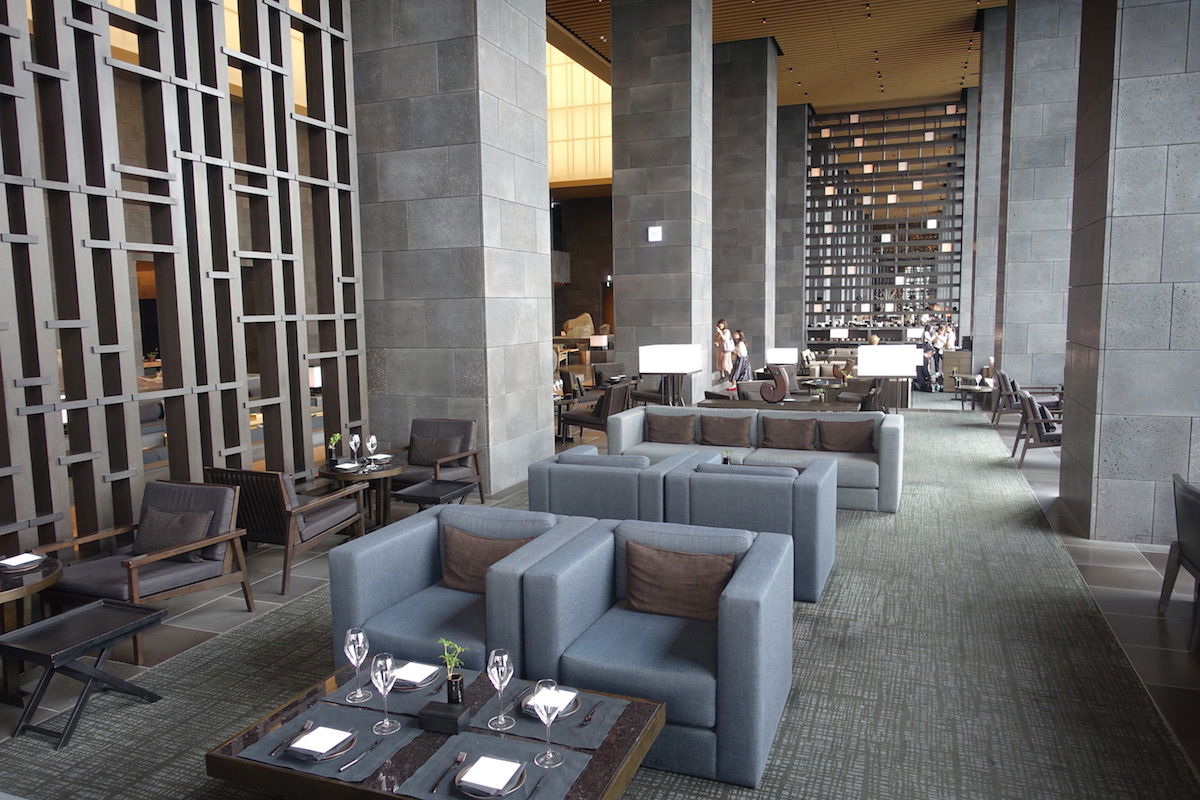 Aman Tokyo lobby lounge
The lounge had seating along the bar, couches, comfortable chairs, and even a smoking section.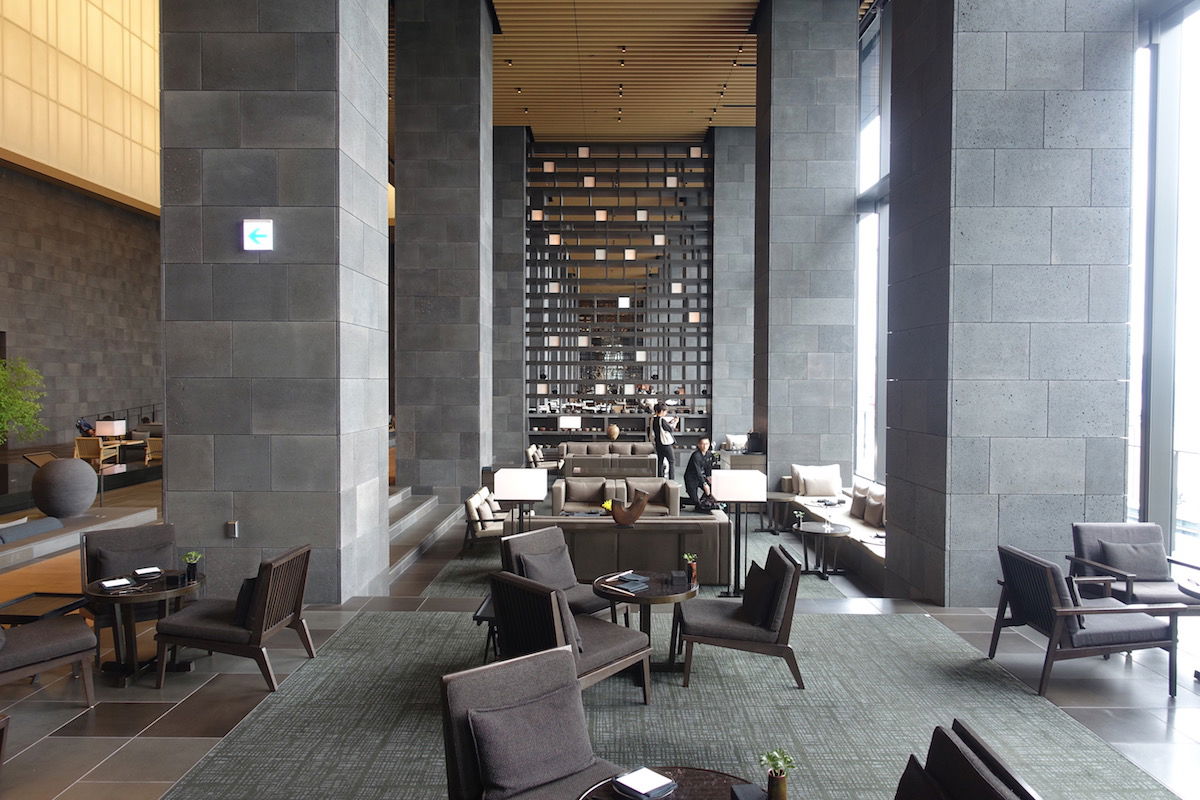 Aman Tokyo lobby lounge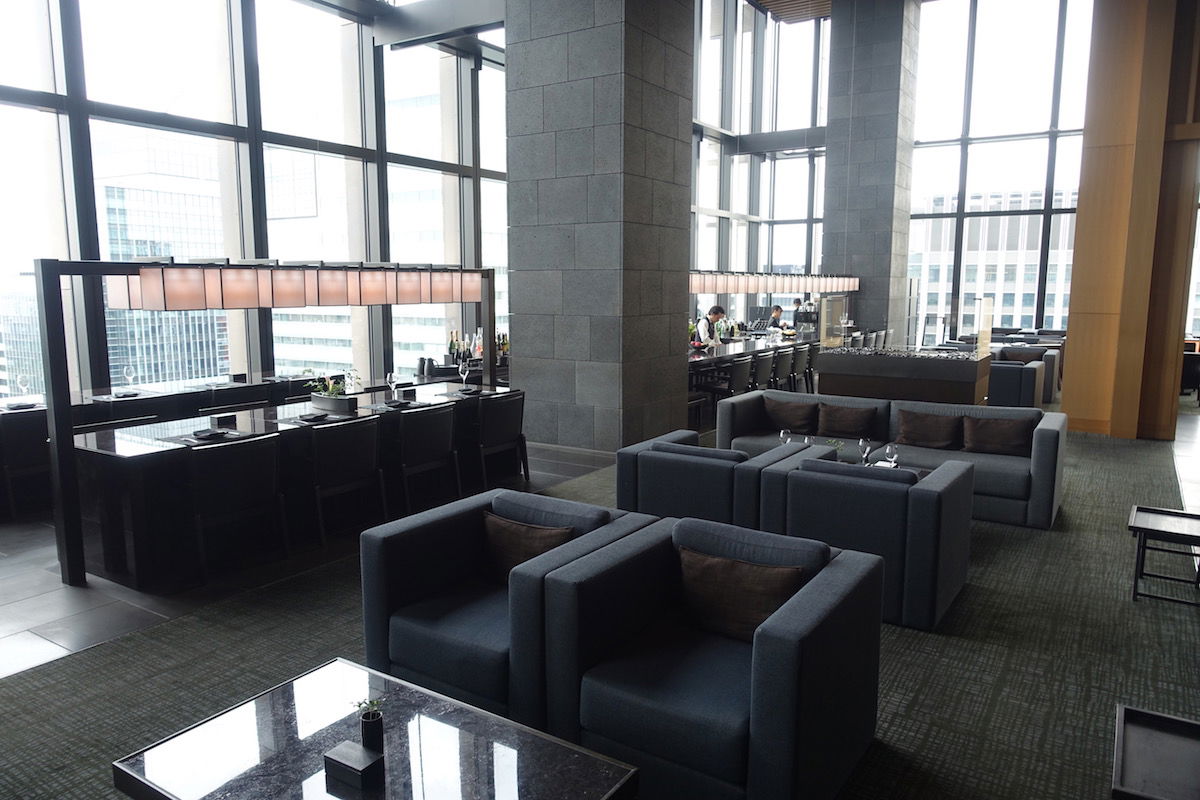 Aman Tokyo lobby lounge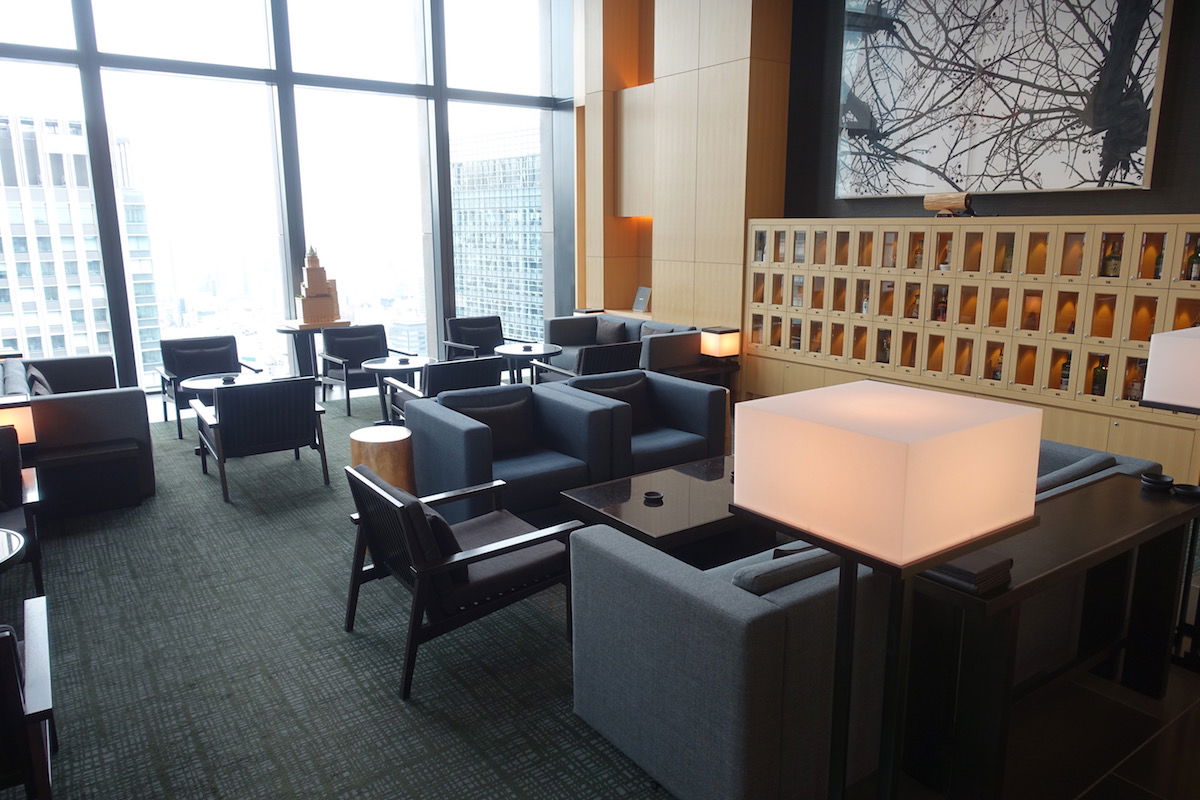 Aman Tokyo lobby lounge smoking section
Here's part of the drink menu: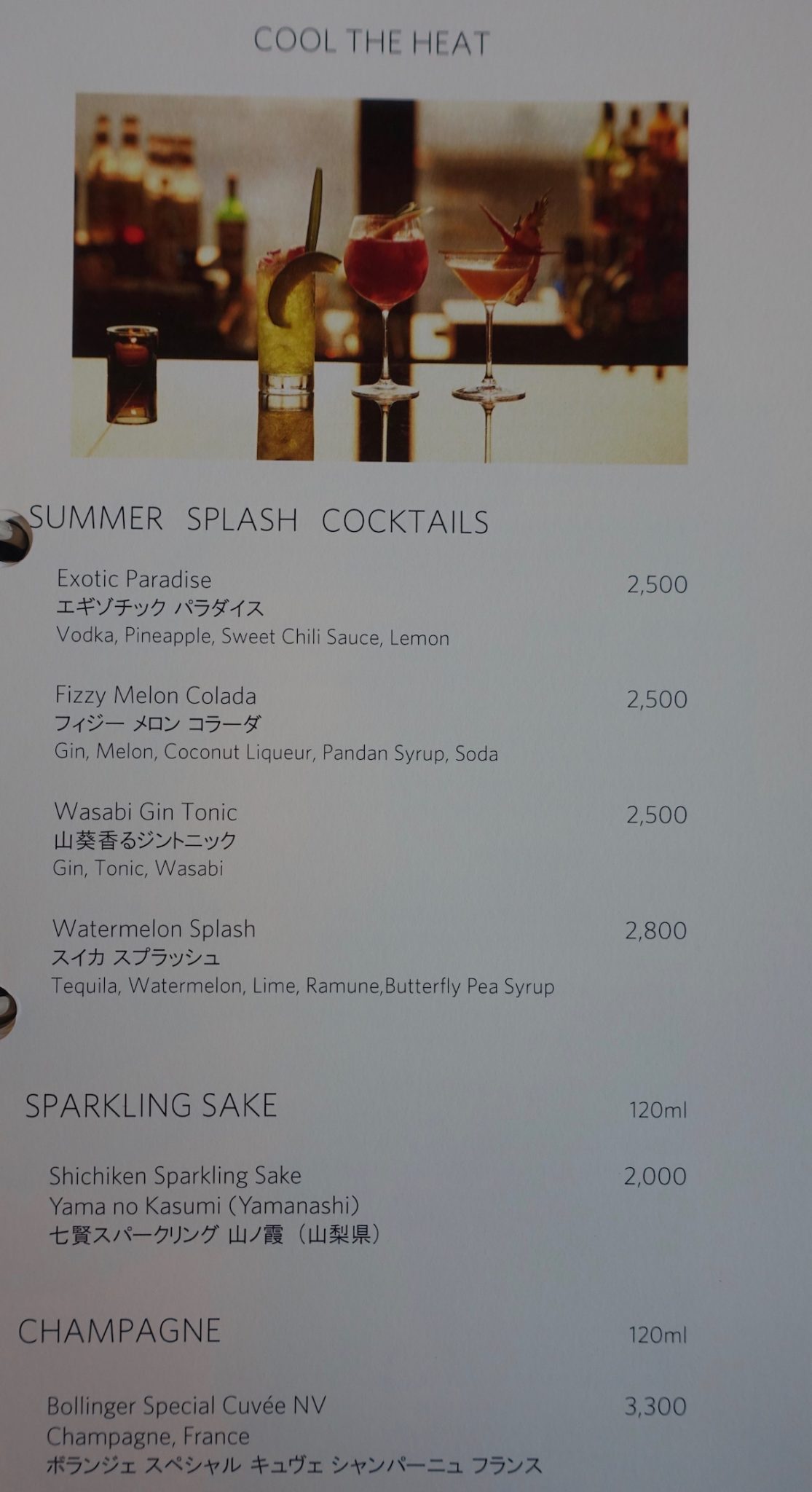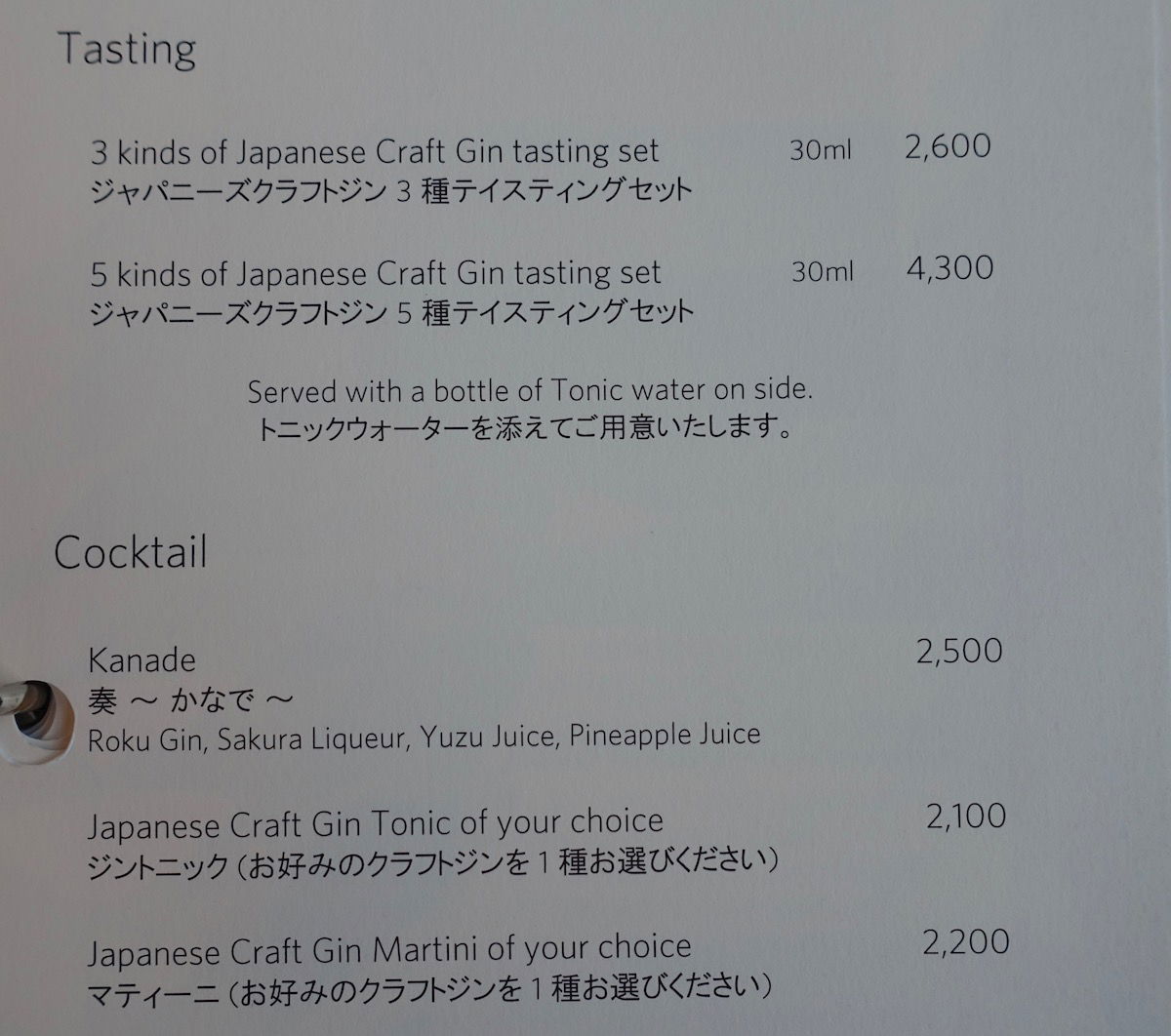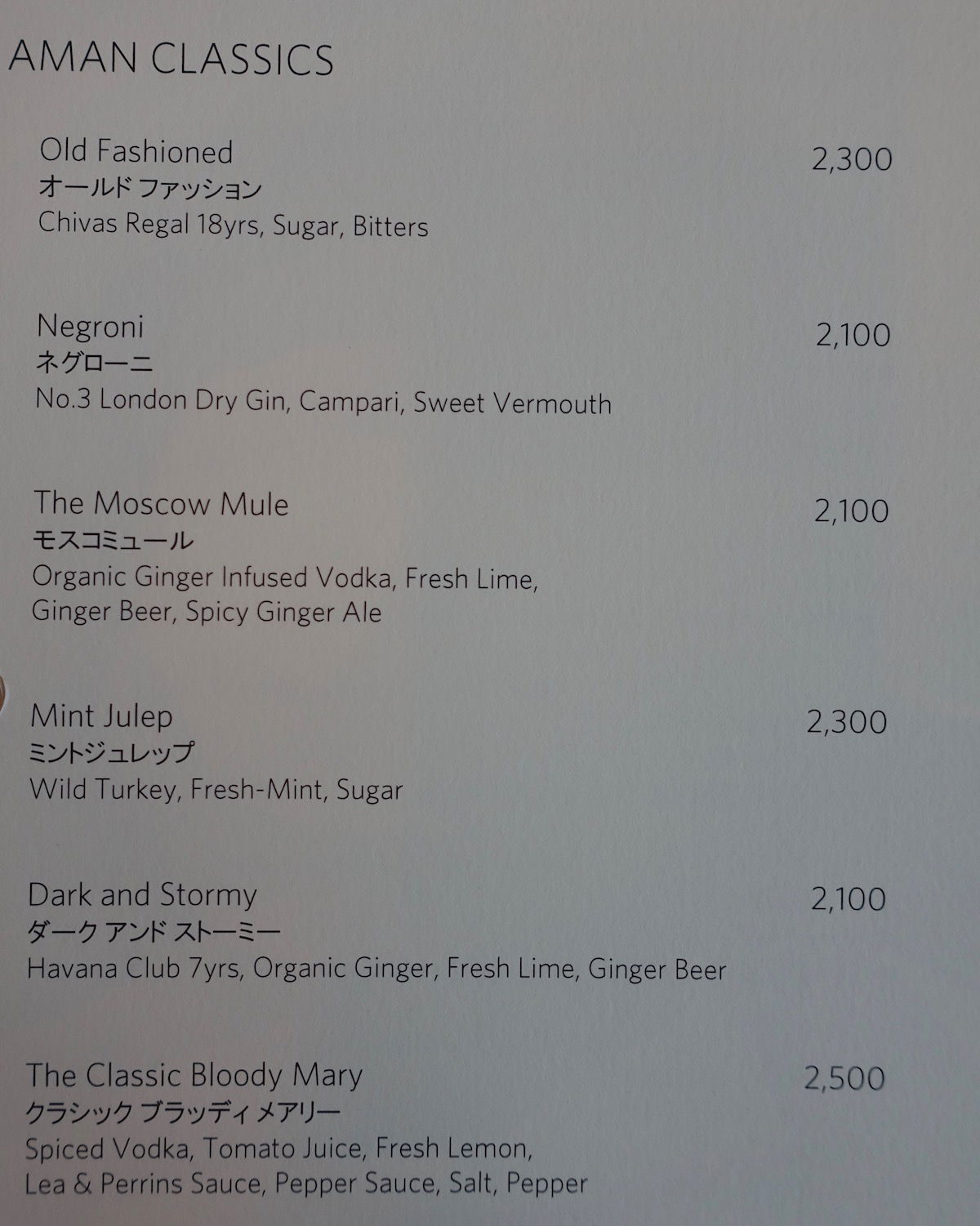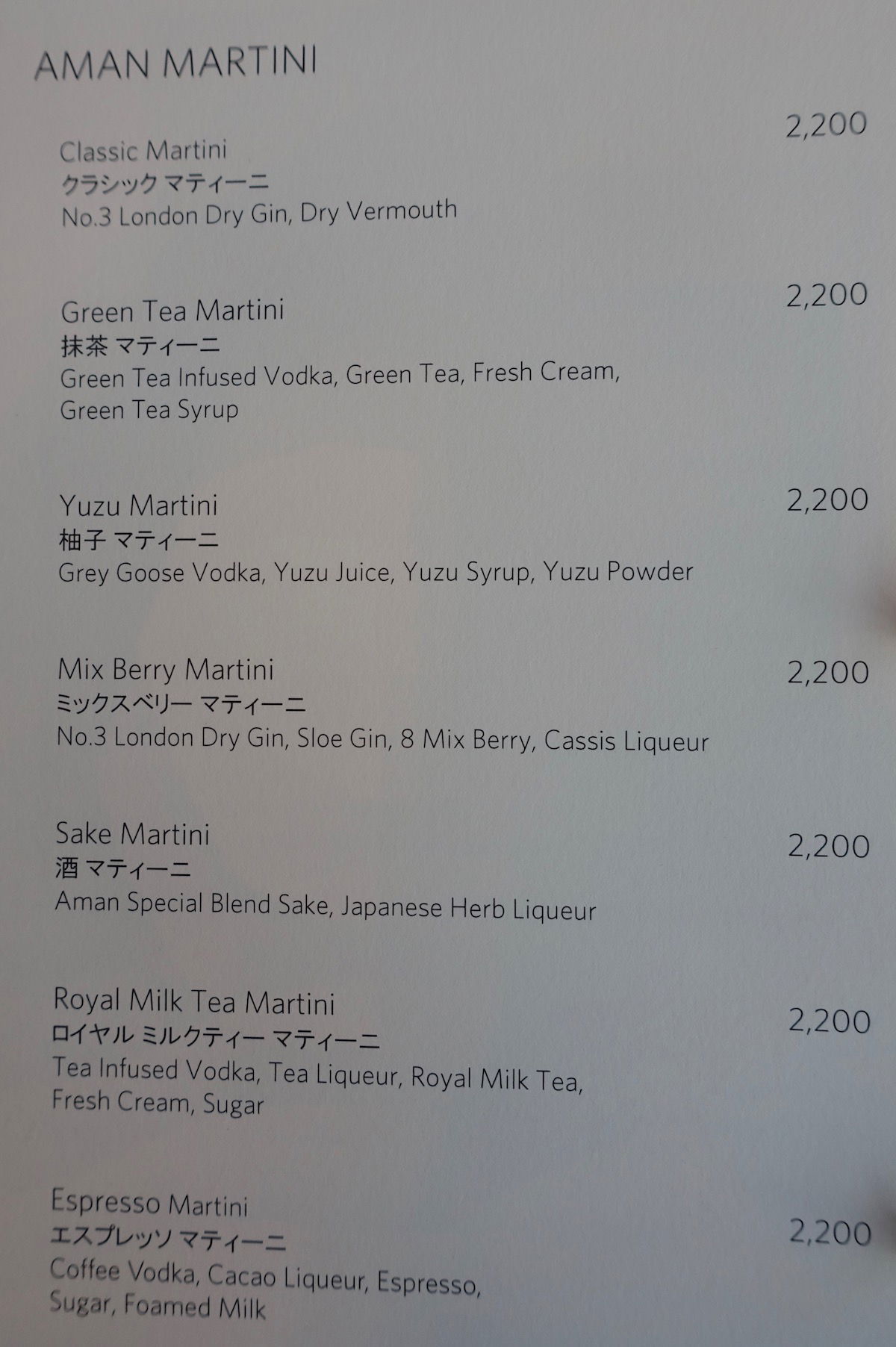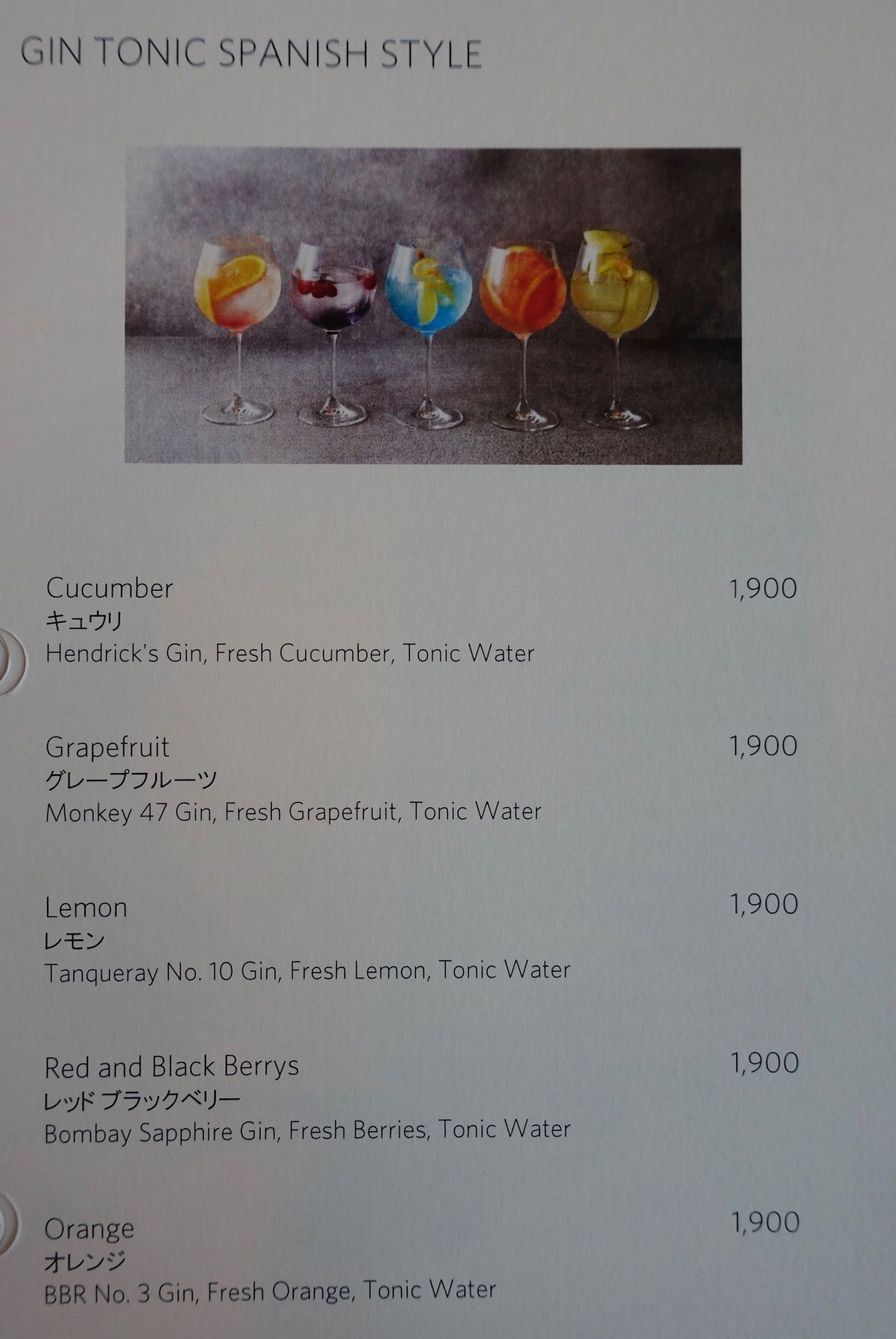 I loved that they put some effort into the drink menu, like offering Spanish-style gin & tonics.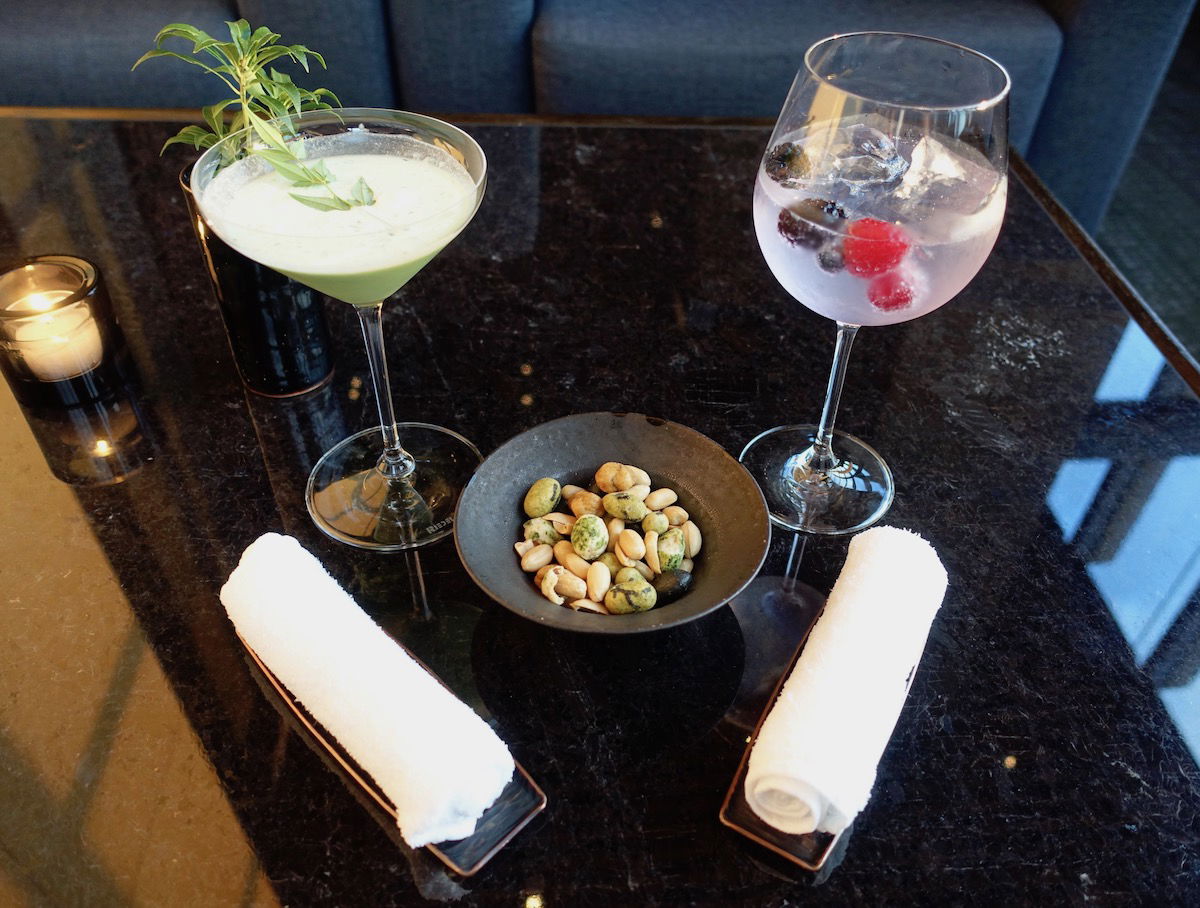 Aman lobby lounge drinks
Service in the lobby lounge was attentive. The staff working there weren't overbearing, though the second you closed your menu or they saw your glass was getting close to empty, they came over immediately.
I guess this shouldn't come as a surprise, but at this hotel it doesn't seem like they know who is staying at the hotel and who isn't.
So at other Amans they usually just know what room you're in. Here they ask what room you're in, but when they find out you're a guest you don't have to sign anything (you're just automatically charged).
Aman Tokyo breakfast
Breakfast was served in the restaurant just off the lobby between 6:30AM and 10:30AM.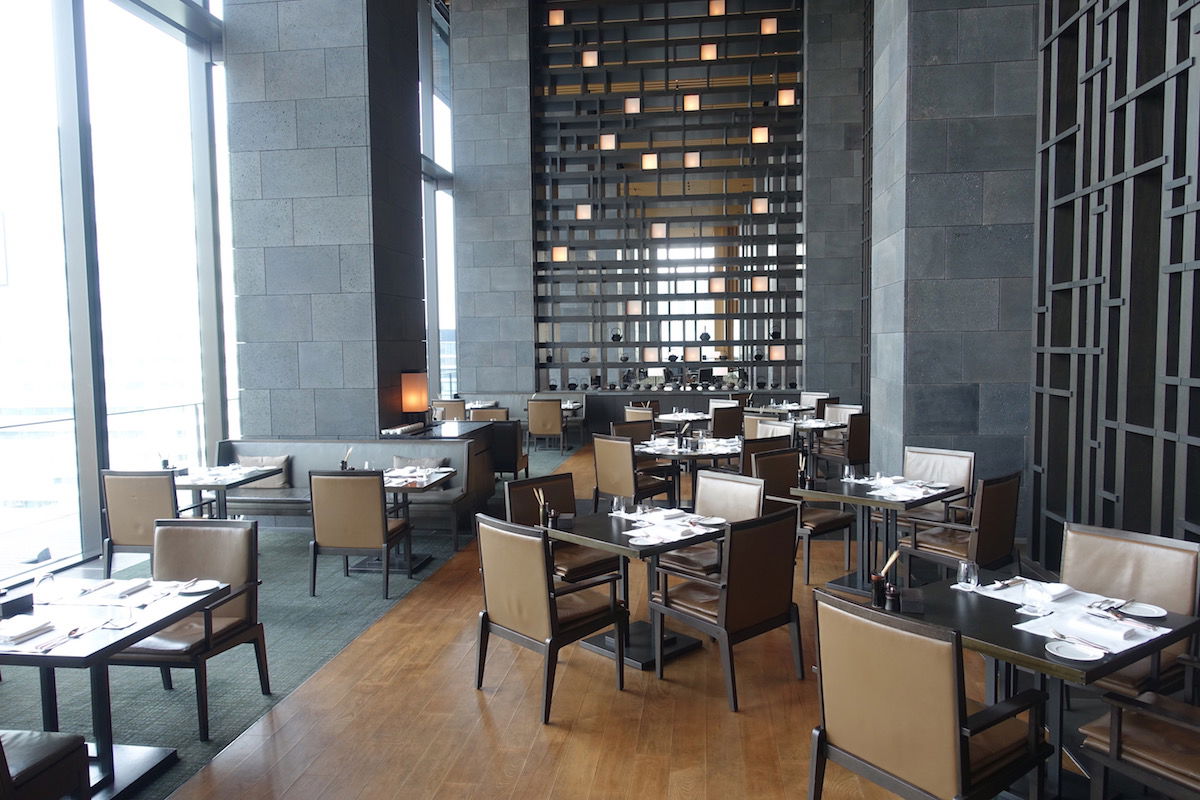 Aman Tokyo restaurant

Aman Tokyo restaurant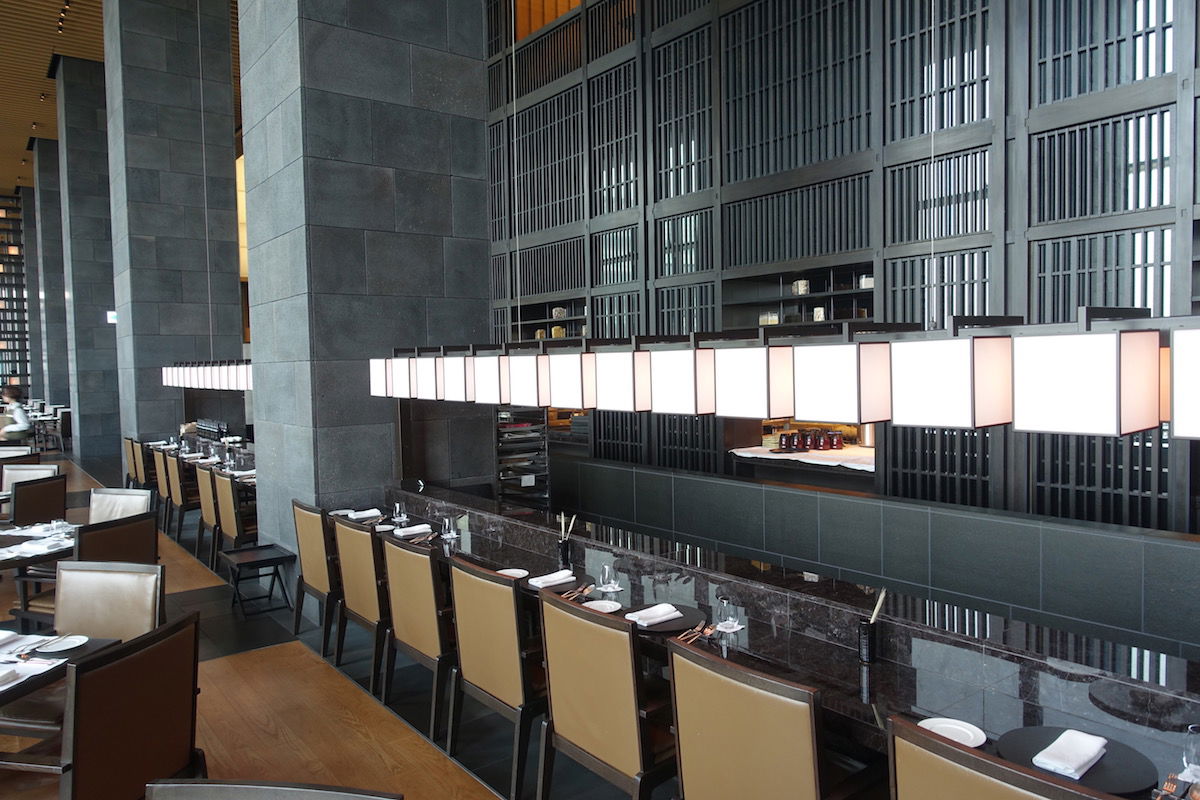 Aman Tokyo restaurant
With our rate we could choose from either the American or Japanese set menu, which included the following: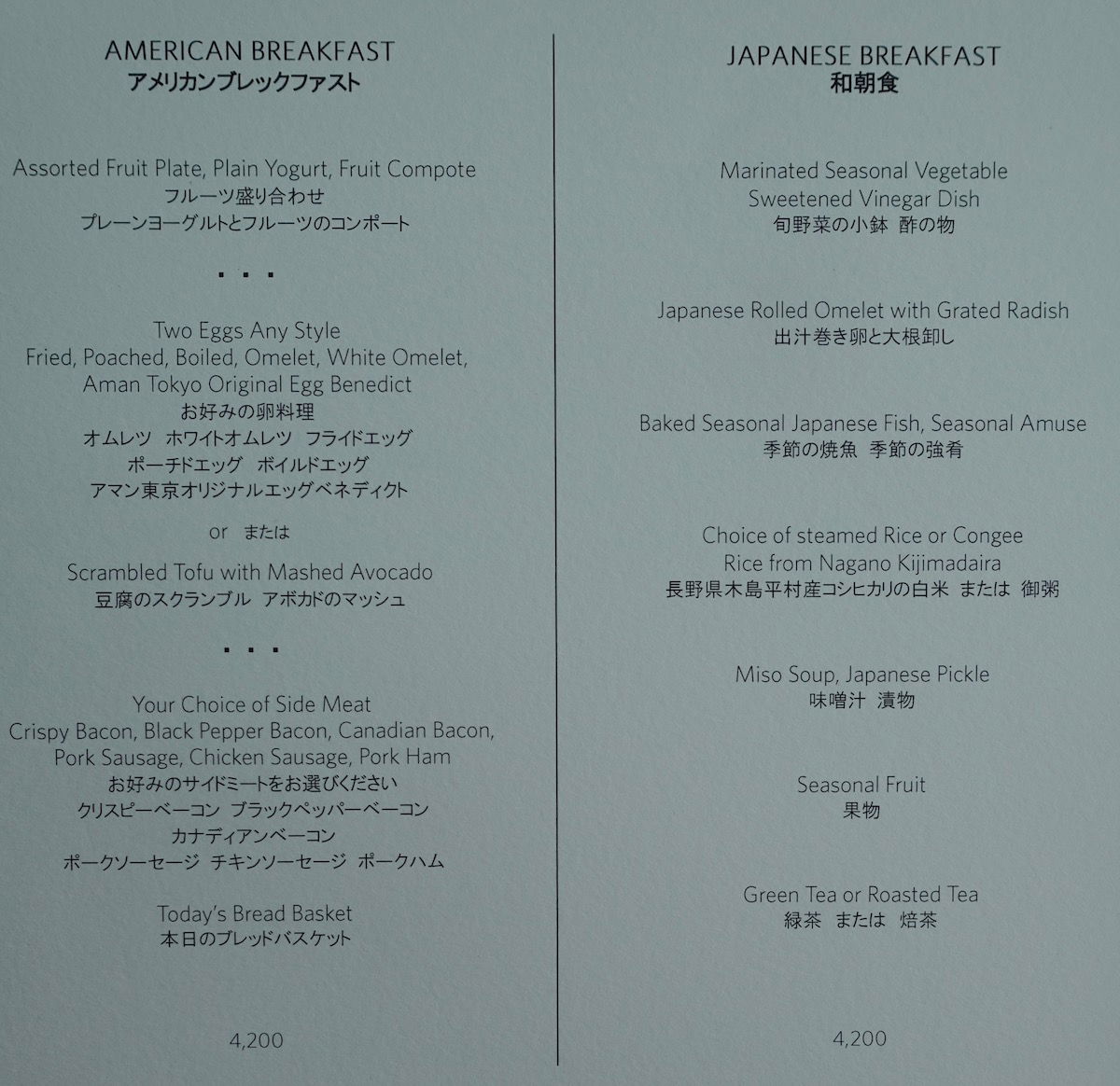 I tried both breakfasts. The American breakfast started with fruit and yogurt.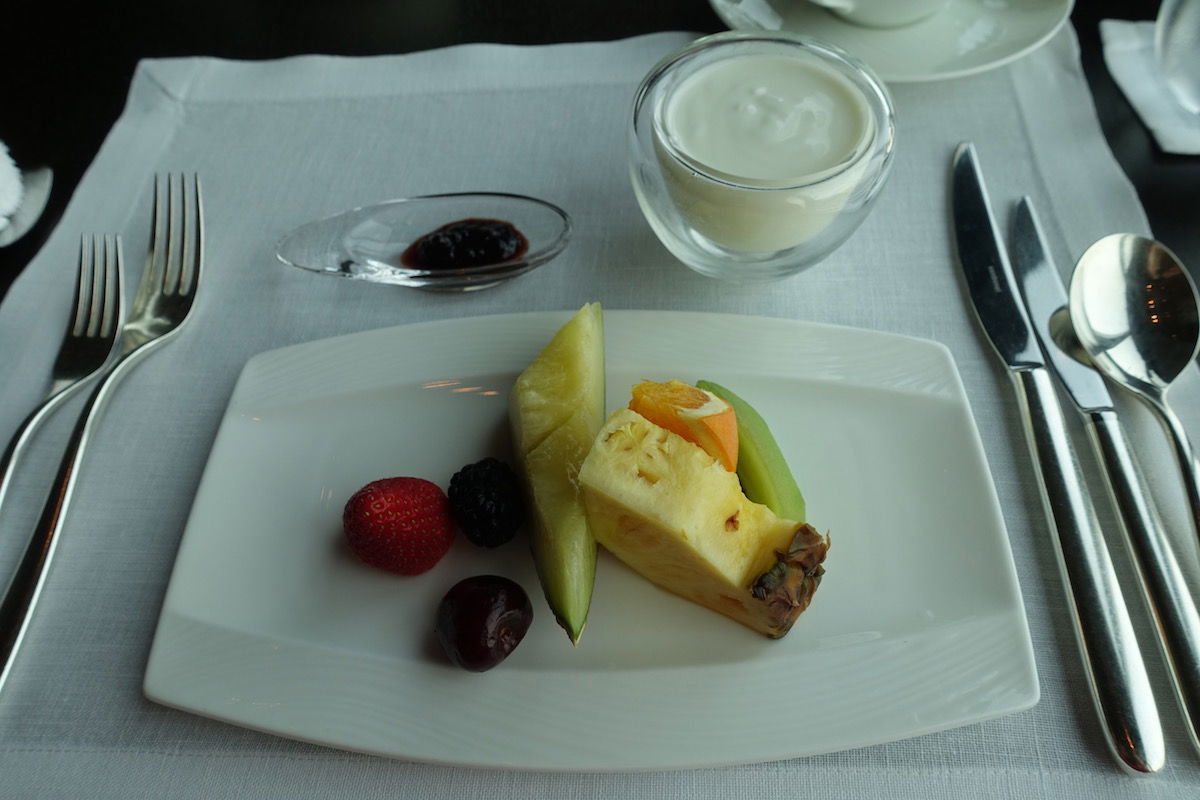 Aman Tokyo breakfast
Then I had the scrambled tofu with mashed avocado, which was excellent.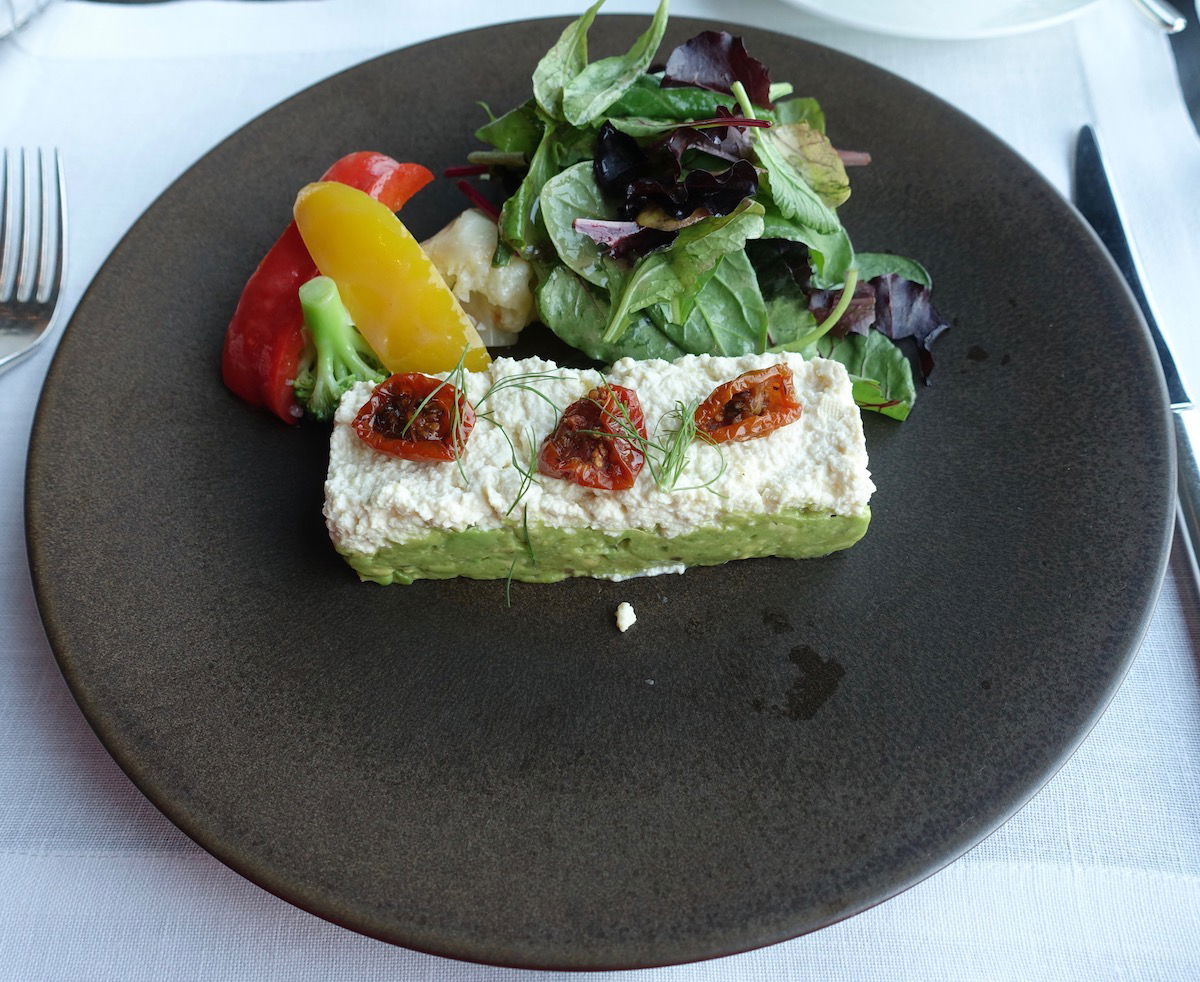 Aman Tokyo breakfast
Alternatively you can have eggs prepared to your liking, with some sides, which Ford had.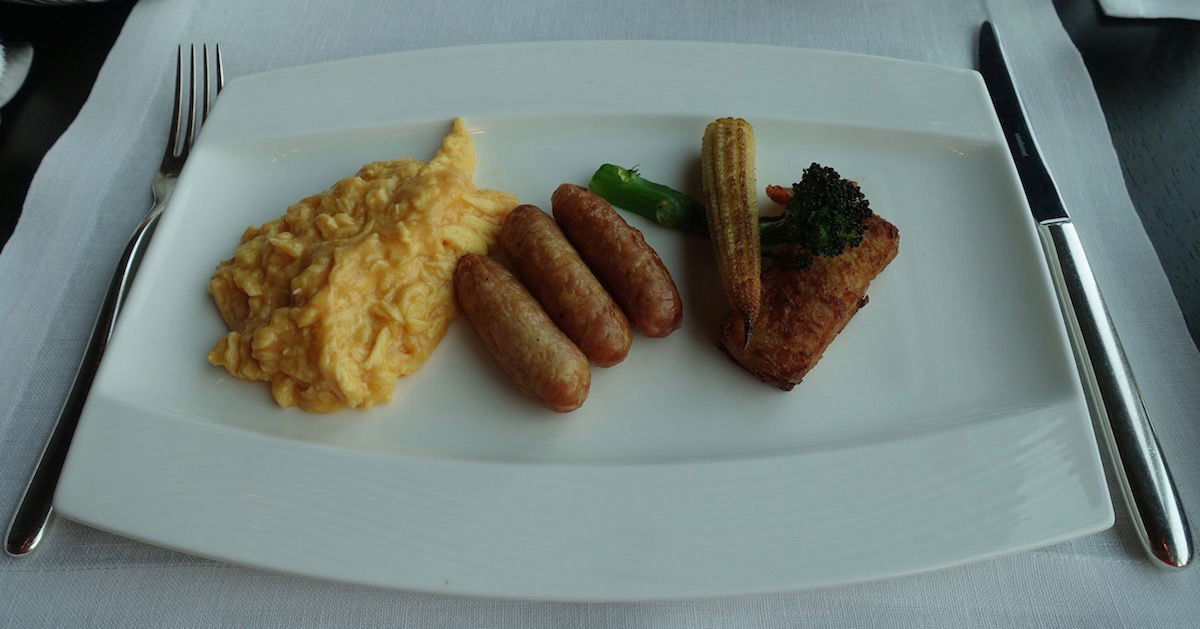 Aman Tokyo breakfast
There was also a bread basket on the side.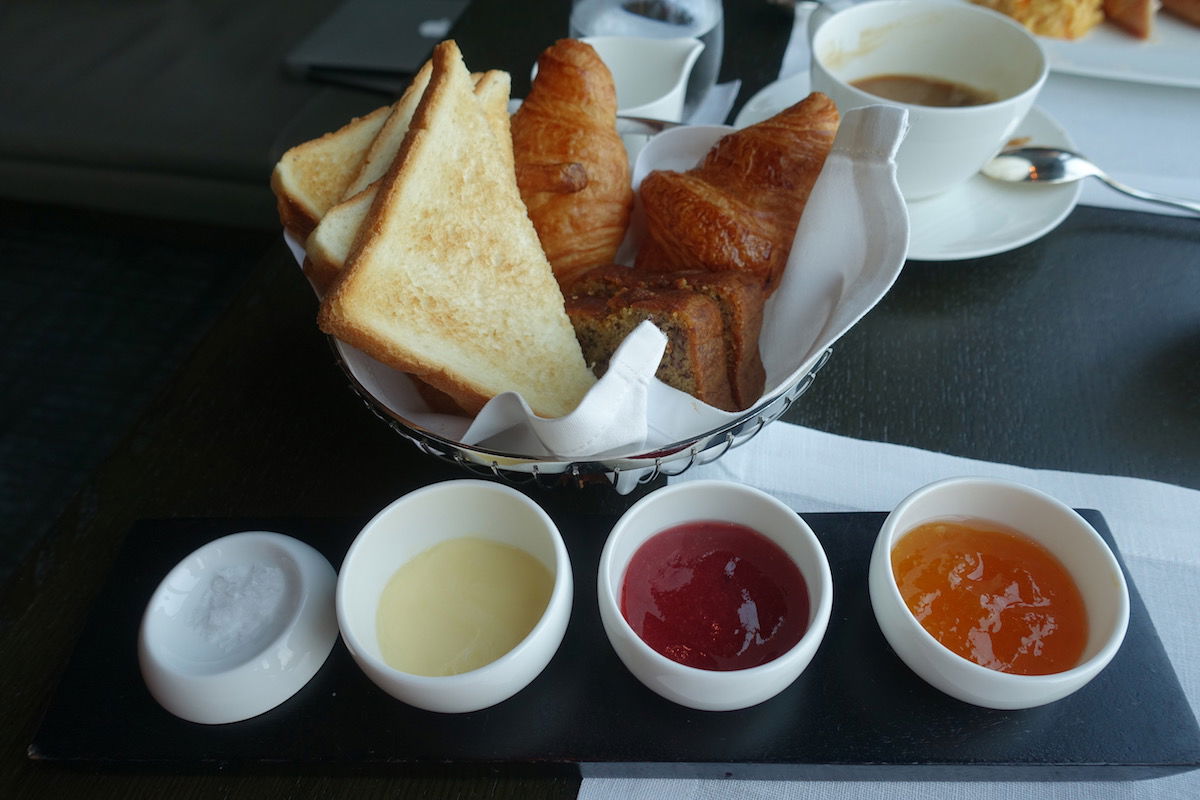 Aman Tokyo breakfast
The Japanese breakfast was excellent as well.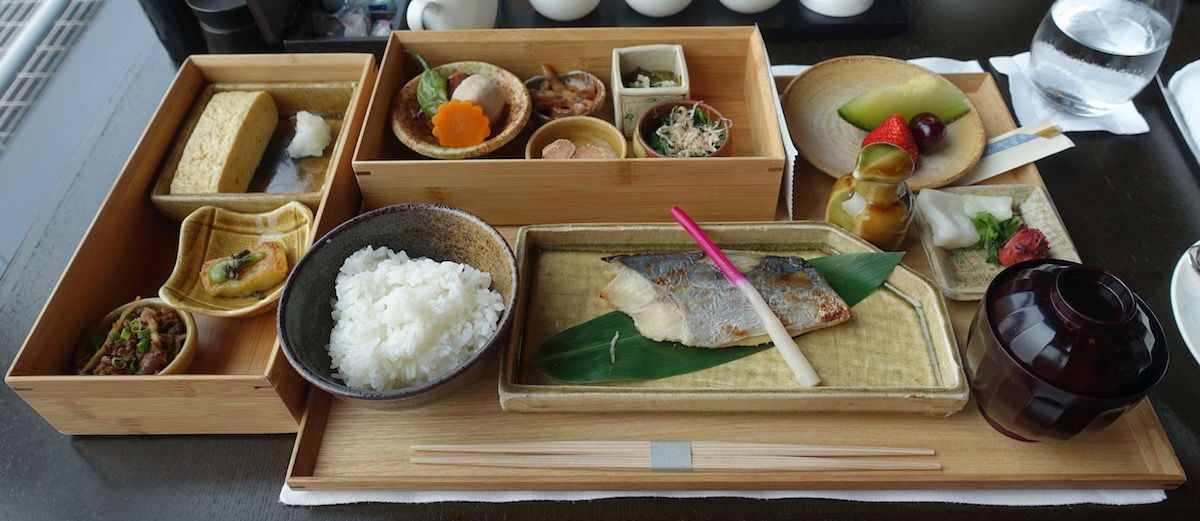 Aman Tokyo breakfast
Aman Tokyo pool, gym, and spa
Aman Tokyo has an incredible pool, gym, and spa. However, the layout is a bit tough to make sense. The lobby is on the 33rd floor, and then the spa is on the 34th floor. However, some of the spa facilities are on the 33rd floor, but can only be accessed via the 34th floor.
The pool is open daily from 6:30AM until 10PM, and I was surprised it wasn't busier the two times I went. This has to be one of the nicest city hotel pools I've ever seen.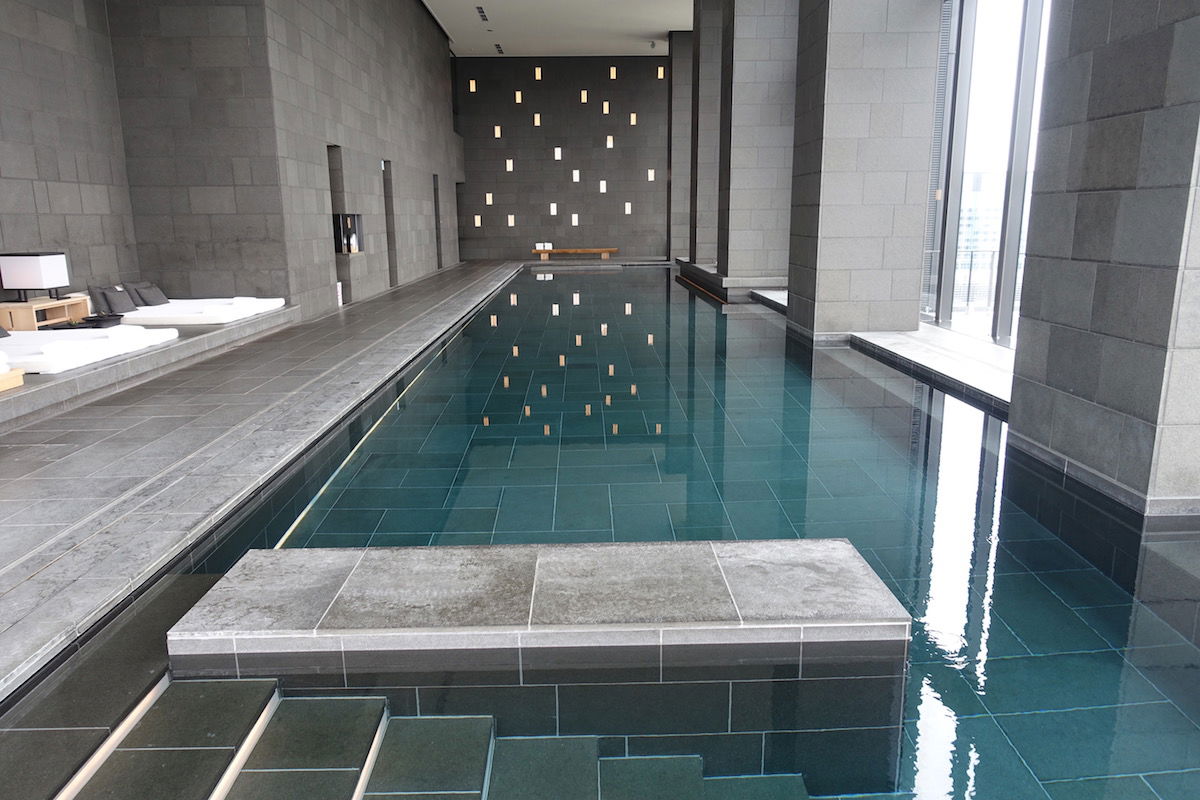 Aman Tokyo pool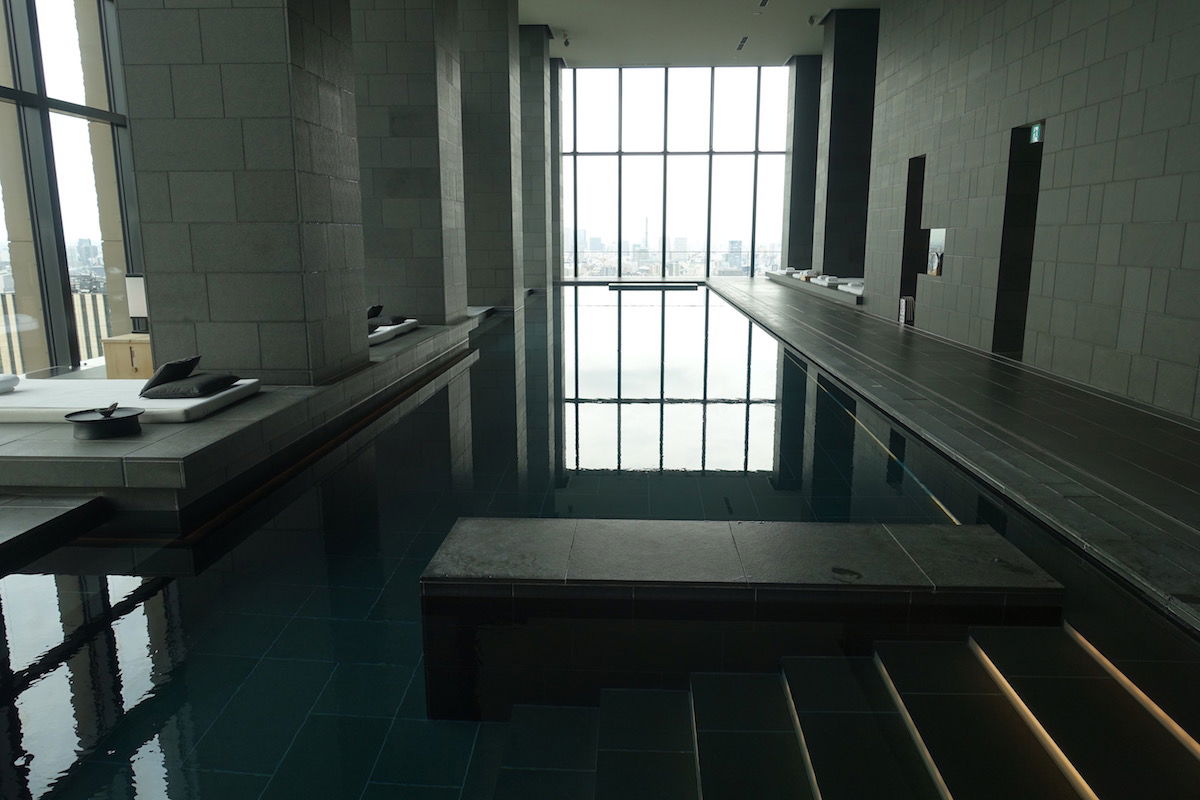 Aman Tokyo pool
There's plenty of seating along the pool, and it's an all around very peaceful environment.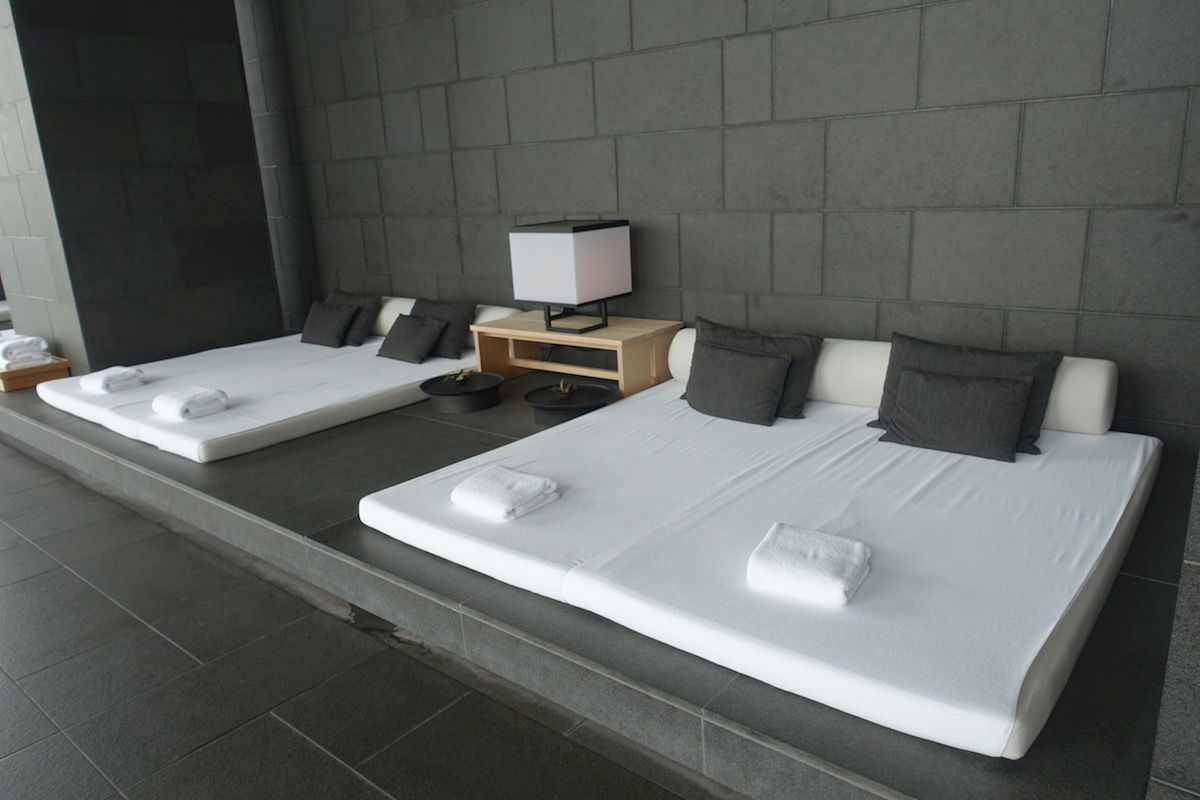 Aman Tokyo pool seating
There's even service at the pool. Once you pick a seat they'll bring you cold towels and water, and they'll rearrange your slippers, fold your bathrobe, etc.
Funny enough I didn't think there was any service at the pool, but then eventually I realized there was one of those mirrors they have in an interrogation room (whatever it's called), so you're always being watched. So don't embarrass yourself. 😉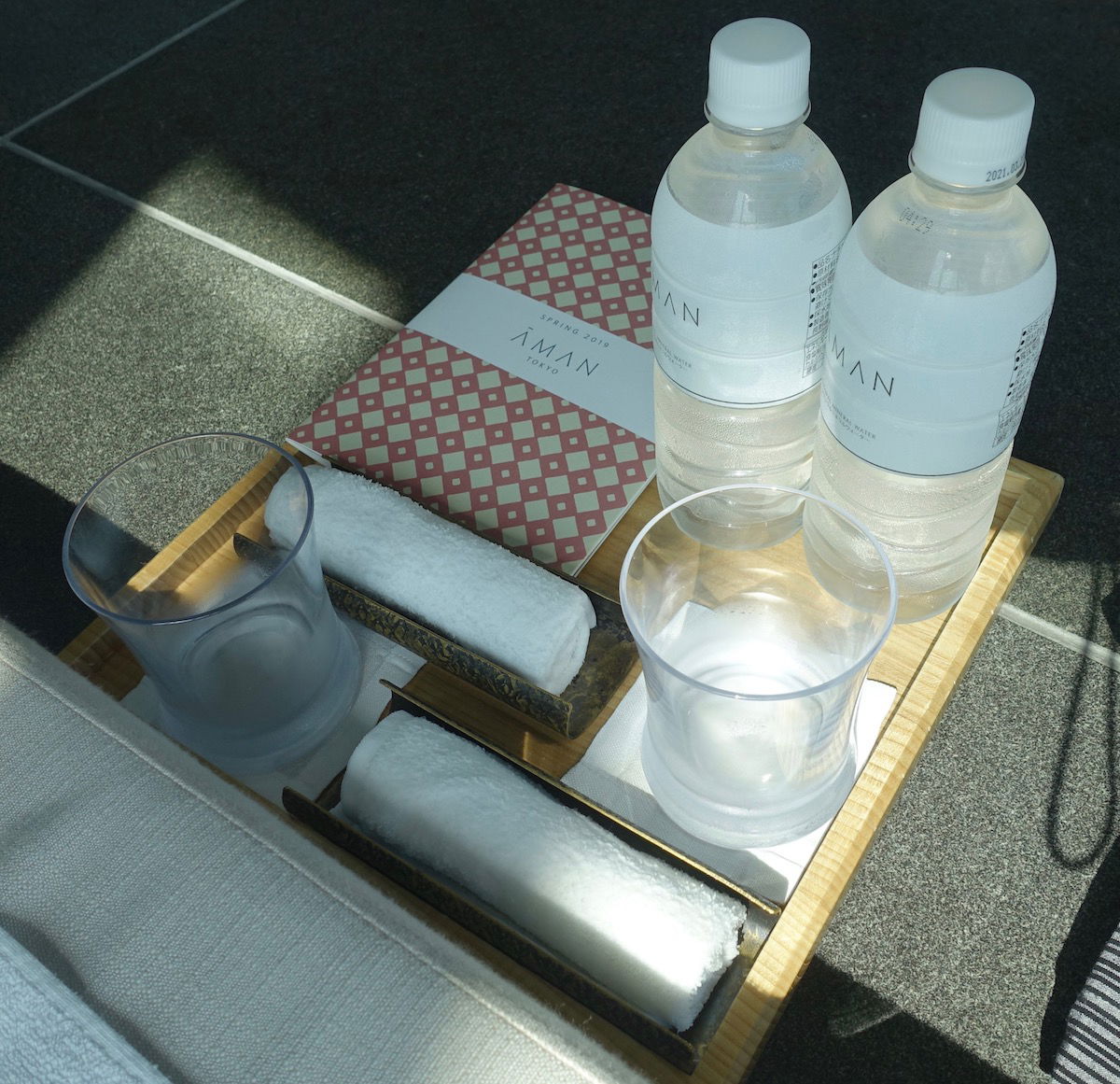 Aman Tokyo pool service
The spa also has a steam room, sauna, and whirlpool, which is complimentary for guests.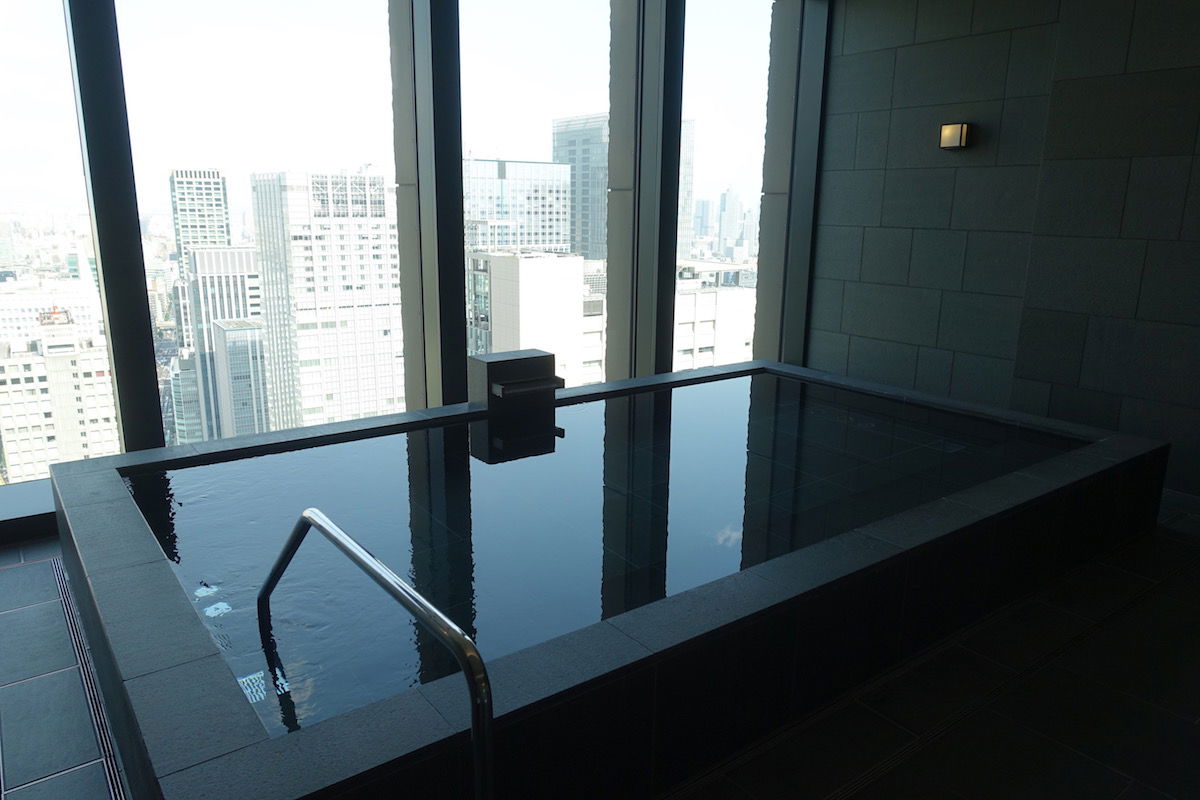 Aman Tokyo spa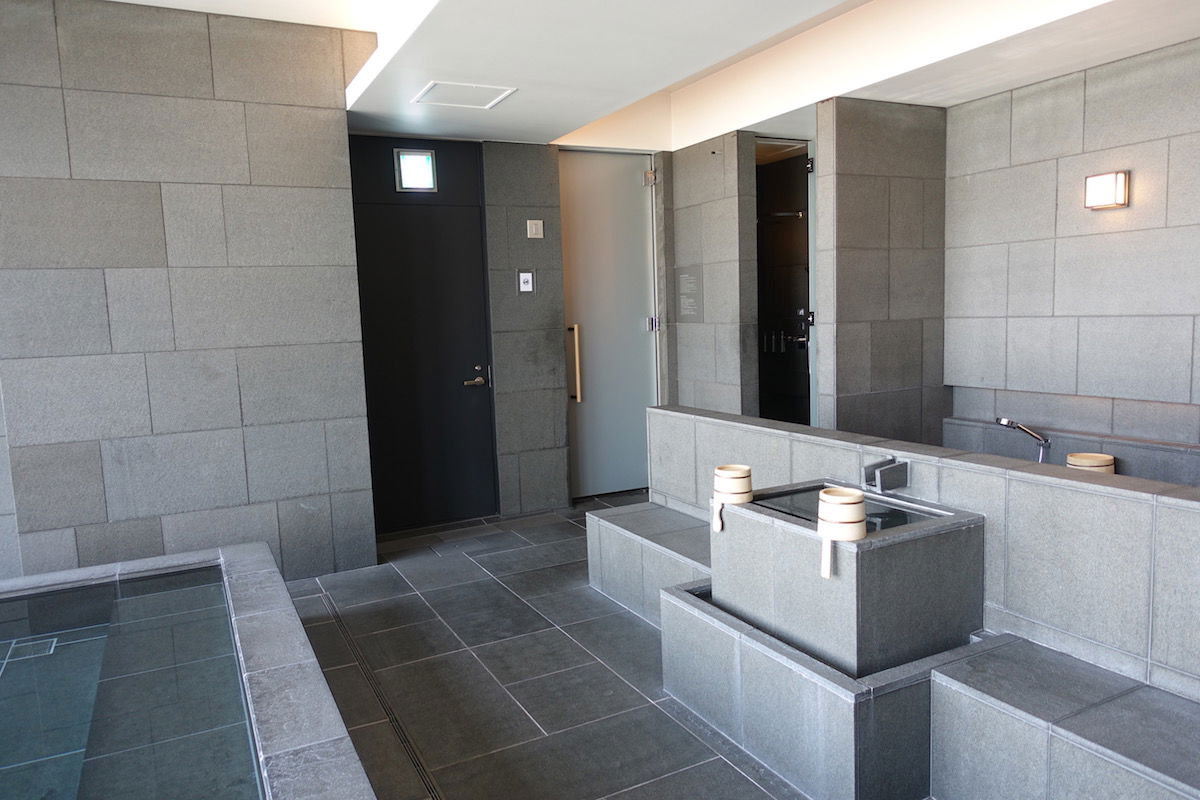 Aman Tokyo spa
We were the only ones there, though as is the norm in Japan, you had to be naked. I'm sorry, but that's not happening. I've already had the experience of running into a reader under similar circumstances at the Park Hyatt Tokyo, and learned my lesson!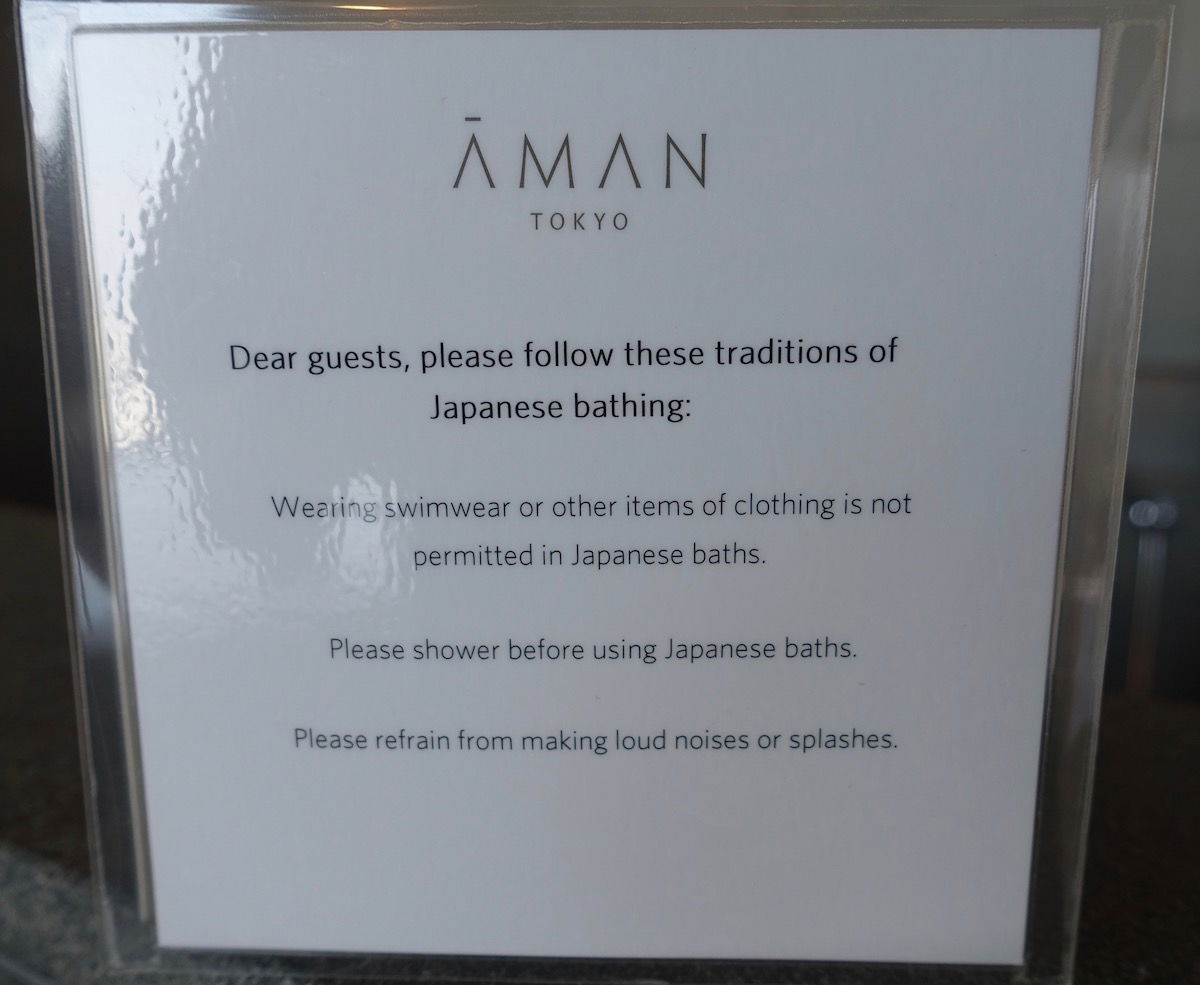 Aman Tokyo spa sign
The hotel also has an excellent gym open 24/7.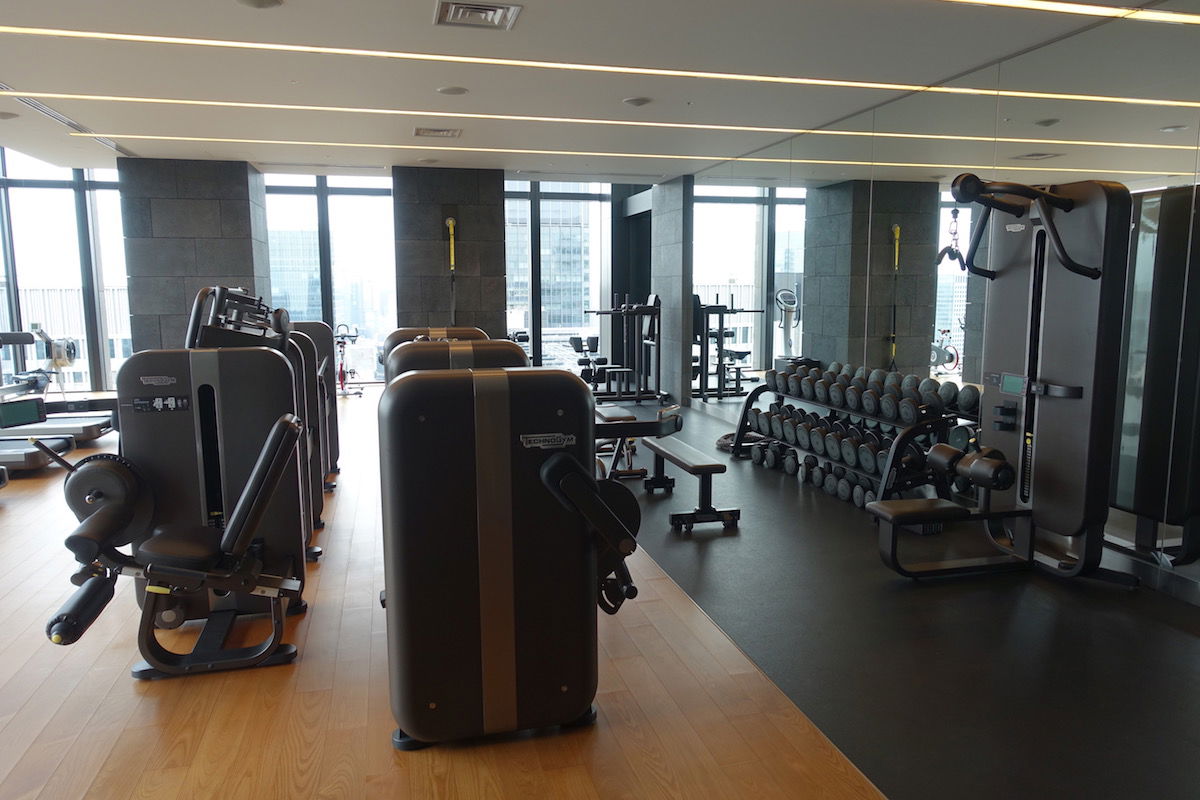 Aman Tokyo gym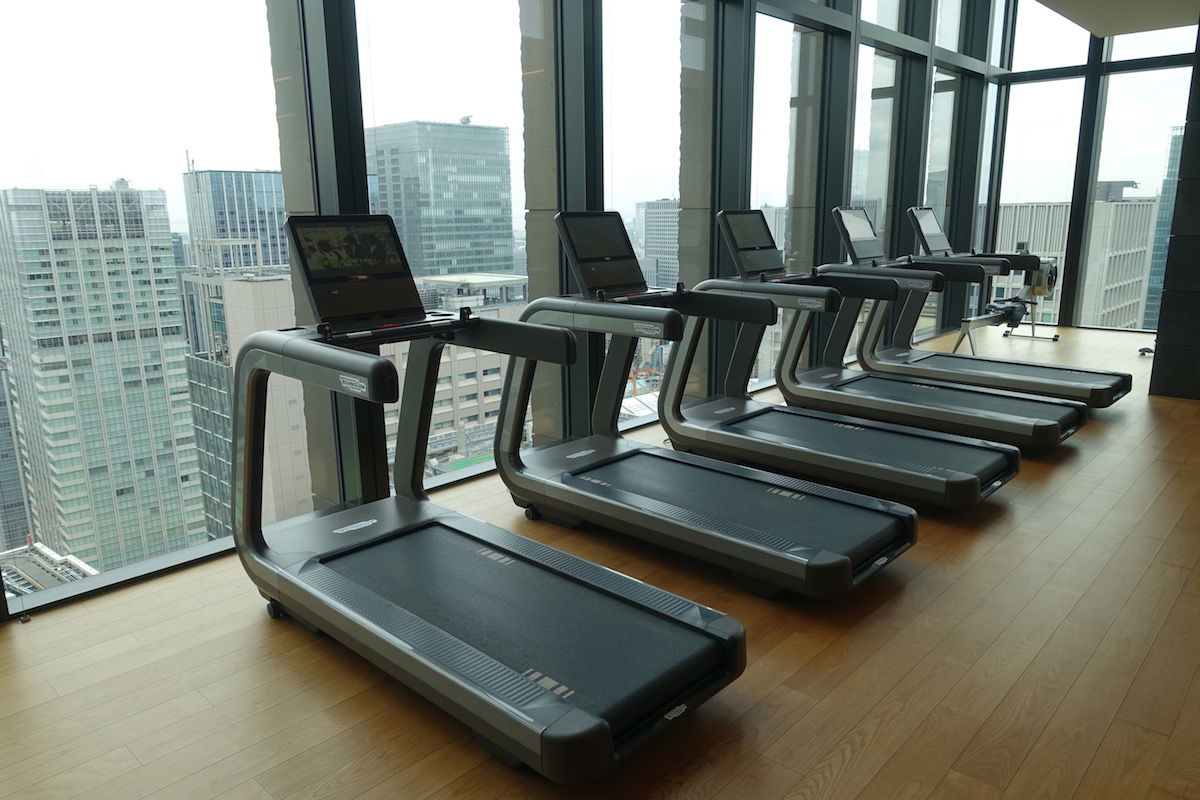 Aman Tokyo gym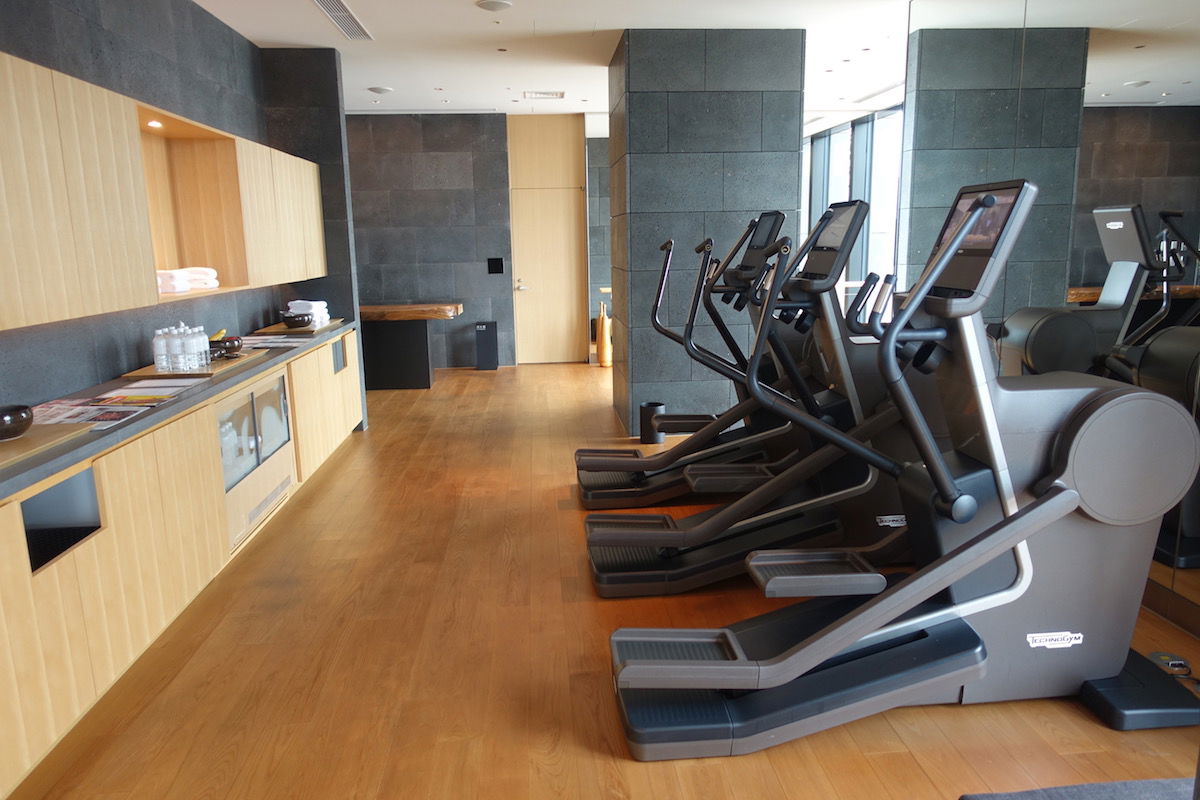 Aman Tokyo gym
Aman Tokyo service
The challenge with Aman is that you have certain expectations of service. As they say "a luxury once sampled becomes a necessity." Or something like that. 😉
I'm starting to learn Aman isn't very consistent, but once you experience some of the "magic" Aman touches, it's hard to stay at an Aman and not notice when those aren't offered.
So all things considered service was very good, though I wouldn't say it's magic in the way that service at some other Amans is. First of all, everyone was friendly, professional, generally eager to please, and helpful.
However, there were also some minor service snafus or things that I observed, which I wouldn't mention, but we're talking about an Aman, and Amans are supposed to be about near perfection:
Unlike at other Amans, they don't clean your room when you're at breakfast, and quite to the contrary they sometimes only got to cleaning it in the afternoon
We once went to dinner at 7:30PM and were back by 9PM and turndown service hadn't yet been done; the hotel had made the reservation, so they knew what time we were having dinner
When you check out of Amans they always give you a luggage tag from that property, and usually they subtly place it on your luggage as they help you with it; in this case they literally just handed us the luggage tags
The check-out process took forever, and they had to manually write down my credit card and other info
These are all minor things, though I'd say overall service in the restaurant and lounge was very good (in line with my expectations), while the housekeeping and front office staff were "just" good.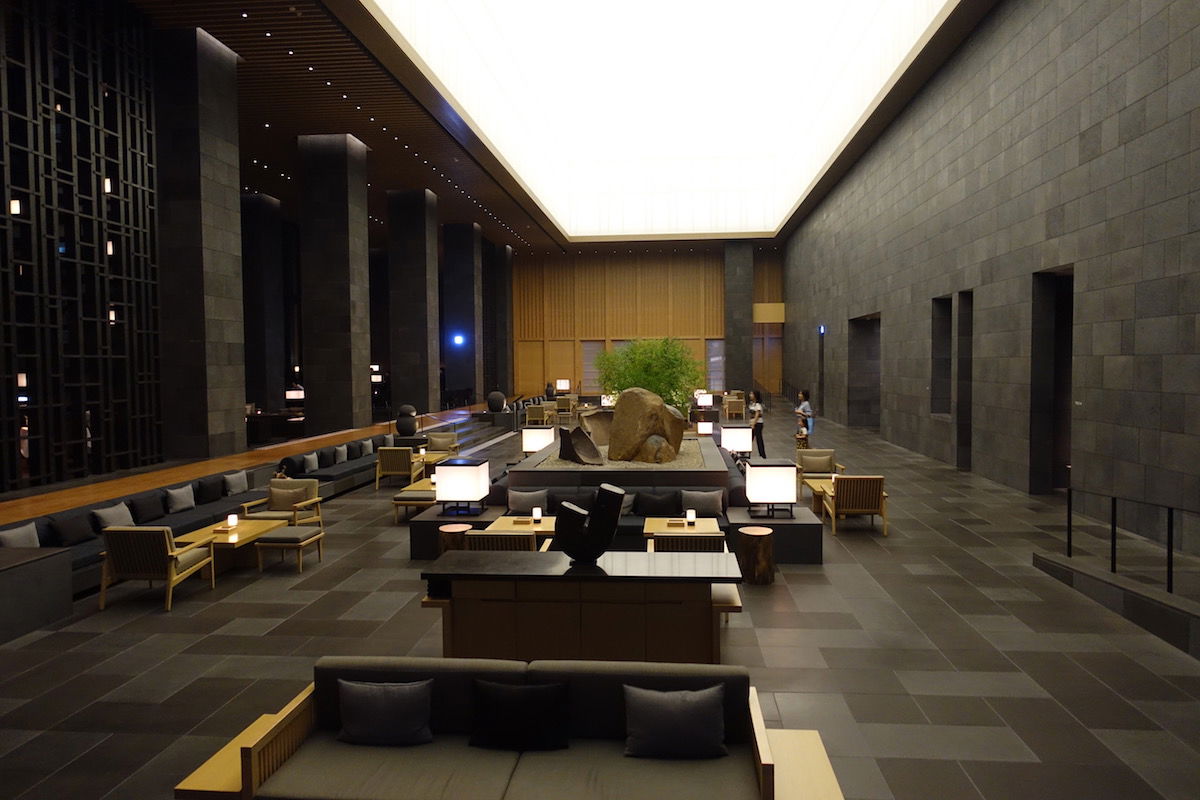 Aman Tokyo lobby
Aman Tokyo bottom line
Aman Tokyo is an incredible city hotel. The hotel is breathtakingly beautiful, the standard rooms are huge, the service is good, and the spa, pool, and gym, are all top notch.
Service is very good, though I'd say not quite to the level of top Amans. That's simply because that's probably impossible to deliver when you have both hotel guests and outside visitors to deal with.
So, is this the world's best city hotel? I think it might be. I can't think of a better city hotel when you factor in all elements.
I'm really happy to have stayed at the Aman. Personally I'd probably just redeem points at the Andaz or another Tokyo hotel next time and come here for a drink. Tokyo is a market with so many great hotels, so I want to try out more of them.
If you've stayed at Aman Tokyo, what was your experience like? What's your favorite city hotel in the world?
Want to receive extra benefits for your stay at Aman Tokyo, including complimentary breakfast, a space available room upgrade, a property credit, and more? Contact

[email protected]

for more details. He may even be able to help if you already have a stay booked.