I enjoy dabbling in the stock market. I think the whole thing is kinda silly (I recognize that's an oversimplification), but it's easy enough to observe some macro trends and buy and sell based on that (if only Elon Musk's insanity were easier to predict).
Everyone needs a hobby, and for me it's more fun than going to the casino and playing blackjack.
Airline stocks down amid coronavirus fears
This doesn't really come as a surprise, but it's pretty noteworthy the extent to which airline stocks are taking a beating amid coronavirus fears, with one airline in particular reaching the lowest post-Chapter 11 stock price.
As of the time that I'm writing this post:
American stock is at $20.27, down over 9% today; on February 12 it was at $30.47
Delta stock is at $46.38, down over 6% today; on February 12 it was at $59.47
United stock is at $62.45, down over 6% today; on February 12 it was at $82.20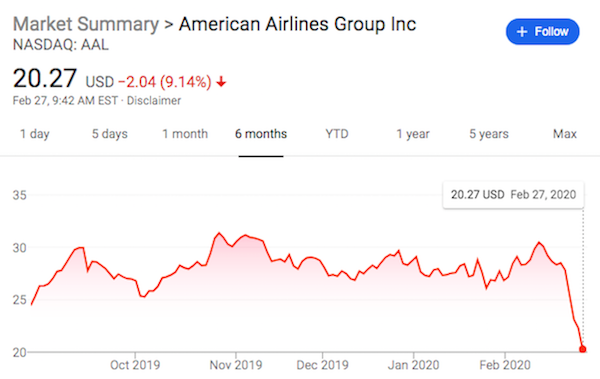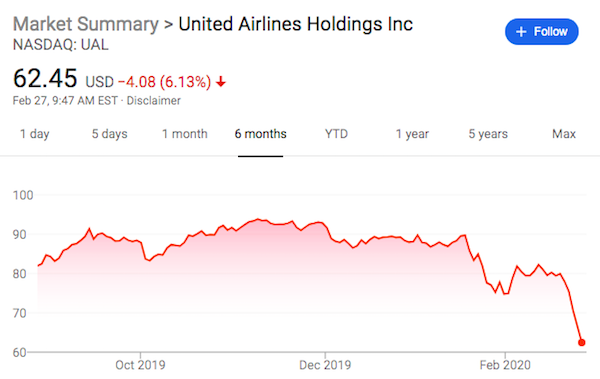 American stock hits post-bankruptcy low
As noted by @xJonNYC, American has been the hardest hit, and their stock has fallen by about a third in the past couple of weeks.
American's stock is now at an all time low while trading under "AAL" — "AMR" (American's old ticker symbol) was at this price in September 2013, when the company was still in bankruptcy protection, before the merger with US Airways.
American's big drop in stock price is in spite of the fact that American has less exposure in Asia than United, for example. To me this points to American probably being the most vulnerable in the US market in the event that coronavirus spreads here.
Anyway, I'm certainly no expert on stocks (and I'm not suggesting anyone should buy or sell stocks, or trying to provide any sort of advice), so I'm purely sharing this because I'm always looking to buy when I think the price is right.
Personally I still don't think we've seen the worst (because I don't think the US is safe from coronavirus). But for those who think the worst is behind us and who like to buy airline stocks, the massive recent drops in stock prices are worth being aware of…
To those who invest in airline stocks — are you buying now, or do you think it's getting worse?