Update, March 12th 2020: Given the latest information available, and the shockingly ineffective response by the U.S. government, we are recommending against all but the most essential travel (e.g., if you are a healthcare worker needing to position), and would suggest that everyone able to do so self-isolate or practice social distancing for the next few weeks.
---
We've been receiving dozens of messages a day from readers, clients, and our parents (hi Mom!) asking how the COVID-19 coronavirus is impacting travel. People are understandably worried, and the frenetic news cycle is certainly ratcheting tension over fears of a global pandemic.
I've been meaning to put together a general post on the virus and travel for a while, but the combination of what I observed traveling internationally over the weekend and View from the Wing sharing what I'm sure are common coronavirus concerns has pushed me to put everything in one place.
Limiting your exposure doesn't just mean limiting travel
To start, while I appreciate the questions from people asking if they should avoid traveling to ______ until this blows over, the reality is that our world is too connected for this kind of unpredictable and contagious virus to stay geographically contained.
As we've seen in the past few weeks, the situation can evolve quickly and unpredictably. While we were all worried about Ben going to China a month ago, a British man spread the virus to at least 11 people from three different countries while skiing in the French Alps.
Given that, it seems unwise to assume that anywhere is "safe" from contagion. Yes, the numbers are higher in certain areas at present (though those could change quickly), and we are all generally more vulnerable when traveling outside our comfort zone.
There may be a choice to be made between traveling at all versus staying local, but unless you were scheduled to fly to a city that is now under quarantine, it's hard to see how changing a trip to Country A as opposed to Country B really improves your odds when there are so many unknown variables. You'll still be increasing your odds at airports, and on planes, and anywhere people congregate.
So whether you choose to travel or not, you are likely better off being consistent in taking general precautions and preparing for any eventualities as opposed to throwing a dart and hoping to avoid exposure based on geography.
Wash your damn hands
Seriously. I've seen so many people in airports lately wearing paper surgical masks, which is considerate if you have a cold and are trying to prevent the spread of germs, but realistically isn't terribly effective as a preventative measure.
What does help?
Hygiene. Especially thorough (and frequent) hand-washing, especially when in public spaces.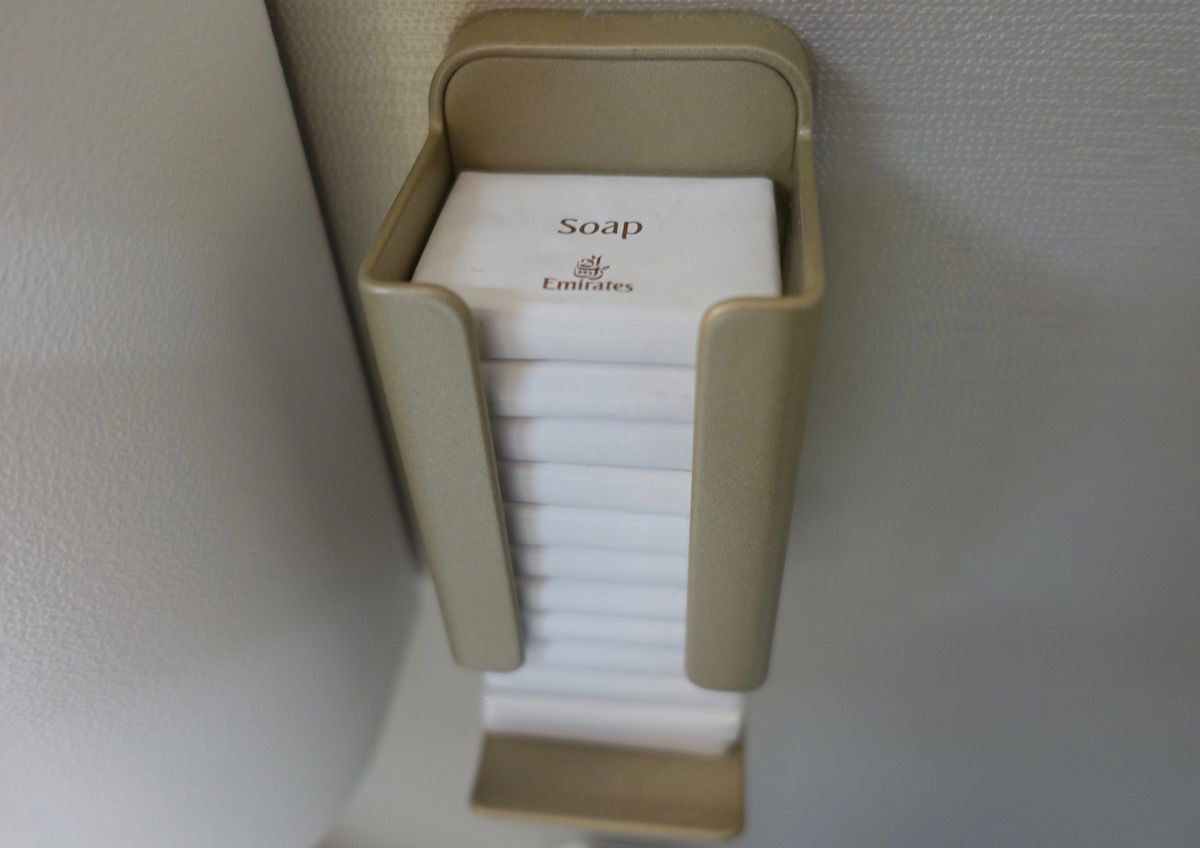 Shockingly few people actually know how to wash their hands effectively, and even those who do seemingly don't often take the time to prioritize a proper hand wash when traveling. I'm probably hyper-aware of this, as I have some immunocompromised people in my life, and need to be more careful about what I bring home, and it's possible I'm over-scrubbing (if that's a thing).
But there was more than one occasion this weekend where I was washing my hands in an airport sink and someone wearing a mask came into the restroom, did their business, and completed a quick "courtesy rinse" of their hands — all in the time it took me to wash and dry mine.
If you haven't seen this video Jimmy Kimmel did with a Mayo Clinic doctor about how to properly wash your hands, I highly recommend it (also, if you run an airport or airline, maybe consider adding some programming on this topic):
Other ways of limiting your exposure and preventing the spread of germs include:
Avoid touching your face, including biting your nails, or rubbing your eyes
If you do have to cough or sneeze, use a tissue (and immediately discard it, then see above instructions for washing your damn hands), or in a pinch, direct your sneeze/cough into your elbow — "Shark fin!!" as my young nephew reminds anyone in the vicinity with a sniffle
But at a minimum, wash your hands.
Manage your health otherwise (including delaying elective procedures)
Whether you choose to travel internationally or go to your kids' school play, being proactive about your health in general can lower some of your risk factors. Eating well, getting enough sleep, and managing minor issues seem like small things, but weariness and exhaustion make you more susceptible to all kinds of illnesses.
Call it self care or whatever else, but if you've been burning the candle at both ends (something I'm perpetually guilty of), now might be a good time to consider dialing some things back.
Think about your elderly family members and neighbors as well. Are they eating well and keeping up with things, or are they like my grandfather, who would basically eat half a Costco frozen chicken cordon bleu every other day and supplement with coffee?
We're having some tough conversations in our family. If you live in a building, and your neighbors catch COVID-19, that could make things complicated for everyone — maybe consider having a community meeting, or discussing cleaning protocols with the property manager.
There have been six different treatment protocols in the past six weeks, as scientists and doctors learn more about the virus. There may be six different ones in the next six weeks. But all of them put significant strain on a region's hospitals, medical equipment, and healthcare workers.
So keep up on your vaccines and general healthcare, but also talk to your doctor about if more intense elective procedures can be delayed until summer. Just in case.
Channel your worry into contingency planning and general disaster preparedness
On Tuesday, Dr. Bruce Aylward, a Canadian doctor who is leading the international team for the World Health Organization in China gave this advice on preparedness for other countries (As a sidenote, if you want some very measured and professional insights into the situation, check out the full press conference he gave in Geneva.):
"Number one, think the virus is going to show up tomorrow."
That's not intended to be fear-mongering, but rather to inspire thoughtful and solution-oriented planning. The CDC has said it's a matter of "when, not if" there are "community spread" cases of COVID-19 in the United States — and during any kind of epidemic, the separation is in the preparation.
At the same time, while China may have initially been slow to understand how contagious this coronavirus is (though I'm not an epidemiologist, and can't speak to if any other country would have done better given the limited initial understanding of the disease), their aggressive response seems to be working to reduce the infection rate.
Extending a national holiday period, ordering schools and businesses closed, mandating who could leave their homes and for what length of time, going door to door to check for symptoms and instituting other measures that could fairly be described as draconian. Not to mention building field hospitals, shifting equipment around, and being able to test tens of thousands of people a day.
I think it's questionable if the US would be able to respond in the same way if there's a similar rate of infection. Our health care system is already overwhelmed in many areas, we have a large population of people who don't have the economic leeway to miss work even if they are sick, and our political system is (intentionally) not conducive to sweeping decrees. As The Atlantic notes:
Except at the nation's borders, the federal government, with the expertise of the Centers for Disease Control and Prevention, is not in charge. America's defense against epidemics is divided among 2,684 state, local, and tribal public-health departments. Each one is responsible for monitoring people within its jurisdiction, imposing isolation or quarantine as needed. CDC officials are "preparing as if [the new coronavirus] is the next pandemic," but in reality, the laboring oar falls to state and local health departments.
And fundamentally, Americans are an unruly and independent bunch.
This is not paranoia, it's just math. Harvard epidemiologist Marc Lipsitch predicts:
Within the coming year, some 40 to 70 percent of people around the world will be infected with the virus that causes COVID-1.
And before people jump in and say "the flu kills way more people!" keep in mind that most of the people who die of the flu have compromised immunity, or aren't vaccinated. No one is vaccinated against this coronavirus. The average fatality rate for COVID-19 is hovering around 2.3% now; the seasonal flu in the US has a mortality rate of 0.1%, by comparison.
If I look at the numbers in my county (population ~500,000), then even at a 40% infection rate that's 200,000 people. If let's say 10% of those infected need hospitalization (and we don't have good data on what that % would actually be), that's 20,000 people. There are fewer than 1500 hospital beds in Spokane County, including Children's Hospitals and rehab facilities. And ~4000 people would die.
Even the "best case" could still put a significant strain on public infrastructure and resources. So you might as well be prepared.
Prep for whatever may happen
The general social expectation in the US is that, in the case of some kind of disaster, you and your neighbors are pretty much on your own for at least an interval of time. The government may eventually show up with water/supplies/shelters/evacuation assistance, but as we see in nearly every hurricane, that isn't something you should necessarily be relying upon.
So as Gary noted, now is a great time to do the general disaster-preparedness prep that we all should do, but most of us don't. When I lived in San Diego, we would routinely have power outages, but they never lasted more than a few hours.
The one time we had a significant county-wide outage that created a massive disruption to movement and commerce, we spent it drinking a bottle of tequila on our patio with my husband's coworkers. That was fun for a day, but would have been problematic after three.
In Spokane, like other cities with more extreme weather, it's assumed that every n years there will be a significant enough storm to knock out power for a time. And because most neighborhood power lines are above ground, and have lots of old trees, it's common for it to take 3-10 days for the power to be restored.
So we have a higher level of preparedness here, at least in the winter:
Two to three weeks of drinking water (people often forget water)
Two weeks of less-perishable food (including an extra bag of dog food), and a backup cooking method
We always run our car off the top half of the fuel tank, but in the winter keep it to the top quarter
An extra month's supply of any medications (mainly the dog in our household)
I'm sure anyone who is into extreme prepping would look at my setup and worry for me, but I'm only trying to make reasonable preparations for a period of isolation and inconvenience, not bury ammo in my yard in anticipation of a general apocalypse. And I feel pretty good about our efforts.
But that's if I happen to be home. And I am scheduled to leave Saturday for almost a month straight of meetings, conferences, and generally high-personal-interaction travel. So I'm working through the eventualities:
What happens to my household if I end up in a country/city/hotel with an outbreak?
How would I manage being trapped in a quarantine in another location (especially as I have intense food restrictions)?
Which of my meetings can be handled virtually instead?
How can I support my parents and in-laws (who all live elsewhere) in making sure they are ready?
And other such questions. I don't have answers to all of them yet myself, but I think it's a better place to focus my energy than changing my destinations based on the confirmed cases map.
Check your travel insurance
As we're seeing, some airlines are saying they'll issue fee waivers, others have more restrictive change policies. I expect these will continue to evolve over the coming weeks, but in general it seems you shouldn't plan on an airline waiving cancelation to anywhere commercial flights are still allowed to operate to. They have commercial concerns and shareholder expectations to manage too.
For future travel (as it's currently possible to book travel for next winter's cold and flu season), you may want to look at supplementary travel coverage. Many of the credit cards in the US that offer travel coverage allow you to cancel if you or a family member become ill, but they don't have clear language on what happens if you are scheduled to visit a place where a quorum of other people are ill.
Similarly, some of the disaster and medical evacuation plans out there won't transport you if you are the one with an infectious disease.
So read up on all the fine print, and make sure you understand your options.
Bottom line
I think what it comes down to is that worrying about travel plans is the least of the worrying that should be done right now. While we can't individually do much to keep an asymptomatic flight attendant from working a flight and going to public gatherings in multiple cities, there are still specific and tangible things that can be done in anticipation of eventually being exposed to a highly contagious virus.
It's reasonable to be concerned about the rapid spread of this coronavirus, but at this point the focus should be less on whether or not you should go "somewhere" and more on what you can do to be prepared "anywhere."
What, if any, behaviors are you changing due to the coronavirus outbreak?