Update: United MileagePlus announced even further changes for 2020.
There's nothing quite like a Friday afternoon announcement on the last day of the quarter to demonstrate confidence in your business decision, but that's the approach United MileagePlus has chosen to take with these updates to their elite program.
In emails being sent to members today, United is sharing changes to the benefits and requirements of the MileagePlus Premier program, some of which take effect today.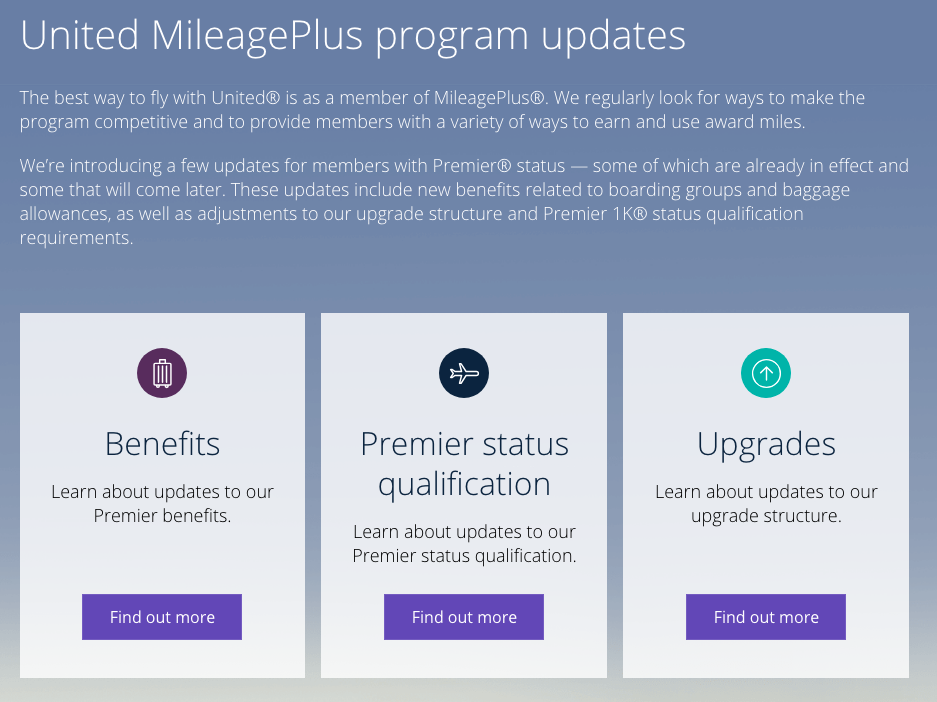 At first glance these seem mostly benign, and for some people they may even be beneficial (as always, it will depend on your specific situation). But notifying members of changes that went live in your systems before you bothered to communicate with them is never a good look.
New United MileagePlus Premier benefits
Baggage
As of today, all elites (even those of us with lowly Silver status from Marriott), receive the same domestic baggage allowance when flying economy. Everyone gets 70lbs now, rather than the 50 lb limit Silvers had previously.
For flights to Europe, Premier Silver members flying economy can now check two bags for free, again with a maximum weight of 70 lbs each.
Gold members traveling to Europe in economy, or elites traveling in a premium cabin to any international destination, can check three bags for free, also with a 70lb limit.
United describes the changes as:
These changes make our Premier member baggage benefits consistent when flying long-haul international: Premier Gold, Platinum, and 1K members flying in United Economy between the U.S. and Europe, Asia, South America, Africa, or the Middle East are now allowed up to three bags with a maximum weight of 70 lbs. (32 kg) per bag. Premier Silver members flying in United Economy on flights between the U.S. and Europe enjoy both a higher baggage allowance — two bags — and higher weight — 70 lbs. (32 kg) per bag.
So, for those who check bags, that seems generally fine.
Boarding
I haven't flown United for a minute, and the last time I did they were still optimizing the boarding zones. It felt very 1990s Southwest, but I assume those kinks have been worked out.
So I'm not sure if this has been an improvement or not, but apparently as of last week 1Ks are being called to pre-board, and Golds board in Group 1.
Any feedback from United flyers as to how that is working (or if it makes a difference)?
New United elite status qualification rules
Beginning January 1st (so in order to qualify for 2020 status), the Premier Qualifying Dollars requirement for United Premier 1K status will be $15,000 as opposed to the current $12,000.
Additionally, P fares (which are the discounted first and business class fares) that are flown next year will only earn 150% of Premier Qualifying Miles, rather than 200%.
This bothers me, as I expect most people purchase tickets with certain expectations of mileage earning, particularly elite members of a frequent flyer program. It would be much more reasonable to say that P fares for tickets issued after January 1st (or even today!) would earn at a lower rate, but United's IT probably can't handle that nuance.
Still, if you have an already-issued ticket in P, I would grumble.
United claims:
We're adjusting qualification requirements for Premier 1K status with the goal of offering our most appealing program benefits to our most loyal customers and making these benefits, such as upgrades, more easily available.
So basically United feels they still have too many over-entitled elites, apparently.
New United upgrade certificate earning
Currently, United 1K members who fly more than the required amount to achieve status earn additional upgrade certificates — two Regional Premier Upgrades (RPU) for every 25,000 PQM, and two Global Premier Upgrades (GPU) for every 50,000 PQM.
American has a similar policy, where elites who over-qualify for EXP receive additional System Wide Upgrades, and the general idea is to encourage your most prolific flyers to continue to fly (and spend!) on your airline, rather than dividing their loyalties.
Beginning January 1st, 1Ks will no longer receive bonus RPUs for over-qualifying. Instead, 1Ks will get an additional GPU for every 25,000 PQM or 30 qualifying segments.
Given the comparative price of first class over economy these days, and the kvetching I've heard about using RPUs, and the general lack of R space domestically, this seems like it may be an okay trade for many? Of course, using GPUs is difficult for some as well, so this isn't a universally positive change.
Bottom line
I am not a United flyer these days, so I hesitate to speak with any authority. I asked Travis for his take, which he summed up as "picking up kids, seems pretty positive for most; people aren't going to like raising the spend requirements" so I'm going off that. 😉
But for the most part these don't seem like outrageous changes, I just really don't like the messaging of making them so suddenly, and announcing them after some have taken effect.
United loyalists — what do you make of these changes?