Yesterday I shared my thoughts on Air Serbia's Premium Lounge at their hub at Belgrade Airport, and today I wanted to briefly share our experience with Air Serbia's A330 business class between Belgrade and New York this past Saturday. As usual, this is just a short teaser post, and I'll have a much more detailed review once I publish the trip report.
Air Serbia has just one A330 aircraft, which they acquired from Jet Airways (both airlines are part owned by Etihad Airways, which is probably why the transfer happened in such a way). The business class cabin has a total of 18 seats, spread across six rows in a 1-1-1 configuration.
The plane has herringbone business class seats. That's not my favorite business class hard product out there (I prefer reverse herringbone seats and Apex Suites), but it's also above average for a transatlantic product, in my opinion.
So while the hard product was good, it's the soft product that blew me away. This must have been one of my best business class flights ever in terms of the soft product.
The business class cabin crew — Nikola, Tamara, and Maria — were so genuine and friendly. It was clear they took a lot of pride in the route and their country, given that it's Air Serbia's only longhaul flight. Part of what I loved is just how much of Serbian culture they integrated into the product.
For example, the purser suggested I have Serbian brandy as a pre-departure beverage, which I took him up on. That's my first time I've been offered a pre-departure beverage in a shot glass!
Air Serbia's wine collection consists exclusively of Serbian wine, and there were seven to choose from. Tiffany and I both tried them all over the course of our lunch, and they were excellent (I have pictures of all the bottles, though I'll save them for the review — after all, this is just a "10 pictures" post).
Air Serbia's soft product feels a lot more like first class than business class. They have a dine on demand menu, so you can eat what you want when you want.
Service began with some mixed nuts and a lovely rose.
Then I had an incredible salad with tomatoes and mozzarella (Tiffany had the Serbian mezze, so we'll have pictures of that with the full trip report).
Then for the main course I had a flavorful salmon dish.
Then I had a cheese plate, which came with a baked pear that was indescribably good.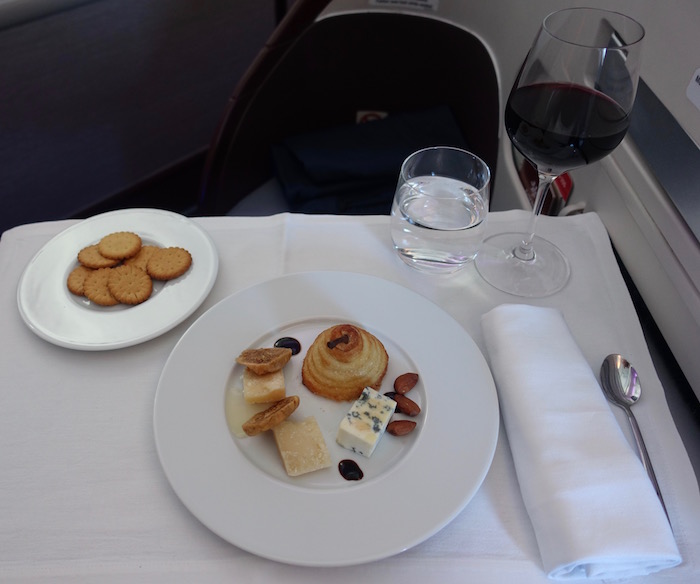 Much like Etihad, Air Serbia serves excellent cappuccinos.
There was a lot more food, so stay tuned for the full trip report for details of that.
Business class passengers also get a nice amenity kit, as well as slippers and pajamas.
There's also a proper turndown service, which includes a mattress pad.
I could just go on and on all day about how much I loved this flight. The soft product was among the best I've had in business class. The crew was so attentive and friendly, and took such pride in what they did, which is always a pleasure to watch.
The soft product across the board felt a lot more like first class than business class, thanks to the excellent wine selection, dine on demand menu, pajamas, turndown service, etc.
I'd recommend Air Serbia's New York to Belgrade flight in a heartbeat. Given that Etihad partly owns Air Serbia I had high hopes coming in, but even so was blown away.
Well done, Air Serbia! Keep in mind that you can quite easily redeem Etihad Guest miles on Air Serbia, and it can represent quite a good deal, especially since Etihad is transfer partners with Amex Membership Rewards and Citi ThankYou.