Update: See here for a review of Air France's new A350 business class.
Air France has a total of 28 Airbus A350-900 aircraft on order (the order was later increased to 38), and they'll be taking delivery of their first such plane this year.
Initially the first A350s were supposed to go to Air France's low cost carrier, Joon, though that concept is being discontinued this summer. That means that Air France should have several "mainline" A350s this year.
There are a couple of interesting updates regarding the A350, both in terms of the onboard product, and in terms of the first route to get the plane.
Air France opens A350 reservations
As noted by @airlineroute, Air France will start flying the A350 daily to Africa as of September 23, 2019. Specifically, the plane will be operating Air France's route to Bamako, Mali, and Abidjan, Côte d'Ivoire, with the following schedule:
AF520 Paris to Bamako departing 10:10AM arriving 1:50PM
AF520 Bamako to Abidjan departing 3:00PM arriving 4:35PM
AF521 Abidjan to Bamako departing 6:50PM arriving 8:35PM
AF521 Bamako to Paris departing 10:50PM arriving 6:10AM (+1 day)

I guess this is a logical route in terms of a single plane being able to operate the route daily, though a 2,600 mile flight connecting to a 600 mile flight hardly takes advantage of this plane's range.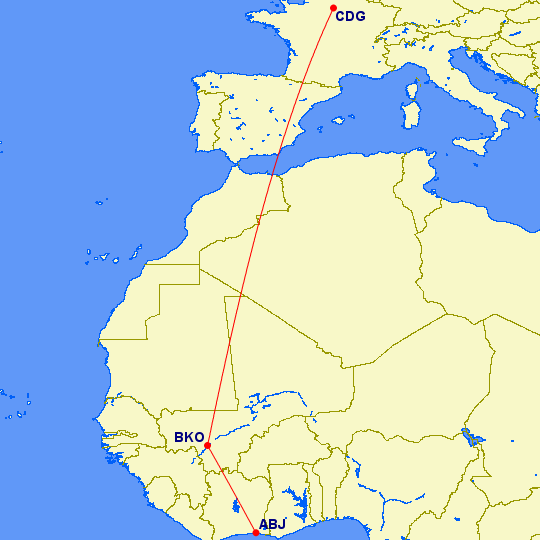 That's the first route to have the A350 scheduled, though of course it's possible that another route will get the plane first, especially as it's likely that the airline will operate some familiarization flights with the new aircraft.
Air France's A350 business class
This is something that was actually revealed two years ago, though somehow I missed it up until now.
Here's Air France's A350 business class seatmap: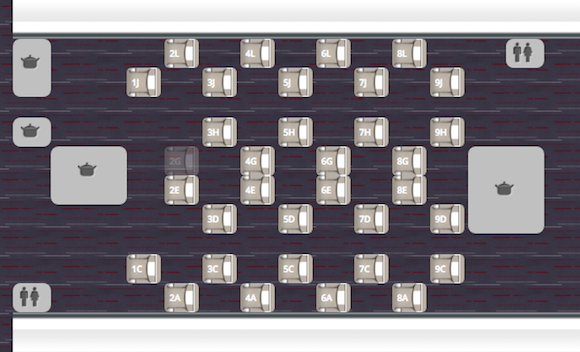 Wait a second, that looks nothing like any of their current business class products!
Air France is working on installing new business class seats throughout much of their fleet. Their 777s and 787s feature reverse herringbone seats in business class.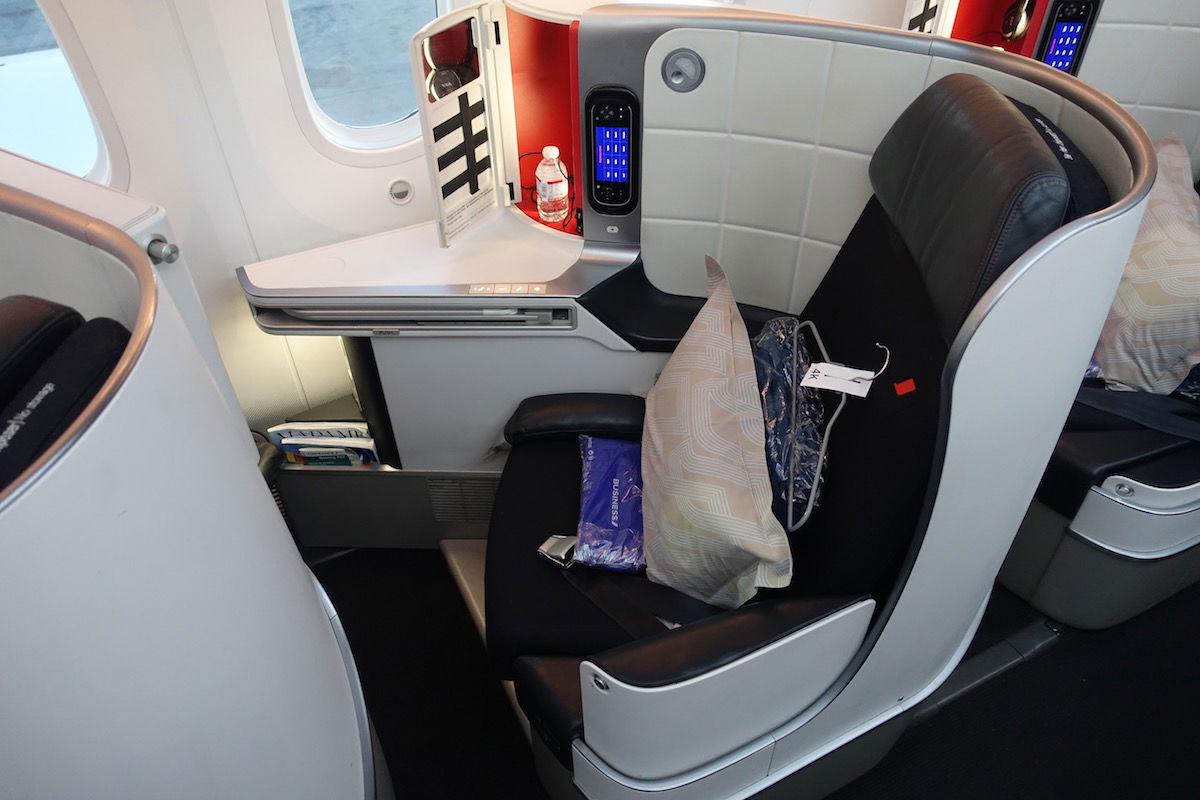 Meanwhile their A330s feature forward facing fully flat business class seats in a 2-2-2 configuration.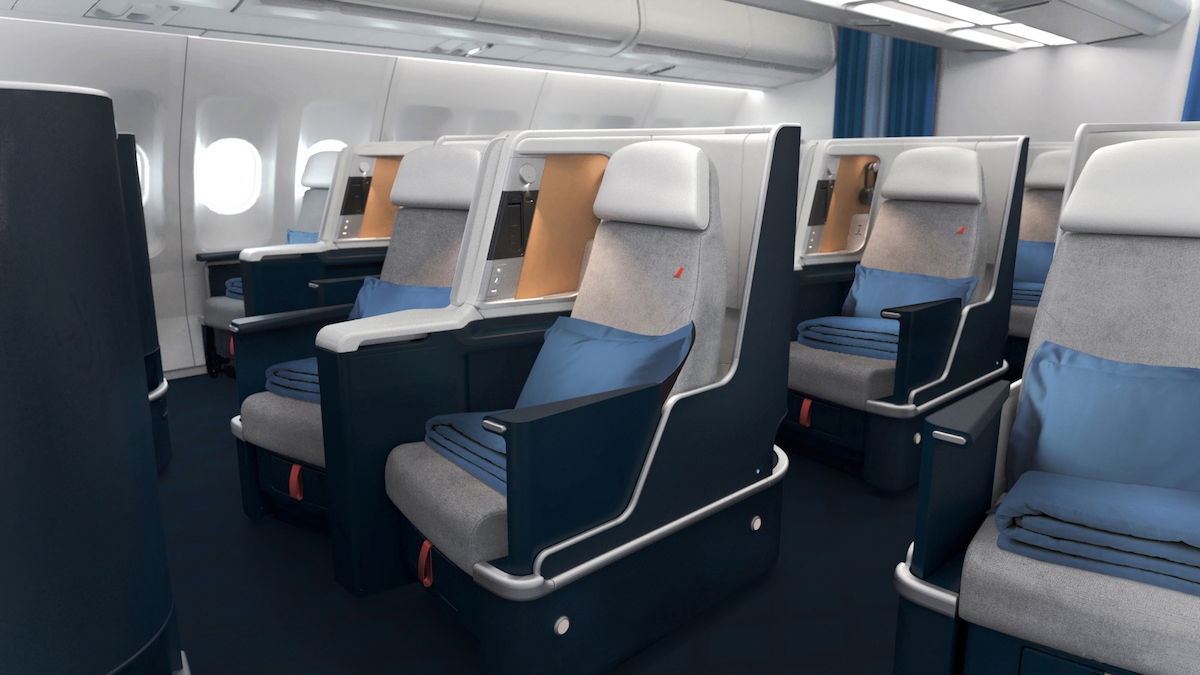 My assumption all along has been that Air France will install reverse herringbone seats on their A350s. To me that makes sense, since it means they'd have a fairly consistent product, and it's also a good seat.
That's not the case, though. Instead Air France will be installing Zodiac Optima seats in A350 business class.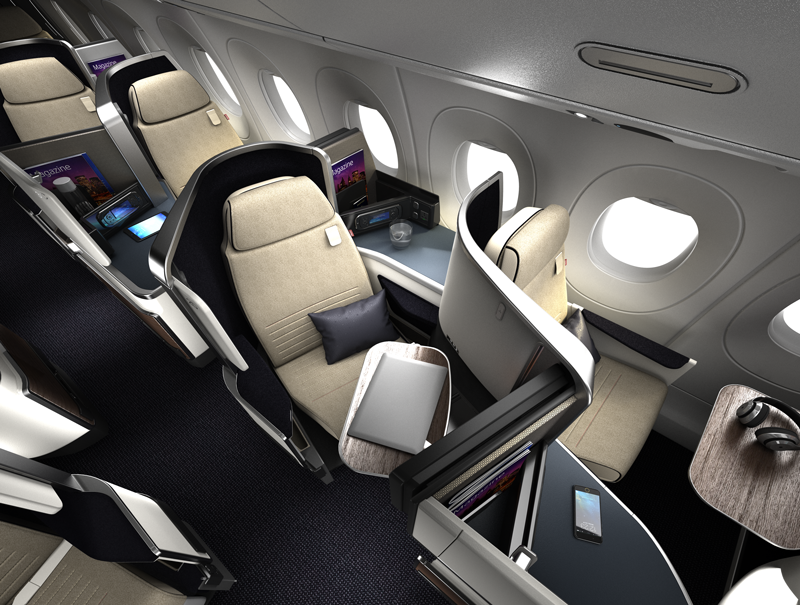 If these seats look familiar, it's because those are the new United Polaris seats.
United hyped how they had the "exclusive" on this seat, though as it turns out that only applies to US carriers, which is how Air France is able to get this seat.
Why would Air France introduce another new business class seat?
On the surface I find this to be a curious decision on Air France's part. Personally I find reverse herringbone and the Zodiac Optima seat to be roughly comparable.
However, there's also a lot of value in having fleet consistency, so to see an airline introducing three new business class seats appears odd.
So what could Air France's motive be? My guess is that it's about density. Air France is able to install 34 business class seats between doors one and two on the A350 with these seats.
When you look at airlines offering reverse herringbone seats on the A350, they can typically offer no more than 30 seats in that same area. So my guess is that they were willing to sacrifice consistency for seat density.
What do you make of Air France's decision to install Zodiac Optima seats on the A350?