A few times per year Aeroplan offers a bonus when you convert hotel points into miles, and they've just launched their latest such promotion. On the surface this sounds like a good deal, but there's one major thing missing that makes this almost useless.
Convert Hotel Points Into Aeroplan Miles With Bonus
Aeroplan is offering a 35% bonus when you transfer select hotel points to Aeroplan between November 25 and December 3, 2019.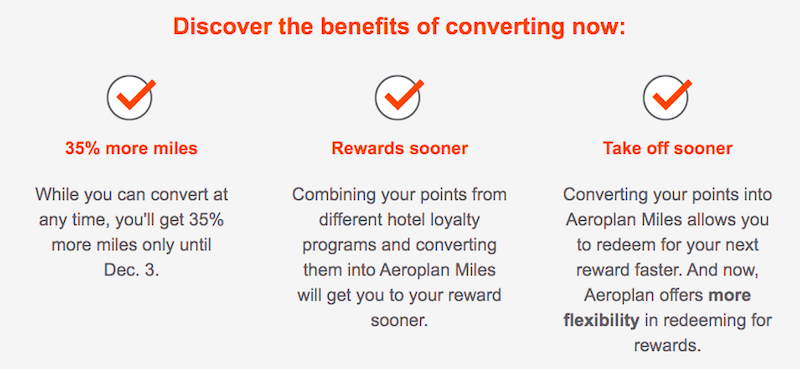 Transfers from the following hotel programs qualify for this promotion:
Best Western Rewards
Choice Privileges
Coast Hotels
Hilton Honors
IHG Rewards Club
LeClub Accor Hotels
Radisson Rewards
Shangri-La Golden Circle
World of Hyatt
Registration is not required for this promotion, and the bonus miles should post 4-6 weeks after the end date of the promotion (though in practice they may post sooner). Transfers from other Aeroplan partners don't qualify for this promotion.
The Reason This Promo Is Worthless
The problem this time around is that transfers from Marriott Bonvoy don't qualify, which they usually do. On the surface the 35% bonus is better than the 30% bonus they usually offer when they run this promotion, though it's really disappointing that the "Black Friday" offer doesn't include Marriott Bonvoy, the one useful partner.
Why is Marriott Bonvoy the only good partner for these purposes? Because Bonvoy points actually convert into airline miles at a fair ratio to begin with.
60,000 Marriott points converts into 20,000 airline miles, and you get a 5,000 mile bonus for every 60,000 Marriott points transferred (60,000 Marriott points is the equivalent of 20,000 former Starpoints, given the transfer ratio).
This means 60,000 Marriott points ordinarily converts into 25,000 airline miles. If there were a 35% bonus then you'd earn a total of 33,750 Aeroplan miles. That would be a ratio of ~1.78:1, which would be a good deal, but go figure that's excluded.
Bottom Line
Aeroplan offers a bonus on hotel points conversions several times per year. So at first I was excited to see the promotion return for Black Friday with a 35% bonus, rather than the typical 30% bonus. Unfortunately they've excluded transfers from Marriott Bonvoy, which makes this promotion almost useless.