When it comes to blingy first class cabins, I think those of Emirates and Etihad are the first two which come to kind. The Emirates first class cabin is perhaps the most easily recognizable even to those who have never flown it before, while the new Etihad A380 First Class Apartments are stunning, even if they're not as well known.
With that in mind, I thought it would be fun to compare the A380 first class products on Emirates and Etihad — which is better, Emirates A380 first class or Etihad A380 first class?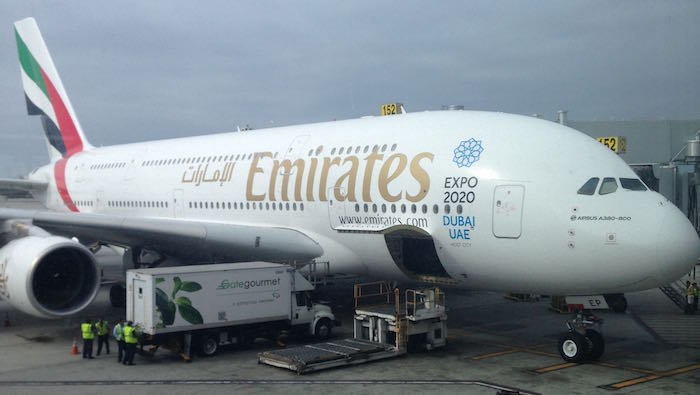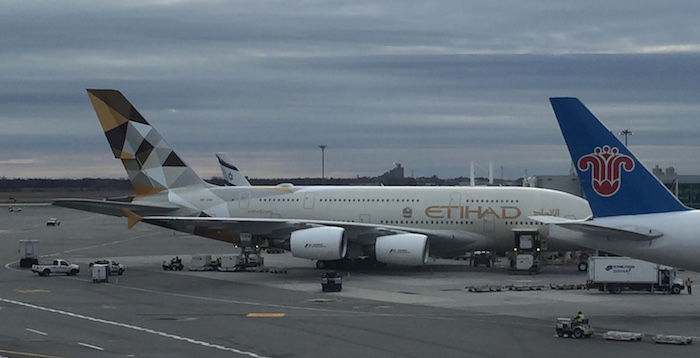 To answer that question, I'll share my thoughts on eight aspects of their first class product, and then give my conclusion:
Cabin
Seats
Bed
Food
Drinks
Onboard lounge/bar
Onboard shower
Entertainment
Cabin
Both Emirates and Etihad's first class cabins are located at the front of the A380 upper deck.
Emirates has a total of 14 first class seats, spread across four rows in a 1-2-1 configuration. There are four rows of seats along the windows, and then three rows of seats in the center section.
The Emirates first class cabin is blingy as could be. As far as first class products go it's a fairly tight configuration, in terms of the number of seats they managed to squeeze into the area.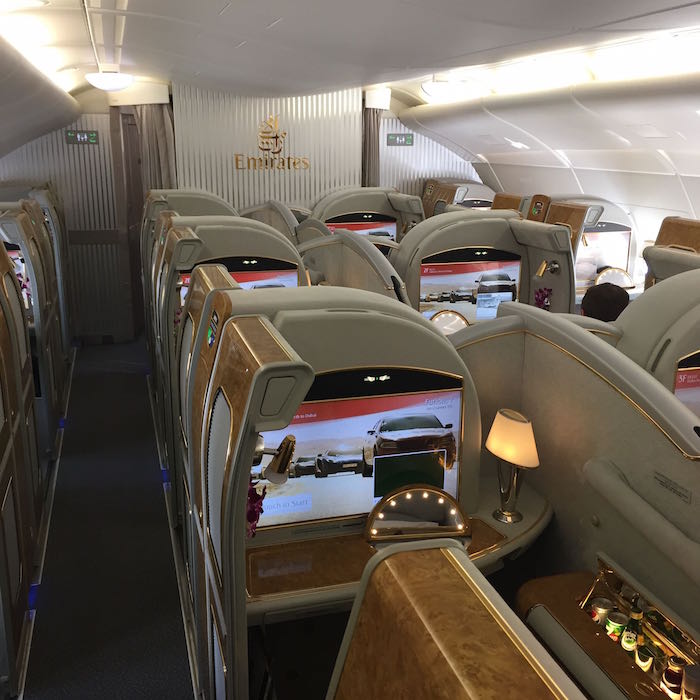 The Etihad A380 cabin is beyond stunning. It features a single aisle, making them the only A380 operator to have such a configuration. There are a total of nine First Class Apartments, spread across five rows in a 1-1 configuration. The first row has The Residence on the left side, which is Etihad's three room suite with butler service.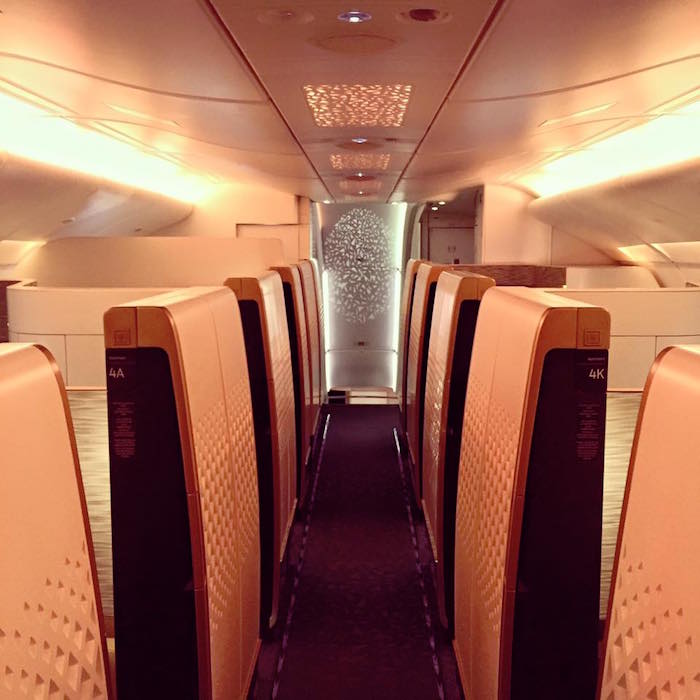 Winner: Etihad
Seats
The Emirates seat is as blingy and "glam" as they come. You have a snack basket, exposed minibar, all kinds of lighting, and even a mirror facing you the whole flight.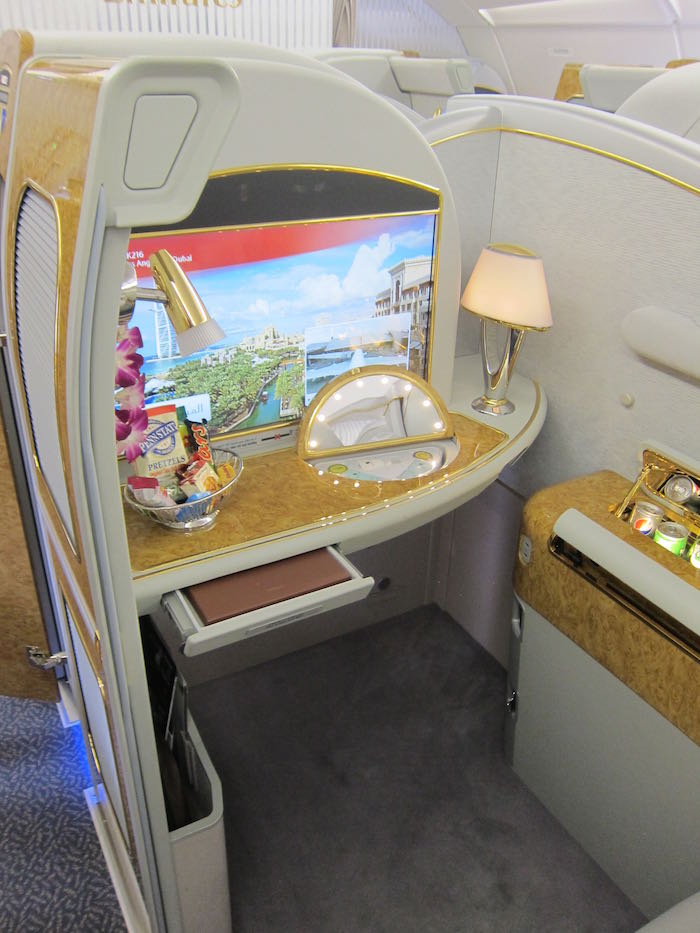 The catch is that the seat is not all that spacious. Among A380 first class seats, I find it to be the most restrictive. Fortunately the seat has plenty of entertainment and bling, which more than makes up for any space disadvantage.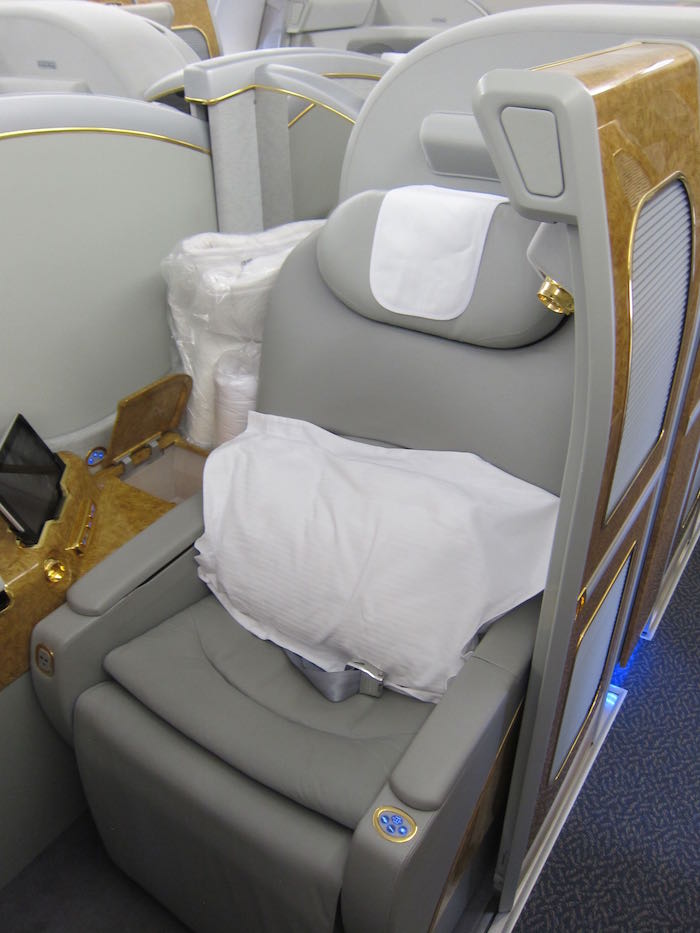 Etihad Airways revolutionized first class with their A380. Instead of just having a seat you have an apartment. Three of us recently flew the Etihad A380, and we could all dine together at one seat. How cool is that?!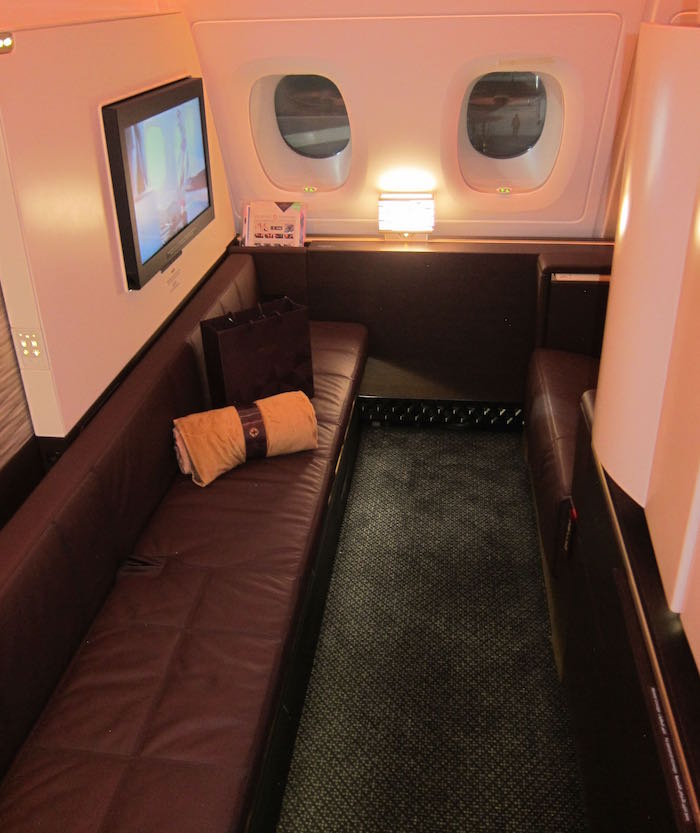 The seat features a "bench" which converts into a bed, and then a seat where you can use the bench as an ottoman. There's even a vanity, as well as a TV which you can watch from either bed or the seat.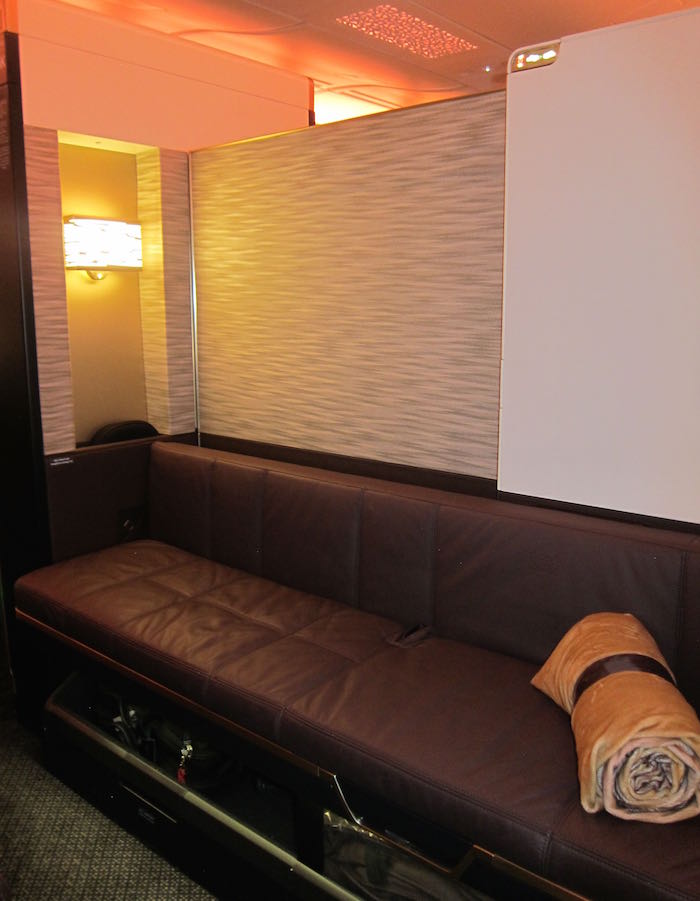 The seat isn't perfect, however. Because of how the seat is designed, it doesn't recline that much. Instead it only reclines very little, and if you want to lay down the bench turns into a bed. This is great if you like sitting fully upright or completely reclined, but if you're like me and being reclined halfway, it's not ideal.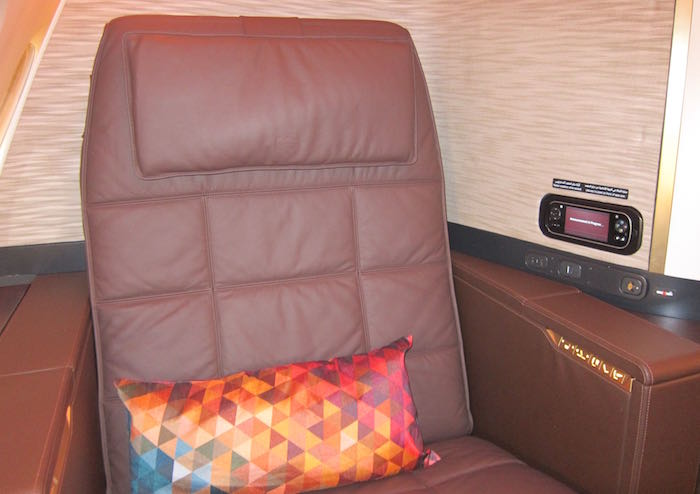 Winner: Etihad
Bed
Emirates has great bedding, though the seat itself is quite tight. It's not the most spacious bed in the sky, though you'll still get a good night of sleep.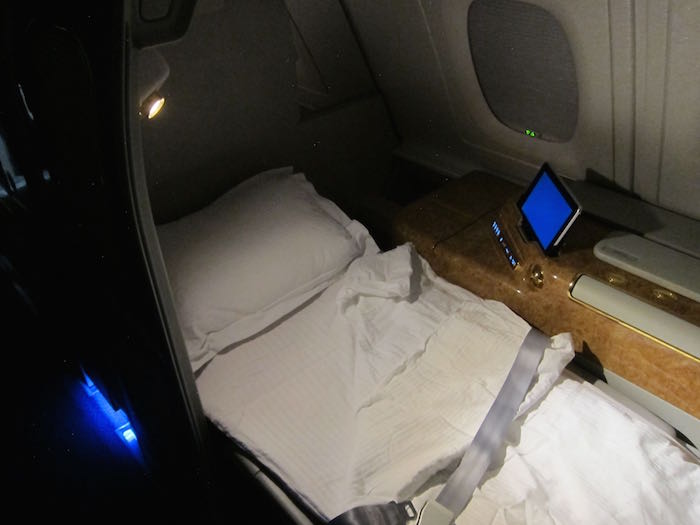 Etihad's A380 first class seat is much more spacious, and therefore the bed feels much more spacious as well. The catch is that I think they could have done better with the bed on Etihad. While the overall setup is impressive, the bed is smaller than the bed on many of the other top carriers, and the sleeping surface also tends to be pretty hard. So I don't think the bed is quite as comfortable as on Cathay Pacific, Qantas, etc.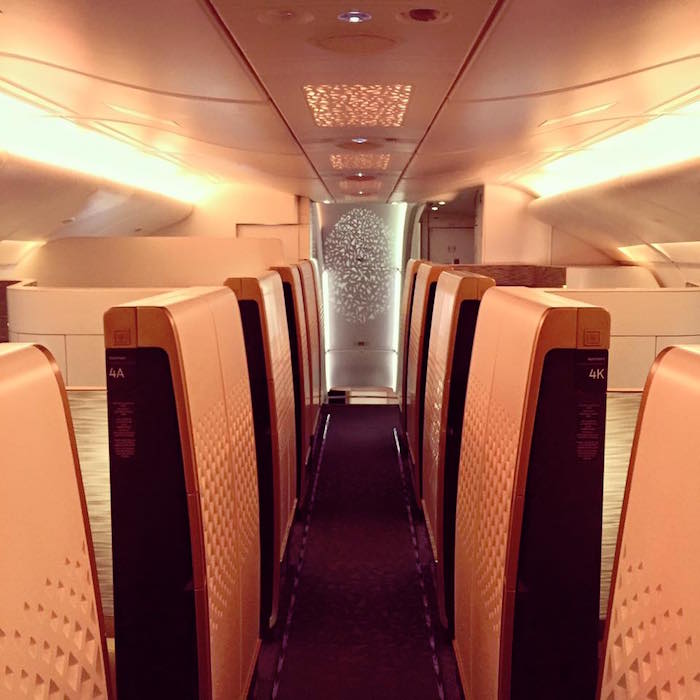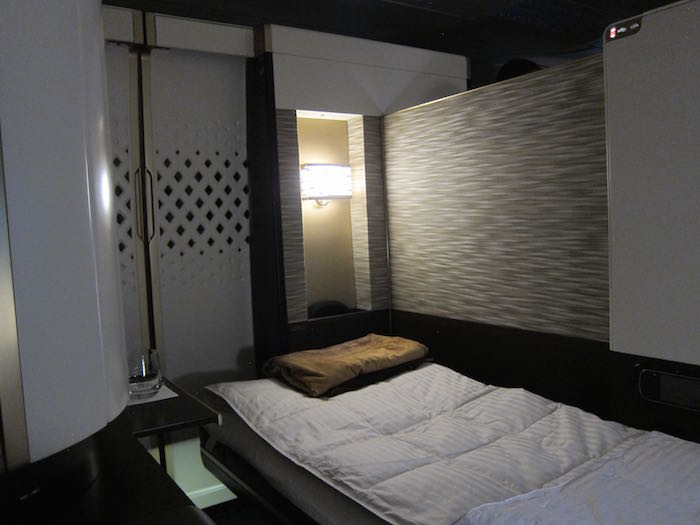 Winner: Etihad
Food
This is a real tough one.
Emirates has one of the most extensive menus in the sky, with a dine on demand concept. You can order what you want when you want, and the selection is (nearly) endless. It's tough to beat the variety of their selection, and they also serve caviar and the best Arabic mezze of any airline.
While food quality can vary depending on where the flight was catered, all things considered the food is top notch.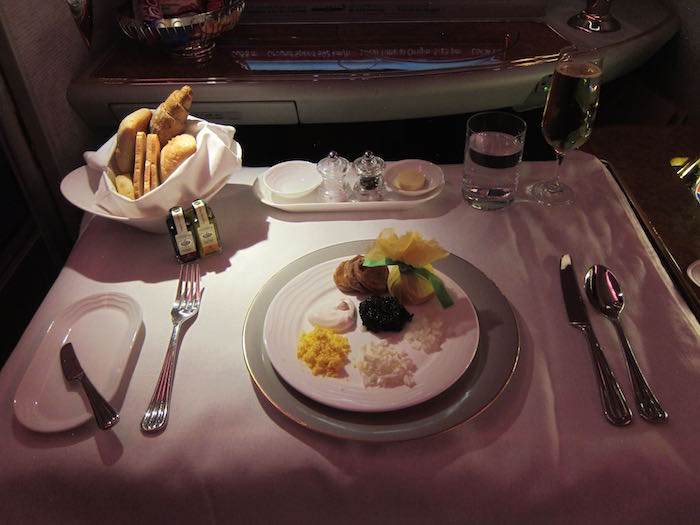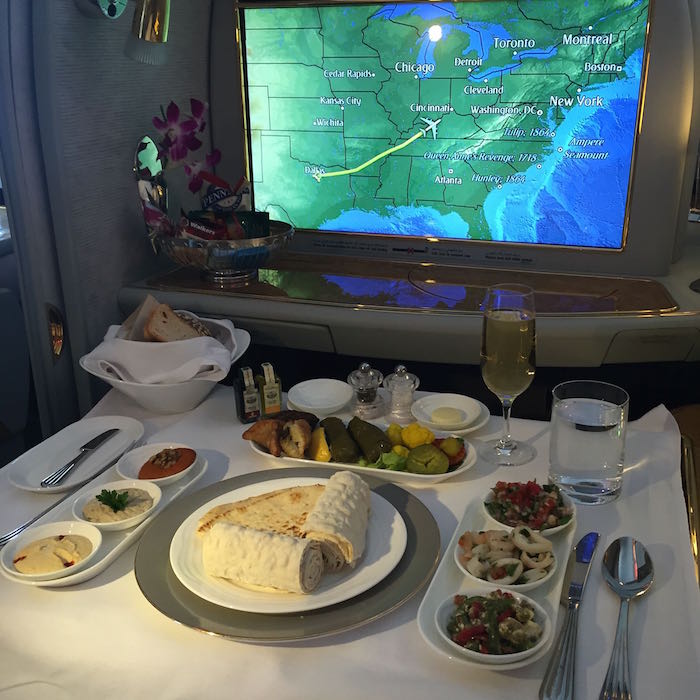 Etihad has both a food & beverage manager as well as a chef in first class. They also have a dine on demand menu, and the options are extensive, though not quite as extensive as on Emirates (and they don't have caviar, and their mezze isn't quite as good as Emirates').
But what makes Etihad unique is that the onboard chef can prepare something to your specifications. You can choose the type of protein you want (fish, chicken, veal, beef, lamb, etc.), the side you want (veggies, french fries, etc.), and the sauce you want, and they'll make it for you. I should note that in the past I've sometimes experienced them running out of food, though I haven't had that happen on the A380 yet.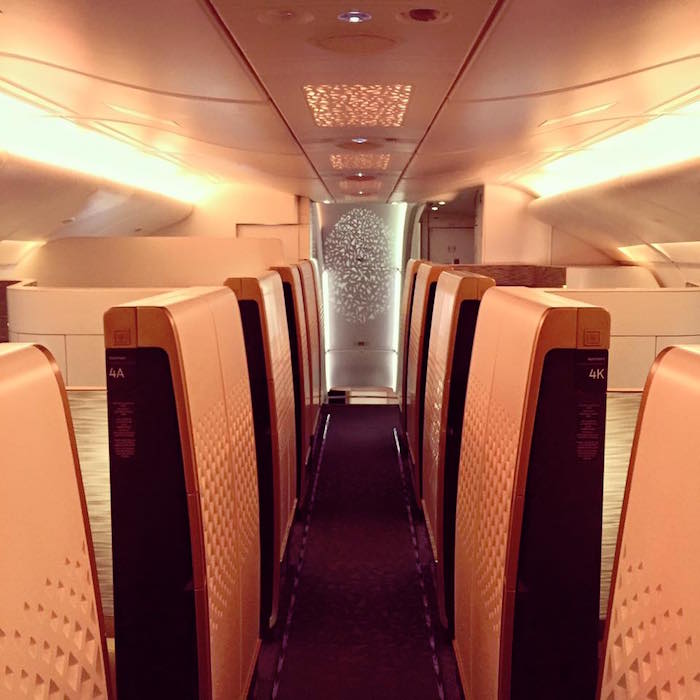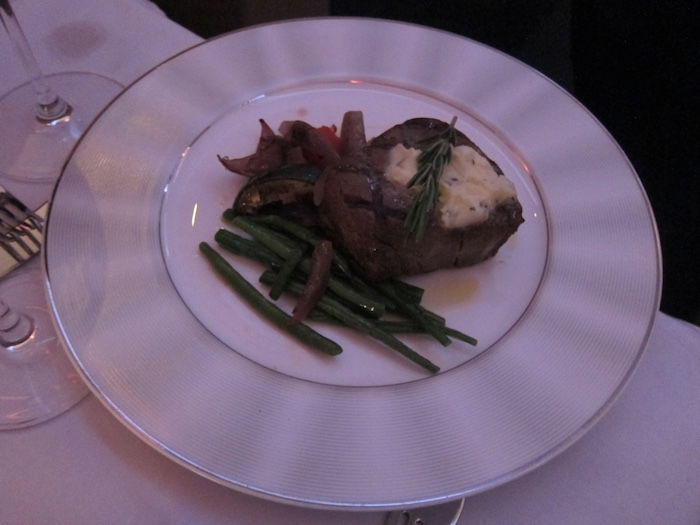 Overall I'm really conflicted. I love Emirates' caviar and mezze (it's half of what I eat on them), and their menu is extensive. But I also love that Etihad lets you customize the meal however you'd like.
Winner: Tie
Drinks
Emirates serves Dom (most recently the 2005 version, which is fantastic). For cognac lovers they have Hennessy Paradis. For whisky/scotch lovers they have Johnny Walker Blue Label.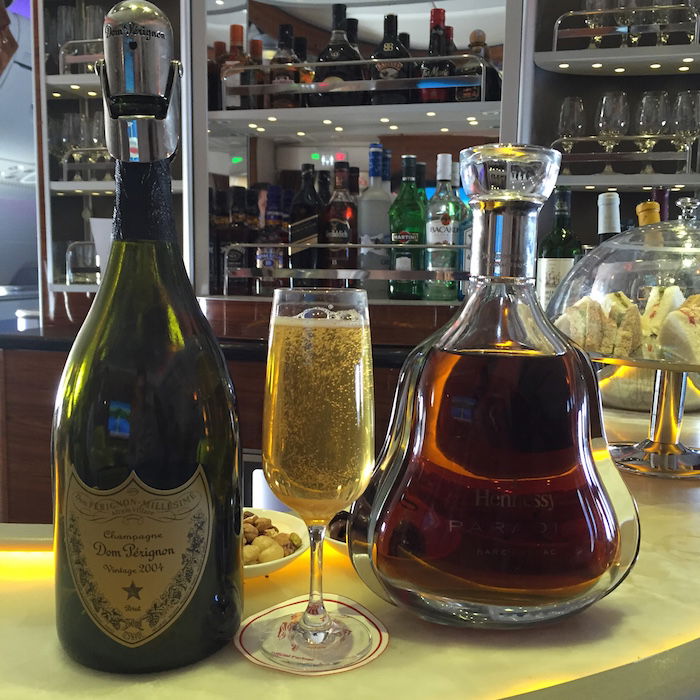 Etihad's selection really isn't to the level of Emirates'. They focus on a lot of smaller and lesser know wineries, many of which are quite good. But overall they're a notch below Emirates when it comes to drinks, in my opinion.
Winner: Emirates
Onboard lounge/bar
Emirates has an A380 onboard bar, which is located behind business class, at the very back of the upper deck. It's shared between first & business class passengers, and is just such a fun place to spend time. It's nice to have somewhere you can stretch your legs and talk to other passengers without inconveniencing the crew or other passengers.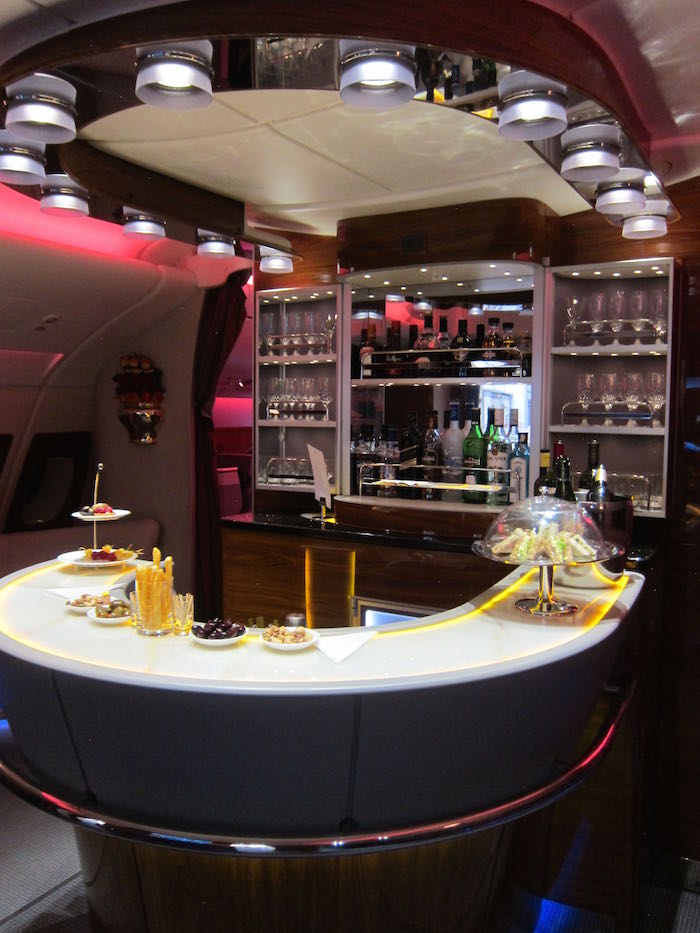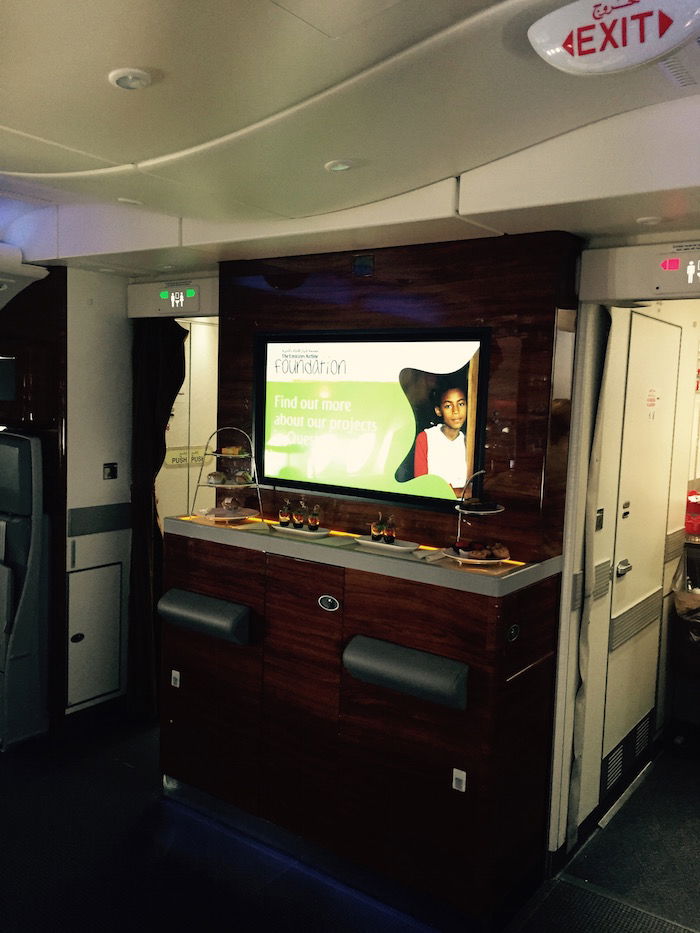 Instead of having an onboard bar, Etihad has an onboard lounge, which they call "The Lobby." It's located between first & business class, just behind the forward galley. It features six seats around a coffee table. While it's a good concept, I think they could have done better with it.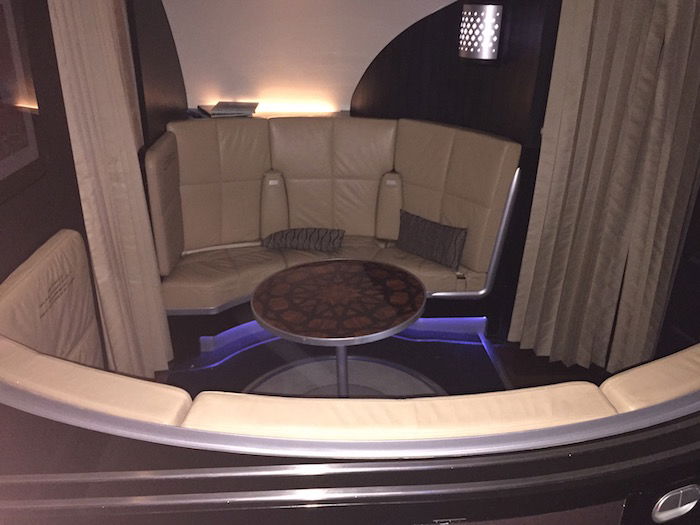 There's no self serve bar or snack bar (there's a beverage display across from the lounge, but you can't help yourself from it), and the lounge as such isn't staffed (though the crew should come to the lounge and see if you want anything).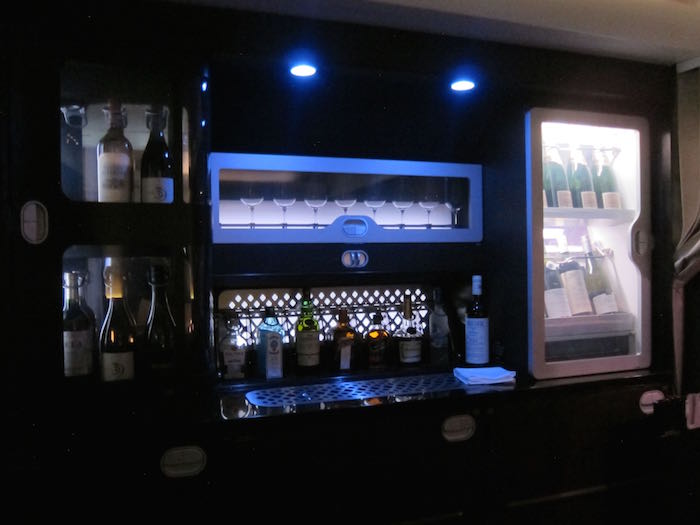 But when you have a First Class Apartment there's really not much of an advantage to it. I can invite a few other people traveling with me to my apartment, which is just as comfortable as the onboard lounge.
Winner: Emirates
Onboard shower
Ready for the most "first world" statement you'll ever hear? Not all onboard showers are created equal!
Emirates has two A380 shower spas, and they're incredible. They're spacious, you can choose from two types of toiletry lines (revive or relax), and the shower rooms even have heated floors.
There are two full time shower attendants who are there to clean the showers and look after you, so showering on Emirates really is the highlight of the flight.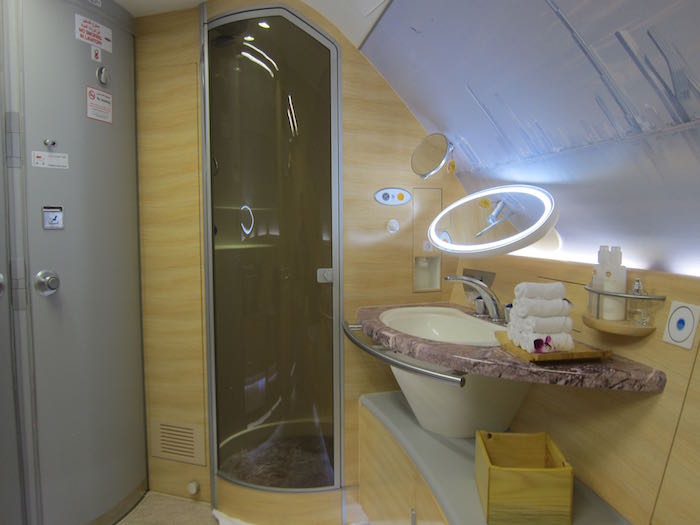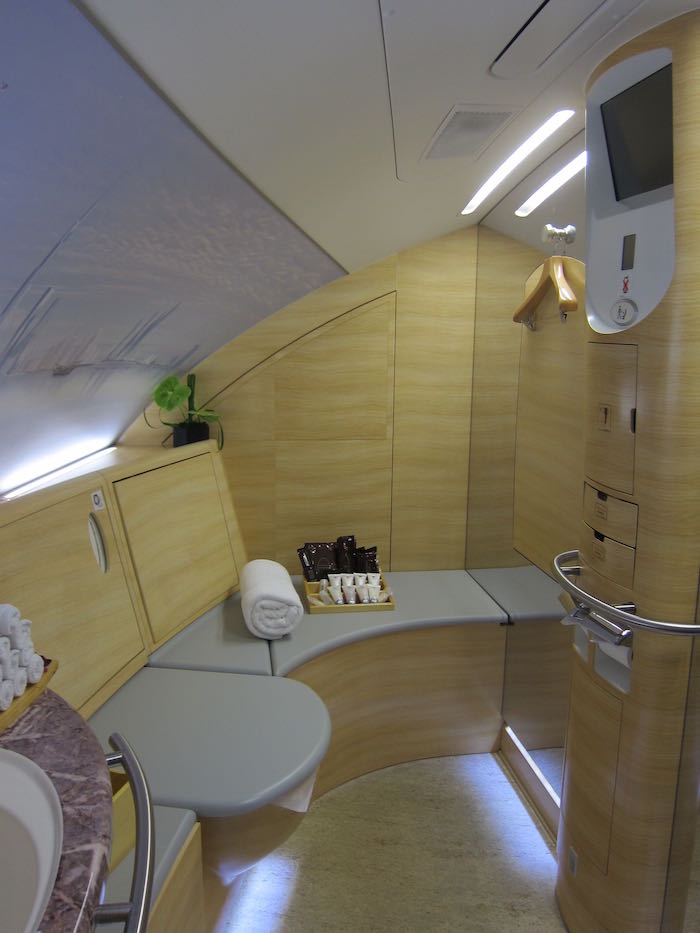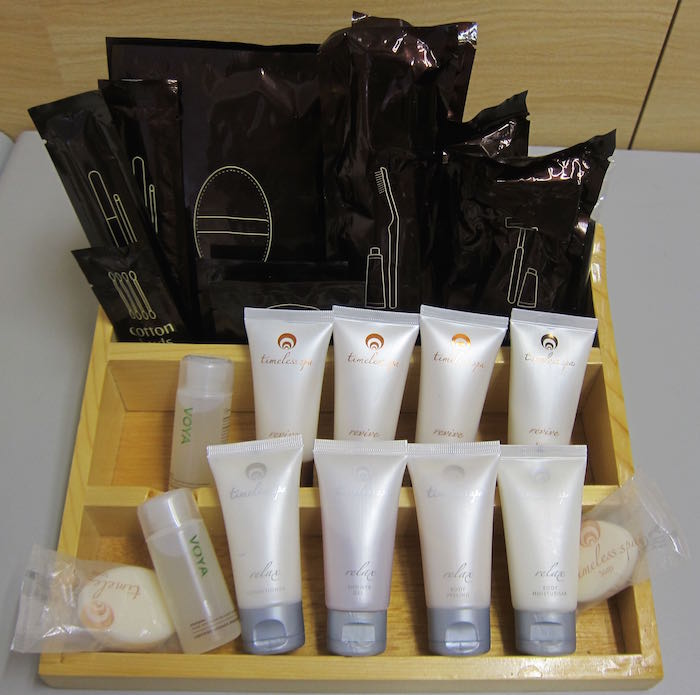 The shower experience on Etihad isn't quite as glam. There's only one shower shared between the nine First Class Apartments, and the room is much smaller than the one on Emirates. The shower room also has a lot of dark colors, so it's almost like showering in a cave.
The actual shower design is the same, and you also get "only" five minutes of water. But the overall ambiance of the shower room isn't nearly as nice as on Emirates.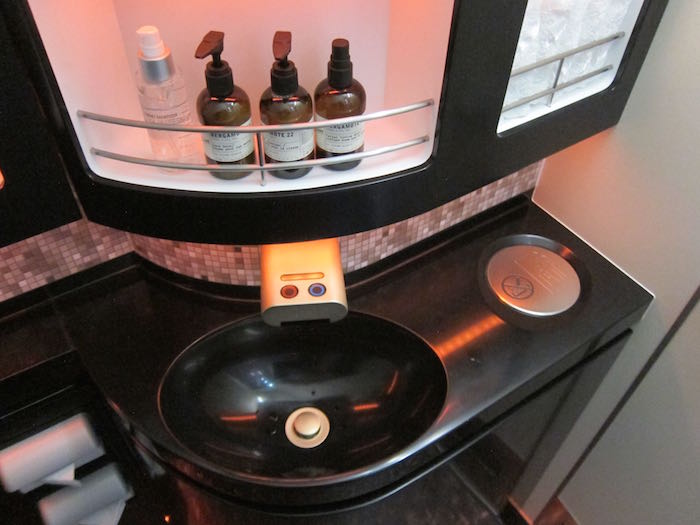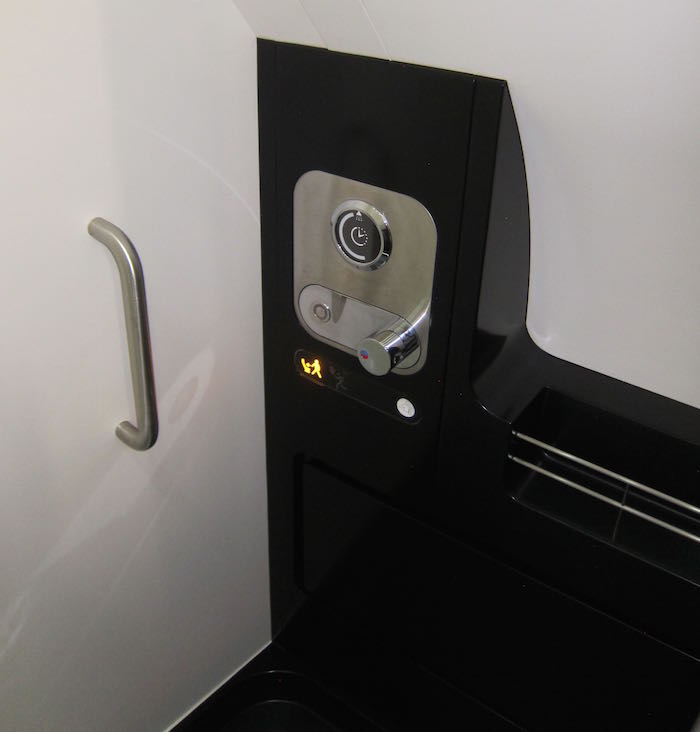 Winner: Emirates
Entertainment
Emirates has the best onboard entertainment system in the sky with their ICE IFE. Everyone else can go home. End of story.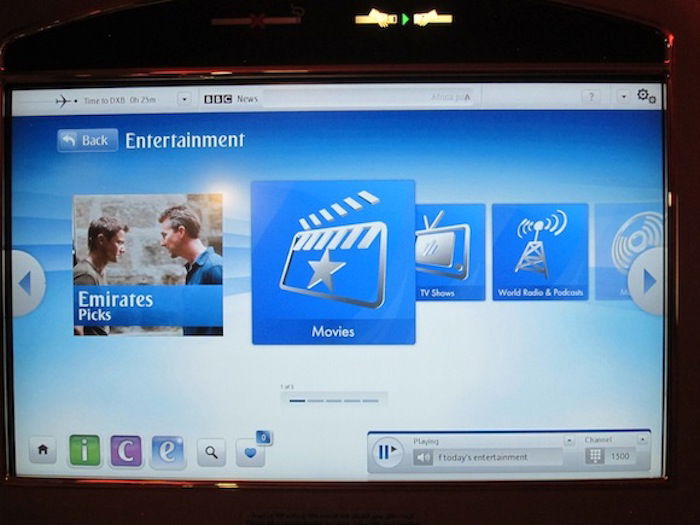 Etihad's E-Box entertainment system is good, though not quite to the level of Emirates.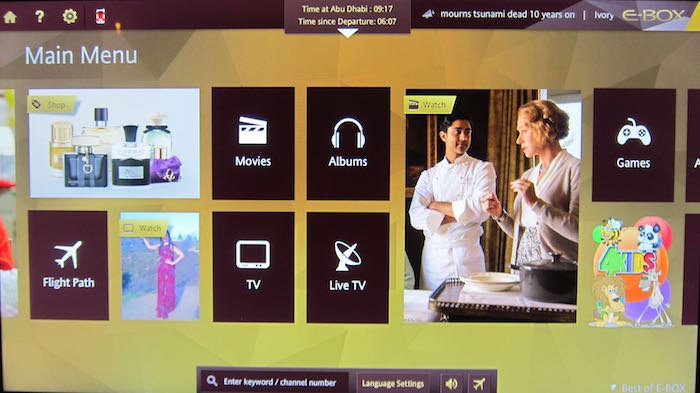 Winner: Emirates
Bottom line
Emirates and Etihad have two of my favorite first class products in the world. Etihad's A380 First Class Apartments were introduced just a bit over a year ago, and are revolutionary. The amount of space each first class passenger gets is unreal.
It's an incredible product to fly, and I commend Etihad for their innovation.
I guess to sum up how I feel about Emirates vs. Etihad, I think Etihad has a far superior A380 first class seat, while I just find Emirates' A380 first class to be a bit more fun. Between the superior shower and the awesome onboard bar, it's more fun to fly.
All else being equal, which would I choose? I think I've decided the following:
If traveling alone I prefer Etihad A380 first class for the amount of personal space and privacy
If traveling with someone and if I wanted to have fun, I'd choose Emirates A380 first class for the awesome onboard bar & shower, superior drink selection, and all around bling factor
Which would you choose — Emirates or Etihad A380 first class? Anyone disagree with any of my above assessments?