Earlier I wrote about how Virgin America flights will get Alaska flight numbers as of April 25, 2018. As much as Virgin America loyalists probably aren't happy about "their" brand disappearing further, there are some positive implications to this. For one, there have been a lot of system issues between Alaska and Virgin America, while being able to book through one airline should make the booking process significantly easier across the board.
There are also some implications when it comes to earning and redeeming miles, one of which I wanted to cover in this post. Specifically, it's now possible to mix a Virgin America flight and a partner airline flight on a single award.
For those of you not familiar with Alaska Mileage Plan, they have some fantastic airline partners and incredible award redemption values, though there are also some restrictions. Specifically, unlike most other programs, each airline has different award redemption costs, and Alaska also doesn't let you mix partner airlines on an award ticket.
In other words, if you wanted to redeem Alaska miles for travel on Cathay Pacific or Japan Airlines (both of which are great uses), the only other segment you could include on the ticket would be an Alaska flight to position to the gateway. Up until now, you couldn't even include a segment on Virgin America to get to the gateway, even though Alaska owns Virgin America.
Now that Virgin America flights have Alaska flight numbers, that's no longer the case. You can now fly Alaska or Virgin America to position for partner airline award tickets. This is fantastic news, especially given that Virgin America operates a lot more routes outside of the Pacific Northwest than Alaska does.
So for example, if you wanted to fly from Los Angeles to Tokyo on Japan Airlines, you could now include a flight on Virgin America from Las Vegas to Los Angeles (previously you'd have to include an Alaska flight from Las Vegas to Seattle/Portland to Los Angeles):

Alaska even allows stopovers on one-way awards, so this is an opportunity to add on a domestic flight to an international itinerary and do a stopover. For example, say you wanted to fly from Dubai to New York on Emirates, and then a week later wanted to fly from New York to Los Angeles. You could include that second segment at no additional cost.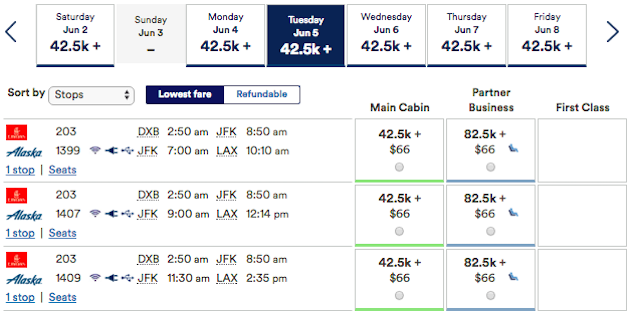 The one catch is that right now Alaska doesn't seem to have any saver level first class award space on Virgin America. Oddly they did before these flights became Alaska flight numbers, so I suspect this is temporary. However, once that's restored, it will be a great opportunity to add on a Virgin America positioning flight to a partner airline award (or otherwise add a free one-way after a stopover).
Soon it should also be possible to redeem British Airways Avios on former Virgin America flights, though it looks like those flight numbers haven't yet been loaded into British Airways' system, based on my call earlier.
Is anyone taking advantage of the opportunity to add Virgin America segments to a partner award?