American has hit a home run with their new Flagship First Dining concept. They've opened these so far in New York and Miami, and both are gorgeous and tranquil spaces that offer a restaurant style dining experience. I just can't wrap my head around how these are being offered by American while the airline is being run by the former US Airways management team. It's remarkable, really.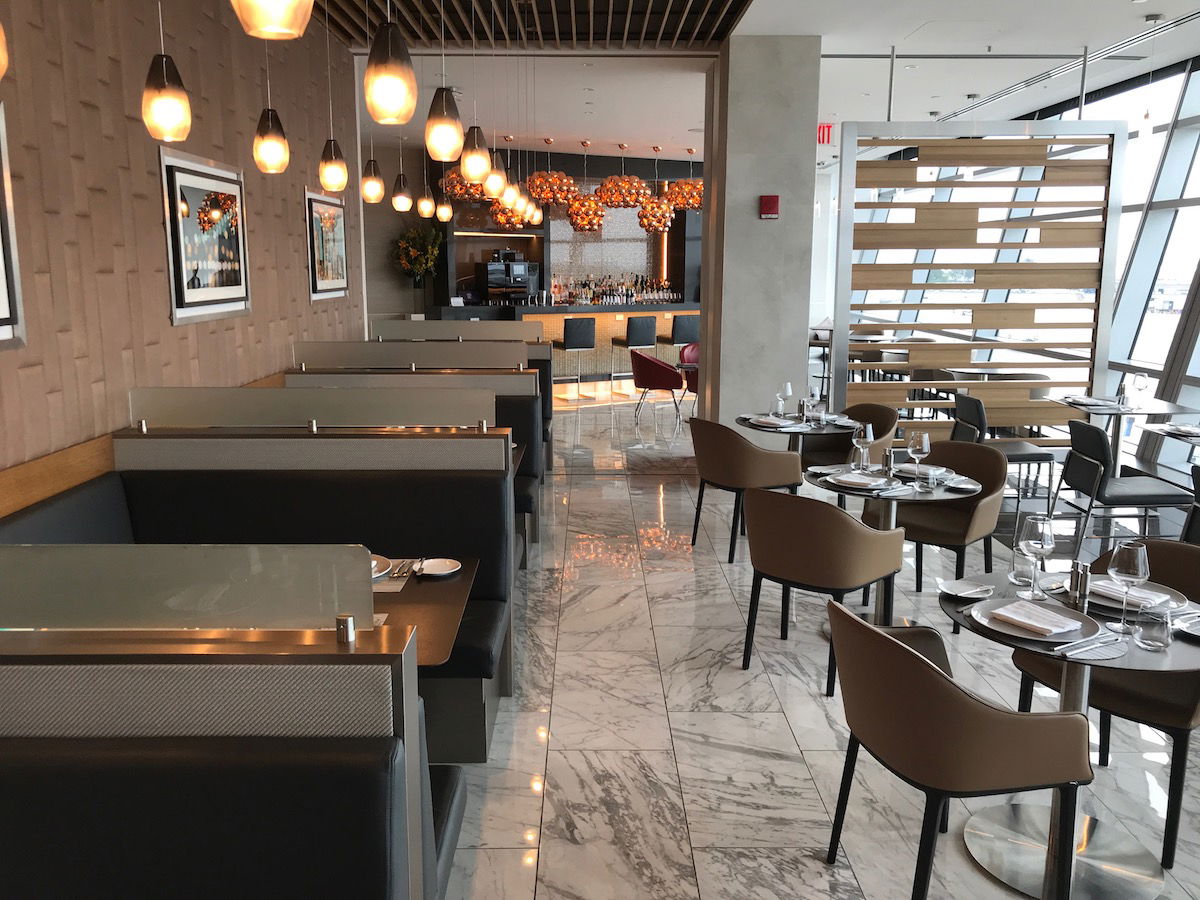 American's Flagship First Dining JFK
However, I'd be shocked if these lounges last in their current form, or if we don't at least see a change in direction.
American's Flagship First Dining access requirements
While American's Flagship Lounges are open to both first and business class passengers and elite members, Flagship First Dining is open exclusively to those traveling in three cabin first class. It used to be that American's entire fleet of 47 777-200s featured 16 first class seats each, meaning that there were 752 first class seats available at any given point. That doesn't even account for the 767-200s that they flew.
However, in the meantime American has reconfigured their 777-200s, and none of them have first class anymore.
At this point American's only planes with three cabin first class include: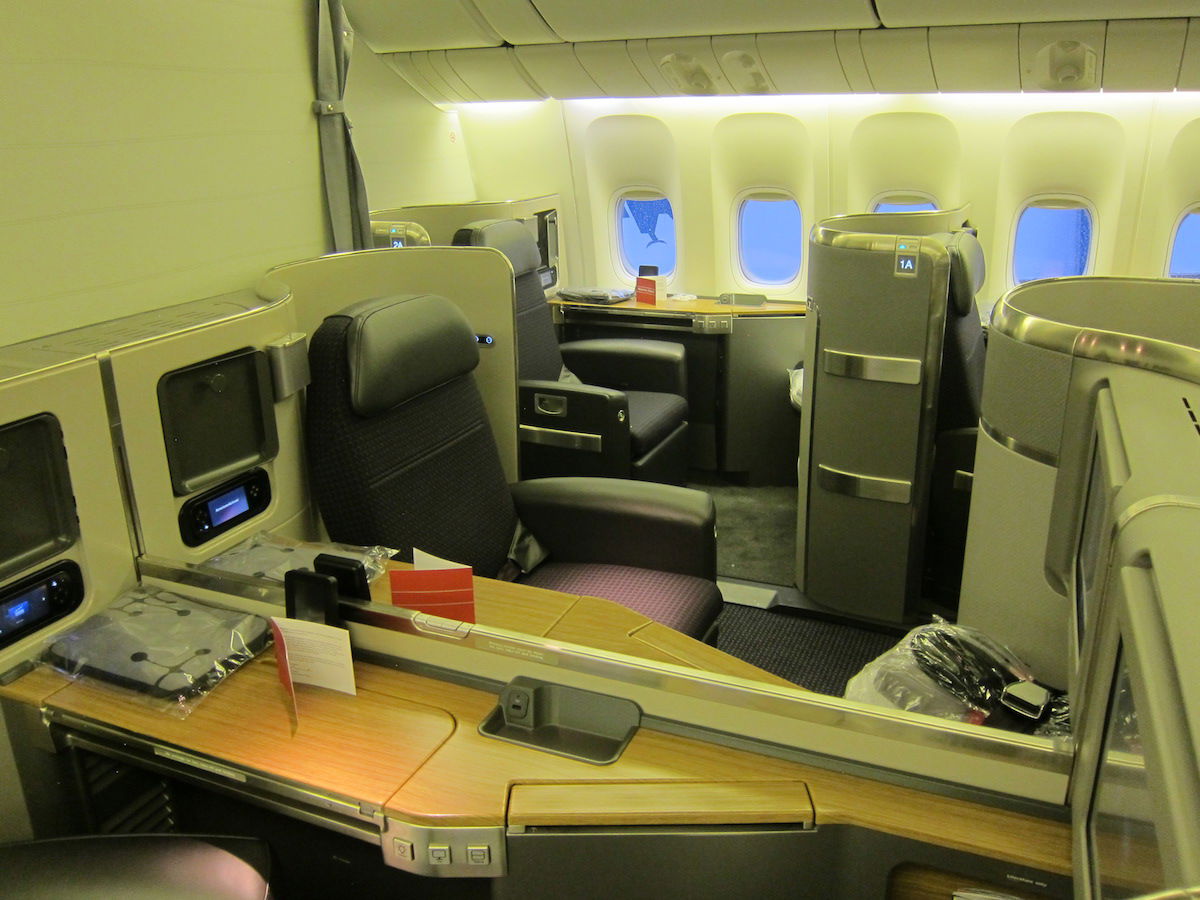 American's 777-300ER first class
So at most there are 160 777-300ER first class seats, and 170 A321 first class seats. In reality it's much less than that given how much time many of the 777s spend on the ground (they sit all day in Buenos Aires, Sao Paulo, etc.), the fact that there are some extra due to maintenance, etc.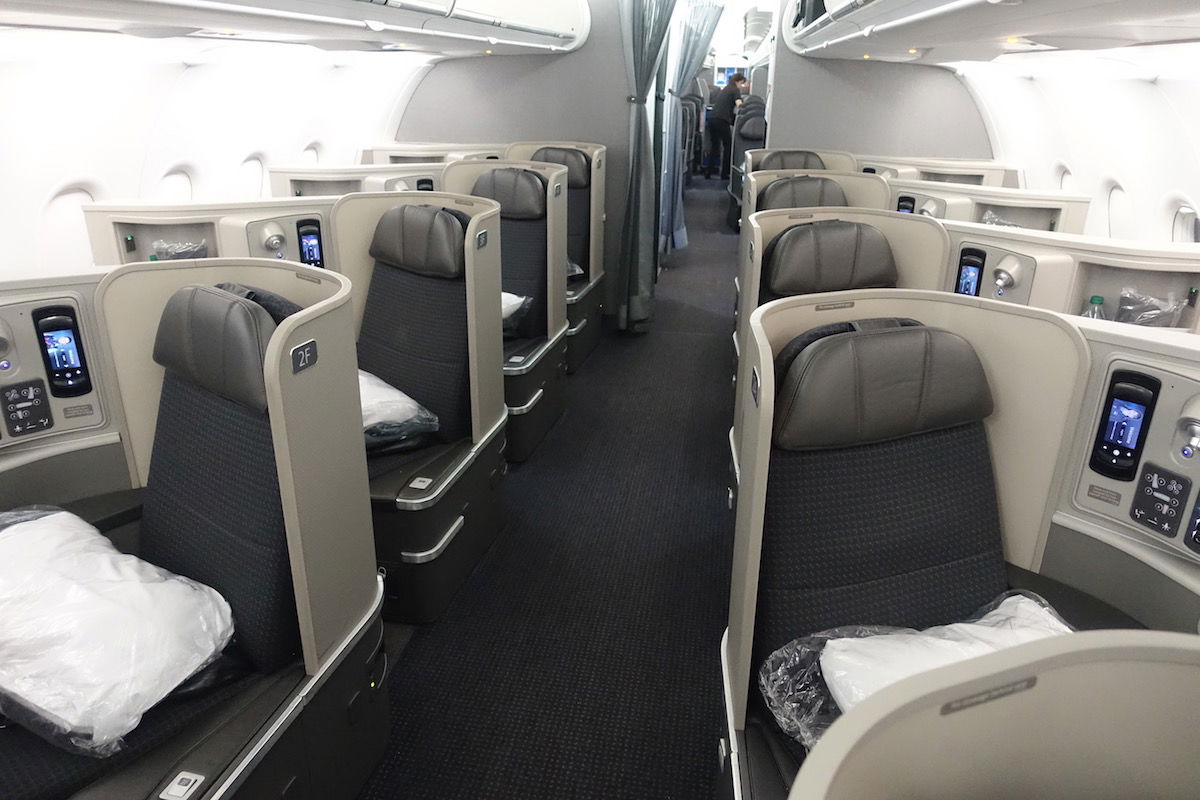 American's A321T first class
Let's look at American's Flagship First Dining Miami
Let's use the Miami lounge as an example. American's only 777-300ER flights are to Buenos Aires, London, and Sao Paulo. At most 24 passengers are traveling in first class nonstop out of Miami. What this doesn't account for is that:
Typically not all seats are filled with "revenue" passengers (excluding non-revs); for example, on tomorrow's flight 13 of the 24 first class seats are occupied as of now, and I'm betting a majority of those passengers upgraded or redeemed miles
Many people won't have time to have a full meal, either because they're connecting, or because they're originating in Miami and not arriving at the airport that early; you'd have to arrive well over two hours before departure to have a non-rushed meal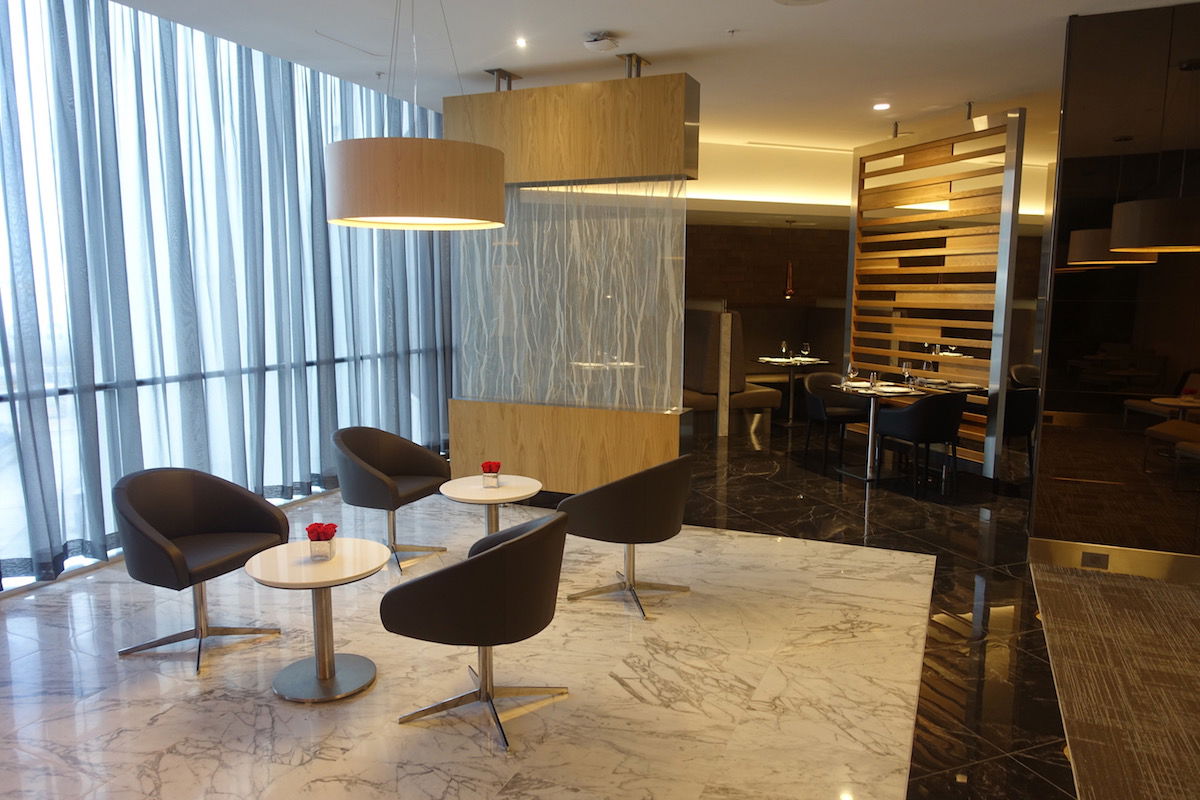 American's Flagship First Dining MIA
Sure, there are also some passengers connecting to other American flights in three cabin first class, though the connection opportunities are somewhat limited, since the lounge only opens at 2PM. Furthermore, inbound passengers can use the lounge, though only the London flight arrives in the afternoon.
I don't have any data, but I'd be shocked — shocked — if more than 20 eligible guests per day actually used the lounge.
This lounge must be really expensive to operate
I of course don't have numbers, but anything involving airports is outrageously expensive. I'd guess the lounge is 1,500-2,000 square feet, they have at least six full time employees dedicated to it, the finishes are much more expensive than the rest of the lounge, there's the cost of the actual food, etc.
I have no clue how much all of that costs. I'd have a hard time even guessing. But I have to imagine that the cost to the airline per passenger that uses the facility is at least $100 (in other words, they have to allocate a cost of at least $2,000 per day to having the facility running). I actually think it's much higher than that, but since I really don't know I'm going low here.
To present a slightly different viewpoint, I had this discussion with View from the Wing and Pizza in Motion yesterday, and Ed took a different approach. He said that they'd be renting the space anyway, that they can send the employees to the other part of the lounge if they're not busy, etc. Fair enough, though in reality I think these employees are fully dedicated to Flagship First Dining regardless of whether it's empty or full, though I could be wrong.
But even if they'd be renting that space anyway, airlines are full of bean counters, and presumably someone is allocating that cost to each passenger. With airlines accounting for the cost of every olive on a first class salad, you can bet they're also accounting for the cost of the space the facility takes up.
The reason the current model doesn't make sense to me
This is such a cool facility and American has really invested quite a bit in it, though at the same time onboard their first class seat is only marginally better than their business class seat on the 777-300ER. As far as the meal service goes, on the A321 the food is almost identical in first & business class.
In other words, they're investing almost nothing in differentiating first class from business class onboard. Yet at the same time they're investing a huge amount in a ground experience that not all first class passengers will even use. Could you imagine how much the onboard soft product could be improved if the per person cost of operating the Flagship First Dining were instead put into the onboard product?
The other question is how much this really changes consumer behavior. Between New York and Los Angeles American is the only airline with three cabin first class, so they get the entertainment contracts by default. For the entertainment folks I've flown with, a vast majority of them just want to sleep and aren't interested in eating, even on a daytime flight.
On other routes, how many people are actually paying for a first class ticket outright? Upgrades from business class are really easy, and I imagine many others flying first class are doing so with corporate contracts, and getting a steep discount, where they're not going to choose another airline.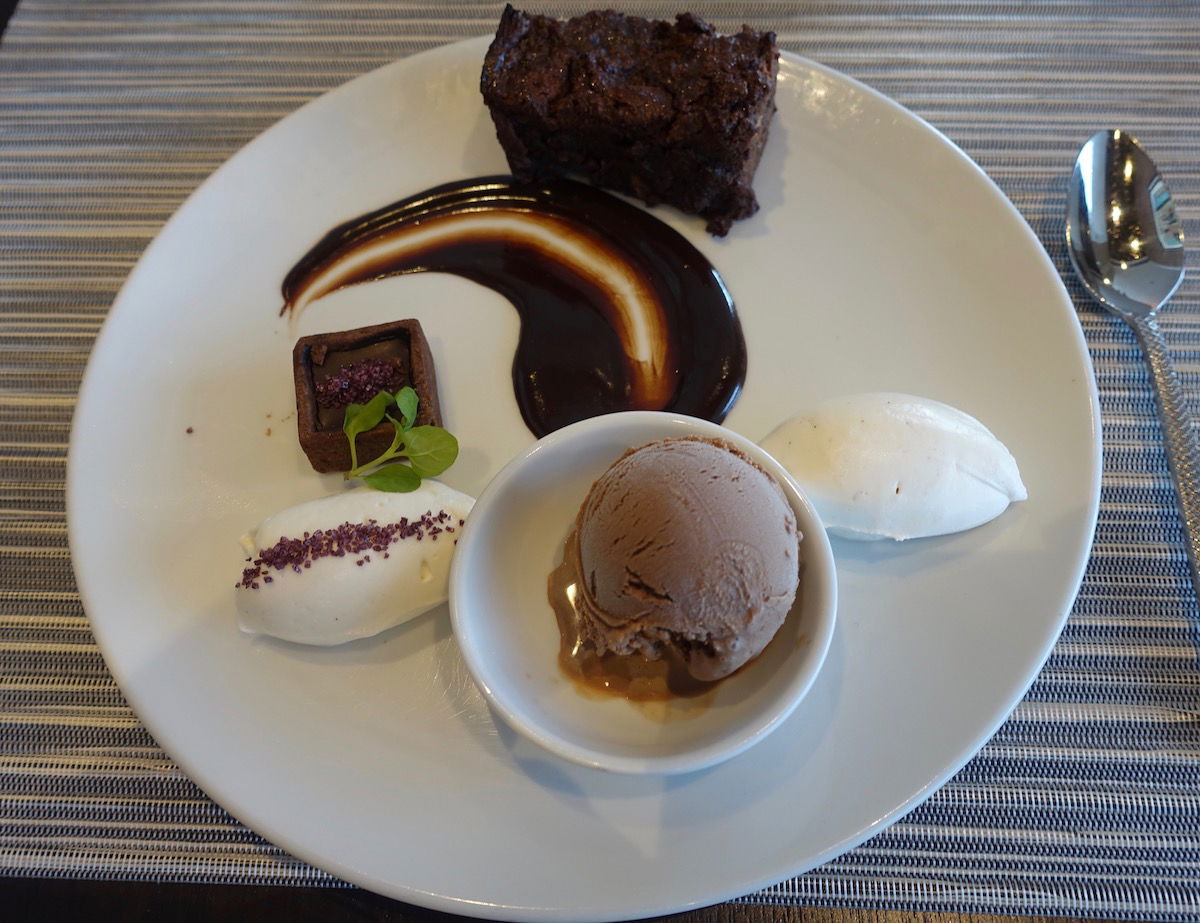 American's Flagship First Dining dessert
My prediction
As much as I love the current setup, I think American will eventually either abolish the Flagship First Dining concept, or expand it. Both of the times I've visited the lounge they've been mostly empty, and based on what I've heard that's the norm. While I love how tranquil the lounges are, it must be tough to justify the cost of operating them when so few people get access to them.
So I'm not sure which direction American will go, but my guess is that they'll eventually either get rid of Flagship Dining and fold it into the rest of the club, or otherwise expand entry requirements. I'm not sure what that would look like, though. There are too many Executive Platinum members to give them access, so maybe only Concierge Key members in business class? Or maybe they could sell it as an add-on? Who knows…
With American's current management team, and with their lack of commitment to first class otherwise, this concept just doesn't make sense to me.
What do you think — will American eventually make changes to their Flagship First Dining concept?