A few days ago I shared some tips for what a first timer should do in Hong Kong. It wasn't a comprehensive guide, but rather was intended with just a one or two day layover in mind. After all, Hong Kong is a city in which a lot of people have quick stopovers due to being booked on Cathay Pacific.
Some readers requested that I make a similar post about Dubai, given that it's a city I'm also quite familiar with. As a starting point, about a year ago I wrote a post about the UAE, entitled "Is It Safe To Travel To The UAE?" The post was intended to answer the questions I get the most from people traveling there, in particular when it comes to safety, sharing beds as a same sex or unmarried couple, etc.
I figured I'd write about some of the most popular things to do in Dubai, and also share my thoughts on them. I'm not saying this is a top 10 (or 11, as the case may be) list of things to do in Dubai, but rather that these are things to consider depending on what you're into.
Let me start by saying that I love Dubai for different reasons than other cities. In many ways Dubai is soulless. It lacks an identity. And chances are that the only Emirati you'll interact with will be at the immigration counter, while almost everyone else is from somewhere else.
It's really hard for me to put into words, but the lack of local "culture" makes Dubai so unique, and makes it unlike anywhere else in the world. When society is made up mostly of people from all over the world who are staying anywhere from a few days to a couple of decades, it just creates an interesting sub-culture which I haven't experienced anywhere else. In other words, the lack of culture becomes the culture, and I find that really special, in a way.
I know many people hate Dubai, and I totally understand why, and respect it. For me, Dubai can best be described as intriguing. There's something about the energy of the city which keeps me wanting to come back.
If you haven't yet seen it, here's an awesome flow motion video of Dubai:
With that in mind, Dubai is all about the best, biggest, and most expensive, so let's talk about some of the popular things to do in Dubai.
1. Shop at the Dubai Mall
Dubai is all about having the biggest of everything, and the Dubai Mall is the perfect example of that, as it's the world's largest mall.
It has all kinds of shops and restaurants, from low end to high end. I'm especially amused by the restaurant selection, as you'll find everything from Cheesecake Factory to Texas Roadhouse to Red Lobster.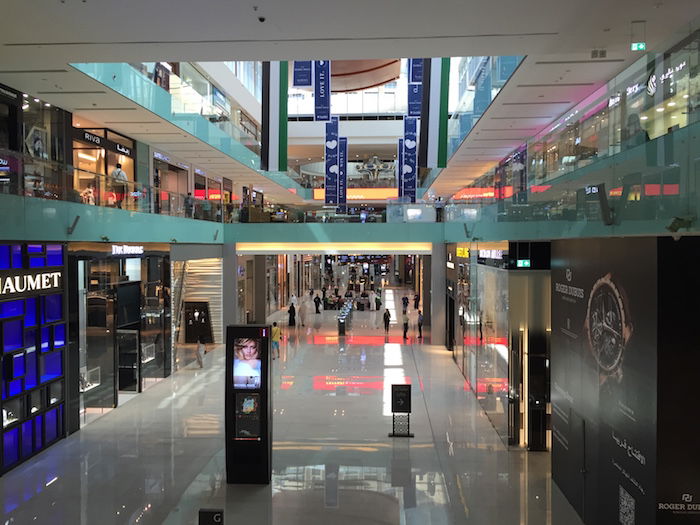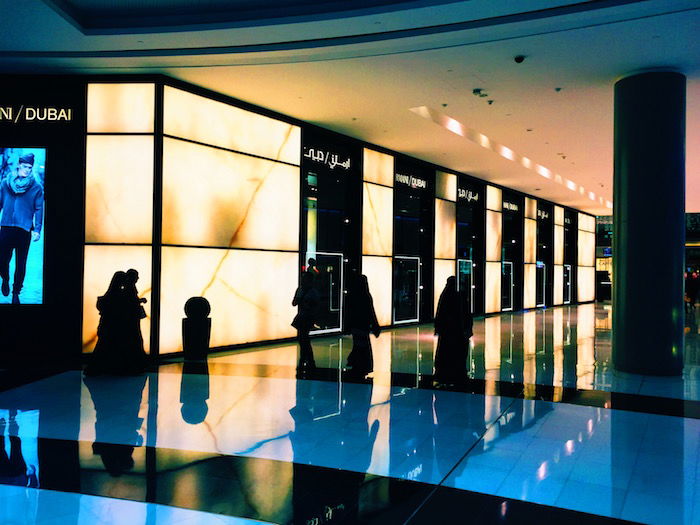 But the mall doesn't just have shopping. It also has an aquarium, ice rink, and more.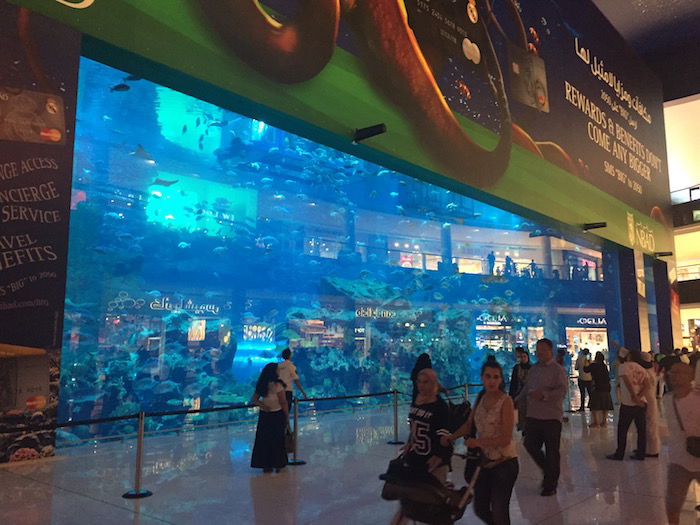 As an aviation geek be sure you stop at the Emirates store, or check out the Emirates A380 simulator.
I think this mall isn't quite as high end as many expect when first visiting, and the extent of the "wow" factor is its sheer size. That being said, shopping is a favorite pastime for people in Dubai, and there's nowhere that's more evident than at the Dubai Mall, as you'll see just about everyone there.
I'm not into shopping, but I'll gladly plop down at Starbucks or Tim Horton's and just people watch for a couple of hours.
2. Watch the fountain show at the Dubai Mall
Across from the Dubai Mall and right under the Burj Khalifa is The Dubai Fountain, which is the world's largest "dancing" fountain show. It's modeled after the fountains at The Bellagio Las Vegas, except it's significantly more impressive.
In the evenings the show takes place every 30 minutes, and there's a different song every time, so it can be fun to stick around for a few shows.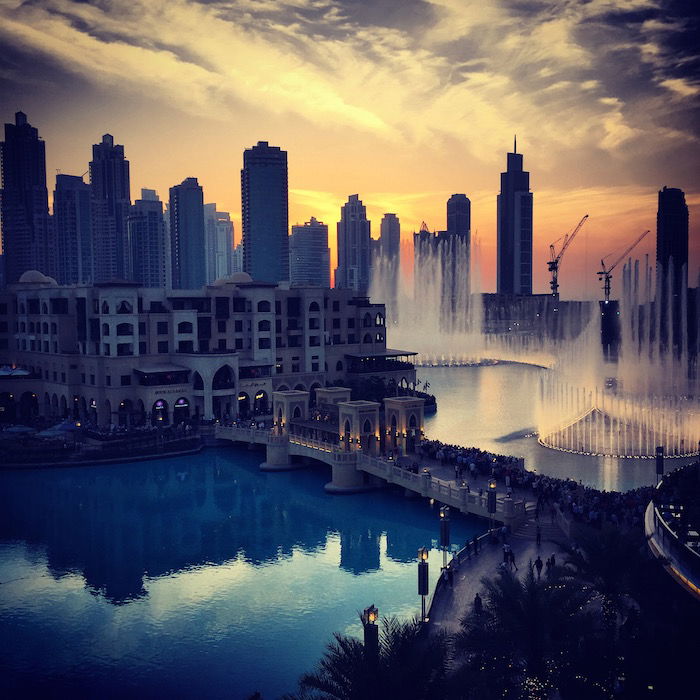 3. Have the world's most extravagant afternoon tea
Dubai's glitz and glam is perhaps most evident at the Burj Al Arab, the world's self proclaimed seven star hotel. However, you can't actually visit the hotel unless you're either staying there or have a reservation at one of their restaurants.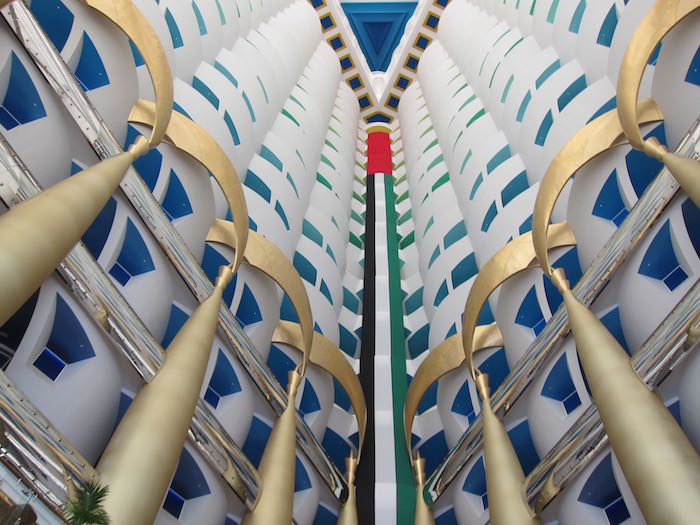 I think the best option for visiting the Burj Al Arab is to book their seven course afternoon tea at the Skyview Bar, which is exquisite. It's once in a lifetime and you'll absolutely be blown away, I guarantee it. The views are pretty fantastic from the Skyview Bar as well.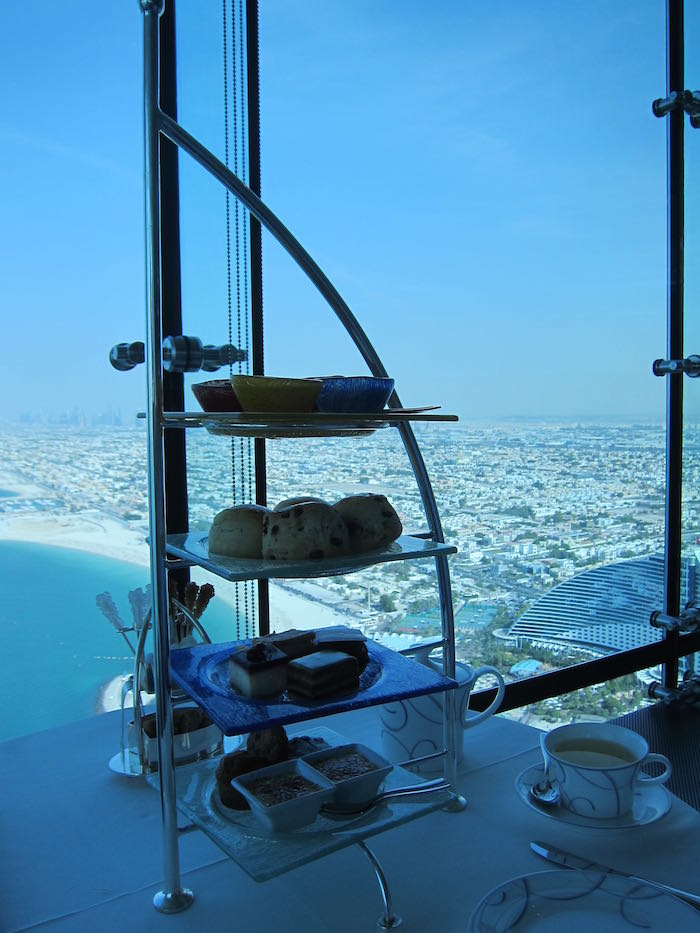 4. Visit The Palm
The Palm Jumeirah is a massive man made island. At the very end of it is The Atlantis, which I wouldn't recommend staying at, but it is worth visiting. Atlantis has some great restaurants, so it could be worth having dinner there one night. Either way, I highly recommend taking the monorail from one end of The Palm to the other. You can drive as well, but the monorail is much more fun, as it gives you a top-down view of how the island is formed.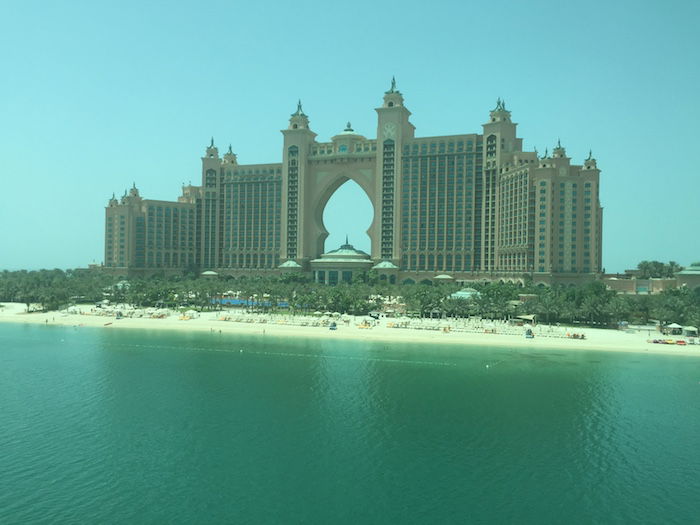 5. Go to the top of the Burj Khalifa
The Burj Khalifa is the world's tallest building, so a lot of people want to go to to the top.
There are two observation decks — one on the 125th floor, and one on the 148th floor. The naming seems a bit off to me, because they call the deck on the 124th-125th floor "At The Top."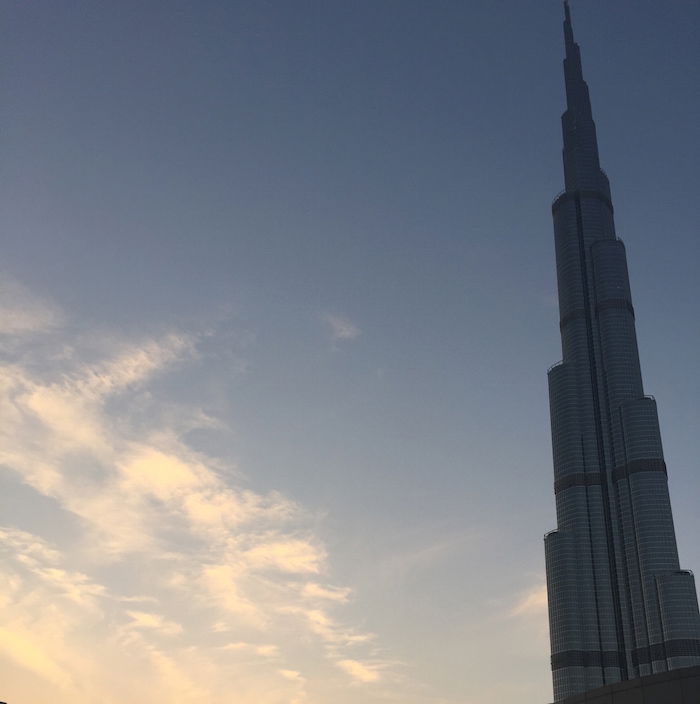 Perhaps some will disagree with me, but I actually think it's not worth paying to go up the Burj Khalifa. While the building itself is impressive, the Dubai skyline really isn't, so you'll mostly just see sand in all directions. This isn't like getting a bird's eye view of London or New York.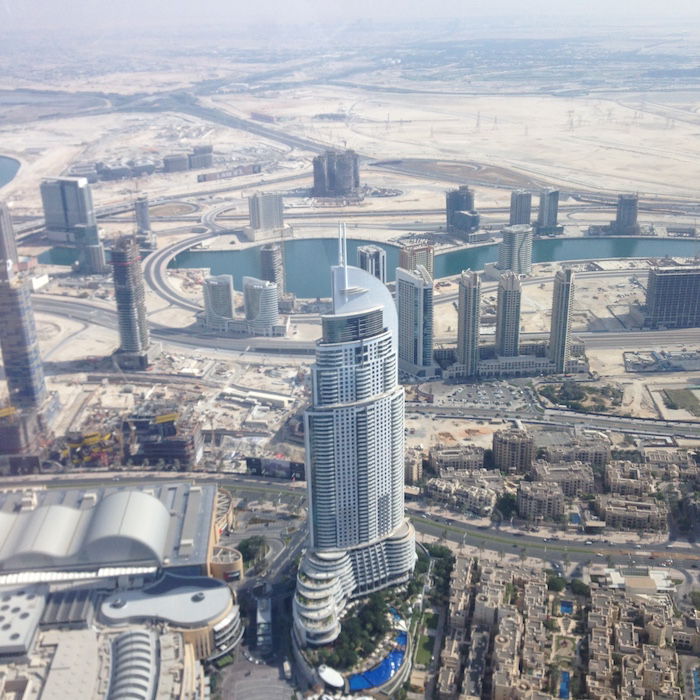 If you do want to go up the Burj Khalifa, I would recommend considering going to one of the restaurants at the top instead. They're expensive, but when you factor in that you're saving the cost of the admission ticket and are getting a fantastic meal, I think it's worth it. I've reviewed lunch at the Burj Khalifa, while Tiffany has reviewed afternoon tea at the Burj Khalifa.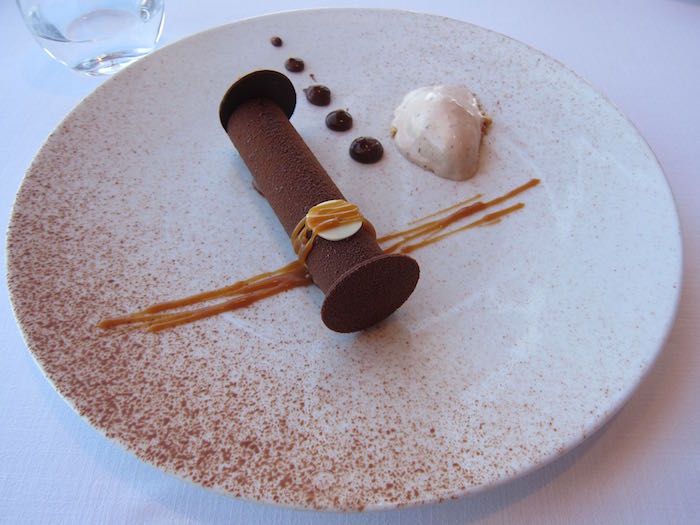 6. Visit a beach (& beach bar)
Dubai has some fairly nice beaches, and most days they aren't overrun. This probably isn't an ideal activity in summer, though, when it can be 110+ degrees.
I'm not much of a beach person, but I am a beach bar person. If you want to experience a slightly less reserved side of Dubai, go to Le Meridien Mina Seyahi Beach Resort, which is popular with ex-pats, and especially with Emirates crew.
Check out Barasti, the beach bar at the hotel. It's nicknamed "Bar Nasty," and for good reason. It's certainly not the most refined beach bar in the world, but it will give you a different impression which will make you think you're in Ibiza rather than Dubai.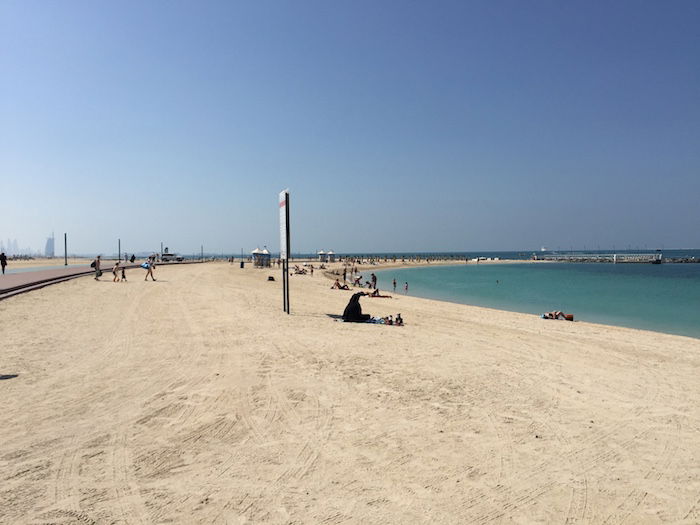 7. Take in the views from Souk Madinat Jumeirah
Madinat Jumeirah is one of the better hotels in Dubai, and it has an artificial souk attached to it. The outdoor area is beautiful, and boasts great views of the Burj Al Arab. So while you can't enter the hotel area itself, the souk area is quite nice to look at, even if it's artificial.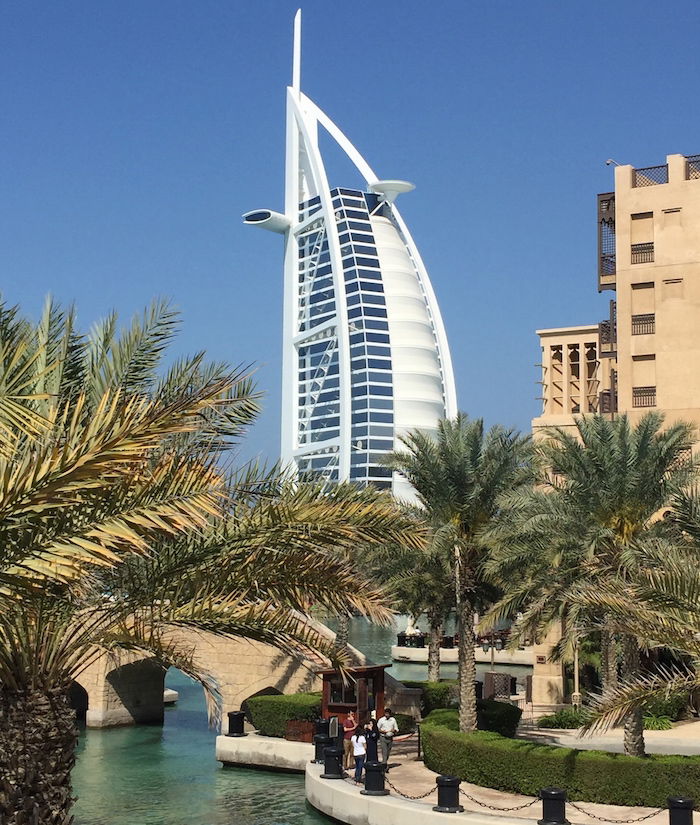 8. Visit Old Dubai
While much of Dubai is glitzy and over the top, Old Dubai still offers some authentic charm. You can walk along the harbor and look at all the old trading boats.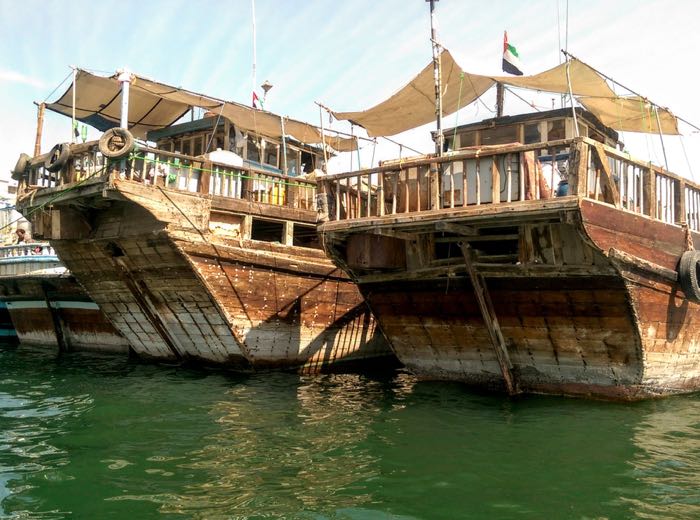 Then there's also a souk with both gold and spices.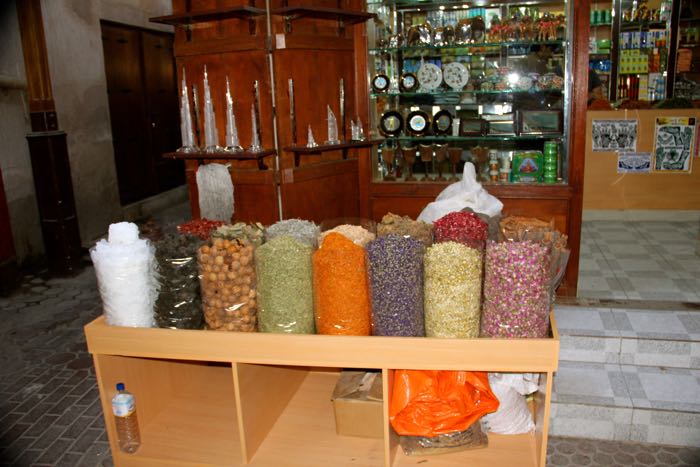 The sales people are really pushy in this area, so avoid making eye contact or lingering for too long if you don't want to buy anything, or else you may be harassed a bit.
9. Ski in the Mall of the Emirates
The Mall of the Emirates is the other major mall in Dubai, and its claim to fame is that it has an indoor ski slope. It's not every day you get to ski when it's intolerably hot outside! I skied for my first time ever at Ski Dubai, and had a great time despite how much I sucked at it.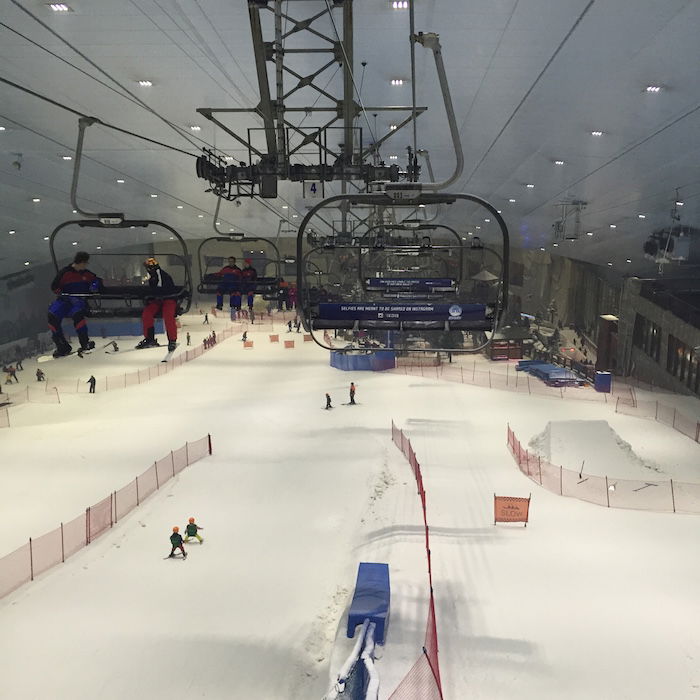 If you don't actually want to ski, there's a Lebanese restaurant in the mall with great views of the ski slopes, which is a decent alternative.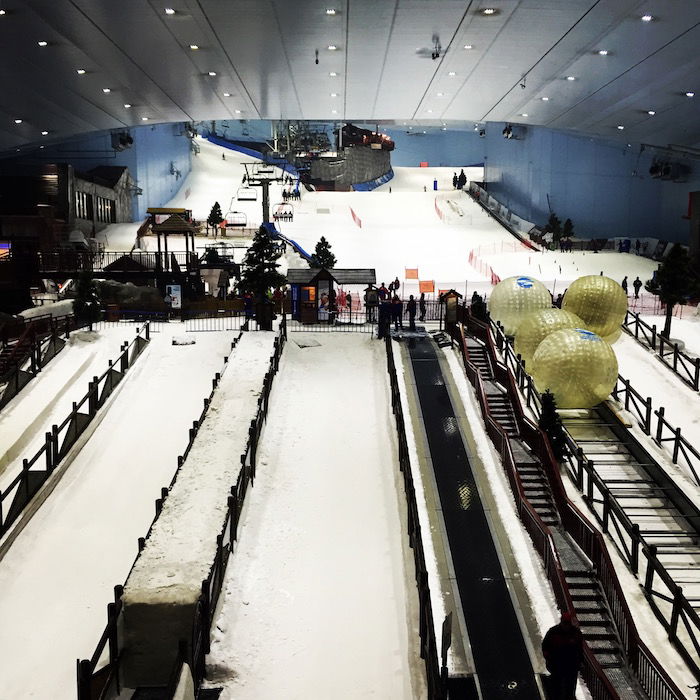 Otherwise you can pay just to take the ski lift without actually skiing, though I should note that you still have to get all suited up and need to queue, so it's not a quick process.
10. Go dune bashing
No trip to the desert is complete without dune bashing. There are all kinds of tour companies which will pick you up at your hotel, take you dune bashing, and then drive you back. Most of the dunes are about 45 minutes out of Dubai.
Dune bashing is so fun. Most dune bashing happens around sunset, and then there's a (touristy) dinner included as well.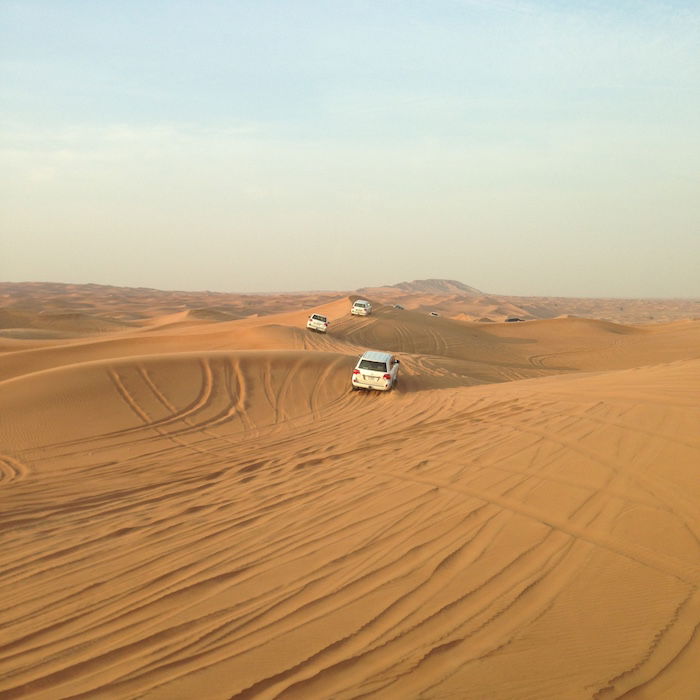 11. Plan a day trip to Abu Dhabi
Dubai and Abu Dhabi are only about an hour drive apart, and it's an easy drive at that. But the cities are very different. While Dubai is all about glitz and glam (though Abu Dhabi is trying to catch up on that front), Abu Dhabi has some great cultural activities.
Visiting the Sheikh Zayed Mosque is a must, as it's gorgeous.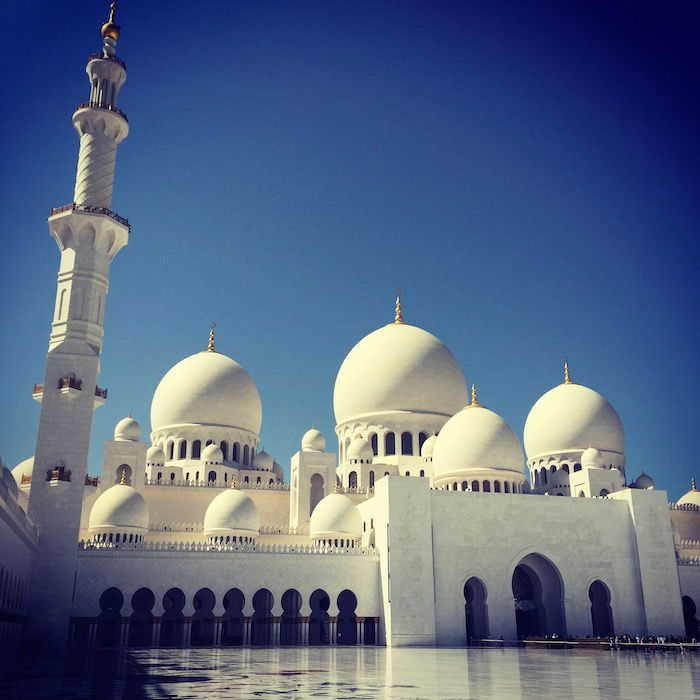 I also recommend visiting the Emirates Palace, which is a really impressive hotel with over a dozen great restaurants.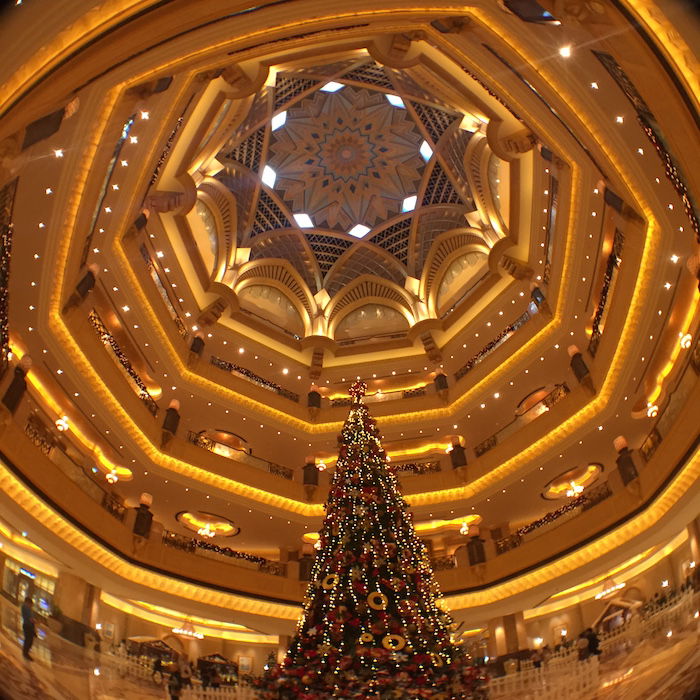 If you're into amusement parks, Ferrari World is worth checking out as well.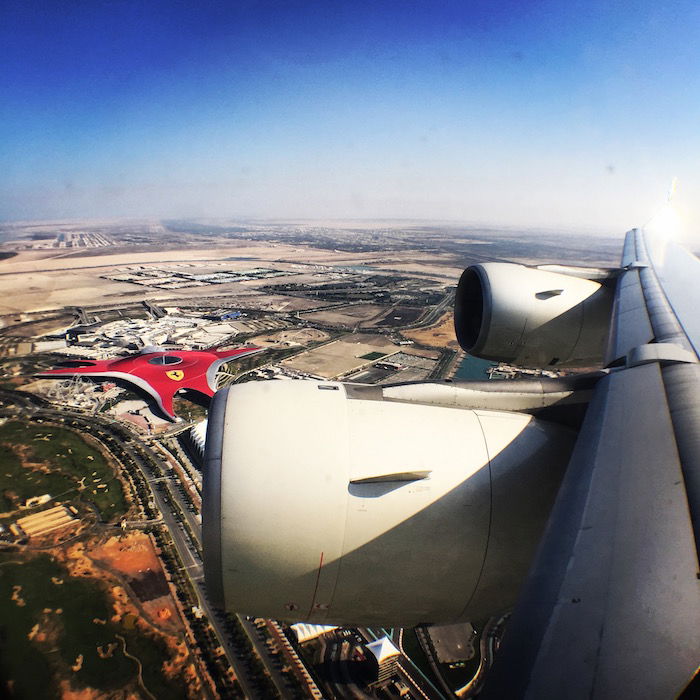 Bottom line
I tend to view Dubai as a pretty polarizing city — people either love or hate it. Regardless, I think everywhere in the world is worth trying to see at least once, and Dubai is no exception. I know a lot of people like redeeming Alaska miles for travel in Emirates first class, and Alaska allows stopovers on one way awards.
So I'd encourage everyone to spend at least 2-3 days in Dubai to get a sense of the place, and then you can always return if it intrigues you.
Anyone have any other tips for Dubai?