I'll be the first to admit I'm not the most physically coordinated person out there. The only reason I'd ever turn on ESPN is to watch the spelling bee, or perhaps curling. Other than that, I'll pass.
I've been to Dubai a countless number of times, and have always marveled at Ski Dubai, which is the indoor ski slope inside Mall Of The Emirates. Much like the rest of Dubai, the concept of the ski slope seems like it's style over substance, but then again, it's at least pretty cool. There's something awesome about being in a winter wonderland when it's over 100 degrees outside.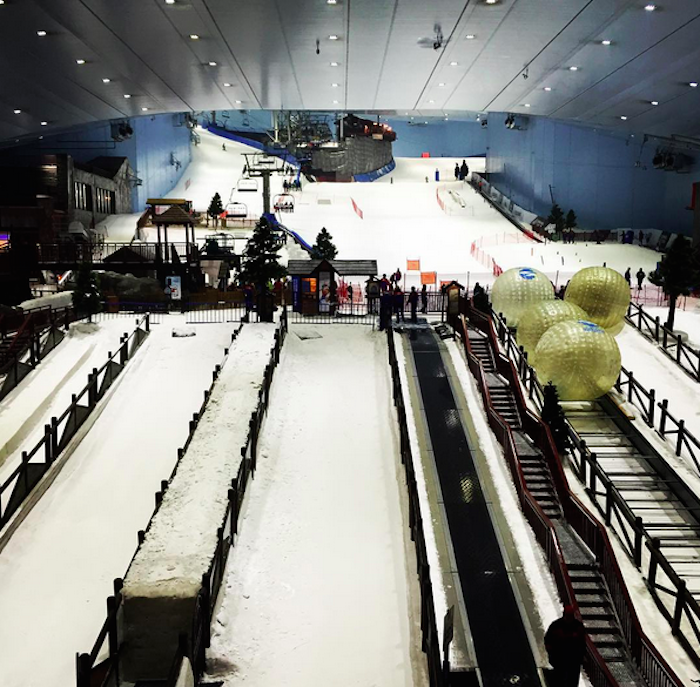 So I took Ford to Mall Of The Emirates on Friday, and he decided we should ski. The price actually isn't half bad — they charge 200AED (~$54) for two hours on the slopes, and that includes all the gear.
Ford thought it sounded like fun, and for that matter he has skied many times before. So who was I to say no? There's only one issue — I've never skied before. I told Ford I was scared of making a fool of myself, though he assured me it would be fun. After all these are tiny slopes, and as he explained it, by putting my skis in a "pizza" shape, nothing could possibly go wrong.
I was sold!
So we headed to the ski slopes at around 11AM. While we had two hours of skiing, the process leading up to skiing took about an hour, as we got suited up.
I actually felt at ease as a result of this, because I saw huge groups of tourists getting suited up as well. I figured at least I wouldn't be alone in not being an experienced skier. Beyond that, there were really young kids getting suited up as well.
There's a chairlift which takes you to one of two "stations." You can either start halfway up, or otherwise can start at the very top.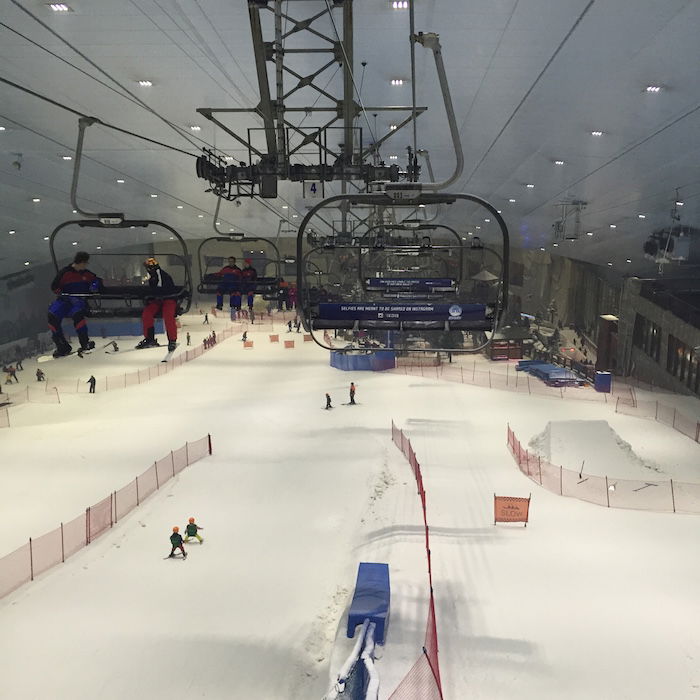 Since it was my first time skiing, we started halfway up. I was feeling pretty good while on the ski lift looking down.
Not a single person had fallen, and there was even a group of four kids who must have been 6-7 years old at most, who were killing it.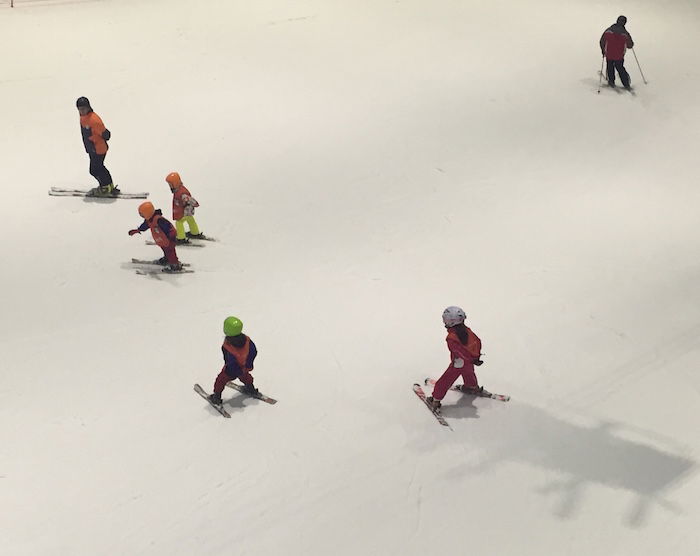 We got to the halfway point, and I was still sort of nervous. Ford assured me everything would be fine, and showed me how to make the "pizza" motion with my skis, which would slow me down. Since I was scared, I said I wanted to watch him go down once, and then I'd go down with him the second time.
He agreed, and off he went. A minute later he made it to the bottom. Given how easy it looked, I figured I'd impress him by going on my own. What could possibly go wrong?
I skied for roughly six seconds before I fell flat on my ass.
What proceeded was several minutes where I could have used one of those Life Alert monitors:
It's great that Ford taught me the basics of skiing, but he didn't teach me the basics of getting up after falling from skiing. Which if you're as uncoordinated as I am, is probably more valuable.
After probably three minutes of trying to muster up the power to stand up, I finally made it. Only my skis were facing forward, so about two seconds after I was up I fell again. Crap!
Long story short, I fell a total of six times on the way down. I'd actually say I covered more distance on my rear than on my skis.
At this point I was feeling really discouraged and borderline humiliated, but Ford assured me it was a one-off, and that I'd do better next time!
So we went to the halfway point again, and this time Ford went down with me. Which was great, except for the fact that I fell five seconds after starting to ski again.
On the plus side, I only fell four times on my way down this time. I think Ford's emotions were somewhere between laughing at me and feeling badly for me.
At this point I decided I was done skiing, and would instead limit my activity to using the lift. I figured I'd take the ski lift to the top and then back down, so that Ford could ski from the top. Sitting on the ski lift the entire time seemed more fun than waiting for him at the bottom of the slope.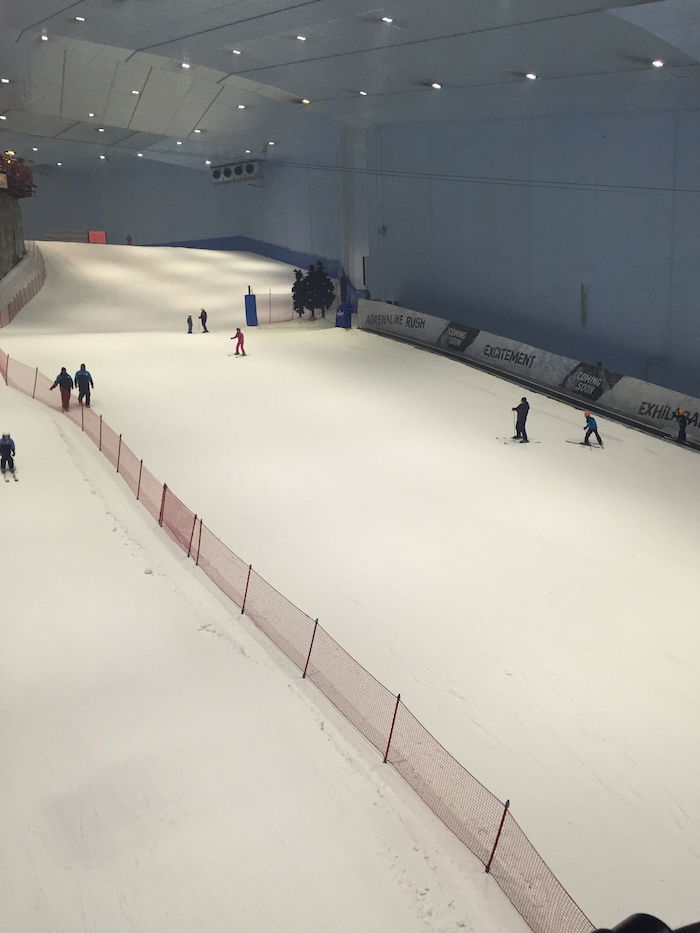 So we got to the very top, and Ford got off while I stayed on. The chairlift operator yelled at me and said I should get off. I figured he was confused, and assumed he thought I wanted to ski from the top but missed the "exit." I said "oh no, I want to stay on, that's fine." So then he proceeded to stop the entire chairlift system to offload me, since apparently you're not allowed to take the lift down with skis on. Oops!
Here's the conversation that followed:
"You have to get off here. You can't take the chairlift down."
"I'd really prefer to take the chairlift down, though."
"You can't take the chairlift down with your skis."
"But I don't really know how to ski."
"What do you mean? You have skis on."
"Yeah… and I'm discovering I really don't know how to ski."
Apparently I had to wear "normal" shoes on the way down, only they didn't have any extras in my size at the top. So then I had to stand there for 20 minutes waiting while someone else working there had to bring up a set of shoes.
That's the point at which it all made sense to me. The hundreds of (mostly) Chinese and Indian guests in tour groups weren't actually skiing, but had just paid to ride the lift around. They didn't have skis on, but rather just shoes. Had I known that from the beginning, I might not have skied… and might not have been so confident in being able to do it all.
Bottom line
That was my first (and probably last) time skiing. I'm happy to go on another skiing adventure, though next time I'll sit in the lodge sipping a hot, spiked beverage in front of the fireplace, while whomever I'm with can ski.
My ass is still sore from the number of times I fell, even four days later.
On the plus side, Ford had a nice time… I think.