---
After arriving from San Francisco I headed straight for the Flagship Lounge, which is located inside the Admirals Club. The Flagship Lounge at LAX is definitely my favorite Flagship Lounge, and among my favorite first class lounges in the US (not my favorite, but it ranks up there). I've reviewed the lounge in the past, so if you're interested in reading more about it I suggest checking out my previous report.
Since it was still early I decided to have breakfast. The spread was pretty good, consisting of scrambled eggs, hash browns, fruit, yogurt, cereal, and nuts).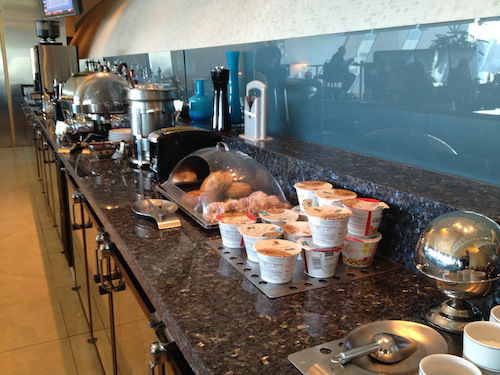 Breakfast spread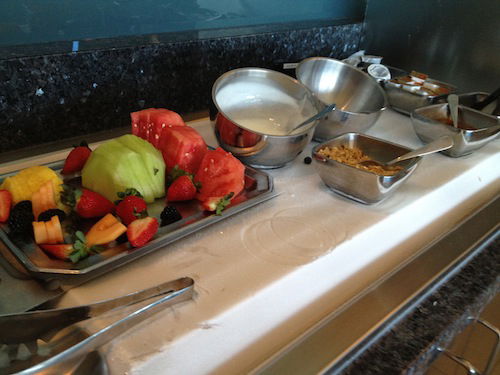 Breakfast spread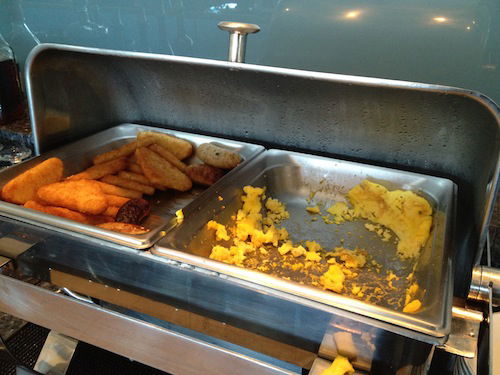 Breakfast spread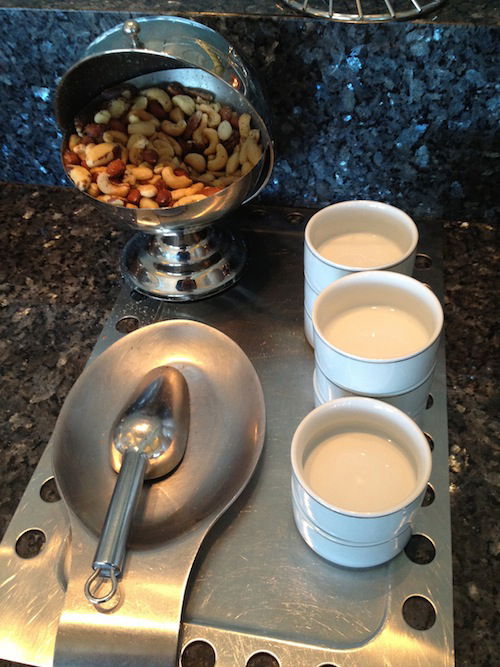 Nuts
After breakfast I spent a couple of hours getting caught up on work before boarding was called for Shanghai.
I got to the gate at around 1:30PM, only to find the flight just about fully boarded, meaning the line in the jet bridge was pretty long.
American 183
Los Angeles (LAX) – Shanghai (PVG)
Thursday, January 26
Depart: 1:55PM
Arrive: 7:45PM (+1 day)
Duration: 13hr50min
Aircraft: Boeing 777
Seat: 12B (Business Class)
Once aboard I was welcomed by a younger Chinese flight attendant. It quickly became apparent that there was a massive seniority gap between the language qualified flight attendants and the non-language qualified flight attendants, probably of over 30 years. I settled into my seat in row 12, and as boarding finished up business class was only about 30% full, meaning I had two seats to myself, which is awesome (I prefer sleeping in window seats, but don't like climbing over someone in the aisle).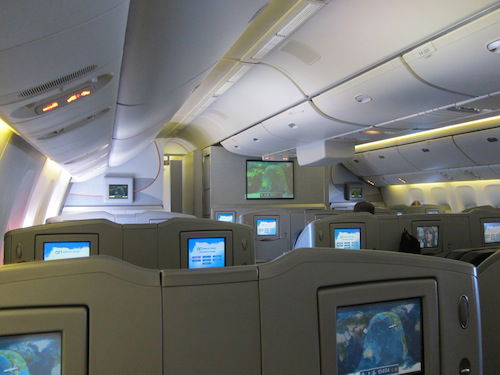 Cabin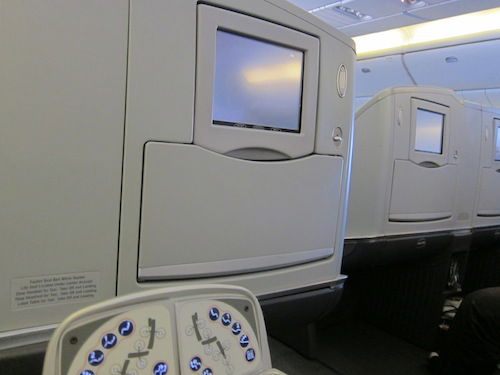 Entertainment system
Within minutes of settling in I was offered a menu and pre-departure beverage, and ordered champagne. As it turned out the language qualified flight attendant was working my aisle, and she was incredibly friendly, one of the best flight attendants I've had in a long time.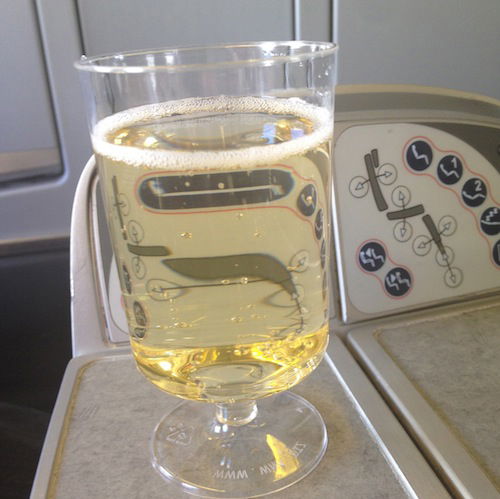 Champagne
Before pushback the captain came on the PA to advise us of our flight time of 14hr10min, about an hour longer than usual due to strong headwinds. As a result he was anticipating a late arrival despite an early departure. Since I didn't have a connection I couldn't care less.
After that the purser made her welcome aboard announcement. While the crew was one of the nicest I've had in a very long time, the purser's voice damn near drove me crazy. Like many pursers, she has one of those voices that's best for either teaching a baby to speak a foreign language or getting them to sleep. If she spoke any slower or enunciated any more, she could have just spelled out each word letter by letter.
We had a quick taxi to runway 25R, and I managed to spot the sexiest plane in the world on the way — the "all black" Air New Zealand 777.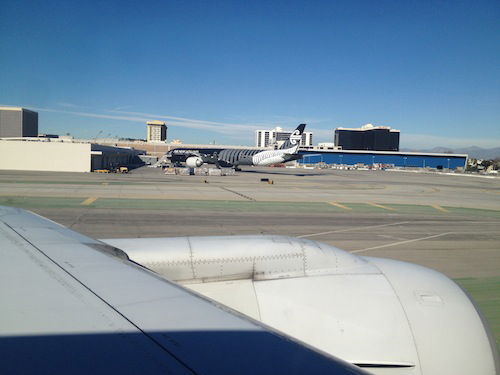 Air New Zealand "all black" 777
Once at the runway we were airborne within minutes.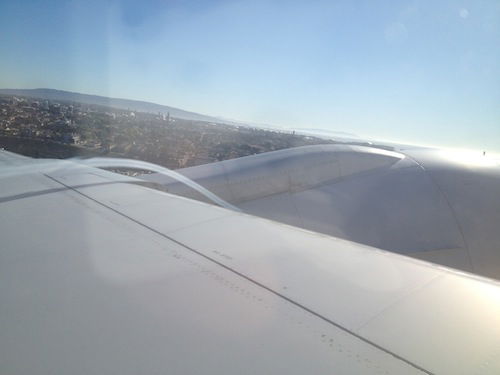 View on climb out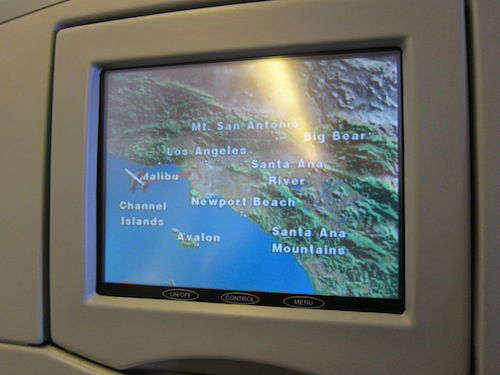 Airshow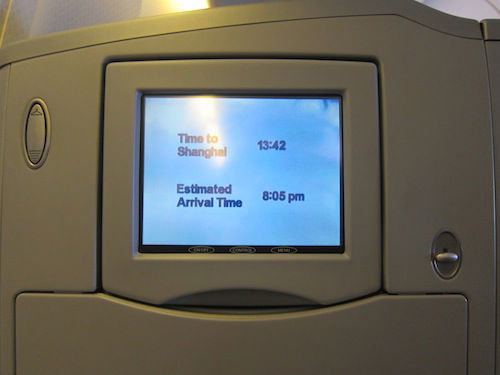 Bleh!
As soon as we climbed through 30,000 feet the seatbelt sign was turned off and crew sprung into action, starting with distributing Bose noise cancelling headphones.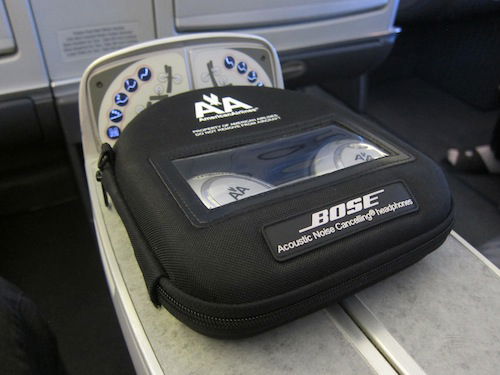 Headphones
Shortly thereafter the meal service started. Thanks to the light load the crew was efficient, so within about 30 minutes of takeoff we were already being fed. The menu read as follows: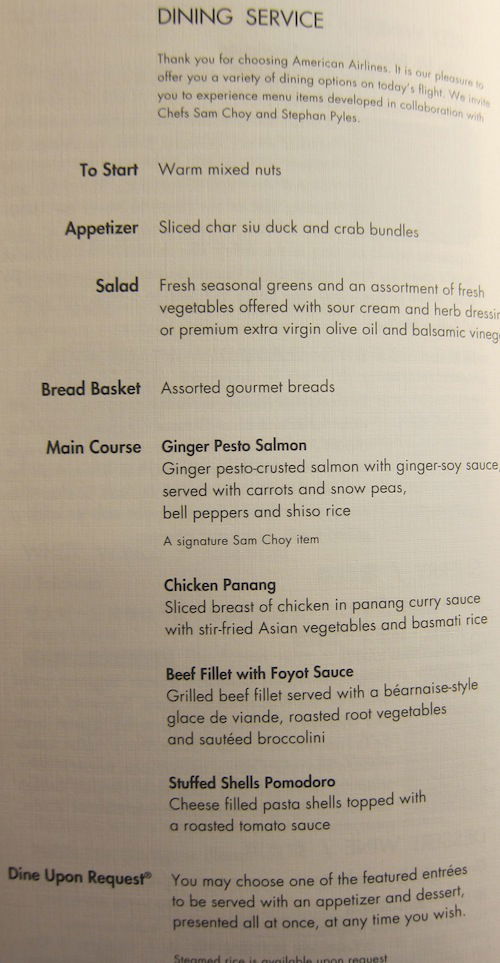 And for my resident sommelier, AUSTEX, here's the wine list: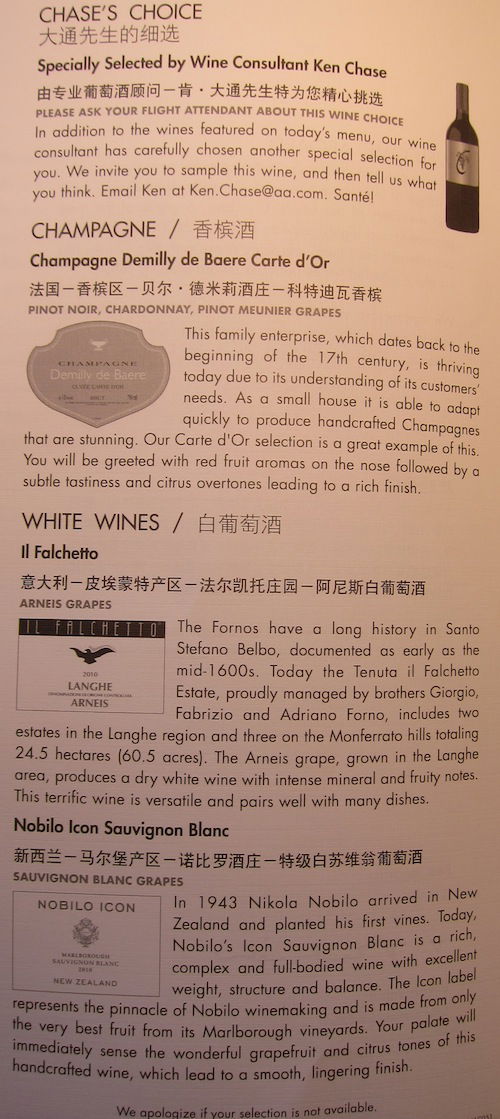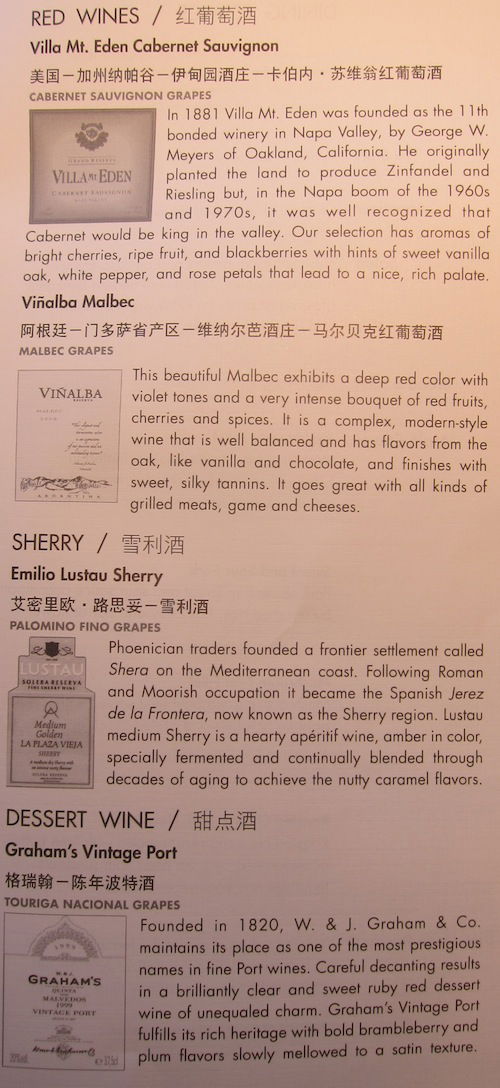 Service started with nuts and drinks. I went with a… okay, I don't really don't need to mention it. Nut refills were offered multiple times, though I wasn't feeling all that nutty today.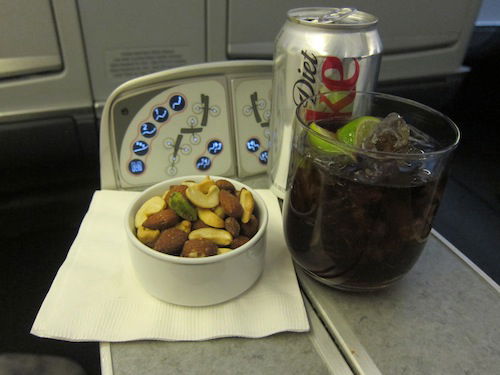 Diet Coke with lime and nuts
The appetizer and salad tray was soon served, consisting of duck and crab.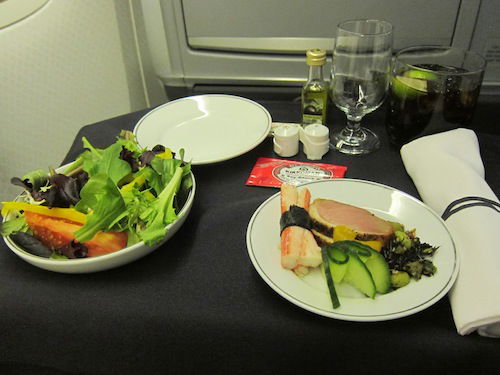 Salad and appetizer
For the main course I went with the ginger pesto salmon, which was surprisingly delicious.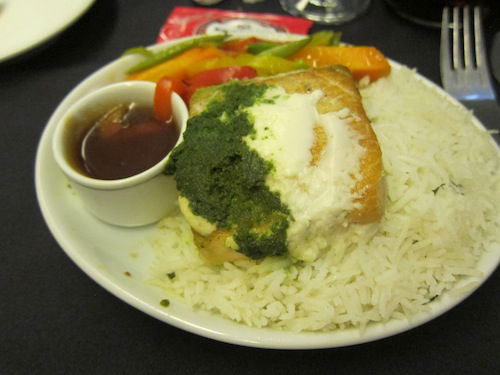 Main course
Then for dessert I went with the ice cream. I really do prefer the sundaes in business class on the 767s, though I'm not complaining because cookies and cream ice cream is pretty delicious too.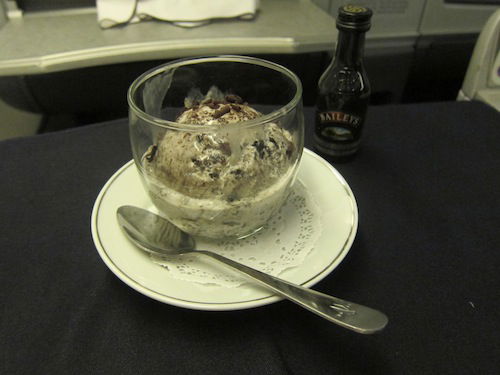 Ice cream
I do have to say the service was phenomenal. The flight attendant working my aisle couldn't have been any more attentive or sincere, and could easily compete with the best of 'em.
After lunch I watched a few sitcoms, and then decided to get some work done on my laptop. Before I knew it we were approaching the International Date Line, where we hit a bit of turbulence (yes, turbulence, not chop). It went on for about 20 minutes, and then the air smoothed out a bit again.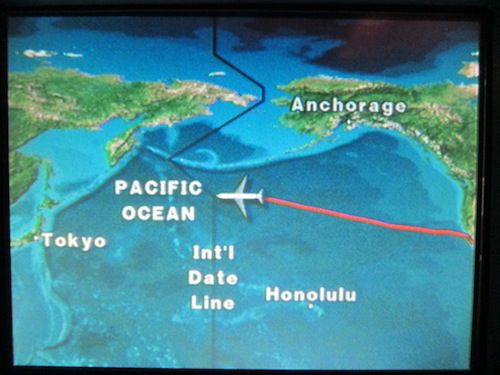 Airshow
I then decided to watch a movie, and decided on "What's Your Number." It was entertaining enough…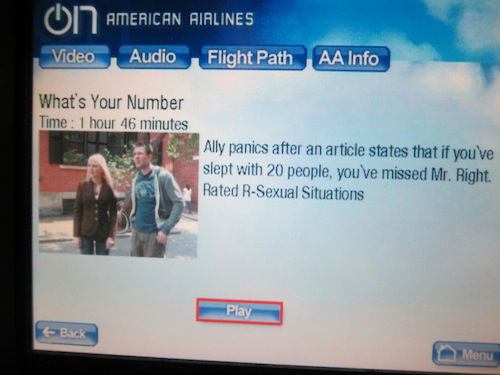 Movie
The mid-flight snack was served during the movie, with the following choices: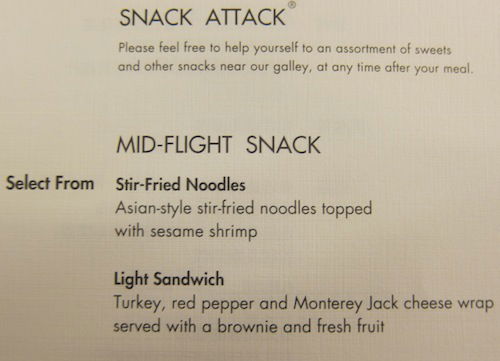 I went with the stir-fried noodles, which was delicious, though the portion was tiny.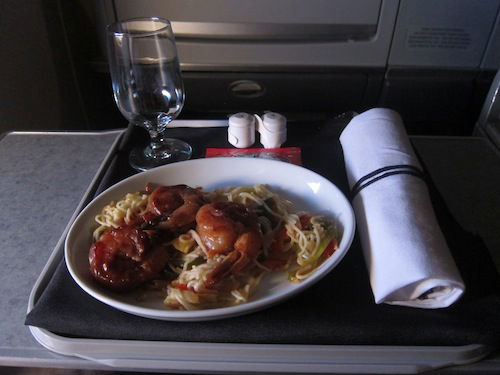 Mid-flight snack
I also got a cheese plate from the "snack attack" cart, which I think was left over from the main meal service.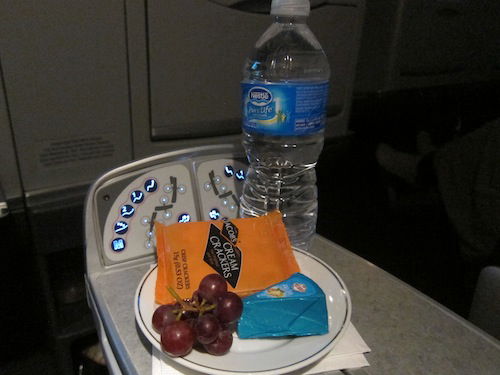 Cheese and crackers
After that I decided to get some shut eye, and woke up as we approached Japan.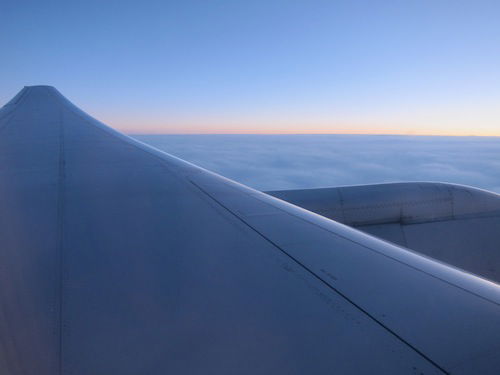 View out the window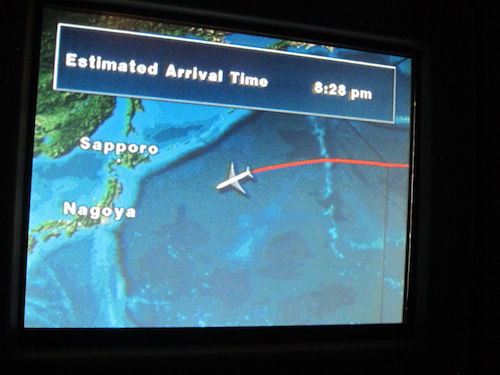 Airshow
I was surprised that we literally flew directly over Tokyo.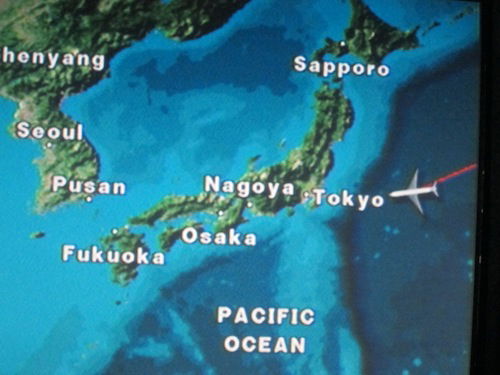 Airshow
About 90 minutes before arrival the pre-arrival meal was served, with the following choices: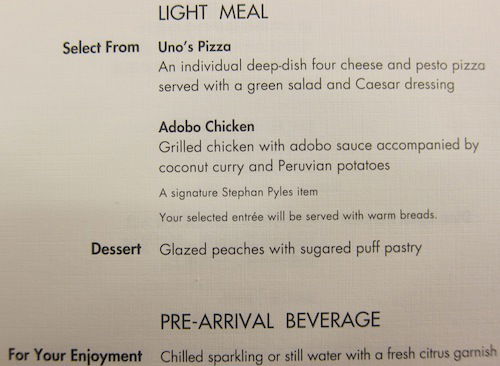 I ordered the pizza, which was good as usual.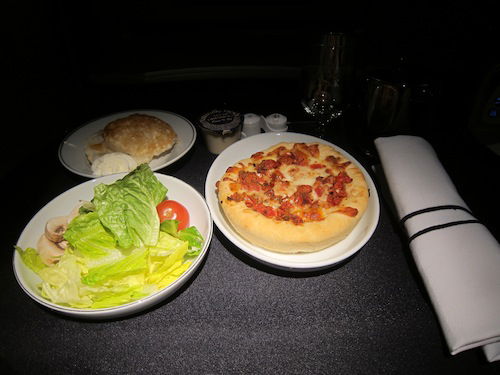 Pre-arrival meal
About 30 minutes out the captain came on the PA to advise us we'd be beginning our descent and that the seatbelt sign would be turning on shortly. After a "firm" landing (am I the only one that notices that American pilots consistently have "firmer" landings than the competition?) and a quick taxi we made it to our gate, parking right next to an Emirates Airbus 380.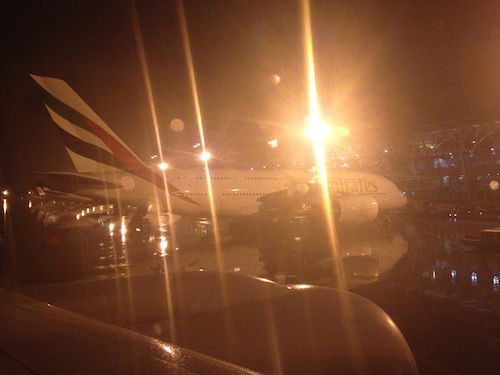 Reaching our parking position
Immigration queues were virtually non-existent, so within 15 minutes of landing I found myself in a cab bound for the Park Hyatt.