---
I took the Maglev to the airport from Longyang Station,which takes about seven minutes at a maximum speed of 431 kilometers per hour (to the best of my knowledge it's the world's fastest train). While I think it's more practical to just take a cab to the airport, there's something fun about going 431 kilometers per hour.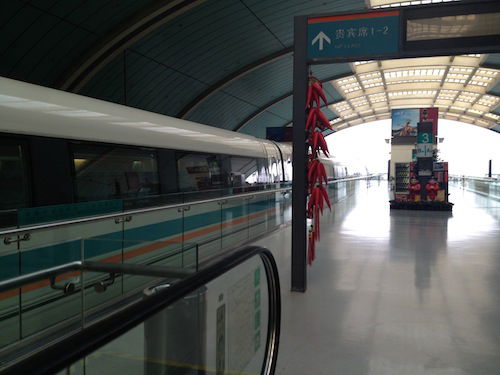 Maglev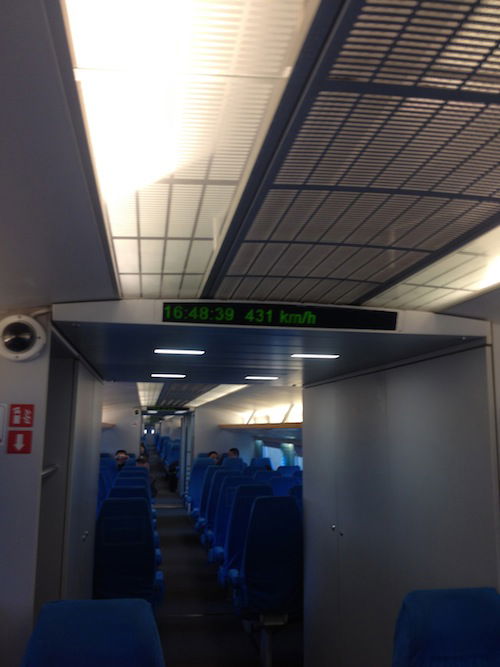 At our maximum speed
I made it to the airport around 5:45PM, right as check-in opened for my flight to Los Angeles. I waited in the first class queue and despite being the first person in line, the passenger being helped was taking forever.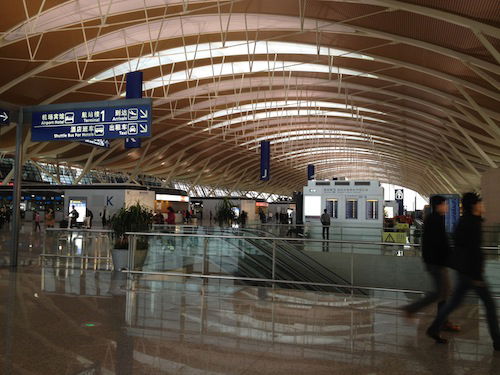 Terminal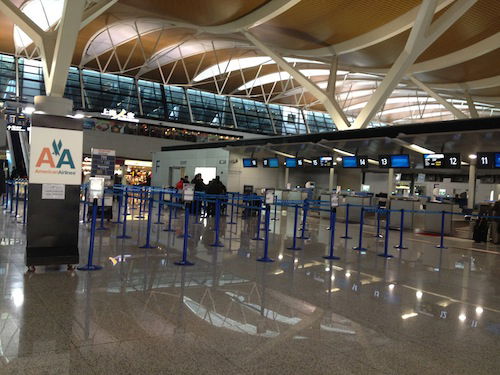 American check-in
The agent that checked me in nearly had a heart attack after five boarding passes printed out for my journey (Shanghai to Los Angeles to San Francisco to New York to Miami to Tampa). He simply had a confused look and said "I've never seen this many before."
I headed straight for immigration and security, which was a painless process. From there I went to the Cathay Pacific lounge located near gate D68, which unfortunately doesn't have a first class section (which I would have been entitled to use as a OneWorld Emerald). Like most lounges at Shanghai Airport it's "open air" and on the second level of the terminal, so you hear all the boarding announcements, unfortunately.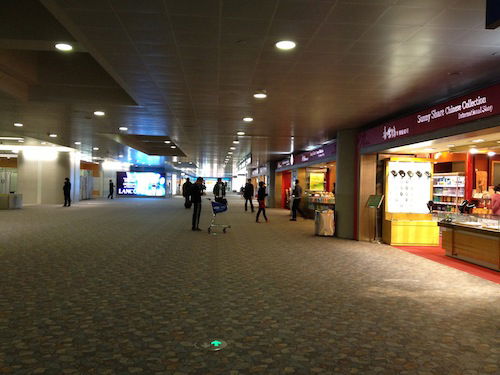 Terminal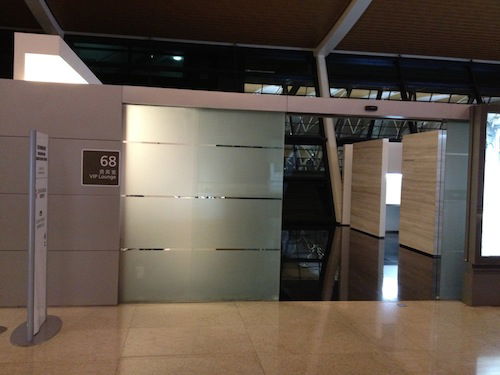 Cathay Pacific lounge entrance
The lounge was fairly empty and featured plenty of seating, though was unmemorable.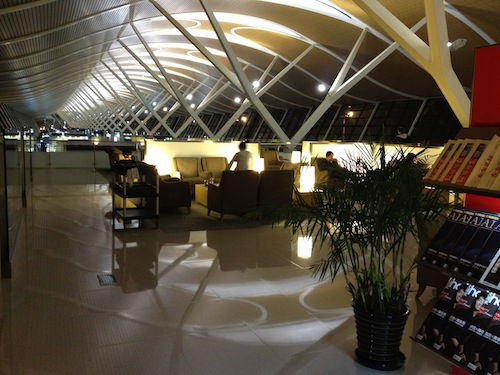 Cathay Pacific lounge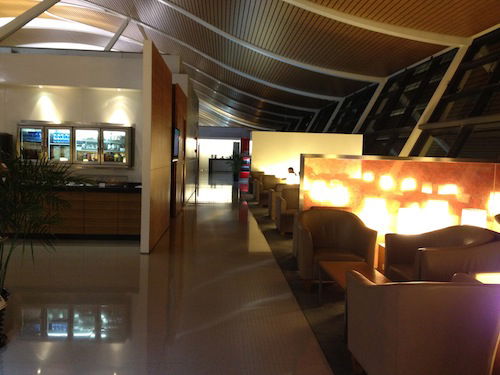 Cathay Pacific lounge
The snack selection was fairly limited, consisting mostly of cookies, finger sandwiches, chips, some dim sum, etc.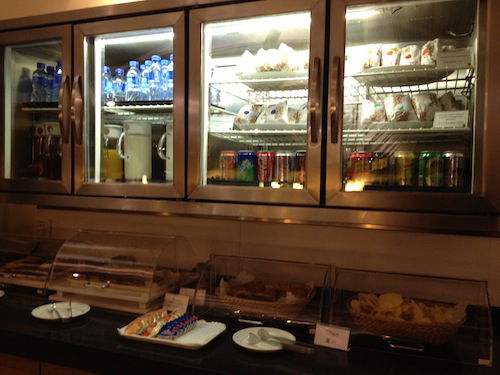 Snack selection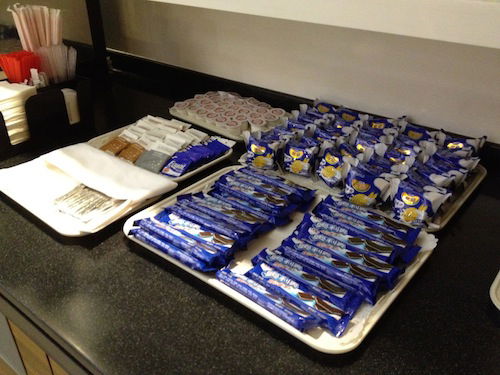 Snack selection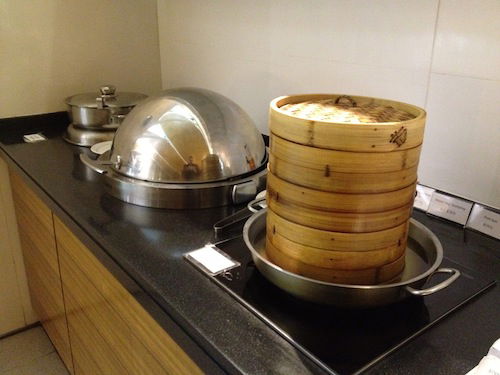 Snack selection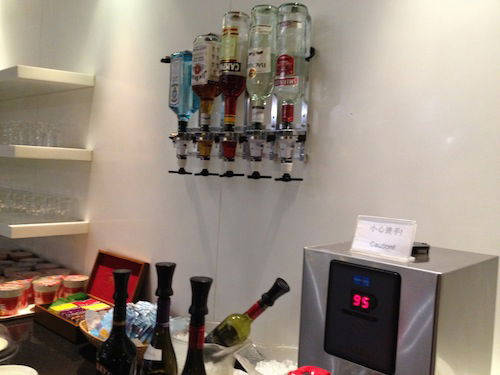 Snack selection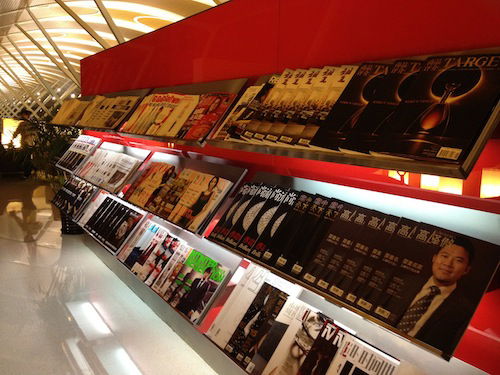 Magazine selection
Boarding started right on time at 9:05PM at gate D71 with first and business class.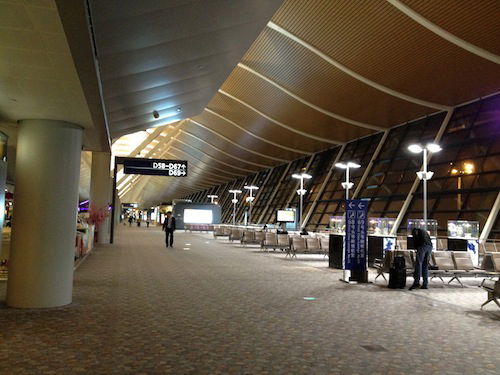 Terminal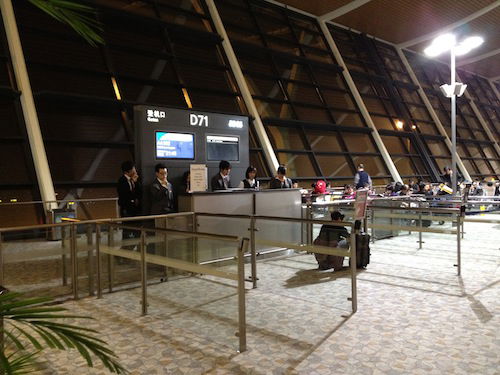 Gate D71
Once my boarding pass was verified there was an agent on the jet bridge checking passports, and then several agents doing "security checks," which everyone had to go through. I'm used to these in other countries where they actually search your bags (I mean, that would at least add some theoretical layer of security), but here they simply asked "where are your liquids?" I opened my bag and pointed to them, and they said "okay, thank you." Are they serious? First time I've seen the "honor system" used for security.
American 182
Shanghai (PVG) – Los Angeles (LAX)
Tuesday, January 31
Depart: 9:45PM
Arrive: 5:25PM
Duration: 11hr40min
Aircraft: Boeing 777
Seat: 9B (Business Class)
Once onboard I was welcomed by the flight attendants and directed to my seat in row nine, which is the bulkhead. Once again the crew seemed to be split between "senior mamas" and language qualified flight attendants. This flight is apparently one of the most senior for the LA base, so it was interesting that the language qualified flight attendants in business class were both under 30, while the non-language qualified flight attendants were at least double their age.
Within a few minutes I was offered a pre-departure beverage and went with a mimosa. American's orange juice is barely drinkable, as is their champagne, but together they're actually half decent.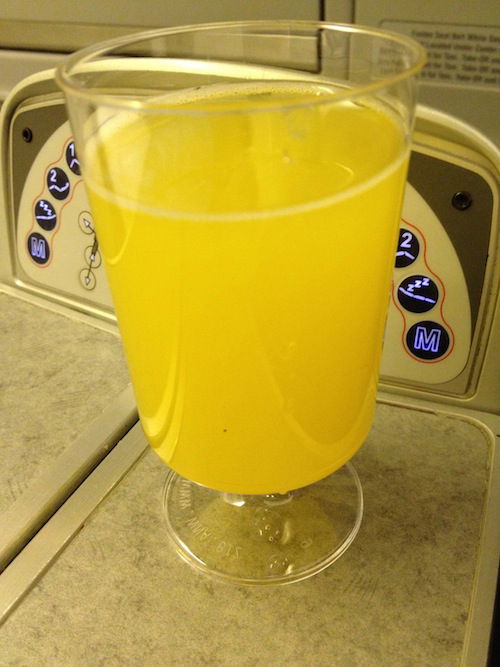 Pre-departure mimosa
Boarding finished up within about 15 minutes as the flight was once again really empty. There were at most 10-12 of us in business class, so I had a set of two seats to myself.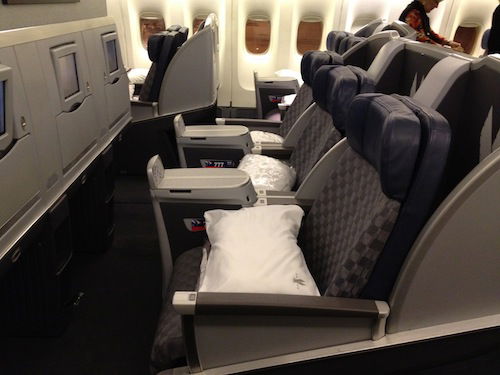 Seats across from me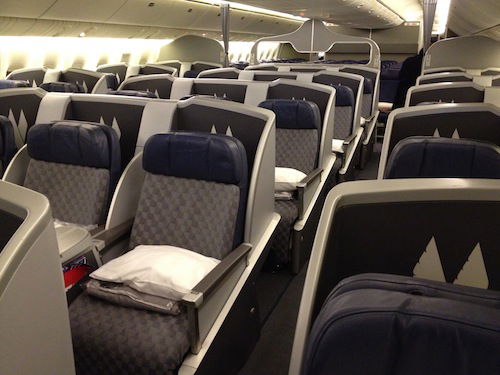 Business class
Before pushback the captain came on the PA to welcome us aboard and advise us of our flight time of 9hr59min, anticipating we would be almost two hours early. Holy cow. I guess the winds are really strong, given that the flight on the way out was almost an hour longer than usual.
We began a quick taxi to our departure runway, where we had to hold short because the flight attendants hadn't started the safety video early enough, so we had to wait for about five minutes as they finished it. At the same time they passed out menus and amenity kits in business class.
Despite that, we took off at 9:43PM, still two minutes before our scheduled departure time.
After a smooth climb out the seatbelt sign was turned off within about 20 minutes, at which point I changed into pajamas and the service began, starting with the distribution of hot towels and Bose headphones.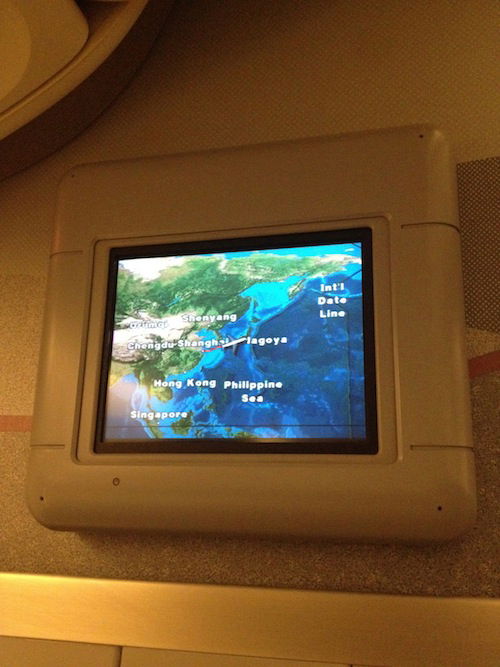 Airshow
The dinner menu read as follows: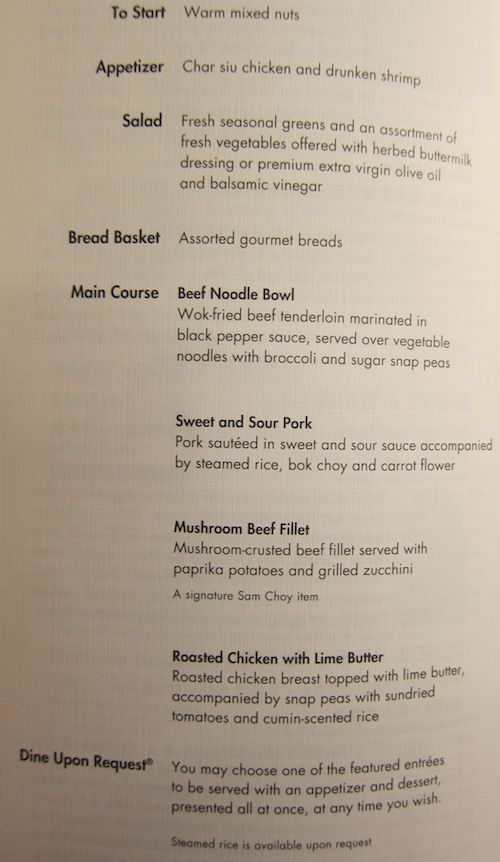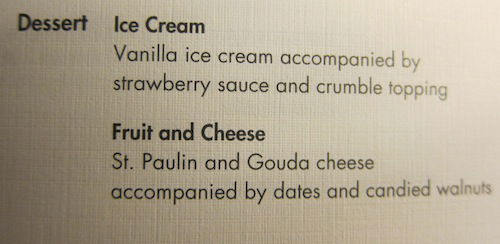 Service for whatever reason was very slow, as the flight attendants took forever to set up the cart. Eventually they were through the cabin with drinks and nuts. I ordered a Diet Coke with lime. Nut refills were offered a few minutes later.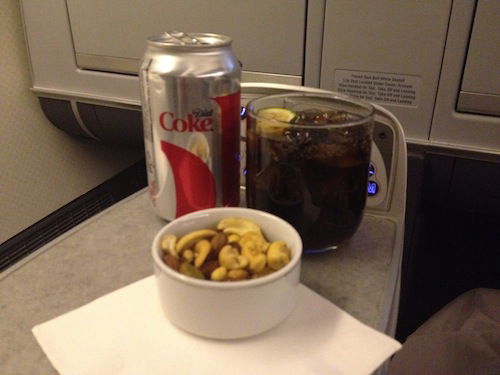 Diet Coke with lime and hot nuts
About 30 minutes after the beverage service, the flight attendant rolled through with the appetizer/salad cart. I've heard catering out of Shanghai is pretty bad, and that was definitely the case. I ate the salad and shrimp, though the chicken was pretty inedible.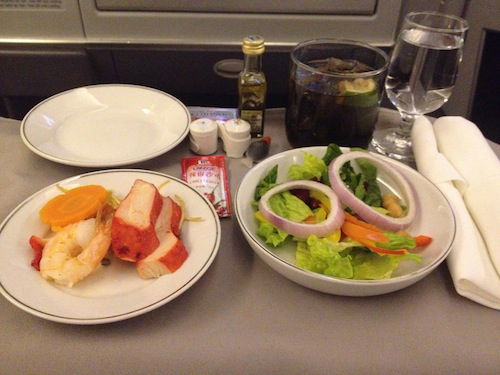 Salad and appetizer
For the main course I ordered the beef filet, which was inedible, so I just let it be (I would've ordered the vegetarian option, but alas there wasn't one).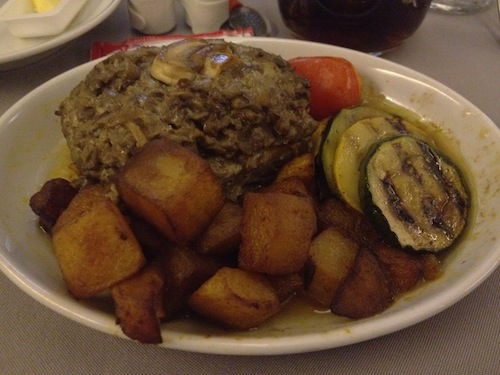 Main course
Then for dessert I had the ice cream with strawberry coulis and crumbs. It was, of course, delicious.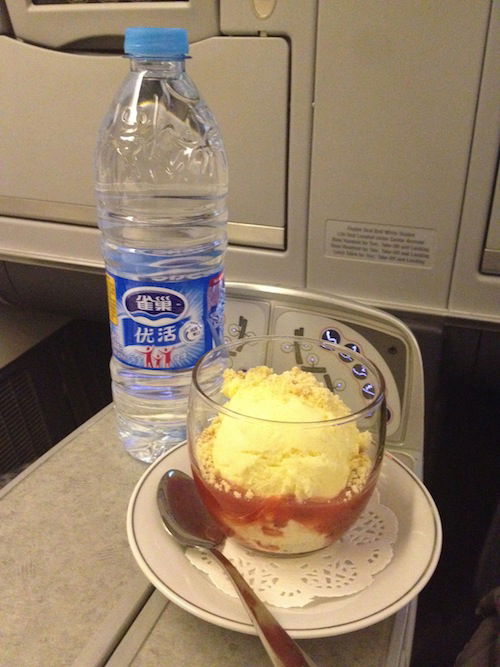 Dessert
By the time the meal was finished it was 11:45PM in Shanghai, and I went to bed at around 7PM most nights during my trip (as you can tell, I'm a really exciting person). So at this point I was dead tired, and even American's angled flat seats wouldn't prevent me from sleeping.
To increase comfort somewhat, though, I decided to make a pillow and blanket fortress to make the seat a bit more cushioned. Fortunately the three seats in the center section were empty too, so five pillows and five blankets later I was actually rather comfortable, and slept for a solid six hours.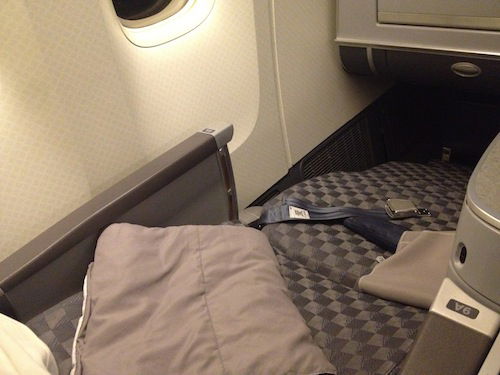 Reclined seat
I woke up with just under two hours to go to Los Angeles, at which point the pre-arrival meal service began.
The meal was supposedly "brunch," but this is quite possibly the strangest "brunch" menu I've ever seen. The menu read as follows: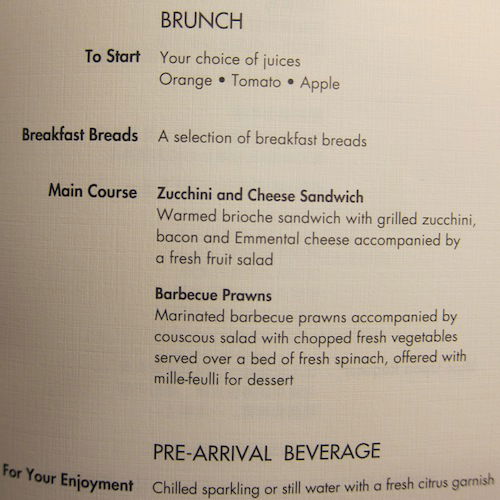 So that's juice and breakfast breads with a shrimp salad or bacon tomato sandwich? Really?
Just about everyone commented about how strange that was. C'mon American, either serve breakfast or the typical pizza/sandwich option, but this inbetween service was downright odd.
I had the sandwich, and it was pretty nasty.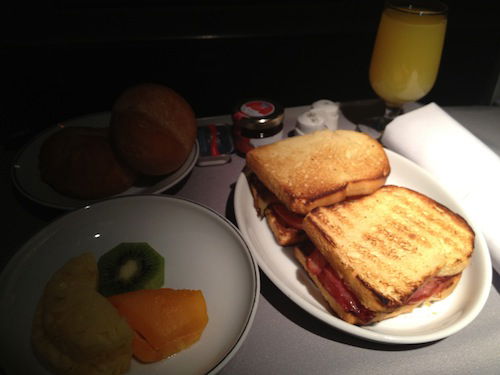 "Brunch"
As we continued our descent Bose headphones were once again collected and the customs/immigration video was played, along with the "in-flight UNICEF team leader" asking for spare change.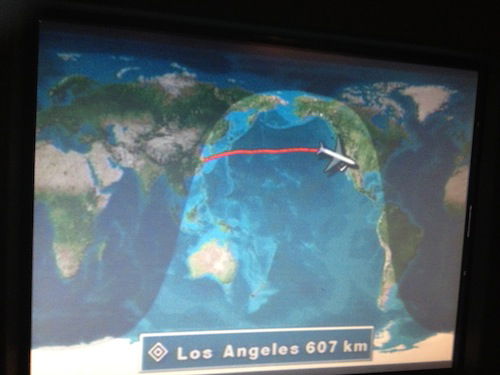 Airshow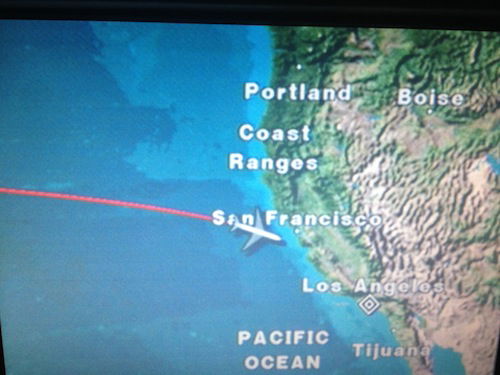 Airshow
After a smooth descent we touched down in LA nearly two hours early, and had a quick taxi to the gate.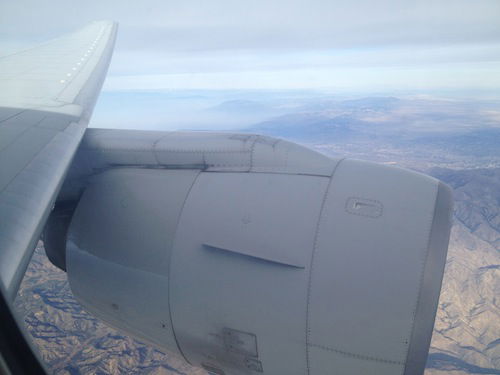 View on descent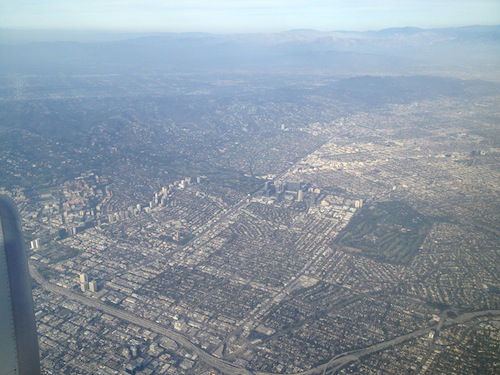 View on descent
Immigration took only a matter of minutes thanks to Global Entry, so I found myself in the Flagship Lounge in no time, though sadly only half of my journey was done. After four uneventful flights and 24 hours I found myself in my W bed at home.