---
Back in December American announced a double elite qualifying miles promotion through January 31, 2012, which was pretty surprising to many of us. Unfortunately for me, all of my travel was planned for February onwards (including two trips to Spain and one trip to Japan), so I wouldn't benefit from it at all. I couldn't not take advantage of the promotion, so I started looking for good deals to Asia. Sure enough, there were some reasonable fares to Shanghai, so after stretching out the routing a bit I managed to book the following for $1,129 including tax:
1/25 AA1786 Tampa to New York departing 10:15AM arriving 12:50PM
1/25 AA177 New York to San Francisco departing 5:40PM arriving 9:10PM
1/26 AA1929 San Francisco to Los Angeles departing 7:00AM arriving 8:20AM
1/26 AA183 Los Angeles to Shanghai departing 1:55PM arriving 7:45PM (+1 day)
1/31 AA182 Shanghai to Los Angeles departing 9:45PM arriving 5:25PM
1/31 AA1798 Los Angeles to San Francisco departing 7:15PM arriving 8:30PM
1/31 AA18 San Francisco to New York departing 11:00PM arriving 7:25AM (+1 day)
2/01 AA2035 New York to Miami departing 2:25PM arriving 5:55PM
2/01 AA1985 Miami to Tampa departing 7:05PM arriving 8:05PM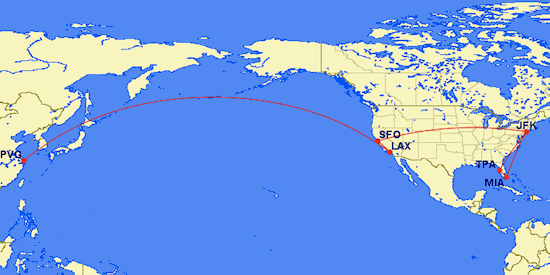 The trip would net net me 43,474 elite qualifying and redeemable miles, and I even managed to confirm upgrades using two systemwide upgrades. American only lets you upgrade three flights with one systemwide upgrade, so I upgraded the flights from New York to San Francisco to Los Angeles to Shanghai and back, and requested a complimentary domestic upgrade on the segments between Tampa and New York, which cleared at my Executive Platinum upgrade window 100 hours out.
Anyway, this won't be the most exciting trip report ever, so I'm keeping it somewhat abbreviated since I still have lots of trip reports to catch up on. I doubt y'all are interested in reading about my flight between San Francisco and Los Angeles, my stay at the Westin San Francisco Airport, or the Miami Admirals Club, so we'll stick to the international portion of the trip.
As always, if you have any questions or comments, just let me know. Thanks for reading!